---
Repurposed and Refurbished China Cabinet Ideas –
Thinking about converting a china cabinet or an old dining room hutch into something new and beautiful for your home? Take a look at all the clever hutch redo ideas from our Pinterest followers – I never knew there were so many OTHER uses for a dining room hutch!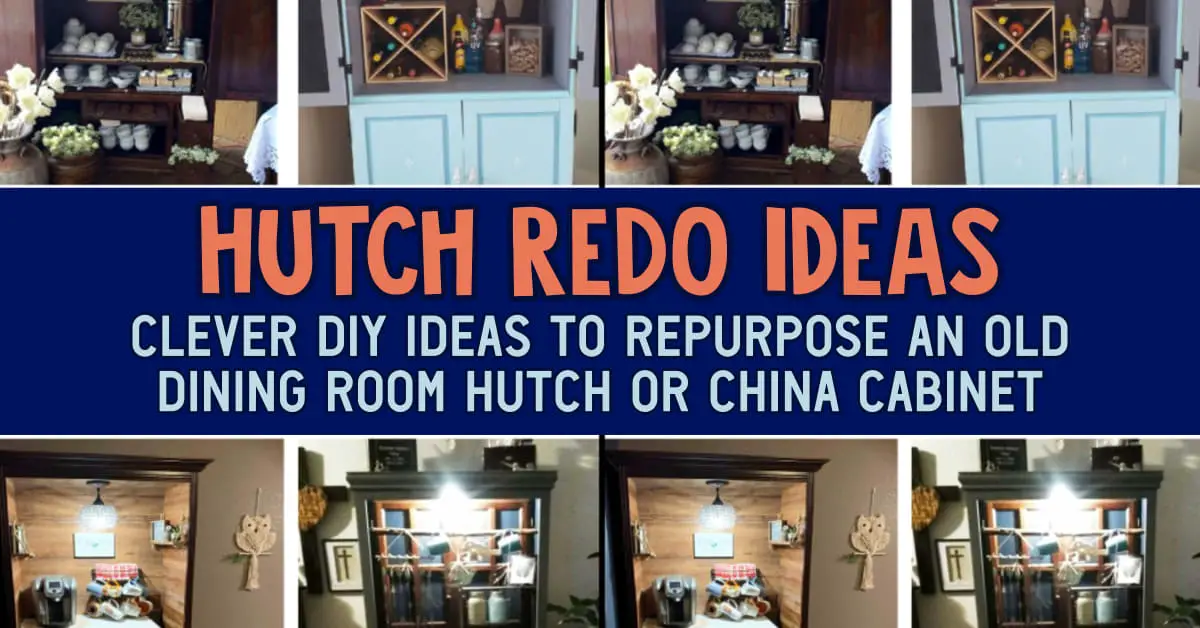 ---
Updated on November 5, 2022
posts may contain affiliate links -Enjoy and feel free to share with your friends!
---
Do you love looking at repurposed furniture ideas as much as I do? (or is it just me? haha!)
There's something SO satisfying about seeing an old piece of furniture turned into something gorgeous and new.
Like these hutch redo ideas… so gorgeous!
I just love how Beth transformed her old hutch into such a beautiful and unique coffee bar.
She even put a mini fridge in it (it's behind the big cabinet door)!
Colleen turned a keepsake hutch into a beautiful display cabinet and drink cabinet for her home.
The old china hutch cabinet belonged to her late mother-in-law and, like me, I imagine she wanted to give it a makeover and keep it in the family.
I love the lights!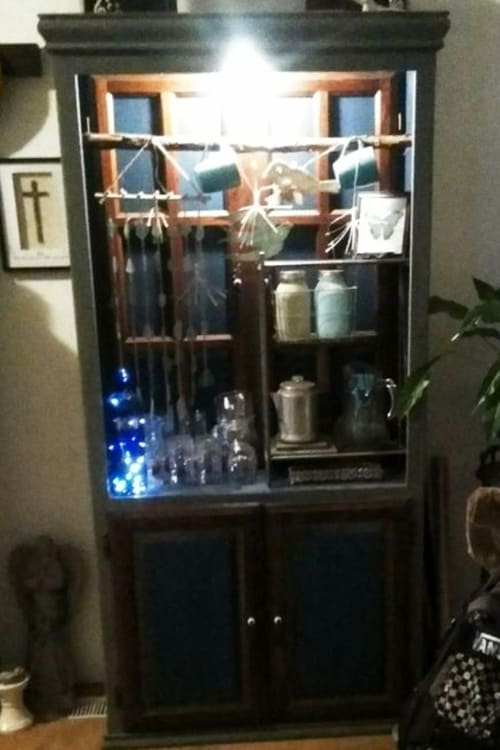 ✅ Did you also notice the clever use of the old window frame and mason jars?
Now, Andra went all out and repainted her old hutch – then turned it into a wine bar / cocktail station.
What I think is really clever is that she painted the inside of the hutch doors with blackboard paint like this – brilliant and such a nice touch!
I sure do LOVE the blue paint color, too!
I'm gonna keep that color on my list of ideas for painting an old hutch – it's a beautiful color, isn't it?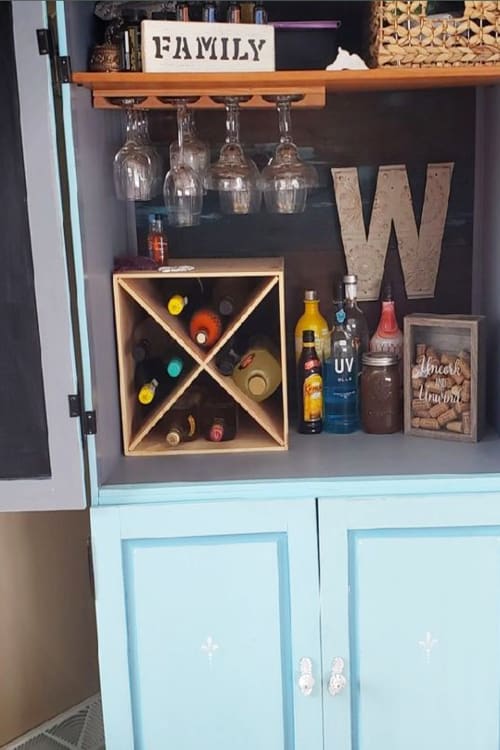 Maria really converted her old china cabinet into a gorgeous piece of art!
Wouldn't you LOVE to have a coffee bar hutch like this in your house?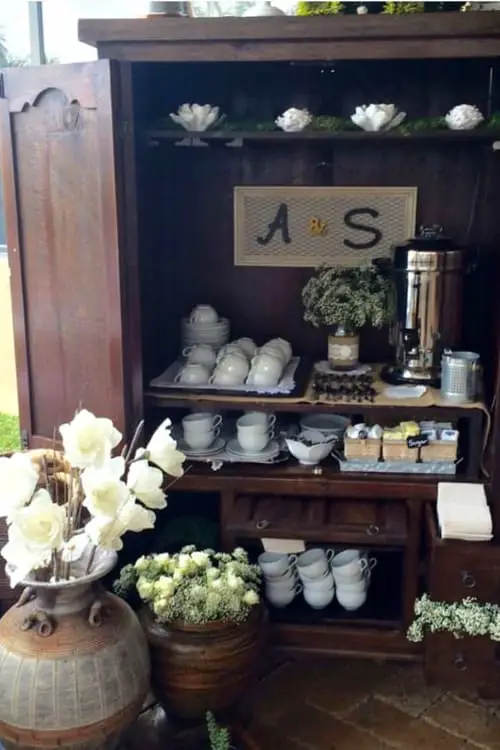 Here's another converted hutch turned coffee bar that Nicole made…
Wowzers – I just LOVE it!
From the clever use of old pallet wood on the inside to that gorgeous light fixture – just a stunning piece of furniture!
It also has a warm farmhouse / rustic look to it that I just love!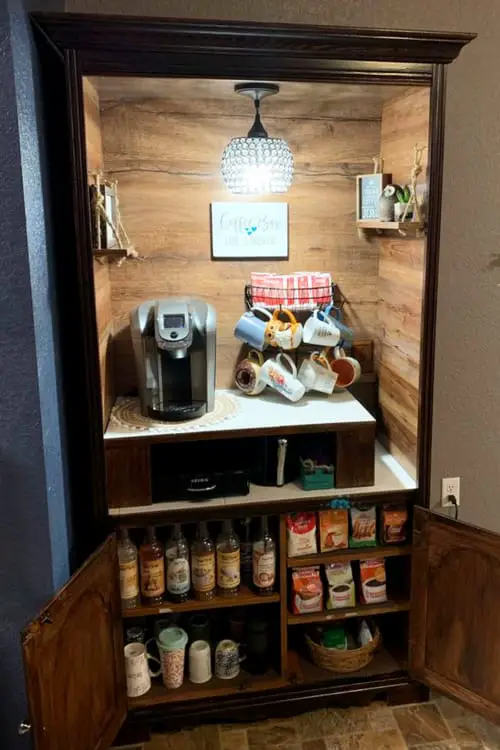 ✅ Looking For Farmhouse Coffee Bar Ideas?
Mandie also used old pallet wood and wired her old hutch with lights – but she turned it into a gorgeous display cabinet for her living room.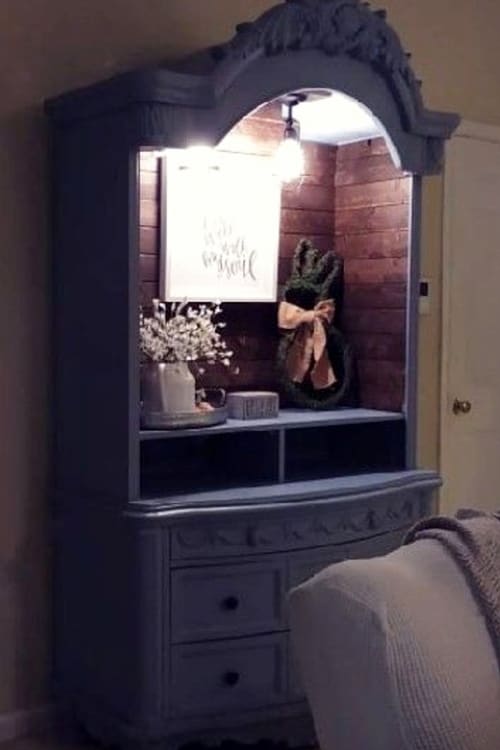 I have NO idea who came up with this next idea (someone randomly shared the picture on Facebook that they found somewhere), but I think it is an absolutely GENIUS idea for repurposing the TOP of an old china cabinet hutch.
Just look at this idea: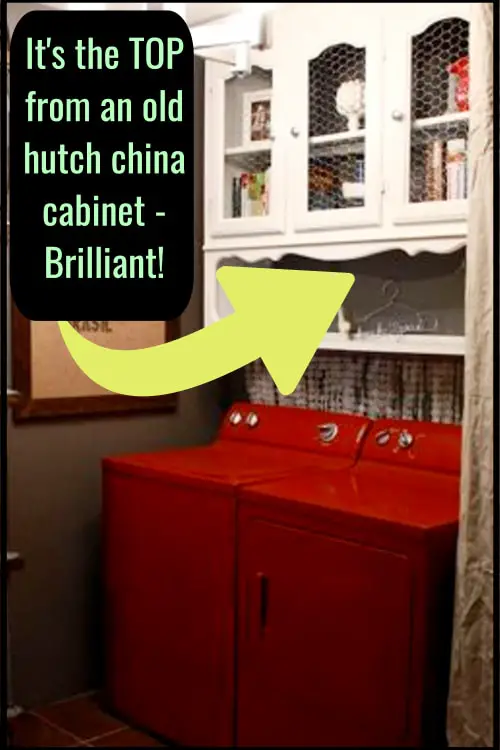 If you're ever wondered what to DO with the TOP half of a hutch – don't forget clever ideas like this to repurpose it into useful storage shelves and cabinets in your laundry room.
Here's more clever DIY ideas to repurpose other furniture and items around your home or that you find in thrift stores: