---
Easy DIY Halloween Decorations on a Budget For Inside, Outside or a Halloween Party – Browsing around today, I was really impressed with all the awesome homemade Halloween decorations and easy DIY craft ideas I've seen..and they're CHEAP ideas too!
From DIY porch ghosts with lights, DIY pumpkin lights, cheap Halloween party decor and snacks to Halloween wreath ideas, cute spooky marshmallows recipe, Halloween "hacks" and more. Out of the 50 best DIY Halloween decorations, below are MY favorite super fun homemade ideas that you really should try this Halloween.

---
Updated on October 16, 2022
posts may contain affiliate links -Enjoy and feel free to share with your friends!
---
I'm always on the look out for the greatest homemade Halloween decorations for inside and outside my house to decorate for our annual Halloween potluck party we have on my block.
Below are my favorite homemade Halloween decorations you can DIY on a budget – last minute ideas too!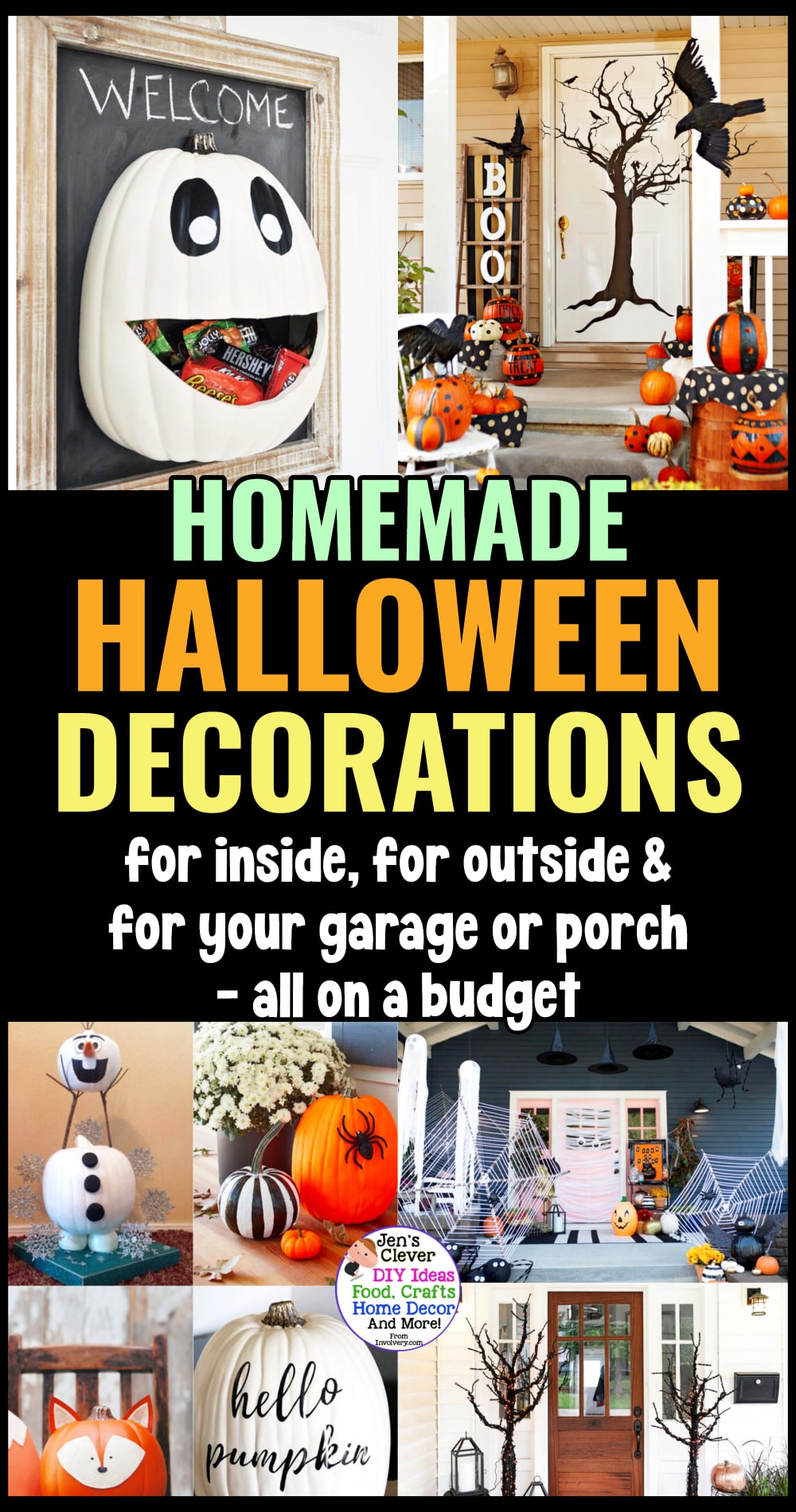 If you're decorating for Halloween on a budget this year, you will LOVE all these budget-friendly handmade Halloween decorations for inside, outside, your porch, your garage, your door AND for a cute or creepy Halloween party –
The ideas in the picture above are just the beginning – keep scrolling to see many more Halloween wood projects, simple Dollar Tree ideas and craft ideas with tutorials.
Be sure to save your favorite homemade Halloween decorating ideas to Pinterest – you'll want to use them EVERY Halloween!
Halloween Pumpkin Alternative
Not really into pumpkins?
No doubt about it, decorating with pumpkins is FUN and a beautiful way to decorate for Fall on a budget.
But… what if you don't LIKE pumpkins?
Well, how about this Halloween pumpkin alternative…
a Halloween WATERMELON!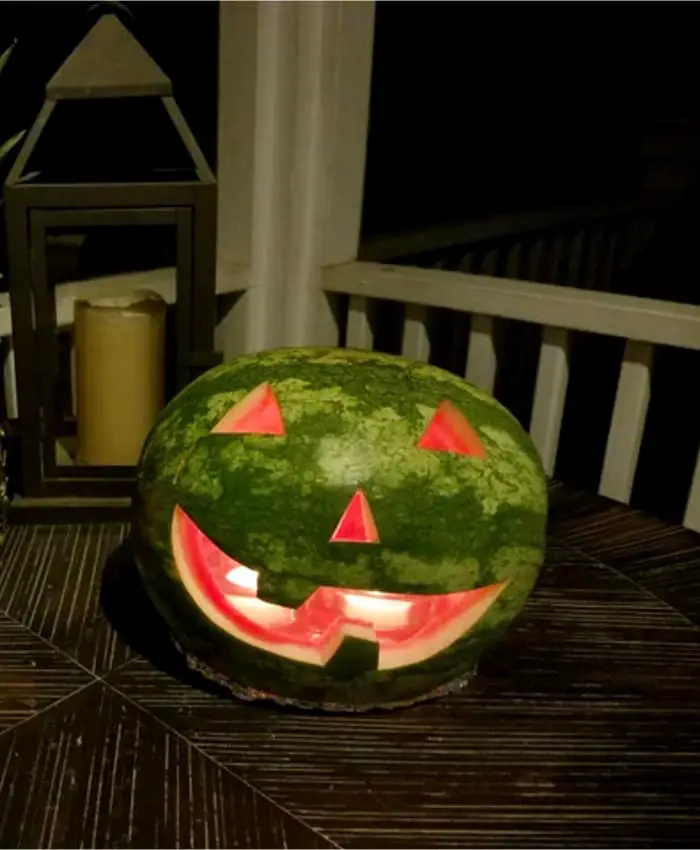 DIY Porch Ghosts
These little porch ghosts are THE cutest Halloween decoration EVER!
It's a super simple Halloween DIY project too!
Just look how cute they are!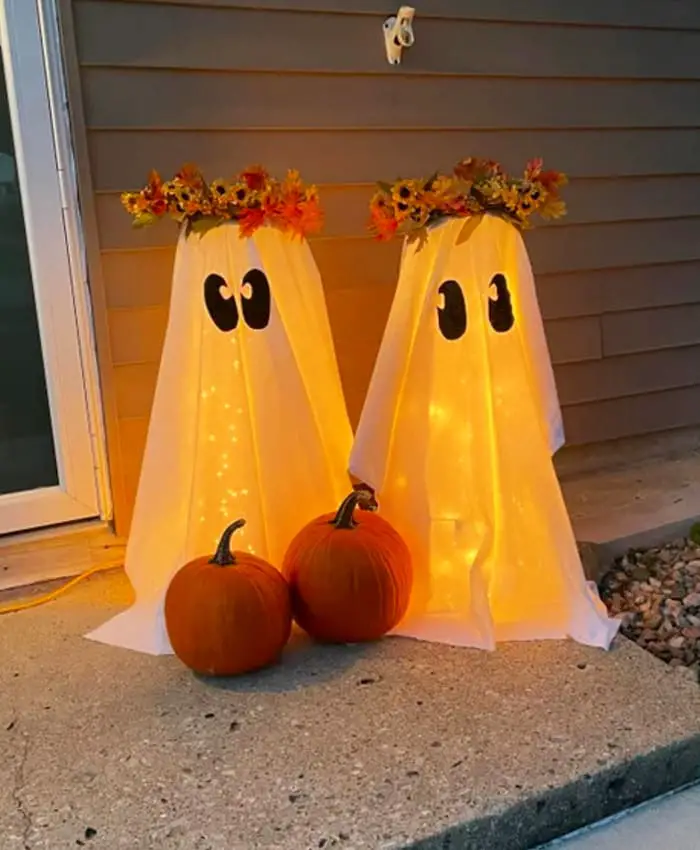 Like I said, they are super simple to make… you just need a wire tomato cage, a styrofoam ball, some string lights and a sheet cover – all things you can get at your local Dollar Tree or dollar store: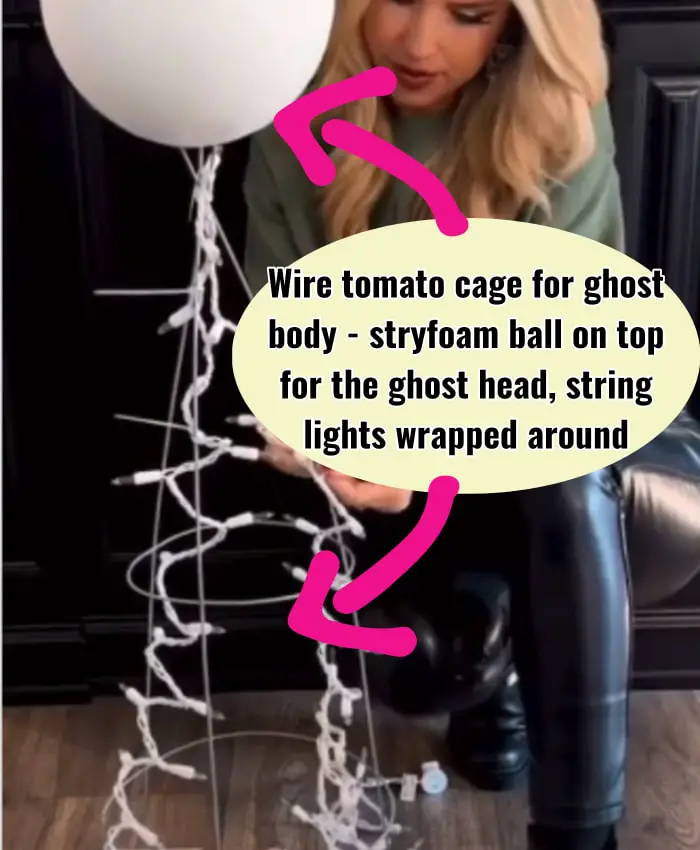 As you can see, it's pretty self-explanatory how to make these Halloween porch ghosts, but here's a tutorial on Instragram that shows someone making them.
DIY Halloween Porch Light
You know those cheap plastic pumpkin candy holder things you can get at Dollar Tree or WalMart?
Why not turn them into a pumpkin porch lights like this:
(note: be SURE the plastic is NOT touching your actual porch light bulb, ok? Let's all be safe about it =)
Halloween Party Food Table Idea
Here's another use for those cheap-o plastic Halloween pumpkins – just look how cute this Halloween party food table is set up!
See the plastic pumpkins?
I also LOVE the idea of using those plastic costume masks as decorations.
Halloween Party Snacks
Coming up with cheap snacks for a party crowd can be a little tough these days since EVERYTHING is so expensive, but this cheap Halloween snack idea below is simply genius!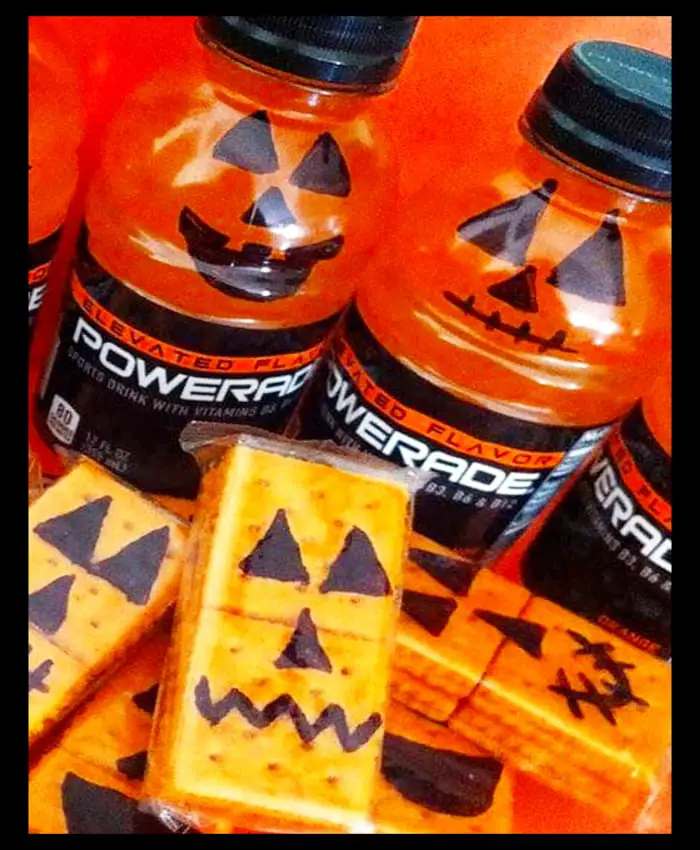 While they're not exactly HEALTHY snacks – they aren't totally UNhealthy either compared to other snack ideas.
I think those Halloween-themed snacks would be perfect for a class party, for the ball team, etc.
See lots MORE cheap Halloween snacks here.
More Party Food Ideas
DIY Halloween Wreaths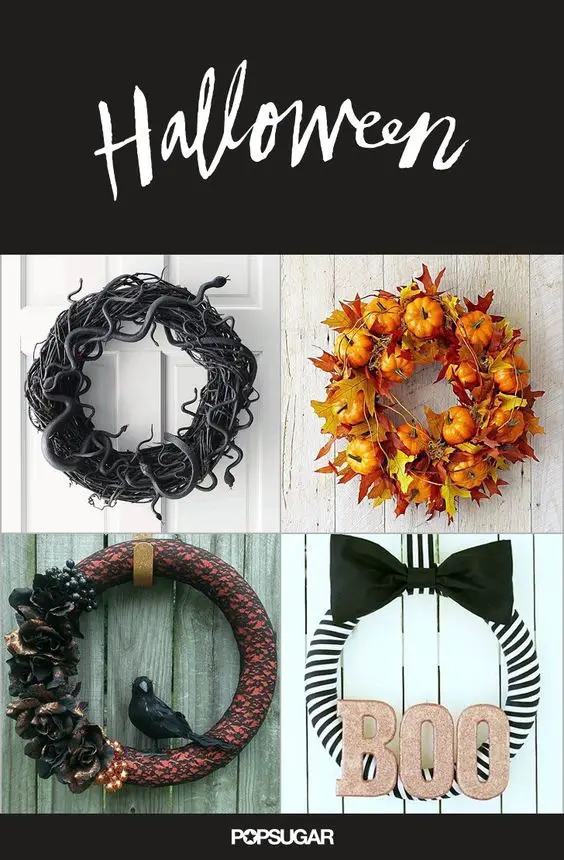 Hat tip to @PopSugar for sharing these cute DIY Halloween wreath ideas.
DIY Halloween Countdown Calendar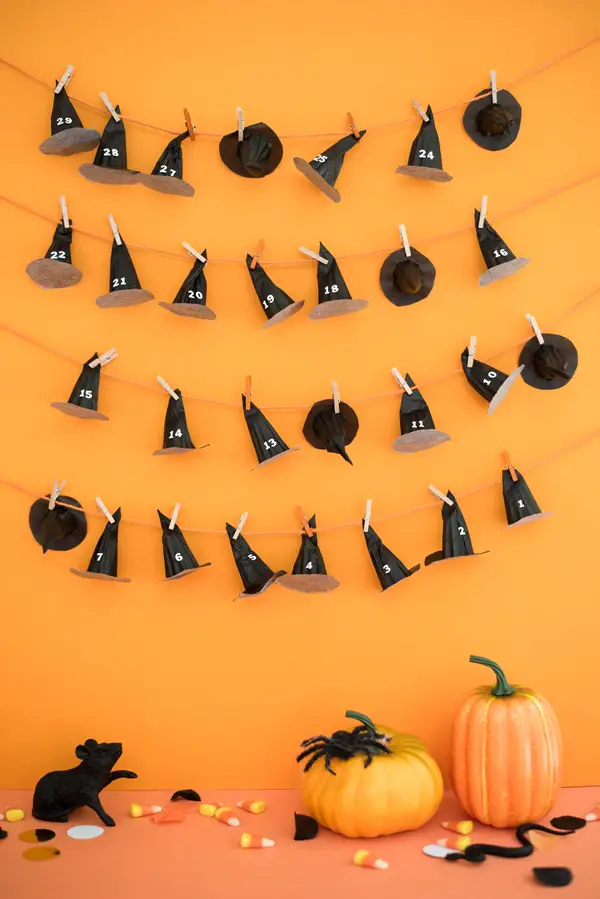 Hat tip to @romzkeepomski for sharing this DIY Halloween countdown calendar tutorial.  What a cute way to have fun with your kids while counting down the days until Halloween!
Halloween Monster Marshmallows Recipe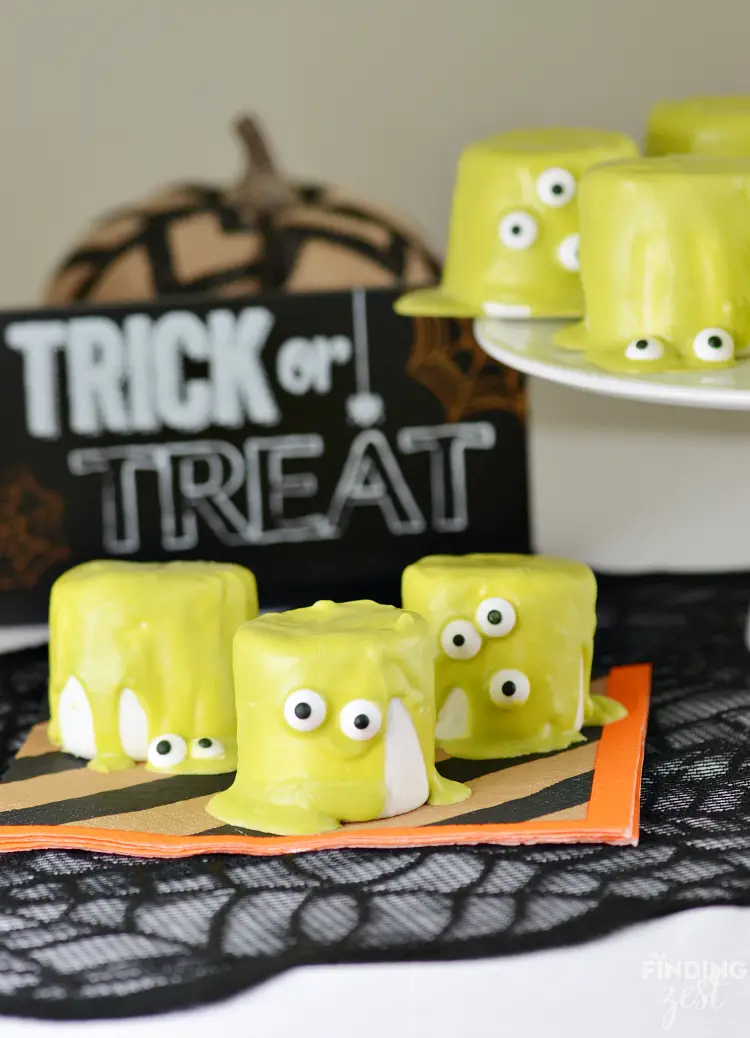 Aren't these marshmallow monsters adorable!  The tutorial to make them is here on FindingZest.com.
Unique Pumpkin Carving Ideas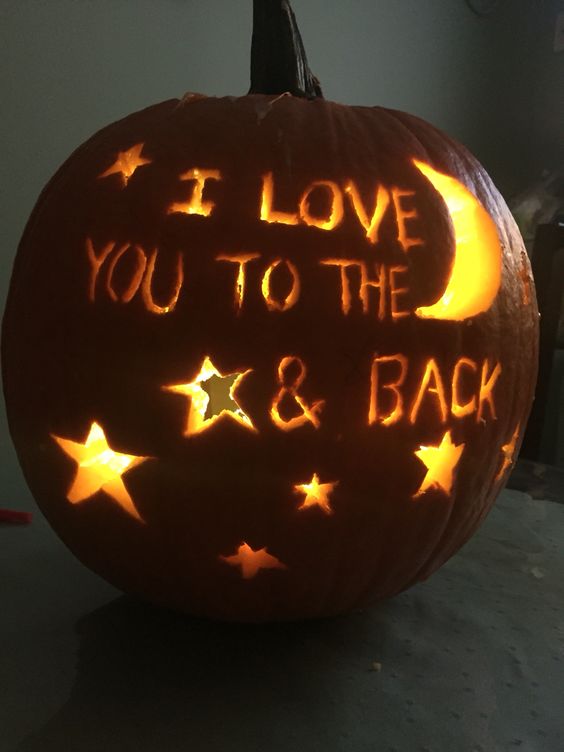 How cute is this idea for carving your pumpkin this year??!  Hat tip to @LS Bricker for sharing all these unique pumpkin carving ideas.
Clever Halloween Hacks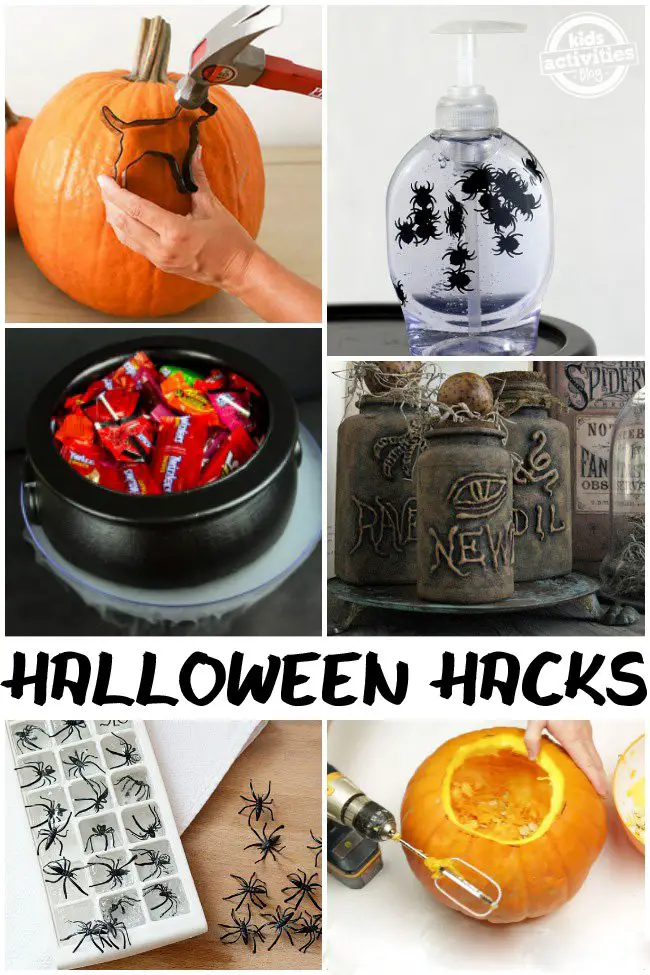 Hat tip to Crystal Coffin for sharing these Halloween hacks.  Some really fun Halloween ideas!
More Halloween and Fall DIY Ideas