---
Gorgeous Decorative Palm Trees With Lights For Your Home –
Fake palm trees with lights are such a fun decorative idea for patios, the RV, your deck, by the pool, when camping – and of course, INside too (how about some artificial Christmas palm trees with dazzling lights?  Fun, right?).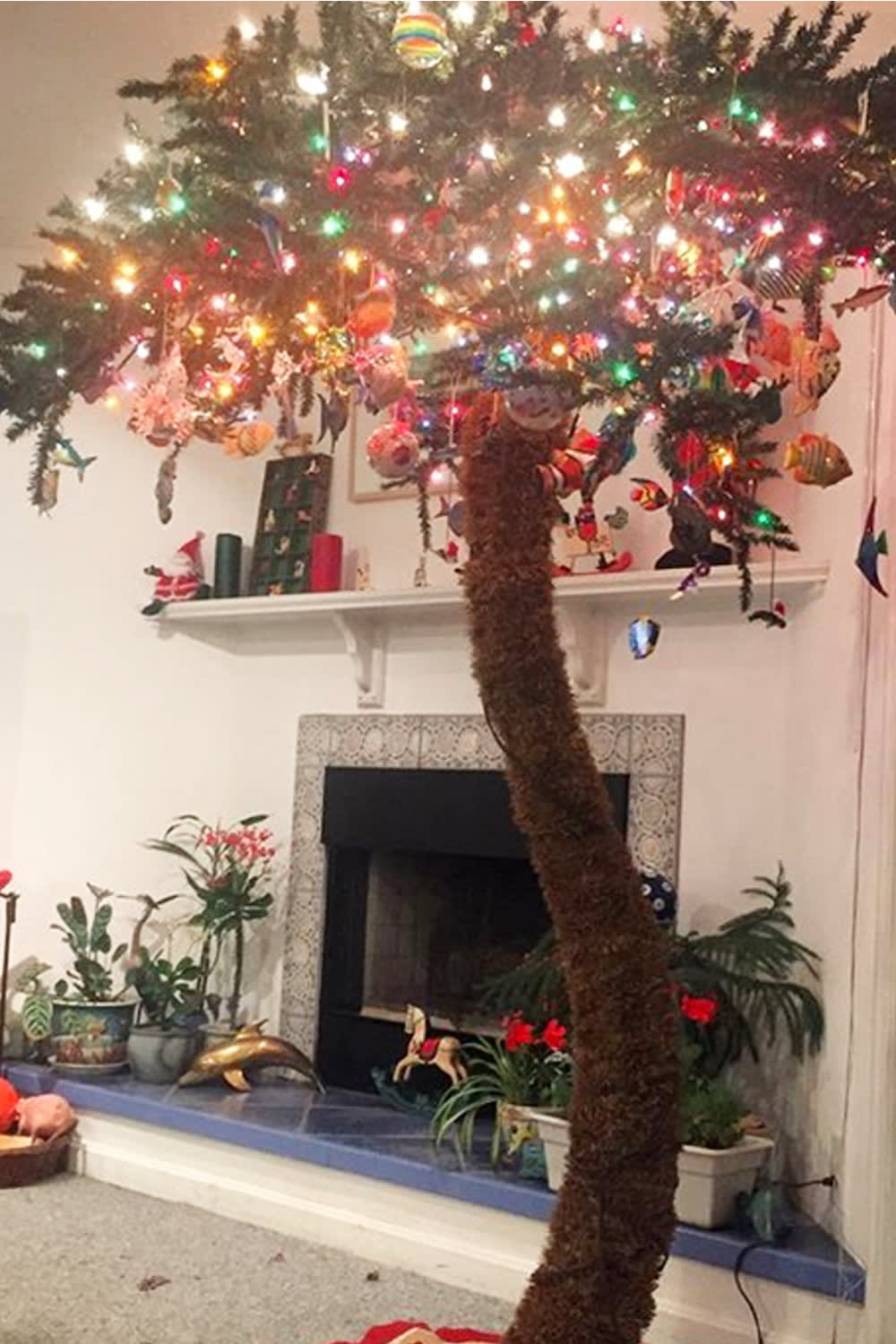 Whether you're looking for artificial palm trees made from plastic, or metal, are blow up/inflatable trees or ones that look just like REAL palm trees, we probably have them right here on this page.
Also, we found some cheap artificial palm trees and LED palm trees for around pool areas that look GREAT!
Like these: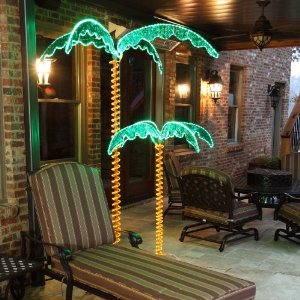 We found those palm trees here.
Our favorite idea is a fake palm tree with lights being used as a Christmas tree – such a fun idea AND pretty for both indoor AND outdoor Holiday decorating.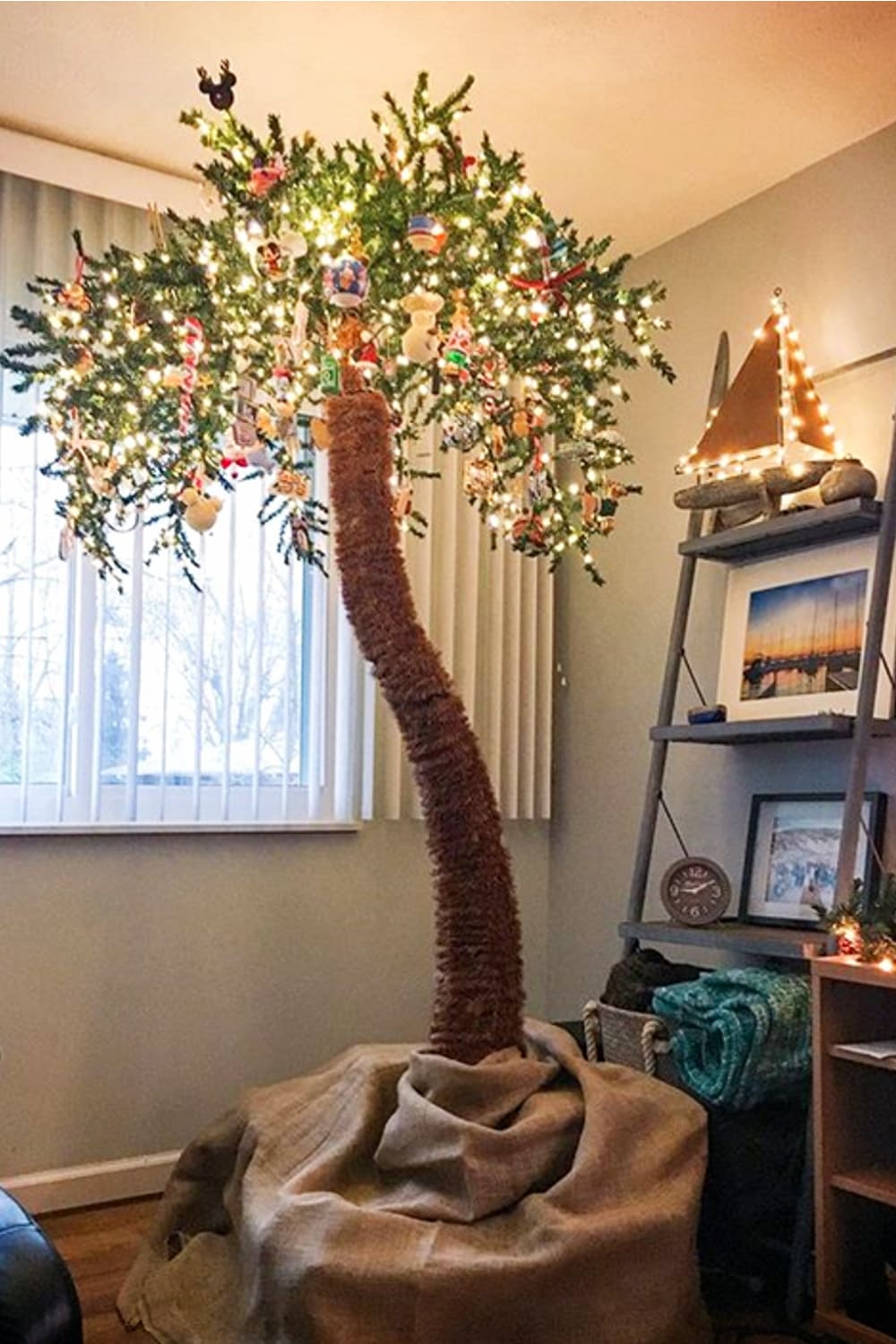 In a rush?
Current Top-Rated Artificial/Lighted Palm Trees for Sale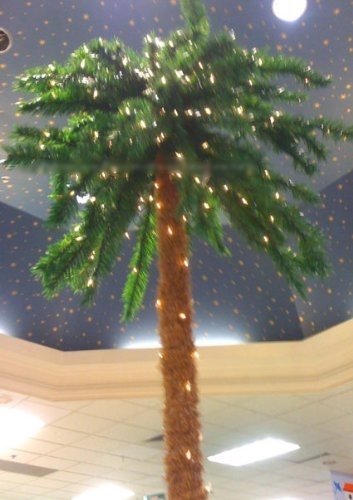 7 Foot Lighted Palm Tree – 300 Lights – Indoor / Outdoor []See This
Brylanehome Pre-Lit 3-Branch Palm Tree (Green)See This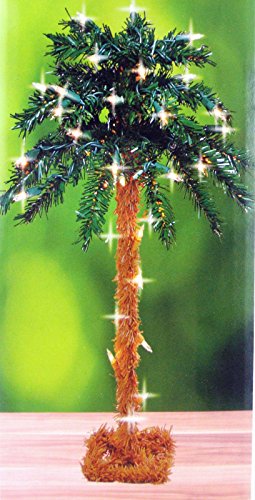 18 Inch Table Top Lighted Christmas Palm Tree 35 LightsSee This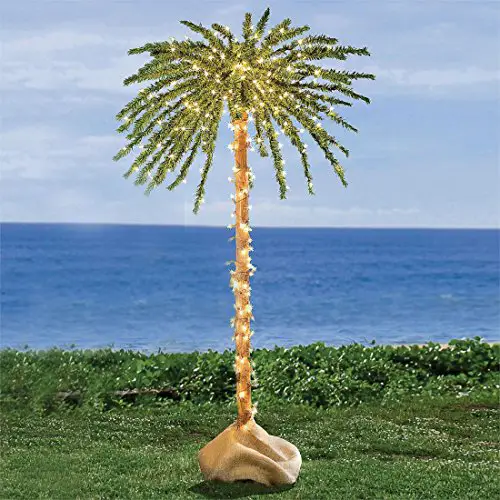 Brylanehome 3-D Pre-Lit Palm Tree (Tree)See This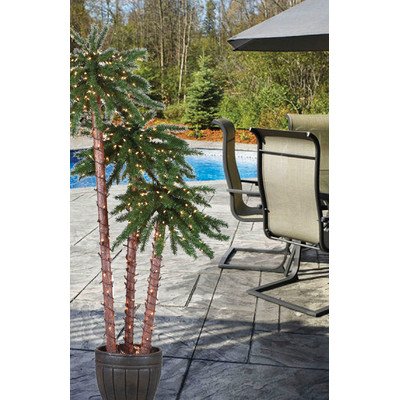 Gerson Everlasting Glow 5205-456C Electric Potted Palm Trees with 500 Warm White LED Lights, Brown Pot, 6′See This
6′ Pre-Lit Color Changing Novelty Bubble Palm Tree – Clear LightsSee This
We'll also share some lighted palm tree reviews from other consumers so you can know what the best kinds are and where the best deals are online…
(hey, cheap is GOOD…why spend a lot when you don't have to?)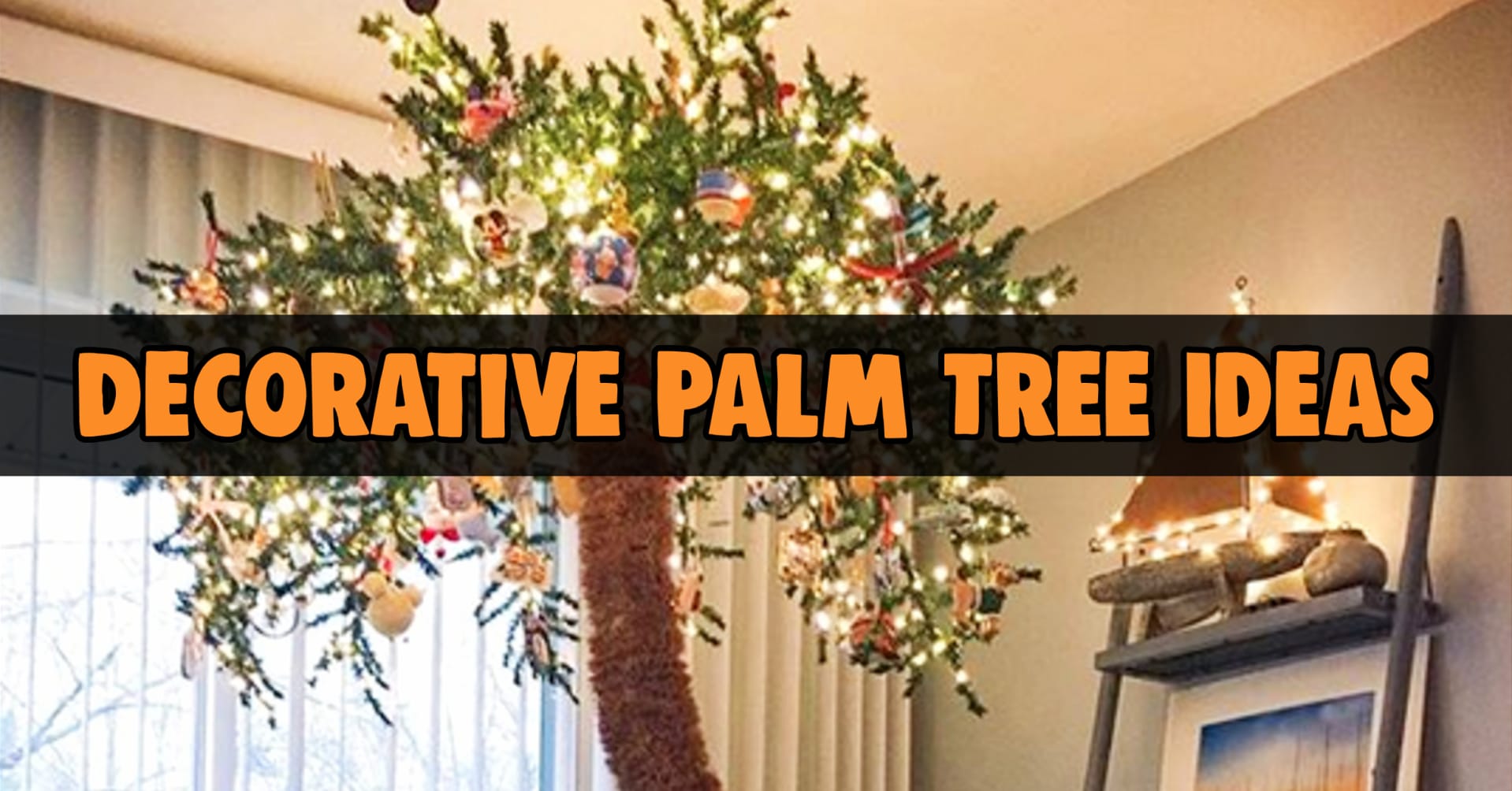 Palm trees (Arecaceae) are exotic and beautiful, but can be difficult to find in certain areas. Palm trees grow in specific places within particular environmental conditions. Yet, what can one do when the need for a palm tree is urgent and important?
Artificial palm trees have become a common solution for this issue and many manufacturers produce high-quality ones. The debate over real vs fake palm trees is as old as time, but for this article, let's take a look at some of the options and features of artificial palms.
Outdoor Lighted Palm Trees
See: Holographic Ropelight Palm Tree (shown in picture)
These artificial lighted palm trees are an interesting purchase to make. They look wonderful and can add life to an entire area within moments. Many of these trees are purchased throughout the year in areas that cannot grow regular palm trees.
With modernistic advancements in technology, the LED lighting system makes these trees look exquisite and appealing. The aesthetic feel of these trees is what sets them apart from other choices.
Want to use them outdoors? Owners will have no issue in such a situation as the trees are designed for that environment. This is what makes them such an interesting purchase. Even a regular palm tree would not be able to grow outdoors and remain as lively as these do.
Worried about them not being able to handle outdoor conditions? These palm trees are designed to handle most of what is thrown at them – even if they're poolside. They are constructed from sturdy materials that will not deteriorate easily.
Even the novelty lighted palm trees and miniature palms are made well – and lights can be LED lights, or neon…or even holographic!  (Now THAT would be an awesome lighted palm tree, wouldn't it??)
Fake Light up Palm Trees
See: 7 Foot Lighted Christmas Palm Tree (shown in picture)
These palm trees are interesting because they are able to handle environmental conditions better than other options. Yes, they may be 'fake', but they are of the highest quality and that is what owners want to see.
The materials with which these trees are made ensure they last for a long time. This is essential when looking to make a purchase that is significant, but is durable.
Want to place this tree indoors?
You can easily unplug the tree and simply take it indoors and get the same effect. This is important for owners that want to maximize usage regardless of the weather outside. If it is raining, bring it inside and watch it take over and illuminate like never seen before.
Time for the holidays? 
Deck YOUR halls with a lighted palm tree decoration for Christmas.  Not as "traditional" as a great looking artificial Christmas tree, but still really fun and unique.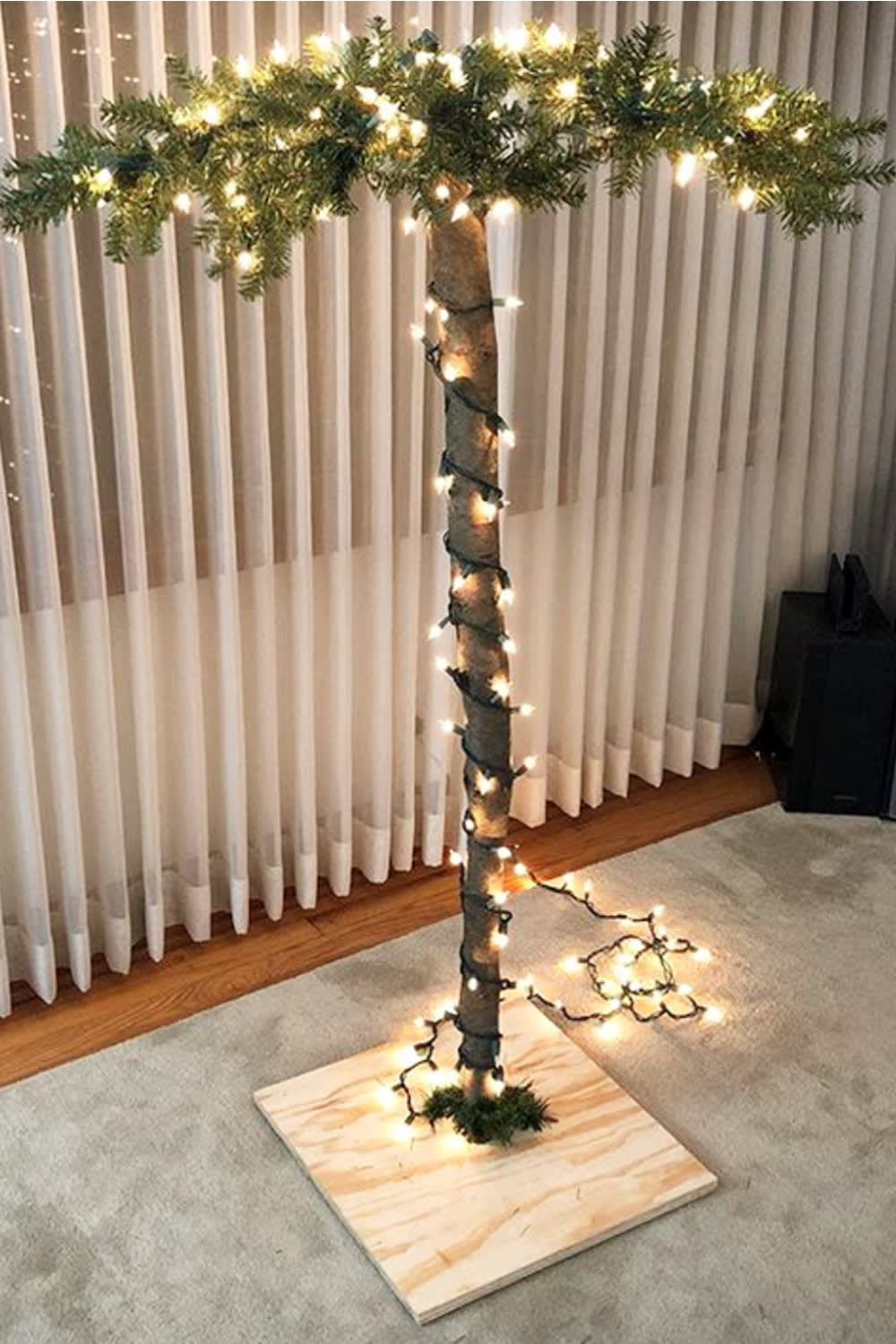 There are SO many fun and unique ways to use a palm tree as your Christmas tree!
Here are a just a few ideas: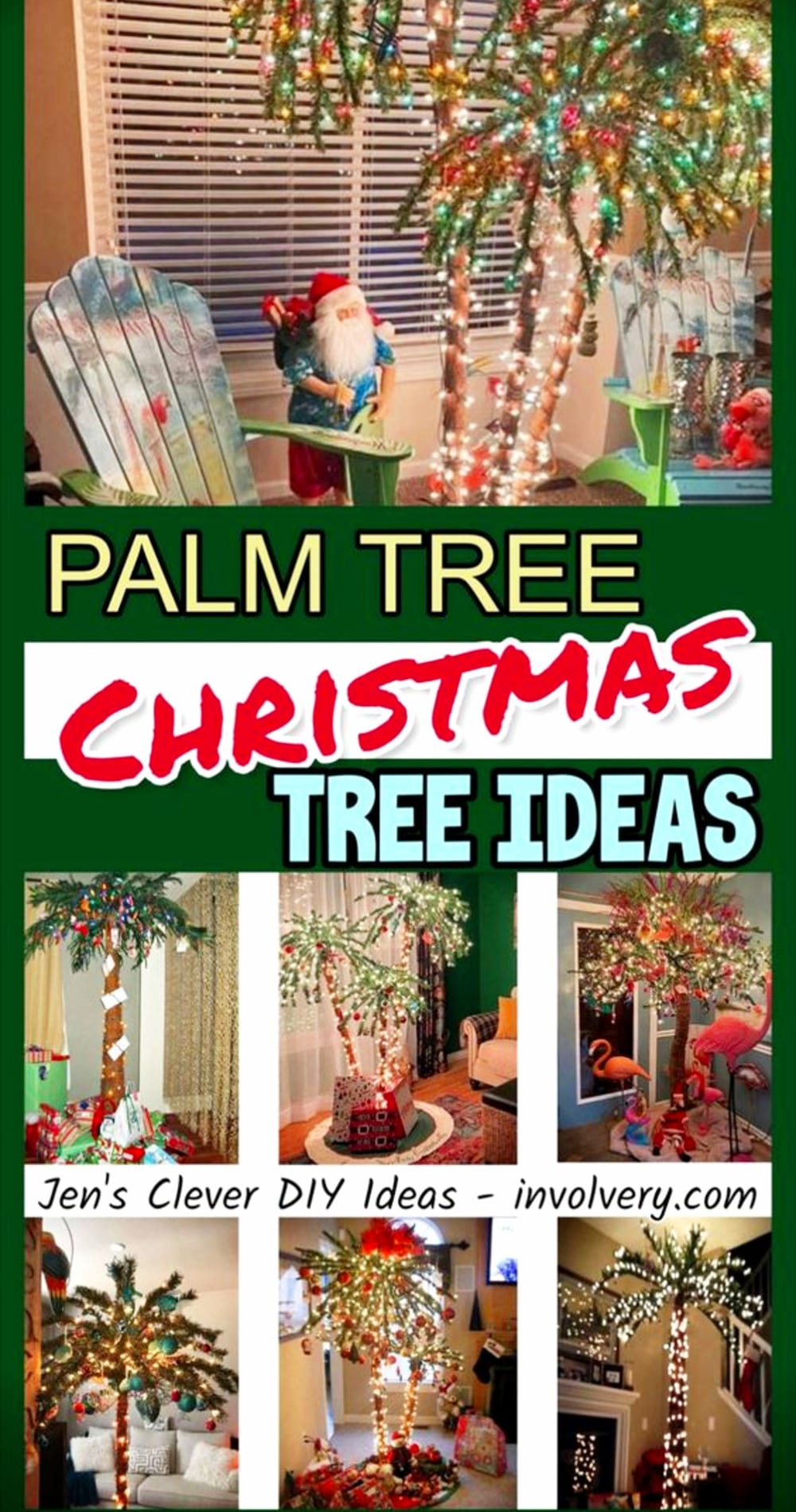 Where To FIND Palm Tree Christmas Trees
I've found 4 really nice, and REAL-looking artificial palm trees that would make GORGEOUS Christmas trees.
Best of all, once Christmas is over, just take the decorations off and leave your palm tree up all year long!
 6.3 Foot Fake Palm TreeFound Here 8.5 Foot Fake Palm TreeFound Here 4 Foot Fake Palm TreeFound Here 7.5 Foot Fake Palm TreeFound Here
Outdoor Artificial Palm Trees With Lights
See: Holographic Lighted Palm Tree (shown in picture)
Continuing on with the topic of artificial palm trees, it is important to understand the lighting system behind these items. How are these neon palm tree lights able to last as long as they do and illuminate an entire area?
The lights are specifically designed with LED technology to ensure everything functions better than expected. A lot of other solutions will not have the same impact as these trees do. They can be seen from a long distance and that is important for people that want it to have an impact.
Outdoor Colored Lighted Palm Trees
Sometimes, getting a regular lighted palm tree is just not enough. It might not have the flavor of a regular tree and does not cut it. What can one do in such a case? Colored solutions are one of the best methods of making the palm tree stand out in an area.
Colored  and/or neon artificial palm trees will further authenticate the product as it can hold natural 'tree like' colors that one has grown accustomed to. This is the best for those owners that want to stay as close to the real deal as possible.
Owners can have their trees stand out by focusing on the type of lighting being used. These lights are deemed to be five times brighter than regular options. This is an added bonus for those owners looking to find a solution that looks great from all angles.
7′ Deluxe Tropical Lighted Holographic Rope Light Outdoor Palm Tree DecorationSee This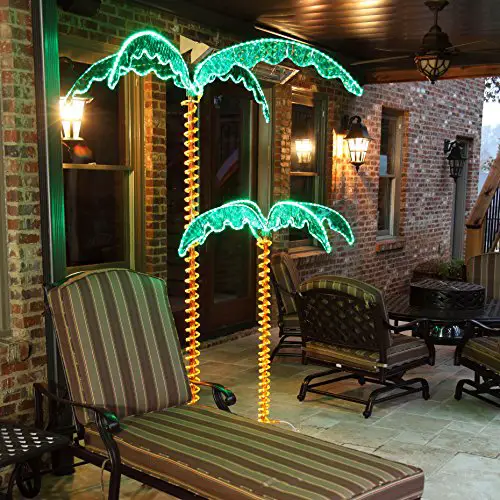 7′ Deluxe Tropical LED Rope Light Palm Tree with Lighted Holographic Trunk and FrondsSee This
7′ Deluxe Tropical Holographic LED Rope Lighted Palm Tree with Amber TrunkSee This
Decorative Palm Trees With Lights
Want to place these palm trees for decorative purposes and are unsure of how well they will look? These artificial palm trees are brilliant in fitting in with the surrounding environment.
There are a host of variations one can find with these lighted palm trees. The decorative nature of these trees comes from their lighting and overall feel.
Owners will not feel as if they are holding a bland and unappealing option. The choices are endless for those interested in finding the perfect solution.
Want to use it for a party decorations or a game room? These palm trees can easily fit into such a situation and look great. Palm tree-themed parties can often add that extra spice to entice the guests. Artificial palm trees can truly set the mood for the evening as everyone looks to have fun and enjoy their time.  Makes your patio or home feel like a Tiki bar!
(here are some instructions to learn how to build your own Tikie Bar at home)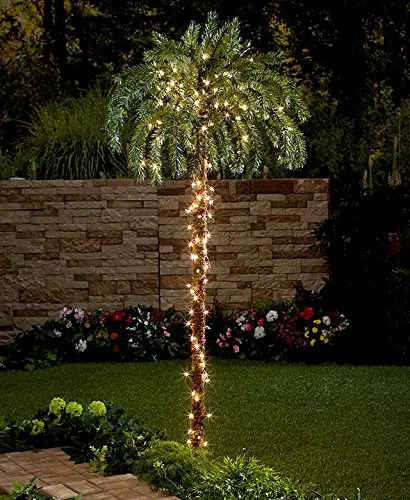 Large Palm Tree with LightsRead Consumer
Reviews
See Rating
7′ Pre-Lit Palm TreeRead Consumer
Reviews
See Rating
6′ Palm Tree w/ LightsRead Consumer
Reviews
See Rating
Outdoor Lighted Palm Tree Decorations
Looking to decorate your new artificial palm tree ? There are a lot of options for those aiming to better their palm tree and make it fit into the environment.
Decorating the artificial palm tree can be an interesting experiment. Why not try some neon lights to make it really bright…or some pretty rope lights. 
If you're having a tropical/palm tree themed party, get a lot of decorations.  There are some really cute palm tree string/rope lights that would look amazing on your deck/patio.
Throw some coconuts around and hand everyone a lei to wear and you're all set for a luau in your backyard -so much fun!
Inflatable Luau Palm Trees 5 Foot – Set of 2 Inflate Palm TreesSee This
Amscan Palm Tree Inflatable CoolerSee This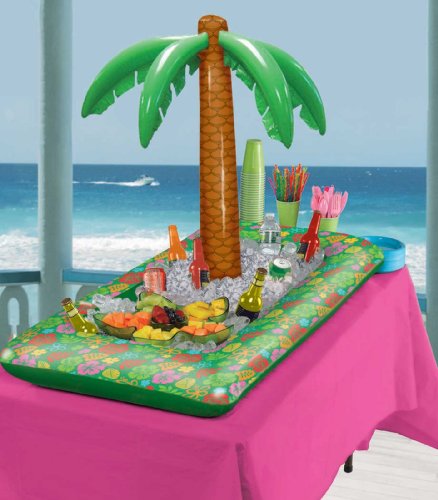 Amscan Party Perfect Hawaiian Luau Inflatable Palm Tree Buffet Cooler, Multi Color, 4 FeetSee This
Reviews
Here's what real owners have to say about their fake palm trees:
"This tree, which I love, came in a box that was easy to open. I am very bad at putting things together but this tree was a snap. I had it together with the lights on in about 10 min. Good instructions and very simple. It is my Christmas Palm this season. In the summer I will have it on my patio right near my backyard She Shed. It is a little pricy but I think it's worth it. It seems very sturdy and well made. read full review here"
---
"We use this at our campsite and along with some lighted flamingos that I bought, just gives the campsite a fun summer atmosphere… read rest of this review here

The world of artificial lighted palm tree is vast in nature, but this is what makes purchasing them special. Owners have the ability to sift through the options and find the perfect one without trouble.
The days of hoping to move to an area that grows palm trees are long gone. One can simply go and purchase an artificial solution for their issue and get the same vibe. These are realistic solutions that look great and appeal to everyone that sees them.
All of these items add to the visual appeal of an area like nothing else can.
Artificial Palm Tree Q&A
"Does anyone know where I can find a life size fake palm tree?  i throw a
huge buffett blowout bash each, year….this summer makes 10….i want a
huge palm tree this year.any thoughts?"…read more
Instructions to make fake palm trees? – "I always wanted a lighted palm Christmas tree, but now w/ a house in FL too, I'd like to have some inside & on the lanai – all year round. I've seen them at Lowe's & HD, but $$$.
I found one on Craigslist cheap, but there must be a site to make-your-own! I found some for the indoor ones using a cardboard roll from carpeting, but there MUST be a site using a PVC (or something) pipe.
Anyone have any ideas?" …Read more
More Artificial Palm Trees We Love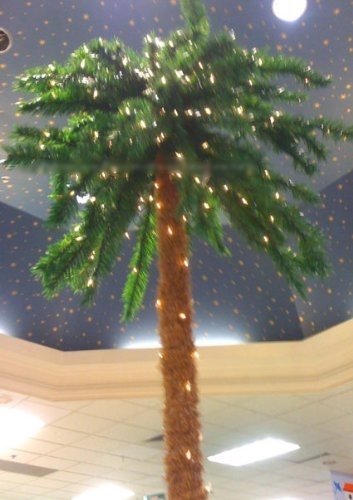 7 Foot Lighted Palm Tree – 300 Lights – Indoor / Outdoor []See This
Brylanehome Pre-Lit 3-Branch Palm Tree (Green)See This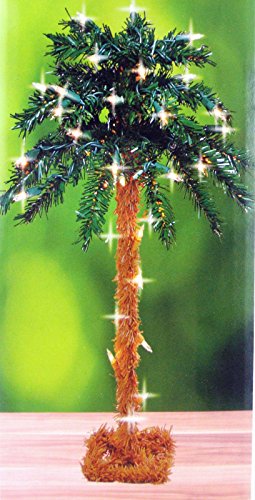 18 Inch Table Top Lighted Christmas Palm Tree 35 LightsSee This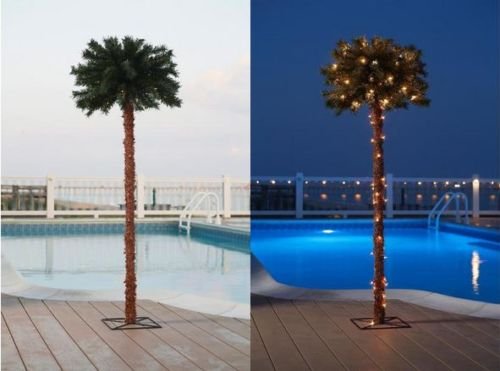 5 Ft Tall Lighted Sculpture Tinsel Palm Tree w/ 70 Clear LightsSee This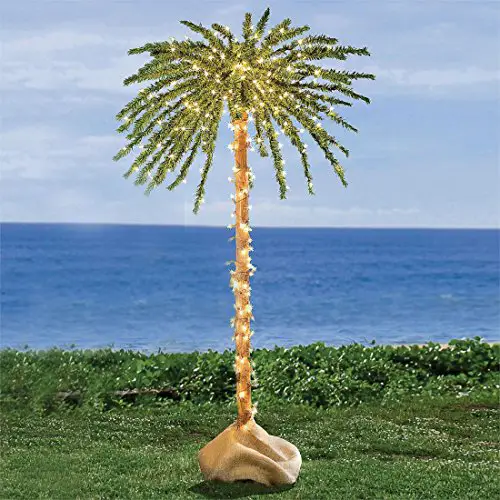 Brylanehome 3-D Pre-Lit Palm Tree (Tree)See This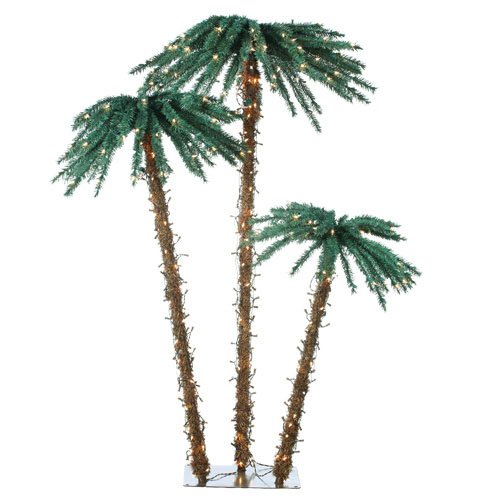 Sterling 5208-3556c 3.5-Feet, 5-Feet and 6-Feet Pre-Lit Palm Tree Clear LightsSee This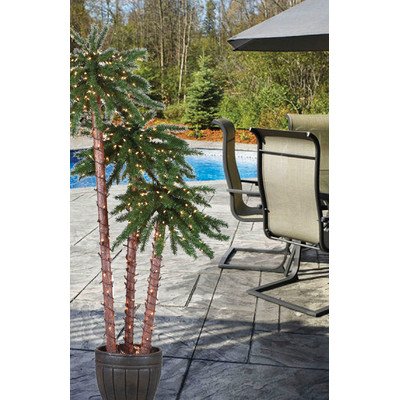 Gerson Everlasting Glow 5205-456C Electric Potted Palm Trees with 500 Warm White LED Lights, Brown Pot, 6′See This
6′ Pre-Lit Color Changing Novelty Bubble Palm Tree – Clear LightsSee This
What To Read Next:
Miss Anything?