---
Foil Packet Meals, Hamburger Hobo Packs and Chicken or Steak Tin Foil Dinners! 43 Quick and Easy Foil Packets and Foil Pack Dinners For Quick Easy Meals – Simple tin foil packet recipes for the oven, for the grill or for camping.
From steak, shrimp, hamburger and BBQ chicken tin foil dinners, to healthy salmon, beef, potatoes, sausage, fish and vegetables foil packets, these foil dinners below are the easiest way to get dinner on the table with very little cleanup. Perfect cheap and simple dinner ideas for two or for the whole family. Just dump the ingredients in aluminum foil and cook!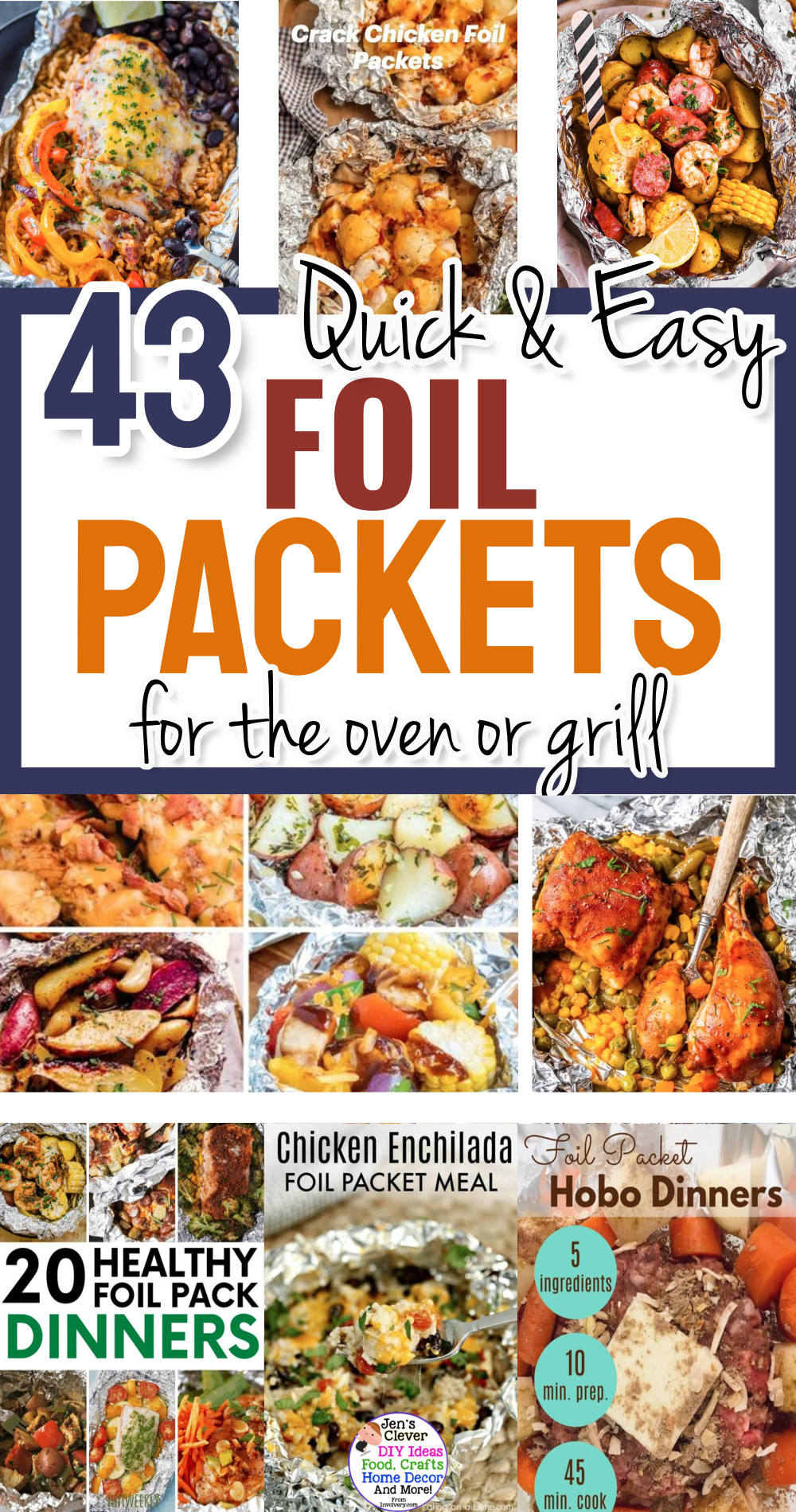 ---
Updated on September 9, 2023
posts may contain affiliate links -Enjoy and feel free to share with your friends!
---
Imagine a dump and cook dinner with NO dirty dishes – that's MY idea of a quick and easy weeknight meal that is perfect for school nights and busy days. Even my picky eaters LOVE these foil packet recipes below.
Get your "pinning finger" ready to save all of my family's favorite foil pack dinner and meal recipes below. These are also my Go To recipes when I'm just cooking for the two of us as well. There's simple NOTHING easier that a foil packet dinner when you don't feel like cooking!
Foil Packet Dinners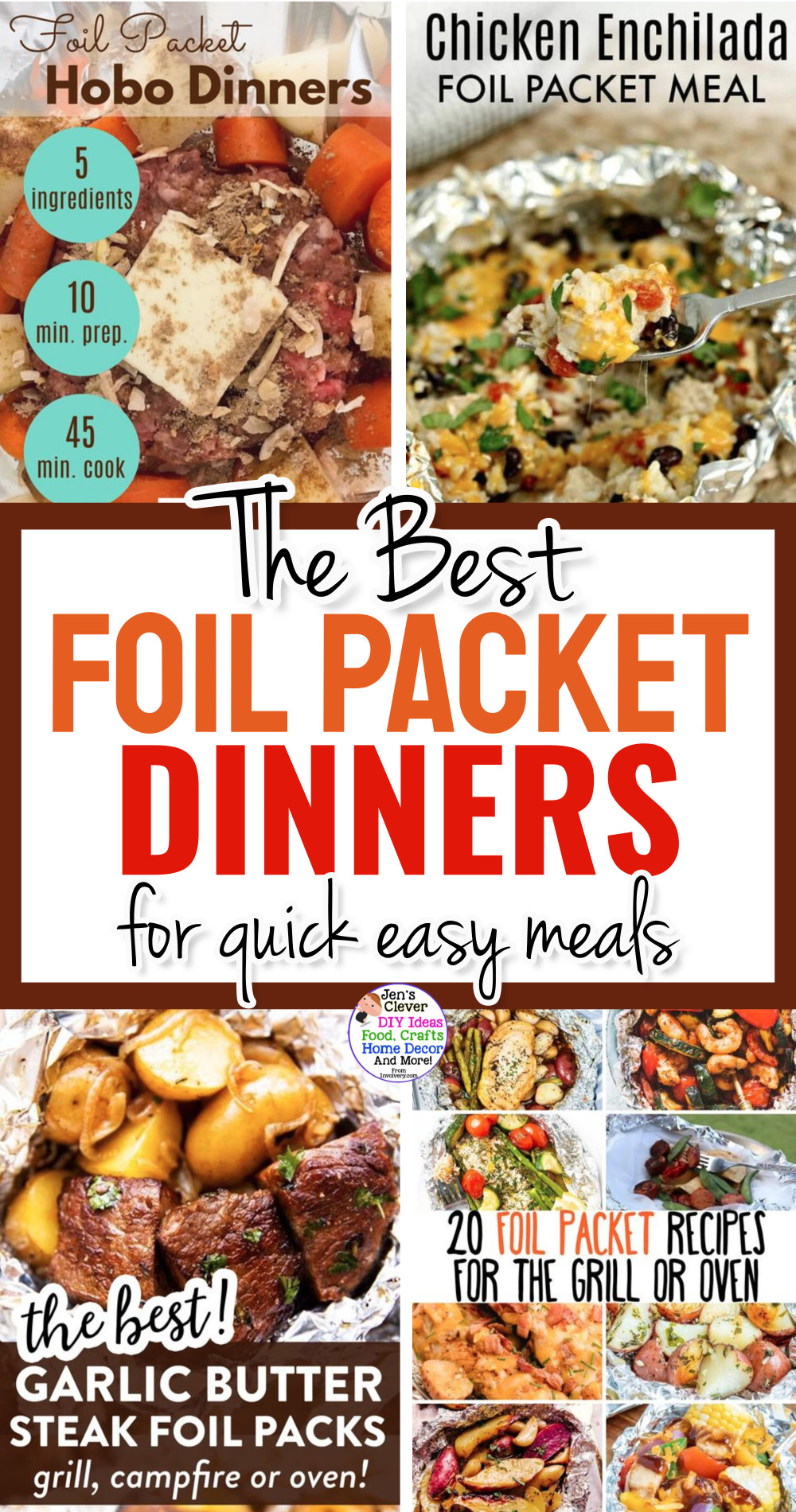 Recipes in the Image Above:
1 – Foil Packet Hobo Dinners – These delicious hamburger foil packet dinners pack a lot of flavor in a little packet. Each aluminum foil packet is filled with a hamburger patty made from ground beef, carrots, potatoes, and seasonings. They are fully customizable and cook up easily in the oven, on the grill, or over the campfire… Get the recipe.
---
2 – Chicken Enchilada Foil Packet Meal – This Easy Chicken Enchilada Foil Packet is perfect for busy nights. Cleanup is a breeze when everything is cooked in one of these handy foil packs. The chicken, cheese and rice combine together for a meal bursting with flavor! It's sure to be a hit with the entire family… Get the recipe.
---
3 – Garlic Butter Steak Foil Packs – These Garlic Butter Steak and Potato Foil Packets are an easy family dinner recipe for summer. They turn out so delicious with plenty of buttery and garlicky flavor. Cook them on the grill/campfire or in the oven for a simple dinner at home or on the road… Get the recipe.
---
4 – 20 Foil Packet Recipes For The Grill Or Oven – If you have never tried a foil packet meal, you are missing out! So many combinations possible and FULL of flavor, these foil packet recipes will curb your hunger pangs! They cook up great on the grill or in the oven… see the recipes.
Foil Wrapped Meals
What could be easier than dumping a few ingredients into some tin foil, wrapping it up and letting it cook?
To me, that's the easiest kind of meal to make for two – for the family – or for a crowd.
Here are 4 of my favorite foil wrapped meals and dinner recipes I think you'll love as much as we do.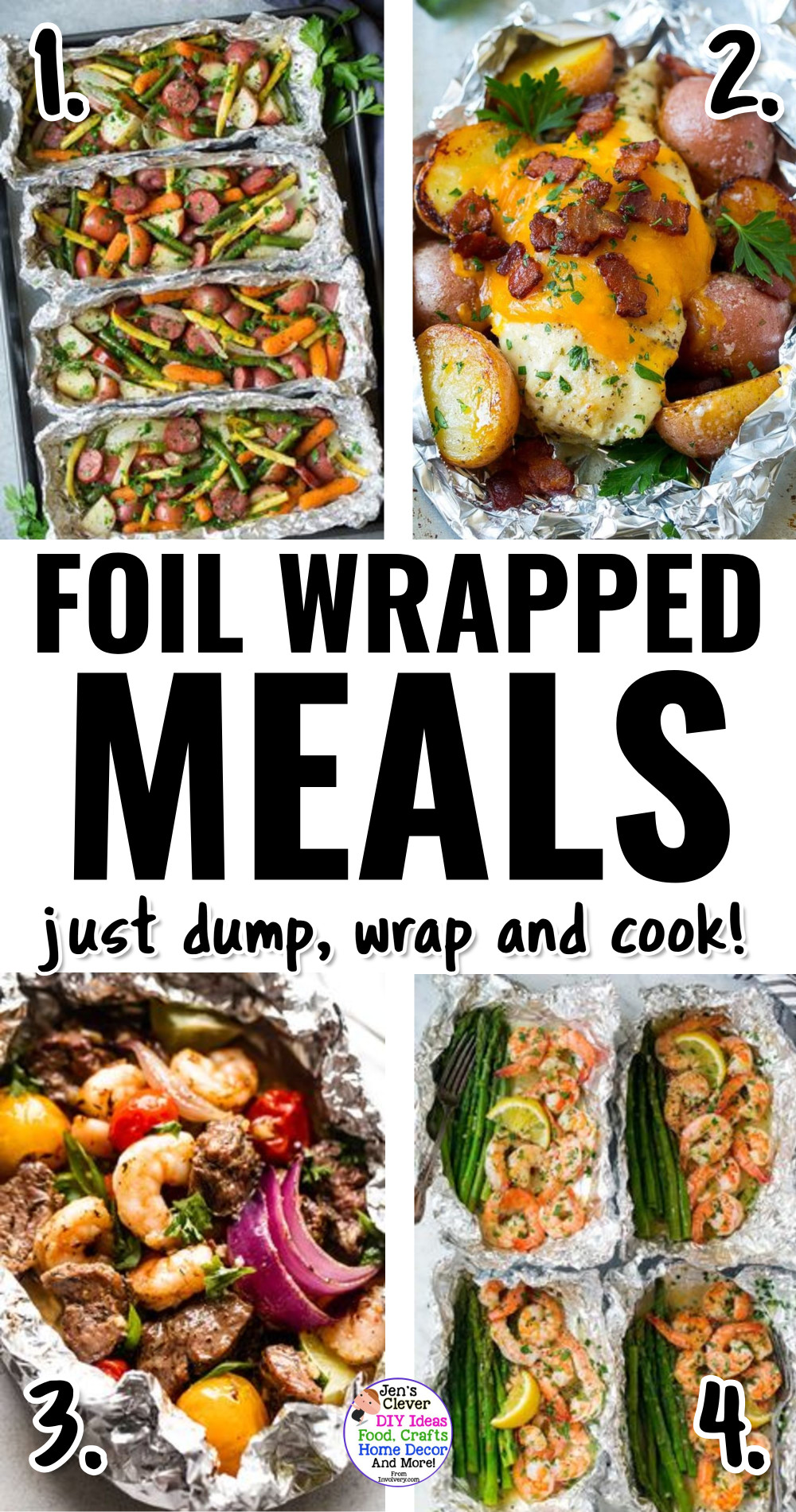 Recipes in the picture above:
1 – Easy Garlic Herb Sausage and Veggie Foil Packs – Simple and hearty foil packs made with turkey sausage, red potatoes, carrots and green and yellow beans. Perfect for busy weeknights – recipe is here
---
2 – Bacon Ranch Chicken Foil Packets – These bacon ranch chicken foil packets are chicken cooked with potatoes and ranch flavored butter, then topped with melted cheese and bacon – recipe is here.
---
3 – The Best Surf and Turf Foil Packs – Surf and Turf Foil Packs with juicy sirloin and Old Bay shrimp! Red onion, grape tomatoes, and garlic give this meal plenty of savory flavor – recipe is here
---
4 – Shrimp and Asparagus Foil Packs – Shrimp and Asparagus are cooked together in individual foil packs in a rich buttery sauce. Cook them on the grill or in the oven – recipe is here
BBQ Chicken Foil Packs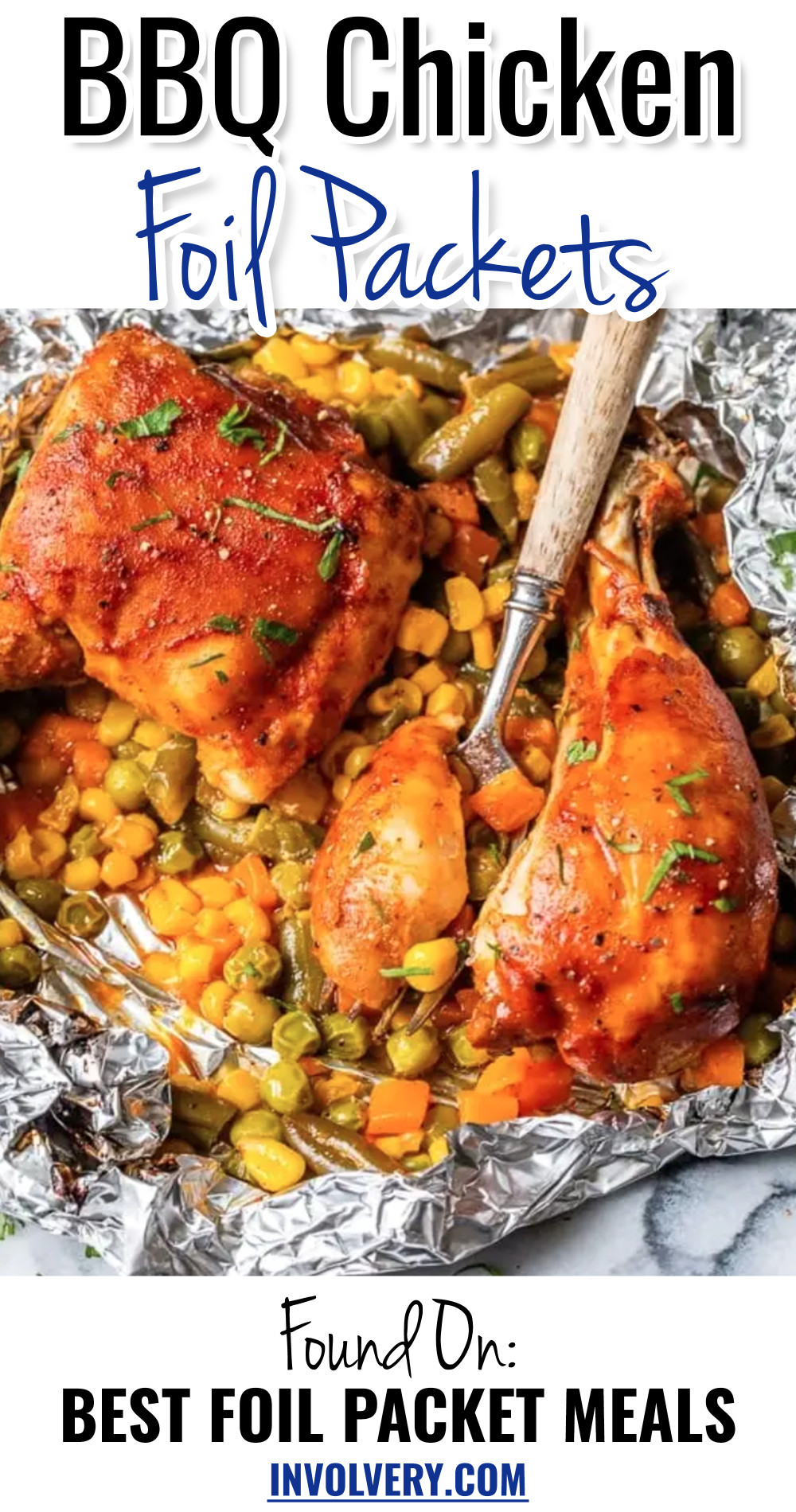 These easy 5-ingredient BBQ Chicken Foil Packets can be baked in the oven or made on the grill! An easy meal-in-one and the best part, easy cleanup!
Southwestern Chicken and Rice Foil Packets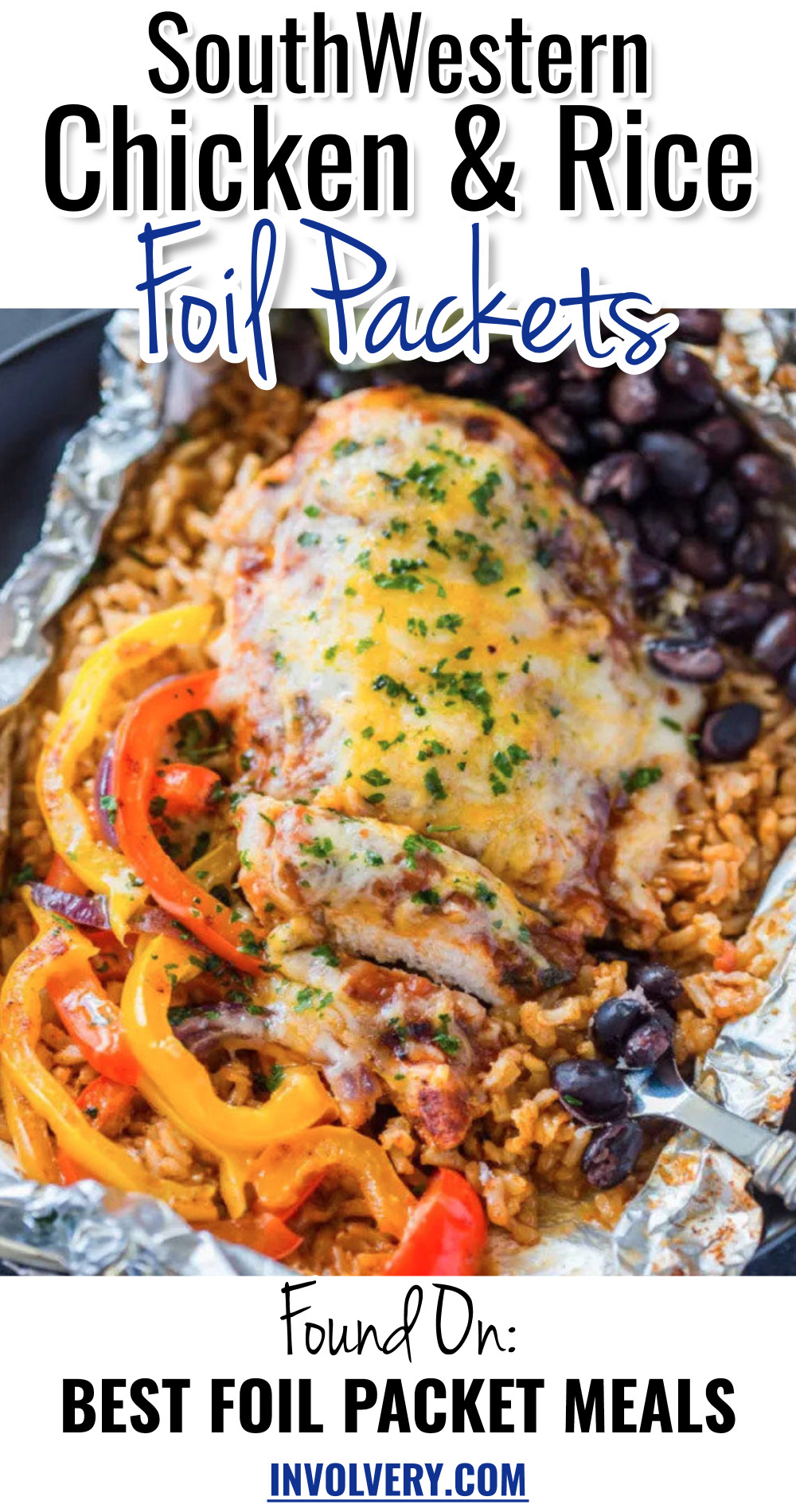 Simple, healthy and flavor packed chicken, rice, bell pepper, onion and black beans all cooked in foil packets. These foil packets make an incredibly delicious dinner or meal prep with no clean up required!
Foil Pack Meals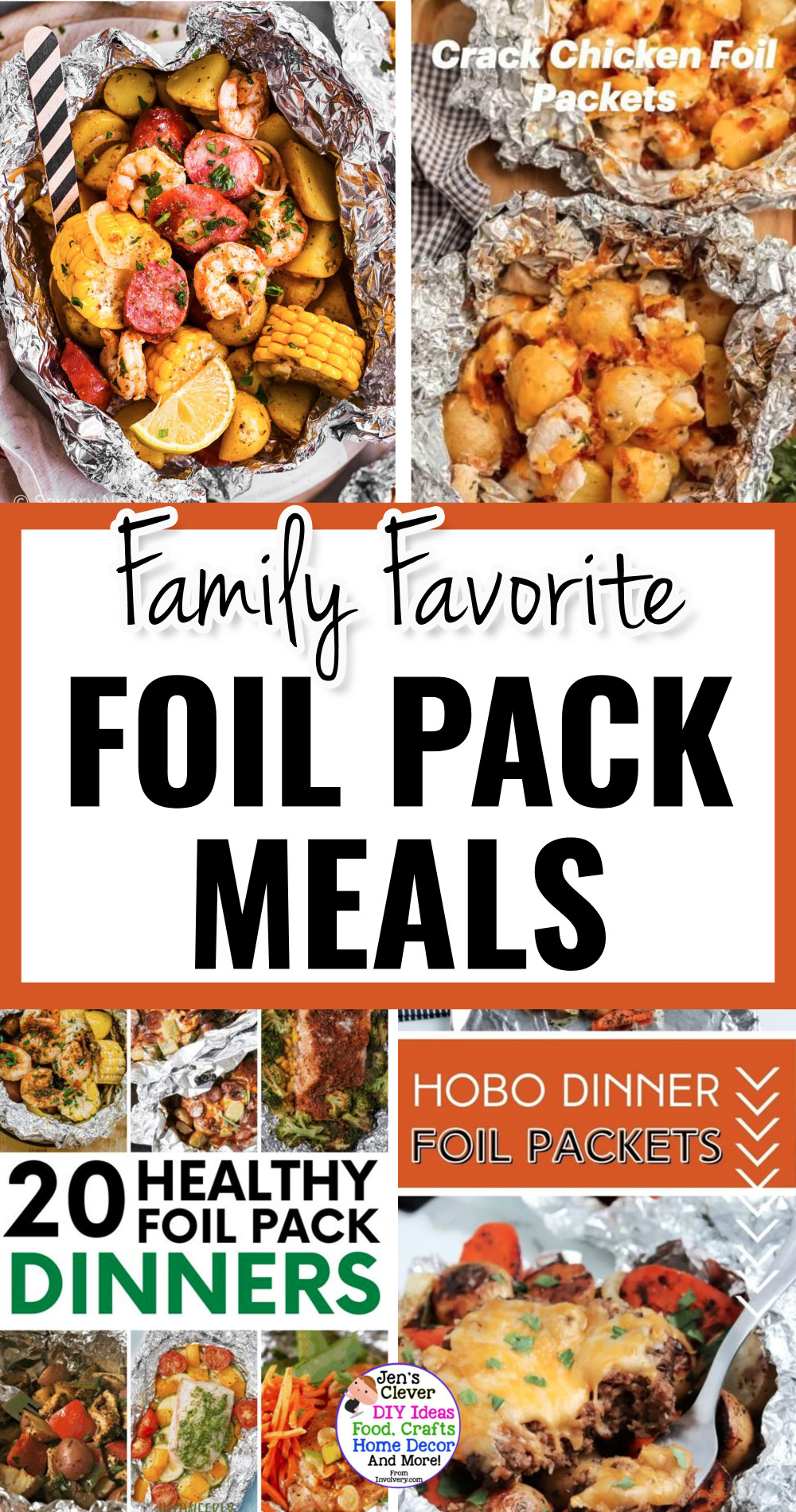 Recipes in the image above:
1 – Shrimp Boil Foil Packets – These "Shrimp Boil" Foil Packets are inspired by the summer seafood classic – with shrimp, smoked sausage and potatoes. They come in handy when you need a quick fix dinner with easy prep and a short cooking time. They can cook on the grill or in the oven – and make for a great camping meal, too… Get the recipe.
---
2 – Crack Chicken Foil Packets – The chicken filler foil packs are perfect for the grill, oven, or your next camping trip. Loaded with easy ingredients to give it the best flavor… Get the recipe.
---
3 – 20 Healthy Foil Pack Dinners – Bake, grill, or BBQ, these healthy foil pack dinners are a brilliant mess-free option for people that haven't got time to cook… see the recipes.
---
4 – Hobo Dinner Foil Packets – These simple hamburger foil packs offer a fun and alternative method of cooking your vegetables and meat. Simply place your fresh veggies together with ground beef and seasoning in a square of aluminum foil, wrap it up and cook it over the grill… Get the recipe.
Make Ahead Foil Packets
If you are into meal prep for the week or you want simple meals to make ahead and freeze to take camping, these freezer-friendly foil packet meals are really good.
It took me a long time to realize I could "meal prep" my foil packet dinners and freeze them.
A few tips: Be sure the foil is wrapped tightly AND put them in a baggie before putting them in the freezer (should be good for about 2 months in your freezer).
Simply take out and defrost in your refrigerator (or cooler if camping) a day or 2 before you plan to cook them.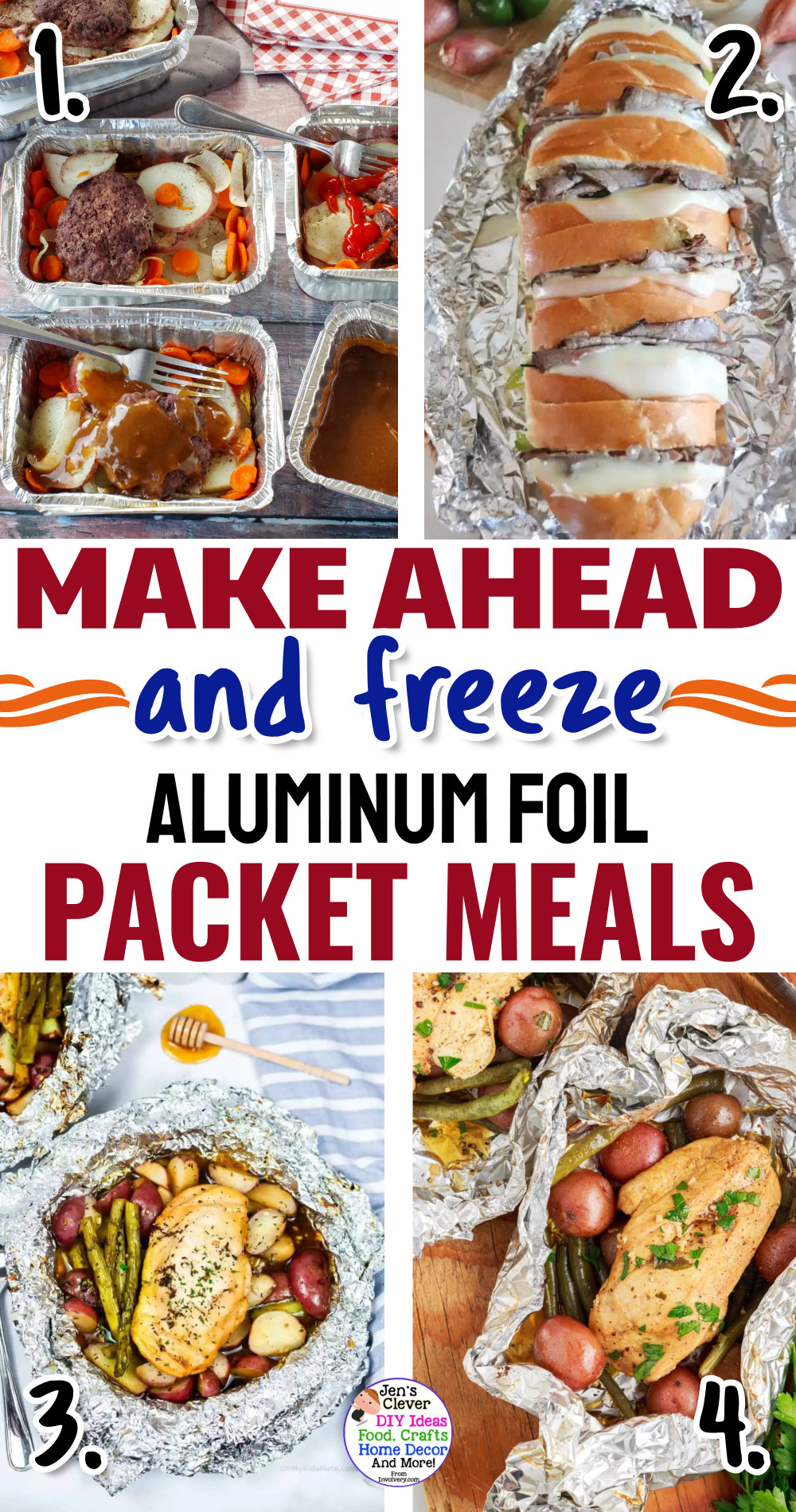 Recipes in the image above:
1 – Hamburger Foil Packets – Simple one-pan camping meal with tender carrots, potatoes, onions, and a lean ground beef patty, all grilled (or baked) to perfection – recipe is here
---
2 – Campfire Philly Cheesesteak Sandwich – This campfire sandwich recipe makes a hearty meal for the whole family when camping, however; it can be cooked in the oven too – recipe is here
---
3 – Honey Garlic Campfire Chicken Potato Foil Packets – Tender and delicious honey garlic chicken potato foil packets is a hearty and delicious recipe. This dish is great for grilling or cooking over a campfire, but is also really tasty baked in the oven too – recipe is here
---
4 – Campfire Chicken Foil Packets – Marinated chicken, green beans, and baby potatoes come together in these easy campfire foil packets. You can pop them over the fire while camping or toss them on the grill at home for a convenient, no-fuss meal – recipe is here
Miss Anything?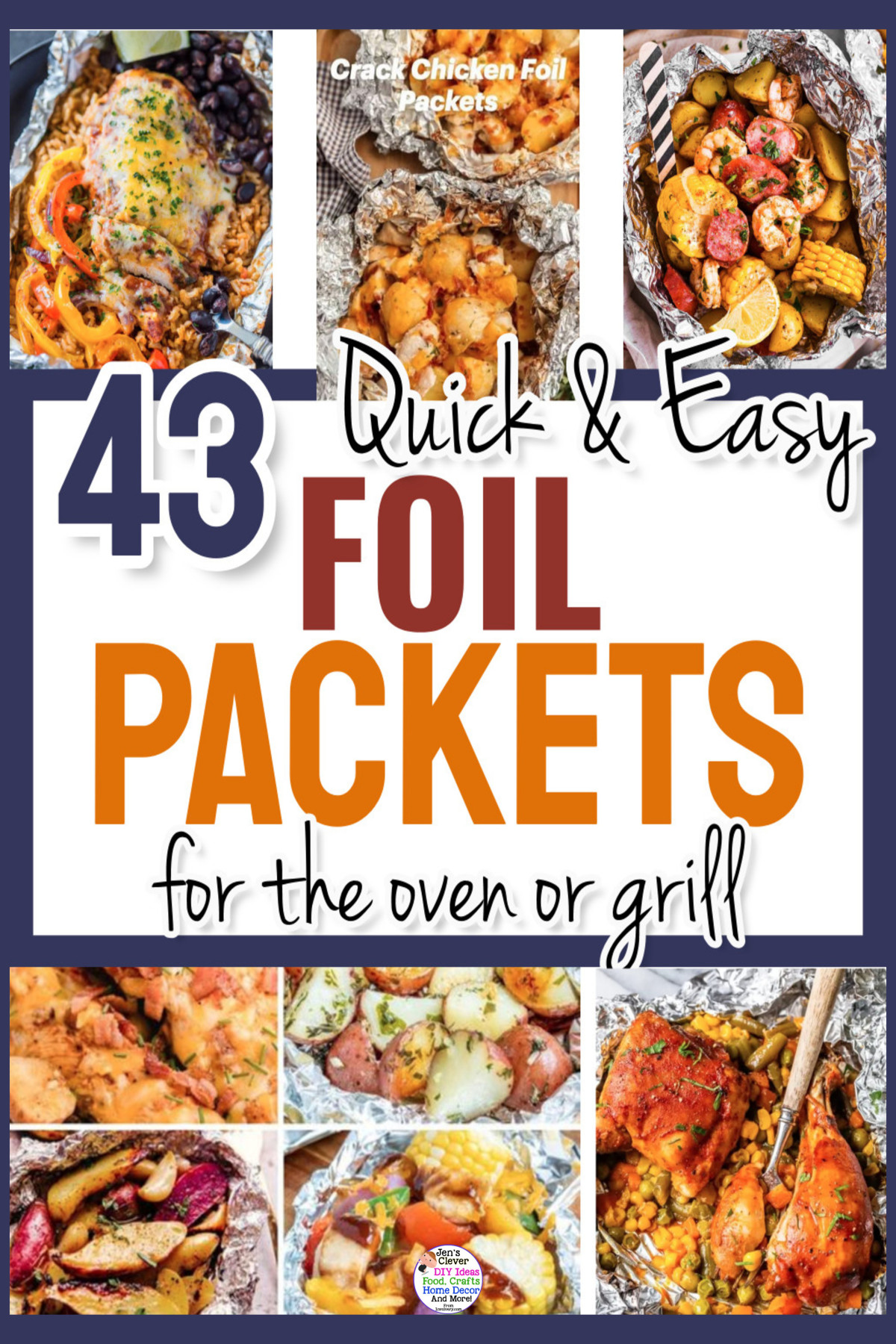 Use the links below to go back to a foil packet recipe:
More Easy Dinner Recipes: