---
Staircase Wall Decor Pictures and Ideas For Stairways Walls – 5 Steps to the PERFECT Stairway Accent Wall plus lots of pictures and staircase wall decorating ideas for inspiration – even with high ceilings or a small foyer.
If you're ready to turn that boring stairwell wall into a beautiful accent wall, these 5 steps will take you from planning to finished.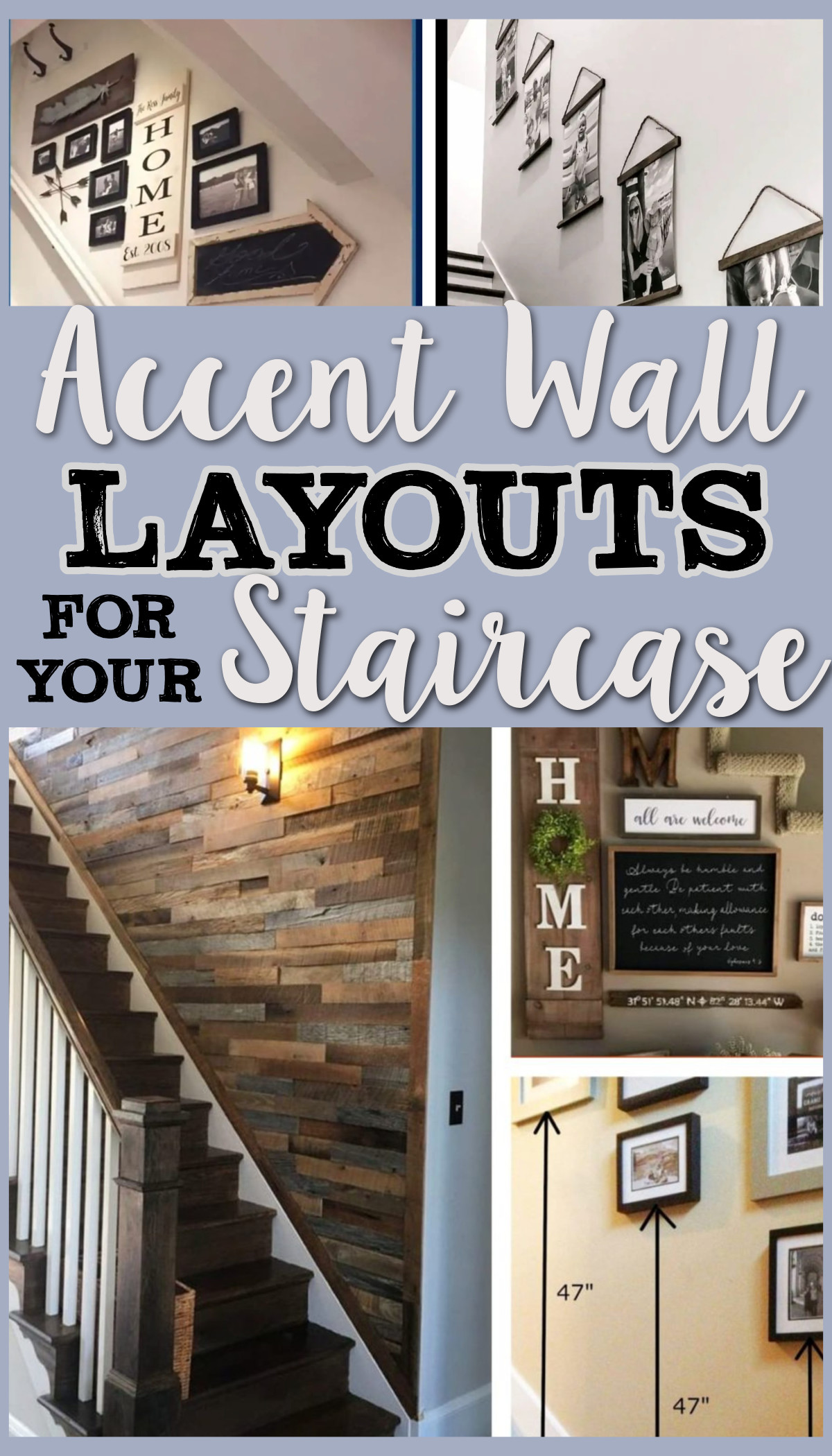 ---
Updated on September 15, 2023
posts may contain affiliate links -Enjoy and feel free to share with your friends!
---
Stairway Wall Decorating Ideas
Below are some GORGEOUS ideas for decorating your stairway, landing and staircase walls. From aesthetic accent walls to photo walls and gallery wall designs, you are sure to find the perfect ideas to decorate those walls on YOUR stairway area.
Plus – some super helpful decorating tips to make your DIY decorating project MUCH easier.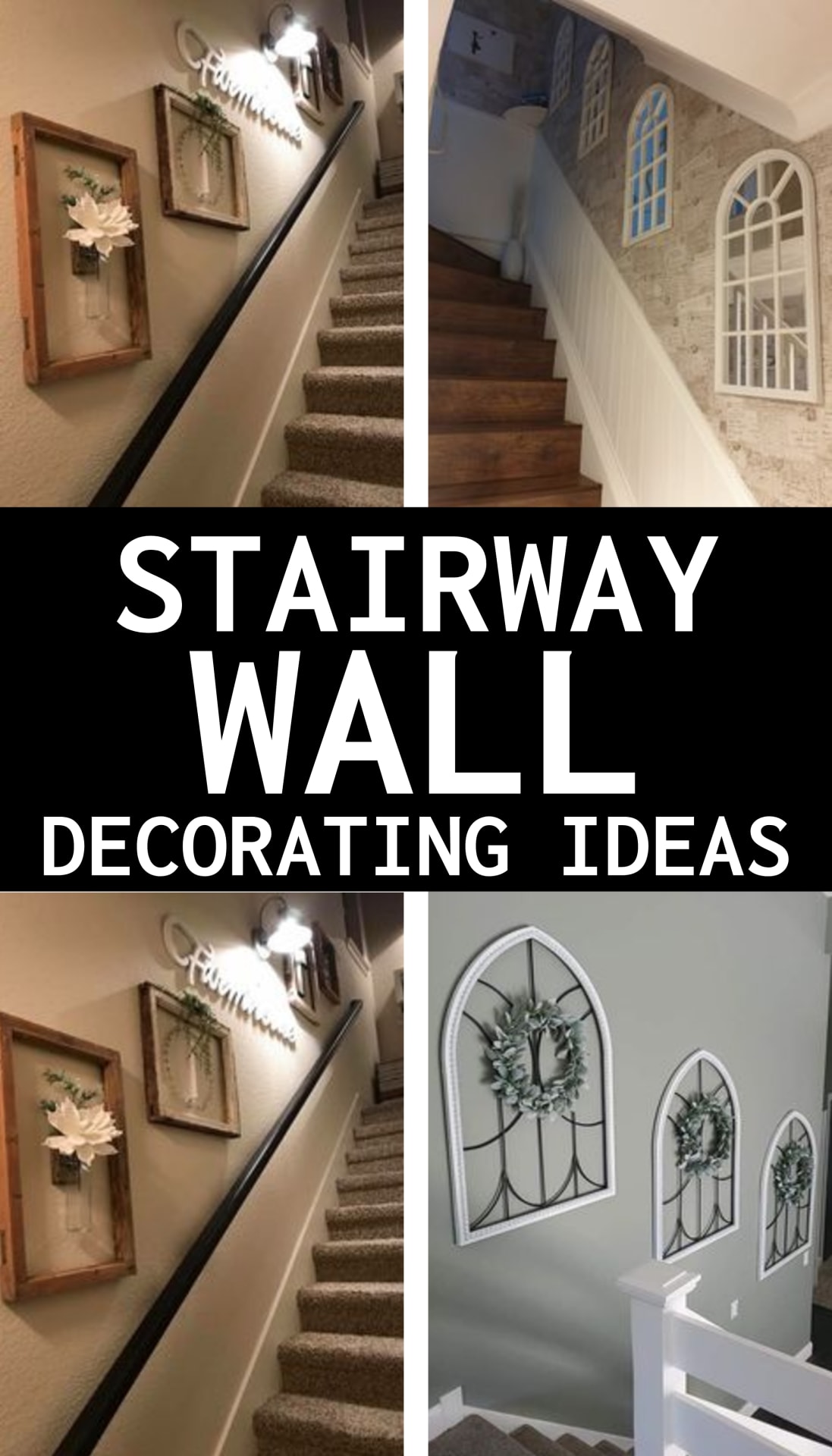 1. Planning
The first step to creating an accent wall on your stairway wall is to PLAN what you want the finished project to look like.
Gather ALL the items and pictures you want to hang.
Also, don't feel pressured to BUY new items. When I was creating my accent wall, I went 'shopping' in my house. I found so many cute things that were just sitting unused in my closets and in my attic – all beautiful decor pieces, but sitting there unused.
I also came across a few sentimental items I decided to display. For example, I found a really meaningful card my husband gave me WAY back in the day. I decided to frame it and add it to my accent wall items.
So feel free to get creative with it and display items that you love.
You can even decorate with old windows on your stairway wall!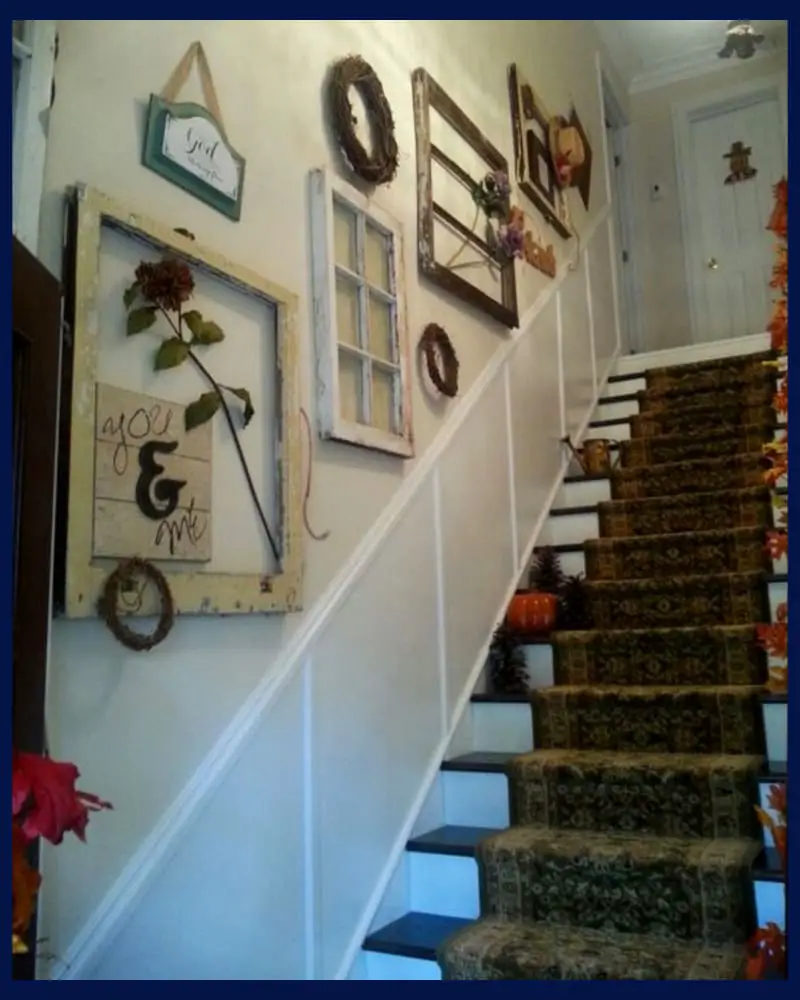 Bottom line – WHAT you hang on your stairway wall is totally up to YOU. There's no "right" or "wrong", ok?
2. Lay Everything Out
Now that you have gathered all your items to hang, you're going lay EVERYTHING out on the floor and start moving them around into an arrangement that will work on your wall.
Ideally, you want to measure the wall space you'll be working with first so you have a good idea of how much space your accent wall items will take AND to help you figure out spacing BETWEEN your items.
Try to break up colors and aesthetic of your items because you want each item to stand out.
For example, if you have multiple items in white frames, balance them between darker items so they aren't all bunched together on your wall.
If you have one big item that you want to be more of a focal point for your wall arrangement, start with that item and work around it.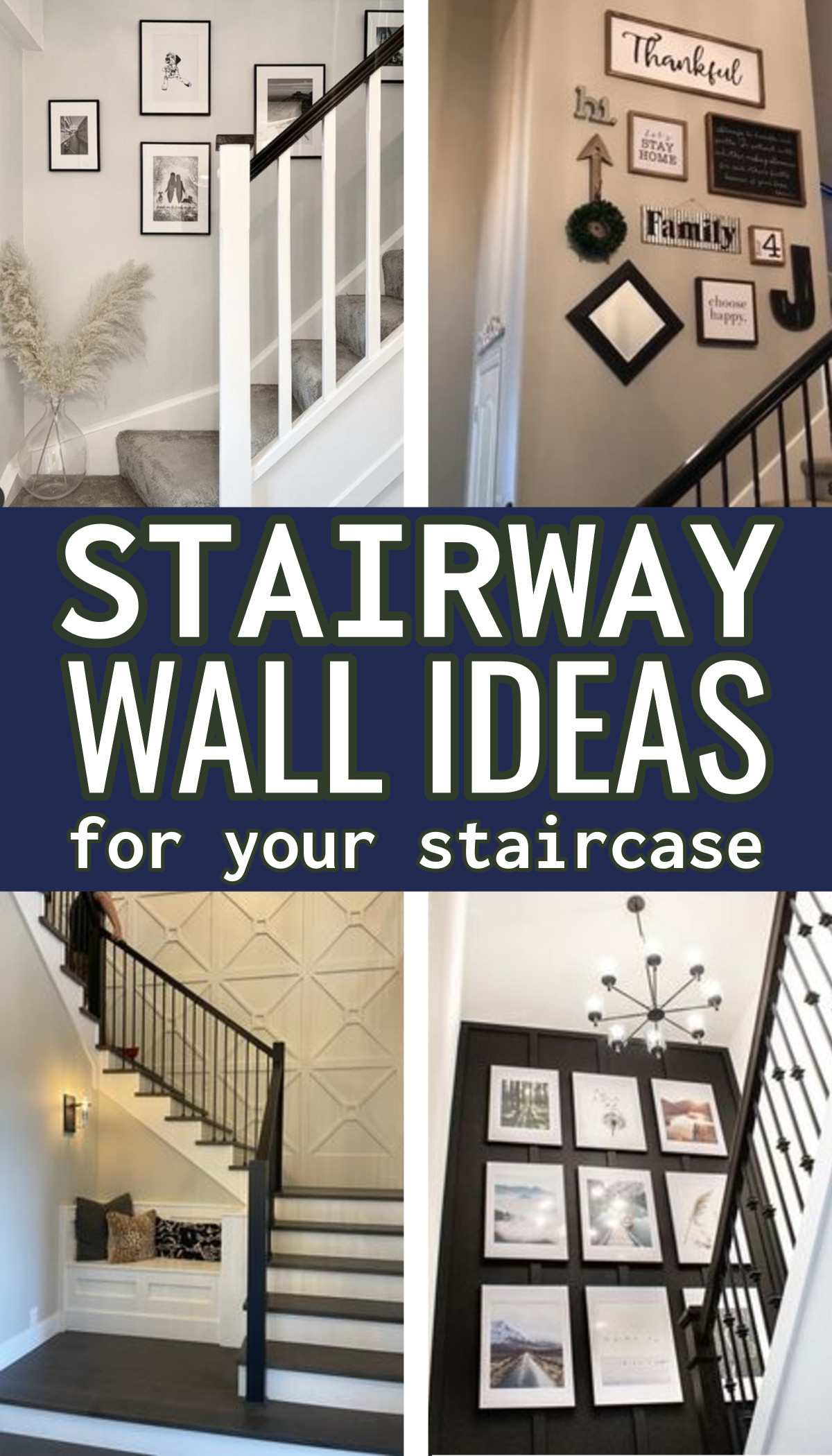 3. Make Templates
Now this next step might sound unnecessary and time-consuming, but it's really important.
Now that you have all your items arranged on the floor, take some craft paper, or printer paper or even newspaper and cut out a template of each item that is as close as possible to its actual size and shape.
TIP: If you plan to frame any of your accent wall items, be sure each are IN the frame before making your paper template for it.
4. Hang Your Templates
Now, grab your painters tape and start hanging the paper templates of your accent wall items on your wall.
This is truly the most important step because you do NOT want to just start making nail holes in your wall until you KNOW what your finished project should like.
I can guarantee that once you start hanging your paper templates on the wall, you WILL move some around do rearranging or your items to find the perfect balance.
When going up the wall on your staircase, try to keep all the bottom accent items the same distance from each step.
Like this: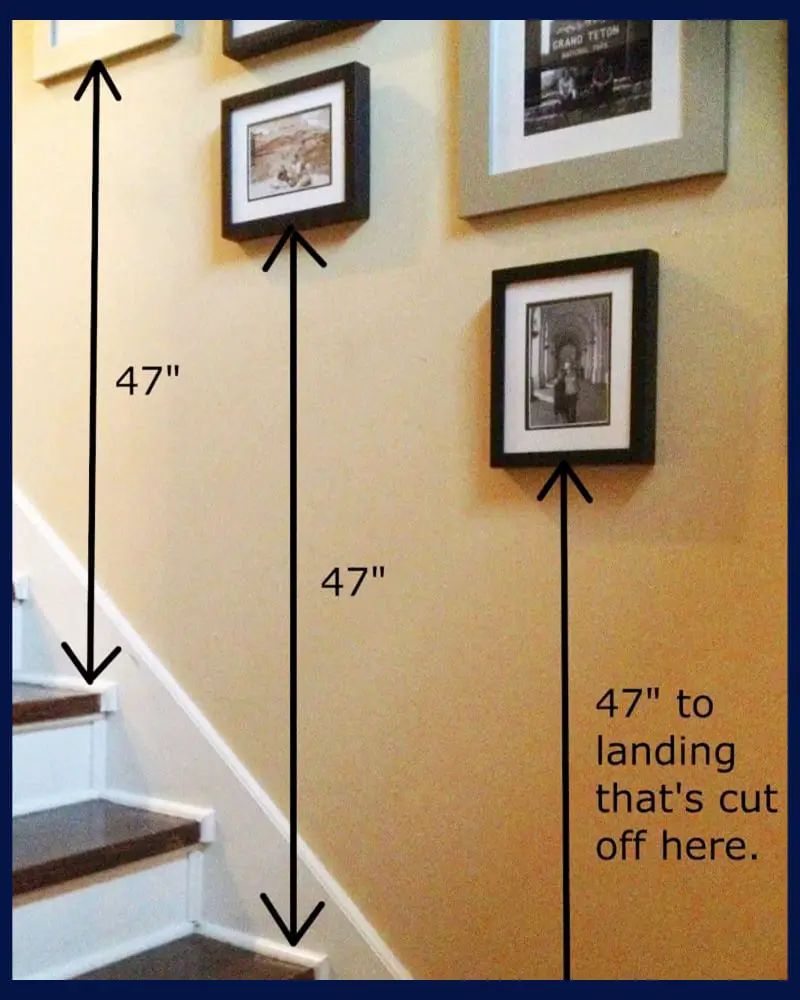 By keeping the distance from the each step equal, your accent wall will have a nice, balanced flow.
5. Hang Your Accent Wall Items
Once all your paper templates are on your wall the way you want them, it's time start hanging each item.
If you're hanging the item with a single nail, just hammer the nail in the wall through the paper template. Once the nail is in the wall, just rip the paper template off and hang your item.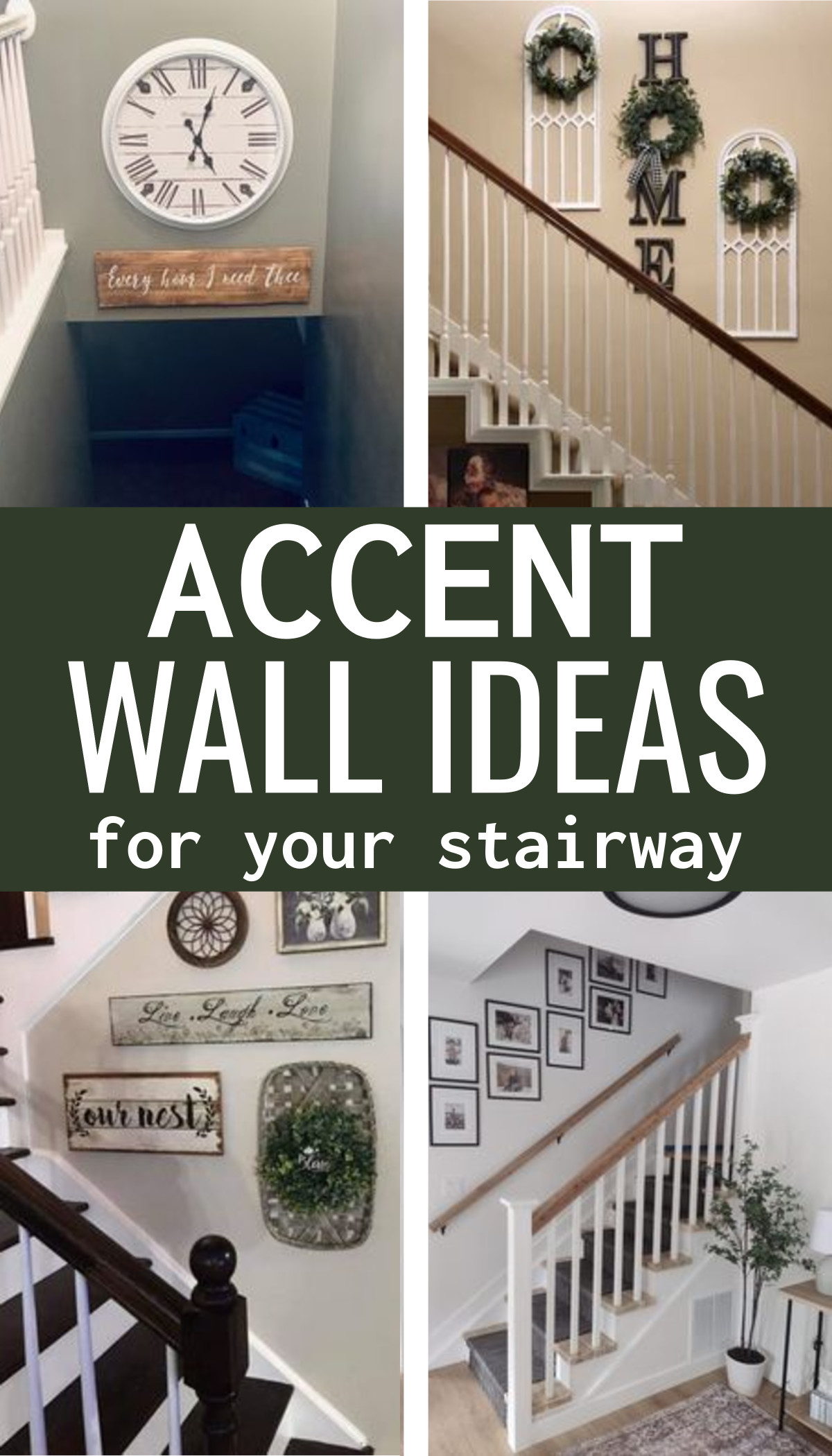 Here are 5 tips for hanging your accent wall items.
Use toothpaste – If your accent wall item has multiple hooks on the back or is awkward to hang, put a few dabs of toothpaste on the hooks or back of the item, place it firmly on the wall where you want to to hang and the toothpaste will leave little spots where your hangers need to go.
Use painters tape – put a strip of painters tape (or masking tape) on the back of the item you want to hang and then poke a hole in the tape where the hangers are. Pull the tape off and place that piece of tape on the wall where the item will hang and put your nails through those holes.
Use removable adhesive strips – If you don't want to use nails, or you CAN'T put nails in the walls because you rent, use those adhesive hanging strip that are removable.

Use mounting adhesive – Mounting Adhesive is like a sticky putty kind of consistency and it's great for keeping accent wall items in place. For example, my neighbors accent wall is on the same wall as her front door. Every, single time someone would come in or out and shut that door, her accent wall items would move or shift. By putting a little bit of mounting adhesive between or hung items and the wall, it kept everything even and stable no matter how hard someone slammed that door.
Use the nail in the ruler trick – Many frames have wire across the back for hanging which makes them a bit challenging to hang and get the right height. Take a wooden ruler and pop a nail into the center. Then, place the ruler on the wall in the area you want the frame to hang… and hang the frame FROM the ruler. Move the ruler around to find the right place for your nail to go in the wall to get the perfect height.
Video Tutorial
Here's a quick video tutorial walking you through all the steps for planning your accent wall on your staircase.
Staircase Wall Decor Ideas
Need more inspiration for decorating your staircase wall?
Here are more beautiful decorating ideas I've found (resource links below)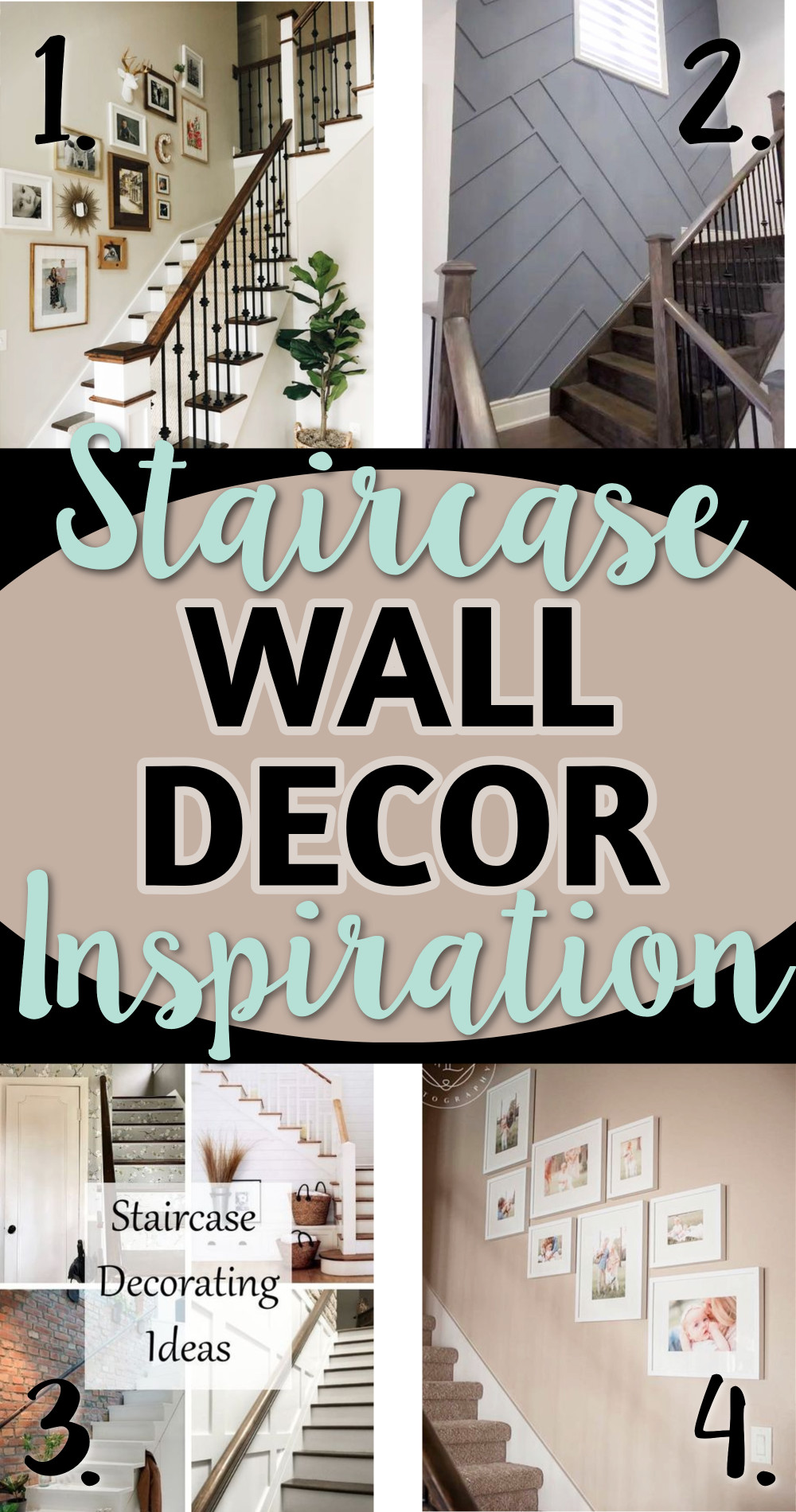 1 – Foyer Staircase found on Accent Wall Ideas on Pinterest here.
---
2 – Staircase Feature Wall found on Pinterest here.
---
3 – 11 Stylish Staircase Decorating Ideas – Staircases are the room we tend to not decorate so here are 11 stylish staircase decorating ideas so you too can spruce up that forgotten room… read more.
---
4 – Stairway Pictures – I'm obsessed with wall galleries and choose them 9 times out of 10 over a single large portrait… found on Instagram here.
High Ceiling?
If you have high ceilings or tall walls in your foyer staircase area, decorating those walls is a bit more of a challenge to make it all look great yet not "too much".
Below are some beautiful high ceiling staircase wall decor ideas I've found with resource links below.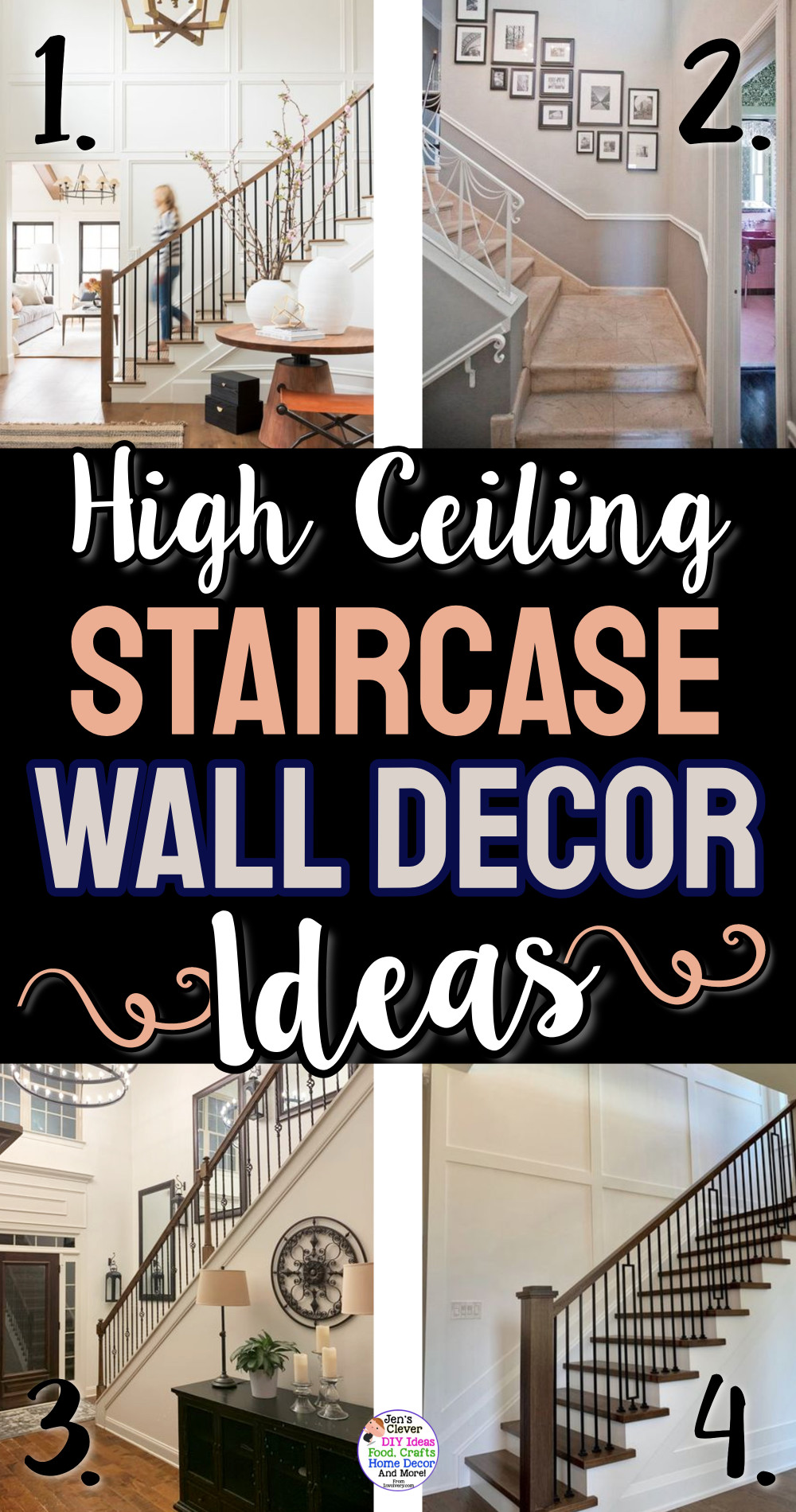 1 – Northridge Remodel: The Entry + Dining – See the entry and dining space makeover in their Northridge Remodel… keep reading.
---
2 – 40 Ways To Decorate Your Staircase Wall – Staircase wall is often a cold corner overlooked by homeowners. But with a little creativity, your staircase wall can be transformed… keep reading.
---
3 – Foyer staircase with high ceilings found on Foyer Decor Ideas on Pinterest here.
---
4 – Staircase Wall Decor High Ceilings found on Pinterest here.
More Wall Decor Ideas
Miss Anything?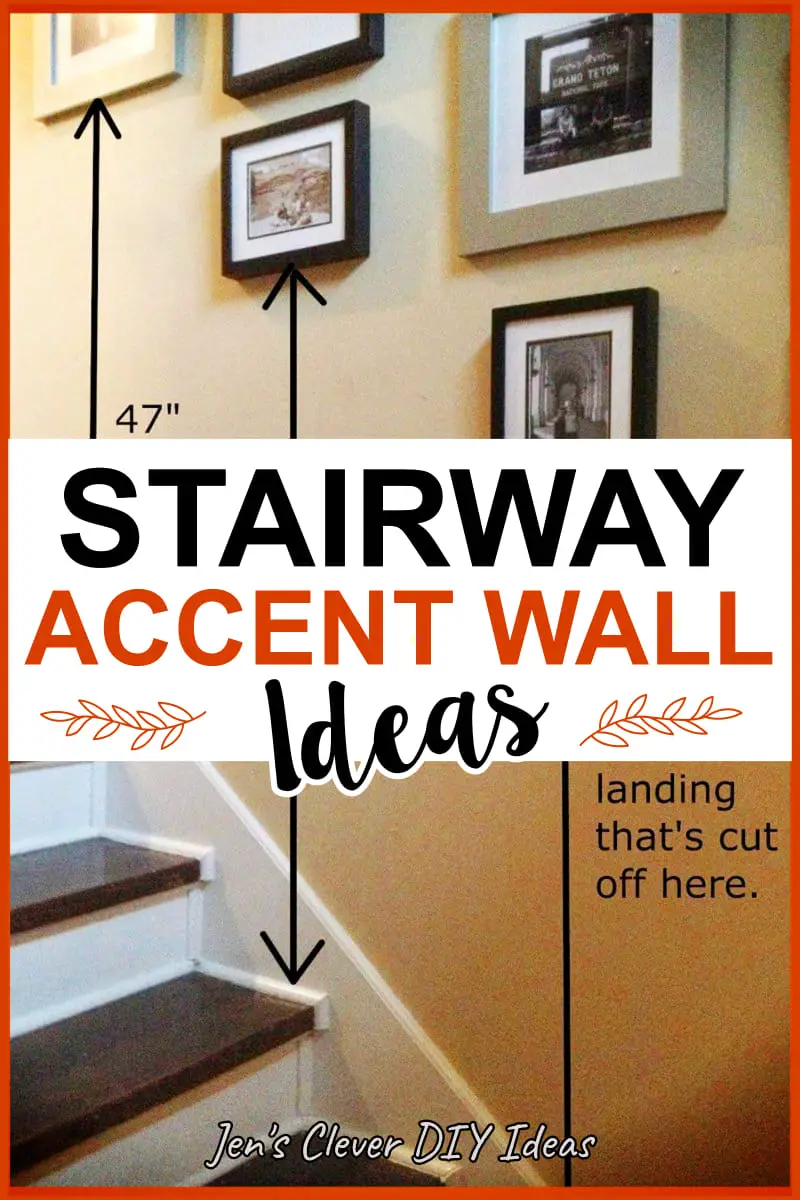 Go BACK to a specific tip, idea or picture:
What To Read Next: