---
Need potluck food ideas to make and take? These 40 must make potluck dishes are the most popular and crowd-pleasing food ideas to take to potluck parties.
From main dishes and desserts to easy potluck desserts and side dishes, this mega list of food ideas to take to a potluck WILL help you figure out what to carry in to your event.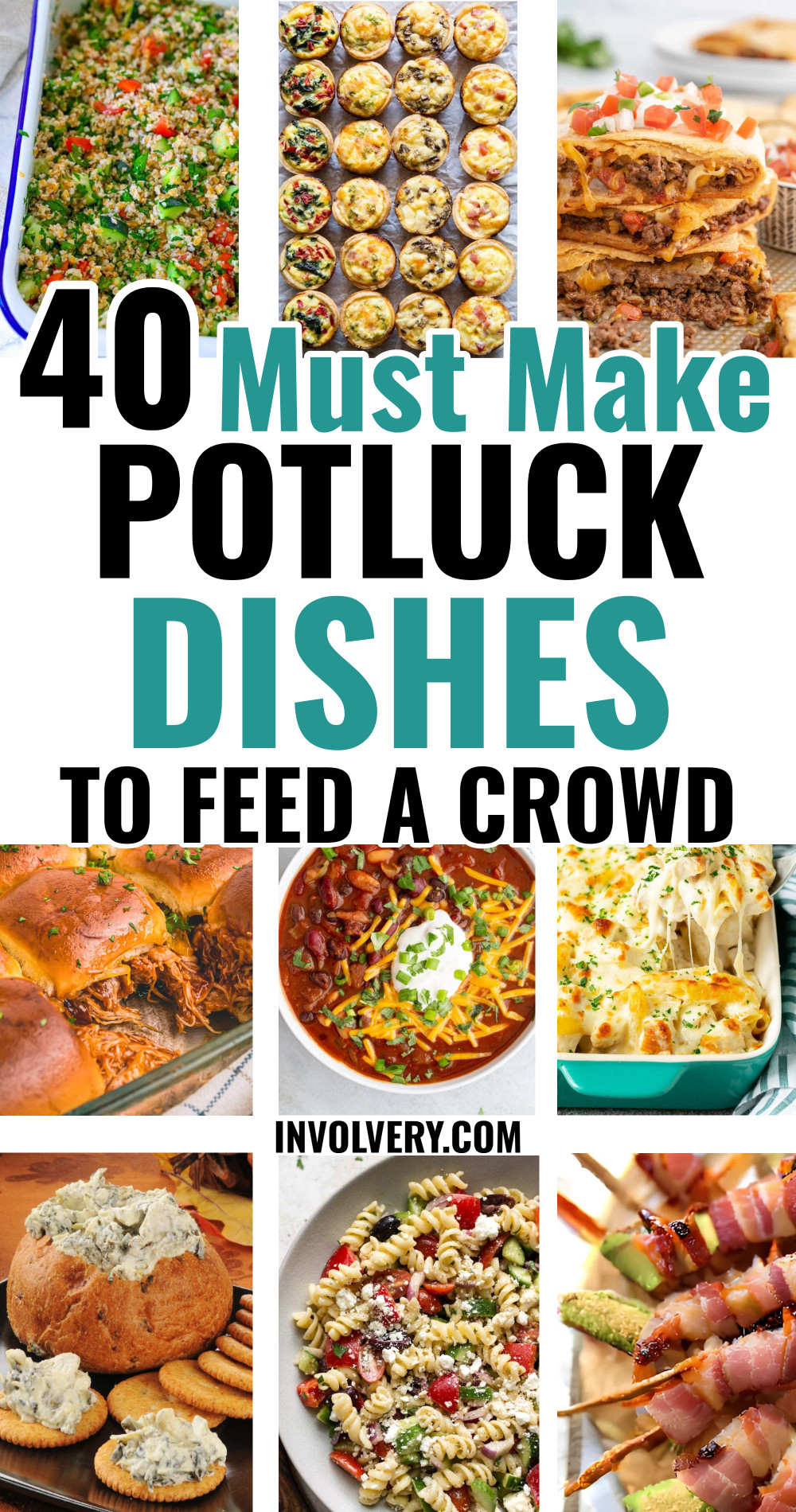 ---
Updated on October 13, 2023
posts may contain affiliate links -Enjoy and feel free to share with your friends!
---
Potluck Dishes
Potluck gatherings have a unique charm. They bring friends and family together, each contributing a dish that holds a special place in their hearts. These potluck events are a perfect blend of flavors and traditions, and they often lead to memorable feasts filled with laughter and connection. If you're on the hunt for dishes that will steal the show at your next potluck, you're in for a treat. In this article, we've curated a list of 40 must-make potluck dishes that cater to every palate and dietary preference. From appetizers to desserts, you'll find a wide range of delectable options to inspire your next potluck contribution.
Appetizers: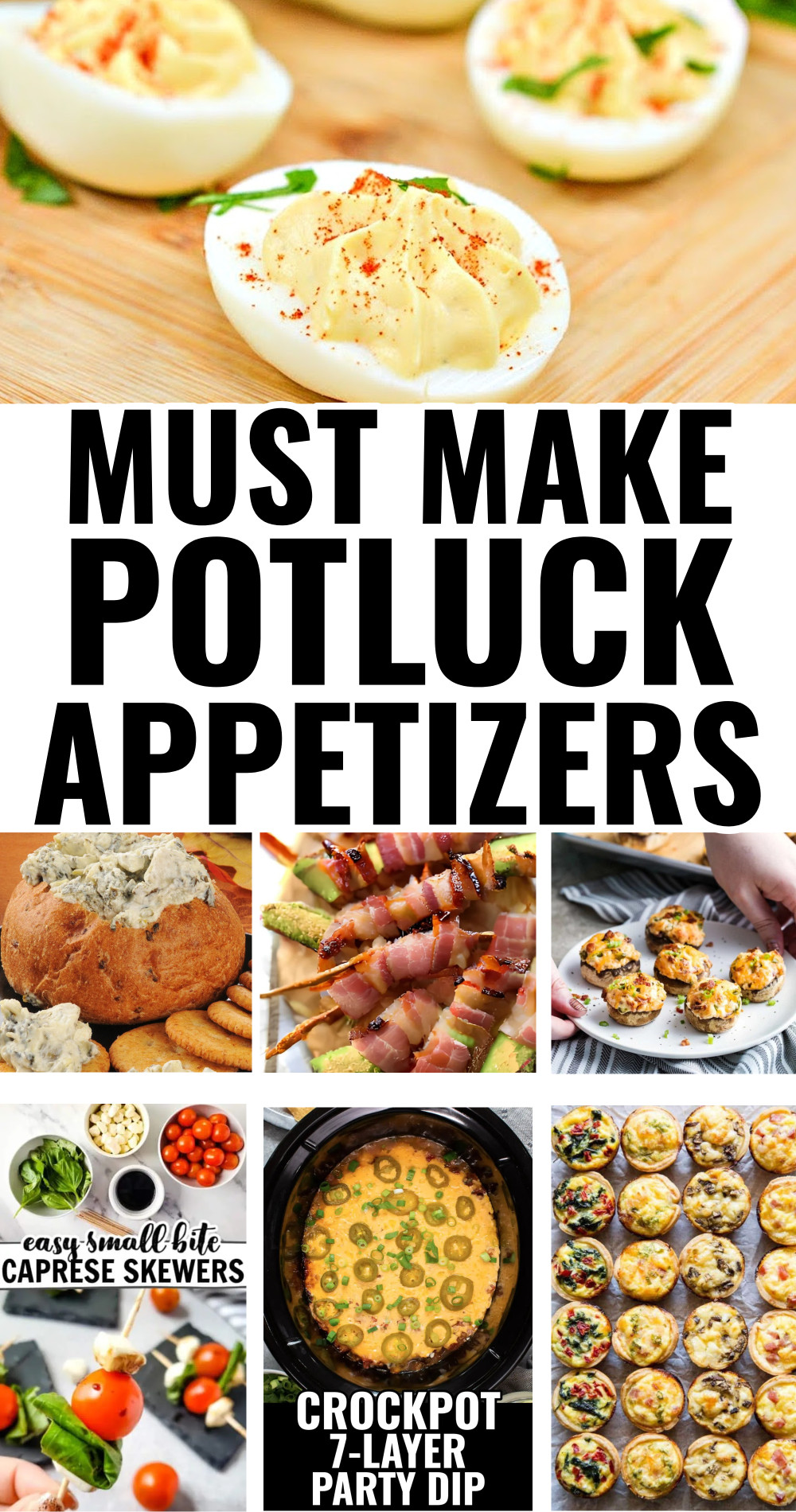 Million Dollar Deviled Eggs: Creamy deviled eggs with a splash of spice.
---
Spinach and Artichoke Dip: Warm, cheesy dip with tortilla chips or crusty bread.
---
Caprese Skewers: Cherry tomatoes, fresh mozzarella, basil, and balsamic glaze.
---
Jalapeno Stuffed Mushrooms: Bite sized mushrooms stuffed with jalapeno filling.
---
Loaded Potato Skins: Crispy potato skins topped with cheese, bacon, and sour cream.
---
Bacon-Wrapped Avocado Fries: Crispy bacon-wrapped around avocado slices marinated in a low carb savory sauce.
---
Guacamole and Salsa: A duo of fresh guacamole and salsa with tortilla chips.
---
Crockpot 7-Layer Cheese Dip: Simple "dump 'n go" crockpot version of the classic 7-layer cheese dip.
---
Mini Quiches: Bite-sized quiches with various fillings like spinach and feta or bacon and cheese.
---
Bruschetta: Toasted baguette slices topped with diced tomatoes, fresh basil, and balsamic glaze.
More Potluck Appetizer Ideas
Main Dishes: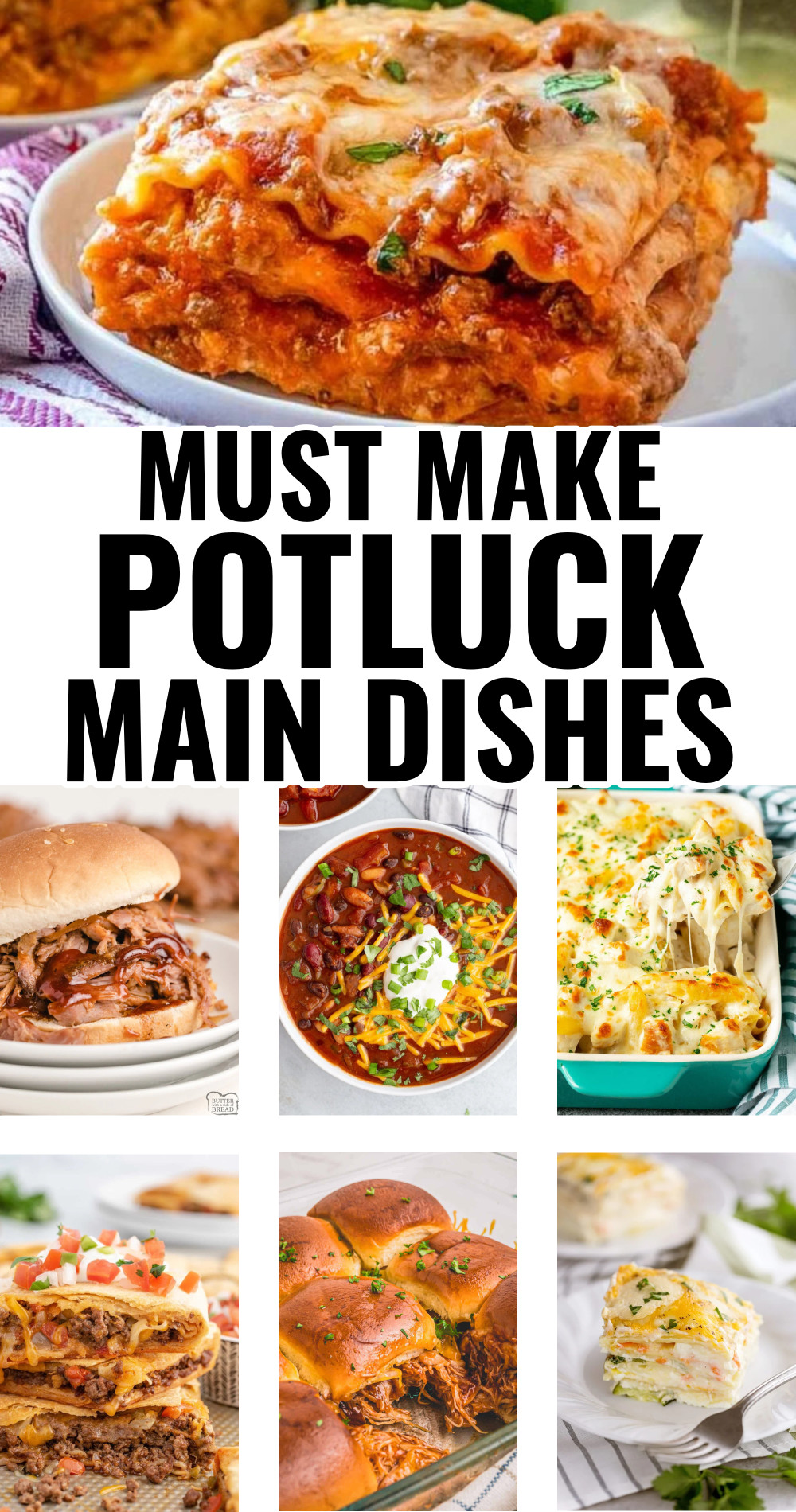 Lasagna: Layers of pasta, rich meat sauce, and cheese.
---
BBQ Pulled Pork: Slow-cooked, tender pulled pork in smoky barbecue sauce.
---
Vegetarian Chili: Hearty mix of beans, veggies, and spices.
---
Chicken Alfredo Casserole: Creamy pasta, tender chicken, and a cheesy topping.
---
Sheet Pan Beef Tacos: Casserole style tacos with seasoned beef, tortillas, and toppings.
---
Pasta Salad: Colorful pasta salad with a medley of veggies and a tangy dressing.
---
Beef and Broccoli Stir-Fry: Quick and flavorful stir-fry dish with tender beef and broccoli florets.
---
Veggie Alfredo Lasagna: A vegetarian twist on classic lasagna, packed with veggies and cheese.
---
Shrimp Scampi: Succulent shrimp cooked in a garlicky, buttery sauce served over pasta.
---
Pulled Chicken Sliders: Tender shredded chicken with BBQ sauce served on mini slider buns.
Potluck Sides Dishes: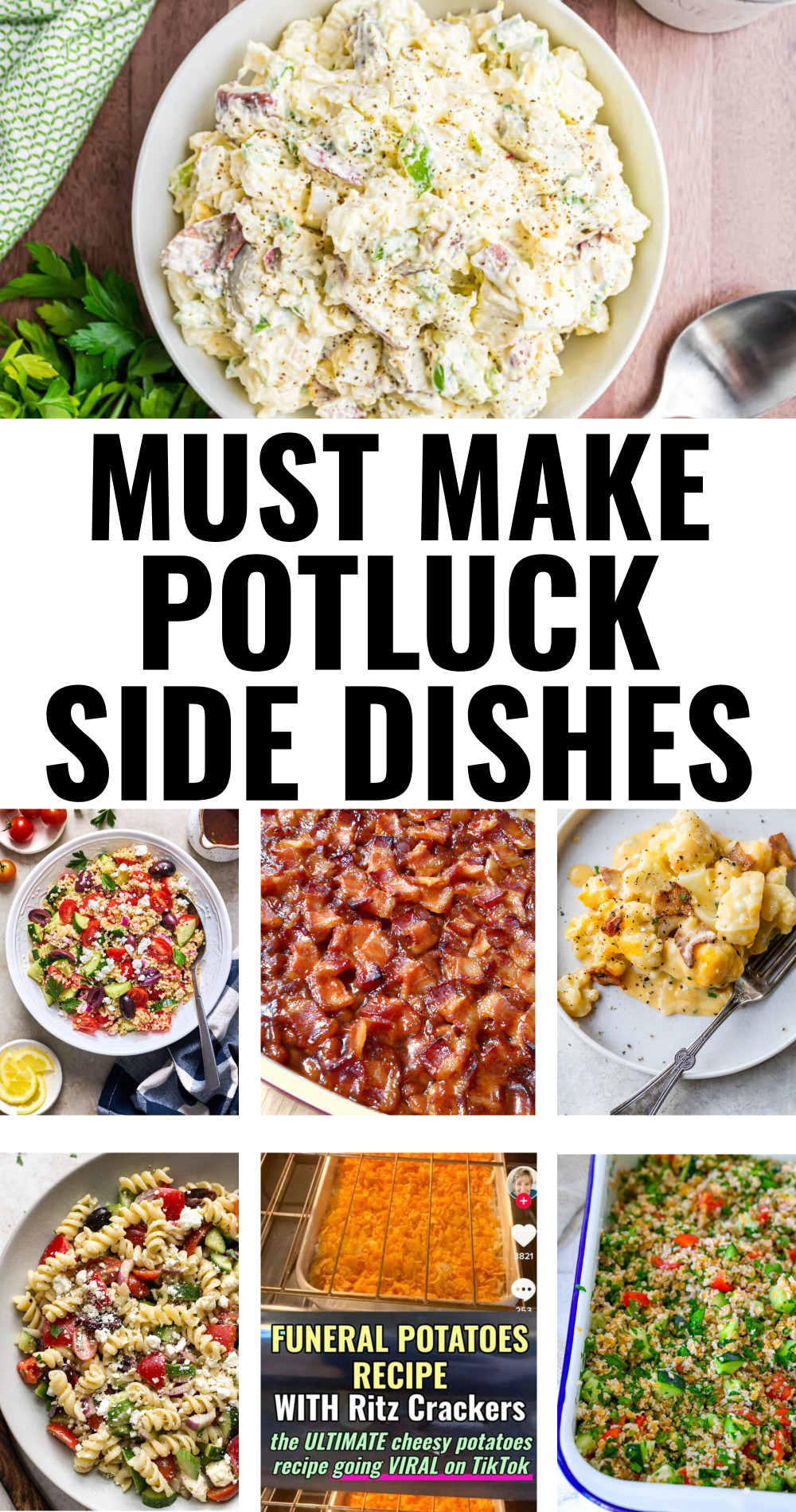 Classic Potato Salad: Creamy potatoes, mayo, and a hint of mustard.
---
Coleslaw: Refreshing side dish with a perfect balance of sweetness and tang.
---
Greek Quinoa Salad: Healthy, colorful salad with quinoa, fresh veggies, and zesty dressing.
---
Southern Style Baked Beans: Slow-cooked beans in a sweet and savory sauce topped with bacon.
---
Garlic Bread: Crusty bread slathered with garlic butter and toasted to perfection.
---
Cauliflower Mac and Cheese Bake: Low carb version of creamy mac and cheese basked as a casserole.
---
Cornbread: Moist, sweet cornbread squares or muffins.
---
Greek Pasta Salad: Fresh salad with cucumbers, tomatoes, olives, and feta cheese in a lemon vinaigrette.
---
"Funeral Potatoes" Hashbrown Casserole: Simple unique twist on tradition funeral potato cheese casserole.
---
Tabbouleh: A refreshing Middle Eastern salad with bulgur, parsley, and tomatoes.
Desserts:
Chocolate Brownies: Rich, fudgy brownies that vanish quickly.
---
Fruit Salad: A rainbow of fresh fruit, drizzled with honey and a hint of lime.
---
Cheesecake Bars: Creamy cheesecake in bar form with your choice of toppings.
---
Lemon Bars: Tangy and sweet lemon bars with a buttery crust.
---
Oatmeal Chocolate Chip Cookies: Classic cookies that are universally adored.
---
Apple Crisp: Baked apples with a crispy, buttery topping and a scoop of vanilla ice cream.
---
Chocolate-Dipped Strawberries: Fresh strawberries dipped in dark or white chocolate.
---
Pumpkin Pie: Classic pumpkin pie with a flaky crust and a dollop of whipped cream.
---
Lemon Cheesecake: Creamy lemon-flavored cheesecake with a graham cracker crust.
---
Rice Krispie Treats: Chewy marshmallow and cereal bars, cut into squares.
Those 40 potluck dishes above should give you a great starting point to figure out what you are going to make and take to your covered dish meal.
More Potluck Food Ideas