---
$1 Home Organization Hacks – How to have an organized home when you're too darn tired and overwhelmed to deal with the clutter from your busy household.
It's a well known fact that being clean and organized is GOOD for you (1), but HOW? Sure, you could use a family organization chart or a family organization app, but what we NORMAL families really need are organization skills and systems so we have the TOOLS to keep our family and home organized without losing our minds! Let me share 10 simple home organization hacks for normal families that really helped me.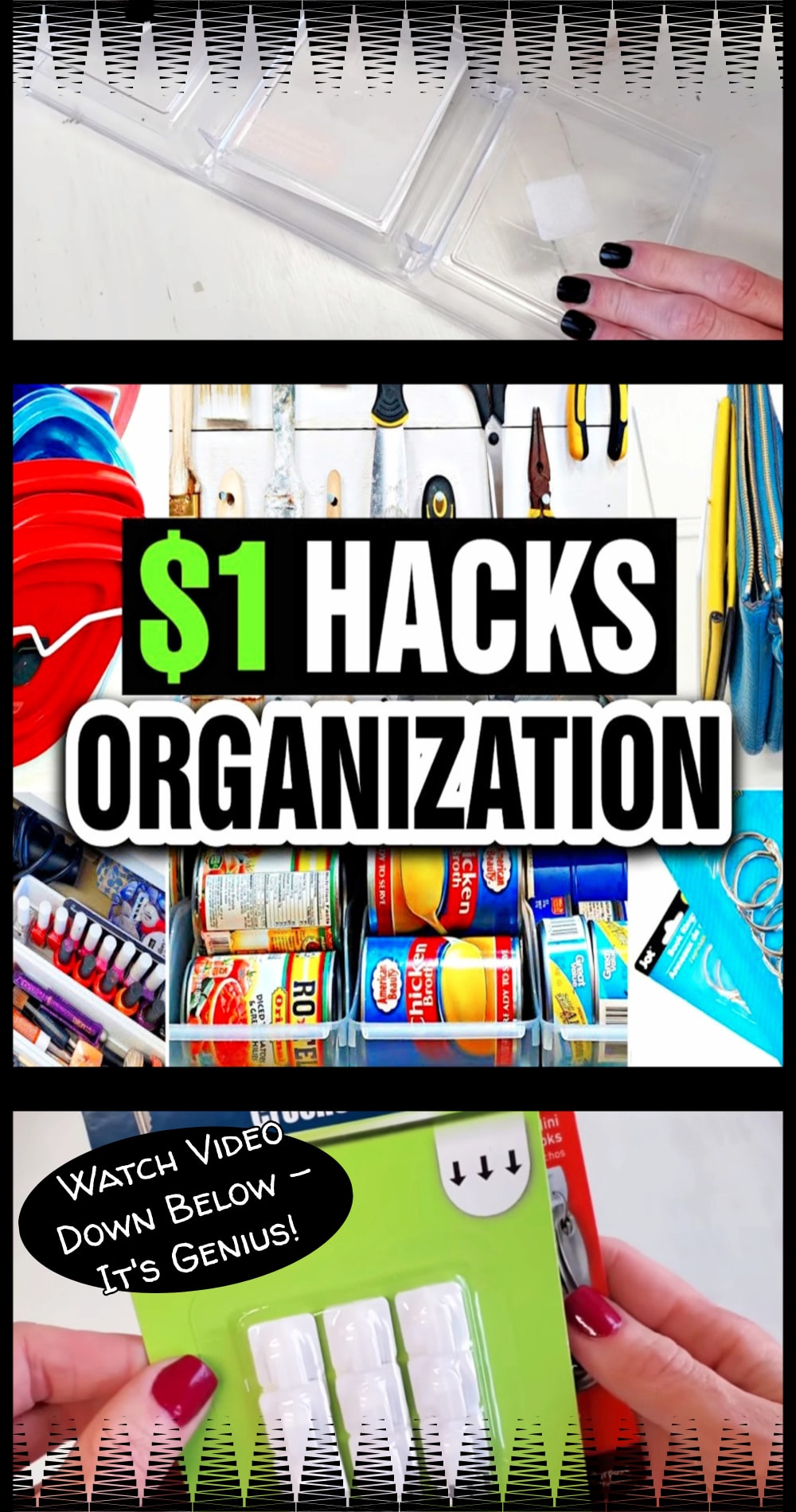 ---
Updated on December 28, 2022
posts may contain affiliate links -Enjoy and feel free to share with your friends!
---
10 Home Organization Hacks
Whether you have a large family living in a small house, a small family living in a big house… whether you're a working mom or a stay at home mom…
Your house is probably a cluttered mess quite often – and it's stressing you out!
If all you really want is to get rid of clutter and have a simple organized home, keep reading these home organization hacks to organize your home and your LIFE.
I have a feeling these 10 home organizing tricks AND the organization hacks video below WILL help YOU simplify life as much as they've helped me with my small house with TOO MUCH STUFF.
1 – Family Binder Organization System
One of the most important home organization hacks for EVERY family is to have a household notebook and/or make an Emergency Binder like this that keeps all your important papers organized and easily found.
Once you know which important documents to keep (and for how LONG), making a binder or an In Case of Emergency binder is MUCH easier.
Here's how to make an Emergency Binder.
2 – Paper Clutter Organization Hacks
Yikes at the mounds of paper clutter all normal families accumulate!
Ever wondered how to eliminate paper clutter the fast and easy way?
This will help (a LOT!):
3 – Declutter Your Household Budget
Managing money and financial planning is a HUGE stress point for all normal families – money issues sure can cause a LOT of anxiety (2)!
Ready to stop feeling so overwhelmed all the time about MONEY?
Learn how to create a family household budget that WORKS:
4 – Closet Organization Hacks
Real normal families need organization hacks that are SIMPLE and uncomplicated so we can easily learn the organization system and do it over and over again.
These closet organization hacks were SUPER helpful for me to help keep all of our closets declutter and organized without losing my mind!
5 – Decluttering Ideas for NORMAL Families
Let's face it – when your house is already a cluttered mess, decluttering your home can be SO overwhelming.
This decluttering hack below REALLY helped me get organized at home without feeling all that anxiety.
6 – Unclutter Your Kitchen
Every single thing ends up in our kitchen – especially on the countertops!
I get SO tired of it (I imagine all normal families are the same way, tho?)
I found this list of 15 things in my kitchen I need to throw away and it was super helpful to help me eliminate a lot of my kitchen clutter.
7 – Stop Germs From Spreading
When you're already overwhelmed with organizing your home and with life in general, the LAST thing you need is for you – and your whole family – to get sick.
I found this cleaning hack that really helps keep my whole family from getting sick when one brings the Flu or a stomach virus into the house.
School germs are the worst for normal families – I was very happy to find that these tricks really, REALLY helped spreading those germs… and keep ME from getting sick, too.
8 – Home Office Organization Hacks
If you have a home office, you probably find it turns into a cluttered mess very quickly if you don't have a serious organization system in place.
These hacks were very helpful ways to organize home office supplies, paperwork, etc:
9 – Learn How To Speed Clean
I don't know about YOU, but I refuse to spend my entire days off cleaning the house.
I want to get it, clean it, and get to finally enjoy my time off work.
These speed cleaning tips and tricks REALLY helped me reduce the amount of time it takes to do my daily chores to keep my house clean.
10 – Clutter Organization
All normal families have clutter dropped everywhere.
The kids walk in from school and they drop everything…
The hubby walks in and drops his stuff…
WE walk in and yep – we drop our clutter everywhere too.