Family Organization Ideas: How to have an organized family home when you're too darn tired and overwhelmed to deal with the clutter. It's a well known fact that being clean and organized is GOOD for you (1), but HOW? Sure, you could use a family organization chart or a family organization app, but what we NORMAL families really need are organization skills and systems so we have the TOOLS to keep our family and home organized without losing our minds! Let me share 10 simple home organization hacks for normal families that really helped me.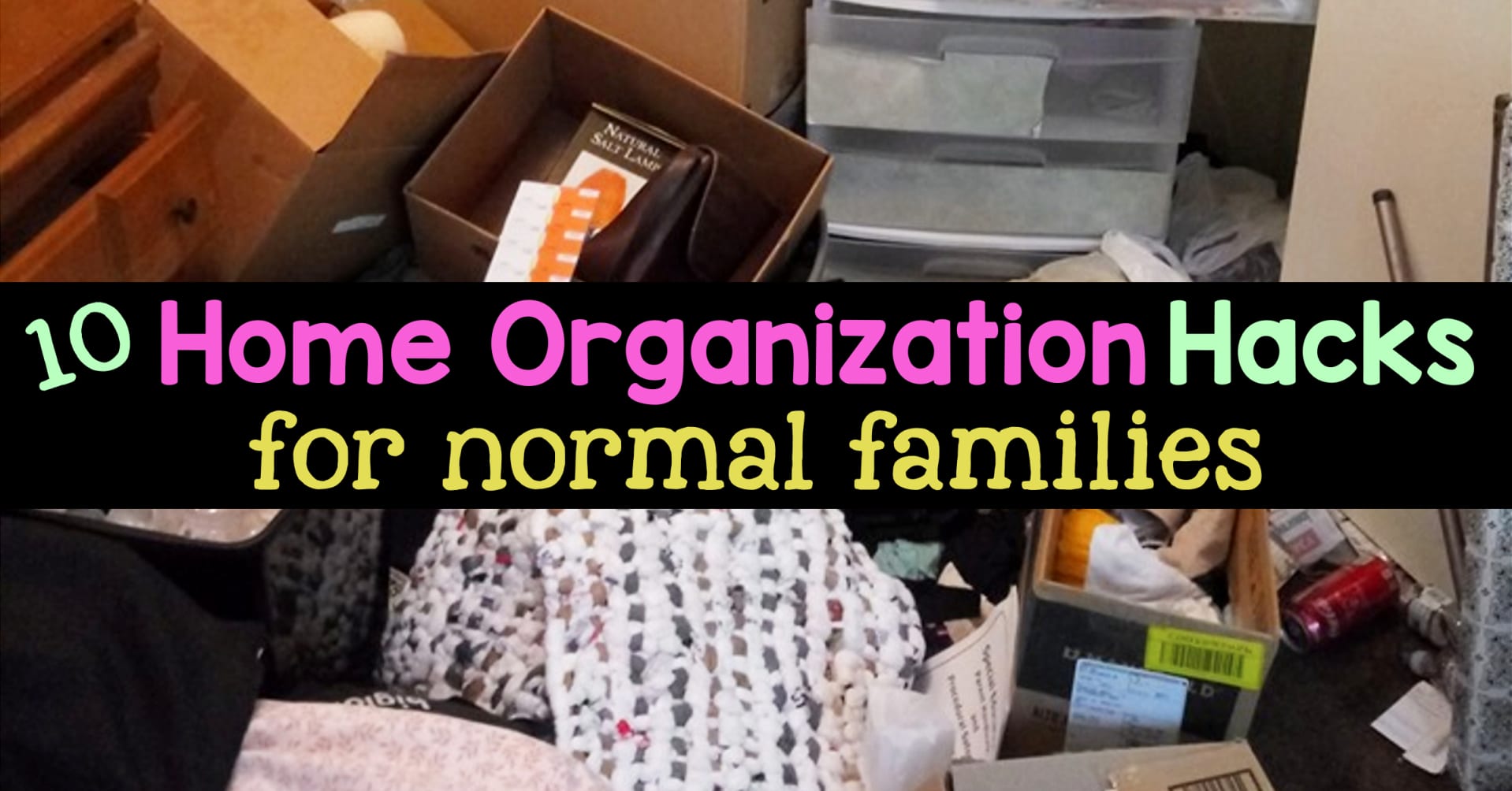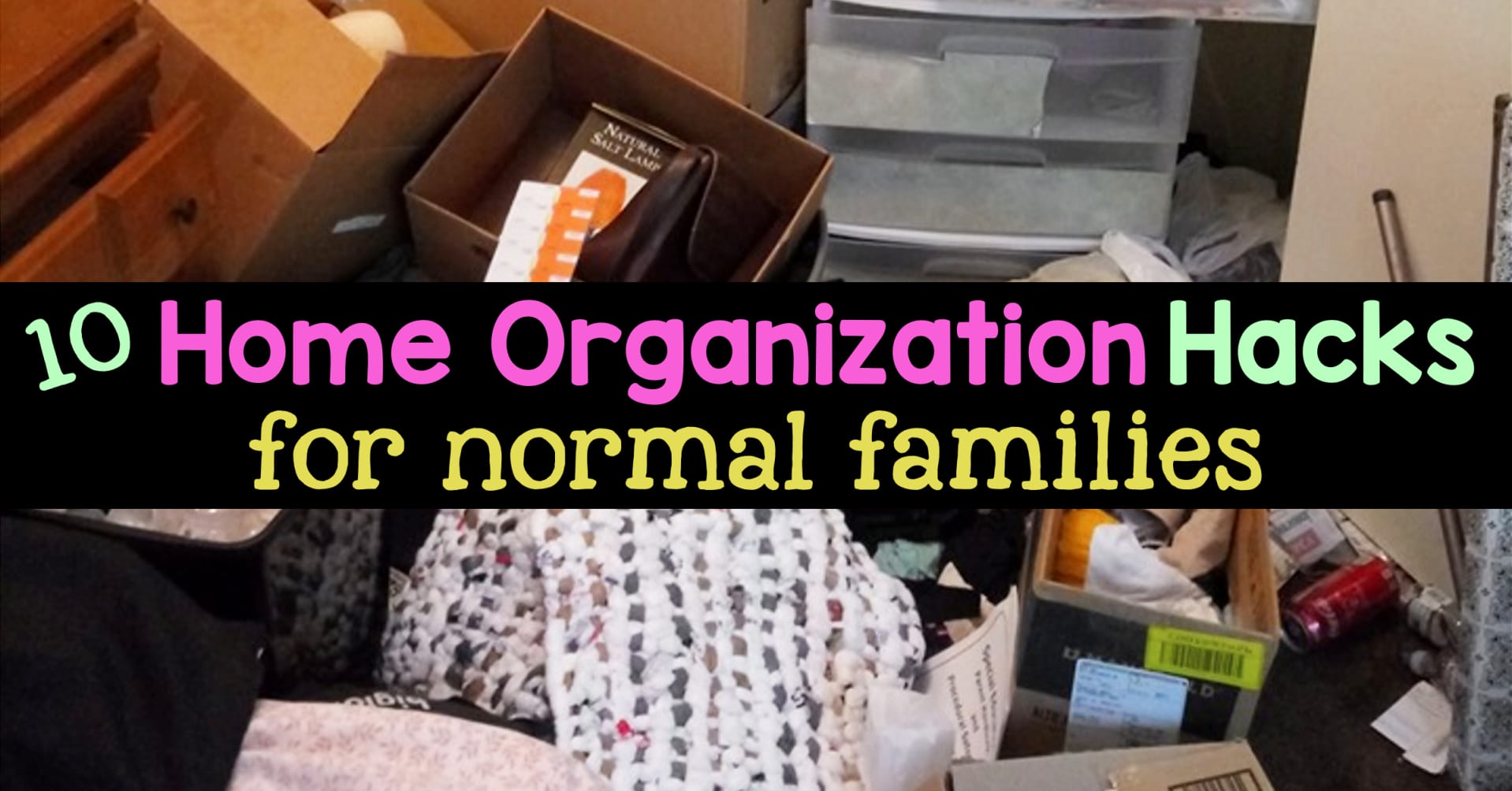 Alrighty, before we get started, I just want to let you know that all opinions are my own and that as an Amazon Associate I earn from qualifying purchases. Many links found on this page may take you to another website (and they should open in a new window so you don't lose your place).  Enjoy and feel free to share with your friends!
---
---
10 Home Organization Hacks
Whether you have a large family living in a small house, a small family living in a big house… whether you're a working mom or a stay at home mom…
Your house is probably a cluttered mess quite often – and it's stressing you out!
If all you really want is a simple organized home, keep reading these hacks to organize your home and your LIFE.
I have a feeling these 10 home organization hacks WILL help YOU as much as they've helped me.
---
---
1 – Family Binder Organization System
One of the most important home organization hacks for EVERY family is to have a household notebook and/or make an Emergency Binder like this that keeps all your important papers organized and easily found.
How To Make an Important Documents Home Management Binder * Do you know where all your important documents and paperwork are? Does anyone ELSE know where to find that important information? If something happened to you RIGHT NOW, would anyone else have a clue where to find your will, your …
Once you know which important documents to keep (and for how LONG), making a binder or an In Case of Emergency binder is MUCH easier.
Here's how to make an Emergency Binder.
2 – Paper Clutter Organization Hacks
Yikes at the mounds of paper clutter all normal families accumulate!
Ever wondered how to eliminate paper clutter the fast and easy way?
This will help (a LOT!):
The Secret To No More Paper Clutter! Let's take a look at some home organization hacks for organizing paperwork and paper clutter organization tips and tricks. Finally, eliminate paper clutter with these paper clutter solutions and desk organization tips. Did you know there is a system to totally removing paper …
3 – Declutter Your Household Budget
Managing money and financial planning is a HUGE stress point for all normal families – money issues sure can cause a LOT of anxiety (2)!
Ready to stop feeling so overwhelmed all the time about MONEY?
Learn how to create a family household budget that WORKS:
How To Make a Household Budget That Works * The best way to track expenses and budget your money is with a simple family/household budget. Many readers ask me how to manage their budget AND save money, what percentage of income should go to bills, and tips for budgeting …
---
---
4 – Closet Organization Hacks
Real normal families need organization hacks that are SIMPLE and uncomplicated so we can easily learn the organization system and do it over and over again.
These closet organization hacks were SUPER helpful for me to help keep all of our closets declutter and organized without losing my mind!
Simple Closet Organization Step by Step * Closet organization on a budget! There are many space-saving closet organizing methods and checklists out there, but this 7 step closet organizing system below is what works best for us whether we're organizing small closets or large walk-in closets. Tired of all the CLUTTER in your closet?
5 – Decluttering Ideas for NORMAL Families
Let's face it – when your house is already a cluttered mess, decluttering your home can be SO overwhelming.
This decluttering hack below REALLY helped me get organized at home without feeling all that anxiety.
Overwhelmed by clutter and can't seem to get motivated to declutter ALL your clutter piles? Here's a Decluttering Club Tip: Always use BAGS when you are decluttering your home… NOT boxes. There's a very simple reason why bags work SO much better when decluttering any room in your home.
6 – Unclutter Your Kitchen
Every single thing ends up in our kitchen – especially on the countertops!
I get SO tired of it (I imagine all normal families are the same way, tho?)
I found this list of 15 things in my kitchen I need to throw away and it was super helpful to help me eliminate a lot of my kitchen clutter.
Declutter Your Kitchen Clutter FAST By Purging These 15 Items Kitchen Clutter SOLUTIONS! Let's talk about how to get rid of kitchen stuff and WHAT kitchen stuff to get rid of for a tidy kitchen. Don't just HIDE kitchen clutter, throw AWAY this list of kitchen clutter items. Clearing clutter …
7 – Stop Germs From Spreading
When you're already overwhelmed with organizing your home and with life in general, the LAST thing you need is for you – and your whole family – to get sick.
I found this cleaning hack that really helps keep my whole family from getting sick when one brings the Flu or a stomach virus into the house.
School germs are the worst for normal families – I was very happy to find that these tricks really, REALLY helped spreading those germs… and keep ME from getting sick, too.
Hydrogen Peroxide Cleaning and Sanitizing Tips – Plus My Flu & Stomach Bug Killer Secret * Tired of getting the Flu and every stomach bug your kids bring home from school? Guess what? Hand washing is NOT enough to stop germs from spreading! Learn how I STOP the "cooties" …
---
---
---
---
8 – Home Office Organization Hacks
If you have a home office, you probably find it turns into a cluttered mess very quickly if you don't have a serious organization system in place.
These hacks were very helpful ways to organize home office supplies, paperwork, etc:
If you work from home, you probably have a hard time keeping your small home office organized and In order to stay productive, it is important that your home office is organized It is important to have a neat and tidy work space in order…
9 – Learn How To Speed Clean
I don't know about YOU, but I refuse to spend my entire days off cleaning the house.
I want to get it, clean it, and get to finally enjoy my time off work.
These speed cleaning tips and tricks REALLY helped me reduce the amount of time it takes to do my daily chores to keep my house clean.
C'mon Moms! Let's SPEED CLEAN and Get It DONE! * For many overwhelmed moms, there's hardly any time left for cleaning the house. But WOW – clutter sure is OVERWHELMING, isn't it? Cleaning a messy house is just something we have to do (and there are SO many benefits …
10 – Clutter Organization
All normal families have clutter dropped everywhere.
The kids walk in from school and they drop everything…
The hubby walks in and drops his stuff…
WE walk in and yep – we drop our clutter everywhere too.
This is a genius solution for family clutter:
Such a Simple Solution to UNclutter Your Home! Getting organized and STAYING organized with kids is NO JOKE! Here's a borderline GENIUS home organization hack: create a clutter drop zone area for your family! This way, you have ONE place to drop all the stuff your family tends to leave …
---
---
And here's a bonus home organization hack for busy moms…
These 13 tips really, REALLY helped me!
Organization Hacks For Moms With NORMAL Families (whether you work OR stay at home) * We moms are BUSY and sure need all the help and home organization hacks we can get. Below are some organization tips that are sure to help whether you're looking to learn how to be …