---
What You Need to Know If You Create Canva on Custom Fabric –
PLUS… A Short Video Tutorial Showing HOW To Create Customized Fabric Prints and Designs With Canva – and trust me, it's easy (even *I* can do it haha!)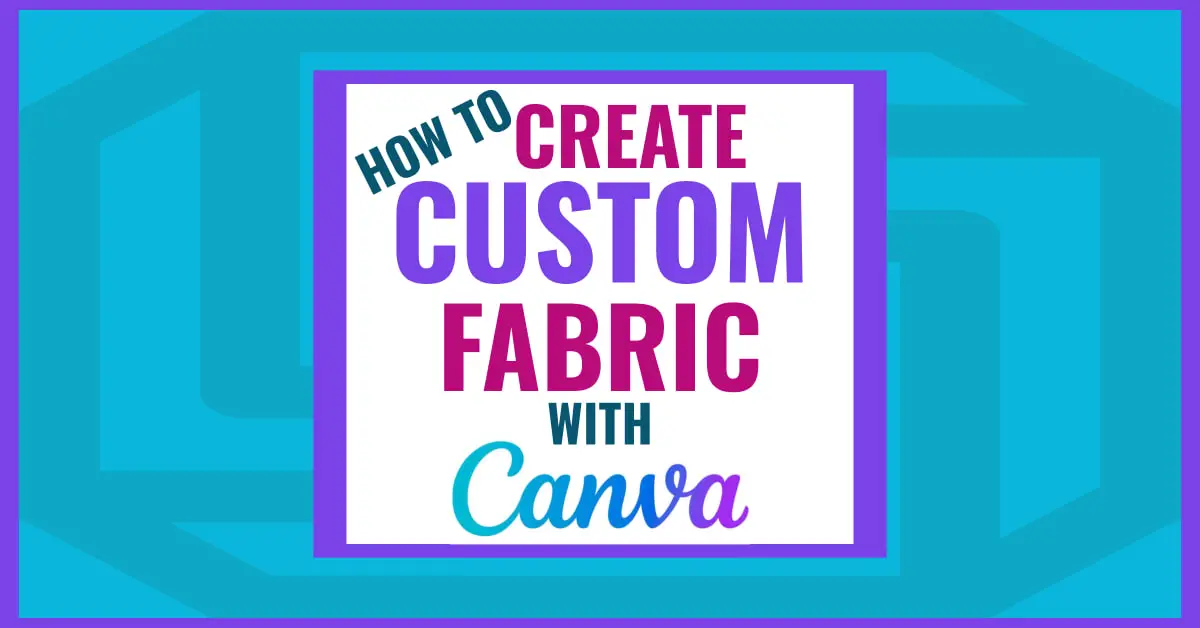 ---
Updated on October 18, 2022
posts may contain affiliate links -Enjoy and feel free to share with your friends!
---
I love making crafts – I always have some sort of DIY project going on (at least one – usually 3 or 4 haha!)
Lately I've been making these SUPER cute Halloween decorations…
(you have got see the porch ghosts I'm making!)
AND decorating my bathrooms for Fall…
AND making some outdoor GNOME Christmas trees…
(they are ADORABLE!)
AND trying to learn how to fold towels into reindeer (it's actually pretty easy)….
AND…
Coming up with raffle prizes for our company party.
So, yes, I'm always DIY-ing something – there's a reason this site is called Jen's Clever DIY Ideas haha!
Actually, I made myself tired reading back over THAT short list of my projects –
but I love doing it ALL!
One thing I've been seriously brainstorming is making custom images and getting them printed on fabric that I can use to create things with.
Custom fabric is definitely one of my favorite unique ideas for homemade gifts and for craft projects… but you can also SELL your custom fabric products to MAKE MONEY.
Once your custom fabric is printed, you can create TONS of items from it to sell as a fun side hustle or as a full-fledged money making business.
Before we even jump into getting your custom fabric designs printed, let me show you just how easy it is to create your fabric designs with Canva.
How To Create Custom Fabric With Canva Tutorial
Here is a VERY helpful video tutorial that will show you how to use Canva to create custom fabric designs – and then she used Zazzle to have your design printed on fabric and shipped to you.
See how easy that is using Canva?
✅ Try Canva out here – it's FREE – you'll LOVE it!
Why Custom Fabric?
You can create custom fabric designs with just about ANYTHING.
Imagine this – your customer sends you a copy of a note from their grandmother – you can take that note and turn it into a custom design with the grandmother's handwriting.
Have a third party print the design on fabric for you and then make ANYTHING the customer wants (or you offer) with that custom personalized printed material.
That's just ONE idea off the top of my head – let your imagination go wild!
Custom Fabric Is Unique
Creating and using custom fabric is the one of the best ways to make your brand stand out and break out of the monotony of everything looking the same. This will give your products a unique look and will work as a statement in a market where it seems that everything is endlessly repeated and you can't find anything original enough to get away from the everyday dullness.
You want to be the thing that STOPS people from scrolling to take a closer look – and custom fabric can do that.
Customized Fabric is NOT Expensive
As an independent creator, it's really not financially realistic to have all the equipment you need to print custom fabric in your shop area – it's EXPENSIVE!
Based on the costs, it is easy to assume that customized fabric is not a viable option for your business – but this couldn't be further from the truth.
There are numerous third parties that deal with printing custom fabric on an affordable basis. Besides, if you do your research, you will see that you can purchase smaller quantities of custom fabric, not just industrial batches (which saves a LOT of money).
Creating Custom Fabric Is NOT Hard
Another fear that often arises among independent creators is that the process is far too complicated for them alone.
That is FAR from the truth – using a user-friendly design creator, like Canva, you'll find that making your own design has never been easier.
And once you make your design in Canva, according to Printful, you only have three more easy steps to get your customized fabric shipped to you or ready to sell:
pick the material,
upload the design,
and hit order.
Of course, there are some aspects that you need to be aware of before setting off on this journey. Below you will find the most essential information regarding what you need to know if you want to create Canva on Custom Fabric:
Custom Fabric Has NUMEROUS Uses
If you're in doubt about purchasing customized fabric for your business, don't. There's no reason to worry that you won't have anything to use it for or that it won't be successful. This type of fabric can be used for almost anything, whether we're talking clothes, tote bags, swimsuits, wallets, or keychains!
You can create a variety of products and clothing items using these materials that will appeal to a wide range of customers.
Seriously, who doesn't like a bit of innovation and creative spark in their life?
I can guarantee you that the younger generation is constantly looking for clothes that make them stand out and highlight their personality.
By adding custom fabric to your product line, you will be one step closer to reaching their specific needs.
Why Canva
The reason why Canva is the best solution for making your own design for your custom fabric is:
Canva is VERY easy to use.
Seriously – go try Canva right NOW and see for yourself.
The Canva platform is very intuitive and can effortlessly be used by people who have no experience in making designs. Moreover, in Canva, you will find already existing patterns that can help you, many of them free of charge. All you have to do is follow three simple steps:
Step 1: Select the size you want for your design
Before choosing a size, think about how detailed your design will be and how many elements it will contain so that you choose a size large enough not to clutter it up.
Step 2: Start creating
Here you have two possibilities. You can start by selecting an already pre-existing design in Canva and work on that, or you can start with a blank tab. The choice is yours, but either way, the result will definitely be one you will be proud of.
Step 3: Download your design
Once you have finished creating and are happy with the result, you can download your design in several forms, png., jpg., or pdf. Now it is ready to use.
Choosing a Third Party
Once you have the design, the next step is finding a company that prints custom fabric. Choosing a third party for the printing of your customized fabric is just as important as creating the design.
Here are some of the most important things to pay attention to when choosing a company to print your customized fabric:
Look for the characteristics of the fabric
Surely you know that there is a wide variety of material types. Make sure the company you choose has the material you need and want. If you are creating products for summer or beach use, you can also opt for sun protection materials. You can also look for companies that use recycled material so that your products are eco-friendly. This will increase their quality and popularity considerably. Not to mention that your business will also be a factor in protecting the planet.
Look for shops that offer you the possibility to preview your design ideas
When experimenting with new designs and fabrics, it is extremely important to see how they look in reality and at the scale you want to order. It is not recommended to go on a limb and invest a large amount of money in a significant quantity, as there is a possibility that the end result may not be exactly what you expected. That is why it is extremely important to see if the company you are going to collaborate with offers this service. This way, you can see small imperfections if they exist and change them in time.
Check the customer service quality
When collaborating with third parties, it is very important to be able to communicate clearly and without problems. Communication issues between your business and those with whom you will collaborate can lead to problems in terms of the quality and of the material or even the end result.
Therefore, before deciding on a company, look at their reviews and do thorough research so that you do not suffer the repercussions of poor communication.
Let Your Creativity Do the Work
When you decide to create products and clothing items using customized fabric, you must first put your imagination to work. There are many original designs out there, but not all of them catch on. That's why you need to do some market research before you start the creative process.
See what your target customers are looking for, what's missing from the market, and what could bring you the best revenue. Once you have collected all that info, let your imagination run wild and allow yourself to be surprised.
Crafts I'm Working On:
What To Read Next: