---
Adorable and UNIQUE baby boy nursery themes and decorating ideas for small spaces with Pictures
Making room for baby in a small house can be a challenge (especially if you're decorating the baby nursery on a budget), but these unique and affordable baby boy room ideas for small spaces will give you some unique and clever DIY ideas for decorating your newborn baby boy's nursery room – or for decorating an area in your room when you're sharing your space with your new baby boy.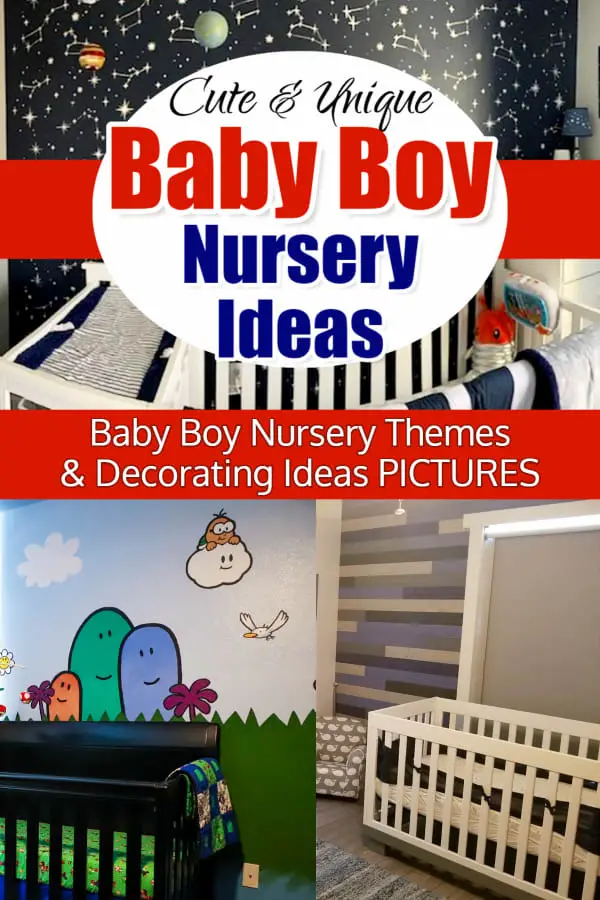 ---
Updated on October 16, 2022
posts may contain affiliate links -Enjoy and feel free to share with your friends!
---
✅ Baby Boy Nursery Ideas
Let's take a look at some unique baby boy nursery ideas that are perfect for a small space nursery. From modern nursery themes to blue and grey, to rustic woodland nursery decorating ideas, you're sure to find some of the most popular baby boy room ideas, best colors to choose and pictures of budget-friendly UNIQUE ideas for your baby boy's room.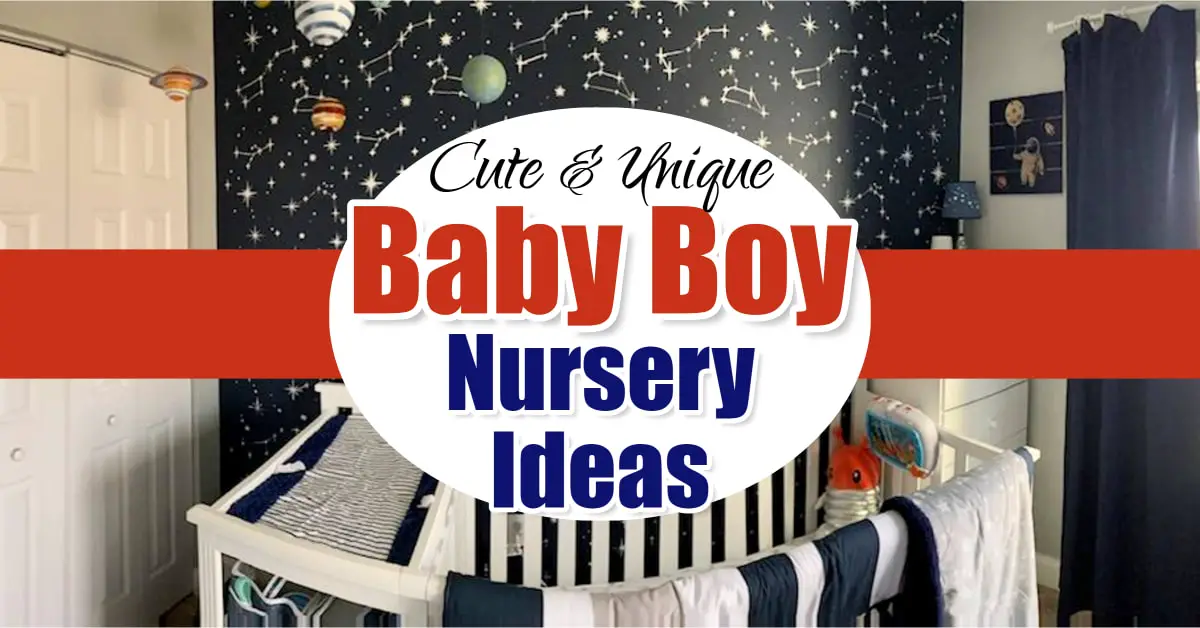 Blue and Grey Baby Boy Nursery
I just love this unique baby boy nursery picture below. To me, it's the perfect combination of a rustic woodland theme – they blue and grey accent wall behind the crib just ties the color theme all together.
Even though it's a small baby nursery room, the setup and design maximizes the space available and has plenty of storage of all the things a newborn baby needs.
The grey changing table with the blue changing pad matches the overall theme of this baby boy room perfectly.
By the way, blue and grey are THE most popular baby boy nursery color themes this year.
Space Themed Nursery
This baby boy room ideas is so creative – it's a space-themed nursery for a boy (actually, I think this nursery theme is gender neutral). It's a cool modern outer space galaxy theme – deep blue accent wall with stars and constellations really bring out the white crib / changing table combo.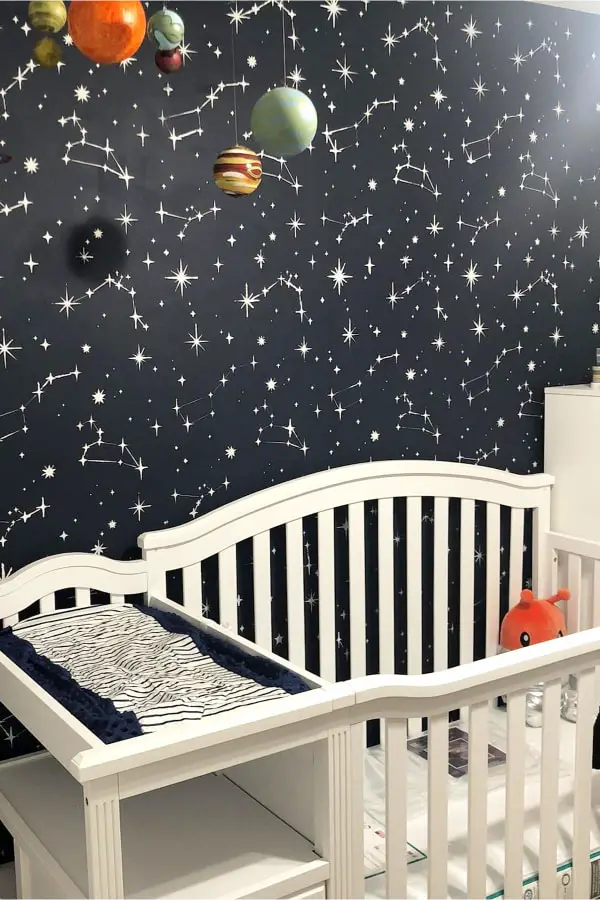 It's a small apartment baby room too which makes this nursery decorating idea perfect for small houses and small spaces where you're making room for baby.
Cartoon Theme Ideas
This next baby boy room is SO cute! It's a cartoon themed baby nursery… well, perhaps it's actually a video game themed nursery (it's Mario).
I just adore the bright primary colors and the hand-painted cartoon characters on this nursery wall!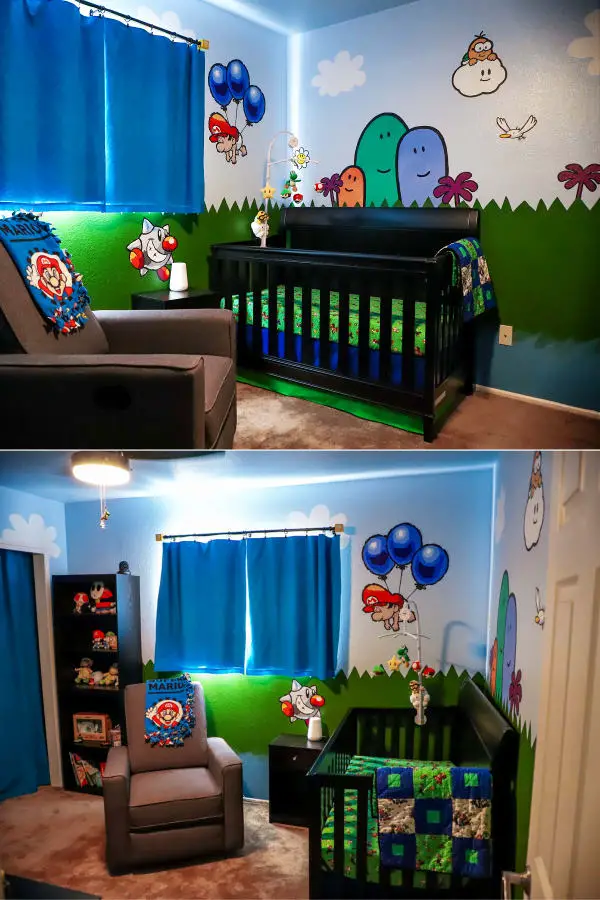 You would think that all this decor would make this small space nursery feel too busy or even smaller, but it doesn't.
Instead, it's a bright cheerful baby room that is simple adorable (and unique!)
Dinosaur Nursery Theme
Even if you're on a tight budget when decorating the nursery for your new baby boy, there are lots of creative and budget-friendly ways to add the decor theme you want.
Like this dinosaur themed baby boy nursery – that adorable dinosaur wall behind the crib is downright CHEAP to DIY.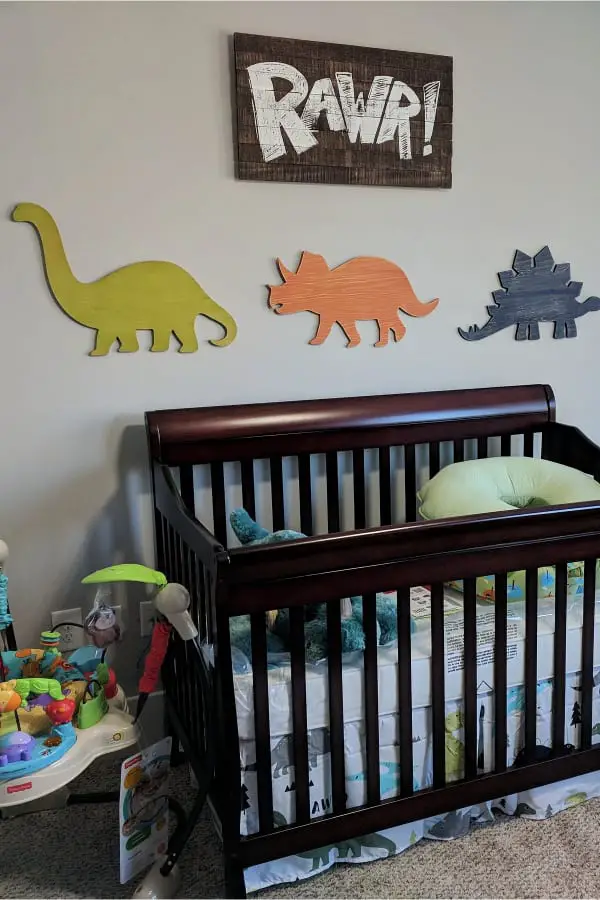 Rustic Baby Boy Room Ideas
A rustic baby boy nursery is probably the most popular room decorating theme for a baby boy this year.
Based on that, we have another page that is ONLY rustic nursery decorating ideas.
Modern Baby Boy Nursery Ideas
If you're looking for more modern ideas for your baby boy's nursery room, check out these cool decorating ideas for a very modern nursery theme.
On a Budget?
If you're decorating your baby boy nursery on a budget, there are many ways to save money to create the perfect room for your baby boy WITHOUT spending a ton.
First off, try and do as much of the decorating yourself as possible. Hiring a decorator or painting contractor near you could end up being very expensive.
Secondly, you have TIME to get that nursery decorated so don't feel you have to jump in and get it all done in a day.
Spread the decorating project out over a few weeks, or months, and buy your nursery decorating items as you go so it's not such a big hit money-wise all at one time.
Looking for nursery decor deals?
Nursery decor sure has come a long way over the years. When decorating a boy's nursery, you are no long limited to sports or cars or just plain ol' blue.
Take a look at the list below of some unique baby boy nursery themes and decor ideas that are bound to get your creative juices flowing.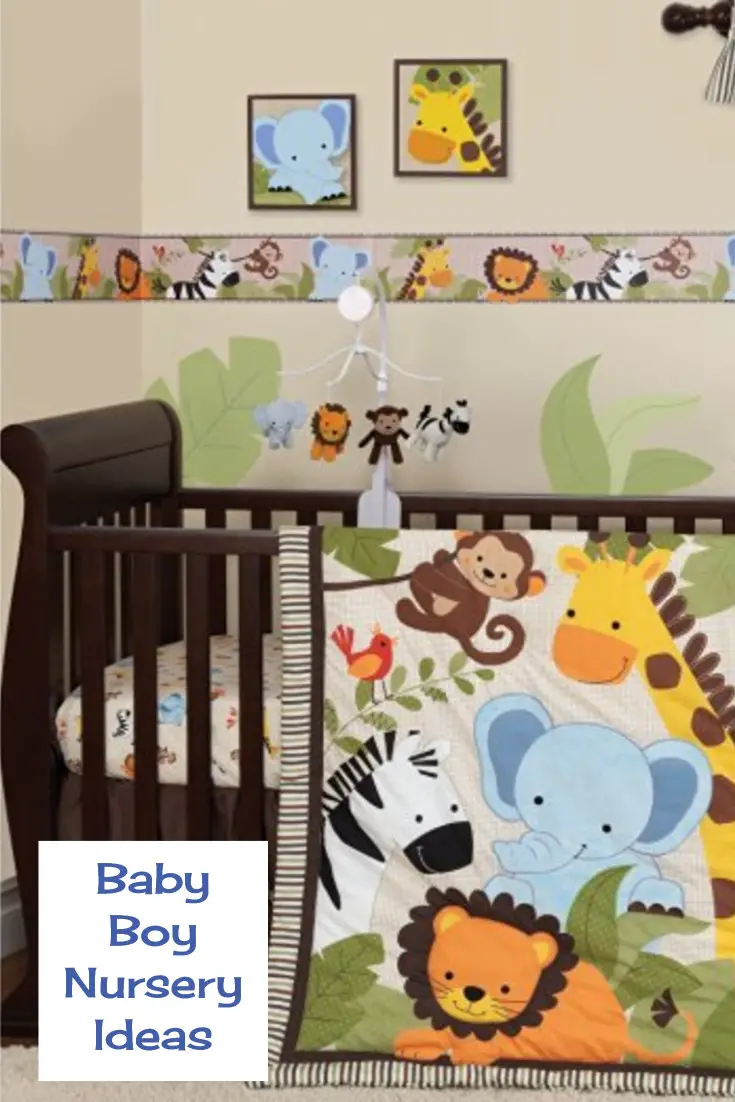 If you're on a budget, you can easily find used blankets, crib bedding, and wall hangers that will help you keep the overall costs down, because of the popularity of these types of nursery designs.
You will also like:
Unique Baby Boy Nursery Ideas
Stars Baby Nursery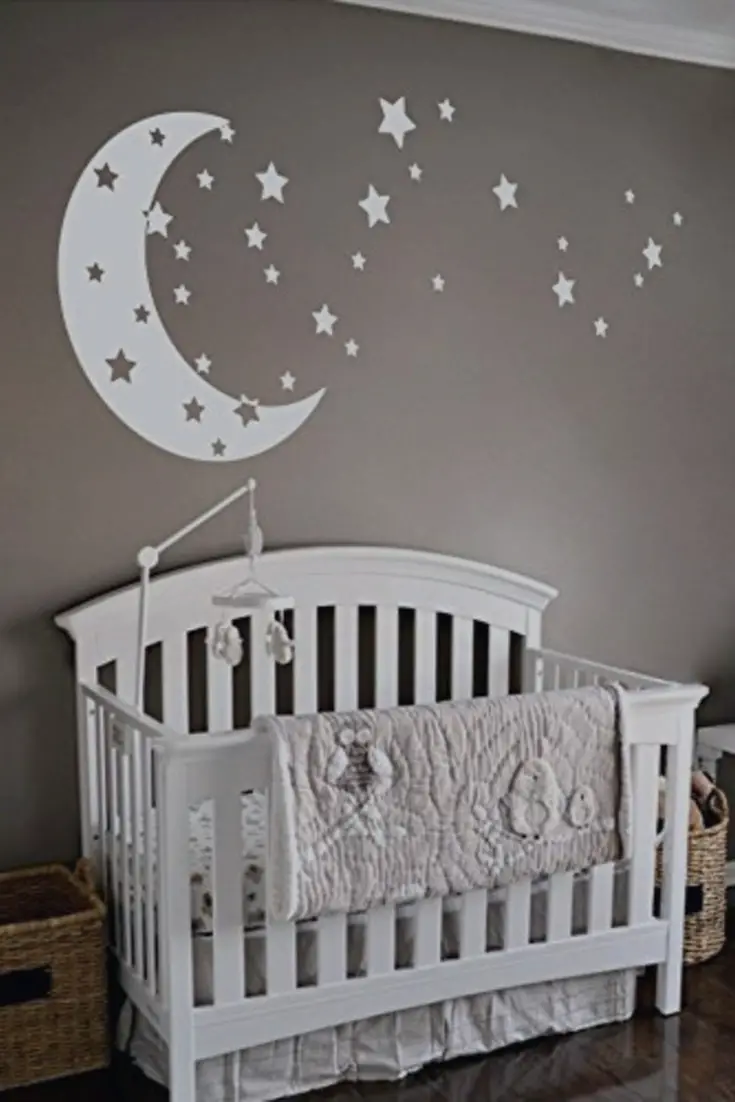 Moon and stars found here.
Teddy Bear Theme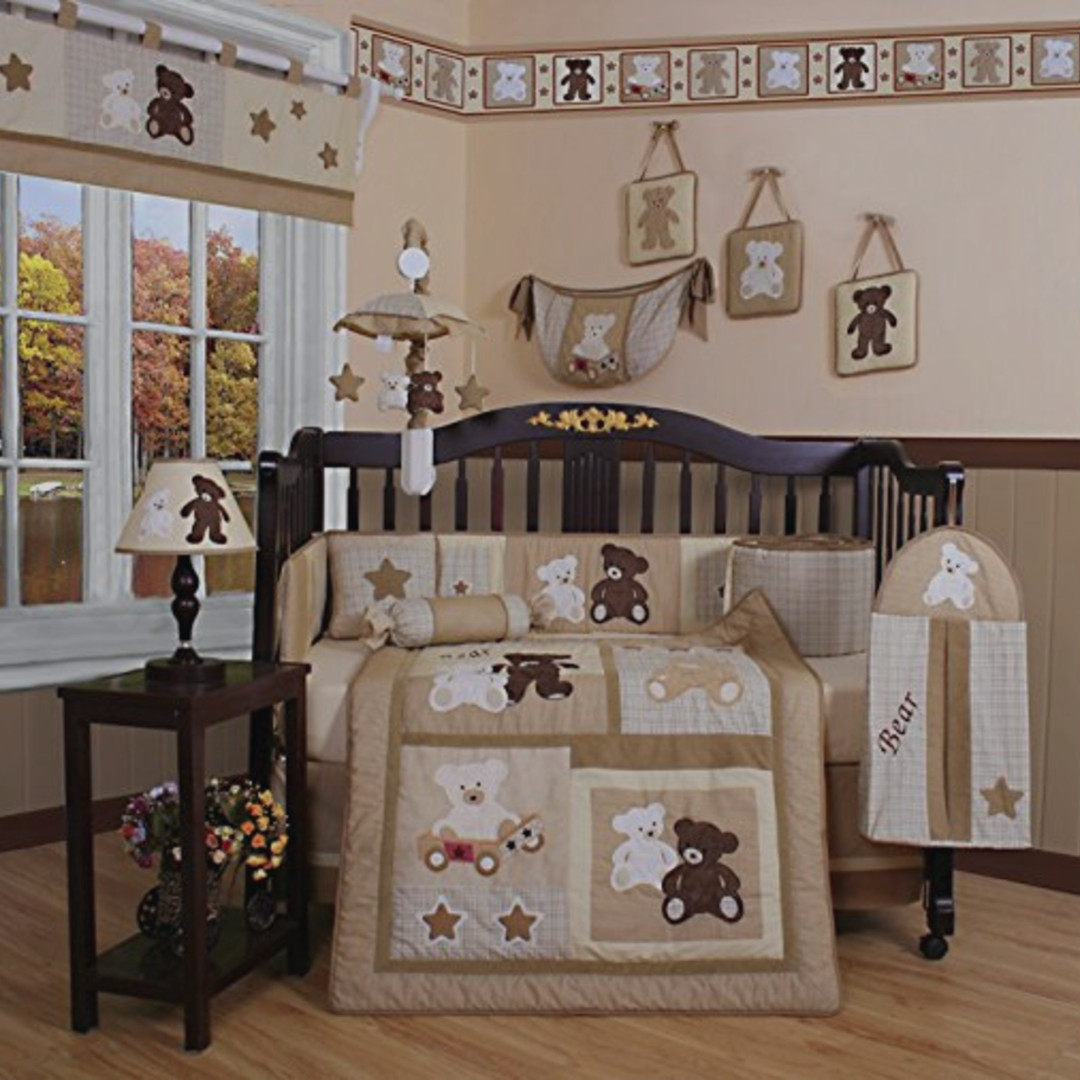 Teddy bear nursery decor found here.
Bright Colored Themes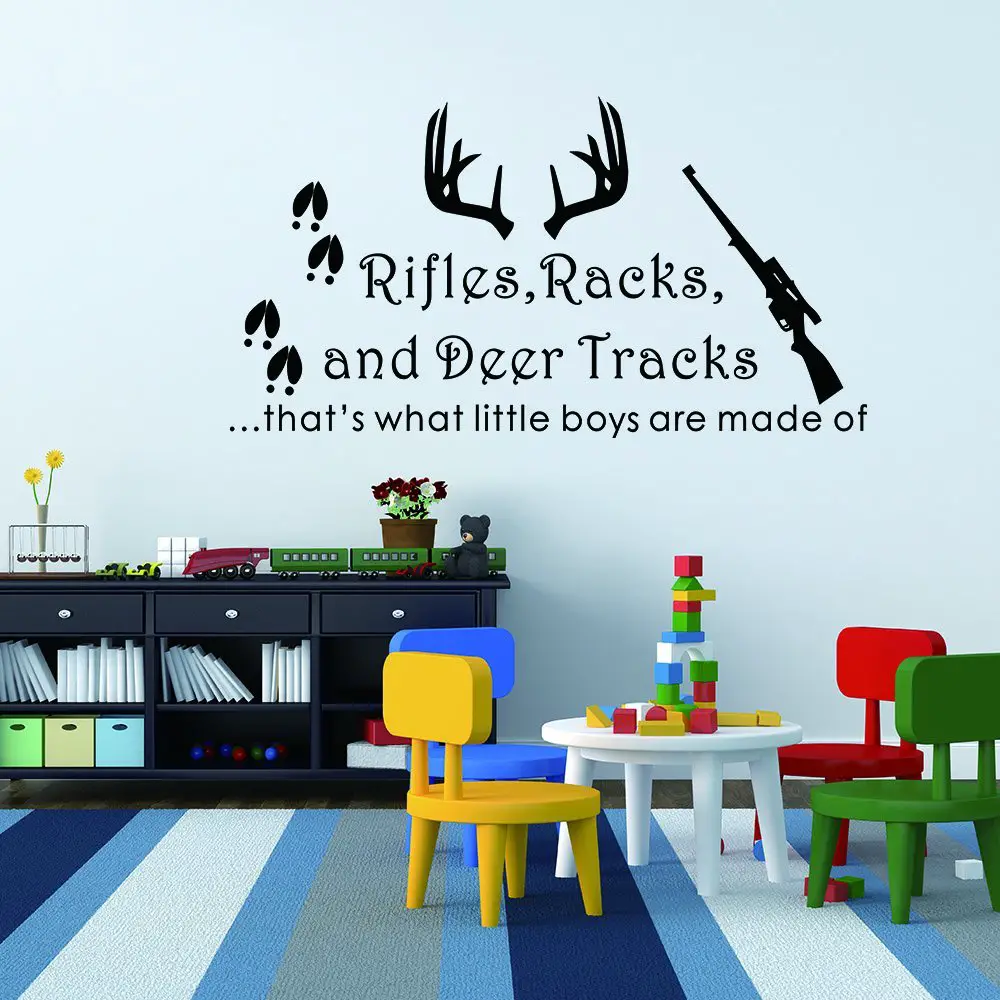 Bright colored decor items found here.
Nursery Wall Decor Ideas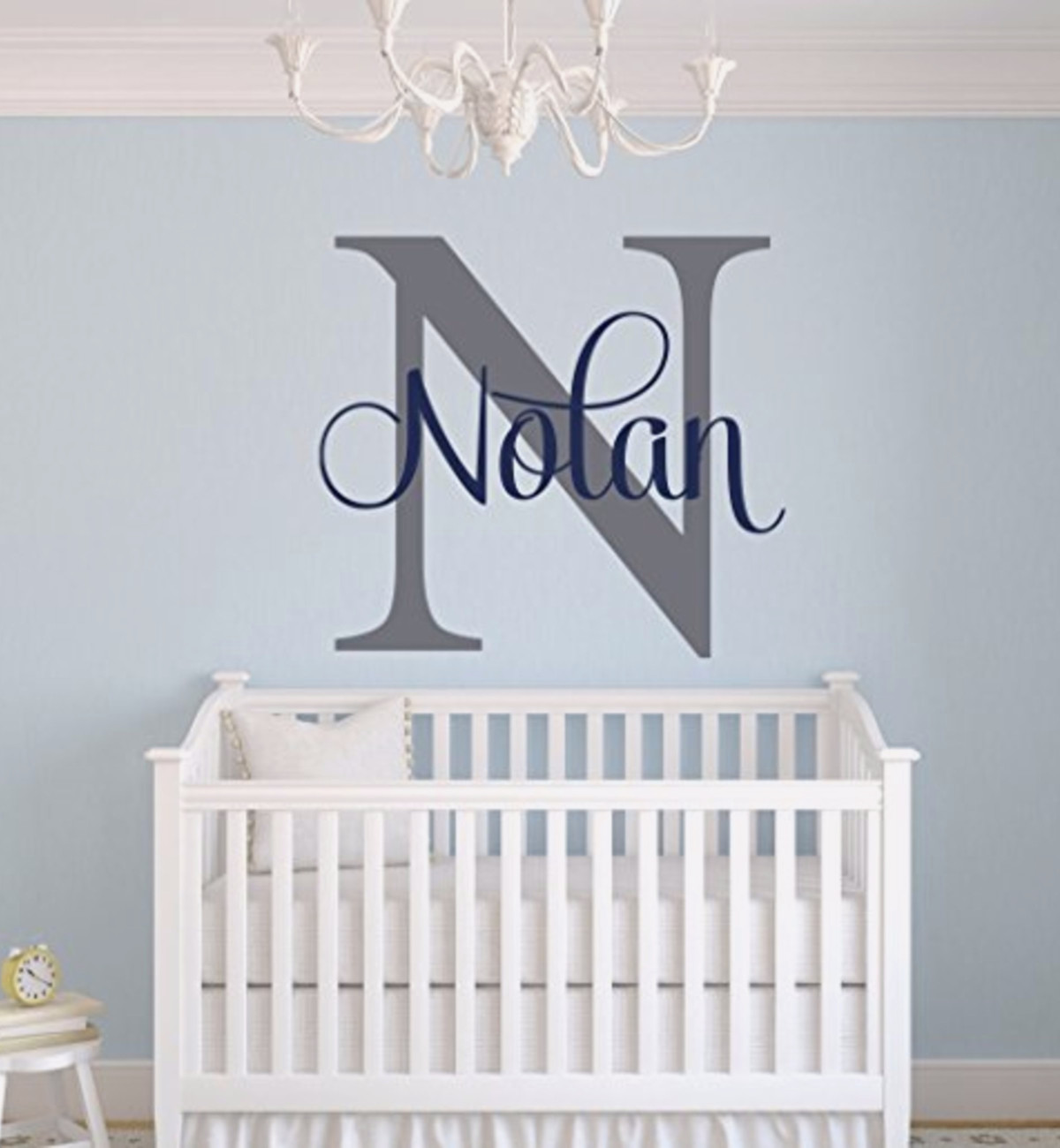 Nursery wall decor items found here.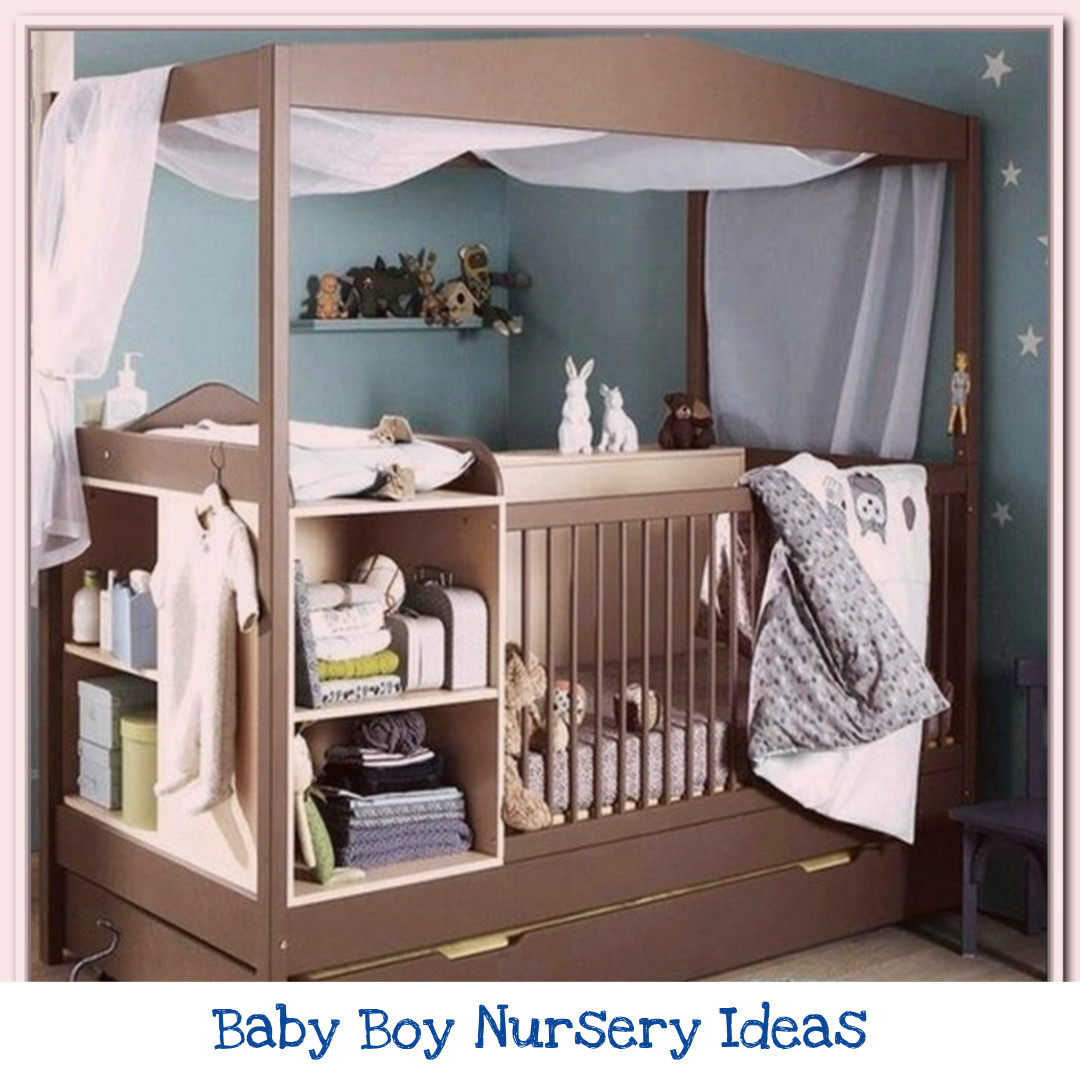 One of the most common types of baby boy nursery designs are the simple light blues, browns, tans, and other natural colors. When you choose to keep your nursery in the basic colors, you are going to have the easiest time finding used accessories. Quite a few other parents have the same idea for their nursery, which makes it easy for you to save money when their child outgrows the room, and they upgrade to a different decor.
You might also like: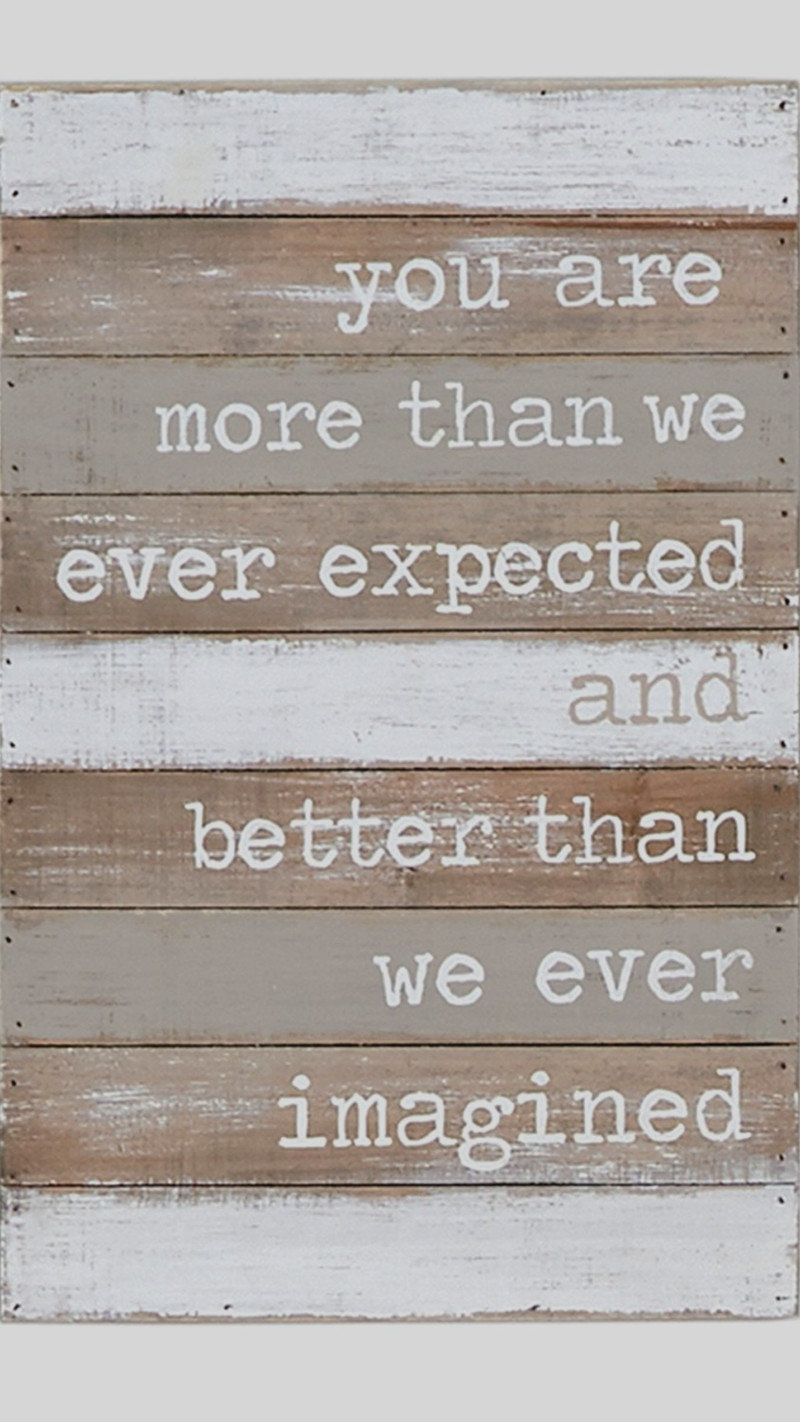 Baby nursery "more that we expected" sign found here.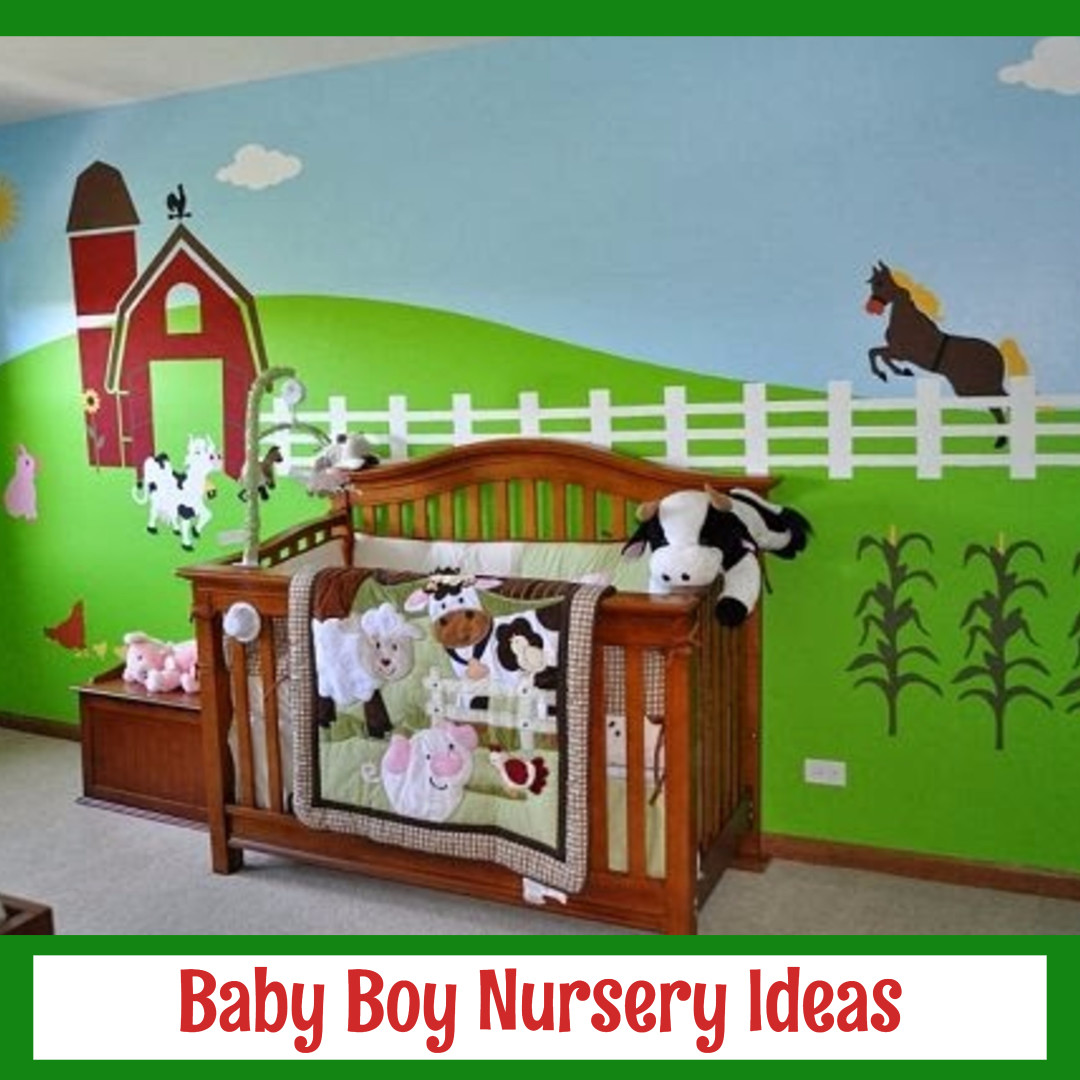 You might also like: