Easy home cleaning schedule ideas and housekeeping checklist examples to print or to create your OWN cleaning lists for YOUR daily, weekly and monthly chores to keep your house clean WITHOUT losing your mind.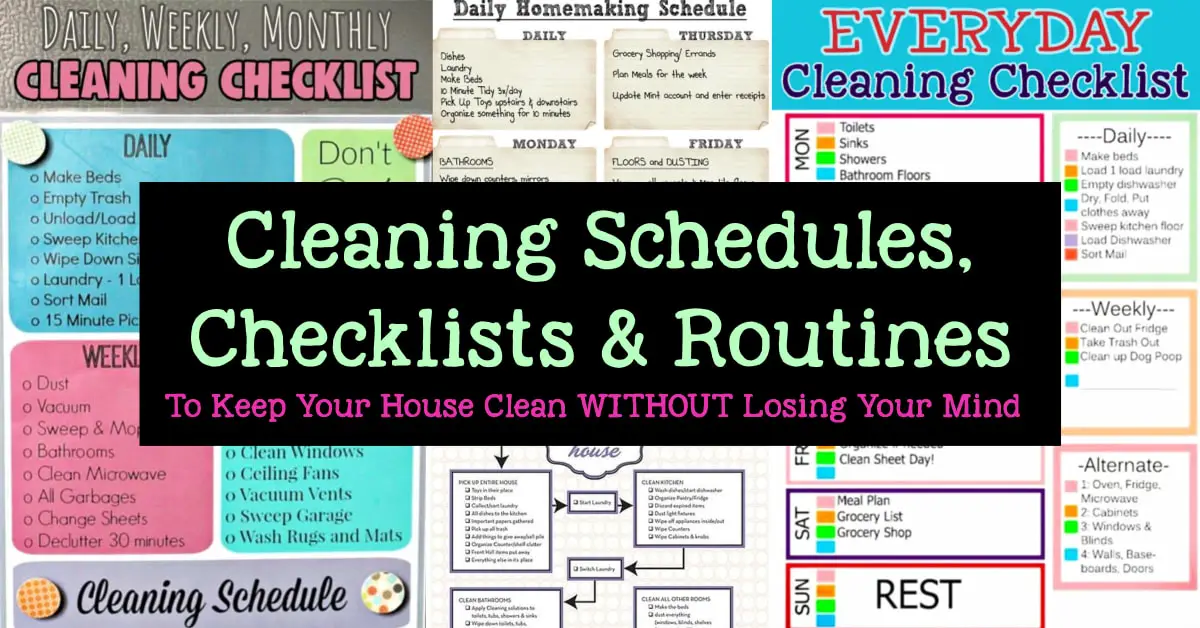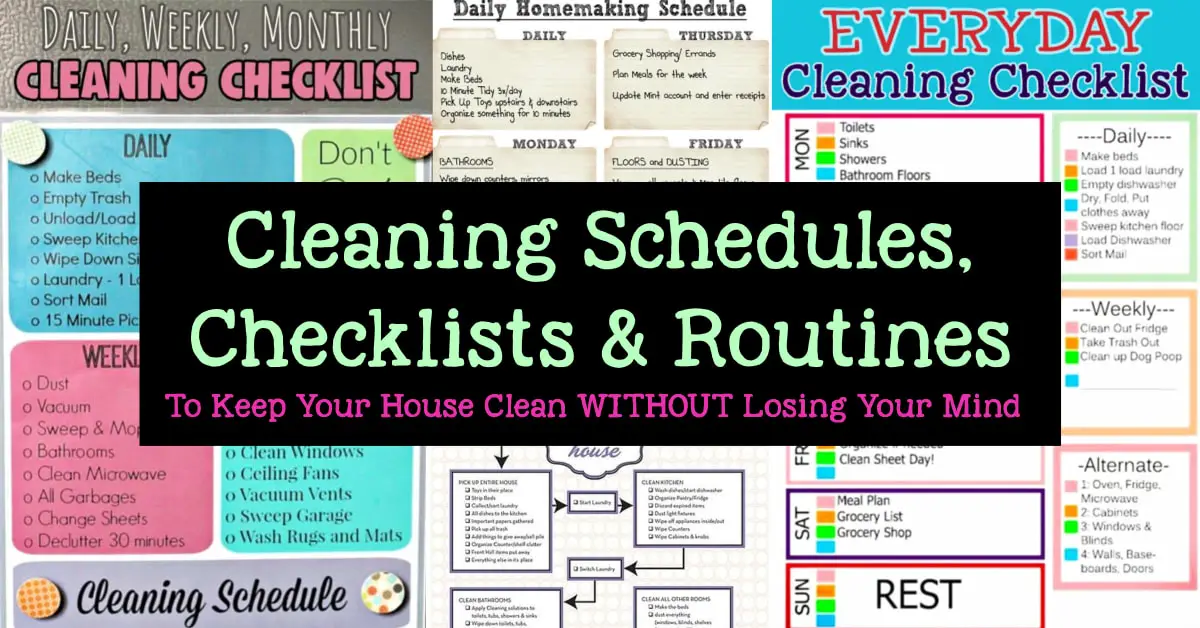 posts may contain affiliate links - Enjoy and feel free to share with your friends!
---
Most Popular Today...
---
Weekly House Cleaning Schedule
Need a cleaning schedule that is simple and just shows you a few chores to do each day of the week to keep up with your housework?
This weekly cleaning schedule below is VERY good and easy to use.
There are also a LOT of other cleaning schedules and checklists on that page, too.
Simple Home Cleaning Schedules and Checklists To Keep Your House Clean and Clutter-Free * These daily, weekly and monthly house cleaning schedules and checklists are sure to help you get your messy house under control – AND make your daily, weekly and monthly cleaning SO much easier. If uncluttering your …
Cleaning Routine Checklist
The hardest part of housekeeping for me is having a simple cleaning routine that is fast to do (and shows me immediate results without a lot of work – hey, I'm all about that instant gratification thing haha!)
This cleaning routine checklist is perfect for me!
---
---
Monthly House Cleaning Schedule
Here's a really helpful monthly cleaning schedule to help you keep track of your monthly housekeeping chores you should do throughout the year to keep your house really clean all year long.
You can print it out here.
Daily Weekly and Monthly Cleaning Schedule
When it comes to a simple and REALISTIC cleaning checklist of daily, weekly and monthly chores to keep my house clean, I really like this printable below:
It's simple… it's easy enough and I really like that I can just print it out and organize it on my refrigerator.
You can print it out here.
I also like this daily/weekly/monthly cleaning checklist below, too.
This printable cleaning schedule is very comprehensive! It contains daily, weekly, and monthly cleaning checklists, but is designed to be easy to manage, not overwhelming. To keep your house tidy without spending tons of time and energy, read my tips on how to keep your home clean with a printable cleaning schedule!
Everyday Cleaning List
I really, REALLY like this everyday cleaning checklist below… you know WHY? Because it gives me a day OFF from cleaning my house! YAY!
---
---
Daily House Cleaning Schedule Printable
This is what I consider a "normal mom" cleaning schedule and housekeeping routine to follow every day.
Obviously, it's not for over-achievers, but it's right up my alley with simple chores – and only a FEW chores – to do each day to keep my house neat, tidy and clean enough.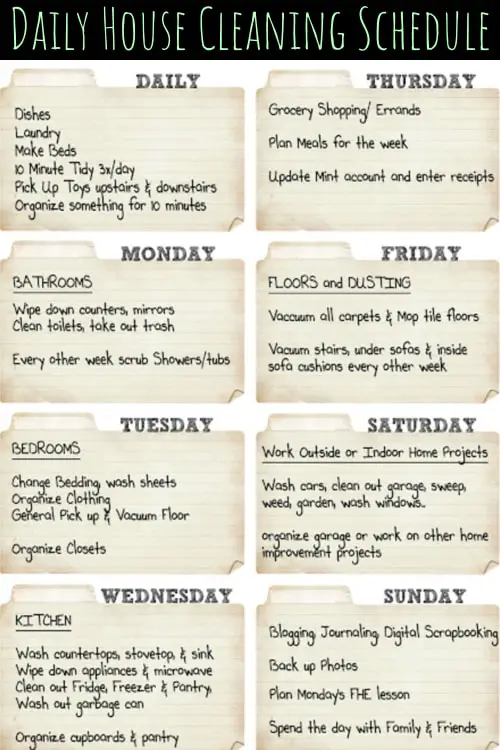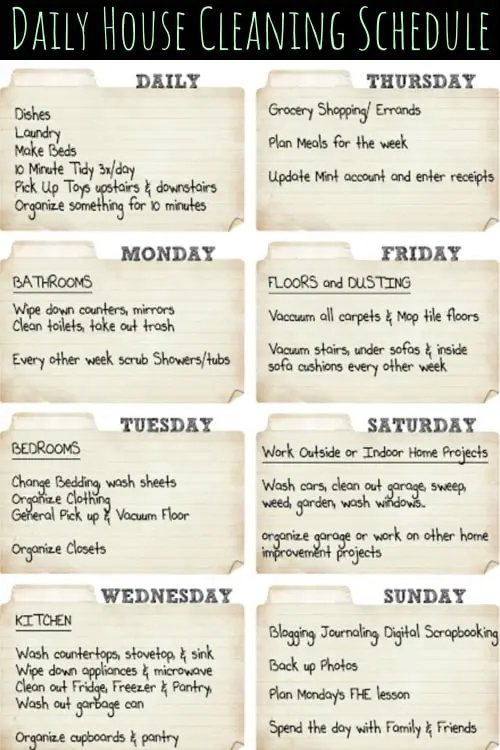 You can print the cleaning routine above here…
Or you can print a blank template to fill in here.
I also like this cleaning schedule of daily cleaning chores below – it's great for keeping your apartment clean.
I have never been someone who is great at keeping my apartment/house/room very clean. I really wish I was one of those OCD clean people whose homes are always immaculate…that would be awesome. But, nope! Not me. Seth is the same way.
Daily Cleaning ROTA
Have a roommate or two (or 3)? Need a rotating cleaning schedule (ie, a daily ROTA cleaning schedule) to help you AND your roommates all keep up with the chores needed to be done in order to keep your apartment or house clean?
This page below has a great daily ROTA cleaning schedule to print.
It's time to get on your rubber gloves Cinderella because we have a cleaning checklist, tips and tricks as well as the ULTIMATE cleaning rota which might just blow your socks off (just make sure you pick them up after).
Deep Cleaning Checklist
Deep cleaning your home is an (unfortunate) reality – it's just something we have do no matter HOW well we keep up with our daily housework.
Below is a really good deep cleaning checklist you can print and use for your Spring Cleaning or anytime you get the motivation to deep clean your home.
How To Deep Clean Your House Step by Step, Room by Room Ready to deep clean your home or apartment, room by room? Get your free printable deep cleaning checklist below. This deep clean your house list is like Professional deep cleaning services use to get your whole house REALLY …
Speed Clean Checklist
There's a whole art to "speed cleaning" – and if you've ever been in the situation where people are coming to your house NOW, you're probably familiar with the concept of speed cleaning your house (like I am! haha!)
In short, speed cleaning comes down to: Stash It and Trash It!
Here's a simple speed cleaning checklist that shows how to get your house clean enough and ready for company in about 10 minutes.
C'mon Moms! Let's SPEED CLEAN and Get It DONE! * For many overwhelmed moms, there's hardly any time left for cleaning the house. But WOW – clutter sure is OVERWHELMING, isn't it? Cleaning a messy house is just something we have to do (and there are SO many benefits …
More Cleaning Hacks, Tips and Tricks
Simple Kitchen Cleaning Hacks ALL Lazy People Will LOVE – I'm the first to admit – I LOVE me some lazy girl cleaning hacks! I find it hard to get motivated to clean – and my kitchen is my BIGGEST nemesis. Seems I finally DO get it clean, and then there comes the family, cluttering it all up again…
Cleaning Schedule Layouts for Your Bullet Journal * One of my favorite and most useful bullet journal ideas is a bullet journal cleaning schedule I personally make for MY housecleaning and home maintenance needs – it sure keeps me SO productive and my home stays clean and organized. In fact, …
From Cluttered Mess To Organized Success The Fast and Easy Way – Ready to finally declutter your home but you feel stuck? That's ok, we've all been there. Here's a plan to declutter your cluttered home the fast and easy way even if you feel hopeless and overwhelmed. Below are …
Decluttering For Company When You Don't Have Time – We've all been there, the clutter in your house is overwhelming, your house is a MESS – and… SURPRISE! Company is coming to your house SOON. NOW WHAT?!?!? NOW it's time for some fast and furious clutter organization! You obviously don't …
Family Organization Ideas: How to have an organized family home when you're too darn tired and overwhelmed to deal with the clutter. It's a well known fact that being clean and organized is GOOD for you ( 1), but HOW?