---
Realistic house cleaning schedules, checklists and printable PDF templates to print for YOUR daily, weekly and monthly room by room cleaning chores to help you keep your house clean WITHOUT losing your mind.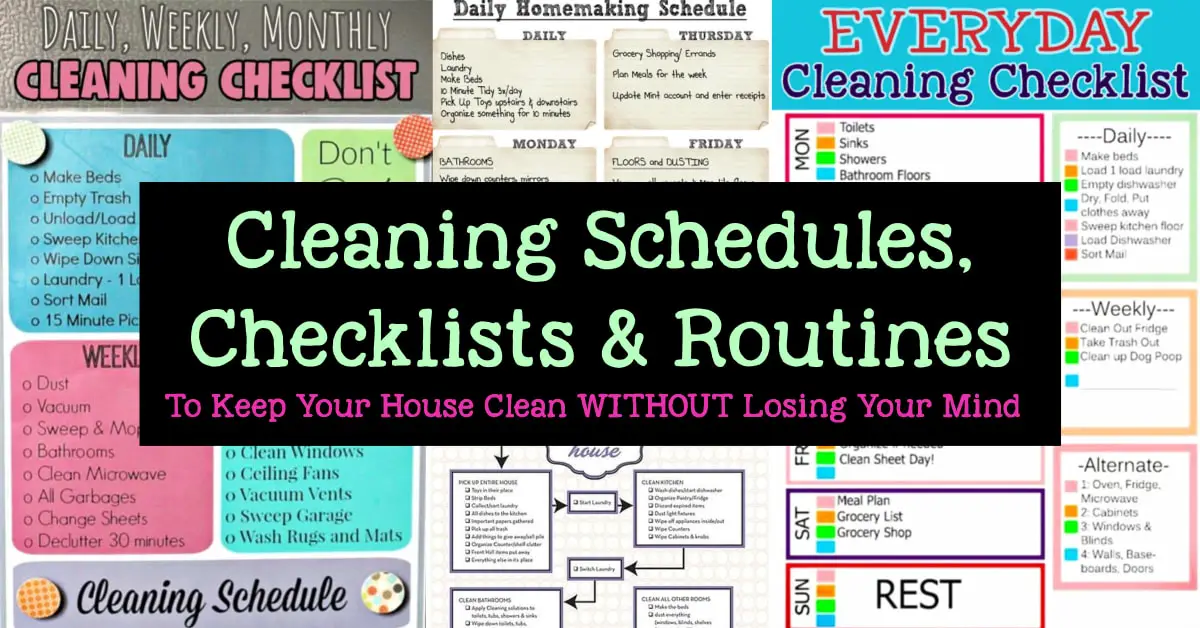 ---
Updated on February 4, 2022
posts may contain affiliate links -Enjoy and feel free to share with your friends!
---
✅ No Motivation?
Realistic Cleaning Schedules
Whether it's a daily, weekly, monthly or a room by room house cleaning schedule, I've had such a hard time finding a cleaning schedule or checklist that is REALISTIC for my working mom life.
What good is a cleaning schedule if I won't stick to it, right?
Below are the most realistic cleaning schedule examples and printable checklists I could find that simplify my cleaning process.
Weekly House Cleaning Schedule
Need a cleaning schedule that is simple and just shows you a few chores to do each day of the week to keep up with your housework?
This weekly cleaning schedule below is VERY good and easy to use.
There are also a LOT of other cleaning schedules and checklists on that page, too.
Cleaning Routine Checklist
The hardest part of housekeeping for me is knowing where to start and then having a simple cleaning routine that is fast to do (and shows me immediate results without a lot of work – hey, I'm all about that instant gratification thing haha!)
This cleaning routine checklist is perfect for me!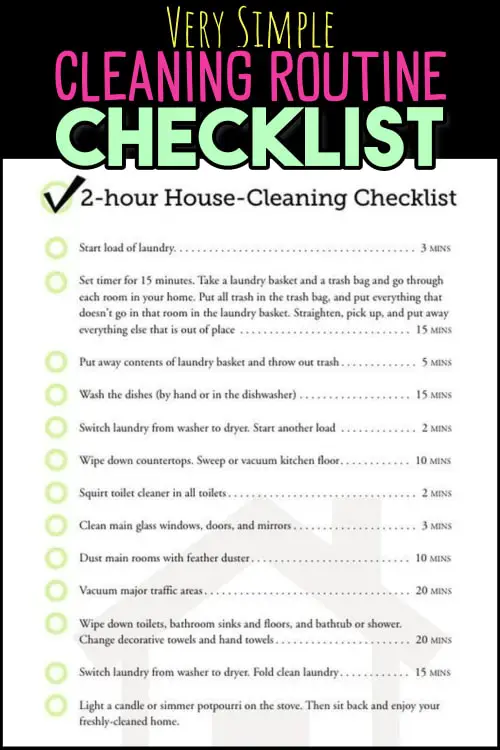 Monthly House Cleaning Schedule
Here's a really helpful monthly cleaning schedule to help you keep track of your monthly housekeeping chores you should do throughout the year to keep your house really clean all year long.
You can print it out here.
Daily Weekly and Monthly Cleaning Schedule
When it comes to a simple and REALISTIC cleaning checklist of daily, weekly and monthly chores to keep my house clean, I really like this printable below:
It's simple… it's easy enough and I really like that I can just print it out and organize it on my refrigerator.
You can print it out here.
I also like this daily/weekly/monthly cleaning checklist below, too.
Everyday Cleaning List
I really, REALLY like this everyday cleaning checklist below… you know WHY? Because it gives me a day OFF from cleaning my house! YAY!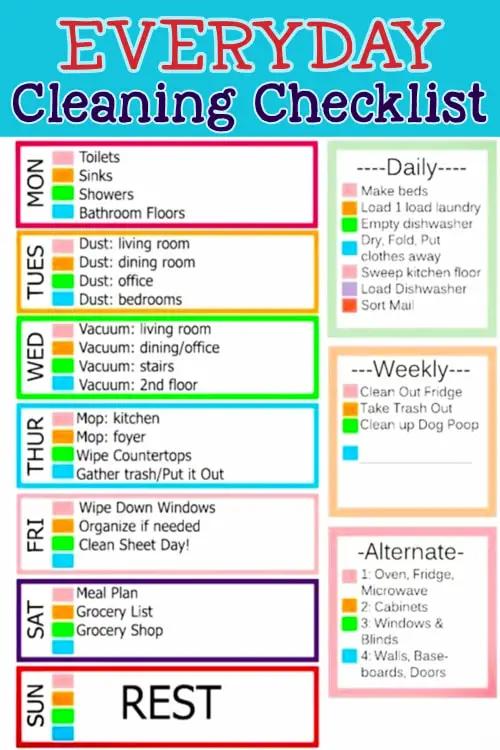 Daily House Cleaning Schedule Printable
This is what I consider a "normal mom" cleaning schedule and housekeeping routine to follow every day.
Obviously, it's not for over-achievers, but it's right up my alley with simple chores – and only a FEW chores – to do each day to keep my house neat, tidy and clean enough.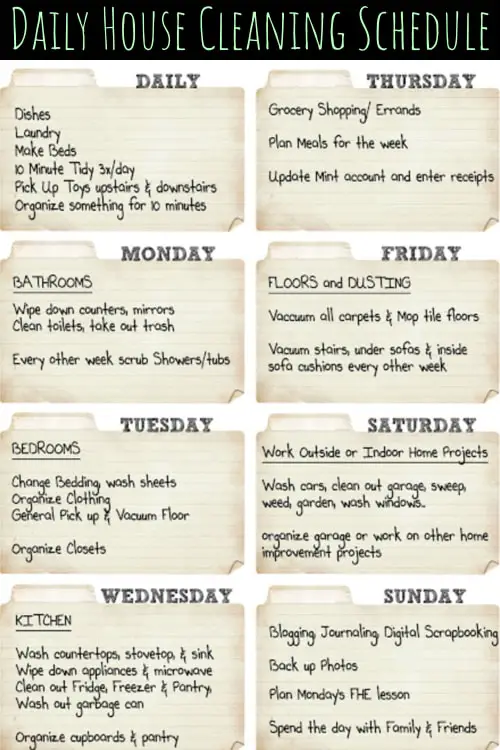 You can print the cleaning routine above here…
Or you can print a blank template to fill in here.
I also like this cleaning schedule of daily cleaning chores below – it's great for keeping your apartment clean.
Daily Cleaning ROTA
Have a roommate or two (or 3)? Need a rotating cleaning schedule (ie, a daily ROTA cleaning schedule) to help you AND your roommates all keep up with the chores needed to be done in order to keep your apartment or house clean?
This page below has a great daily ROTA cleaning schedule to print.
Deep Cleaning Checklist
Deep cleaning your home is an (unfortunate) reality – it's just something we have do no matter HOW well we keep up with our daily housework.
Below is a really good deep cleaning checklist you can print and use for your Spring Cleaning or anytime you get the motivation to deep clean your home.
Speed Clean Checklist
There's a whole art to "speed cleaning" – and if you've ever been in the situation where people are coming to your house NOW, you're probably familiar with the concept of speed cleaning your house (like I am! haha!)
In short, speed cleaning comes down to: Stash It and Trash It!
Here's a simple speed cleaning checklist that shows how to get your house clean enough and ready for company in about 10 minutes.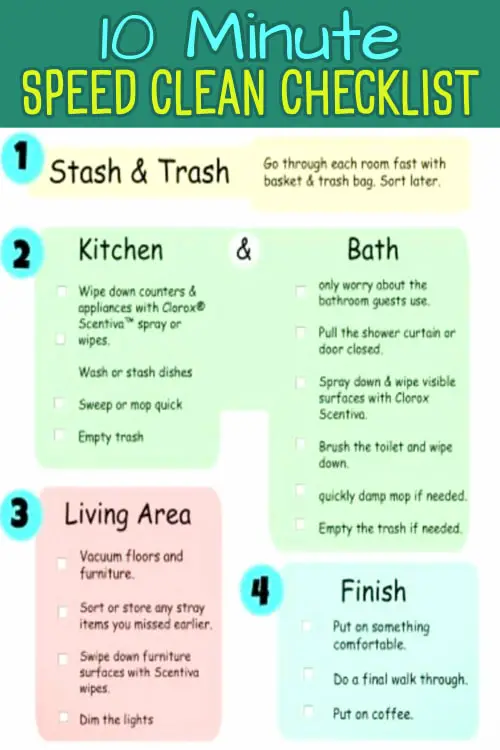 More Cleaning Hacks, Tips and Tricks