---
35 Funeral Desserts To Feed A Crowd – Easy No Bake & Cheap Large Batch Dessert Ideas For a Potluck-Style Funeral Dessert Table.
Need Large Group Desserts Ideas? Below Are 35 Easy Funeral Desserts To Make For a Crowd – When it comes to funeral food for a reception, potluck at church, memorial service or wake, desserts are VERY important! The last thing you need is an EMPTY or lacking funeral dessert table. Sweet treats are comfort food, so let's fill that table up with easy funeral desserts you can make ahead of time – or last minute – for a large group.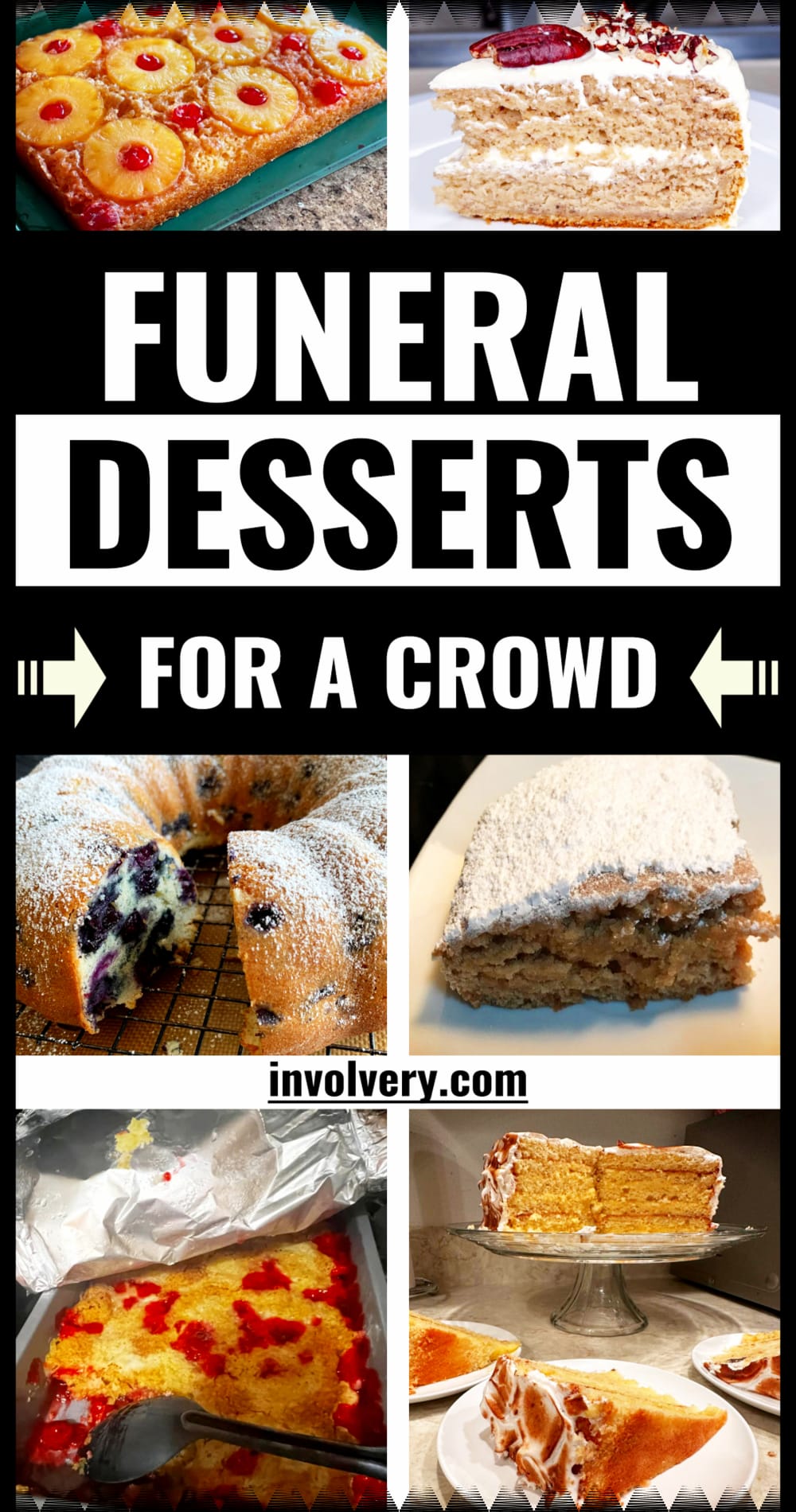 ---
Updated on June 29, 2023
posts may contain affiliate links -Enjoy and feel free to share with your friends!
---
Funeral Desserts For a Crowd
Below are ALL my favorite appropriate desserts for a funeral reception.
Let's start with the dessert recipe ideas from the picture above.
---
– 13×9 Dump Cake Recipes are Here
---
– Banana Cake With Frosting and Walnuts – Print Recipe Here
---
– Applesauce Cake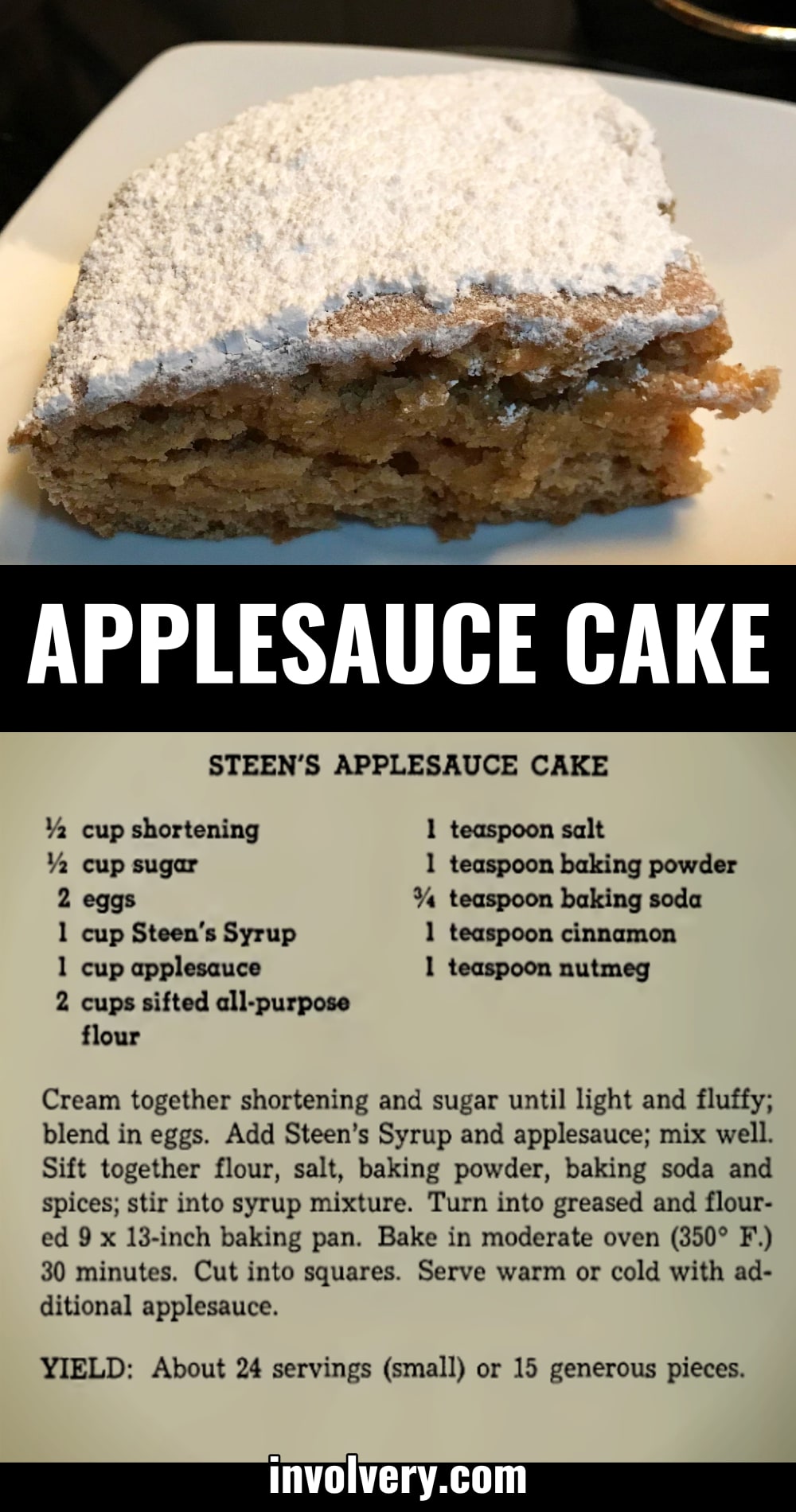 This is THE famous old-fashioned Steens Applesauce cake recipe.
– Pineapple Upside Down Cake
Alrighty, let's look at MORE easy recipes for desserts to make for the funeral dessert table.
No BAKE Funeral Desserts
Funeral dessert tables are typically full of more "traditional" baked desserts like cookies, cakes, and store-bought dessert bars.
But, what if you don't WANT to BAKE anything?
That's where NO BAKE desserts come to the rescue!
Some no-bake desserts that work for a funeral-type of event are:
Rice Krispies Treats: These are a classic no-bake dessert that is easy to make and transport. Simply melt together some butter and marshmallows, stir in some Rice Krispies cereal, and press the mixture into a pan to set. You can even add some chopped nuts or chocolate chips for extra flavor.
Chocolate-dipped fruit: This is a simple yet elegant option that is both sweet and healthy. Dip strawberries, bananas, or other fruit in melted chocolate, and let them set in the refrigerator before serving.
No-bake cheesecake: This is MY favorite to make. The NO BAKE Strawberry Cheesecake recipe below is SO good – and easy to make in large batches.
Fudge: Let's all admit it: fudge fixes EVERYTHING which makes it the perfect comfort food.
You can find my favorite 3-Ingredient Fudge Recipes Here – so simple!
Below is another super-simple large batch dessert that EVERYONE loves…
This super simple no bake funeral dessert recipe below is from our family reunion dessert ideas page, but when it comes to EASY funeral desserts, it is THE winner to feed a crowd.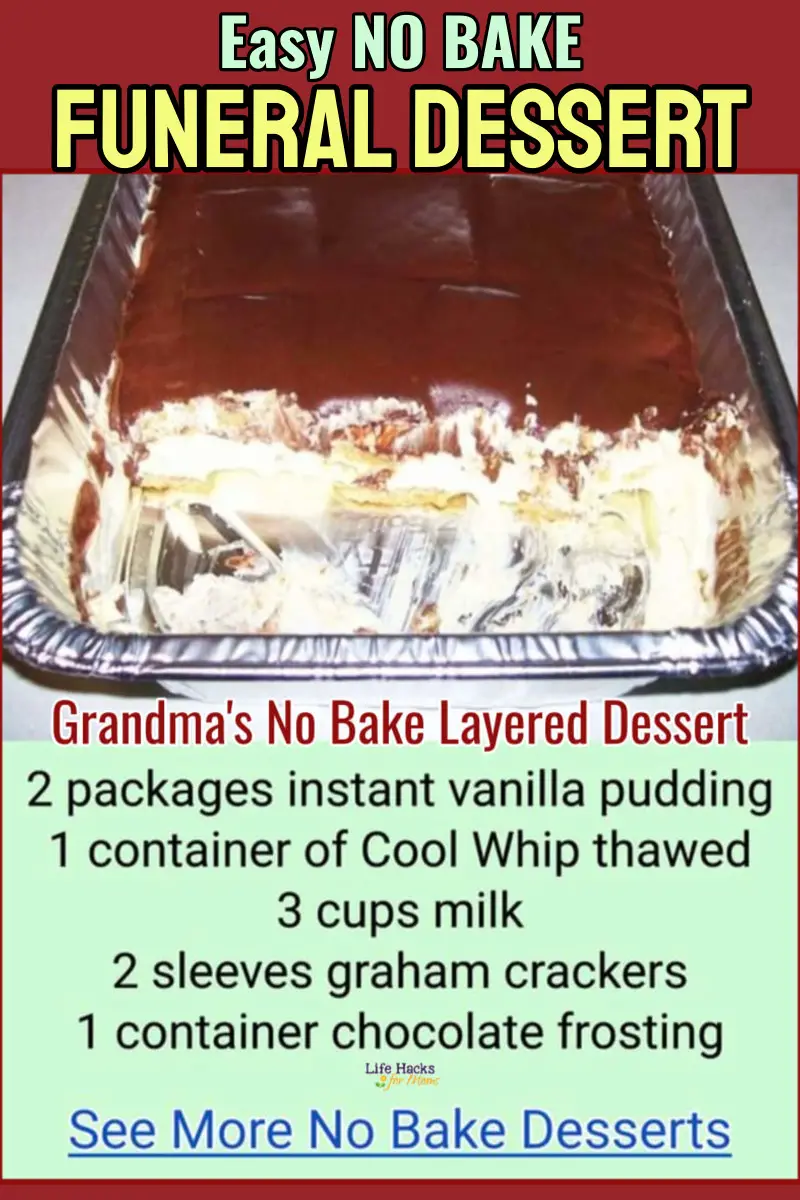 This "icebox" dessert is so quick and easy to make – just 5 common ingredients too.
Mix up 2 packages of instant vanilla pudding, 1 container of Cool Whip and 3 cups of milk.
Layer the pudding mixture between graham crackers, then top the whole thing with a container of chocolate frosting.
Then, just pop in the refrigerator and let it set and get cold.
Yep, that's it – and as you can see, it makes a BIG batch.
Lemon Dream Funeral Cake
I absolutely LOVED my grandmother's old-fashioned lemon cake so I took her recipe and adapted it to make a larger dessert to feed a large group by using a 9×13 pan.
It is GOOD!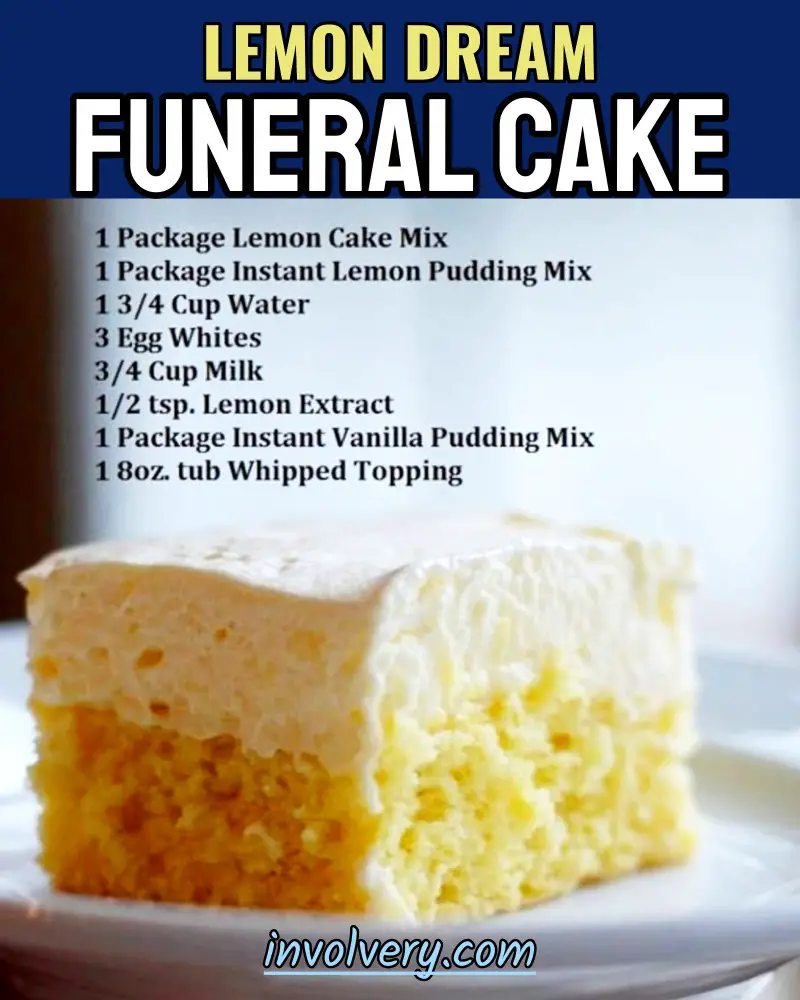 Here's how to make that Lemon Dream Funeral Cake from the picture above:
For the cake:
Combine the Lemon cake mix, 1 box of instant lemon pudding, 1 3/4 Cups of water and 3 egg whites in a mixing bowl and beat on LOW speed for about a minute.
Pour the cake batter mixture in a 9×13 pan that is sprayed with non-stick cooking spray and bake at 350 F about 22-29 minutes until toothpick comes out clean – then let it cool completely.
For the Icing:
Combine 3/4 Cups milk, 1/2 teaspoon lemon extract and one package instant vanilla pudding mix in a mixing bowl then beat on LOW for about 2 minutes.
Then, FOLD in one container of Cool Whip whipped topping – then spread over the cake.
I put the cake in the refrigerator to let everything set – and because this funeral desserts is best served cold.
Love Old-Fashioned Dessert Recipes?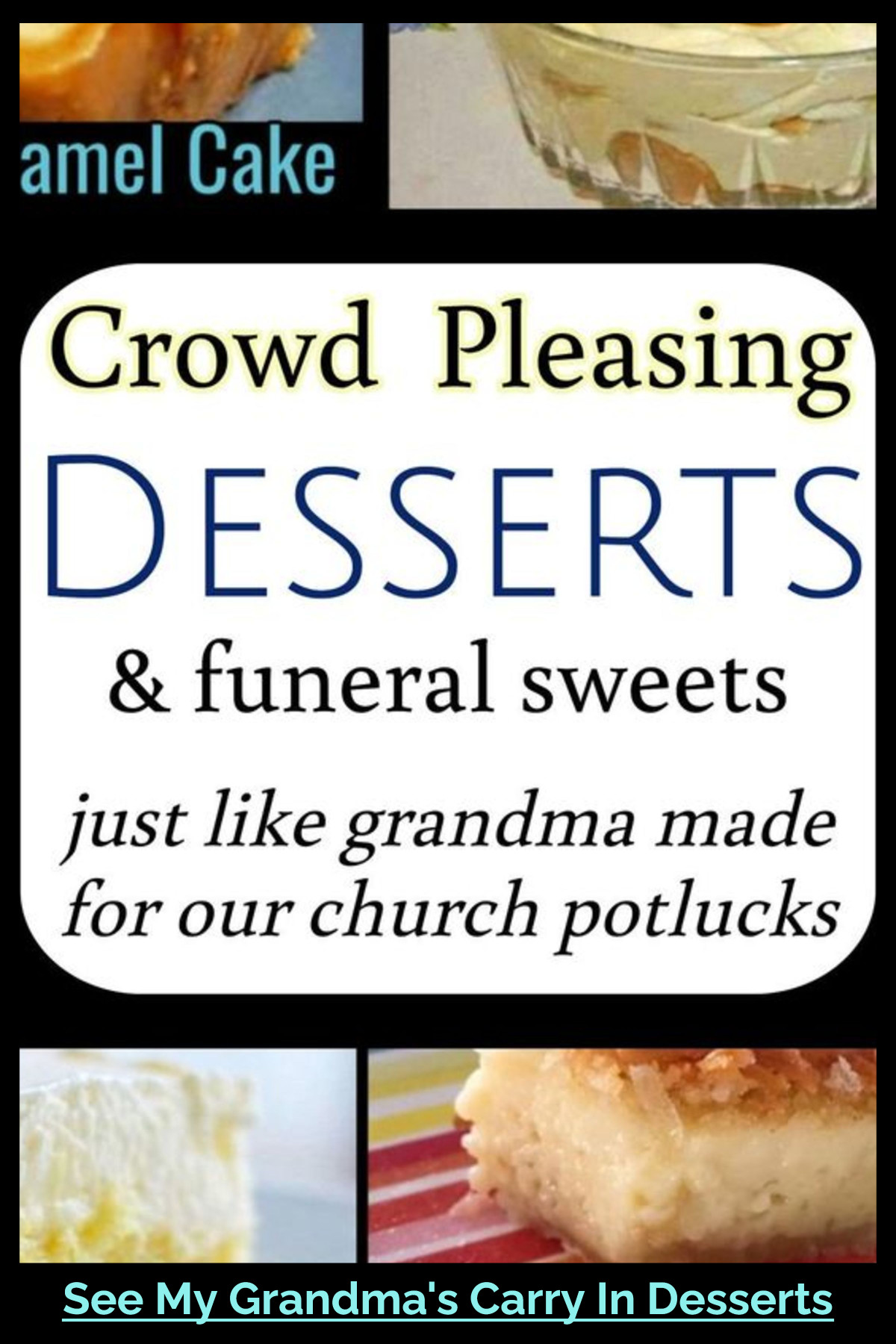 Large Group Banana Pudding
If you expect a large group at your funeral reception, this no bake dessert option is a simple cold dessert you really must serve.
It's also my FAVORITE Southern funeral dessert ever!
Break out your 9×13 casserole dish – or disposable aluminum 9×13 – and let's make banana pudding for a crowd the EASY way.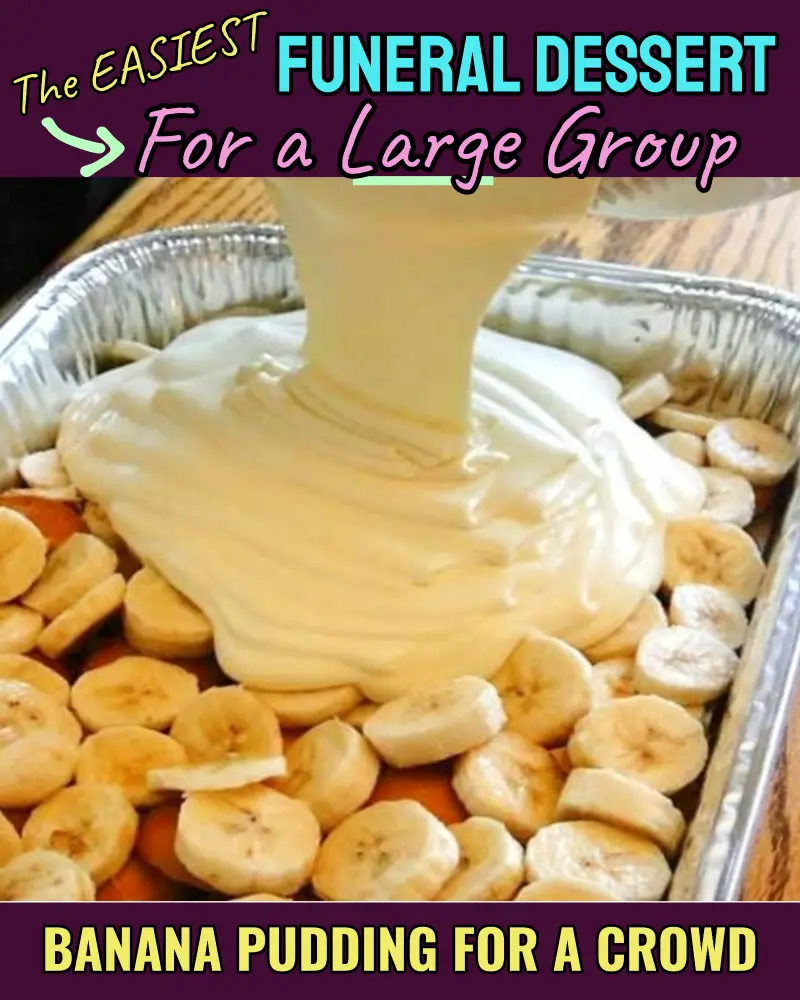 If you need a large batch funeral dessert that travels well, this is the one.
Grab a box of Nilla wafers and spread them all over your 9×13, then top the cookies with a few sliced up bananas.
Then, mix 2 packages of instant vanilla pudding according to the instructions on the box and pour on top of the wafers and bananas.
Top with a tub of Cool Whip then chill in the refrigerator to set.
DONE!  So easy and it's a definite crowd-pleaser.
And, here in the South, banana pudding IS the dessert for any large group event –
It's also like a BIG hug when you're feeling sad – which makes it the perfect funeral dessert.
Make Ahead Freezable Desserts
Sometimes it's just easier to make your desserts ahead of time and freeze them.
That way, you can can just pop them out of the freezer when you are ready to put them out for your guests or carry with you.
This page below has a lot of super simple make ahead mini desserts (single serve, bite size types of desserts) that are all freezer friendly.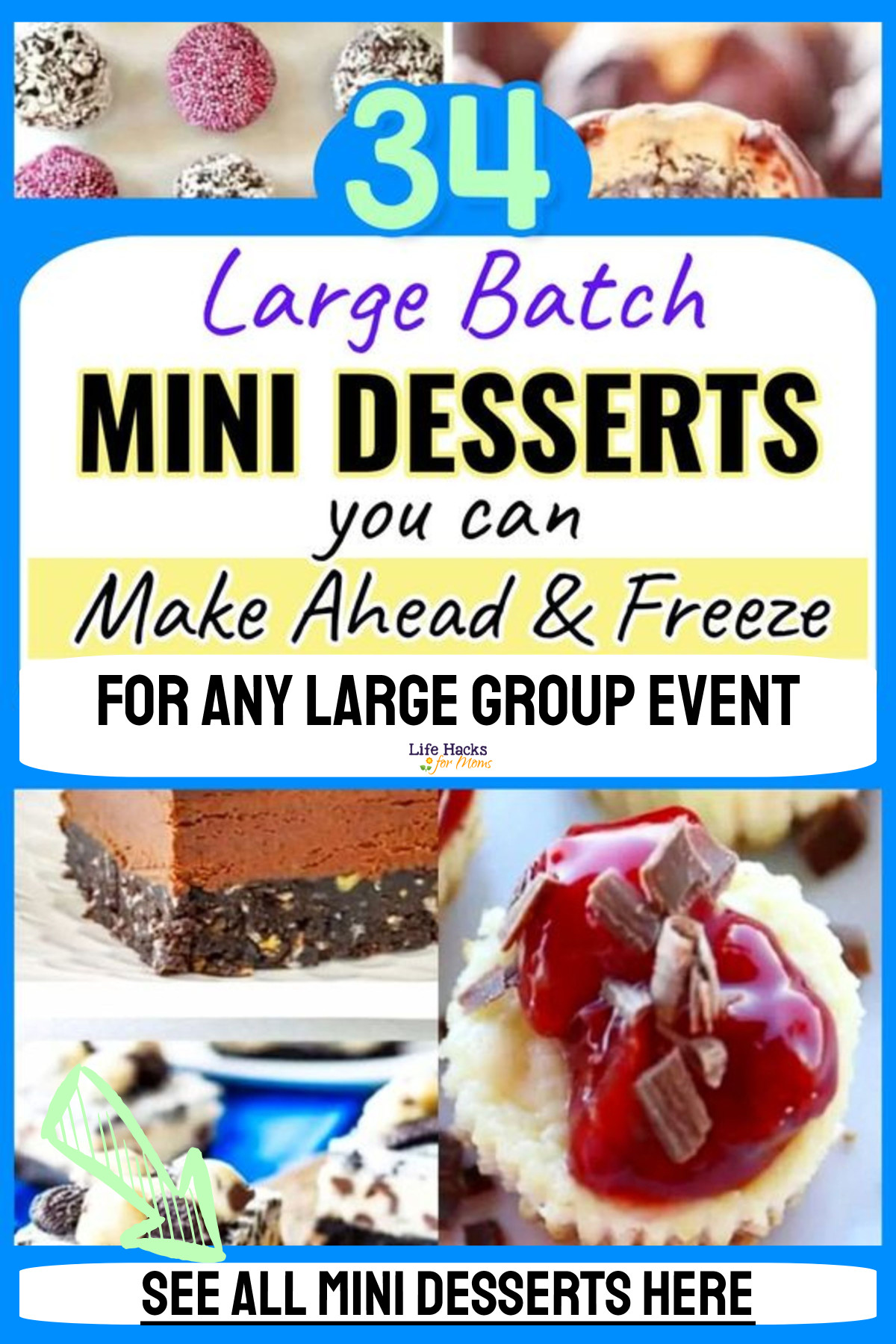 See All Mini Freezer Desserts Here
Pie Filling Dump Cake
If you need a REALLY easy funeral dessert, grab a can of cherry pie filling and make this crazy easy Chocolate Cherry Dump Cake – it's only THREE INGREDIENTS: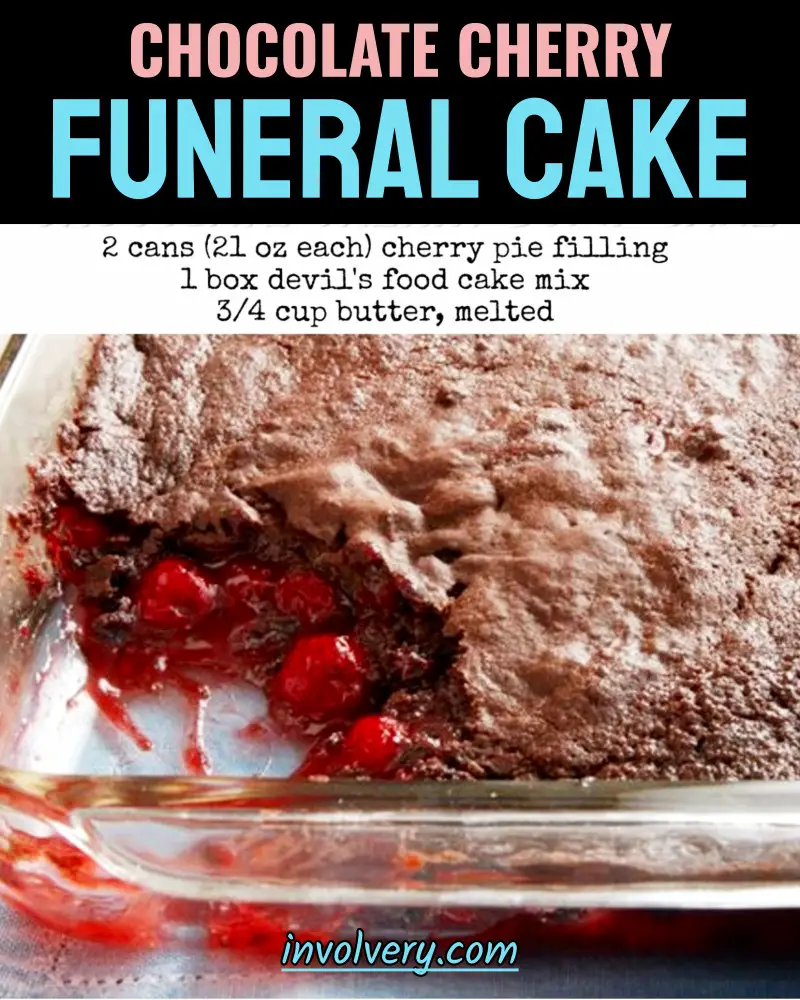 This chocolate cherry funeral cake is so easy to make and it feeds a large group easily.
As I said, it's only 3 ingredients too: cherry pie filling, a box of Devil's Food cake mix and butter.
Here's how make it:
1 – Heat oven to 350°F. Spray bottom of 13×9-inch (3-quart) glass baking dish with cooking spray.

2 – Spread pie filling in baking dish.

3 – Top with dry cake mix; gently shake pan to distribute evenly.

4 – Pour melted butter over top, tilting pan to cover as much of top with butter as possible.

5 – Bake 42 to 45 minutes or until mostly dry on top and bubbly around edges. Cool 10 minutes before serving.
Dump cakes are one of my FAVORITE quick and easy desserts for ANY large group event or even a get-together at home.
Bundt Cake Desserts
It's not a complete funeral dessert table without a few – or a dozen – Bundt Cakes, right?
If you're looking for unique funeral bundt cake dessert recipes, check this page below: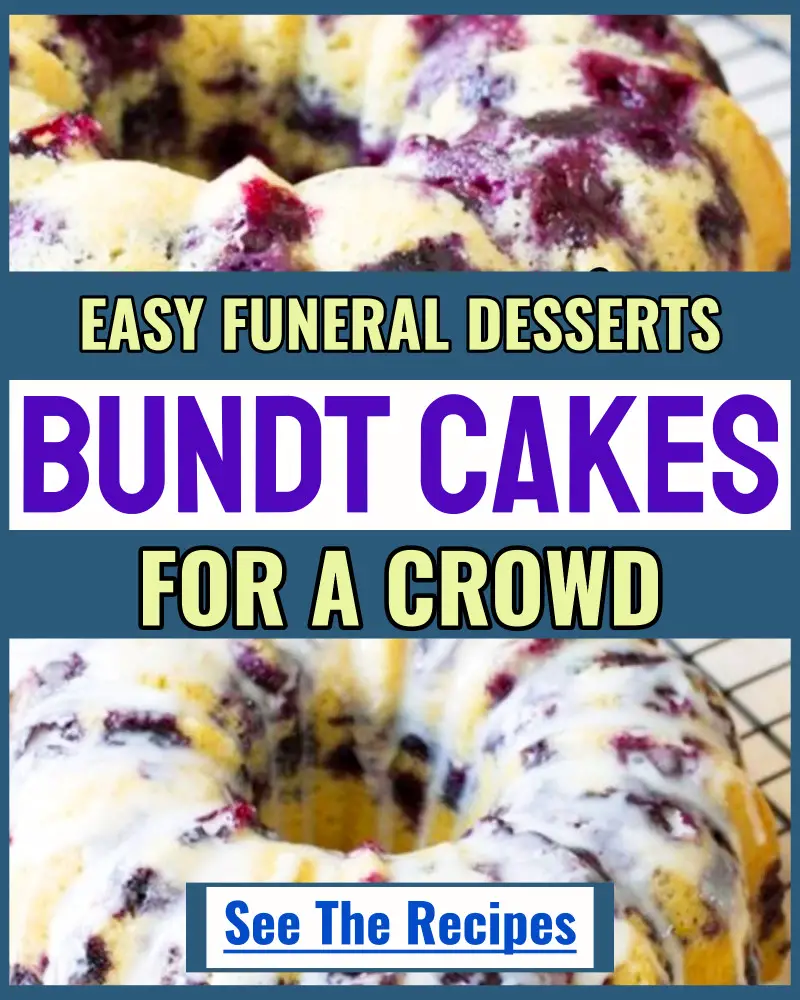 The blueberry bundt cake is PHENOMENAL!
Large Batch No Bake Strawberry CheeseCake
My grandmother made this no bake strawberry cheesecake in this large batch for ALL family get-togethers… not just funerals.
In short, if my grandmother was there – or even KNEW about the event – she made this.
It is a classic and so darn good!
When *I* think of comfort food, this strawberry cheesecake refrigerator dessert is exactly what I think of.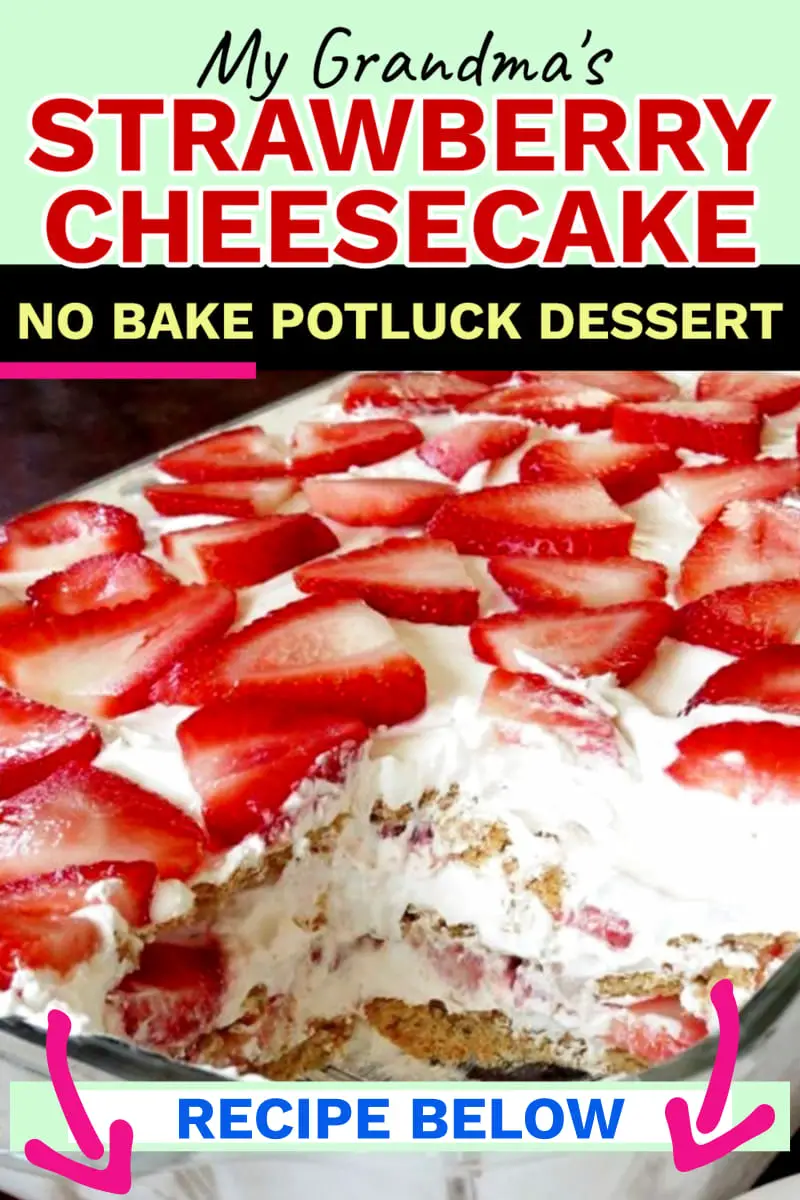 No Bake Large Batch Strawberry Cheesecake Recipe:
Ingredients:
2 pounds strawberries
2 sleeves graham crackers
1 8-ounce package cream cheese, softened
1 14-ounce can sweetened condensed milk
2 small packages instant cheesecake flavored pudding
3 cups milk
1 carton Cool Whip, divided
Instructions:
– Clean and slice strawberries, about 1/4-inch thick; set aside.
– Line the bottom of a 13×9-inch baking dish with graham crackers; set aside.
– Combine cream cheese and sweetened condensed milk in a large bowl and beat with an electric mixer until smooth and creamy.
– Add pudding mixes and milk and continue mixing on low for 4 to 5 minutes or until mixture starts to thicken.
– Fold in 2 cups Cool Whip until smooth.
– Pour half of cream cheese mixture over graham crackers.
– Arrange a single layer of strawberry slices over cream cheese mixture.
– Top strawberries with another layer of graham crackers then cover with remaining cream cheese mixture.
– Top cream cheese mixture with another layer of strawberries.
– Cover and refrigerate for 6 to 8 hours.
Done!
More Large Group Dessert Ideas:
---
15 Easy Sheet Pan Desserts For A Crowd
More Funeral Food Ideas:
Miss Anything?
Go Back To Top Of:
Or Go BACK to a specific funeral dessert recipe:
What To Read Next: