---
Easy Funeral Desserts To Make For a Crowd – When it comes to funeral food for a reception, potluck at church, memorial service or wake, desserts are VERY important! The last thing you need is an EMPTY or lacking funeral dessert table.
Sweet treats are comfort food, so let's fill that table up with easy funeral desserts you can make ahead of time – or last minute – for a large group.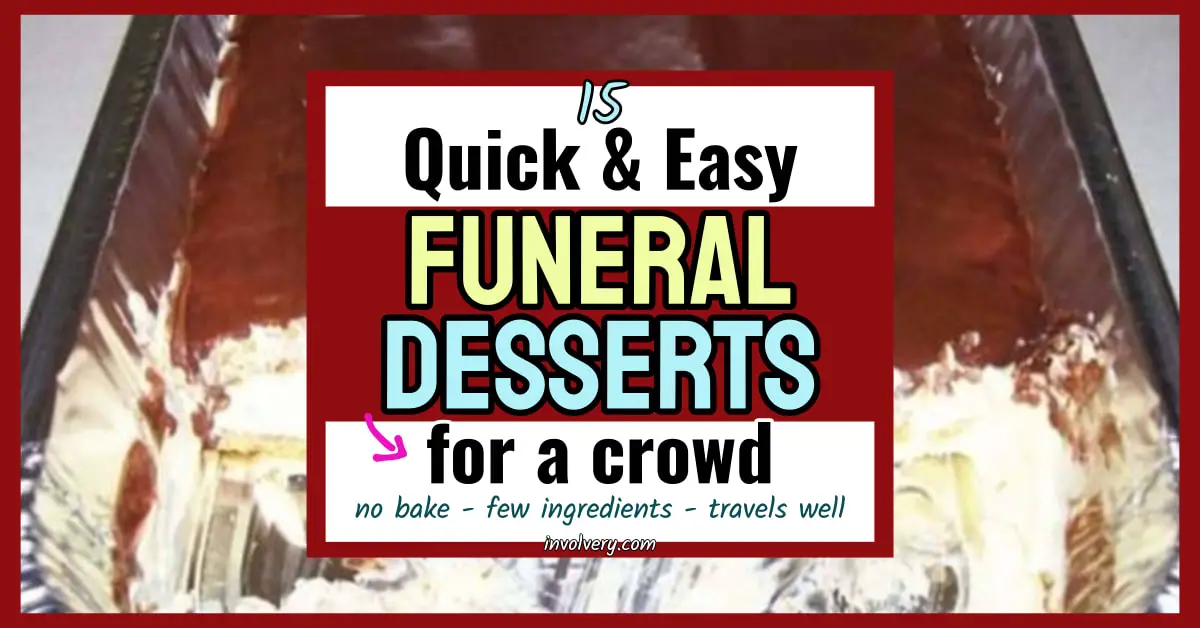 ---
Updated on September 22, 2022
posts may contain affiliate links -Enjoy and feel free to share with your friends!
---
No BAKE Funeral Dessert
This super simple funeral dessert is from our family reunion dessert ideas page, but when it comes to EASY funeral desserts, it is THE winner to feed a crowd.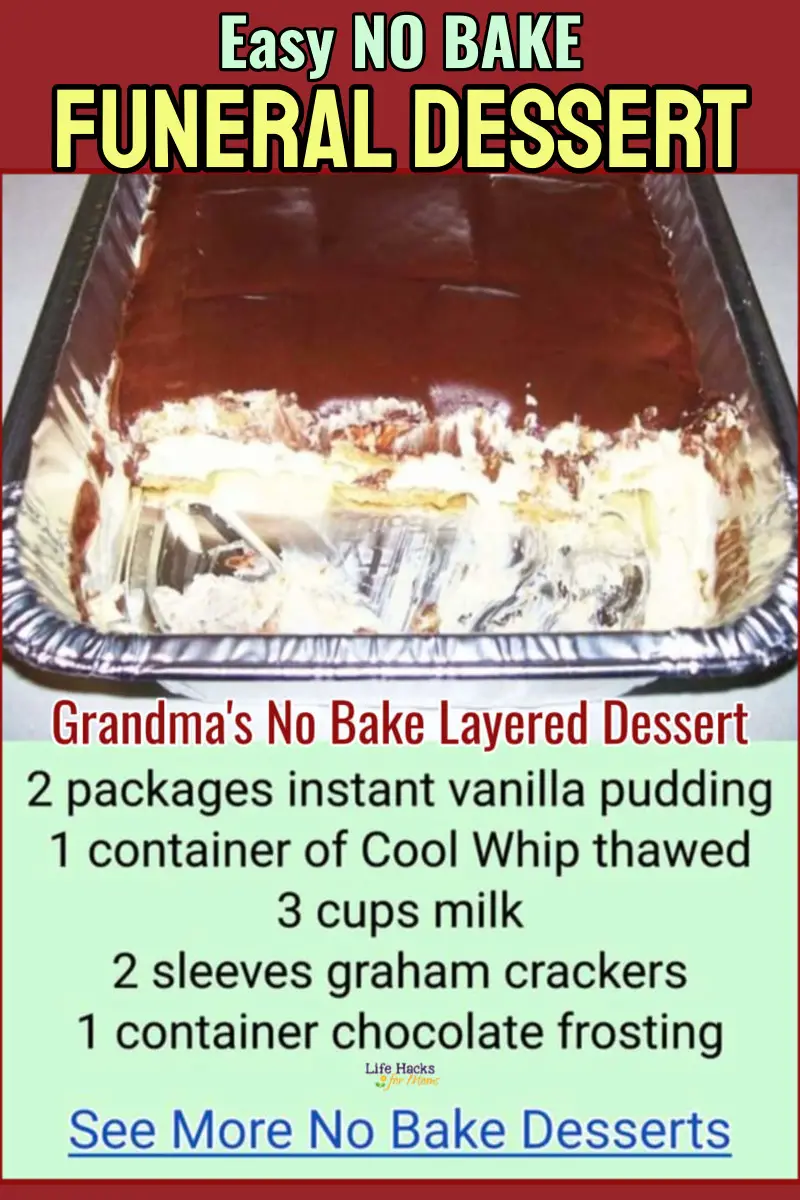 This "icebox" dessert is so quick and easy to make – just 5 common ingredients too.
Mix up 2 packages of instant vanilla pudding, 1 container of Cool Whip and 3 cups of milk.
Layer the pudding mixture between graham crackers, then top the whole thing with a container of chocolate frosting.
Then, just pop in the refrigerator and let it set and get cold.
Yep, that's it – and as you can see, it makes a BIG batch.
Lemon Dream Funeral Cake
I absolutely LOVED my grandmother's old-fashioned lemon cake so I took her recipe and adapted it to make a larger dessert to feed a large group by using a 9×13 pan.
It is GOOD!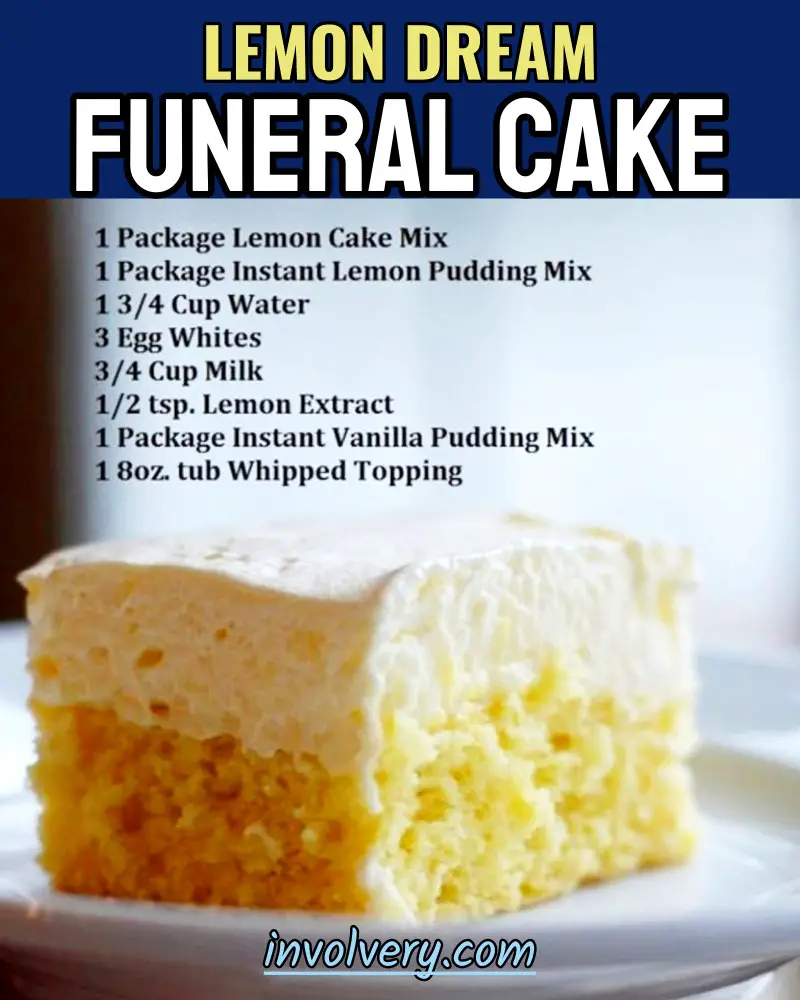 Here's how to make that Lemon Dream Funeral Cake from the picture above:
For the cake:
Combine the Lemon cake mix, 1 box of instant lemon pudding, 1 3/4 Cups of water and 3 egg whites in a mixing bowl and beat on LOW speed for about a minute.
Pour the cake batter mixture in a 9×13 pan that is sprayed with non-stick cooking spray and bake at 350 F about 22-29 minutes until toothpick comes out clean – then let it cool completely.
For the Icing:
Combine 3/4 Cups milk, 1/2 teaspoon lemon extract and one package instant vanilla pudding mix in a mixing bowl then beat on LOW for about 2 minutes.
Then, FOLD in one container of Cool Whip whipped topping – then spread over the cake.
I put the cake in the refrigerator to let everything set – and because this funeral desserts is best served cold.
Love Old-Fashioned Dessert Recipes?
Large Group Banana Pudding
If you expect a large group at your funeral reception, this no bake dessert option is a simple cold dessert you really must serve.
It's also my FAVORITE Southern funeral dessert ever!
Break out your 9×13 casserole dish – or disposable aluminum 9×13 – and let's make banana pudding for a crowd the EASY way.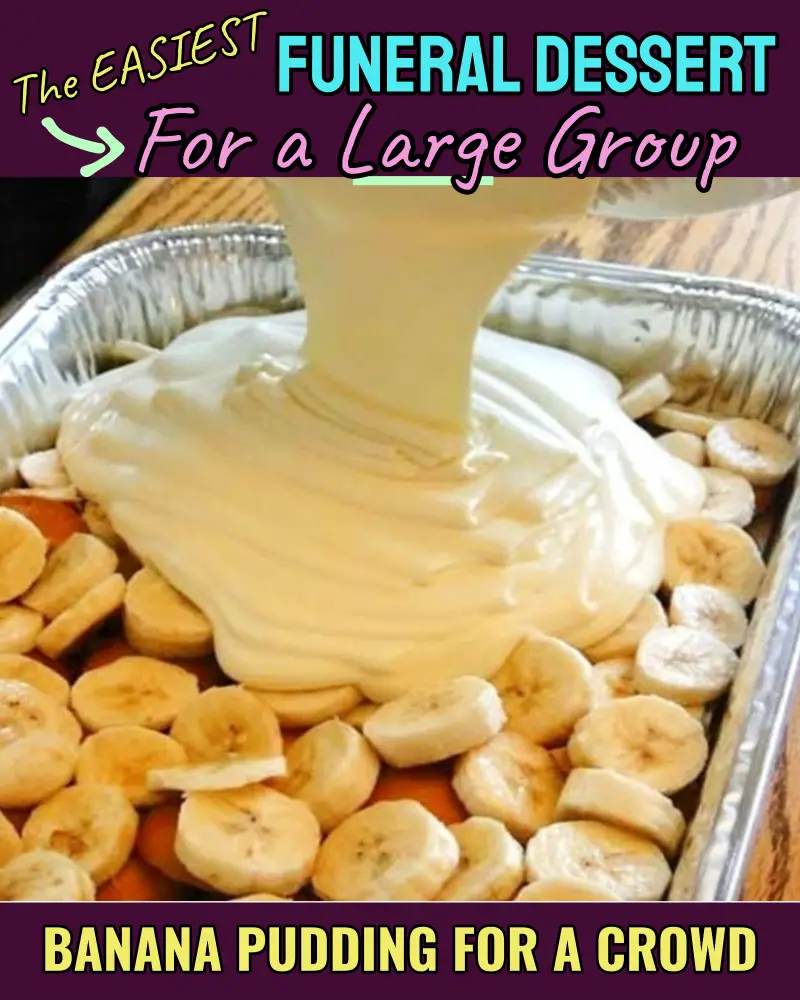 If you need a large batch funeral dessert that travels well, this is the one.
Grab a box of Nilla wafers and spread them all over your 9×13, then top the cookies with a few sliced up bananas.
Then, mix 2 packages of instant vanilla pudding according to the instructions on the box and pour on top of the wafers and bananas.
Top with a tub of Cool Whip then chill in the refrigerator to set.
DONE!  So easy and it's a definite crowd-pleaser.
And, here in the South, banana pudding IS the dessert for any large group event –
It's also like a BIG hug when you're feeling sad – which makes it the perfect funeral dessert.
Pie Filling Dump Cake
If you need a REALLY easy funeral dessert, grab a can of cherry pie filling and make this crazy easy Chocolate Cherry Dump Cake – it's only THREE INGREDIENTS: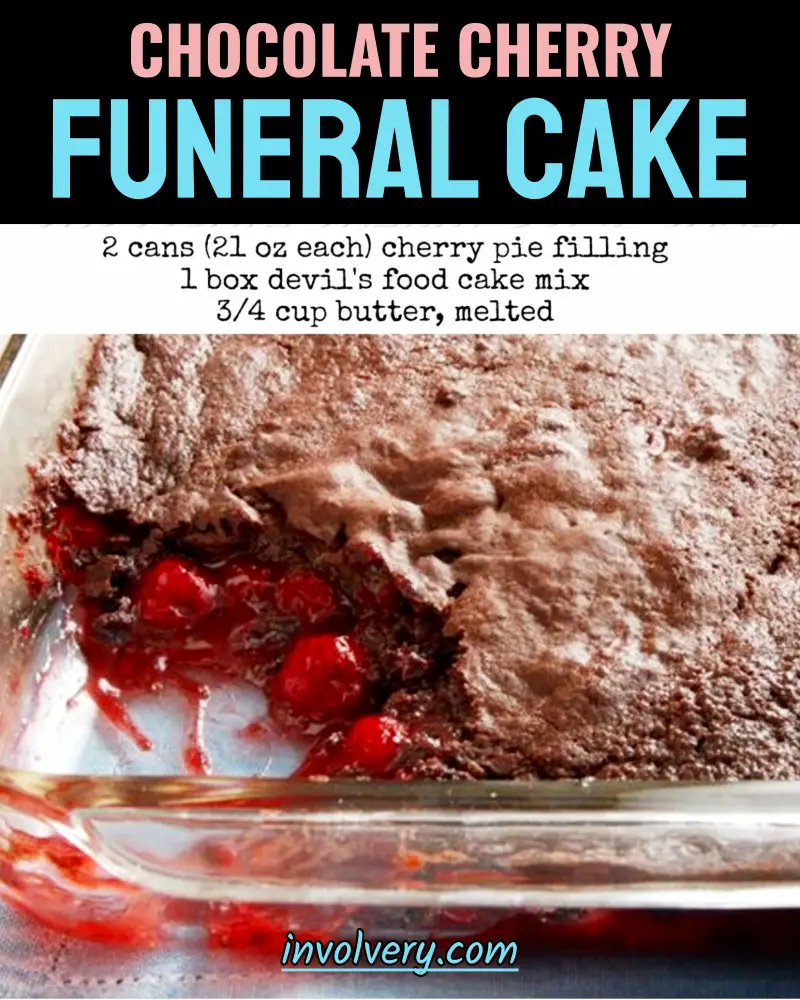 This chocolate cherry funeral cake is so easy to make and it feeds a large group easily.
As I said, it's only 3 ingredients too: cherry pie filling, a box of Devil's Food cake mix and butter.
Here's how make it:
1 – Heat oven to 350°F. Spray bottom of 13×9-inch (3-quart) glass baking dish with cooking spray.

2 – Spread pie filling in baking dish.

3 – Top with dry cake mix; gently shake pan to distribute evenly.

4 – Pour melted butter over top, tilting pan to cover as much of top with butter as possible.

5 – Bake 42 to 45 minutes or until mostly dry on top and bubbly around edges. Cool 10 minutes before serving.
Dump cakes are one of my FAVORITE quick and easy desserts for ANY large group event or even a get-together at home.
Bundt Cake Desserts
It's not a complete funeral dessert table without a few – or a dozen – Bundt Cakes, right?
If you're looking for unique funeral bundt cake dessert recipes, check this page below: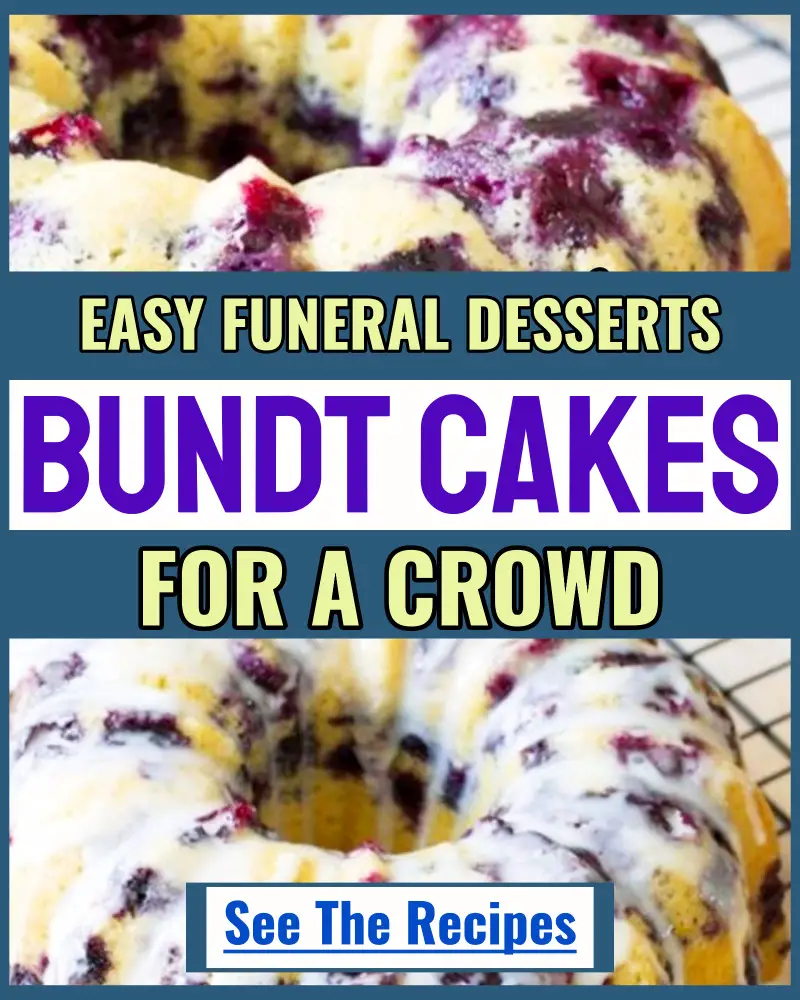 The blueberry bundt cake is PHENOMENAL!
More Funeral Food Ideas:
Miss Anything?
Go Back To Top Of:
Or Go BACK to a specific funeral dessert recipe:
What To Read Next: