---
Grey and White Small Kitchen Ideas, Low Cost Simple Designs and Pictures –
Whether you're looking for grey and white kitchen ideas for a NEW kitchen or for makeover ideas for your old outdated small house kitchen, these 13 white and grey kitchen pictures below are sure to give you the inspiration you need for a total kitchen refresh even if you're on a budget.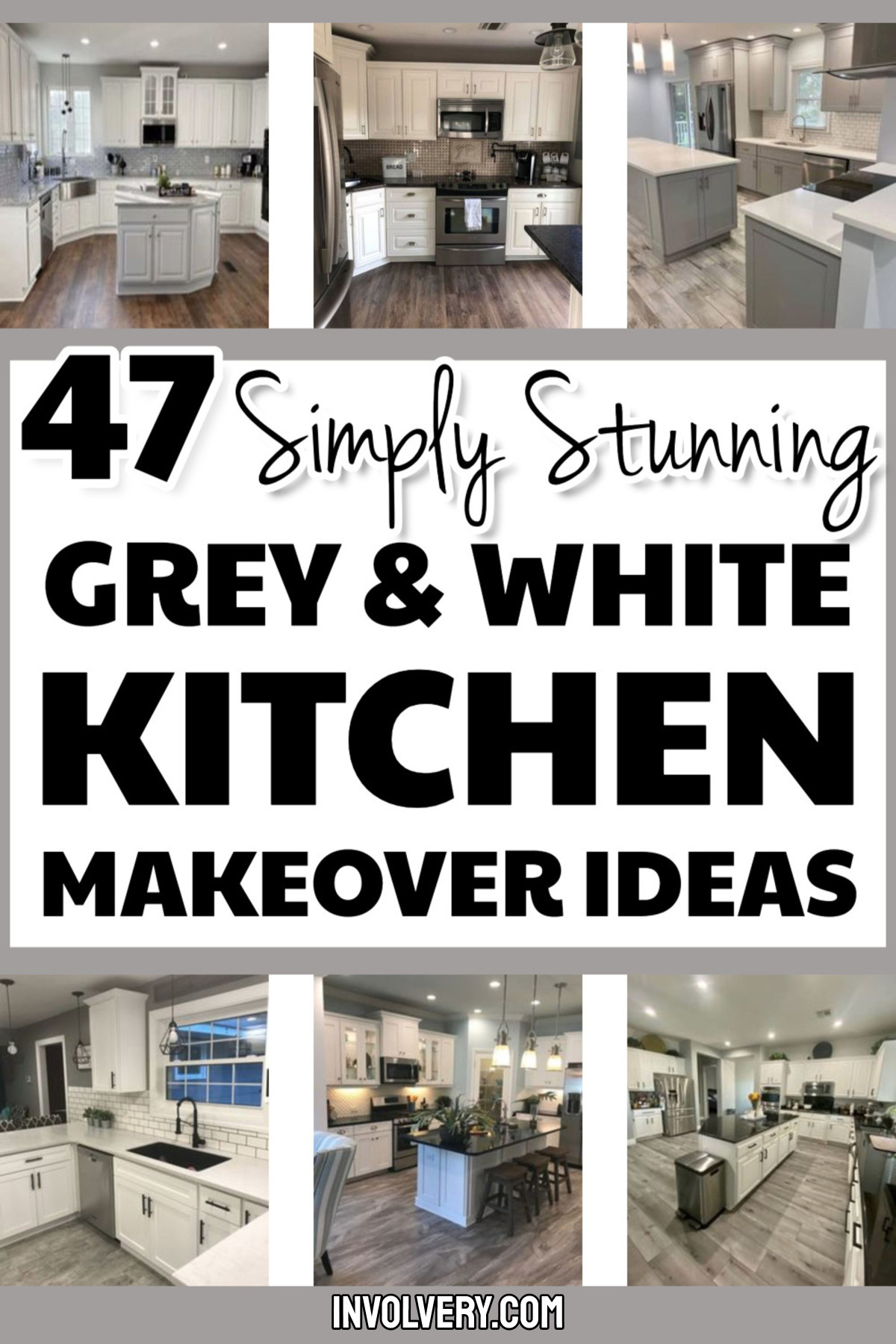 ---
Updated on July 30, 2023
posts may contain affiliate links -Enjoy and feel free to share with your friends!
---
Let's take a look at some GORGEOUS white and grey small kitchen ideas that are perfect for any size kitchen makeover budget.
Now that I finally have the cozy grey living room of my dreams, it's time to bring that color scheme into my small kitchen – these are the designs and decorating ideas I really like.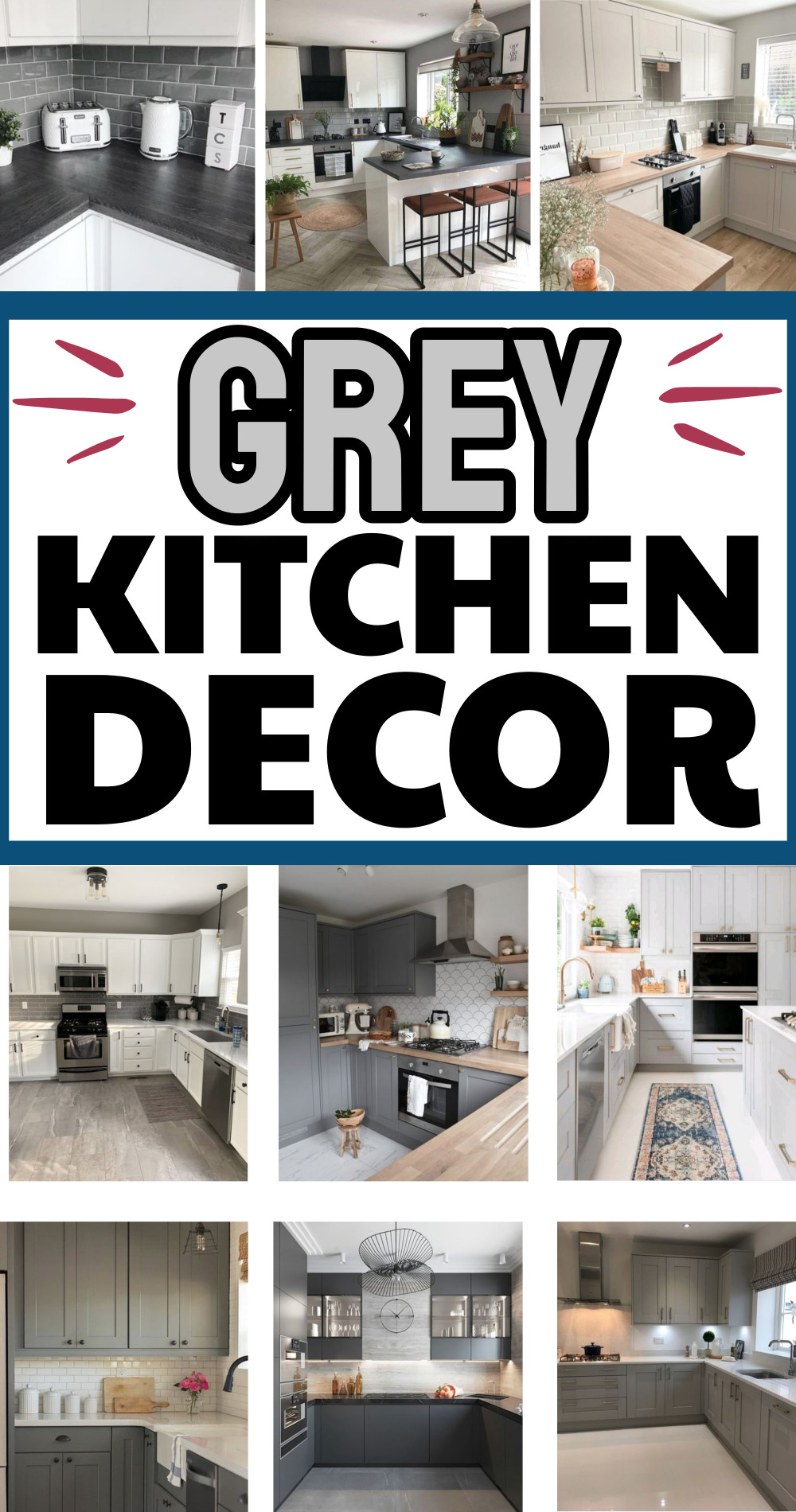 I found all those grey kitchen decor ideas on this Pinterest page, if you're interested – otherwise, let's look at some more simply stunning grey and white kitchen decorating ideas.
If you're ready to give your old outdated or 70's style middle class kitchen a beautiful makeover for a fresh and trendy new look, consider your cabinets first.
Take a look at this painted kitchen cabinet before and after picture below:
Those white high gloss painted cabinets look FABULOUS, right? Especially with the grey tile backsplash and stunning new countertops.
Looks like a brand new kitchen!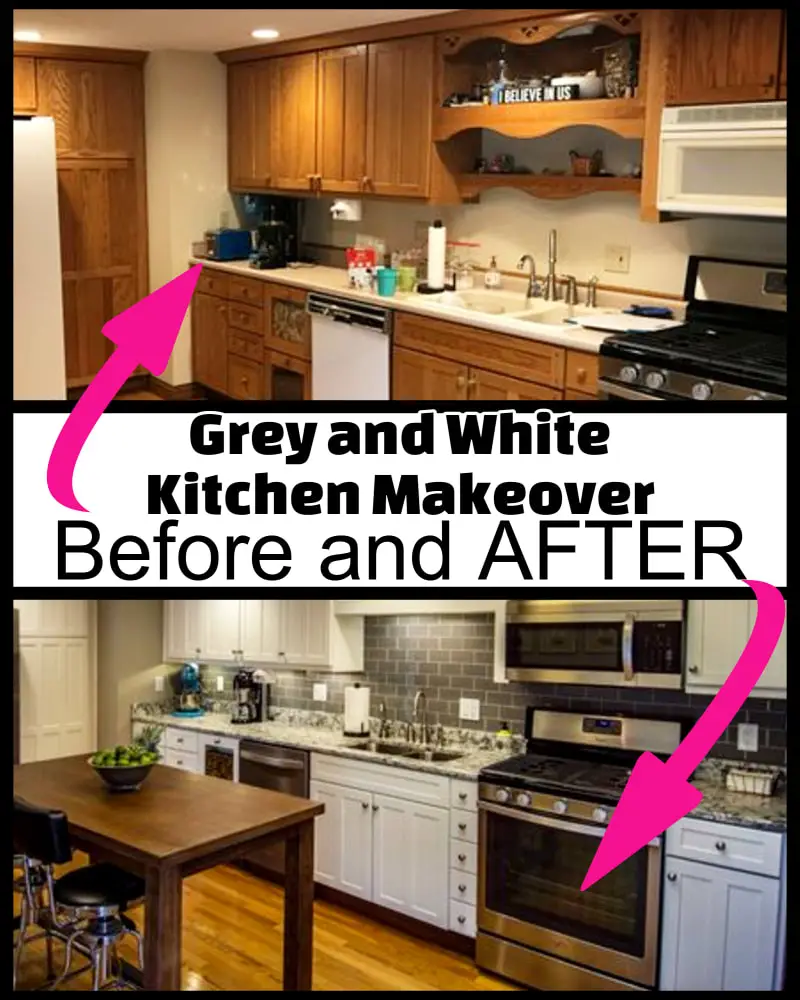 Let's look at some pictures of small white and grey kitchen design ideas and decorating styles I'm a big fan of.
Pictures
I love the overall modern farmhouse look of this small gray kitchen in the picture below….
and YES PLEASE to the subway tile backsplash – looks great!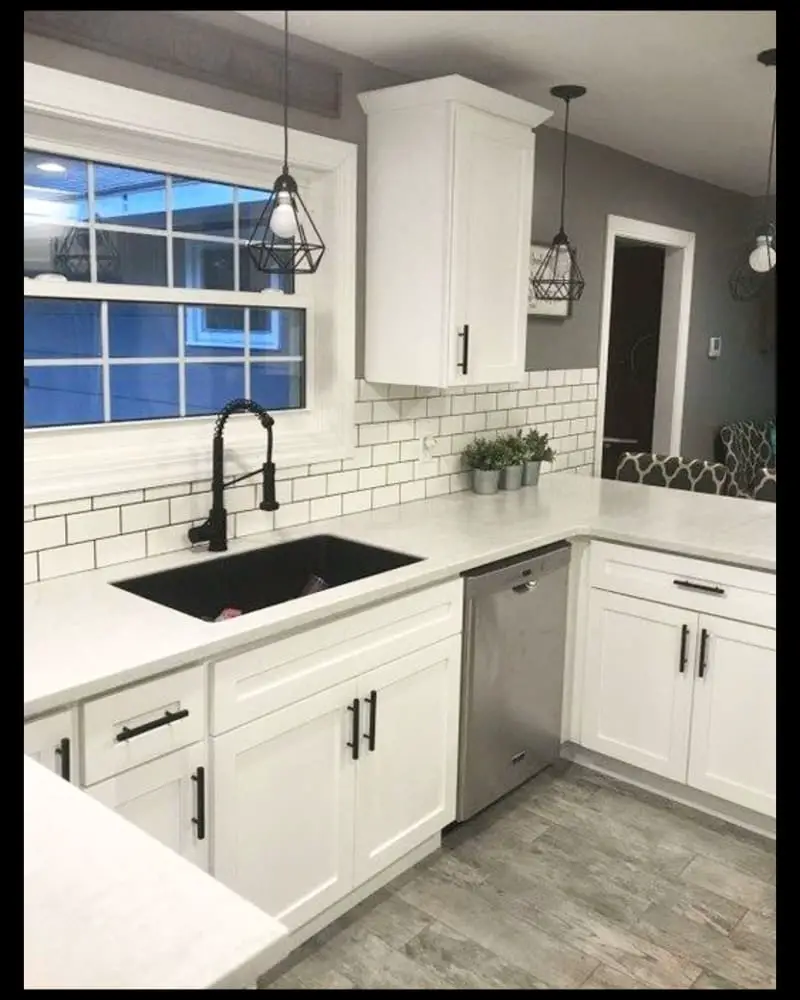 This small modern kitchen in the picture below is decorated in grey and white AND with black accent colors (the black appliances, black deep farmhouse sink faucet and the kitchen island breakfast bar stools).
It's really pretty and impressive, don't you agree?
Very clean and contemporary feel to it yet the wood floor makes it feel cozy, warm and welcoming.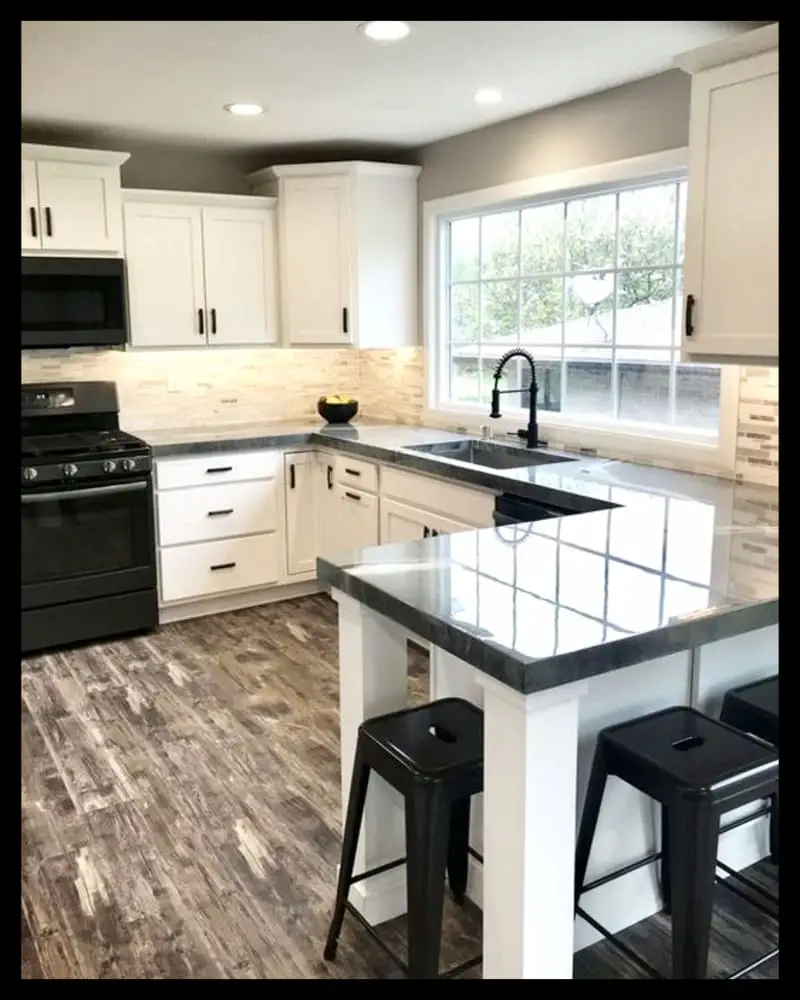 This next small kitchen has LIGHT grey cabinets with a white tile backsplash and white countertops – which looks amazing with the stainless steel appliances.
And SO much love for those simple modern light fixtures over the kitchen island – stunning!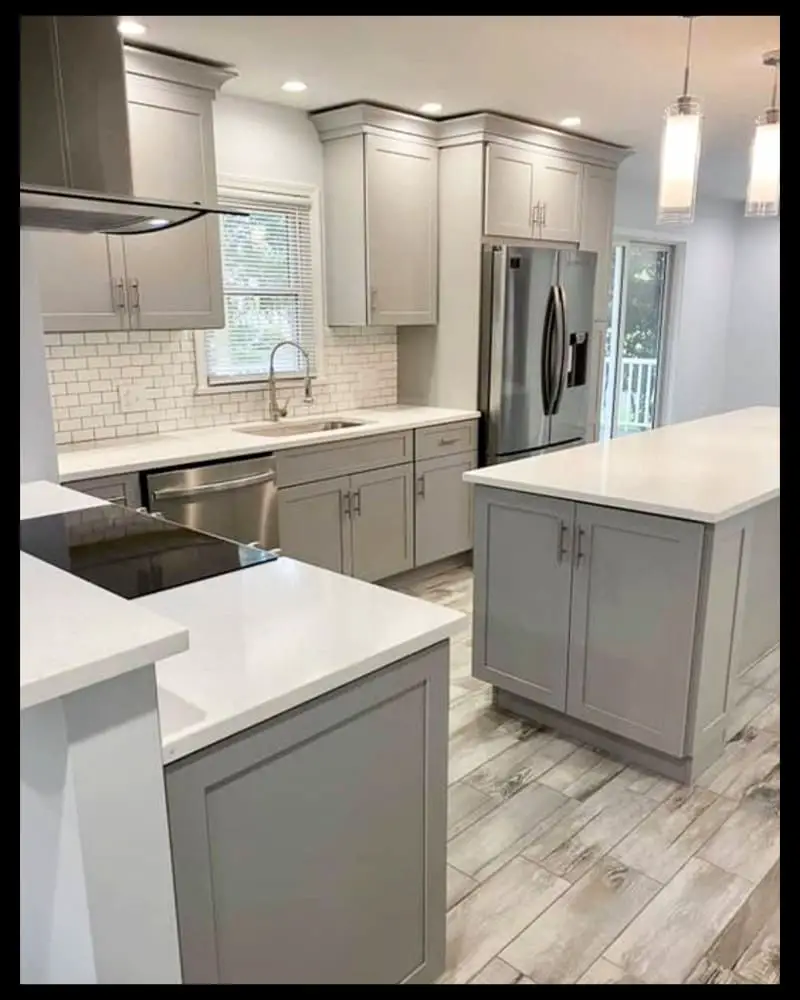 I really like how this narrow galley kitchen kept their whole design classic modern with white cabinets and simple elegant black cabinet pull hardware.
But with some soft grey painted accent wall and some adorable farmhouse kitchen canisters, they made it look less "sterile" and "perfect".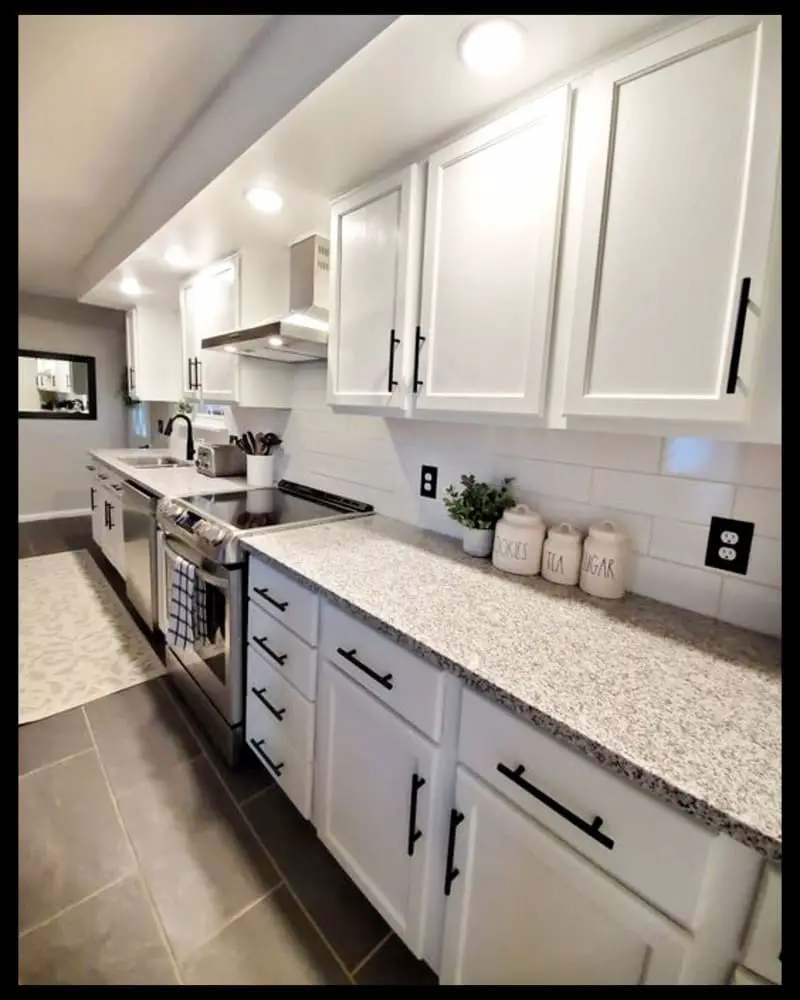 If you like a more vintage country farmhouse look to your kitchen decor, this next small white and grey kitchen is probably more your style.
Very pretty and REALLY love those countertops.
My countertops are similar and let me tell you this – you can NOT tell when they're dirty lol!
I used to have WHITE countertops and it was a nightmare!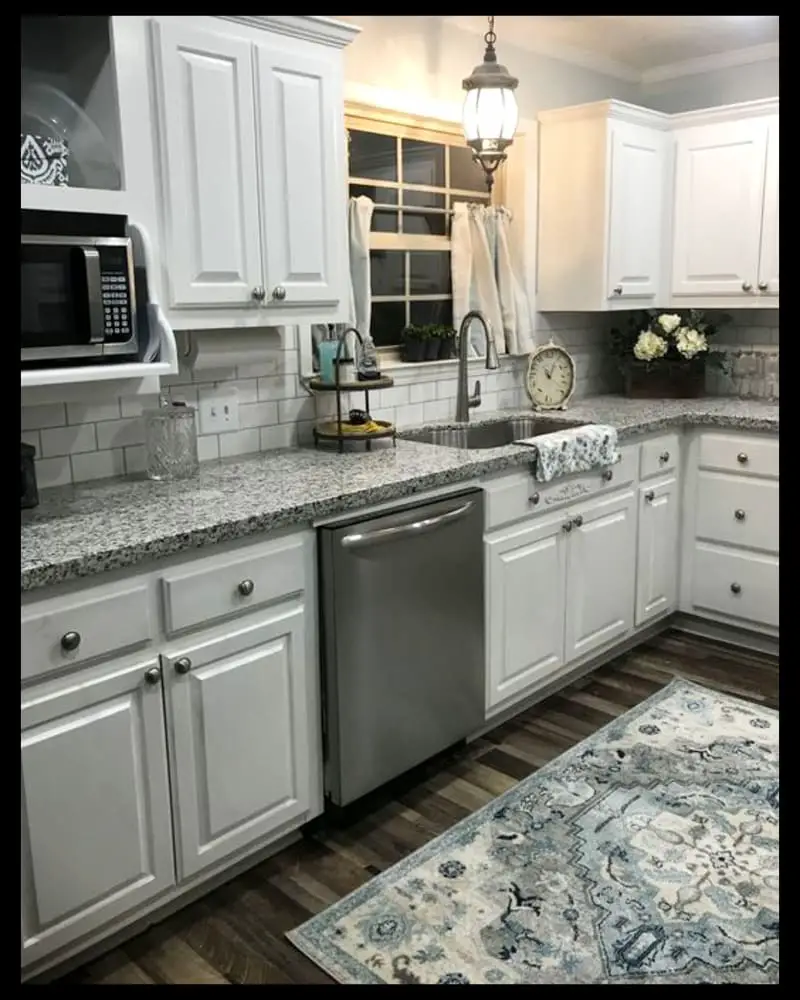 How about adding a coffee bar or corner coffee station in your kitchen or breakfast area?
This grey and white kitchen coffee bar set up is just GORGEOUS!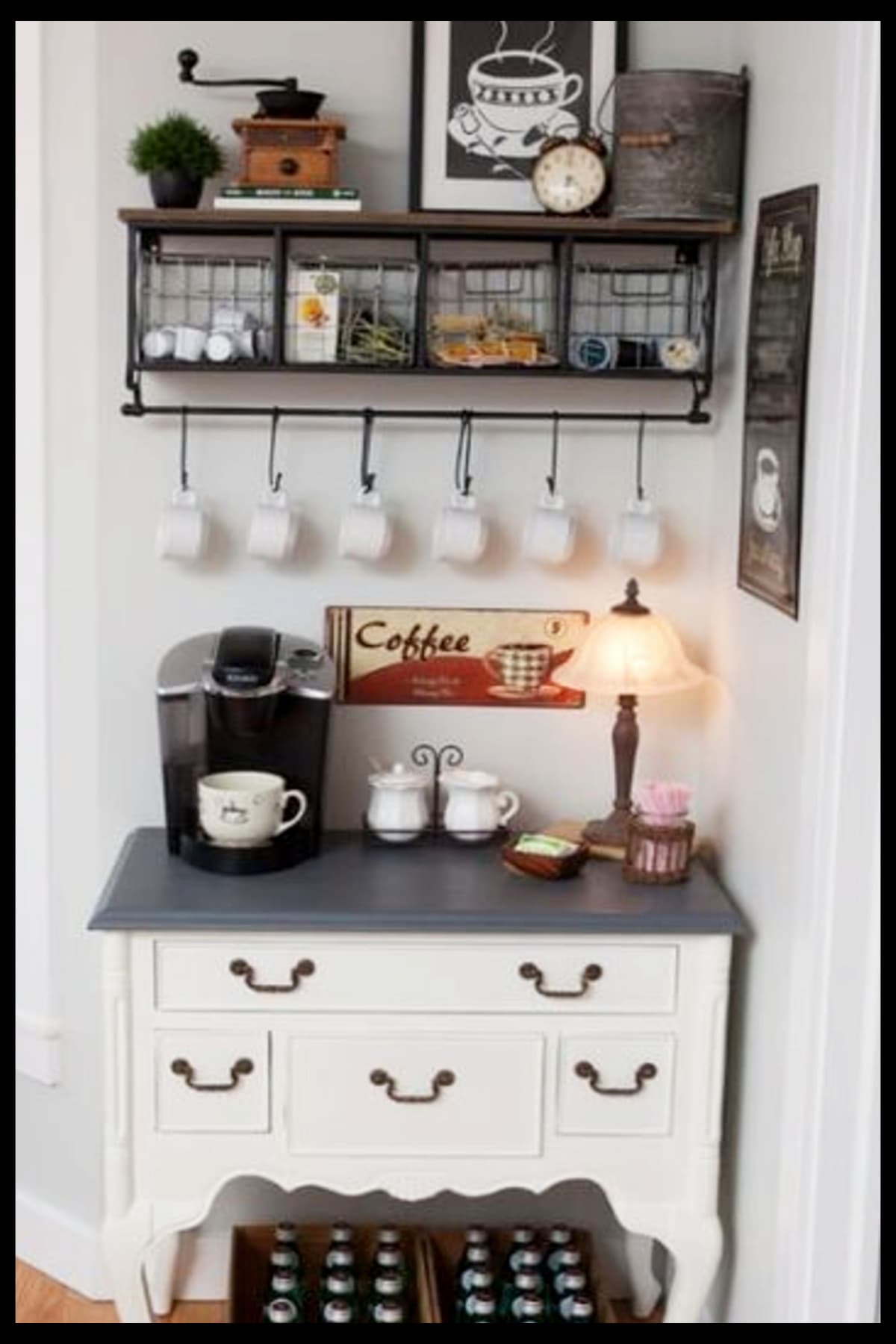 This next grey kitchen is a more contemporary farmhouse aesthetic – stunning white cabinets, stainless farmhouse steel sink and appliances, a black kitchen island, speckled grey and white countertops all topped off with grey wall paint above the cabinets and a simple, yet stunning farmhouse greenery wreath.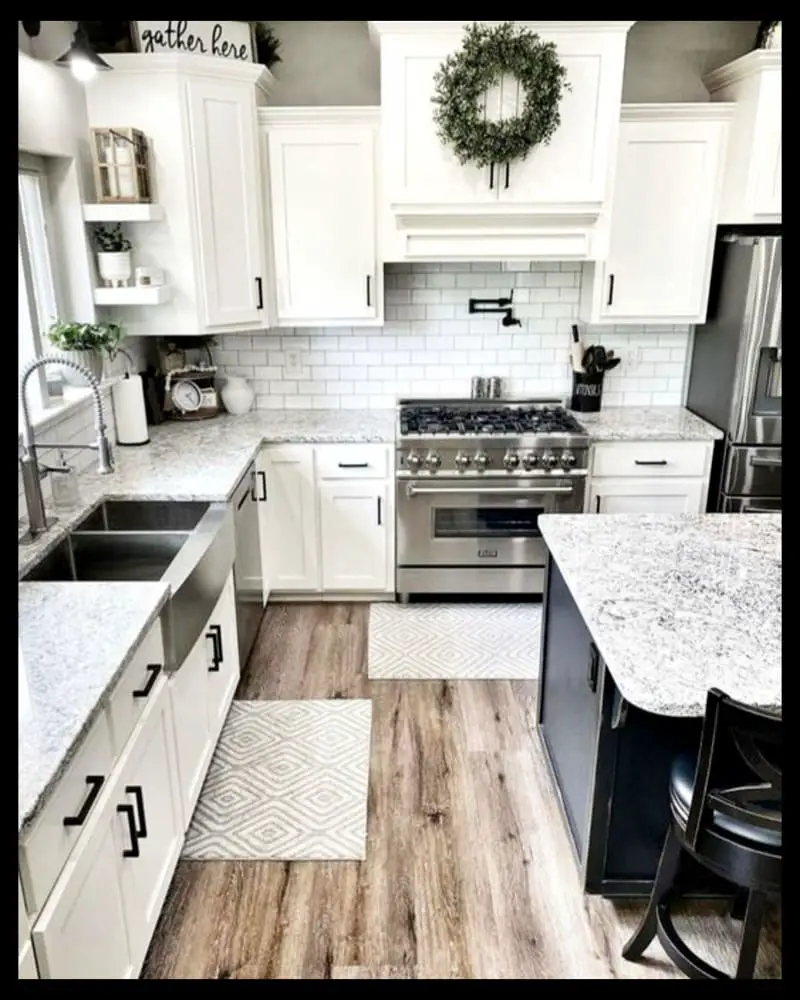 This "L" shaped small kitchen makeover in the photo below WAS a kitchen you'd find in a "normal" 70's middle class home – think knotty pine cabinets and THAT kind of linoleum flooring.
This inexpensive kitchen makeover included painting the cabinets a light grey, adding a new backsplash and new sink.
BIG difference on their low budget! It's NOW a very cute, modern and SIMPLE kitchen design with the updated decor.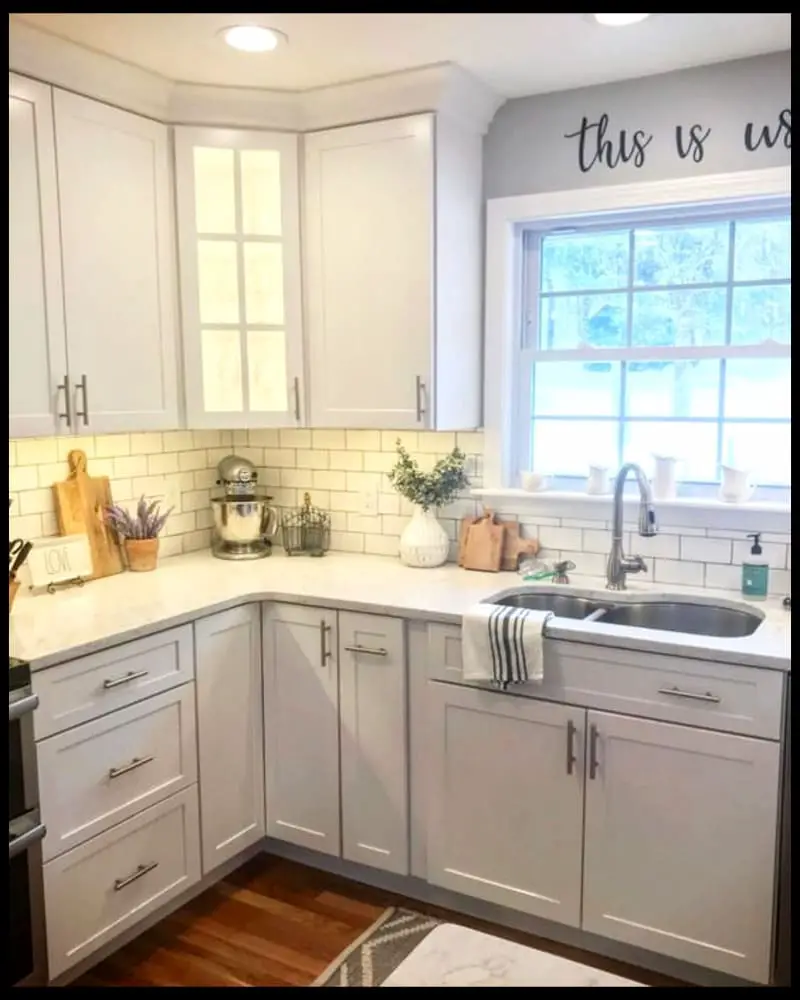 At first glance, this small white kitchen below just didn't "mesh" with me.
The cabinets are all white – which I love – but the combination of the darker grey subway backsplash tile with the grey and white marbled countertop just seemed too busy… but the more I look at it, the more it grows on me.
Maybe it needs a pop of color or something to bring it all together?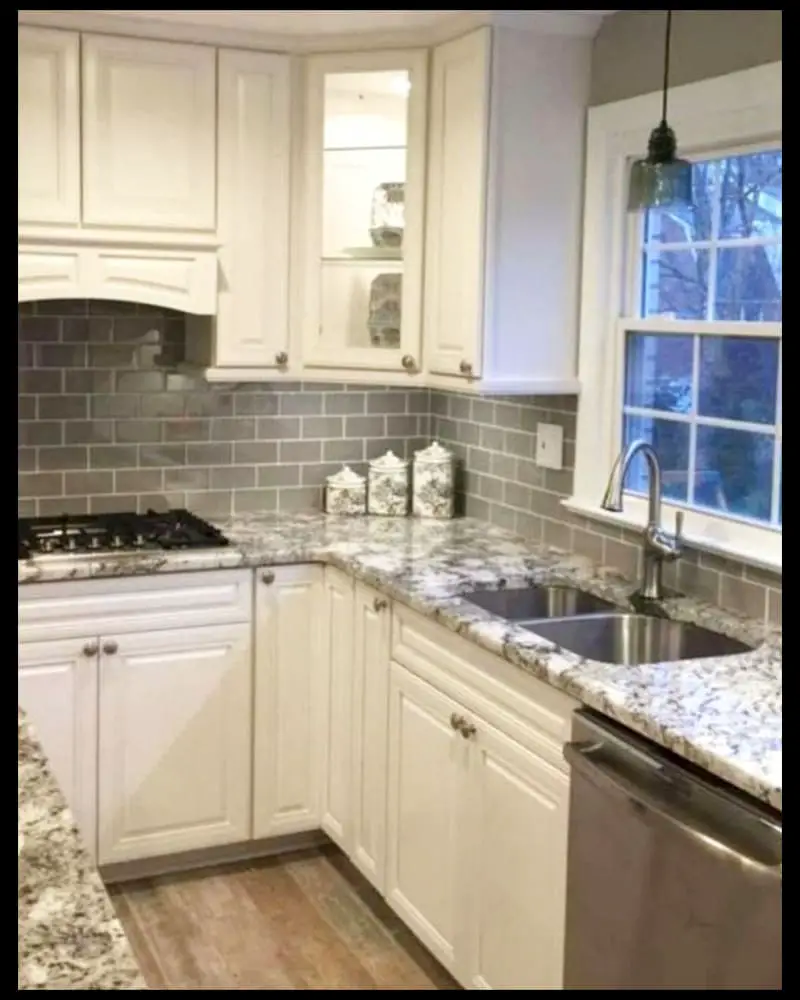 This next white and grey kitchen idea in the picture below is so very pretty and elegant to me.
It has that old country farmhouse feel yet it's so modern – love the open shelving!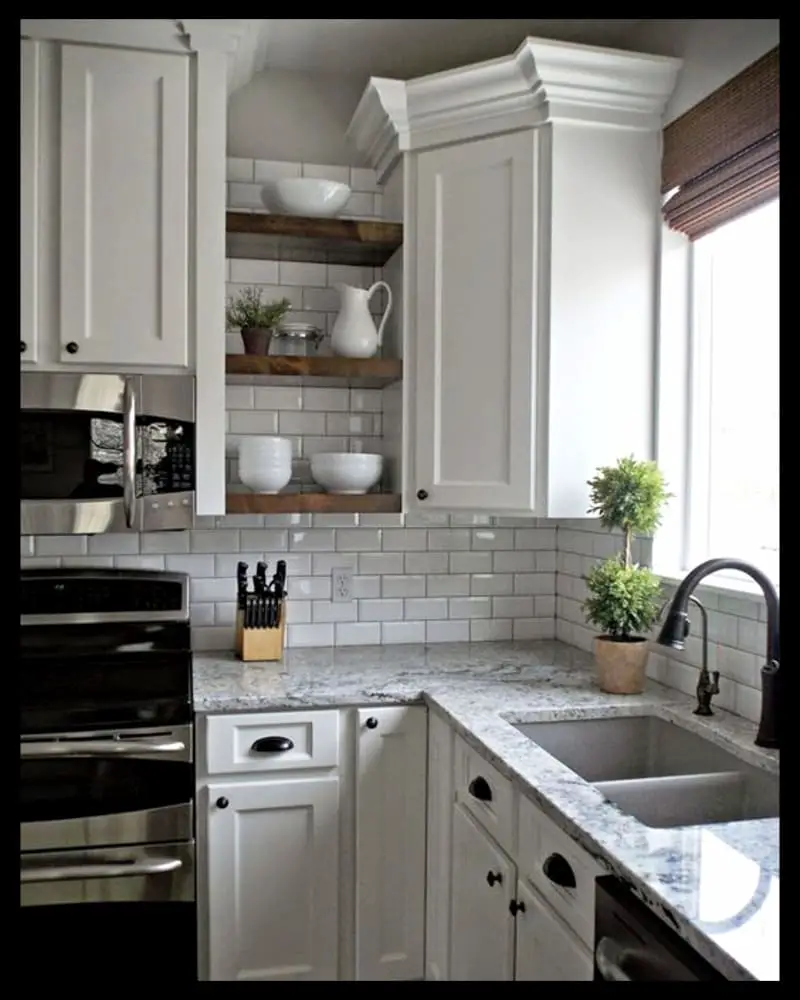 I really do like a grey and white kitchen, but I LOVE a black and white kitchen with grey accents – like in the picture below.
Those black kitchen countertops and black and white buffalo check curtains just tie it all together for me.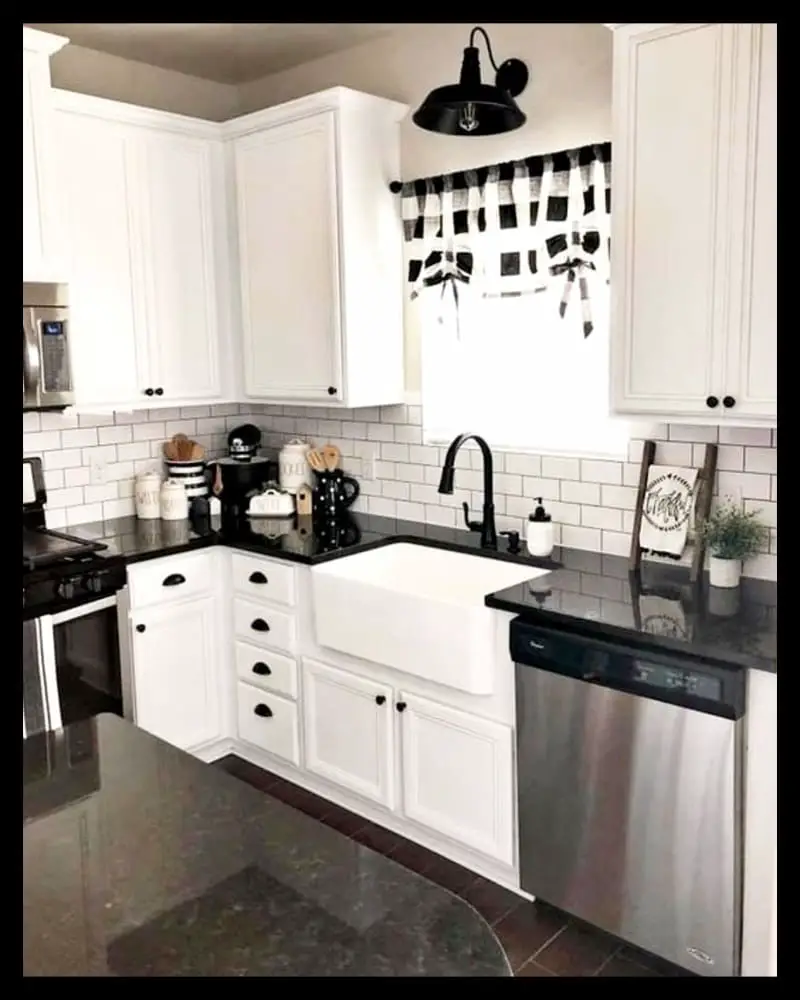 If you're into a truly MODERN grey and white kitchen, this picture below is probably exactly what you're looking for.
Black countertops, white painted cabinets, black cabinet hardware, dark grey tile backsplash and black appliances.
GORGEOUS!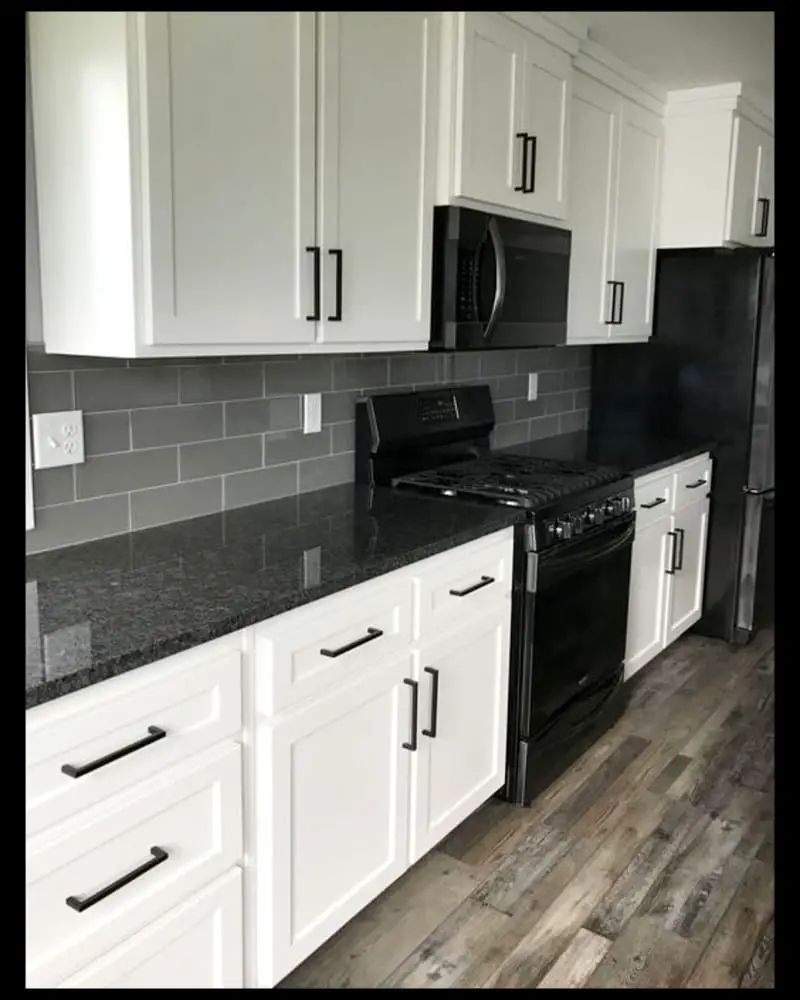 Now, if MODERN is not really your kitchen decor style and you prefer a more cozy country cottage type of aesthetic, this small kitchen picture below is probably more of what you're looking for.
And WOW at that wine cooler refrigerator – EVERY kitchen needs one of those!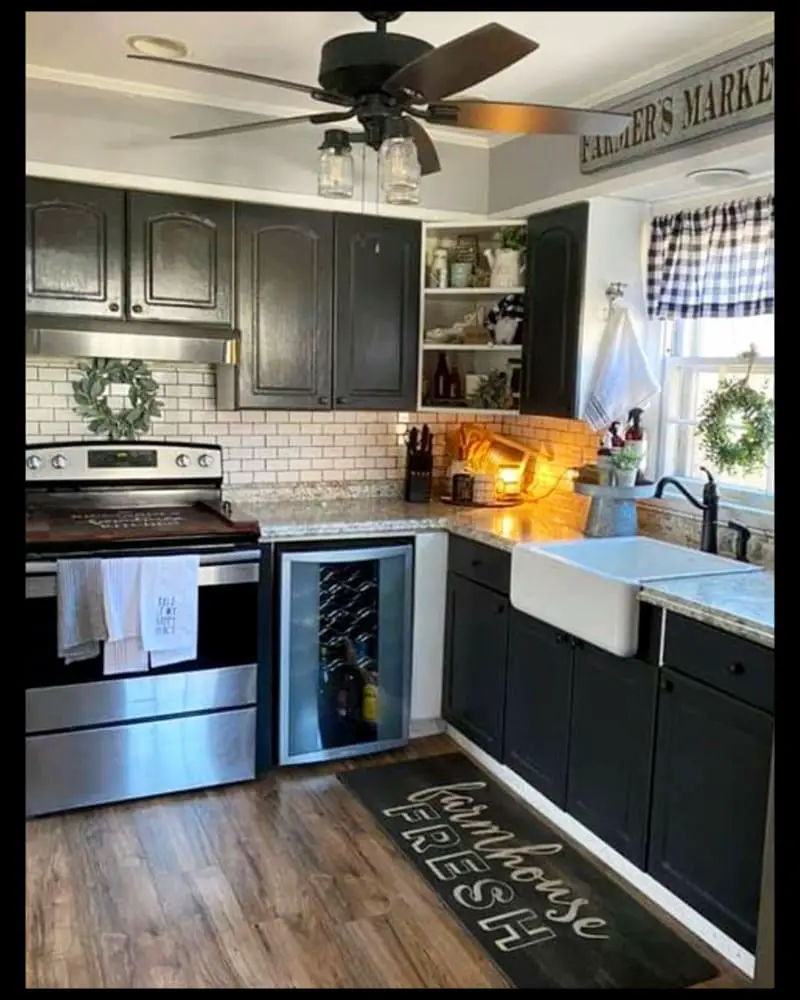 This last grey and white kitchen photo is very minimal.
The painted grey cabinets, and butcher block countertops are really nice… and yes, I LOVE that double white farmhouse sink.
BUT… all the open shelves almost give me anxiety haha!
WHERE to do you put your stuff?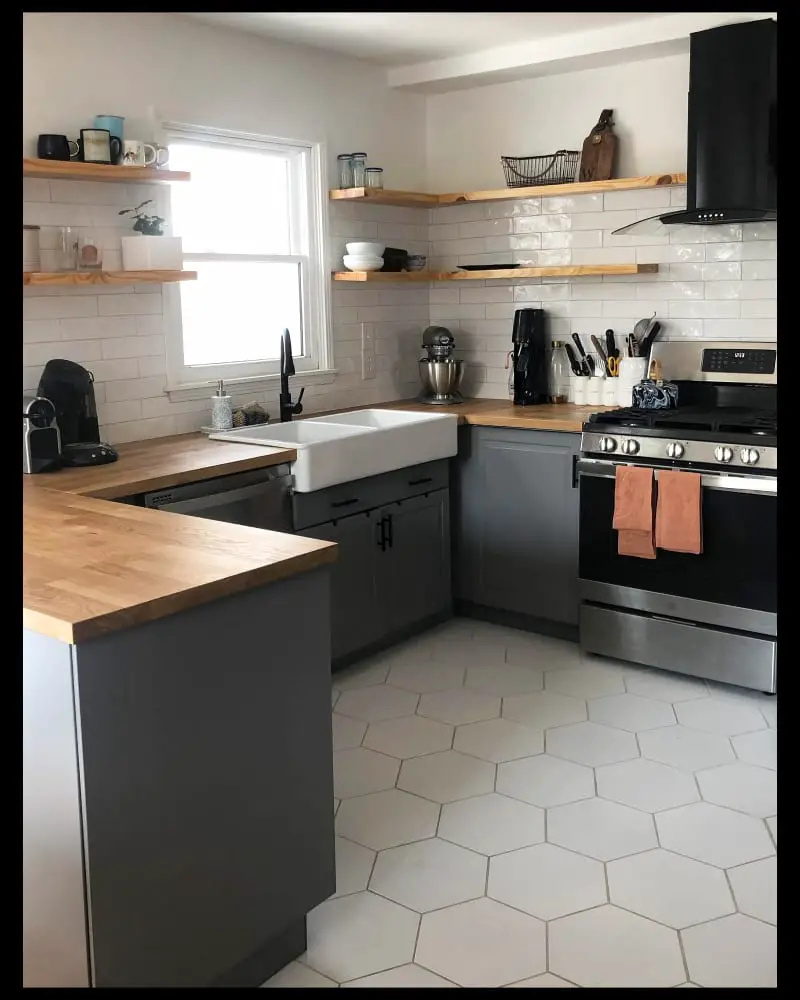 Grey and White Kitchen MakeOver For UNDER $100
Thought about painting your kitchen cabinets with chalk paint?
Take a look at this grey and white kitchen makeover that was done on a budget less than $100:
More DIY Decor Ideas