---
Cozy, Cute and Simply CHARMING Home Decorating Ideas – If you love looking at DIY room decor ideas for your home, you're gonna love these pictures of absolutely CHARMING DIY home decor ideas! It's amazing how simple little DIY touches can turn any room from "eh" to FABULOUS – like you'll see in the pictures below.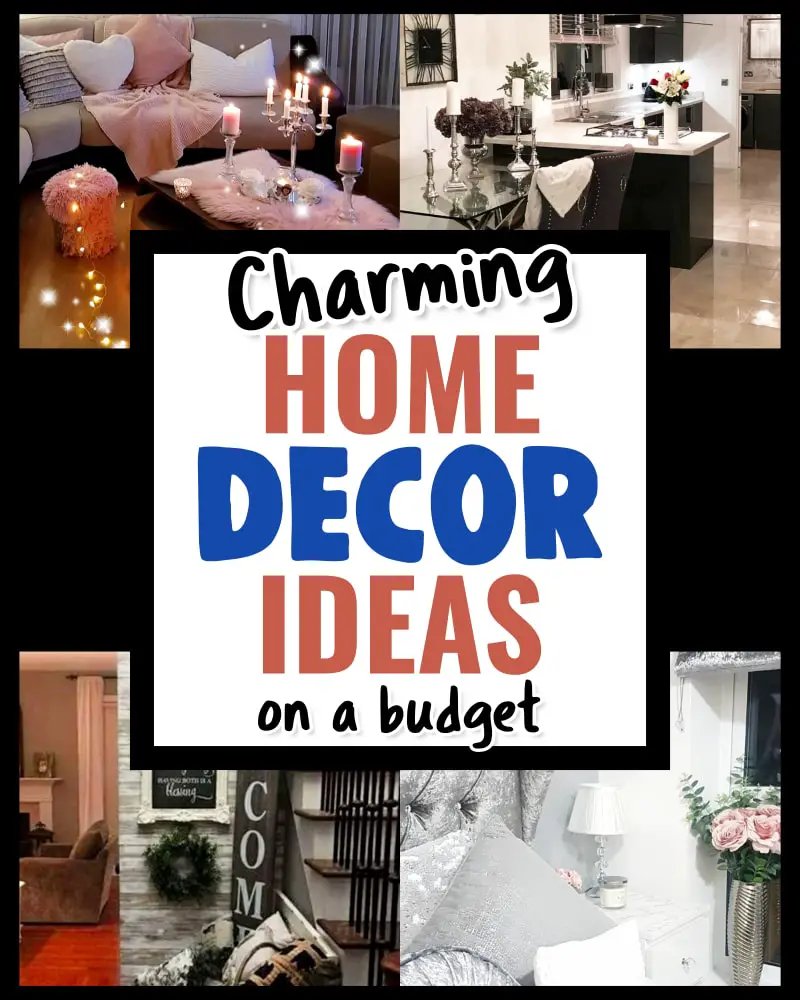 ---
Updated on December 7, 2022
posts may contain affiliate links -Enjoy and feel free to share with your friends!
---
When it comes to home decorating styles, I LOVE charming interior decor.
I'm not really into Spanish style that seems to be so popular, I'm more of a romantic, shabby chic farmhouse kinda girl with some modern touches here and there to take the 'edge' off it being TOO cute (if that makes sense).
I guess that makes my decorating style more eclectic than ONE style, huh?
These charming room decorating ideas in the pictures below will give you more of an idea of the decor style I really like… and I bet you'll like it too!
Let's start with this tiny entryway…
This sitting area in her foyer or living room is SO warm and cozy – I just LOVE it!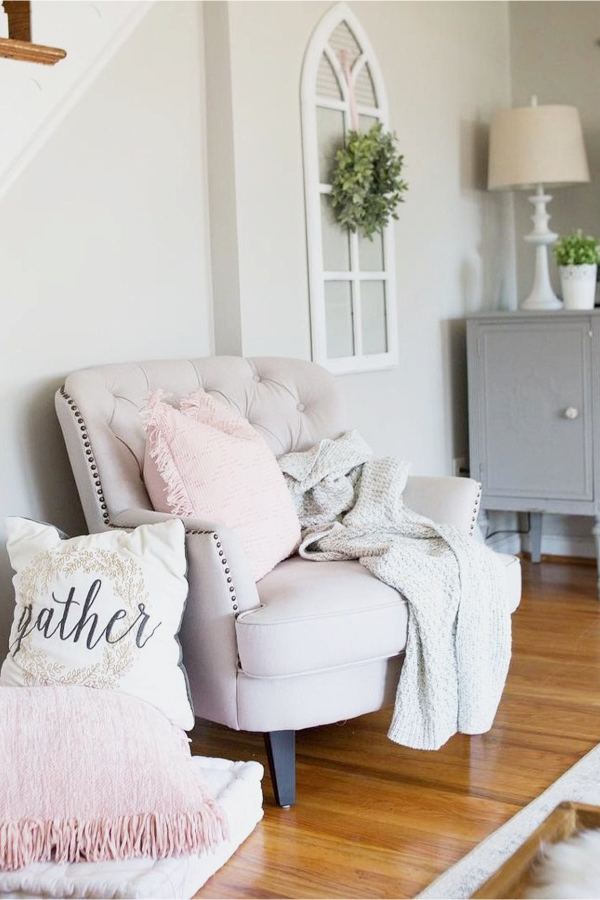 source: country living room ideas
I love the look of gray and pink when decorating a room – such a romantic decorating style for any bedroom!
Everything in the picture is found here.
Isn't this indoor herb garden so charming?
I just love potted herbs and plants all around my farmhouse kitchen!
It helps my house feel like HOME.
Ever since I painted my kitchen cabinets, I've been obsessed with adding charming little decor touches like this!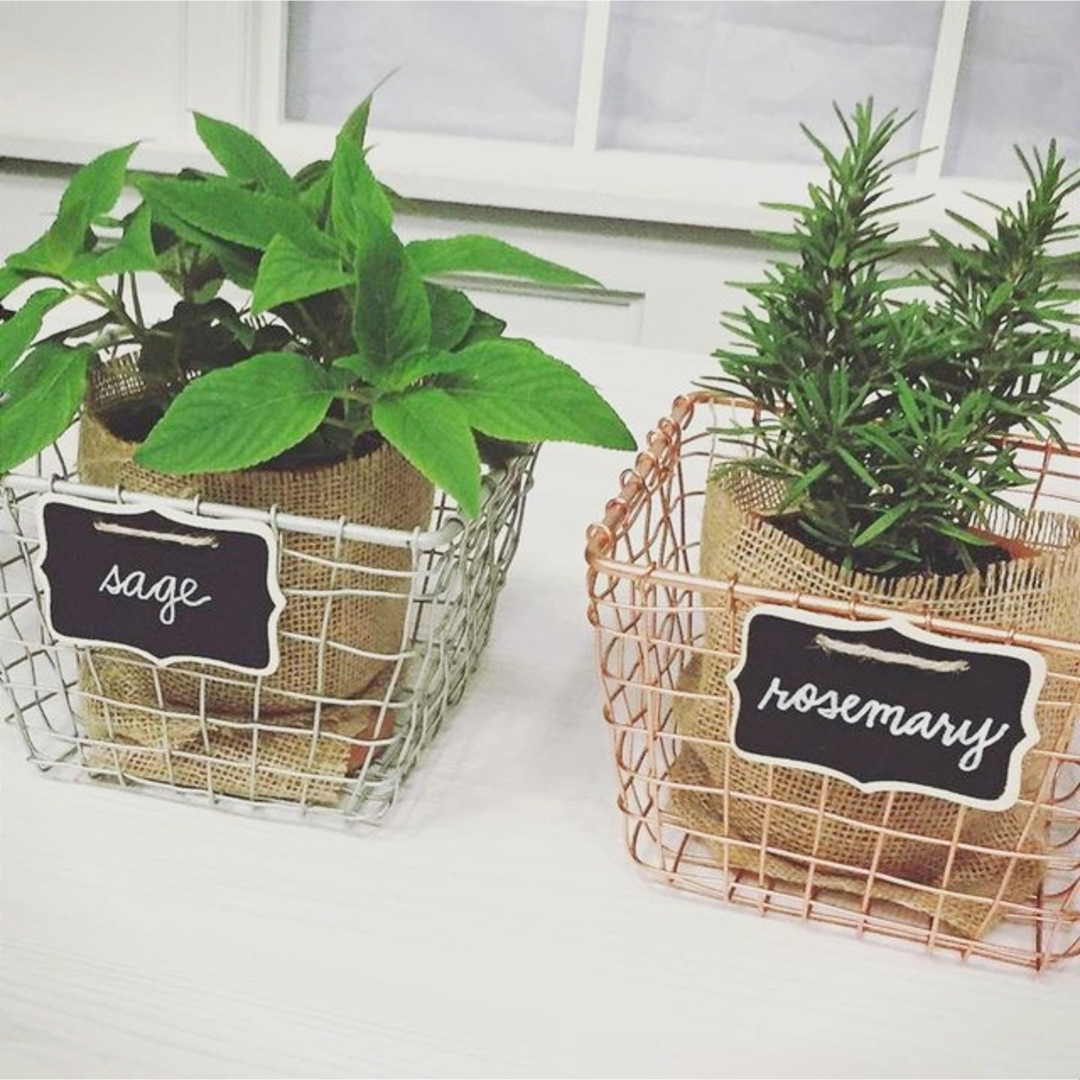 Want to copy that idea in YOUR kitchen?
Here's where to find the items in the picture:
I just love the farmhouse-style decorating around this fireplace and the mantle!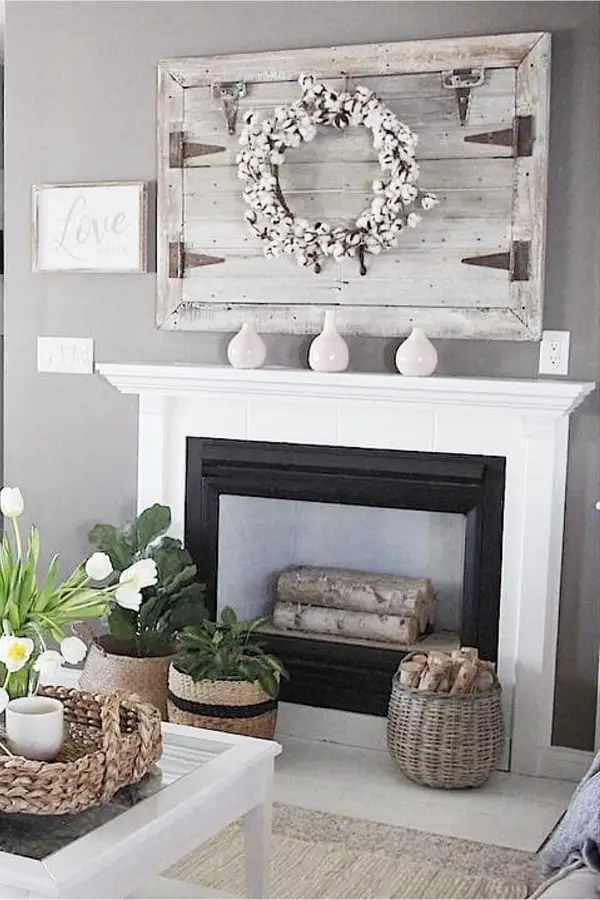 And this toddler girl room is just precious!
I have a serious love affair going with the "dusty pink" color (pink rose? blush?) – especially when paired with gray!
see my dream blush pink bedroom here.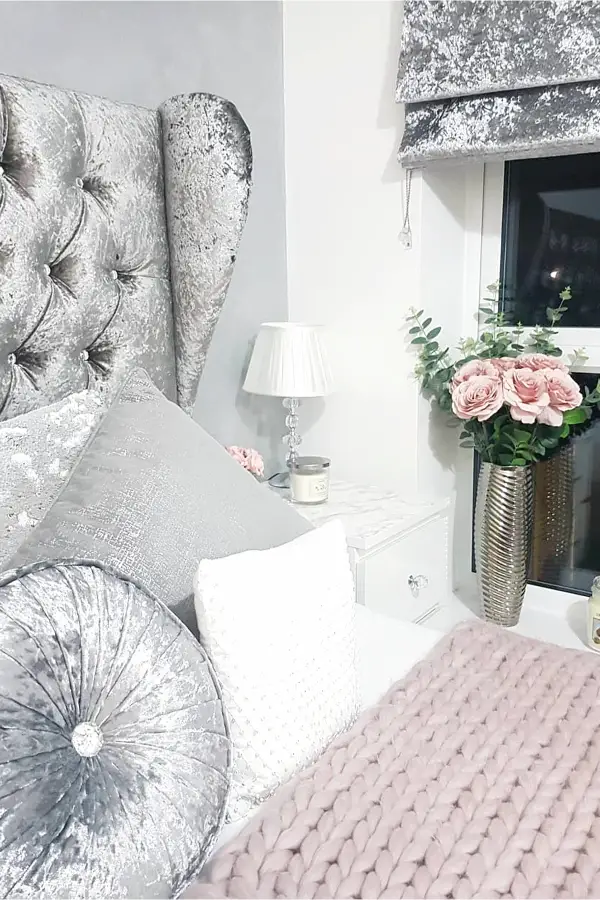 Such a simple touch of flowers on the living room coffee table puts Spring all in the room.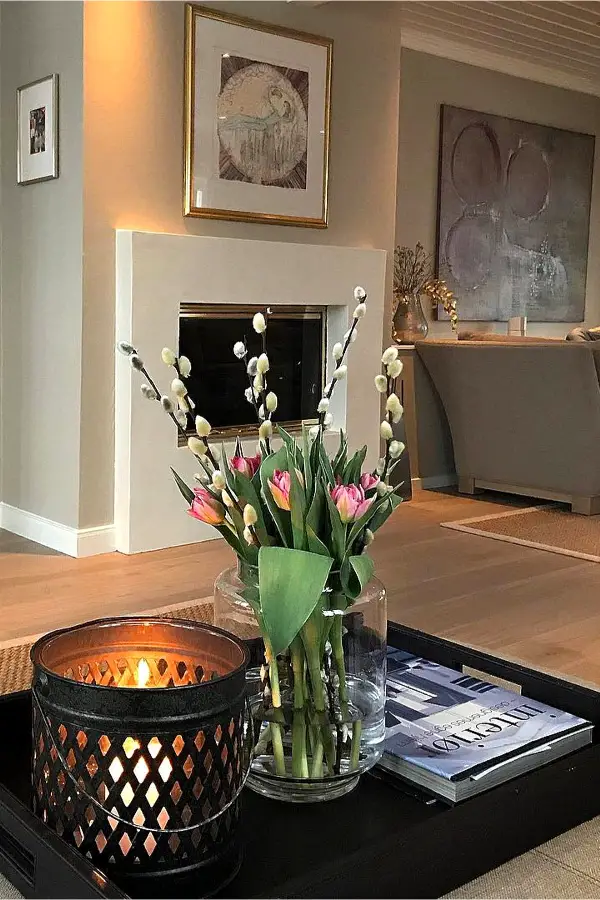 And how about these string lights (fairy lights) used for decorating this living room below?
So cute and aesthetic!
Gives such a cozy, romantic feel to that small apartment living room, don't you think?
Those fairy lights are one of these trending decorating ideas on TikTok lately – super popular!
They would look great in my small grey living room!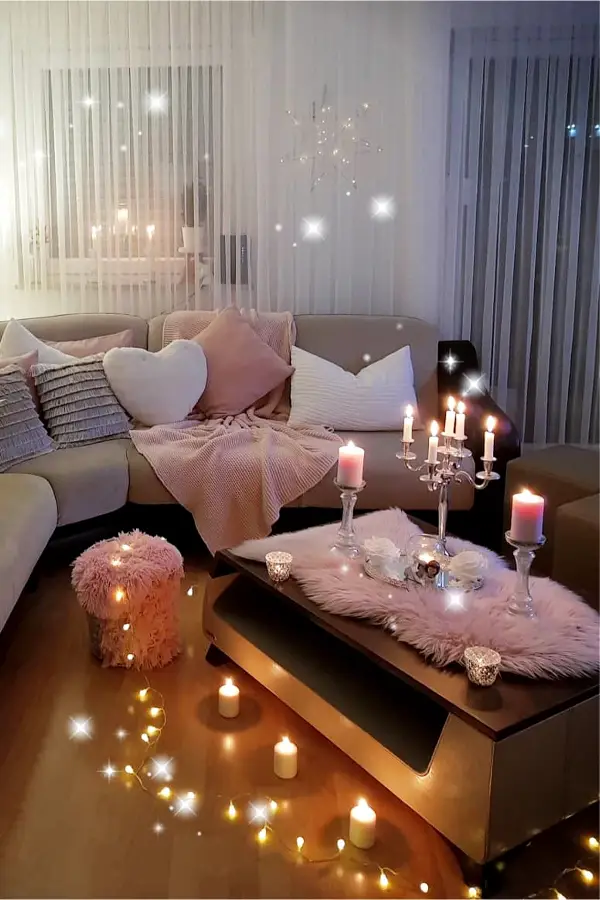 There's the dusty pink color again in this charming bedroom – just LOVE those chunky blankets!
I've never thought of a grey bedroom as "charming" but these two grey bedroom ideas below are not only COZY, but charming too.
Beautiful, right?
Here's more bedroom decorating ideas you'll love:
This little table and chair in the picture below is so charming to me.
So simple, yet SO pretty!
I think I'd add on a few Barcelona chair cushions to up the charm and balance out the cute with a more modern touch.
I also LOVE the wicker baskets!
Decorating with baskets is BIG in this house – PLUS, they help increase storage in small spaces throughout our home.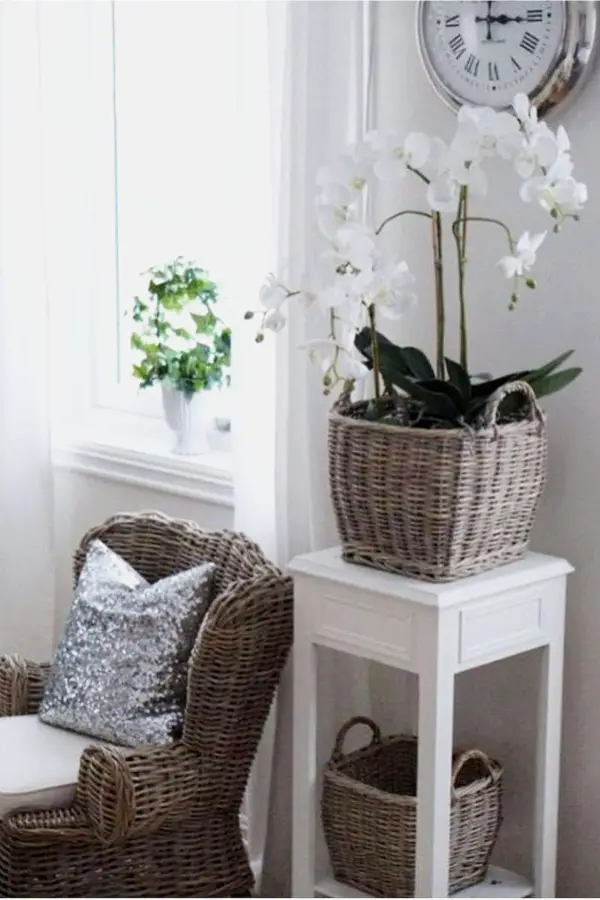 See more entryway decorating ideas.
This next idea is not only charming, it's also pretty clever – it's an "upcycled" old-timey wash tub!
It would be so cute in an outhouse style bathroom.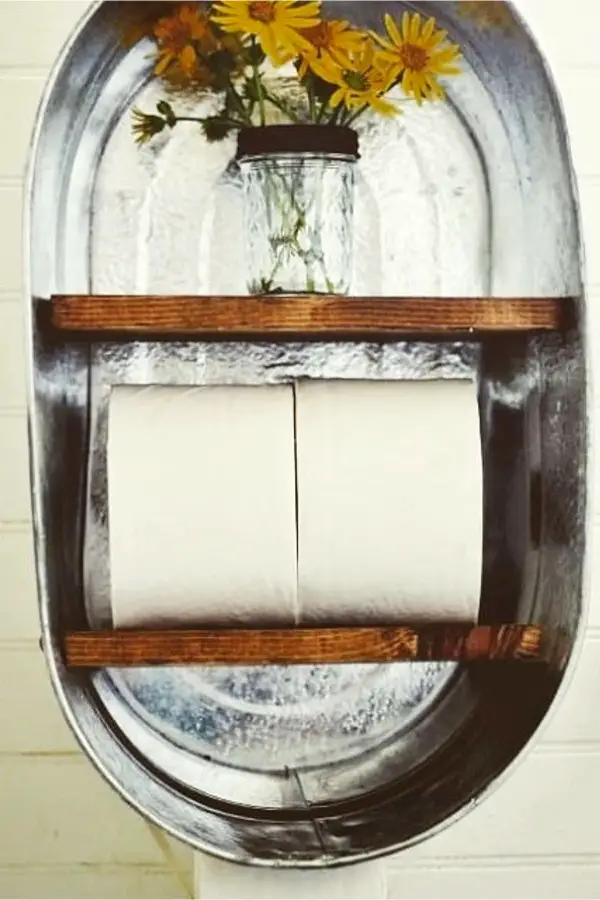 I think this next picture of a small kitchen is just darling – great use of minimal space!
See more small kitchen decor pictures here.
See how some bright colored flowers and some wicker baskets can really bring some life to an otherwise drab living room?