---
If you're looking for ANY type of free Christmas coloring pages this year, I've probably got it on this page. These are all free printable coloring pages that you literally can just click and print (ie, NO downloading required).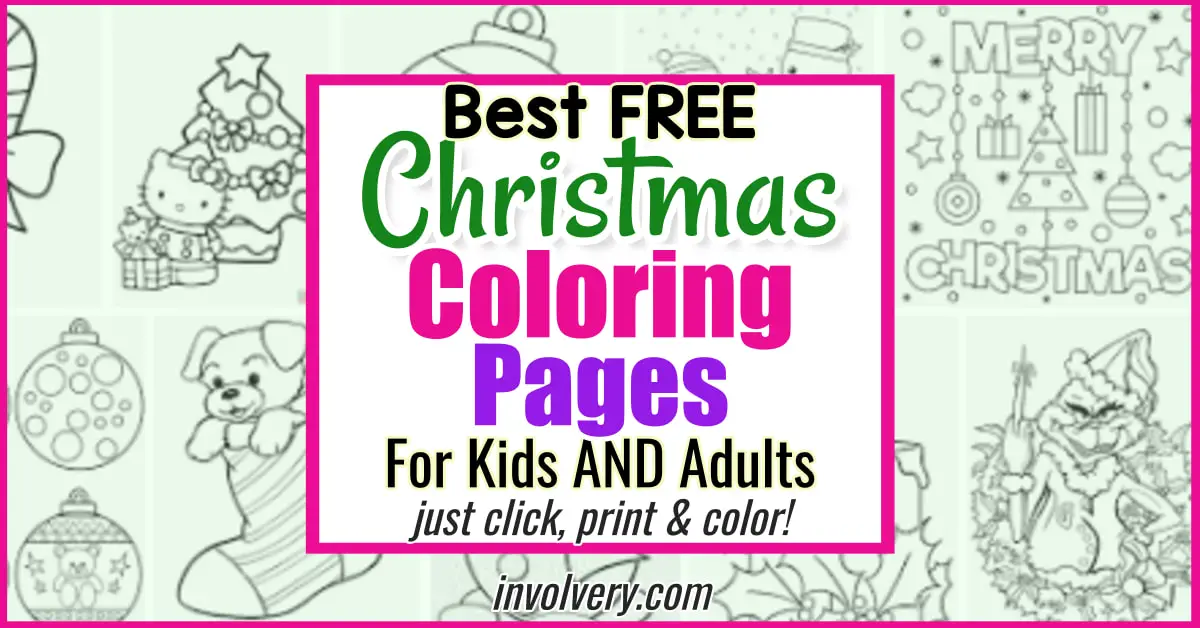 ---
Updated on January 26, 2022
posts may contain affiliate links -Enjoy and feel free to share with your friends!
---
So WHY did I create a blog post with a list of cute and easy Christmas coloring pages?
Sure, I could just search Google – but have you ever searched Google for Christmas coloring pages and found ANY that were truly FREE to print AND easy to print?
I got SO frustrated trying to find cute and easy Christmas coloring sheets to print for the kids (and for me) because so many wanted you to download the image first – I just wanted to click, print…and COLOR.
Because of that, I made this list 1) for ME to remember every year where I found the coloring pages we love and 2) in hopes will help YOU find the best free Christmas coloring pages quickly so you and your kids can right to coloring and having fun this Christmas holiday.
Best FREE Christmas Coloring Pages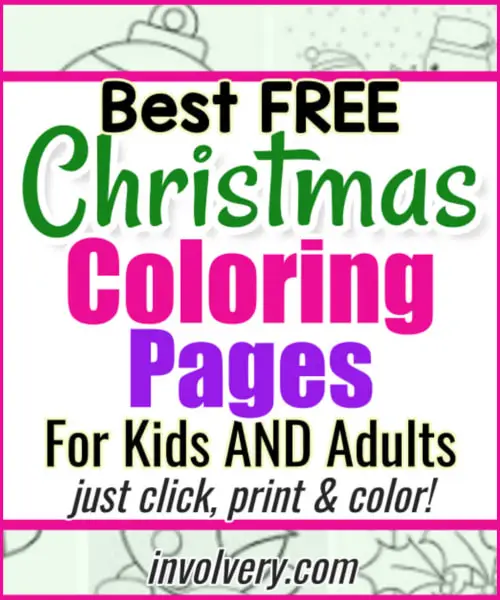 Huge list of my favorite FREE Christmas coloring pages and printable pdf coloring sheets for kids AND for adults. From cute and easy to detailed and fun for all ages to print and color – Enjoy!
For Preschoolers
This free Christmas coloring page below is perfect for preschoolers, toddlers, Pre-K, etc.
It's easy enough for them to enjoy AND the Christmas stockings will look adorable once colored if you hang them around your classroom or home.
 Christmas Coloring Pages For ToddlersShow Me This Christmas Coloring Books For Little KidsShow Me This Christmas Party Coloring Pages For KidsShow Me This
Santa
Here are 2 super cute Santa coloring pages to print for free.
I would consider these "easy" Christmas coloring pages since they're not overly detailed.
Grinch
We LOVE Grinch Christmas crafts and decorating ideas around THIS house, as you can see:
So naturally, the number one requested coloring pages for Christmas are GRINCH coloring pages!
Here are some cute ones to print and color – They're a bit more detailed than coloring pages for toddlers and preschoolers so I'd use these for the older kids… and the ADULTS!
Christmas Trees
Out of all the free Christmas tree coloring pages I've gone through, this free printable coloring page is my favorite.
Christmas Ornaments
If you're looking for some Christmas ornament coloring pages for kids to color, cut out and decorate with, here's a good place to print them for free:
Have you and your kids made these DIY ornaments before?
Christmas Wreath
This next site has 38 different styles of Christmas wreath coloring pages from VERY easy to more detailed and complex.
12 Days Of Christmas
This is my personal favorite Christmas coloring multi-page pdf.
It's a coloring sheet for each of the "12 Days of Christmas".
I couldn't get a preview of it to show (it's a 14 page pdf)
North Pole
This North Pole coloring page below is so adorable. It's got a big happy polar bear with 2 little elves dancing around.
Rudolph
Everyone loves Rudolph the Red Nosed Reindeer! This page below has 20 Rudolph coloring pages and a cute Rudolph dot-to-dot worksheet for the kids.
Frosty the Snowman
That same site above has the cutest Frosty the Snowman coloring pages too – and yep, they're all free to print.
Disney Christmas Coloring Pages
This page below has all kinds of free Disney coloring pages to print – Mickey Mouse, Winnie the Pooh and the whole gang, Donald Duck, etc. All super cute and choices for all ages.
 Disney Christmas Storybook CollectionShow Me This Toy Story Disney Christmas InflatableShow Me This My First Disney Christmas StorybookShow Me This Disney Animated Christmas TreeShow Me This Disney Christmas Storybook CollectionShow Me This Disney Animated Christmas Castle Lights MusicShow Me This
Gingerbread
Here's a fun and easy gingerbread Christmas coloring page – has a cute gingerbread man and a gingerbread house.
Here's another Christmas gingerbread man coloring page – so cute!
Snowman
If you're looking for free snowman Christmas coloring pages, have I found a great place to print them!
They have TONS of variations of snowman-themed coloring pages for ALL ages – from easy to detailed… whatever you want.
Color By Number
This page has a nice pdf pack of color by number Christmas coloring pages –
Tip: the link to download those coloring pages pdf is ALLLLL the way at the bottom. If you can't find it, the pdf file is here.
 Ceramic Tiles Christmas – Color By Number: A festive themed coloring bookShow Me This Christmas Color By Number: Coloring Book for Kids Ages 4-8Show Me This Christmas Patterns – Color By Number: Christmas Coloring Book with Festival Designs and MandalasShow Me This
Detailed For Adults
This detailed Christmas coloring page for adults is simply stunning and VERY detailed – and yes, it's free to print.
can't see the image? print the coloring page here
She had another beautiful and detailed Christmas coloring page below – it's a santa and his sleigh through the window type of picture to color, but it should absolutely keep your coloring itch at bay and quite busy (tip: use bright colors for the Christmas gifts and ornaments)
 Detailed Christmas Coloring Pages for AdultsShow Me This Sleigh Ride – Giant Christmas Coloring PosterShow Me This Christmas Gnomes Coloring Pages For AdultsShow Me This
More Christmas Craft Ideas
Here are some more fun and easy Christmas craft ideas for the kids – AND for you!
I get SO crafty at Christmas, don't you 😉