6 Ideas For a More Comfortable & Functional Home… Even If You're On a Budget –
I recently received an email from a reader who asked me to give six suggestions to make your home more comfortable and functional. Challenge accepted! Let's look at 6 ways you can make the rooms in your house – and your HOME – more functional, comfortable…and more HOME.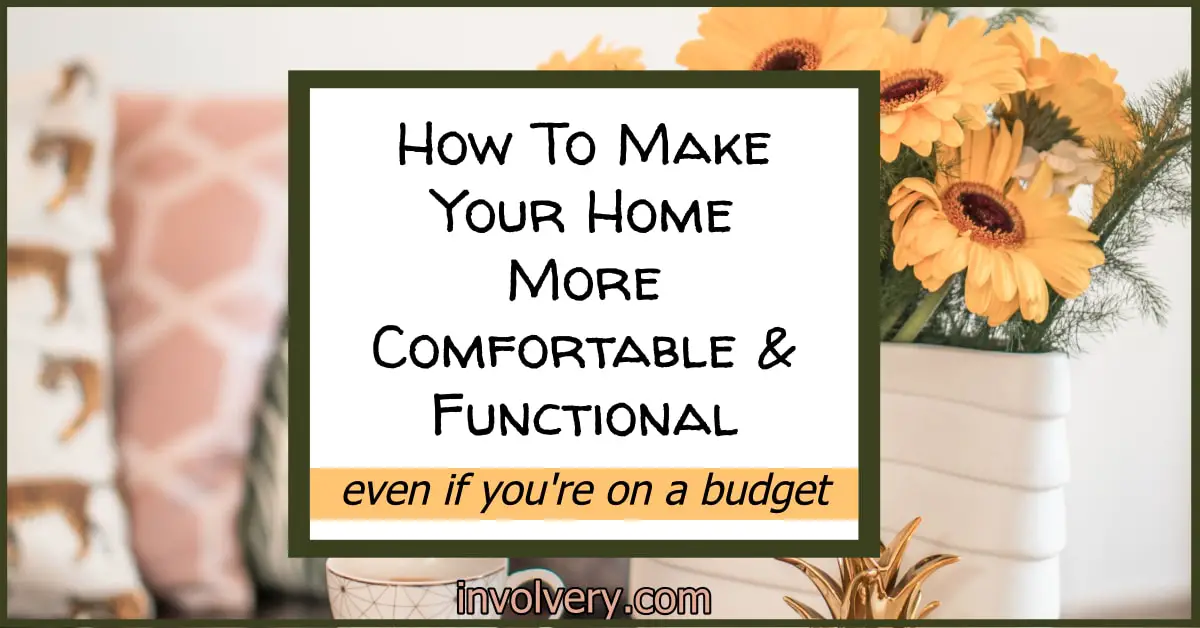 posts may contain affiliate links - Enjoy and feel free to share with your friends!
---
Most Popular Today...
---
Comfortable & Functional Home Ideas
If you want your home to be more comfortable and functional, here are six suggestions to create the home you really want.
Big home or small home, there are many ideas to create that warm and cozy home you've always wanted – even if you're on a tight budget.
Entry Way Ideas
Whether you have a big home, a small house or live in an apartment, your entrance area is the FIRST thing you, or ANYONE, sees when they walk into your home.
Take a look at these entry way ideas to make your foyer entrance area more functional and comfortable.
A warm and cozy entryway makes a BIG difference!
Laundry Room Ideas
So, how's your laundry room? Is it a room just to do laundry and otherwise, shut the door so no one else sees it?
It's odd to me that so many homeowners overlook their laundry room – we sure spend a ton of time in it, don't we?
Not only should your laundry room be functional, you should also LOVE your laundry room… seriously!
Creating a beautiful area goes a long way to making your home more comfortable, functional and beautiful all-around.
Take a look at these laundry room ideas for some inspiration to plan your laundry room makeover.
Bathroom Storage
I don't think I've ever thought of bathroom decor as "comfortable", but we all know a bathroom sure has to be more functional.
There is nothing worse that a bathroom that is full of clutter!
The first step to making your bathroom more functional is to work out some storage solutions so everything has its place and you maximize the space you have available.
Get some ideas for bathroom storage for any sized bathroom here:
Coffee Bar Ideas
If you really want to make your home more comfortable, functional and downright welcoming – create a coffee bar in your kitchen or any corner in your home.
It's such a warm and cozy decor idea – you will love it!
Take a look at these coffee bar ideas – they're gorgeous and a super cheap way to make your home everything you want it to be.
Man Cave Ideas
Alright ladies, imagine ONE room in your home where your man hung out and kept all his STUFF.
(I'm sure the guys reading this are ALL about that idea, too!)
A truly comfortable home has a space for everyone – yep, even for the guys lol!
Why not take a look at these man cave ideas to see if you can incorporate a hang out room for him, too.
Basement Ideas
Let's talk about your basement (if you have one) – what's down there?
Is it unfinished space that you use to store ALL the things?
Don't you wish it was a more comfortable and functional space instead of a storage unit?
That basement could me a game room, a den, a guest room, a play room, a game room – ANYTHING you want it to be to enhance your home (and add value to your home too).
We have lots of basement ideas here – take a look at all the pictures and pick the ones that would make you more comfortable in your own home.
How To Create a Cozy Home
Wish your home was not only more comfortable and functional, but also more warm and cozy?
Here are 10 tips to help you out.
More Ideas
Wish you had a "woman cave"?
Take a look at these She Shed ideas (I love them all!)
Wish you had more places to put stuff in your small bathroom?
Take a look at the bathroom shelf ideas.
Want your home to be REALLY comfortable and cozy inside AND outside?
Check out these backyard firepit ideas ( I had no idea it was so easy to build one… and cheap too!)
Oh wait – the KITCHEN – the most important room in your home.
Wish your kitchen was more comfortable and functional?
Take a look at these small kitchen remodel ideas – they are all great ideas for small kitchens (even on a low DIY budget).
Wish your bedroom was more cozy and relaxing?
So… where do YOU plan to start?