---
Need finger sandwiches for a crowd at your party, potluck or special event? Check out these easy make ahead finger sandwich recipes for YOUR party platters.
Finger sandwiches are a classic party food that never goes out of style when it comes to hosting a crowd-pleasing gathering. Whether you're planning a Holiday party, work potluck, church supper, bridal shower, afternoon tea, birthday party, or any other special event, these dainty, bite-sized appetizers are perfect for feeding a crowd. Let's take a look at LOTS of ideas for finger sandwiches, mini sandwich recipes and tips to create the ultimate crowd-pleasing party platter.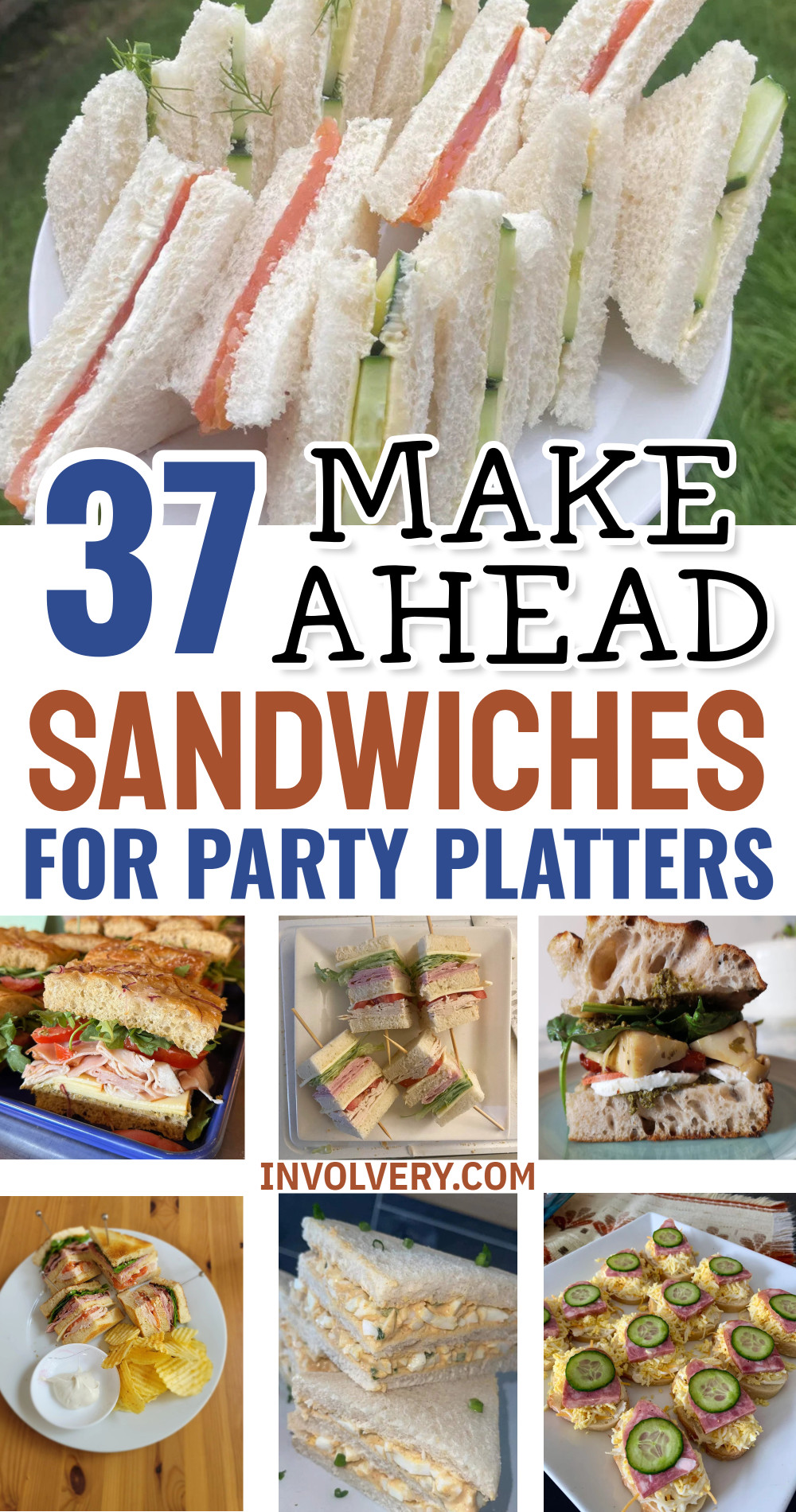 ---
Updated on October 25, 2023
posts may contain affiliate links -Enjoy and feel free to share with your friends!
---
Why Finger Sandwiches?
Finger sandwiches exude an air of elegance and simplicity that is perfect for all occasions. These little wonders are more than just cute; they're incredibly versatile and adaptable to a wide range of tastes and dietary preferences. Here are some reasons why you should consider them for your next party:
1. Perfect Portion Control: Finger sandwiches allow guests to sample a variety of flavors without overindulging. This is especially great for events that feature multiple courses or dishes.
2. Diverse Flavors: The range of fillings and combinations is almost endless, catering to both meat-lovers and vegetarians. From classic cucumber to spicy horseradish roast beef, there's something for everyone.
3. Visual Appeal: Their miniature size and often colorful ingredients make finger sandwiches not only delicious but also visually appealing, enhancing the overall aesthetic of your food platter. Always remember – your guests "eat with their eyes" first!
4. Easy to Eat: No need for utensils or plates. Guests can simply pick them up with their fingers, keeping the atmosphere relaxed and sociable.
Filling Ideas
While classic finger sandwiches like cucumber, egg salad, and smoked salmon are always a hit, don't be afraid to get creative and experiment with flavors. Try a few of these unique combinations to surprise and delight your guests: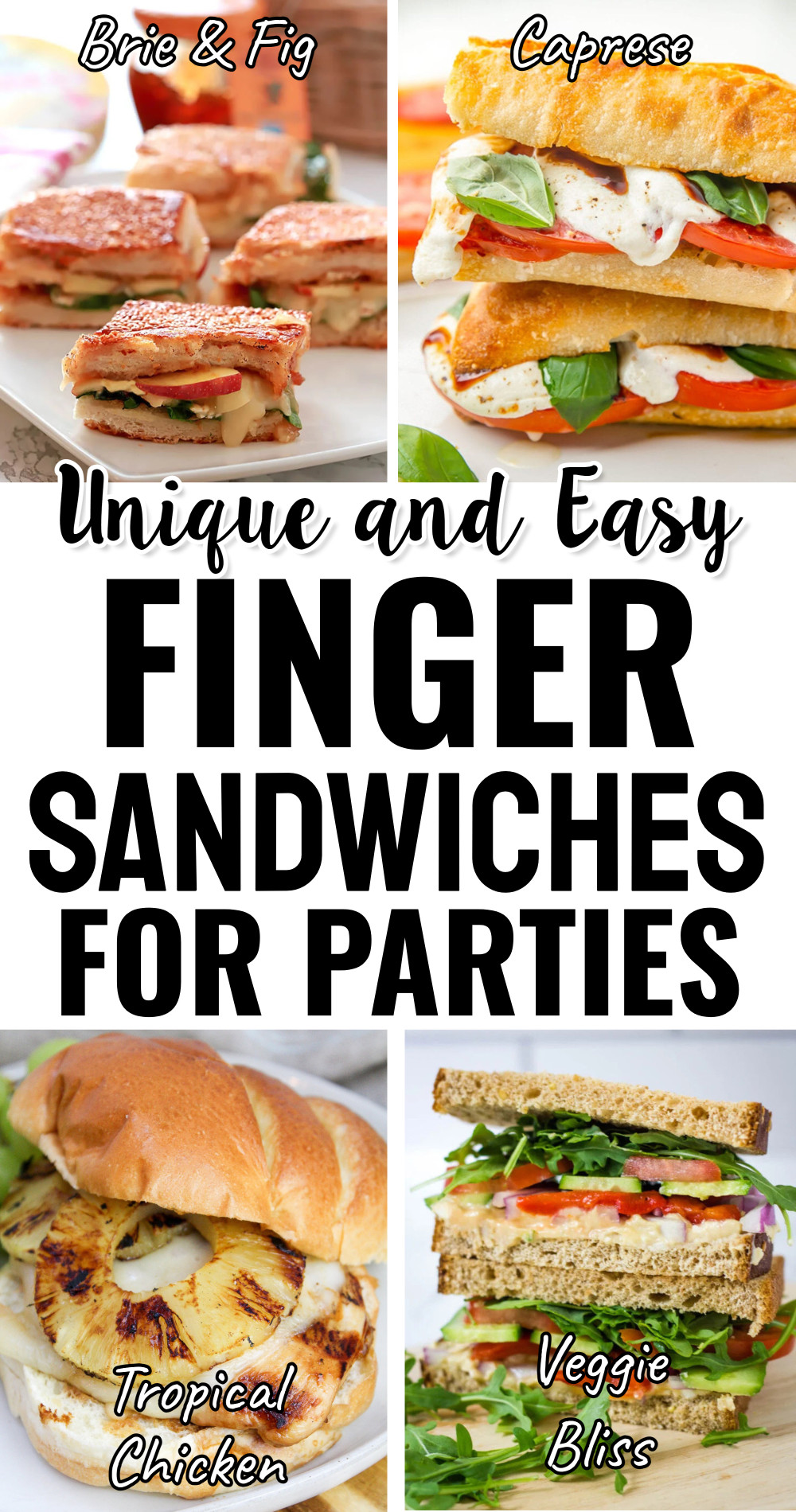 Brie and Fig: Creamy brie cheese paired with sweet fig preserves on a baguette – a blend of savory and sweet.
Caprese Delight: Fresh mozzarella, ripe tomatoes, basil leaves, and a drizzle of balsamic glaze for a Mediterranean twist.
Tropical Chicken: Grilled chicken with pineapple, mango chutney, and a hint of curry – a taste of the tropics.
Veggie Bliss: Hummus and fresh veggies layered on whole-grain bread – perfect for plant-based guests who don't eat meat.
Sandwich Platter Tips
Creating the ultimate finger sandwich platter takes a little planning and creativity. Here are some tips to ensure your sandwiches are a hit:
Variety is Key: Include an assortment of flavors, textures, and dietary options to cater to all your guests. Mix classics with more exotic choices.
Fresh Ingredients: Use the freshest ingredients available. It makes a significant difference in taste and presentation.
Artful Presentation: Arrange your finger sandwiches in an attractive manner. Consider using tiered platters, garnishes, and fresh herbs for a polished look.
Labeling: If your sandwiches have unique or unexpected ingredients, it's helpful to include small labels so guests know what they're enjoying.
Consider Dietary Restrictions: Be mindful of dietary restrictions, such as gluten-free or vegan options, and have a few of those available.
Keep It Bite-Sized: Remember, the charm of finger sandwiches lies in their small size, so keep them two to three bites each.
Simple Finger Sandwich Ideas
Finger sandwiches are a classic and elegant choice for a party food platter. Here are some of the best finger sandwiches to make for your platter: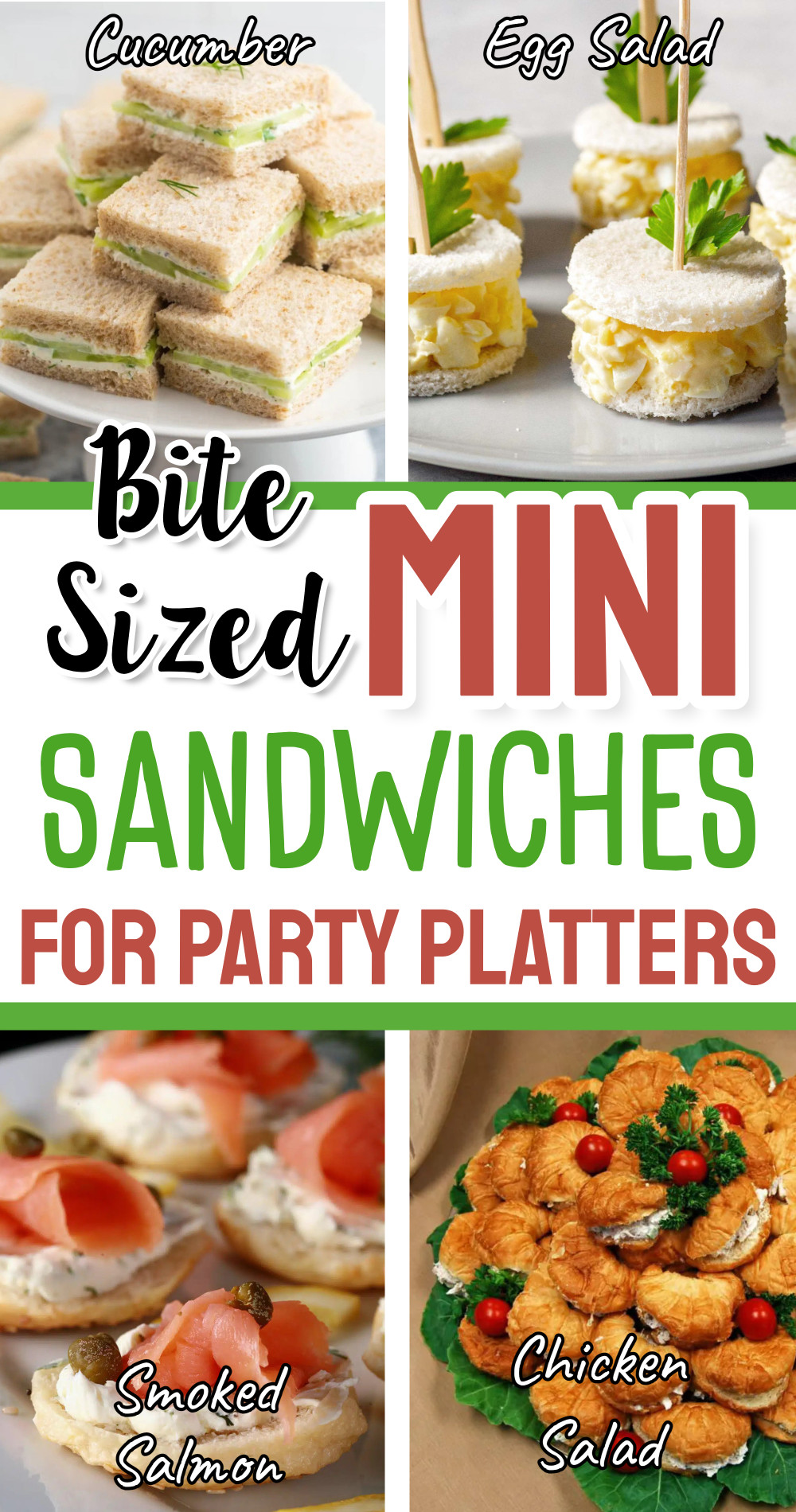 Cucumber Sandwiches: Thinly sliced cucumbers with cream cheese and fresh dill on soft white bread.
Egg Salad Tea Sandwiches: Chopped hard-boiled eggs mixed with mayonnaise, mustard, and seasonings on whole wheat or white bread.
Smoked Salmon Mini Sandwiches: Smoked salmon with cream cheese, capers, and red onion on rye, pumpernickel or half a mini bagel.
Chicken Salad Sandwiches: Shredded or diced chicken mixed with mayonnaise, celery, and spices on store-bought croissants.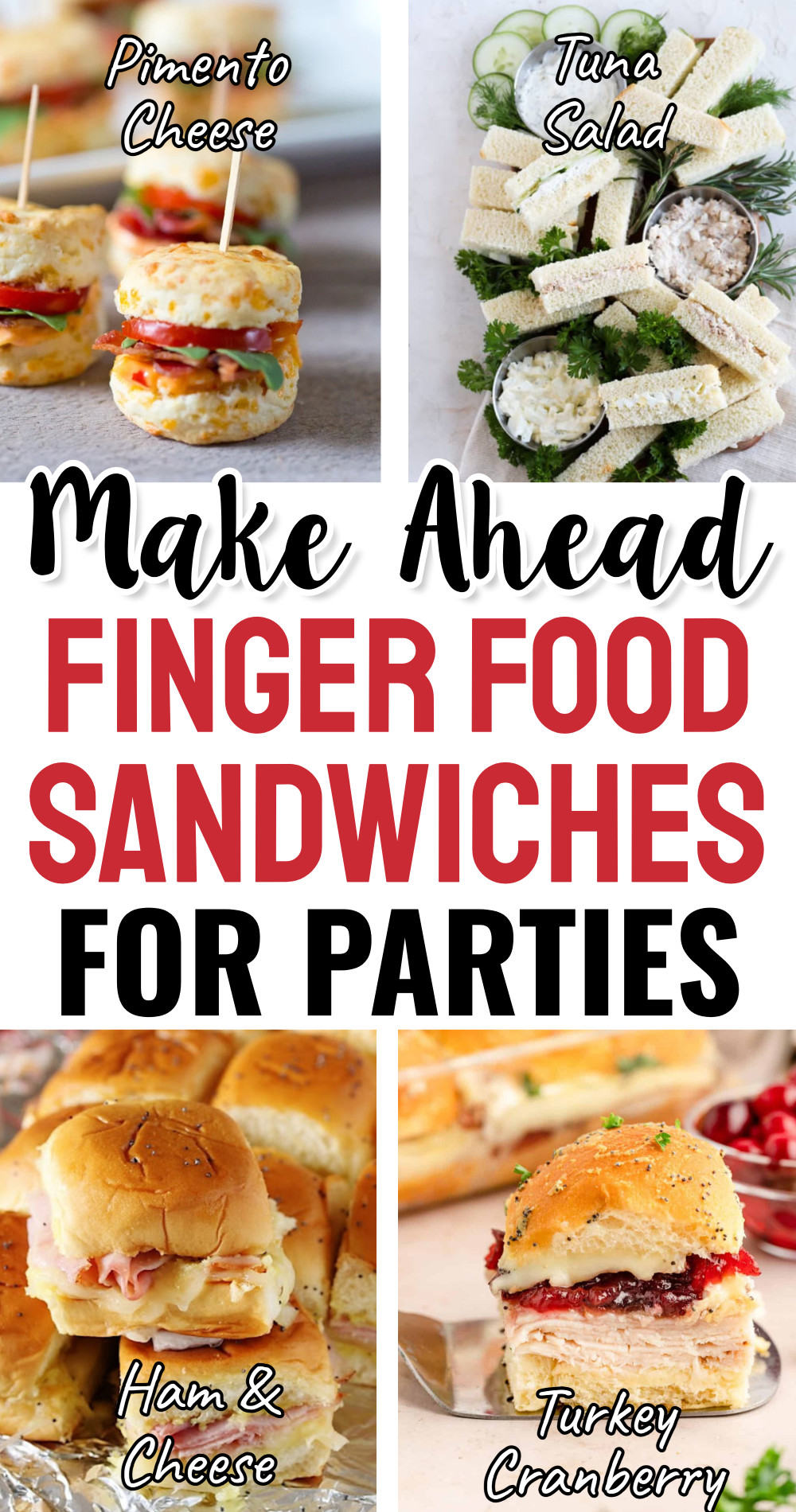 Pimento Cheese Biscuit Bites: Pimento cheese spread with toppings inside a mini cheddar biscuit.
Tuna Salad Sandwiches: Flaked tuna mixed with mayonnaise, pickles, and onions on whole wheat or white bread.
Ham and Cheese Sliders: Thin slices of ham and cheese on a roll.
Turkey and Cranberry Hot Sandwiches: Sliced turkey with cranberry sauce and cream cheese on wheat or oat bread.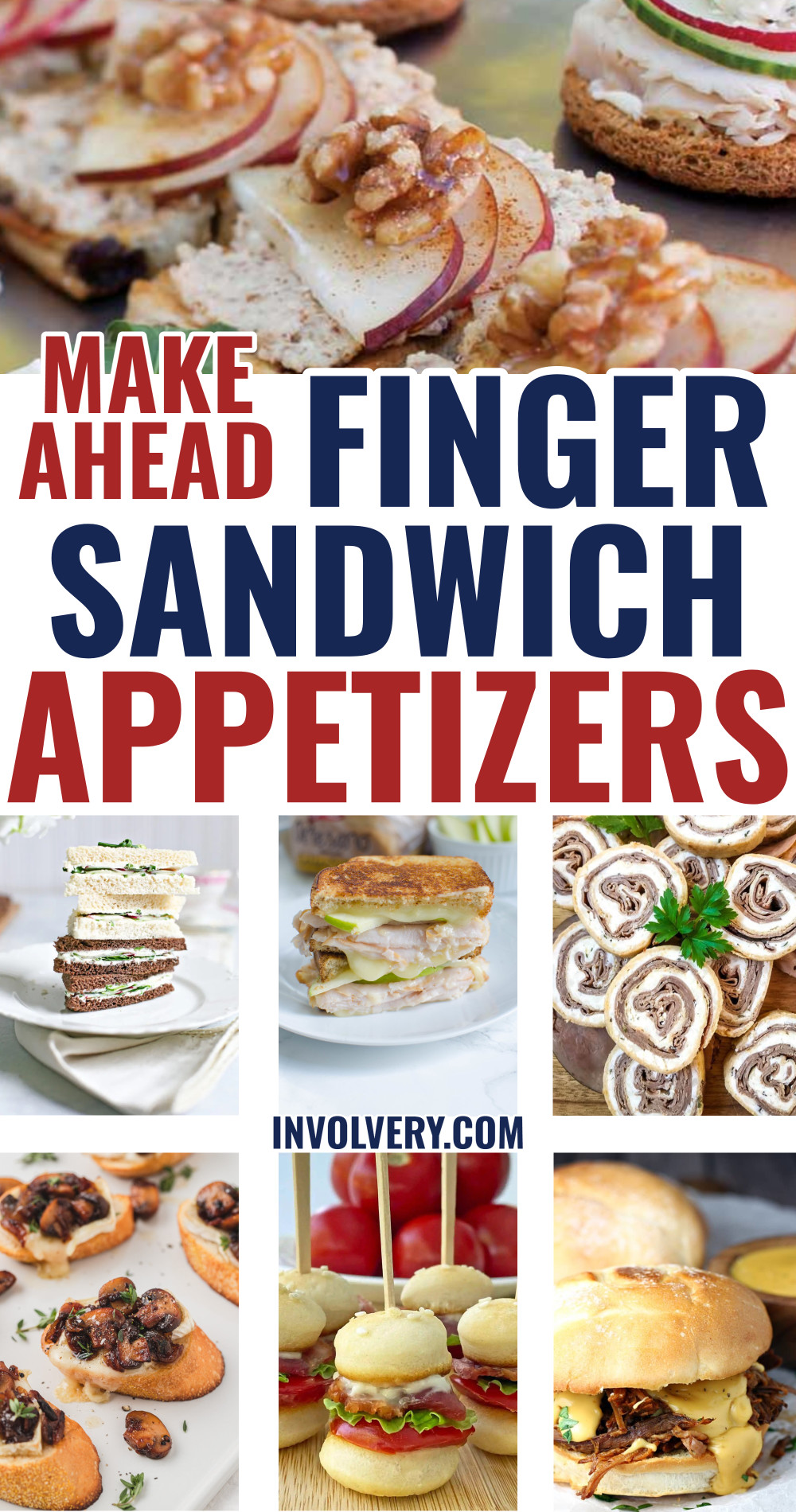 Blue Cheese and Pear Sandwiches: Blue cheese, sliced pears, and walnuts on toasted cinnamon raisin bread.
Watercress Cucumber Sandwiches: Watercress and cucumber with butter on whole grain or white bread.
Brie and Apple Sandwiches: Sliced brie cheese with apple slices and honey on baguette slices or grilled bread.
Roast Beef and Horseradish Pinwheel Sandwiches: Thinly sliced roast beef with horseradish cream served as a toothpick pinwheel roll up sandwich bite.
Mushroom and Brie Crostini: Sautéed mushrooms with thyme and brie on crostini bread.
Mini BLT Sliders: Crispy bacon with fresh lettuce and mayonnaise on tiny buns made of Crescent Roll dough.
Make Ahead Crockpot Sandwiches: Don't forget your crockpot slow cooker when it comes to making hot finger food sandwiches – it's the easiest way to prepare sandwich filling ahead of time!
Lots of make ahead party food ideas for your crockpot here.
These finger sandwiches offer a delightful variety of flavors and textures, making them perfect for a party food platter. You can mix and match these options to create a well-rounded and visually appealing selection for your guests.
Mini Sandwich Recipes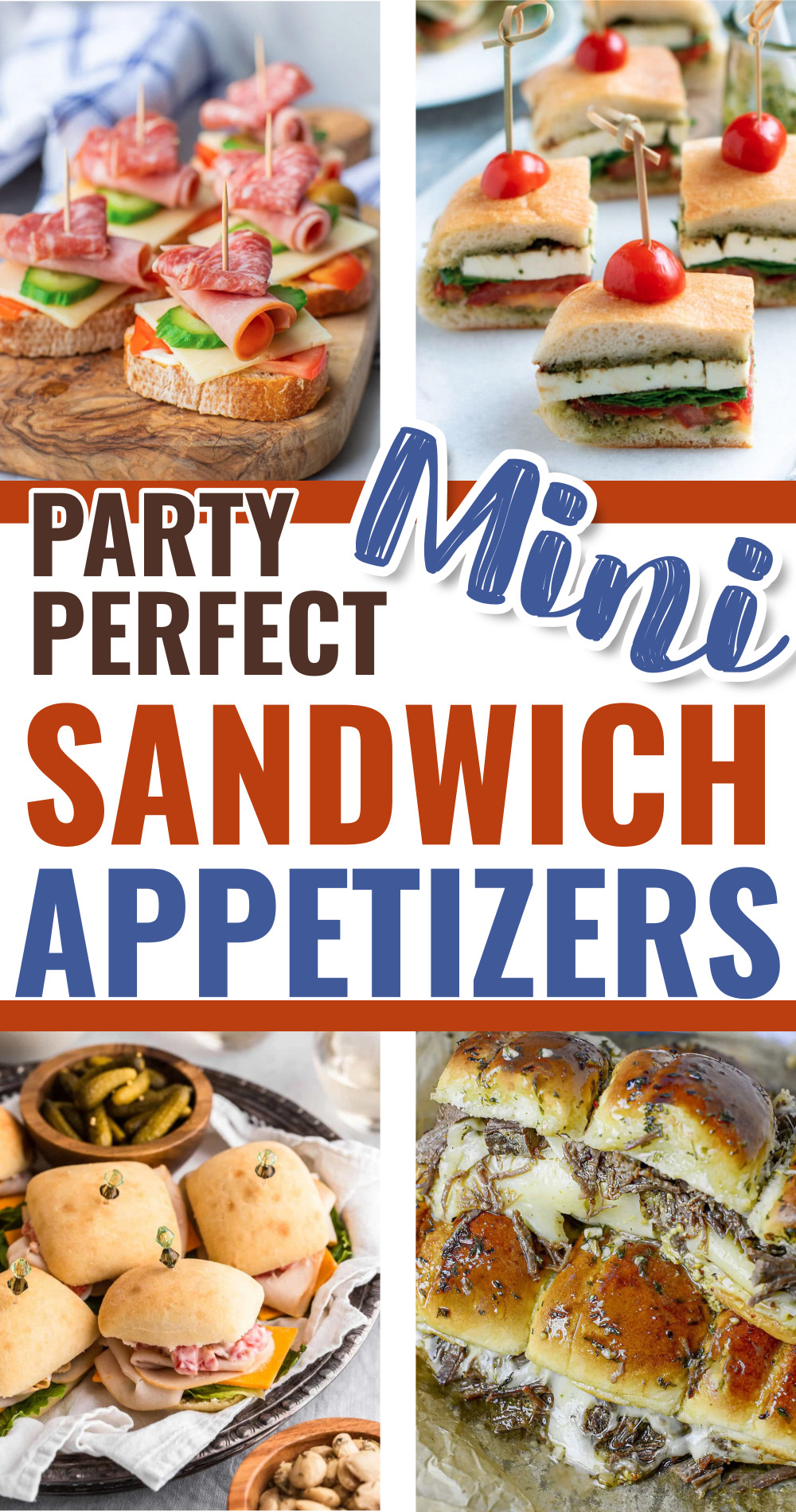 Here are some really good recipes for all types of mini finger sandwiches that you can stack on a party food platter:
Finger Sandwiches: Small, delicate sandwiches with a variety of fillings, such as cucumber, egg salad, or smoked salmon.
Mini Club Sandwiches: Classic club sandwiches made in miniature with layers of turkey, bacon, lettuce, and tomato.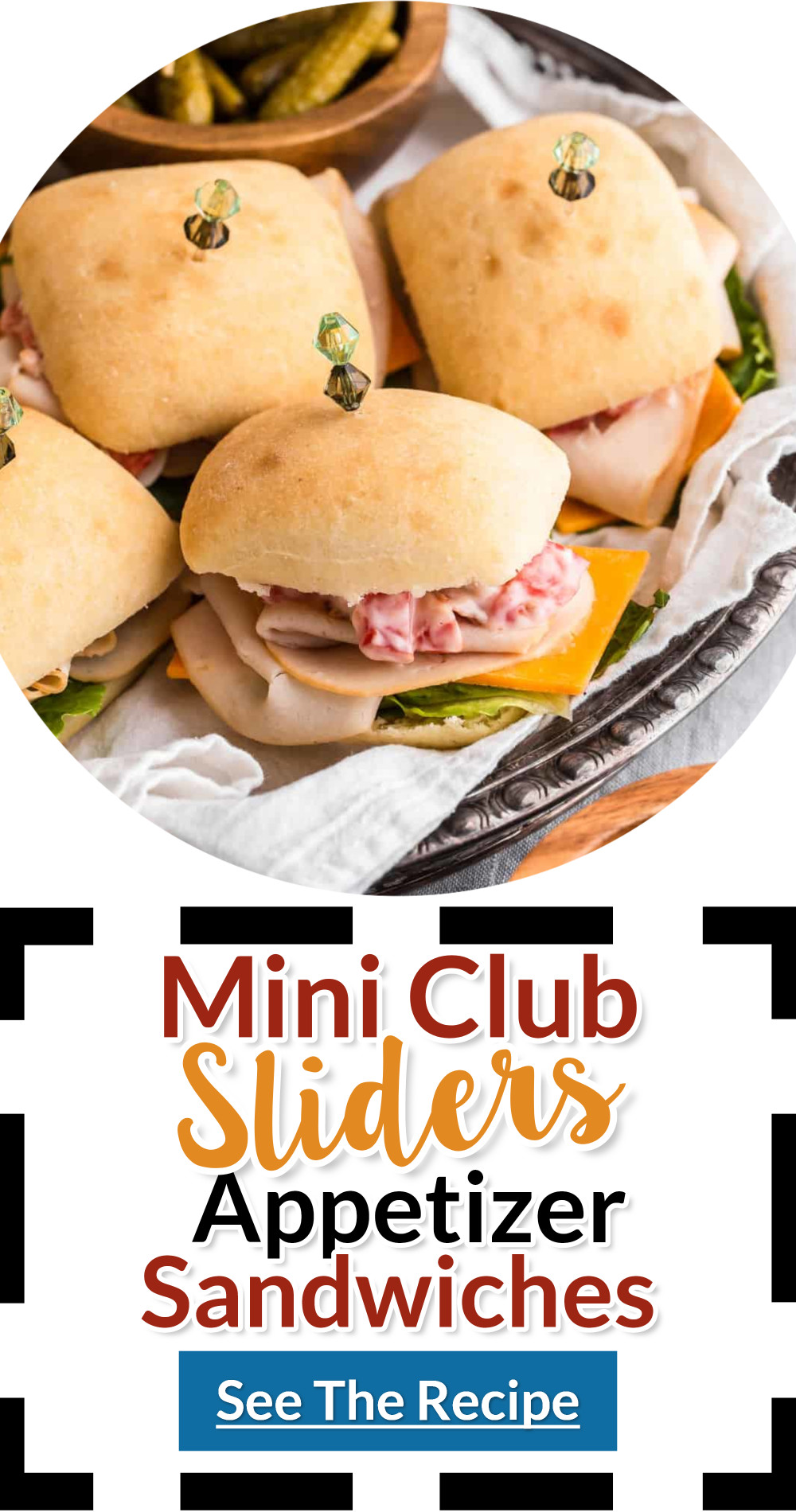 Sliders: Miniature burgers with various toppings like cheese, onions, and pickles.
Tea Sandwiches: Small, crustless sandwiches with elegant fillings like chicken salad, watercress, or cream cheese and smoked salmon.
Wrap Bites: Mini wraps with a variety of fillings, such as chicken Caesar, turkey and cranberry, or hummus and roasted vegetables.
Panini: Mini pressed sandwiches with ingredients like mozzarella, basil, and tomato or roasted turkey and pesto.
BLT Sliders: Mini versions of the classic BLT sandwich with bacon, lettuce, and tomato.
Beef Brisket Sliders: Mini sandwiches with tender, seasoned beef brisket and cheese.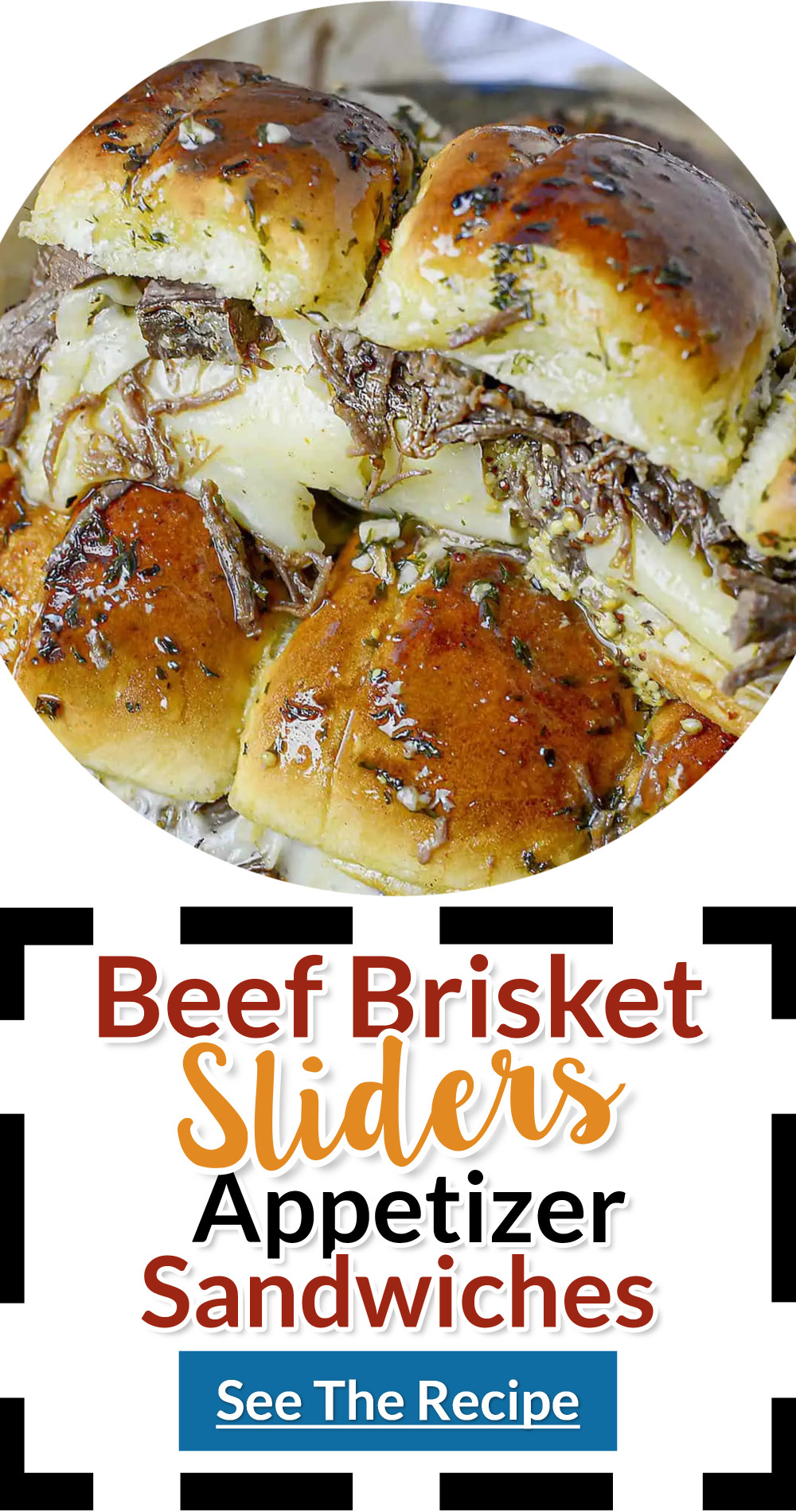 Philly Cheesesteak Sliders: Mini sandwiches with thinly sliced beef, sautéed onions, and melted cheese.
Grilled Cheese Triangles: Small triangles of grilled cheese sandwiches, perfect for dipping.
Cuban Sandwich Bites: Mini Cuban sandwiches with roast pork, ham, pickles, and mustard.
Muffuletta Sandwiches: Mini versions of the New Orleans favorite with layers of Italian cold cuts, olive salad, and cheese.
Tea Party Club Sandwiches – Simple and elegant finger sandwiches served on a sliced of toasted bread.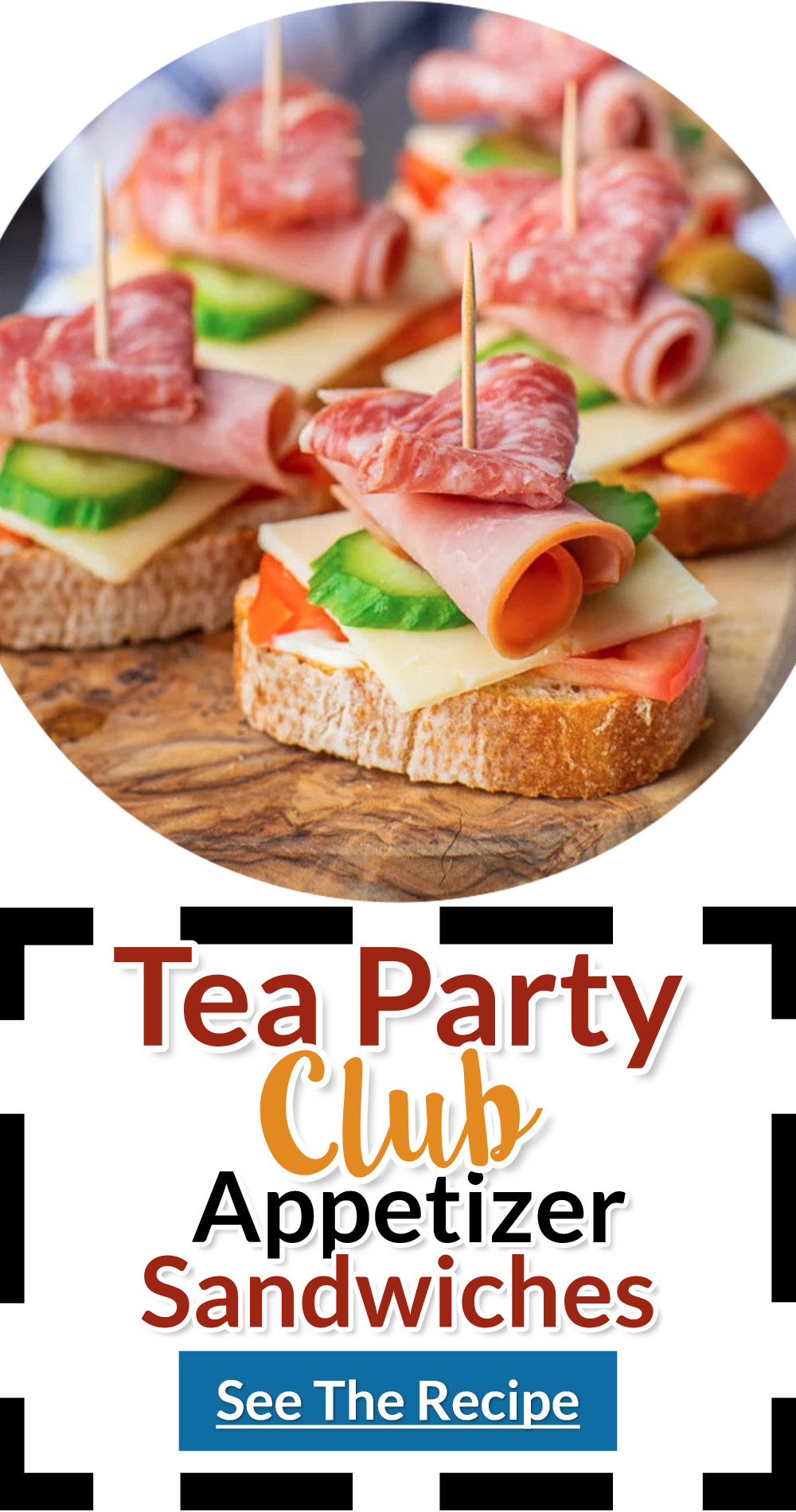 Tuna Salad Mini Croissants: Tuna salad served on small croissants with lettuce and tomato.
Ham and Cheese Pinwheels: Tortilla pinwheels with ham, cheese, and a spread like honey mustard or cream cheese.
Caprese Bites: Traditional Caprese skewers with tomatoes and fresh mozzarella turned into party sandwich bites.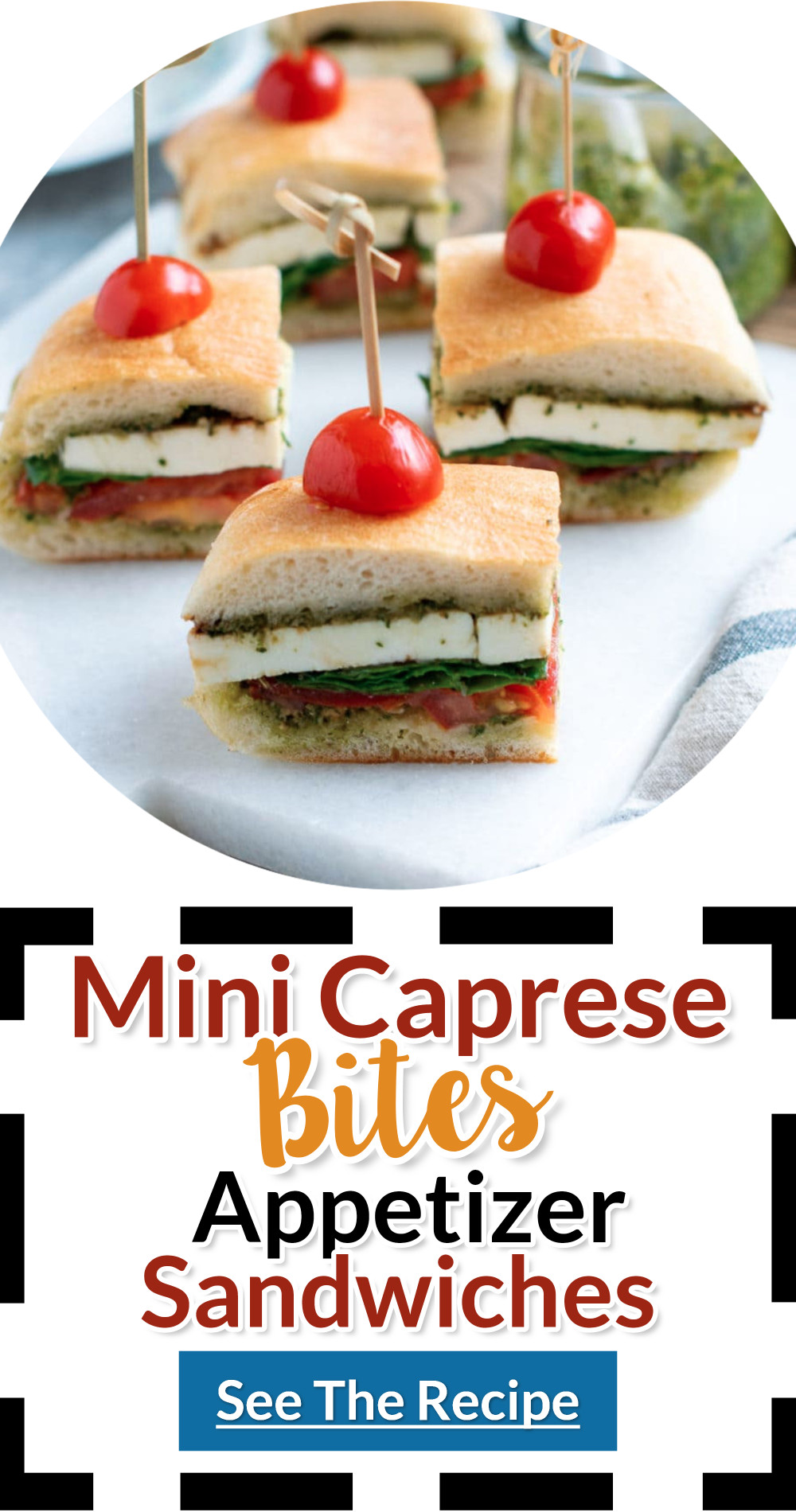 Turkey and Cranberry Wraps: Tortilla wraps with turkey, cranberry sauce, and cream cheese.
Veggie Delight Sandwiches: Sandwiches filled with a variety of fresh vegetables, like roasted red peppers, avocado, and sprouts.
Mediterranean Pita Pockets: Pita bread stuffed with ingredients like falafel, hummus, and tabbouleh.
Lobster Roll Sliders: Mini sandwiches with lobster meat, mayonnaise, and celery in a buttered roll.
Chicken and Waffle Sliders: Mini sandwiches with crispy chicken tenders served between small waffles with maple syrup.
Sliders
In my opinion, sliders are the EASIEST mini sandwiches to make for a crowd.
Here is a great recipe video that shows how to make 10 slider sandwich variations the quick and easy way:
Finger sandwiches are the epitome of versatility, charm, and culinary delight. They can elevate any event, turning an ordinary gathering into a memorable occasion. So, next time you're planning a party for a crowd, consider adding finger sandwiches to your menu. With their irresistible charm and endless flavor possibilities, they're sure to be the crowd favorite food on your buffet table.
More Party Appetizers and Finger Food Ideas
Miss Anything?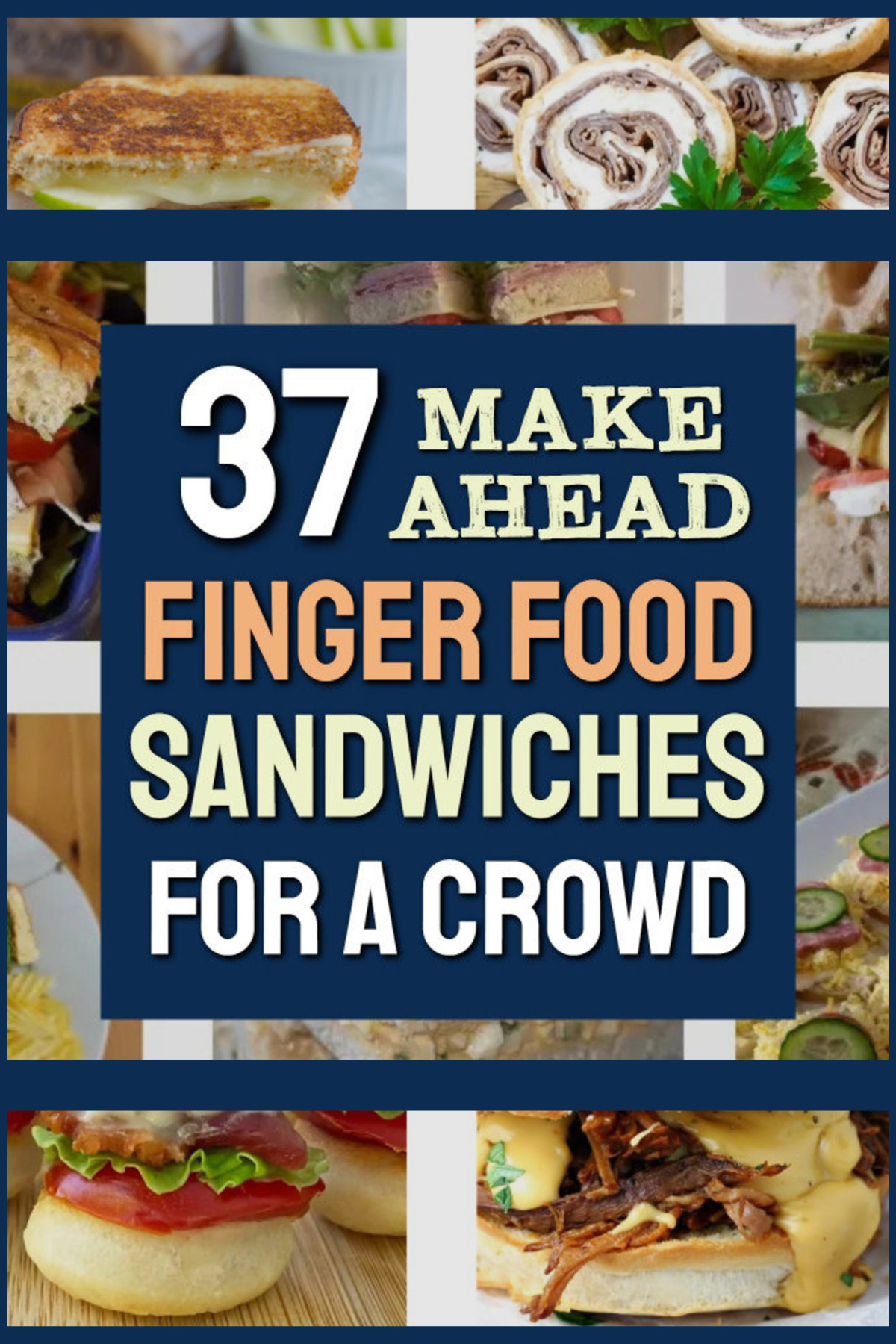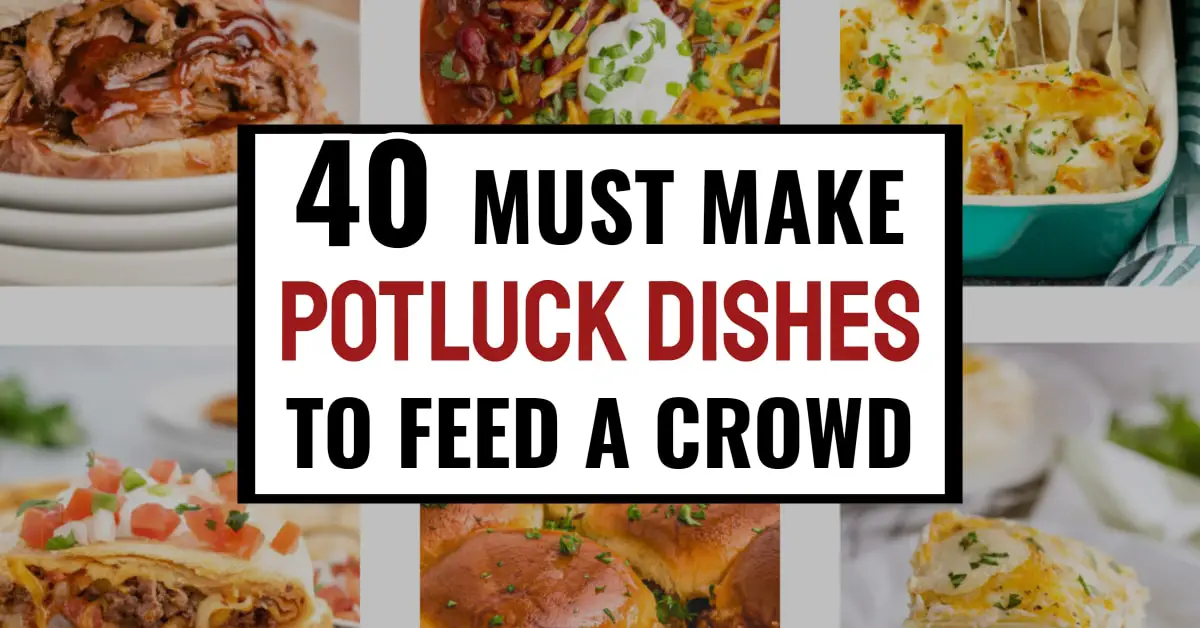 Need potluck food ideas to make and take? These 40 must make potluck dishes are the most popular and crowd-pleasing ...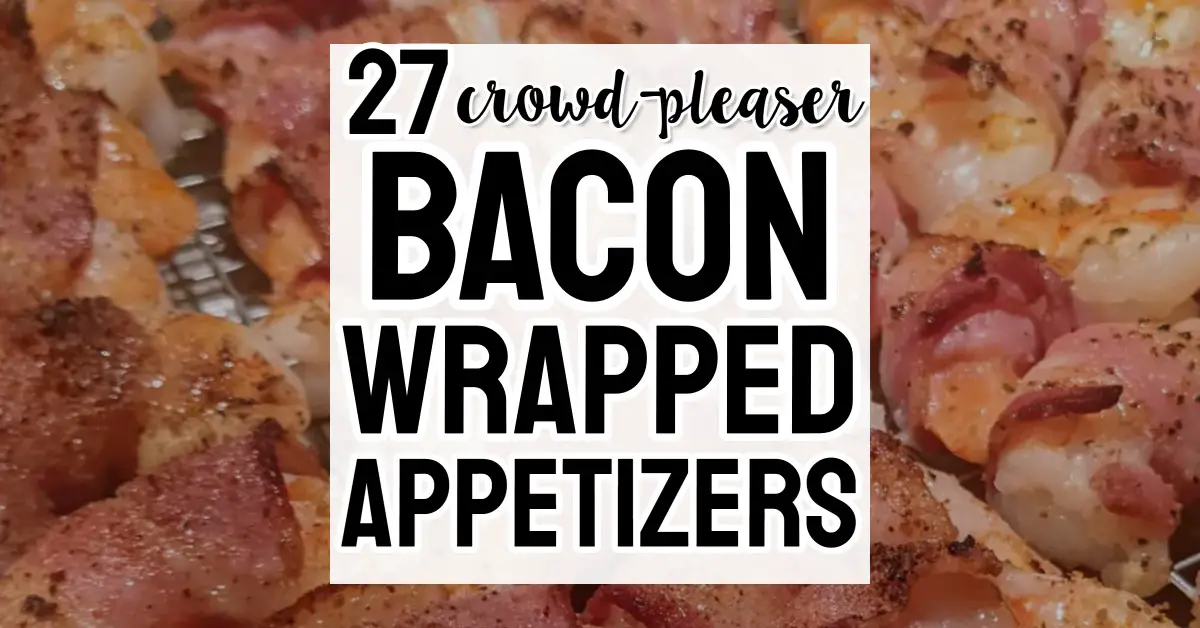 Bacon-wrapped appetizers are simple, yummy and crowd-pleasing appetizer combinations that never fail to impress at any party or Holiday event ...