---
Easy-Peasy DIY Christmas Ornaments for Decorating, Sell for Extra Cash or To GIVE As Thoughtful Handmade Gifts – Feeling crafty? Take a look at these stunning and EASY Christmas ornaments you can make to decorate your tree or to give as thoughtful handmade gifts to your friends and family. They are also fun DIY classroom ornaments too for the older kids to make.
These handmade Christmas ornaments below are GORGEOUS. Making ornaments is my favorite Holiday craft project (my kids love helping too).

---
Updated on November 29, 2022
posts may contain affiliate links -Enjoy and feel free to share with your friends!
---
If you're looking for clever, creative and UNIQUE Christmas ornaments to make, you will love the ideas I have collected on this page. PLUS, I'll give you some tips on WHERE to sell them and which types of Christmas craft projects sell BEST.
✅ Be SURE you see the Starbucks coffee cup wreath idea down below too – it's REALLY unique (and sells VERY well around here).
Unique Ornaments To Make
These DIY Christmas ornaments below are such cute ornaments to make for friends and family – or to SELL for some extra Christmas cash this year.
Like these beautiful old-fashioned handmade Christmas ornaments in the picture below.
While I'm pretty sure we're doing a Grinch Christmas tree this year, I sure love these clear Christmas tree balls filled with pearls, fun Holiday sayings painted on in pretty lettering, and topped with metallic ribbon bows.
Get the tutorial
This next idea is a family favorite – even the kids love making these handmade Christmas tree ornaments (and I love having a beautiful use for all my left over craft scraps)
Take a little tree branch and tie ribbon on it in a triangle shape (like a Christmas tree) – and some twine as the ornament hook and you're done!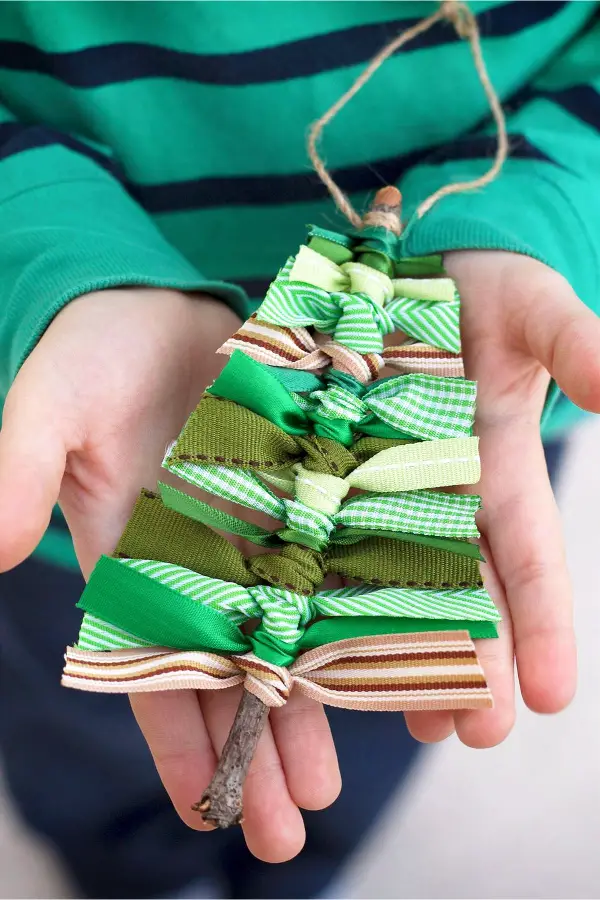 Get the tutorial
This next handmade Christmas ornament idea is absolutely one of my kids FAVORITE ones to help make – BUT, I think they eat more than they help make them haha!
Yes, these are CANDY ornaments!
Fill clear Christmas ball ornaments with sprinkles and other brightly colored candy. FUN and so cute!
Get the tutorial
These handmade ornaments make the perfect gift for neighbors, friends, co-workers and family – they're tree ornaments filled with hot chocolate mix!
Get the tutorial
Prefer more of an old-fashioned Christmas type of ornaments to make?
These rustic star ornaments are super easy to make and oh so cute!
Get the tutorial
We're big fans of using Scrabble tiles for decorating our photo walls and for crafts.
These Scrabble tile ornaments are an easy DIY Christmas craft and make for great gifts too!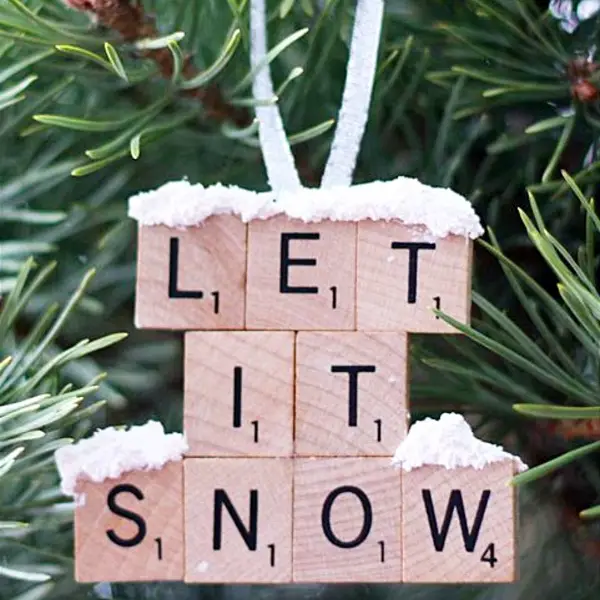 Get the tutorial
I have a lot of friends that are serious (over-achiever) wine drinkers – I am absolutely making these wine cork ornaments for them this year.
Aren't they adorable?
Use old wine corks to make an easy DIY Rudolph tree ornaments!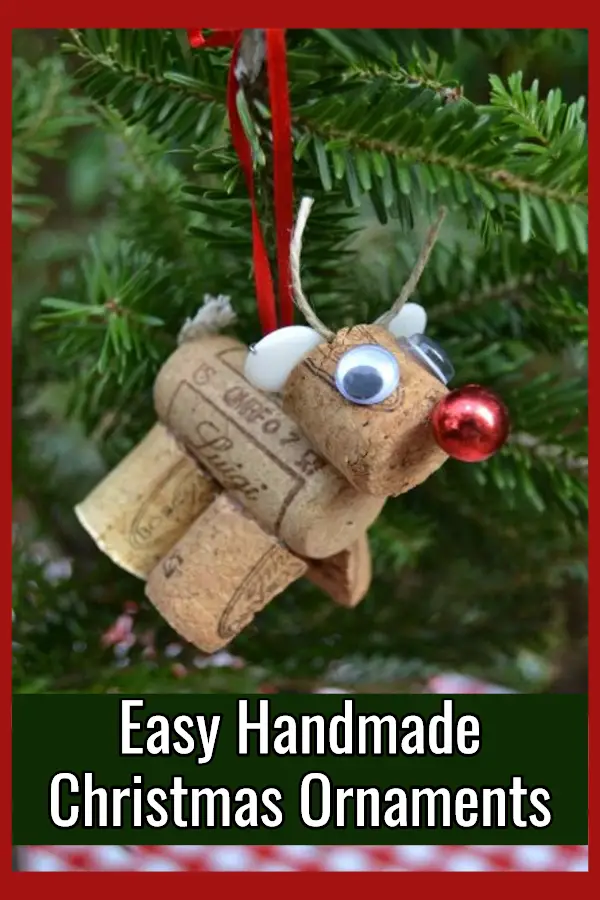 Get the tutorial
Where To Sell Your Christmas Ornaments
There are so many opportunities out there for to sell your homemade Christmas ornaments for profit.
Other than setting up your own store online, here are some other ideas for selling your ornaments:
Christmas Bazaars
Community Facebook Groups
Facebook Marketplace
School Events
Holiday Fairs
Instagram
TikTok
Local Flea Markets
Host a Home Party
Door to Door
The best way I've seen others SELL their Christmas ornaments and crafts is by sharing a picture of the completed craft on social media and then offering the basic steps for how to MAKE it.
Most people would rather buy something than make it, however, by offering a basic tutorial you are being helpful and won't feel so "salesy".
What Christmas Crafts Sell Best?
Decorations and ornaments are the best Christmas crafts to sell especially if you can come up with something really unique and creative.
Gift baskets with different themes are great sellers as well (EVERYONE loves a Done-FOR-You Christmas gift!) but gift baskets can have higher overhead costs for you with a lower profit margin.
Bottom line, the more unique your Christmas craft is, the more likely it is you are to sell a BUNCH of them.
As an example, at a local Christmas Bazaar last year, this handmade Christmas wreath in the picture below sold like crazy!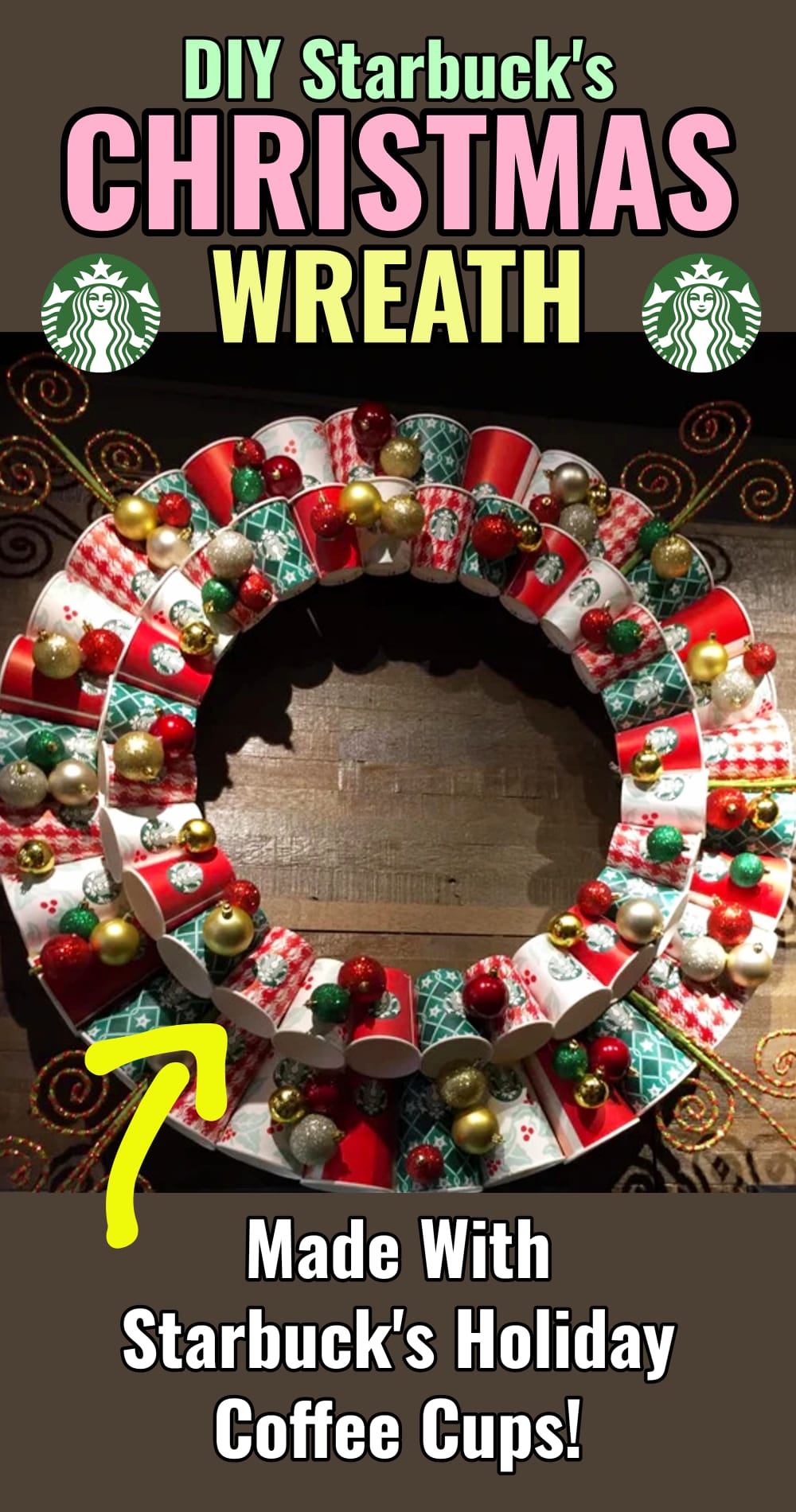 Yes, the wreath is made out of Starbuck's holiday coffee cups!
If you want to make a Starbucks Cup Christmas wreath like that, get out your glue gun and have LOTS of glue sticks ready.
Get your hands on several sleeves of Starbucks Christmas coffee cups in various Christmas themes, then you're going to hot glue theme together in the shape of a wreath.
Then, glue more coffee cups together in a smaller wreath and glue those 2 wreaths together.
Keep your hot glue gun hot because now you'll glue Christmas tree balls around the wreath then add a sprig of something aesthetic on the outside.
(if the wreath was a clock, glue your 'sprigs of something' at the 1, 5, 7 and 11 o'clock locations.)
Here are some cute and easy Thanksgiving Toddler Crafts and some adorable DIY Whoville decorations you can make that you might like, too!
More Fun Christmas Craft Projects To Sell: