DIY Low Budget Garage Man Cave Ideas for an Affordable and Awesome Garage Man Cave •
Man Cave Ideas! There's nothing like a MAN CAVE in your garage. Whether you have a small garage to work with like a single car garage, or you want to create a half garage half man cave area, there are lots of cheap DIY ideas and budget-friendly accessories for YOUR man cave in the pictures below.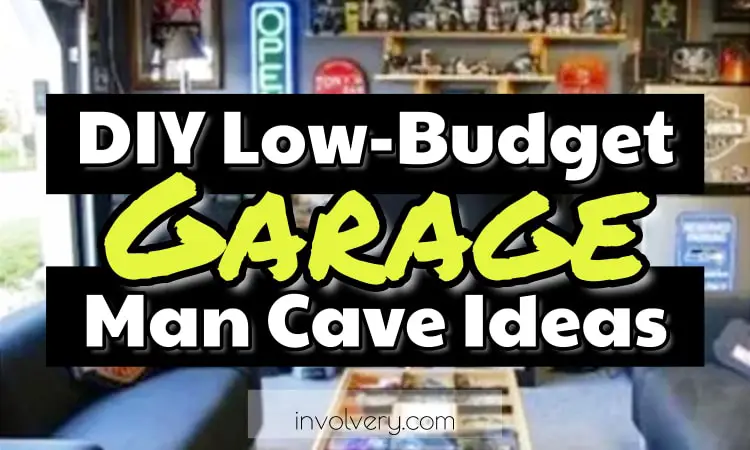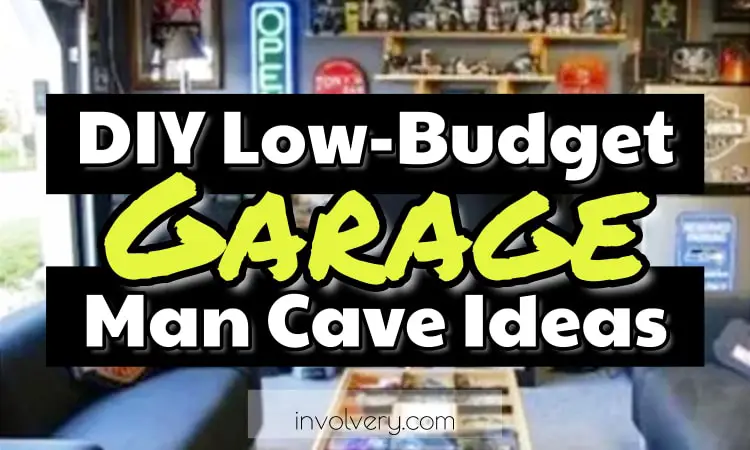 Alrighty, before we get started, I just want to let you know that all opinions are my own and that as an Amazon Associate I earn from qualifying purchases. Many links found on this page may take you to another website (and they should open in a new window so you don't lose your place).  Enjoy and feel free to share with your friends!
---
Alrighty – you're making a MAN Cave in your house – that's awesome!
Glad you put your foot down and DEMANDED to have your own space (and your wife let you…. haha! Just kidding!)
THIS might be what your wife has in mind for your man cave…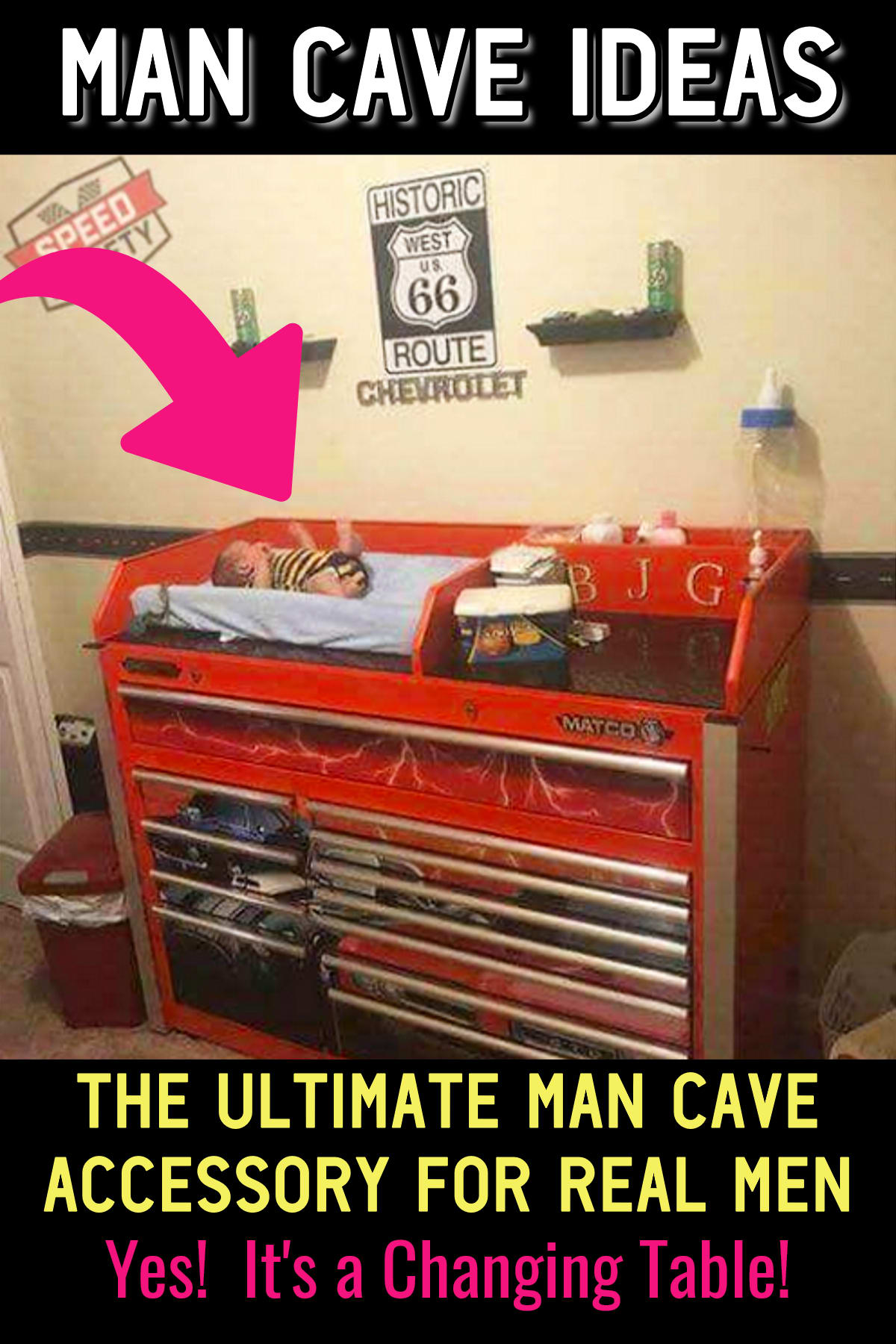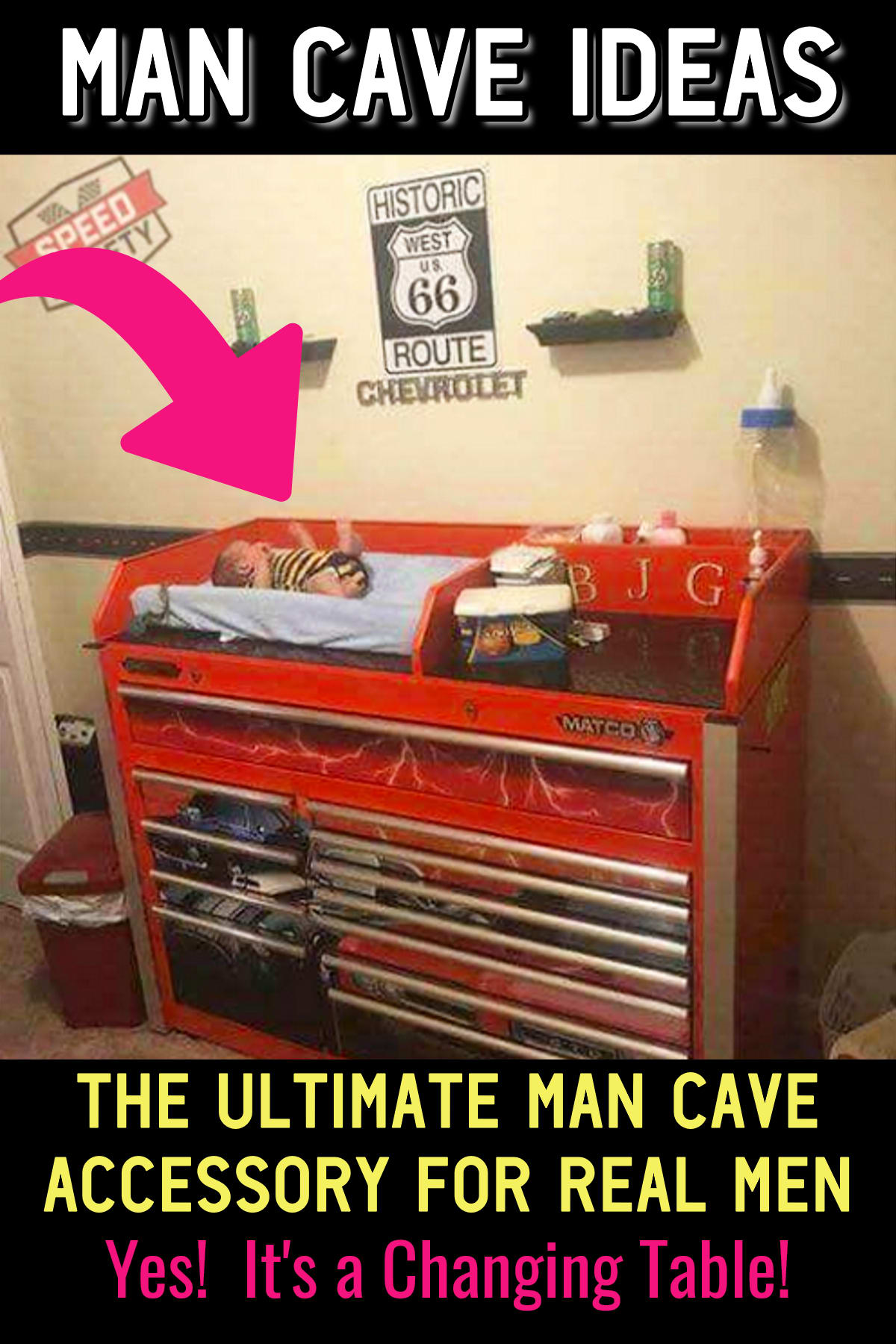 Yep, that picture above is a man cave changing table.
All the Cool Dads have on in THEIR Man Cave =)
Not quite manly enough?
Let's take a look at more pictures of ideas for your man cave (that don't involve the kids!)
---
---
Low-Budget Man Cave Ideas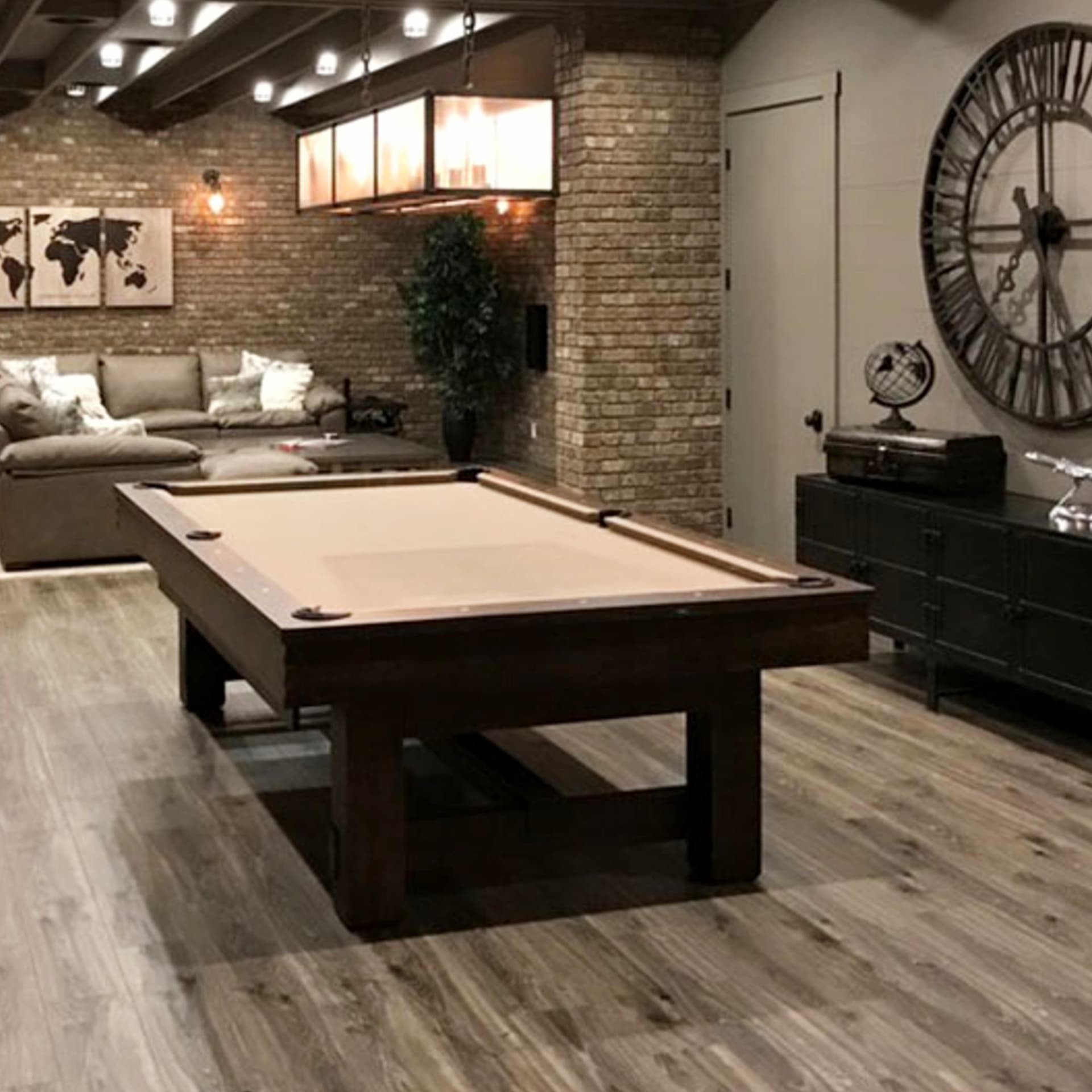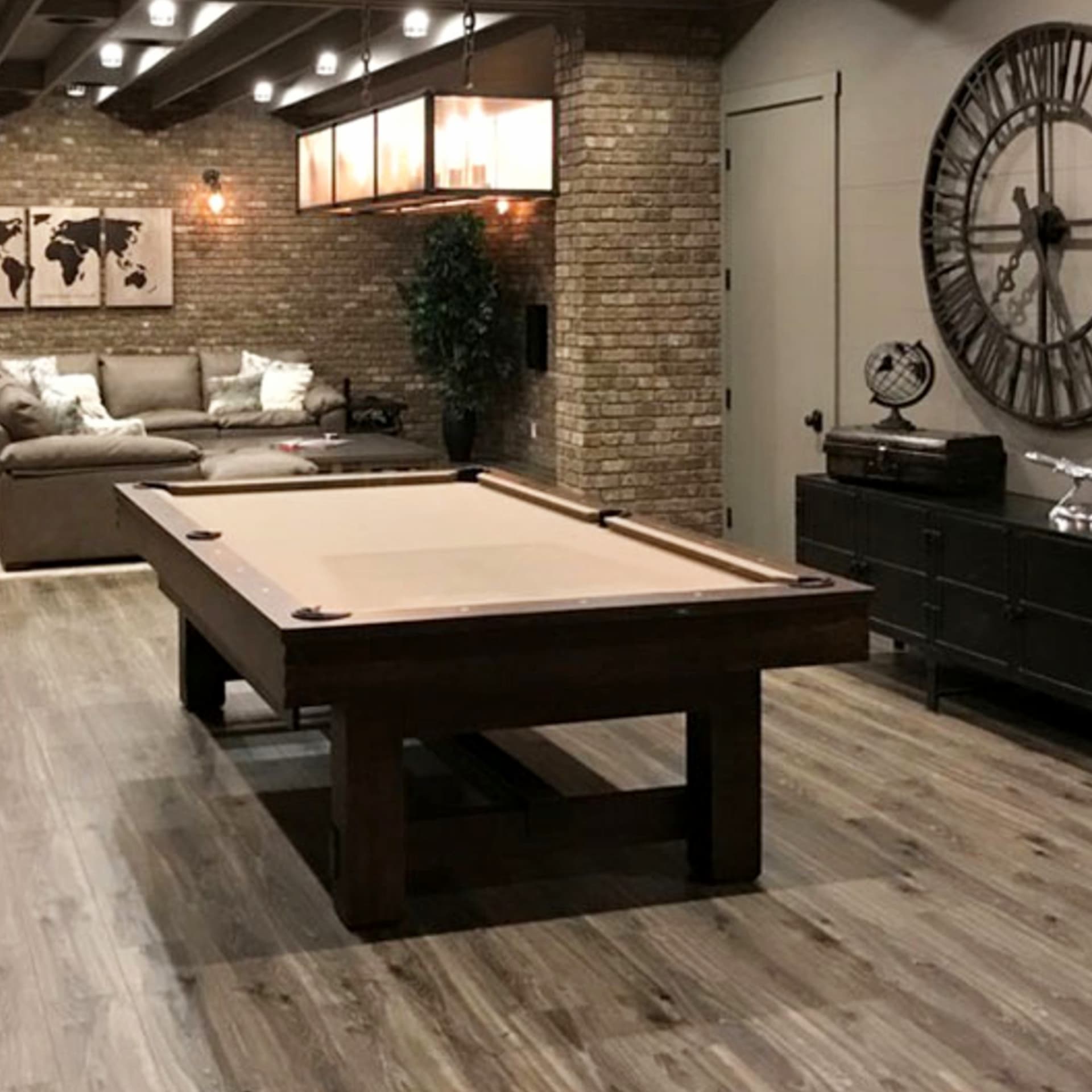 Man Cave Garage Photos
If you're considering converting your garage (or part of your garage) into a man cave, take a look at these cheap and easy DIY garage man cave ideas in all the pictures below.
---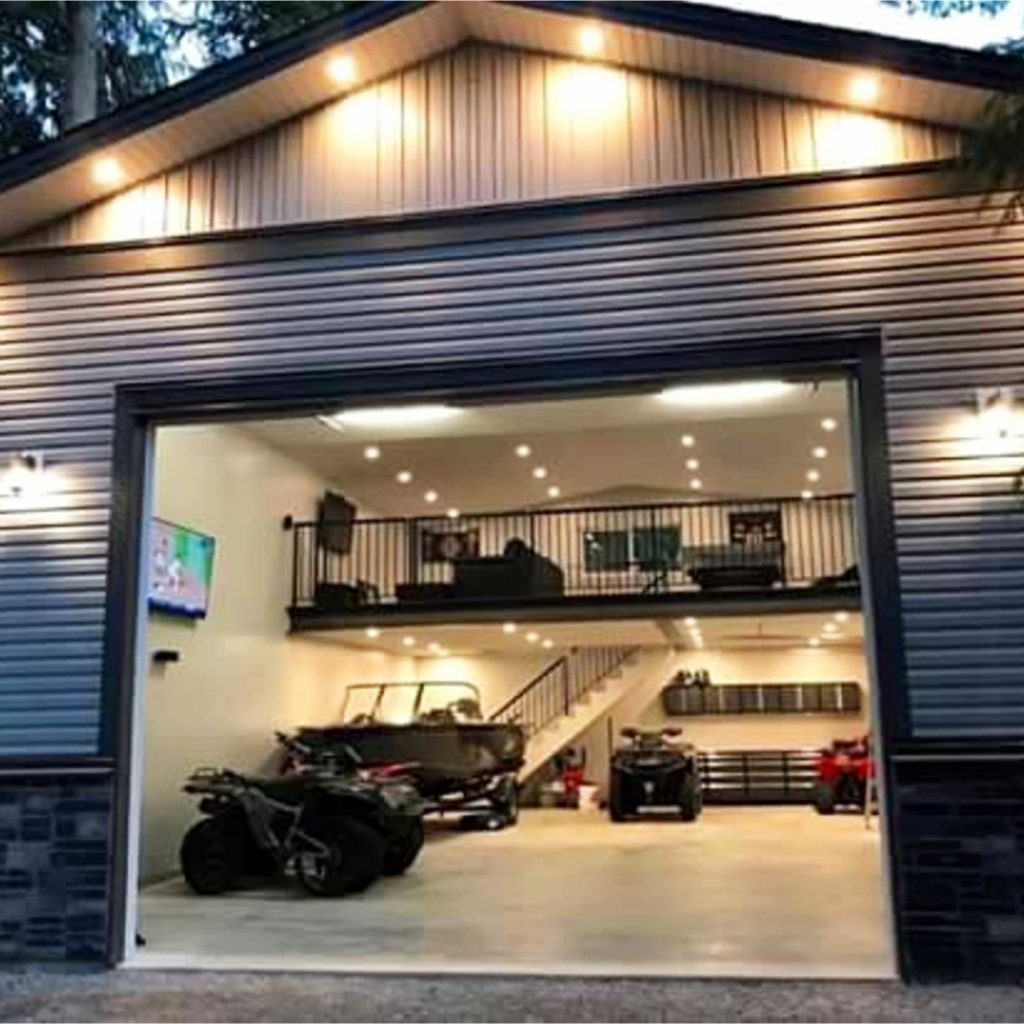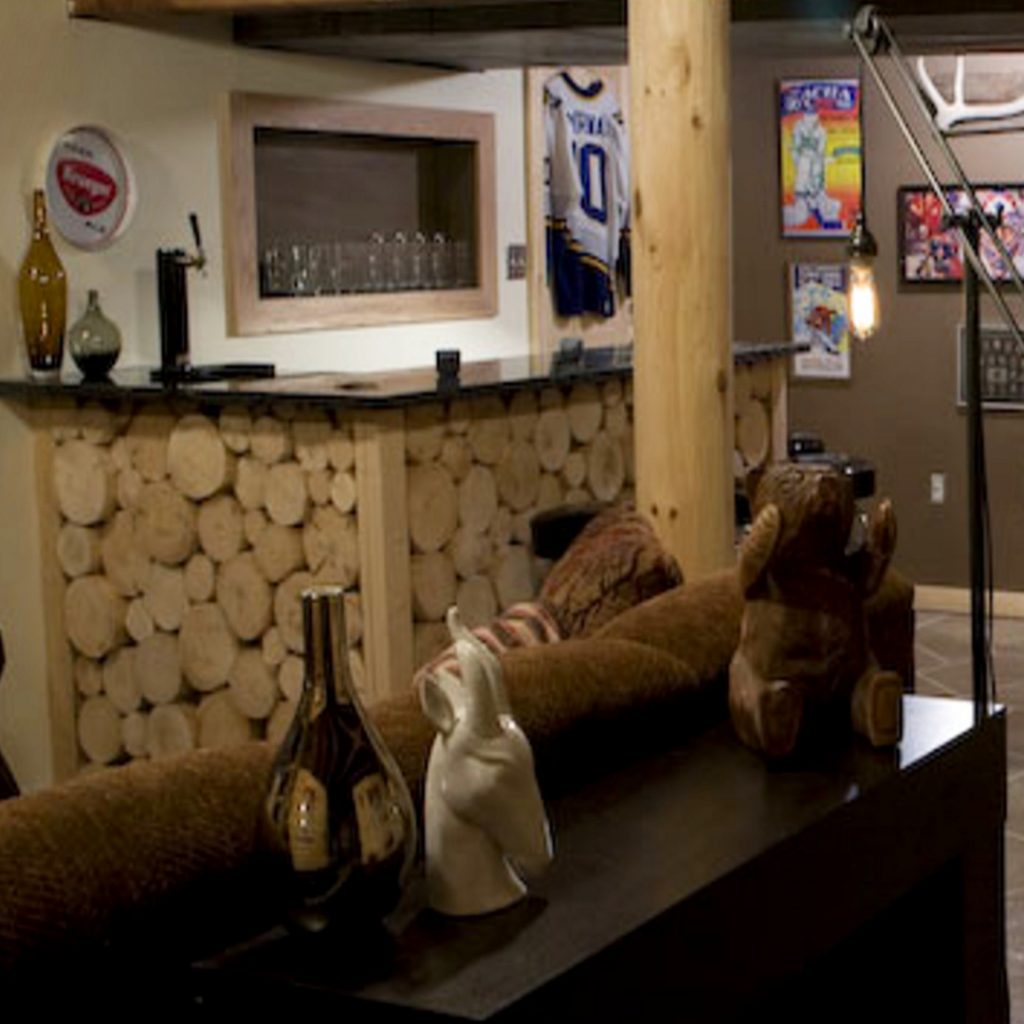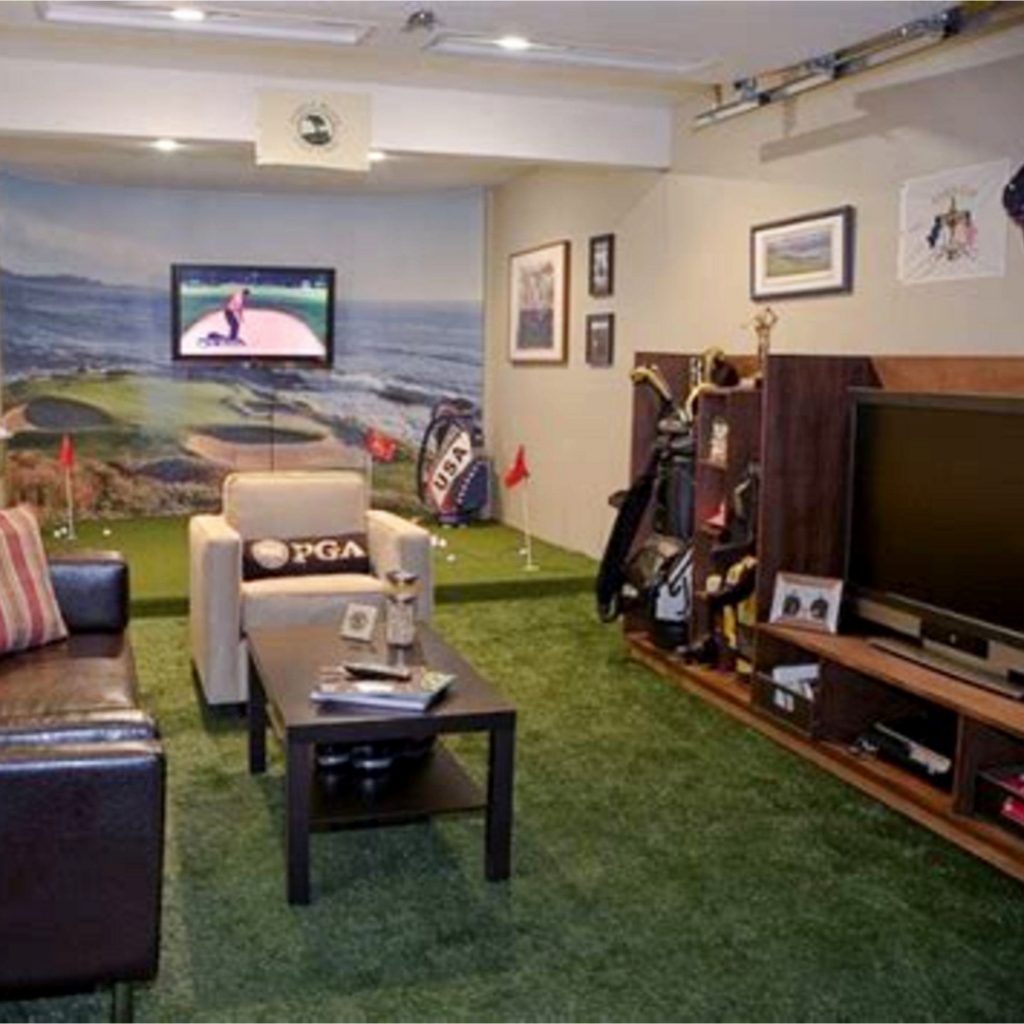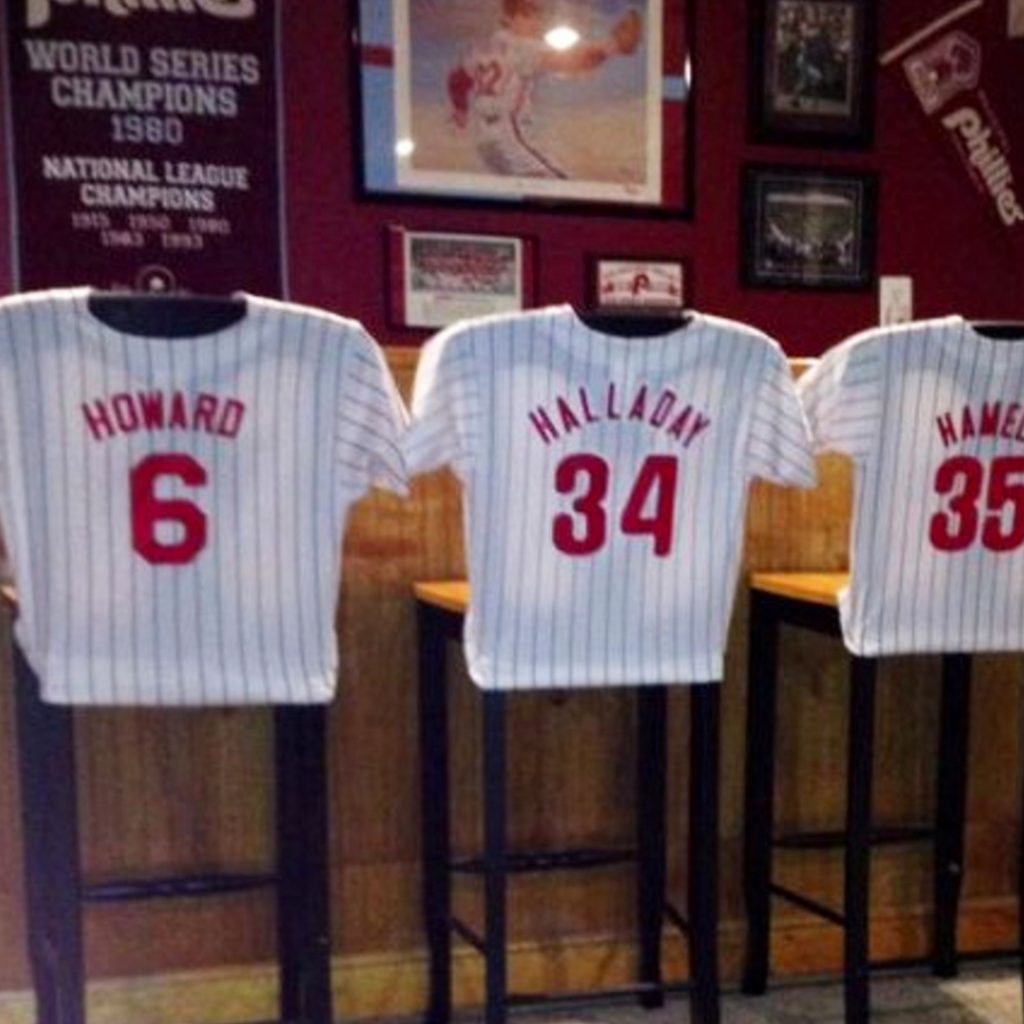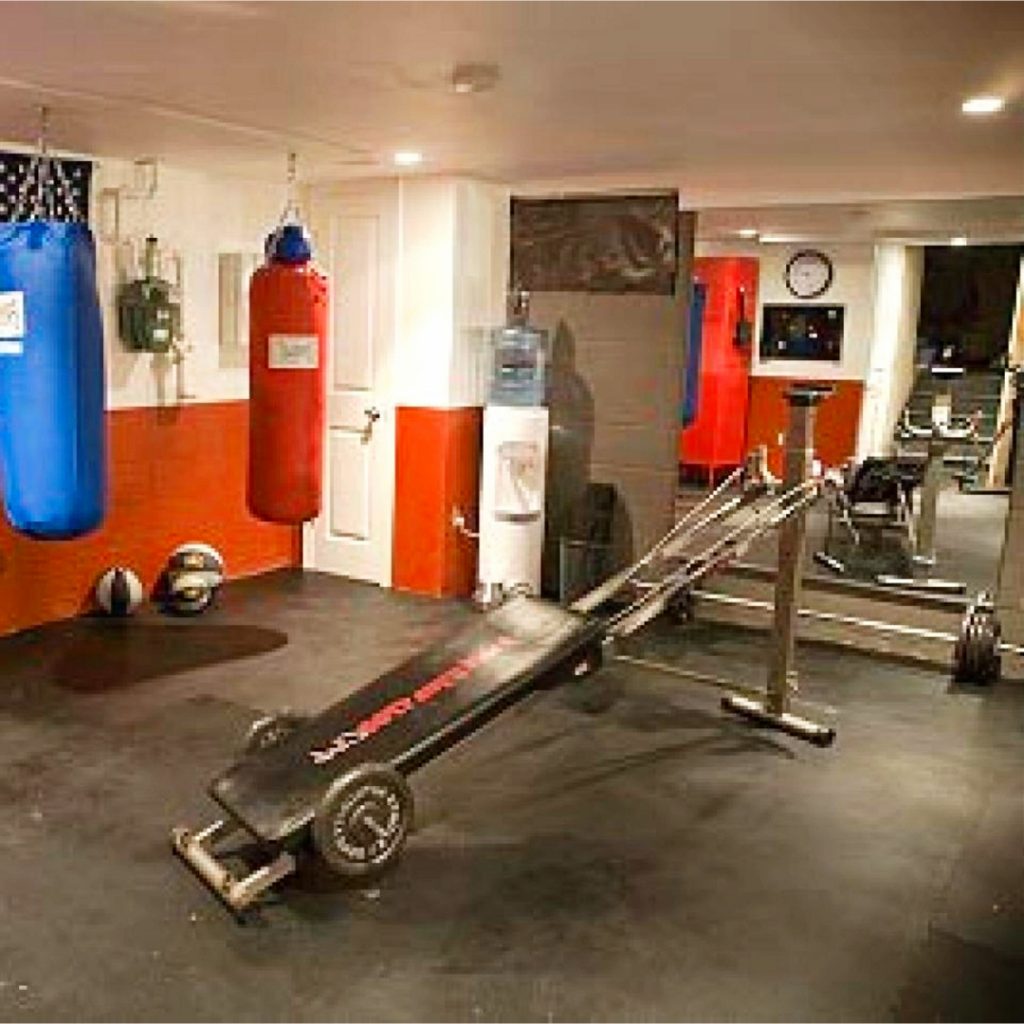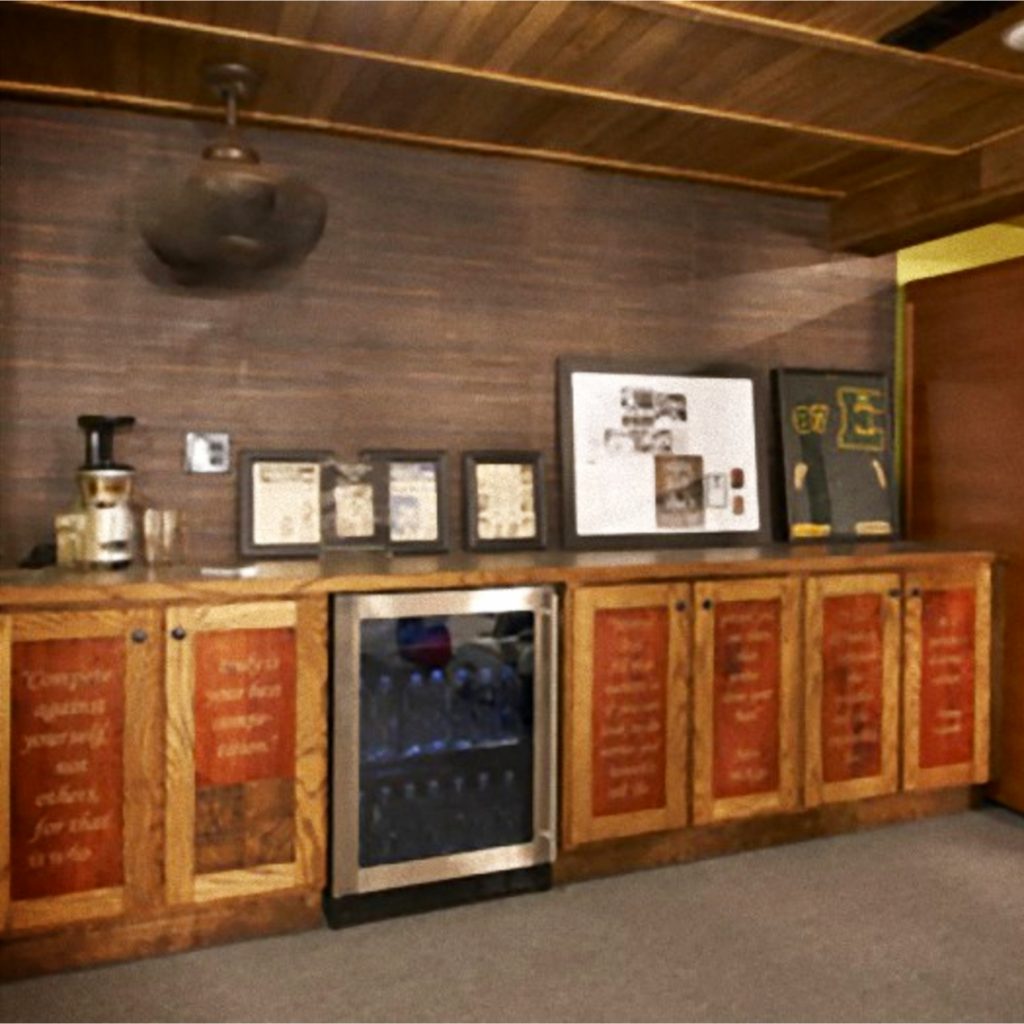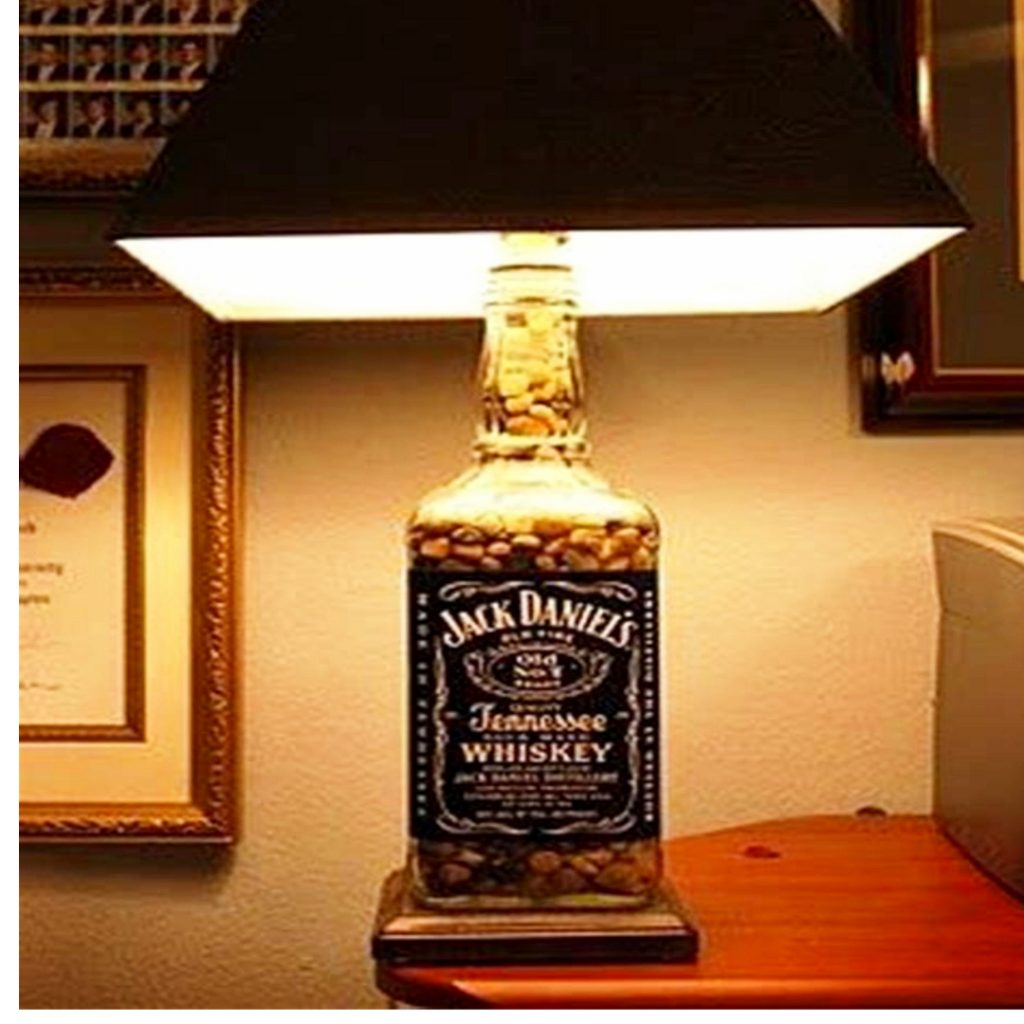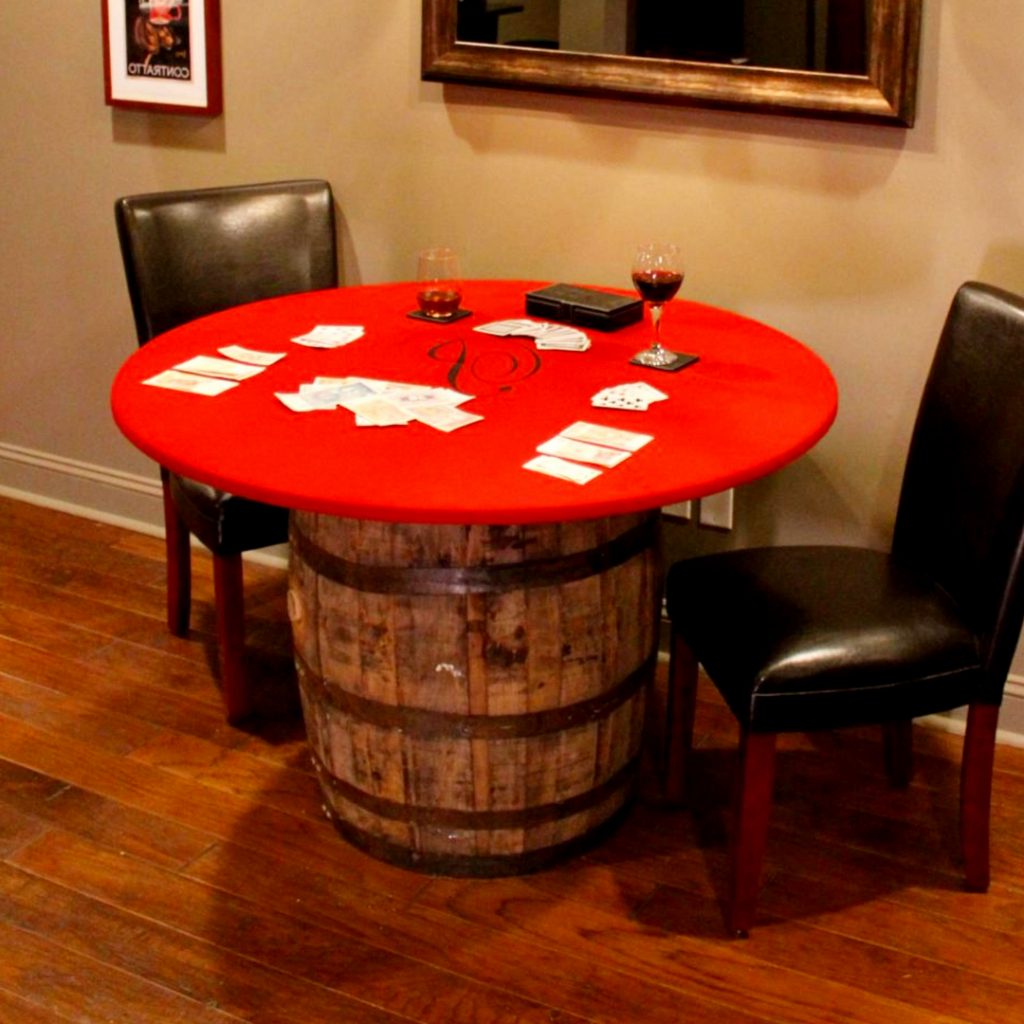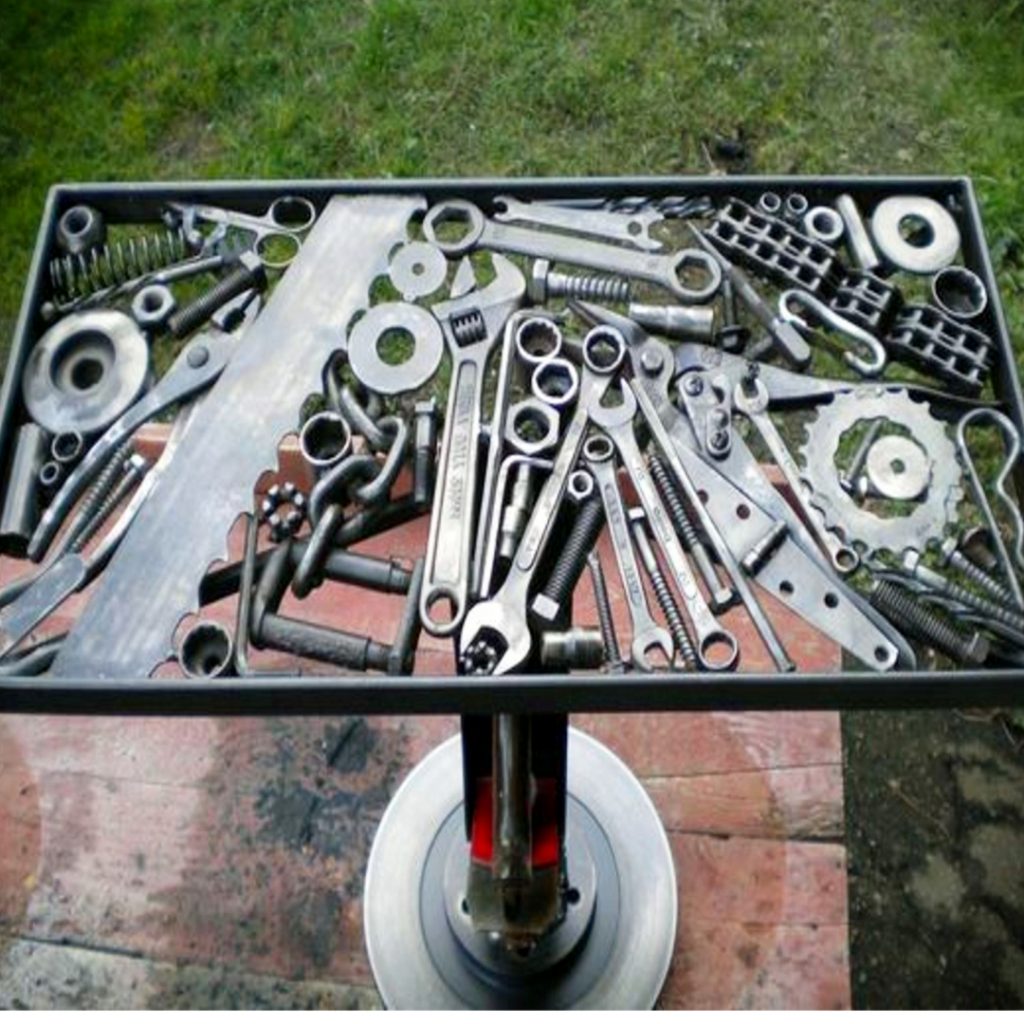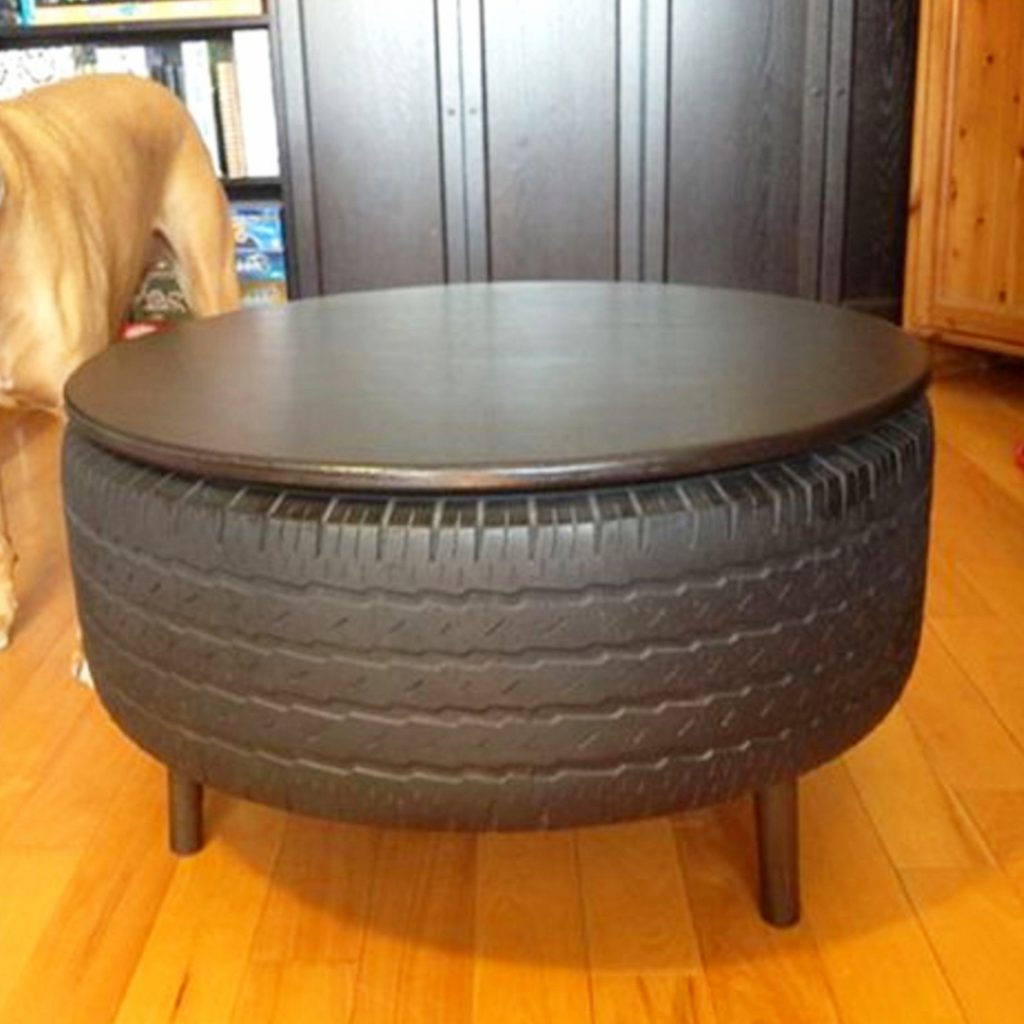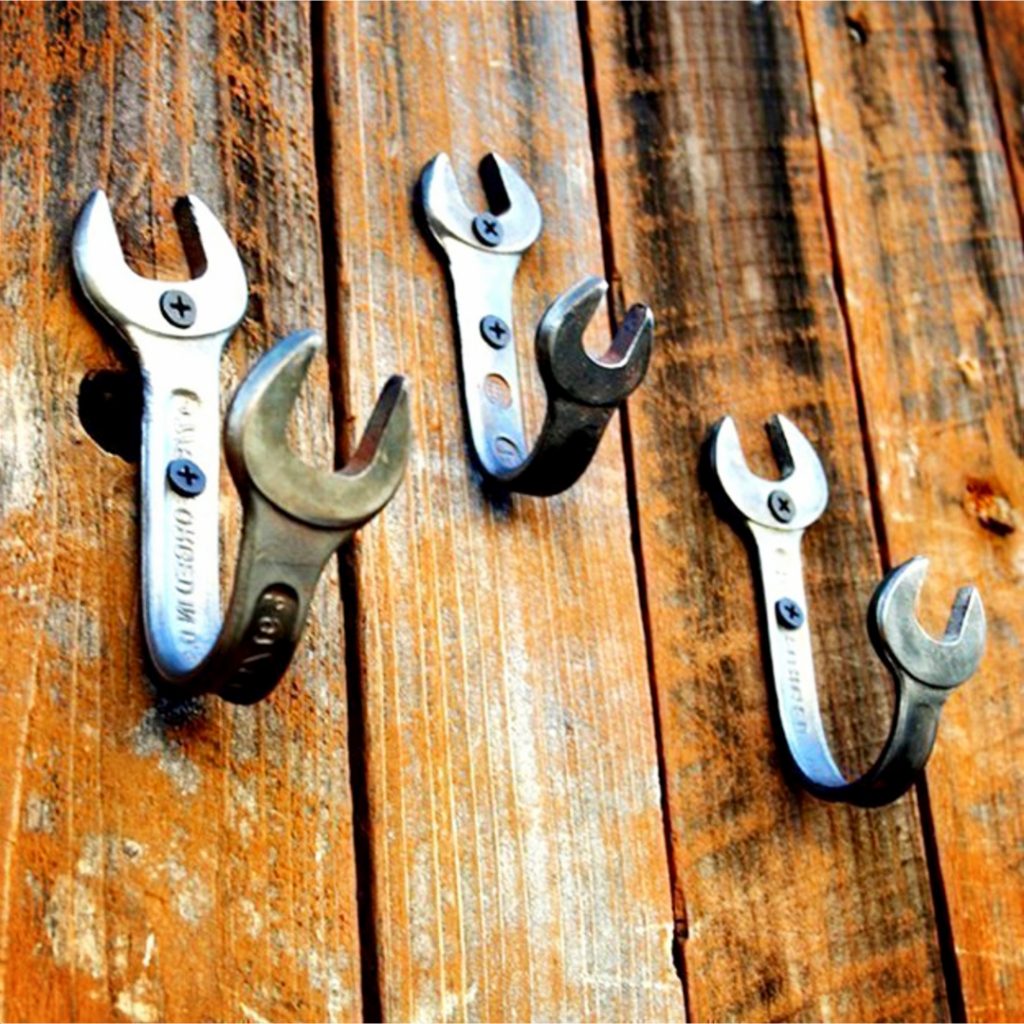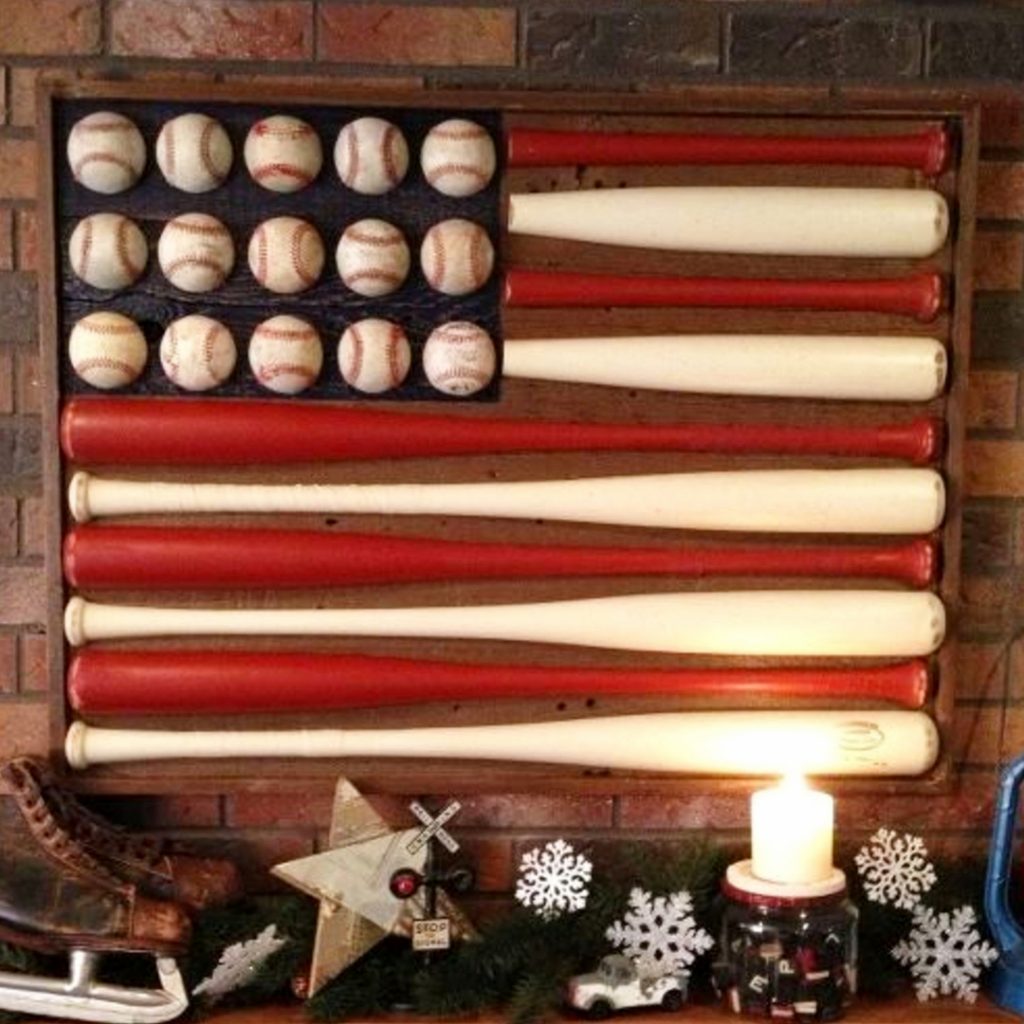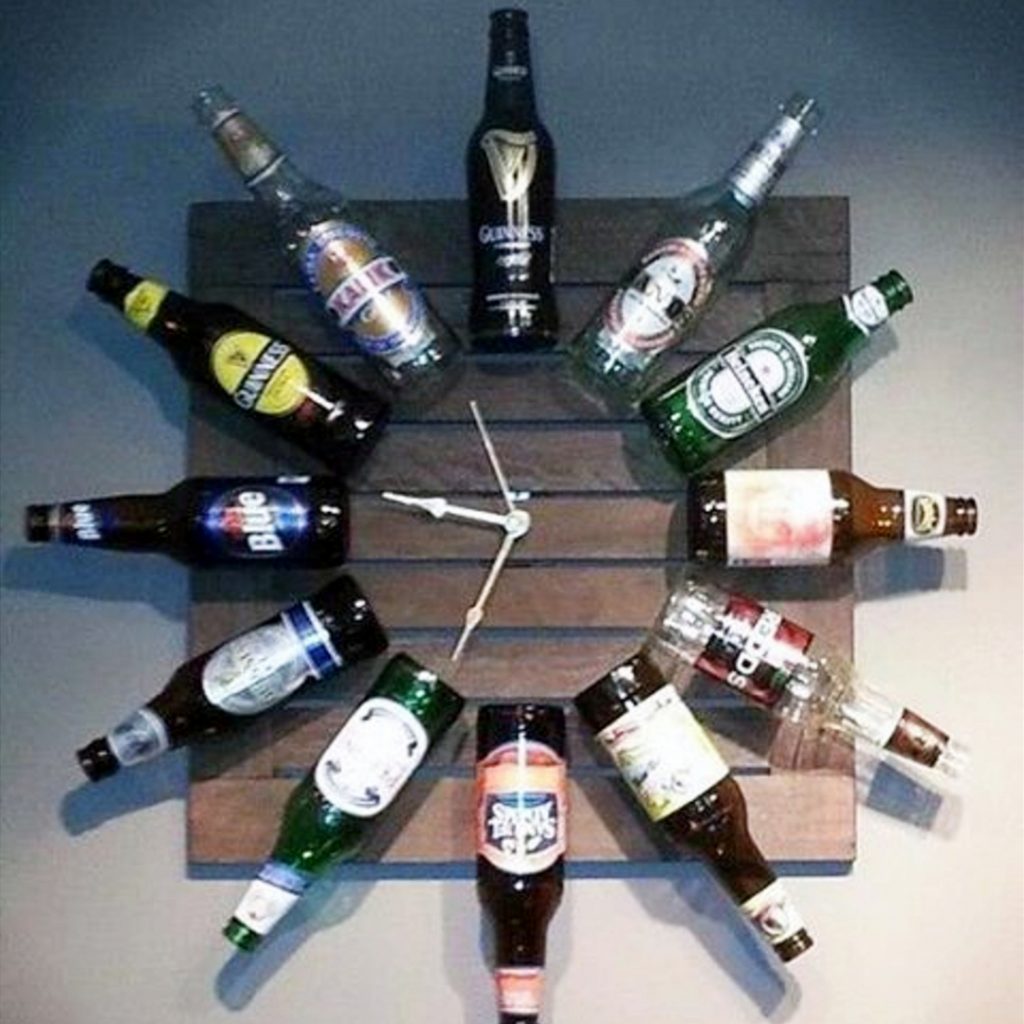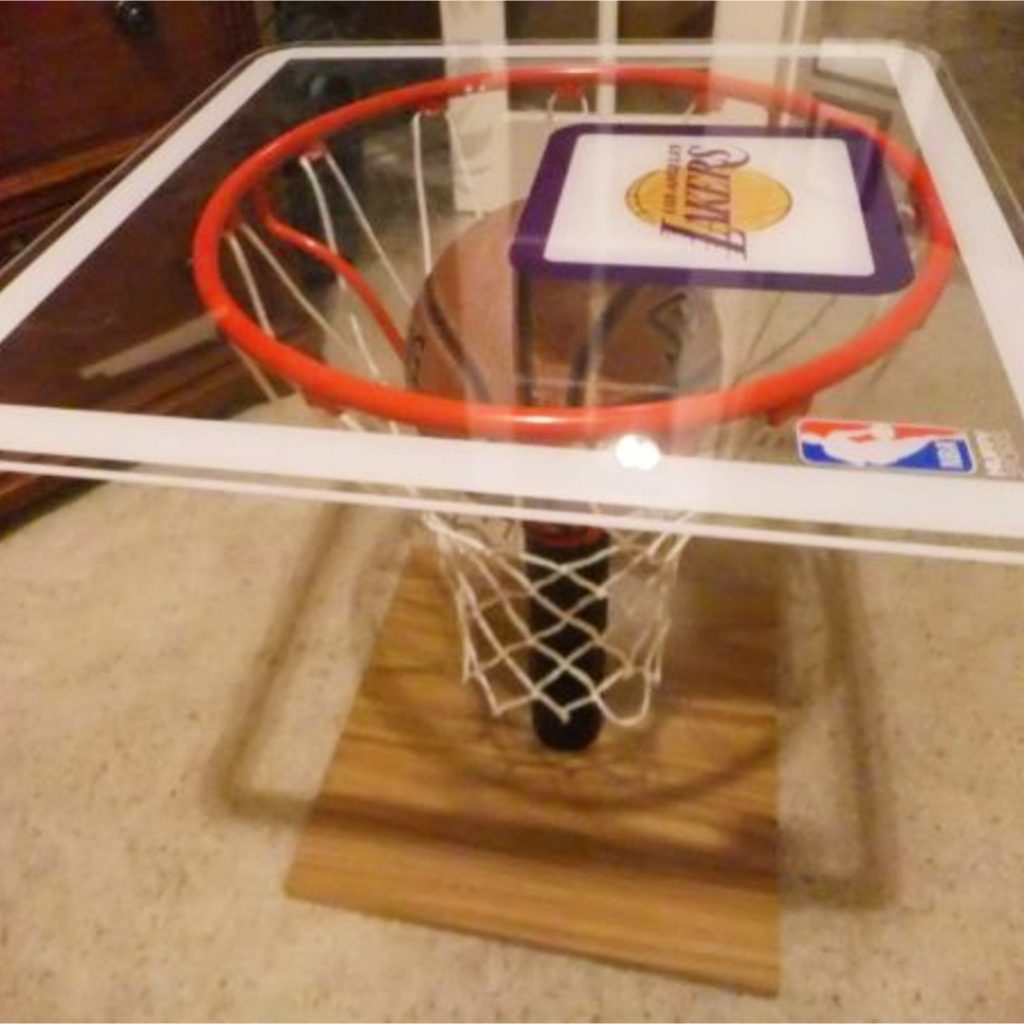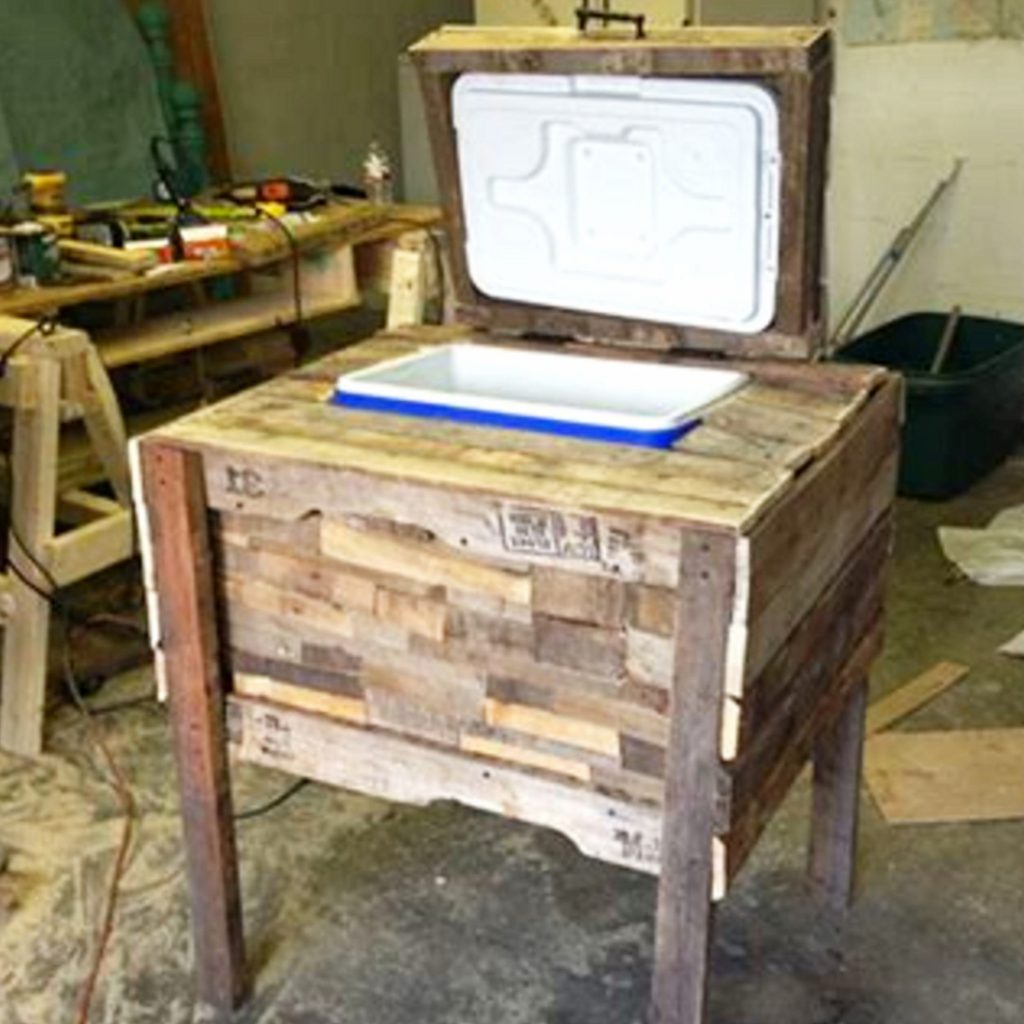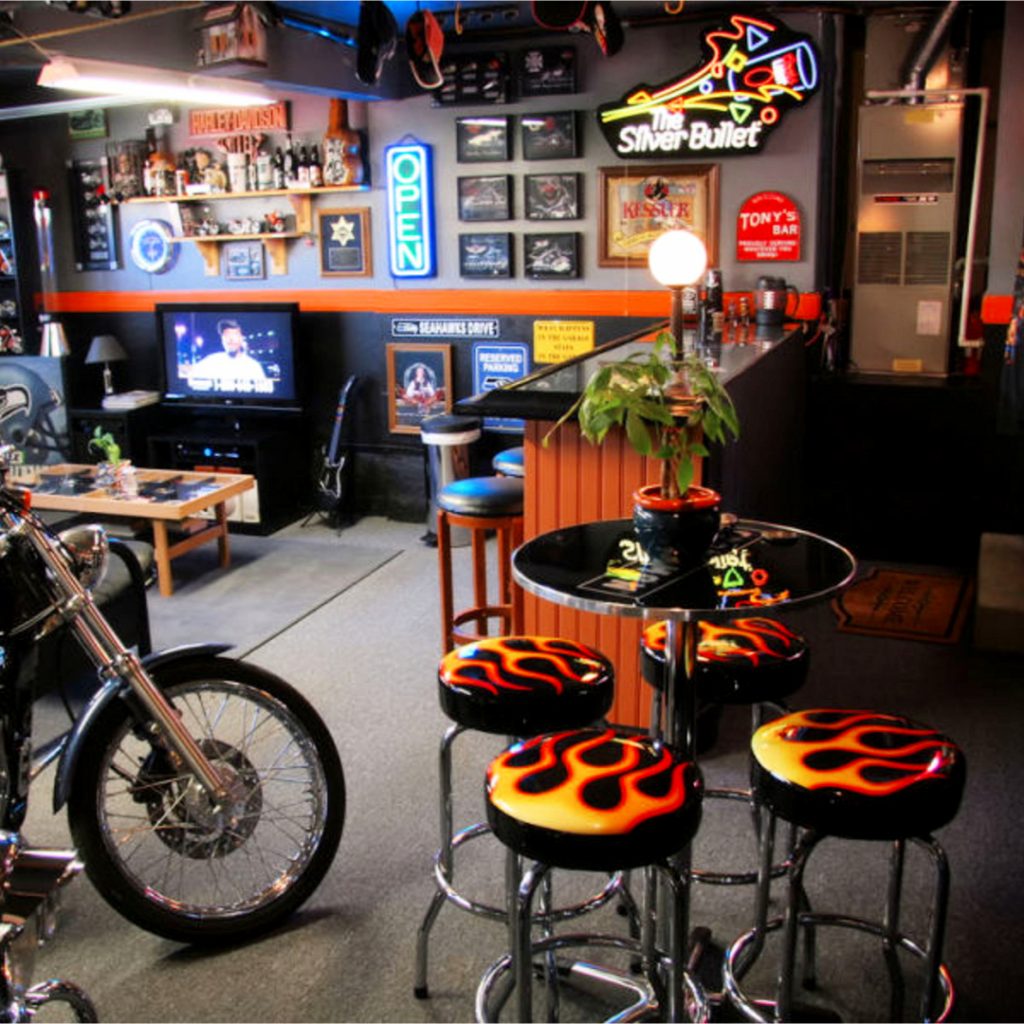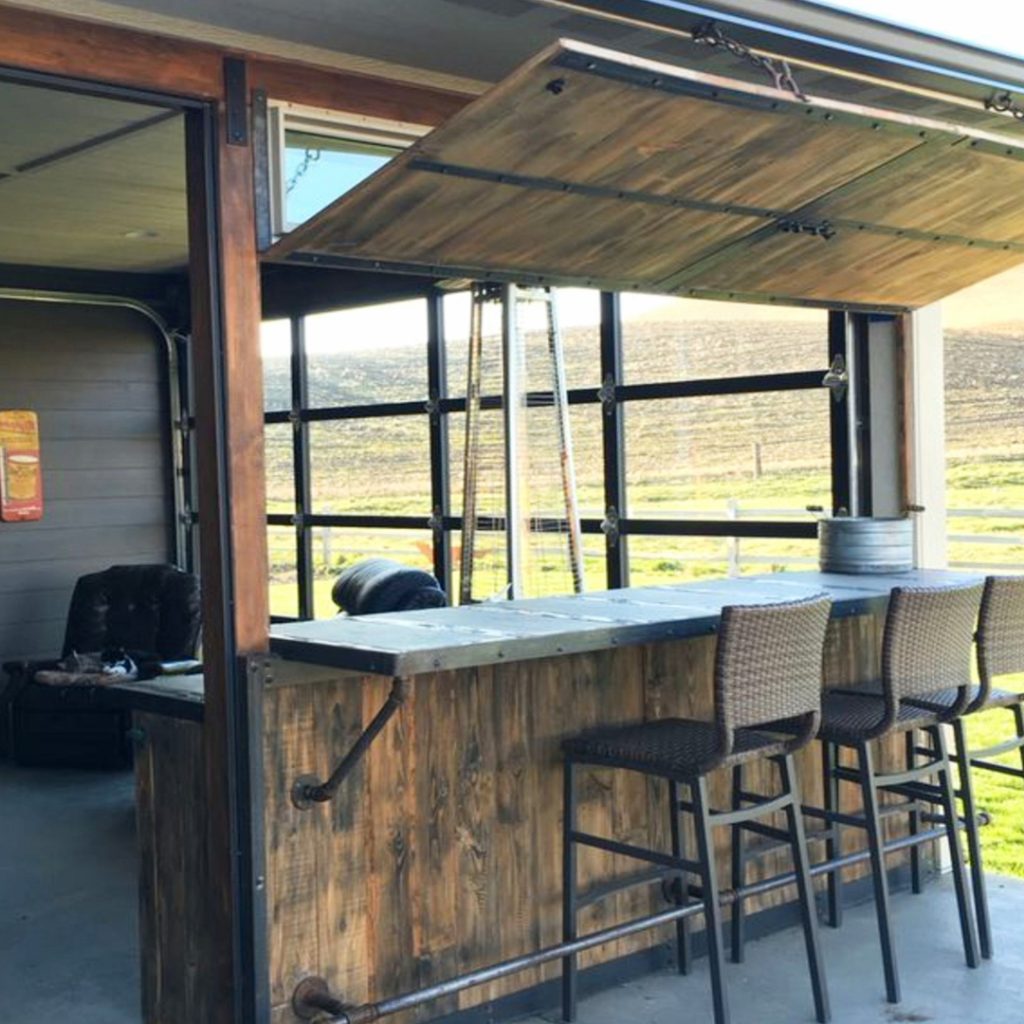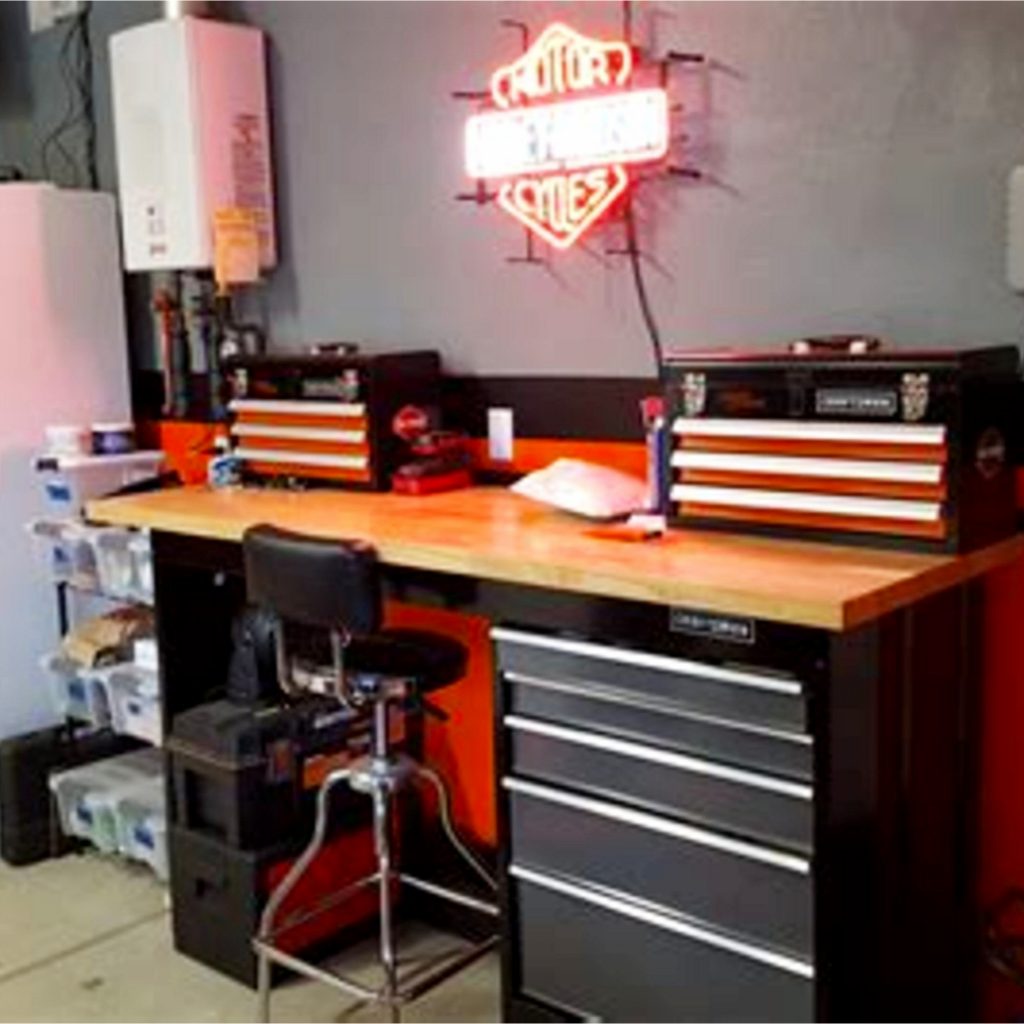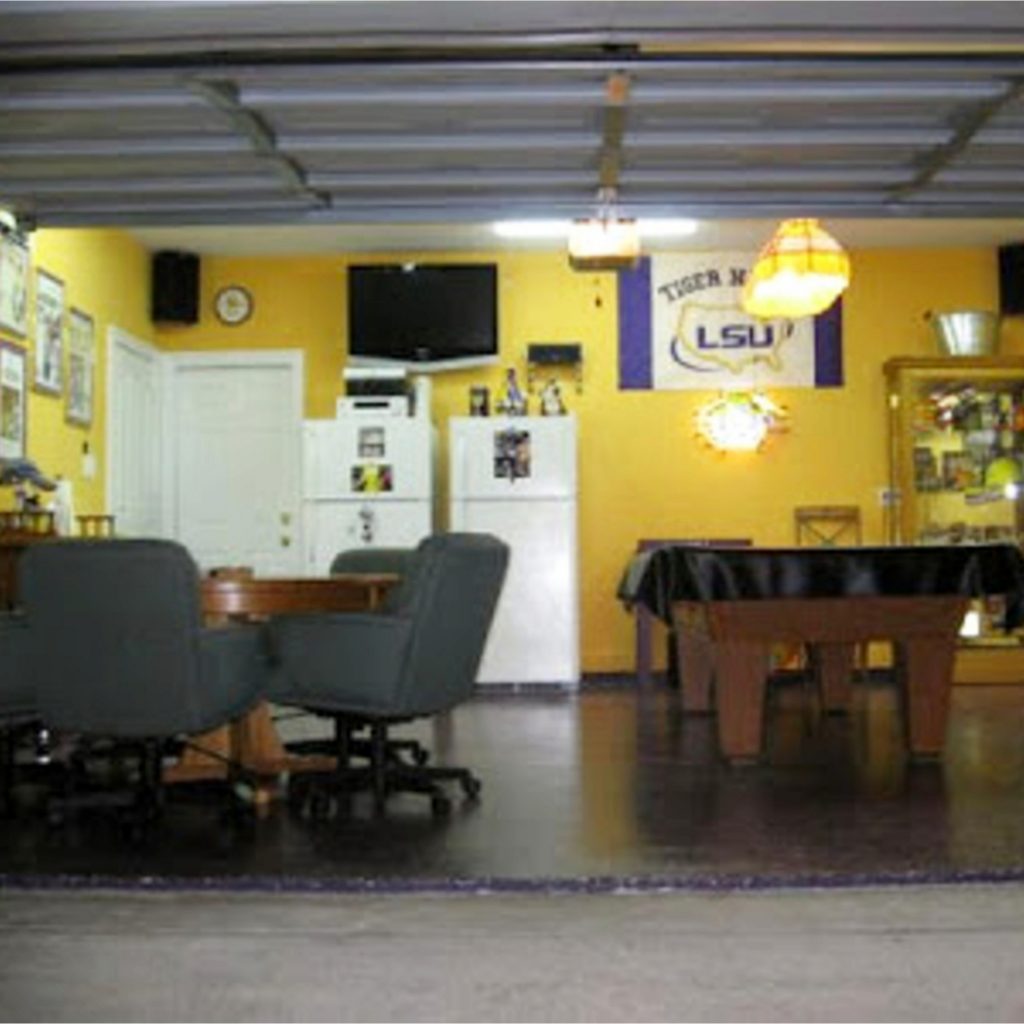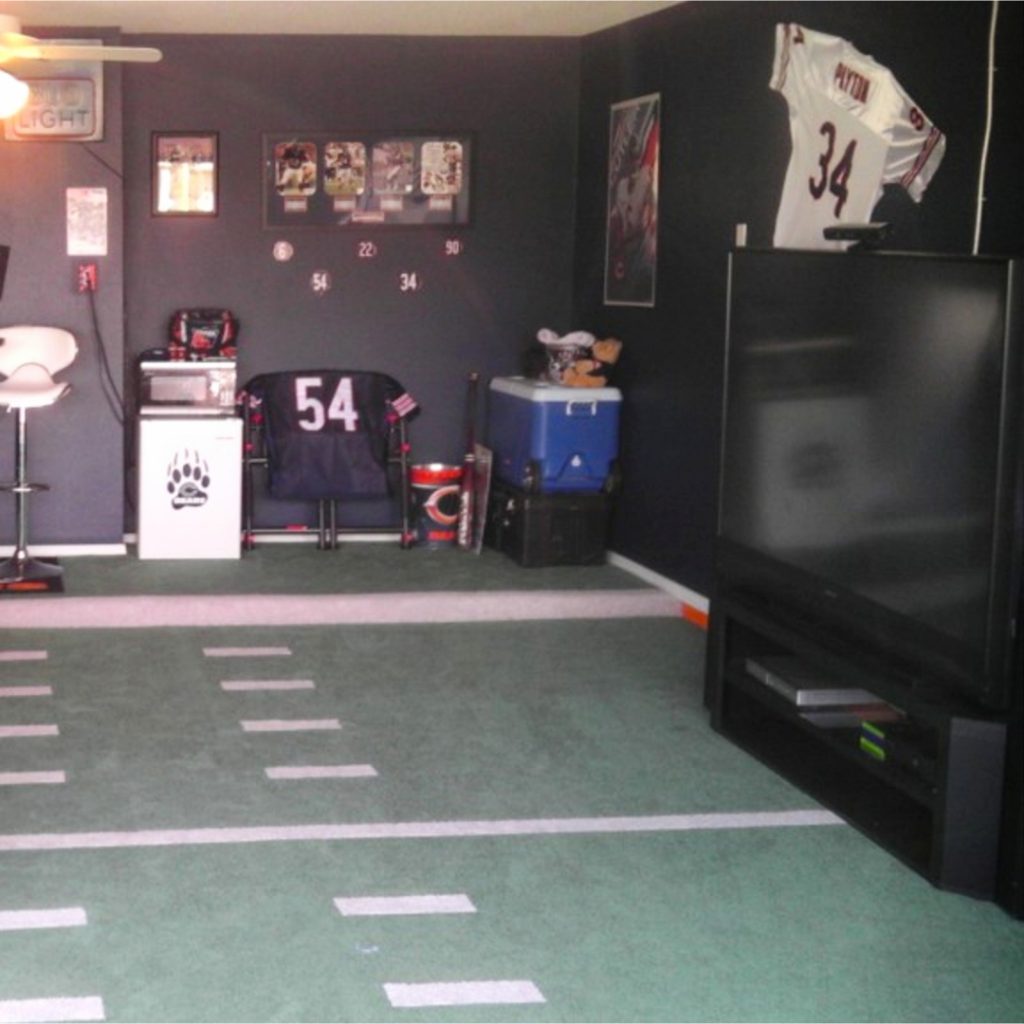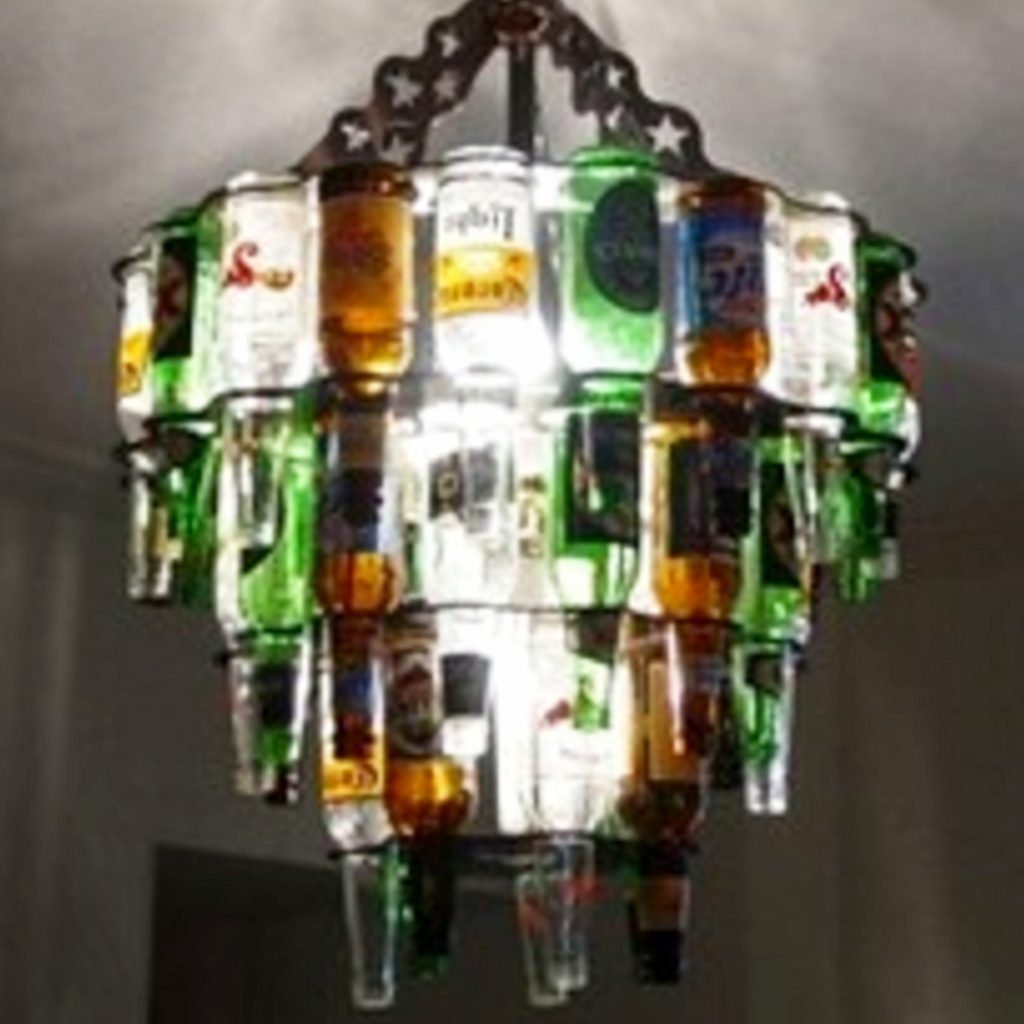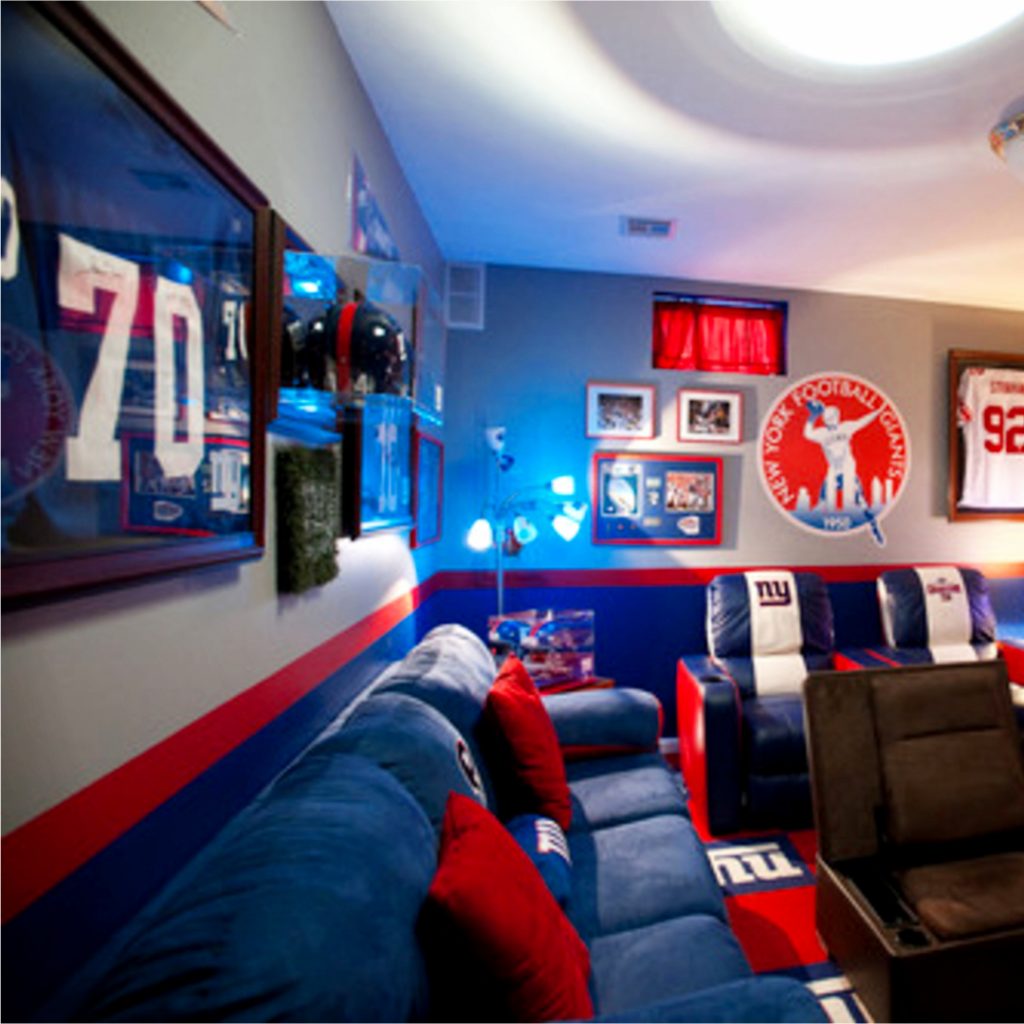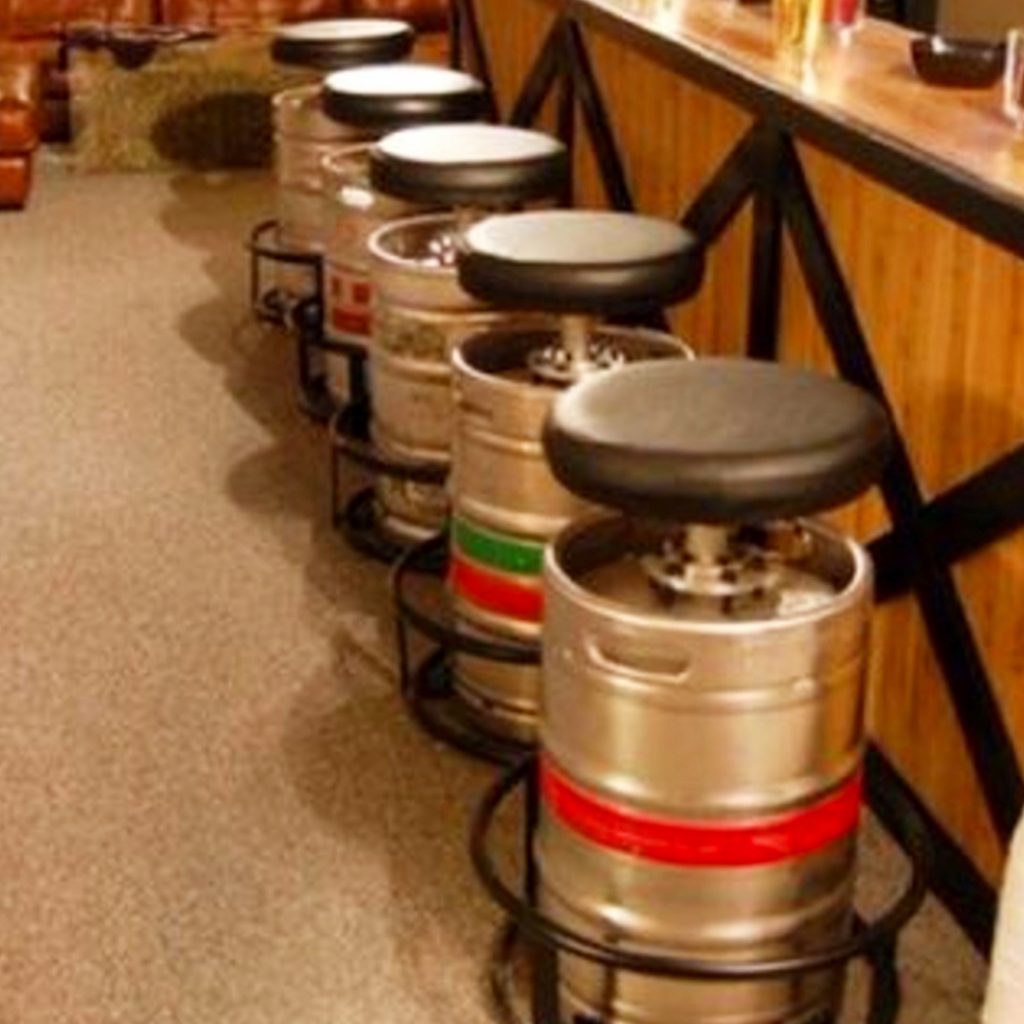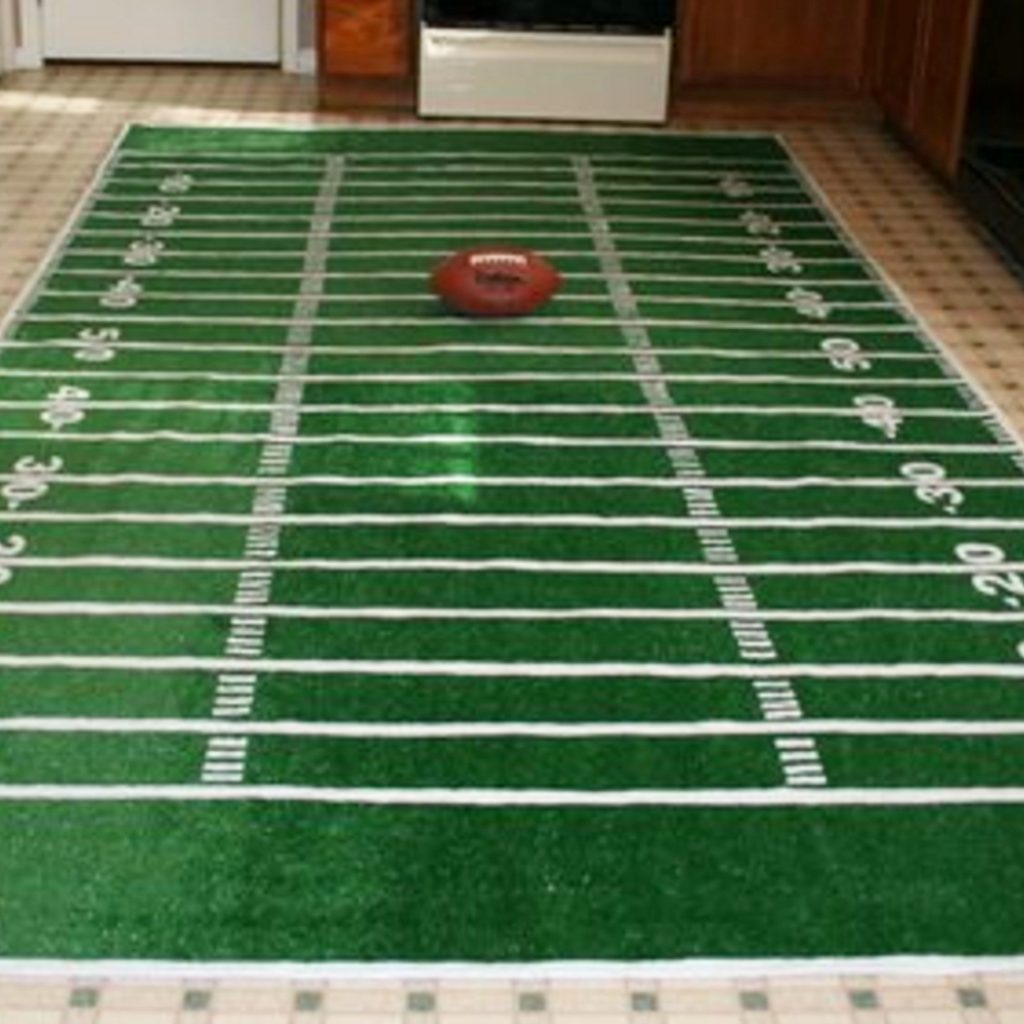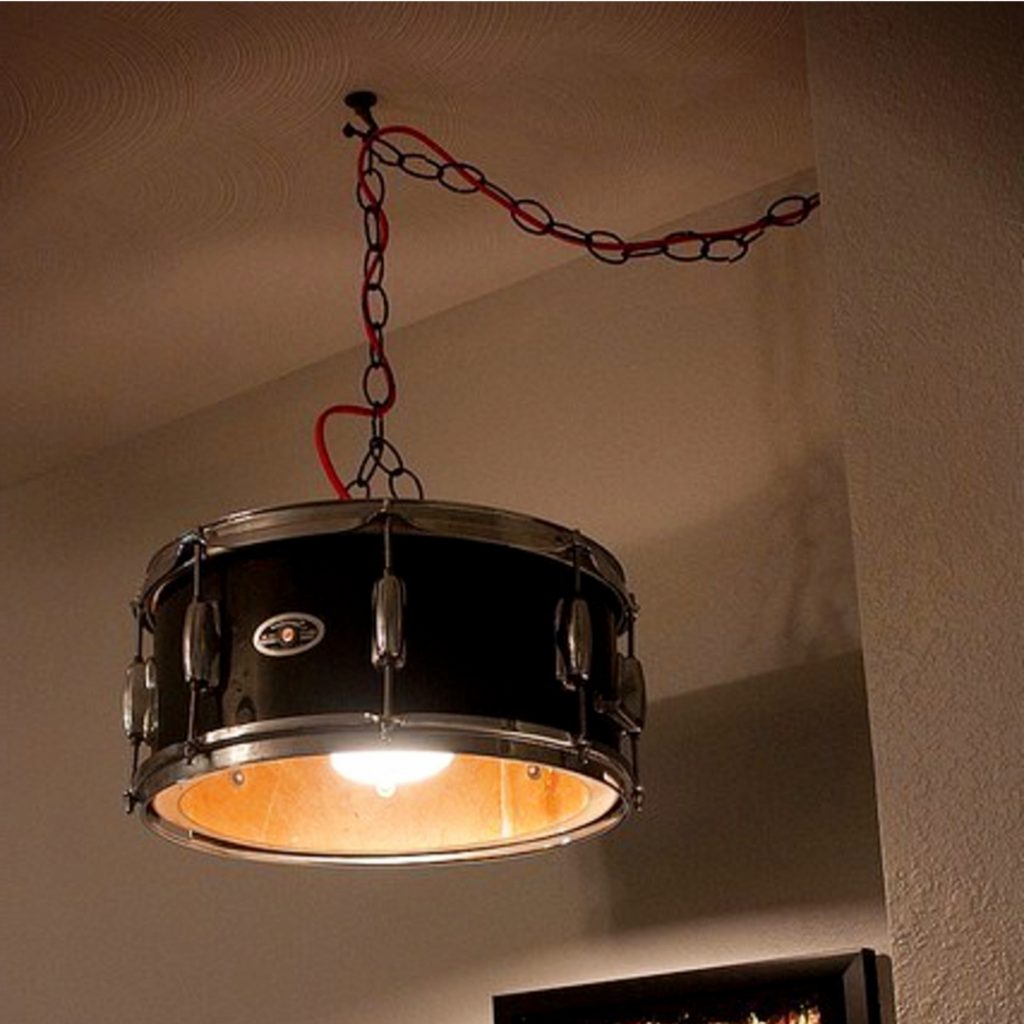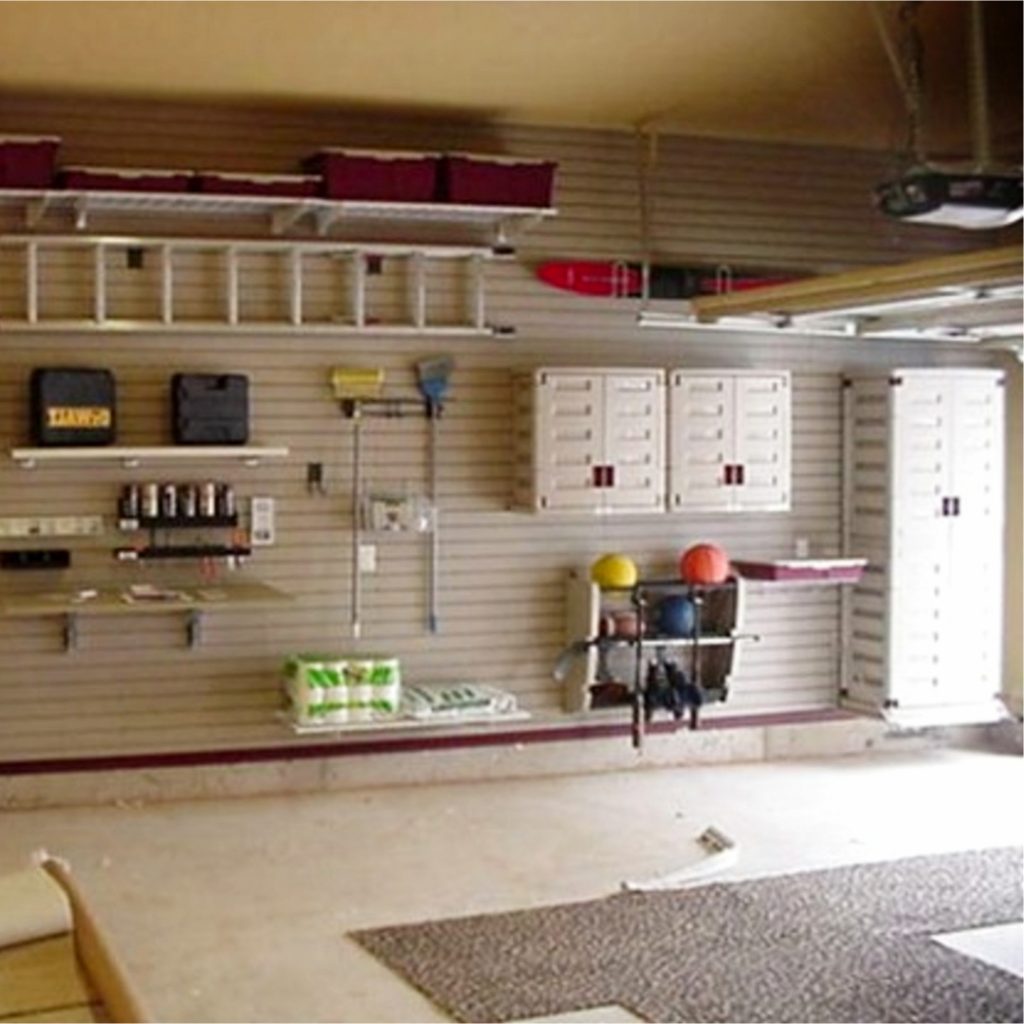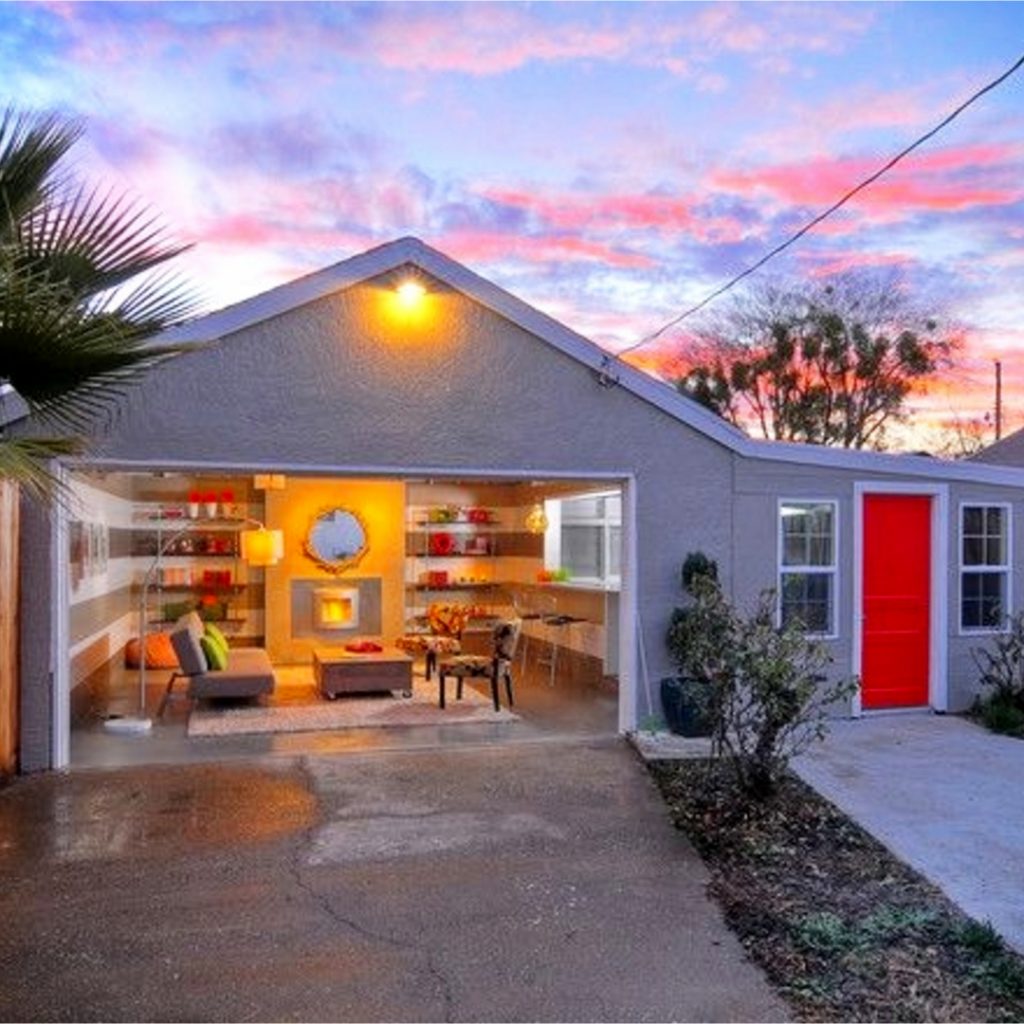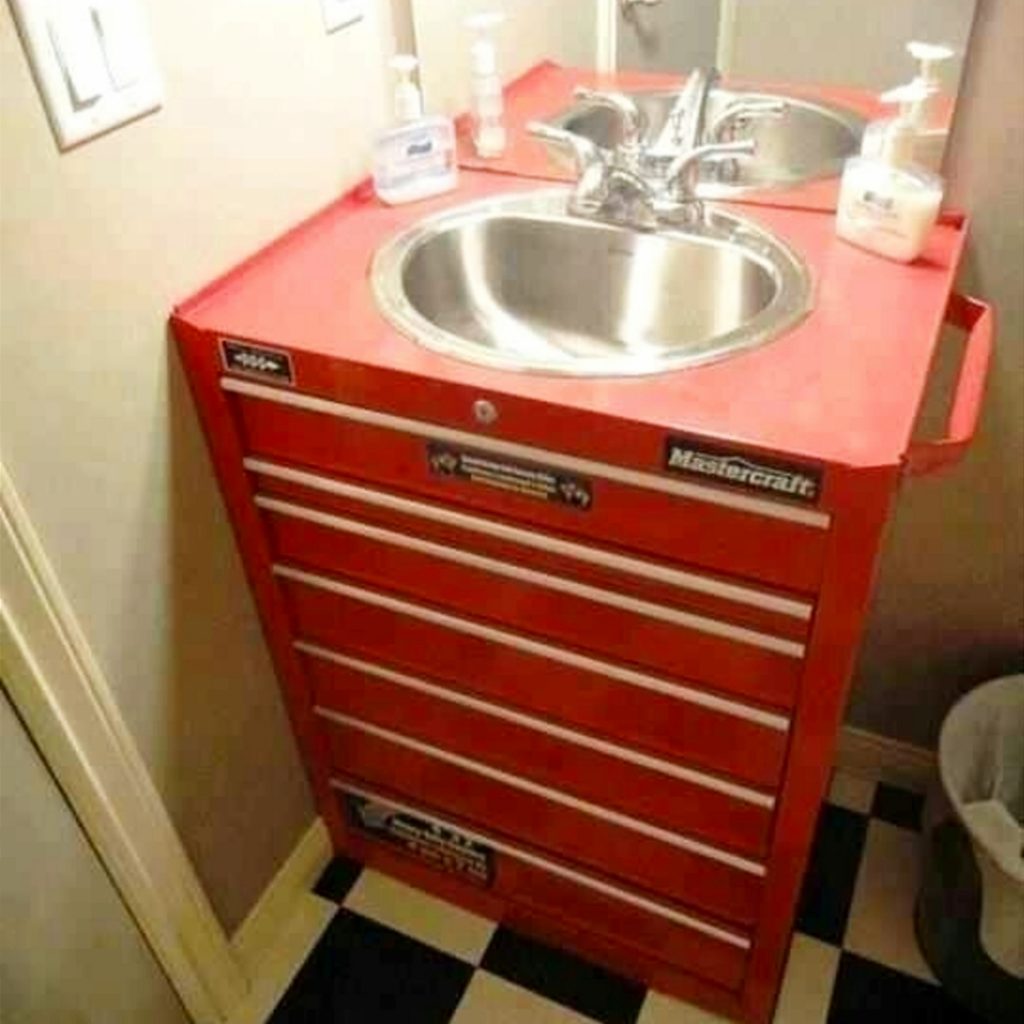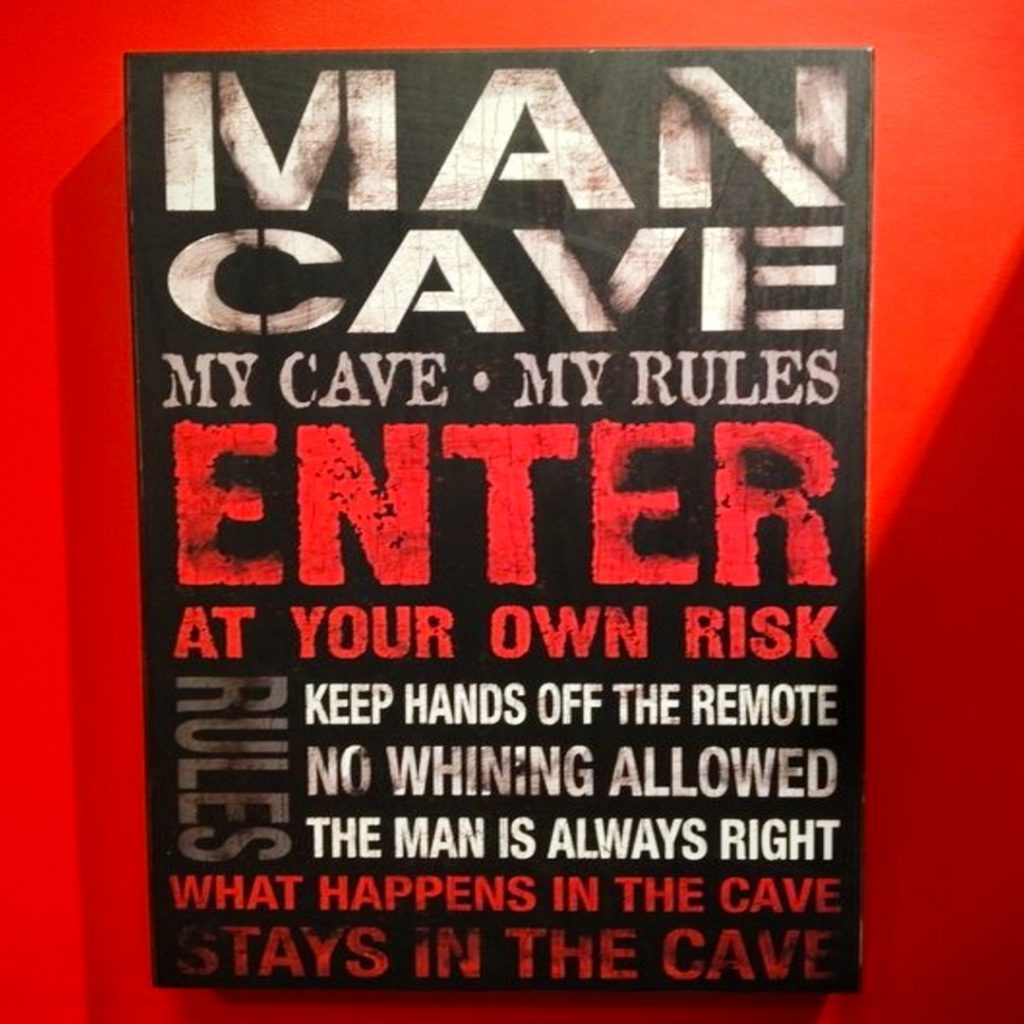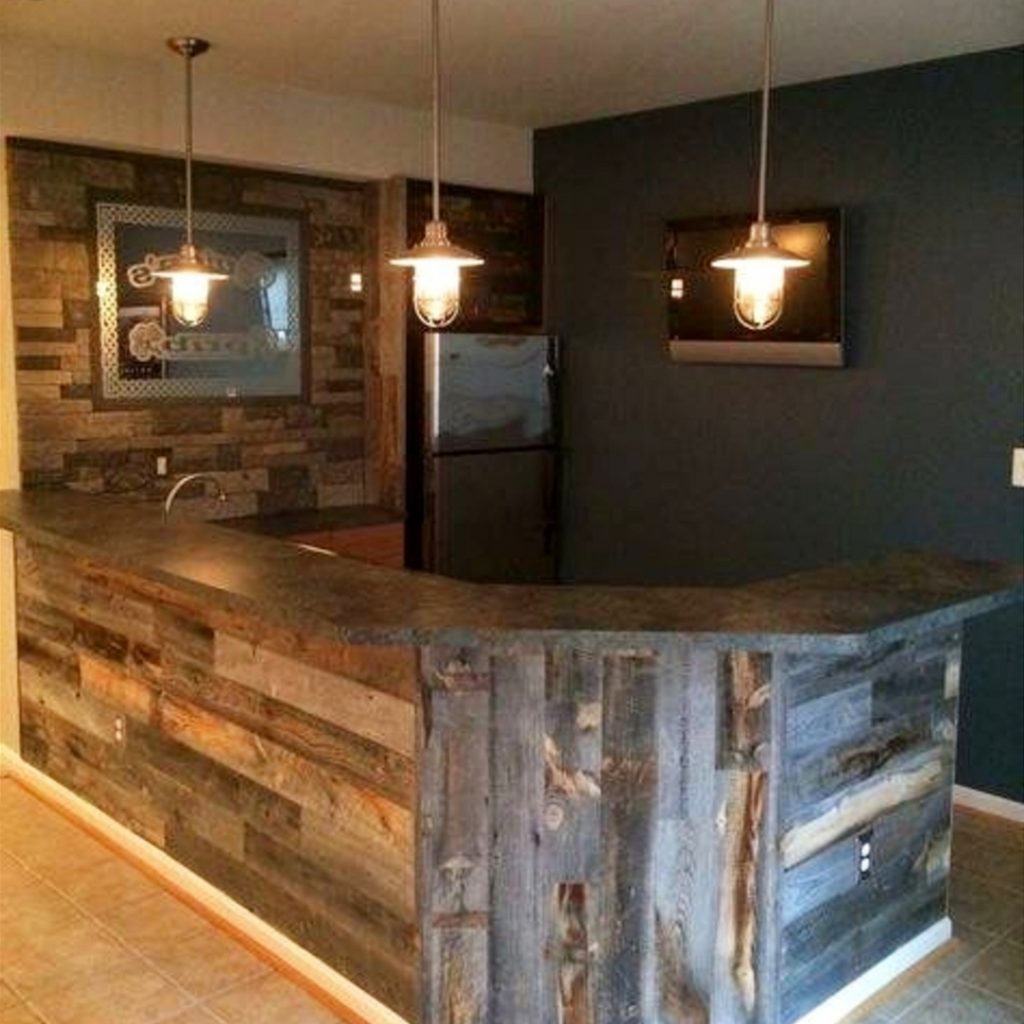 Cheap and Easy Garage Man Cave Ideas
If your man cave budget is limited, here's some cheap and easy ideas for your garage Man Cave.
Push all OTHER garage stuff to the sides.
Throw an old rug from your local thrift store on the floor.
Get an old couch that someone is giving away.
Score a cheap pool table.
Get a cooler, beer and ice.
Done.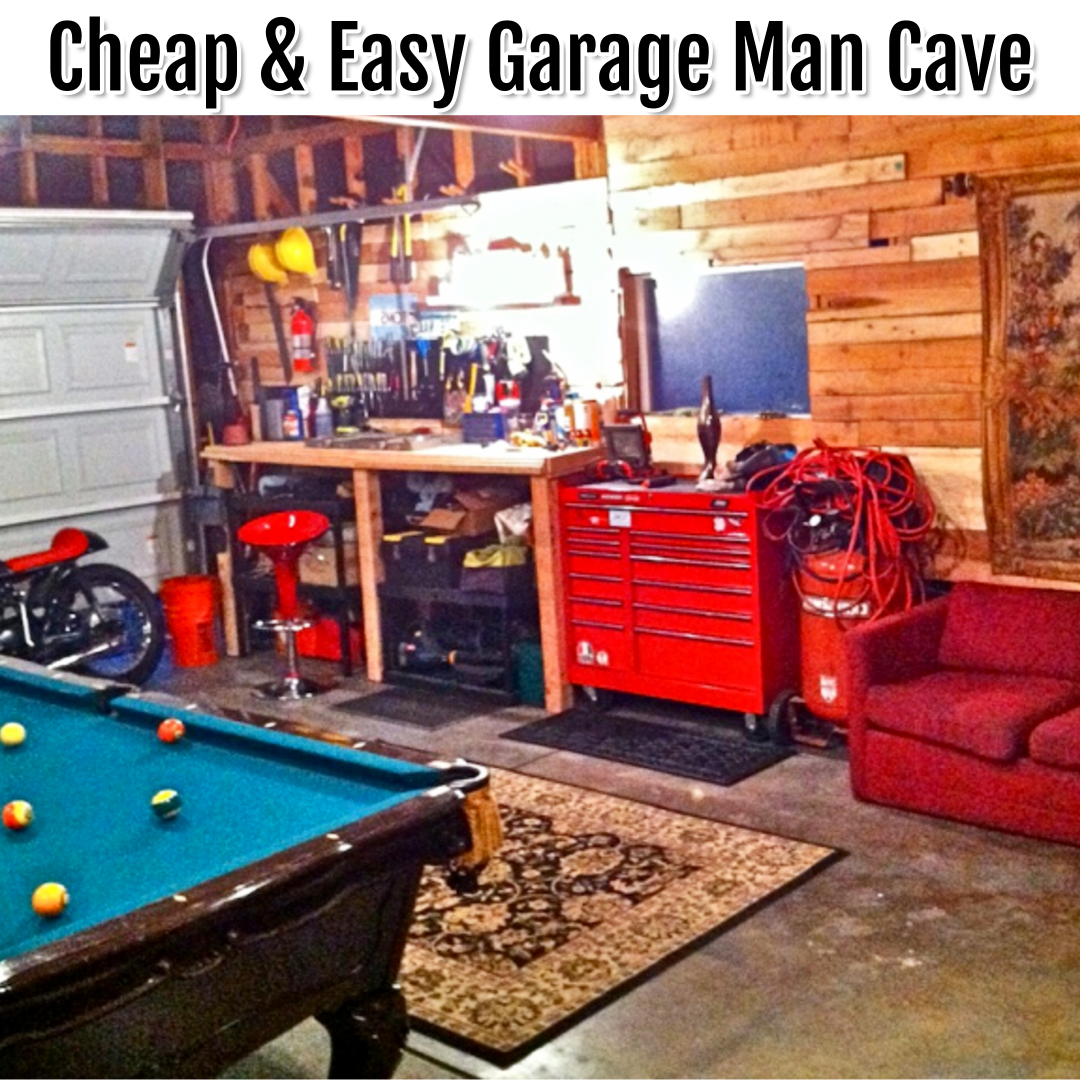 If you are the kind of guy that wants a "man cave", the garage or part of the garage might be the perfect place. Garages are usually the territory of the man of the house and if you have extra space in your garage, you might want to consider some garage ideas to transform it into a place where you can comfortably hang out.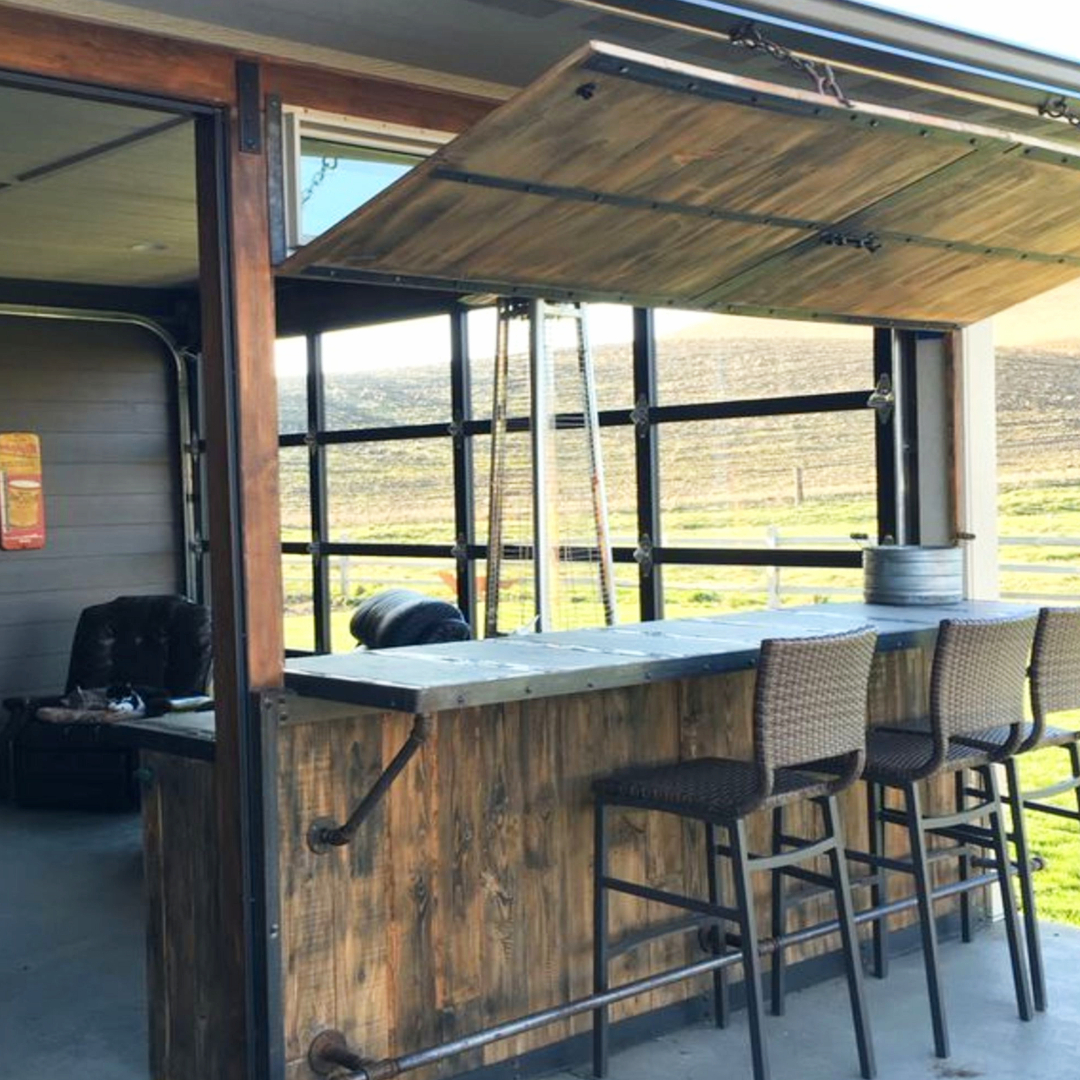 ---
---
How To Create a Garage Man Cave
We've already talked about creating a laundry nook in your garage so now let's talk about ideas for how to transform a garage into a man cave…
One of the things you can do in order to create an awesome and affordable man cave is to refurbish (or "repurpose") some unwanted or unused furniture in your house. You can also ask your relatives if they have extra stuff just lying around in their garages or storage areas. These unloved furnishings, fixtures, and whatnot can be your best resource. You can repair what's broken, mend whatever is torn, and take those that require technical attention to a real repairman.
Convert a basketball net and backboard into a cool table for a garage man cave
---
---
If you can spare a few hundred dollars, it is best to get lighting fixtures from a local store. Choose the ideal size and style that will match the interior and exterior of your man cave. It is better to go for CFL lights and bulbs since these can help you save on the electric bill.
For a rustic look, you can simply scratch off some of the paint on your shed's exterior and interior. You can use a steel brush to do this, ensuring that you'll go light with the scratching action. It is ideal to know if the unit has been painted with a primer; so when you scratch some of the top paint, what's underneath can accent the resulting finish.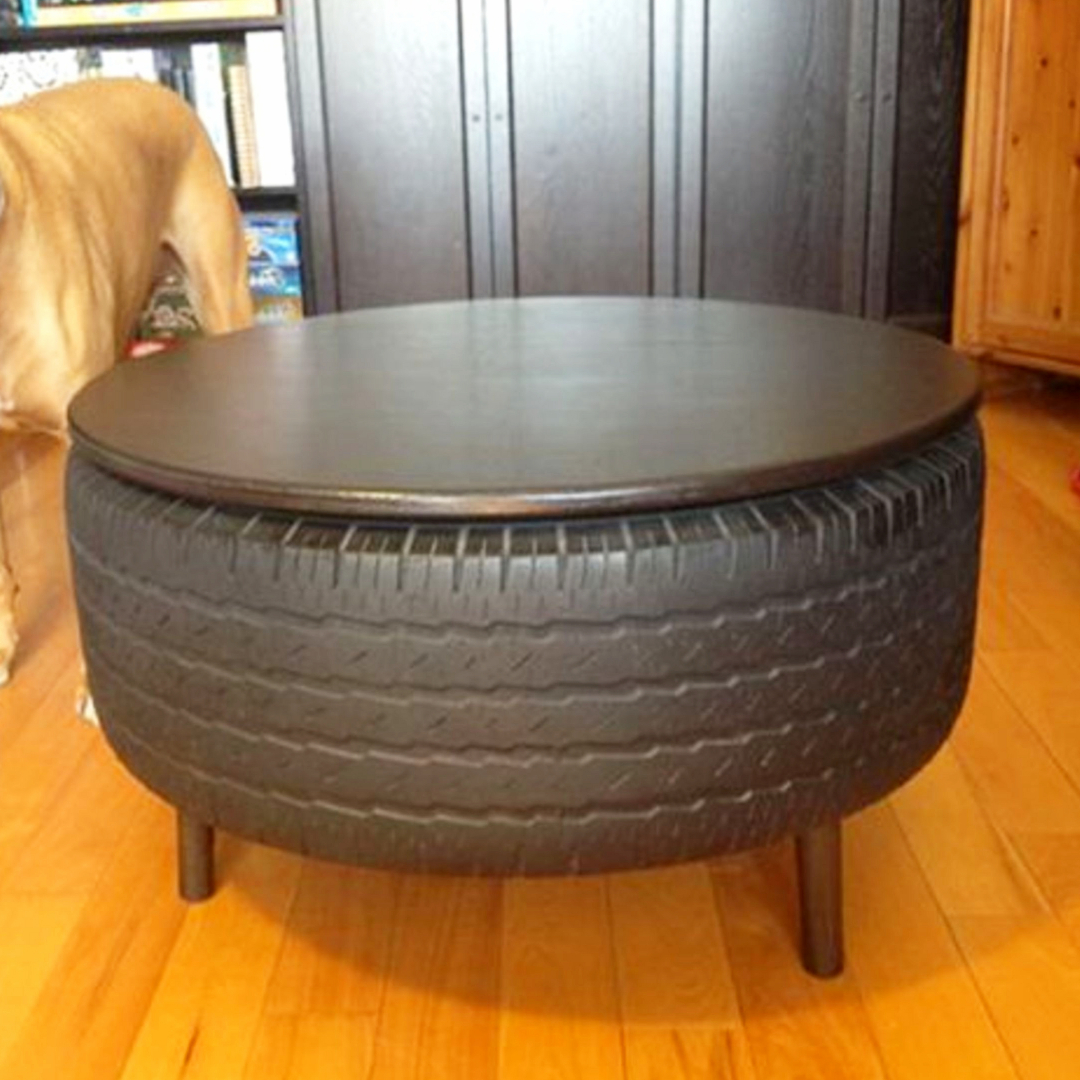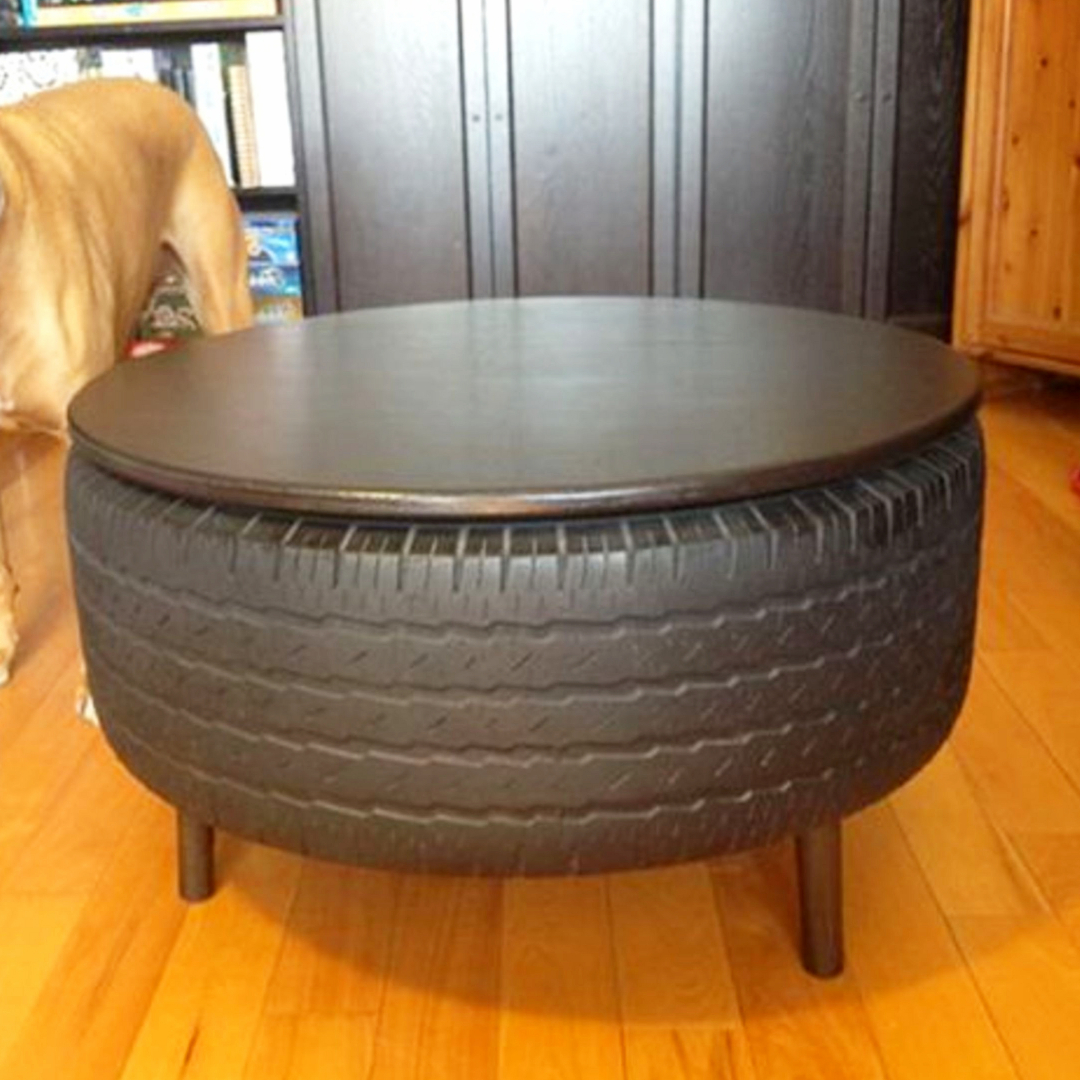 Adding an item here and there from time to time can help cozy up your man cave. It may take some time before you can totally say that it is complete. At this point, it is best to enjoy what you have and just constantly update your fixtures whenever your budget permits.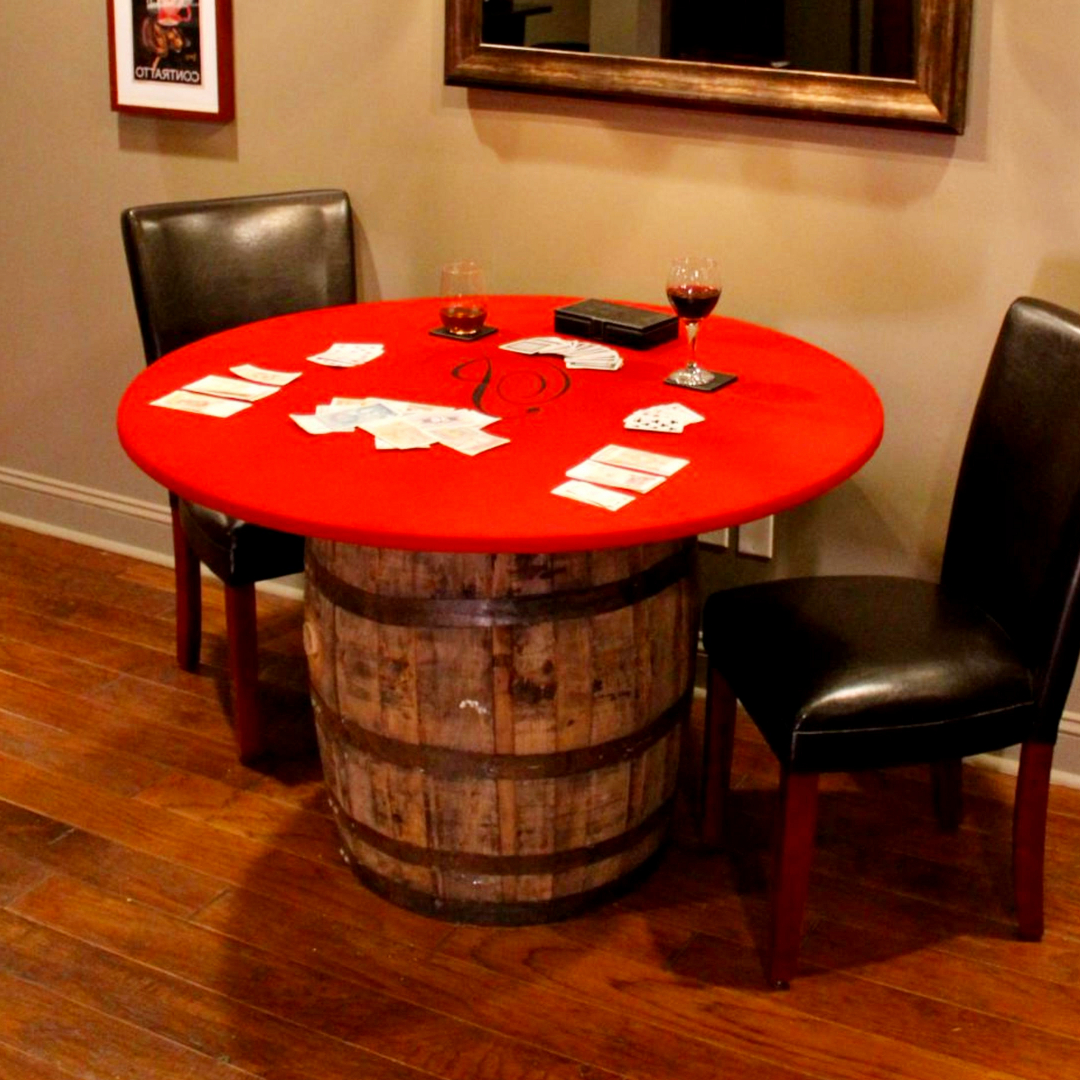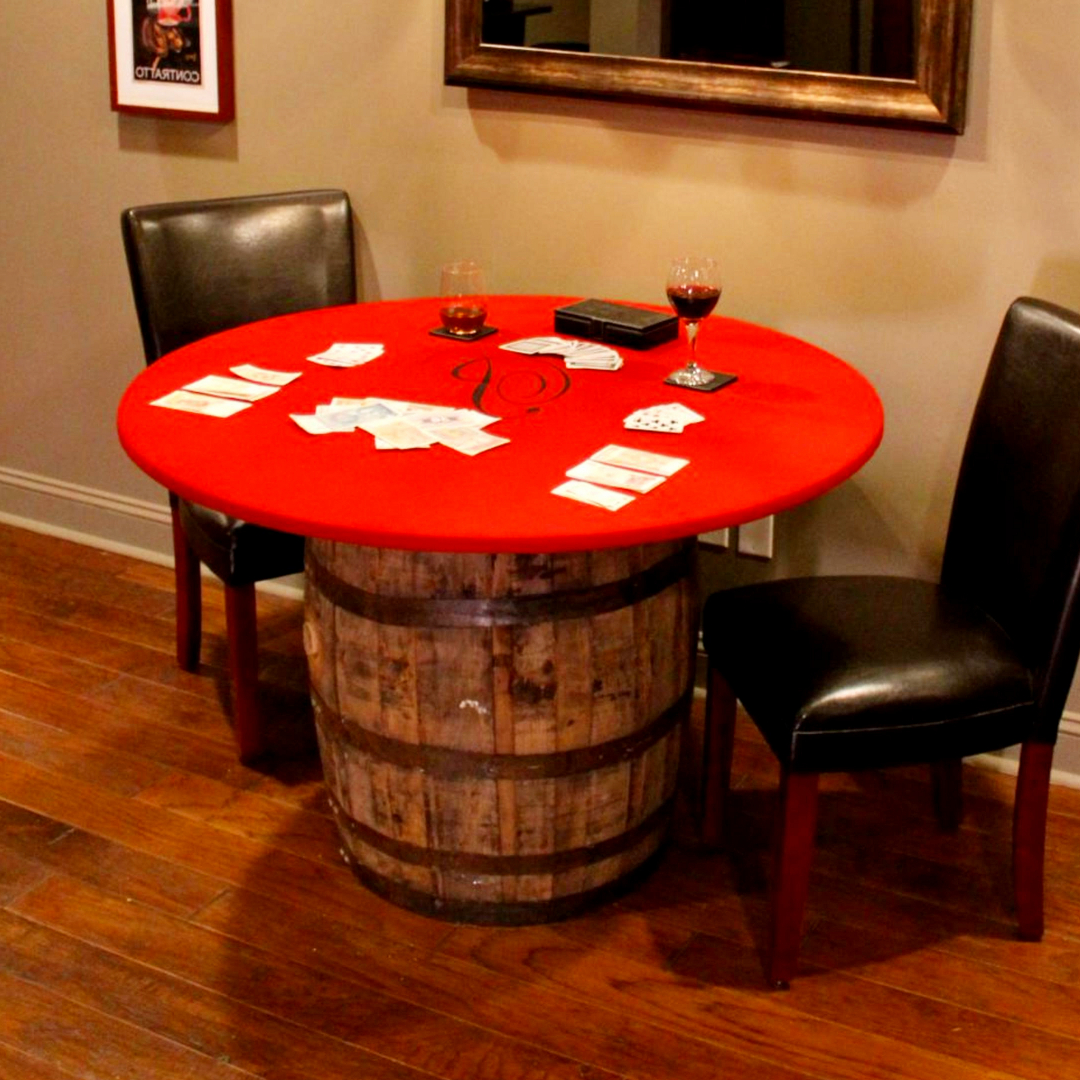 Small Garage Man Cave Ideas
Have a small or single car garage that you want to transform into your man cave? Take a look below at how this guy transformed his small garage into an awesome man cave for only SIX BUCKS!
---
---
Garage Man Cave Floor Ideas
In order to make your garage man cave real cool, you will need to do something with the floor. If you can personalize the garage floor you will be well on the way to making it a fun place to spend some time. Some guys cover the floor with their favorite sports team's logo and make their garage a place dedicated to sports. You can put all sorts of mats and covers on the floor that makes them a lot more livable than the cold cement that is probably there now.
If you don't want to do anything with the floors just to make them look better, you still might want to think about sealing them. During the cold winter month, your car will track in all sorts of dirt, water, and grime and sealing your floor is a good way to protect it. You car may also leak oil and other things from time to time and a garage mat or sealant is always a good idea.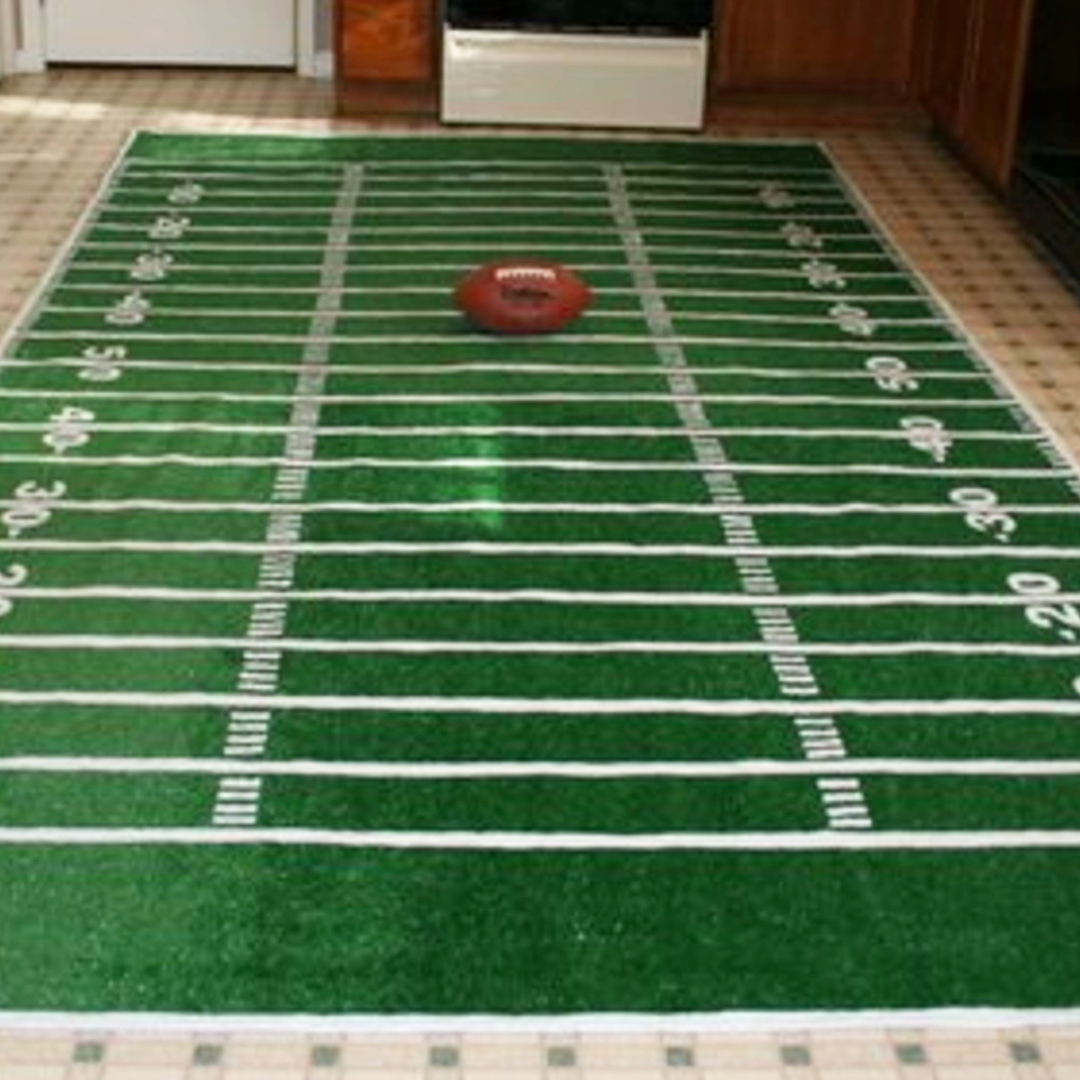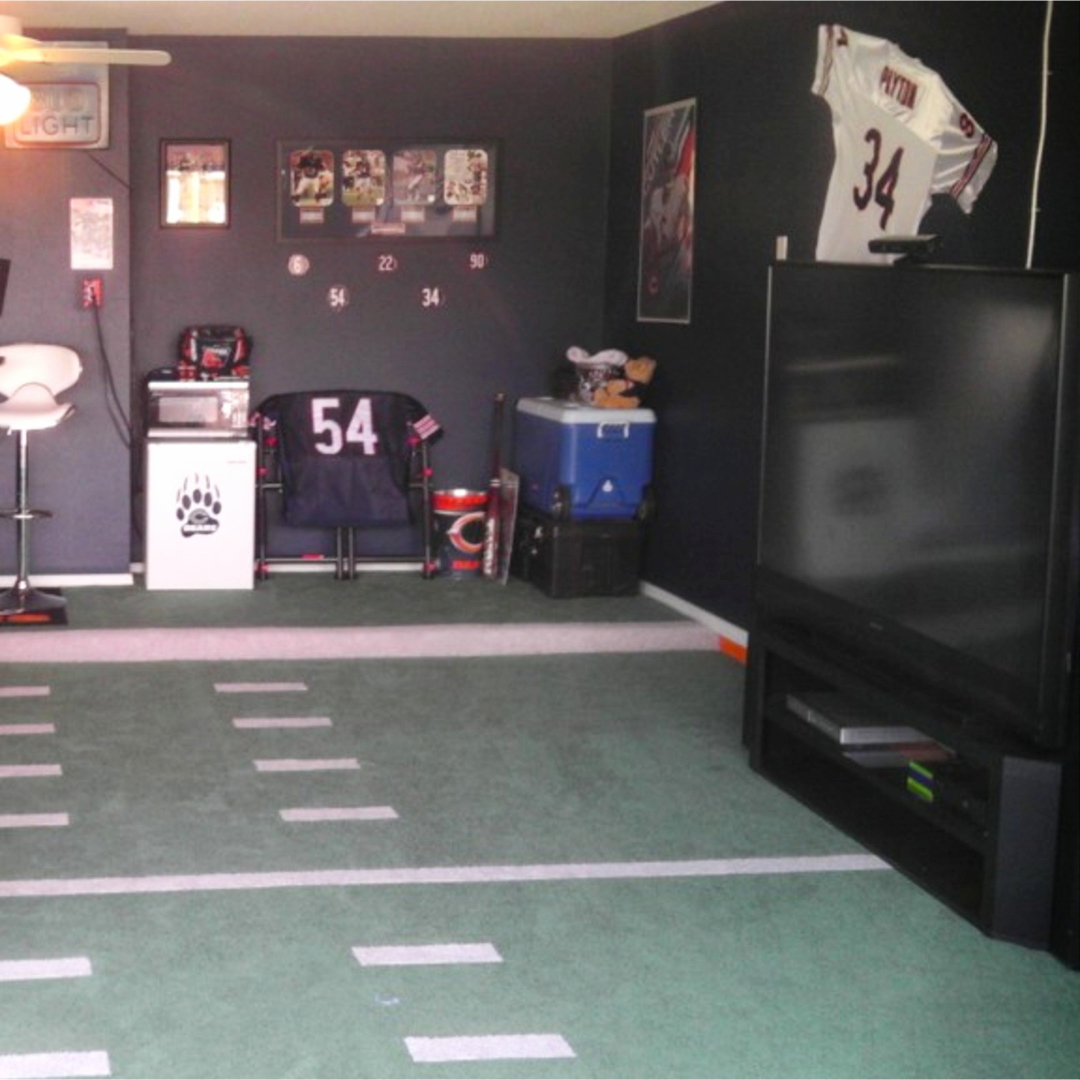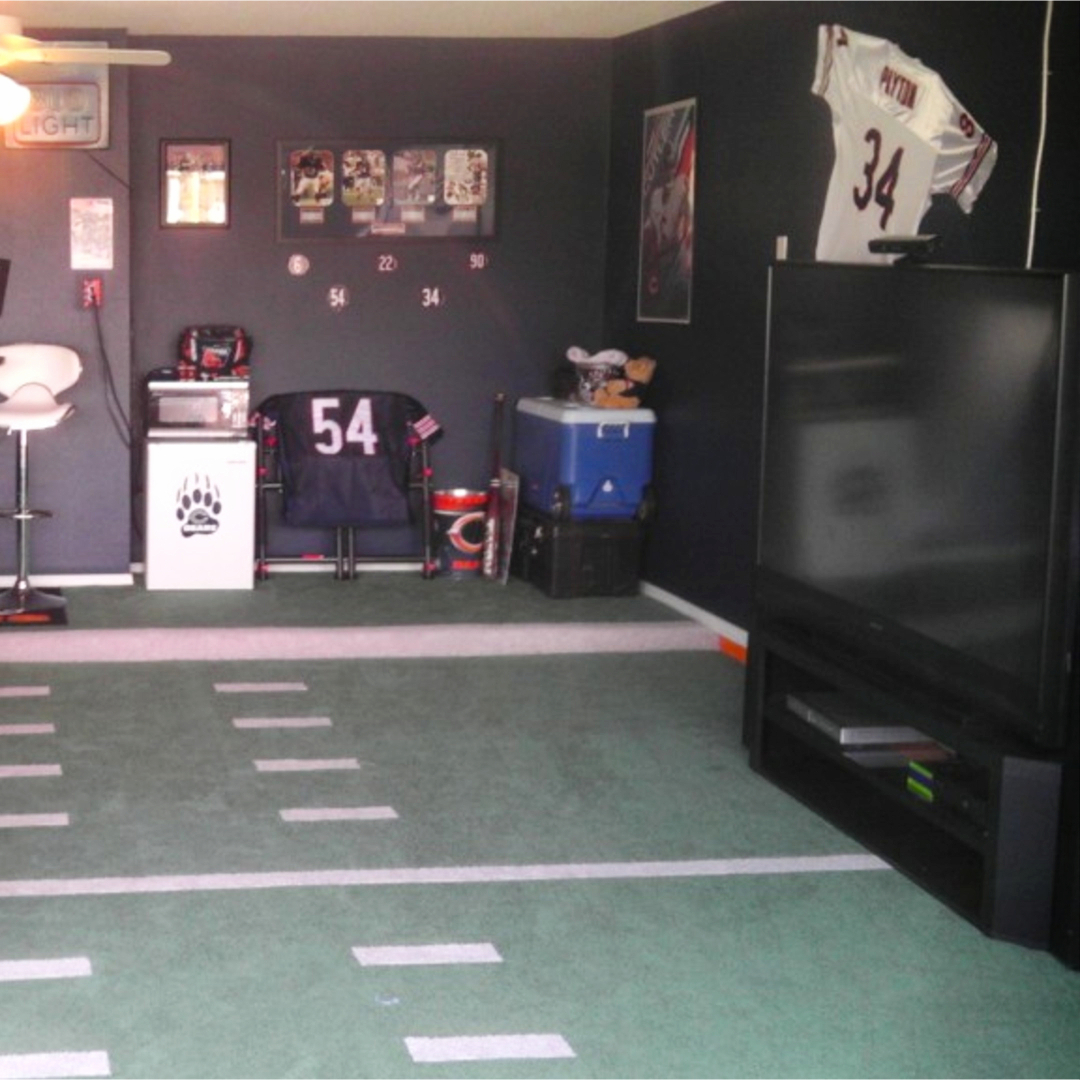 When you choose to finish your garage floor, you will be making a big difference in the quality of your garage. When you compare a garage with a nice finished floor to one that has not, you will see how much of an improvement it is. Just putting mats in the garage can go a long way in making it look better and protecting it from all the harsh elements as well. A nice finished garage floor will help to complete your garage and help with building your "man cave" too.
Garage Man Cave Accessories
Decorating a garage man cave does NOT have to be expensive – you can work with any budget available. There are, of course, the standard "boy toys" that men are putting in their garage mancave.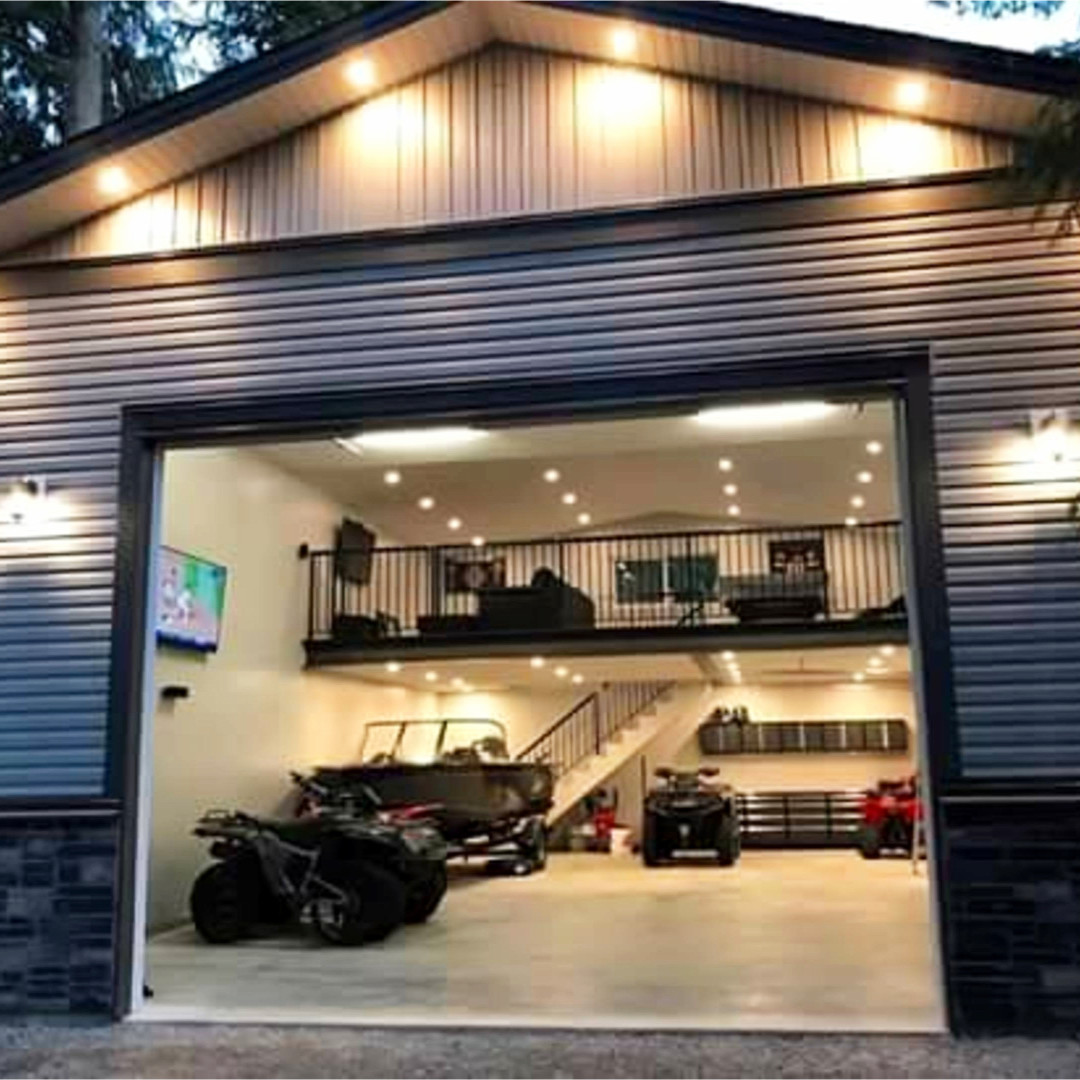 Man Cave Must Haves
These are most popular garage man cave accessories most guys consider to be "Man Cave Must Haves":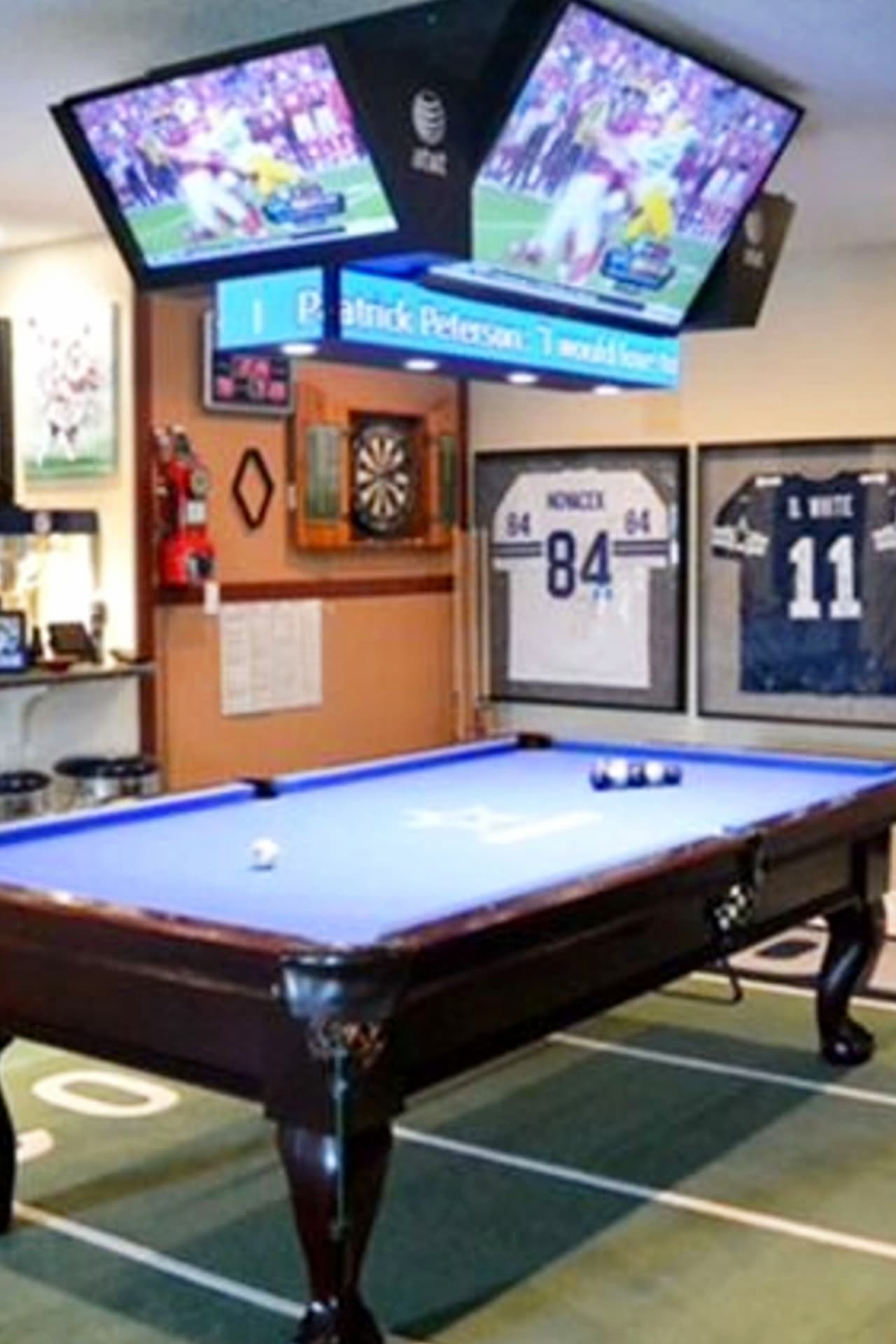 Big-screen TV – always go big (76%)
Recliner – oooh that's comfy – (69%)
Stereo – crank up the tunes – (68%)
Cooler or Fridge – no need to come up for air right away – (67%)
DVD player – think Megan Fox – (67%)
Computer – gimme me my football stats – (65%)
Surround Sound – enough said – (64%)
Poker Tables -yeah – (19%) – what??? that % is crazy talk
Neon Beer Signs – (19%) – you gotta have at least ONE cool sign!!!
If you're considering a bar area in your garage man cave, these must have home bar accessories are perfect for that too (and we HIGHLY recommend a portable ice maker, too!)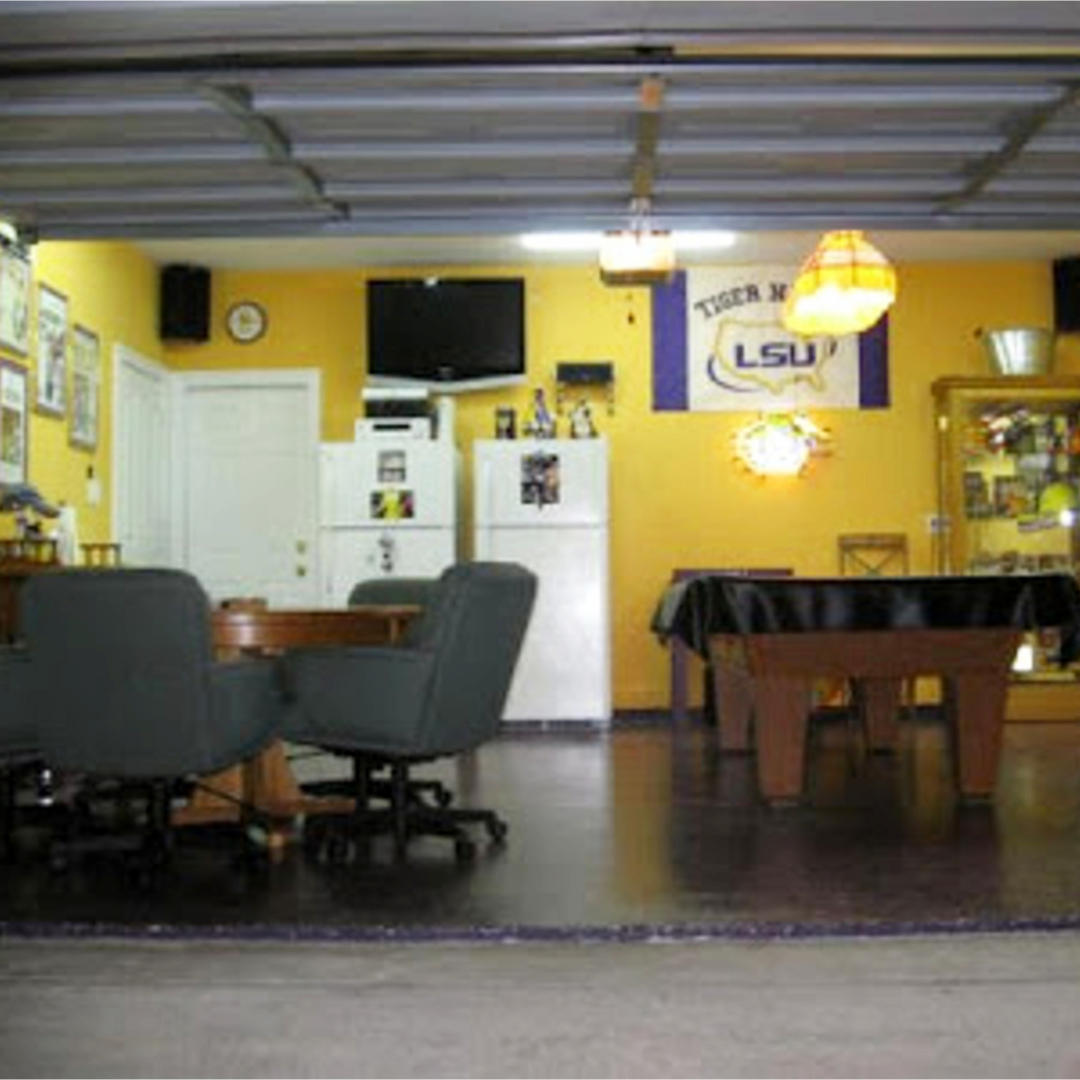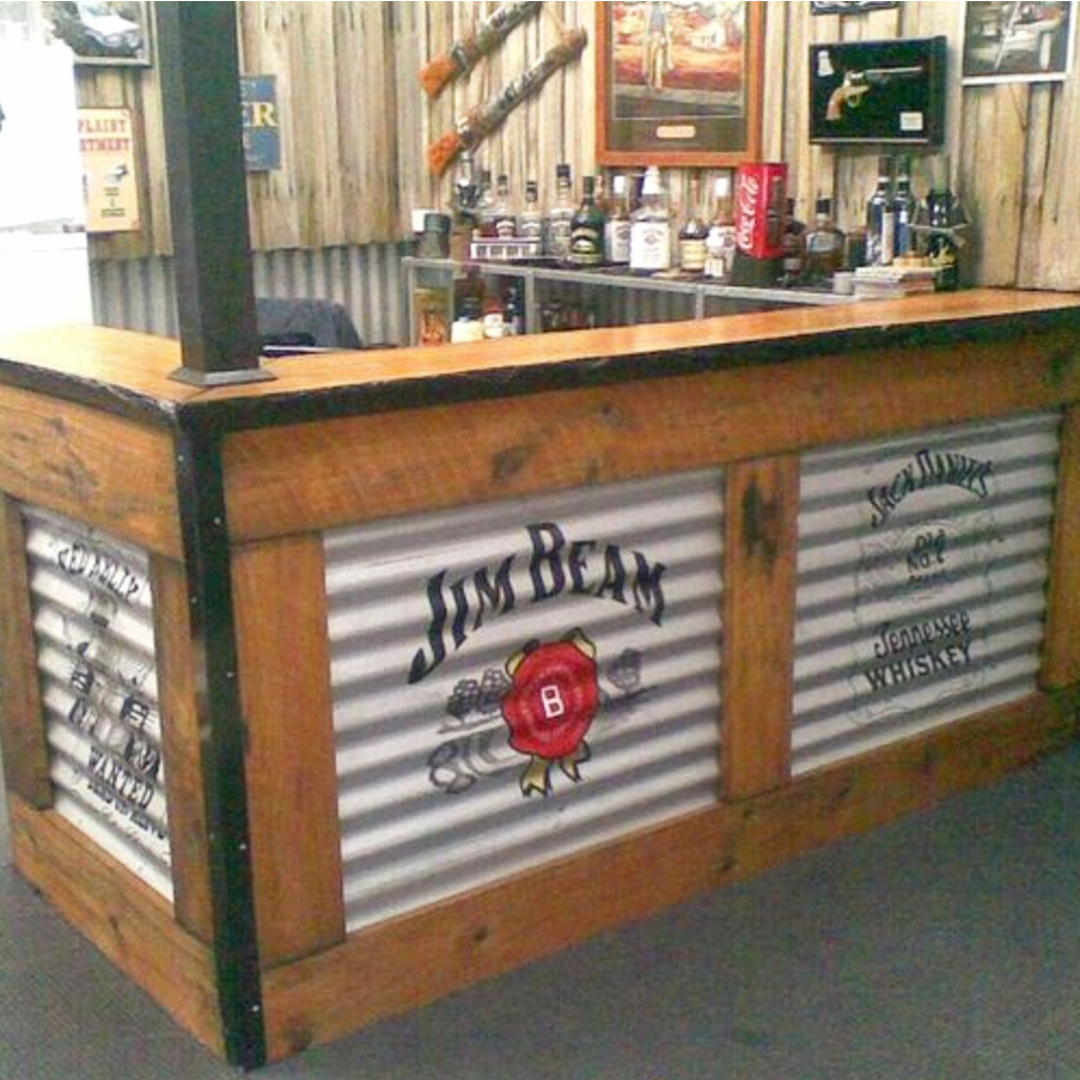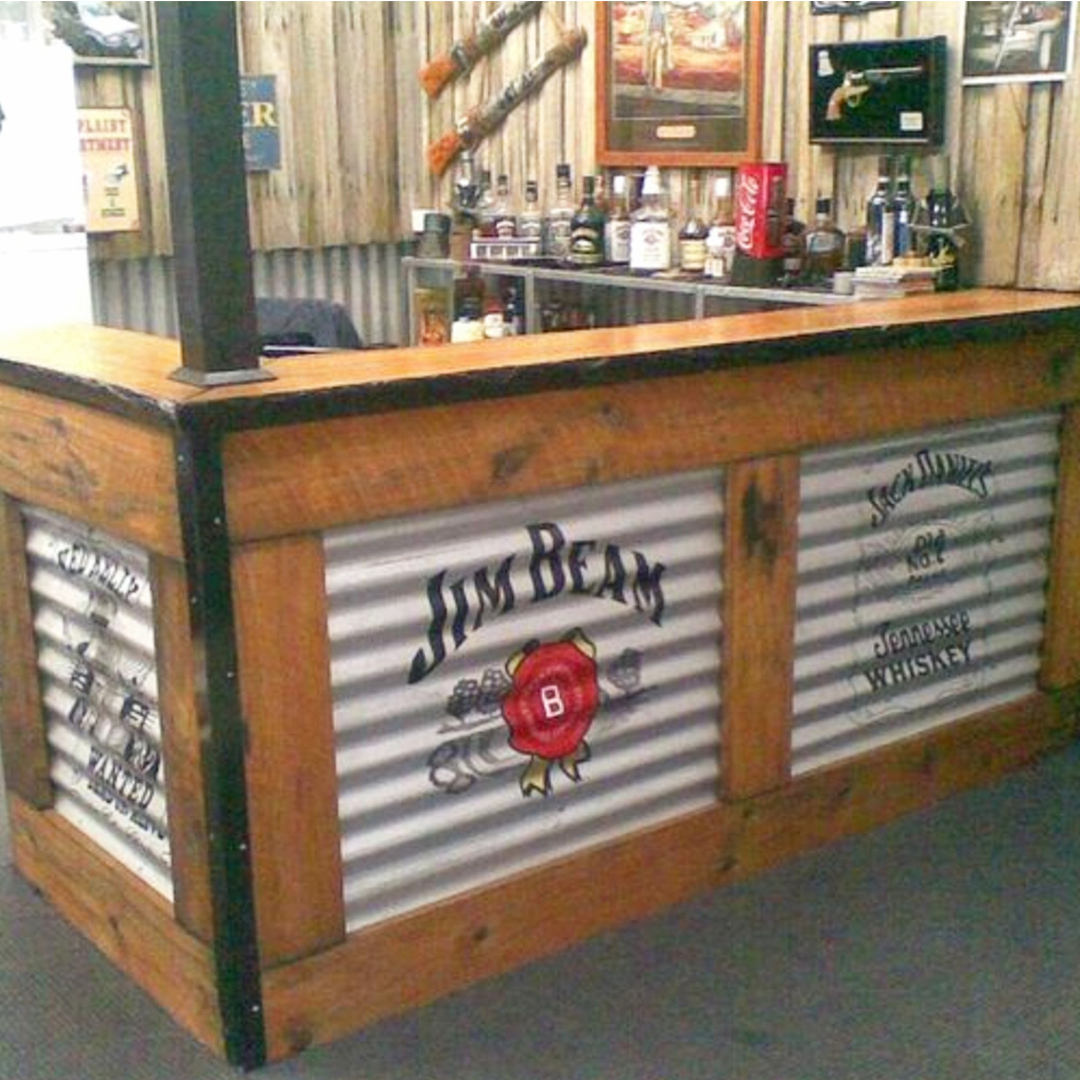 70 Percent were planning on spending $5,000 or under for their rooms… the good news is that it doesn't have to be done all at once either.
Man Cave Decor Ideas Even SHE Will Love
To stay on budget when creating your man cave, hand me down furniture and getting the guys to help build and paint the Cave for pizza and beer will help you save money for the more important things.
The best news of all is that two-thirds of the respondents said that they received "no resistance" to the idea of creating a Man Cave as far as their significant others went…so with that kind of acceptance and the reward awaiting you at the end of it all, go ahead and start working on that Man Cave today!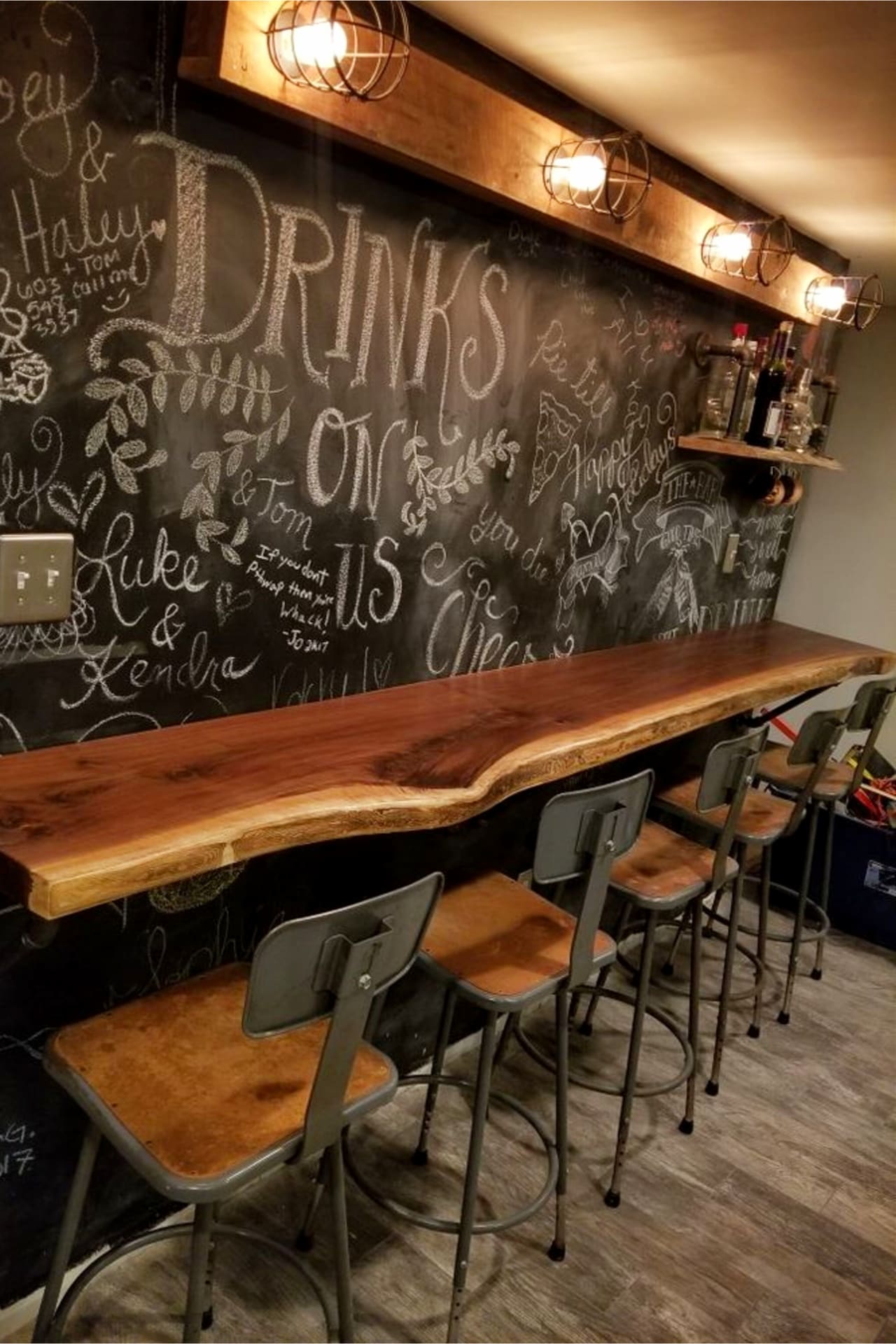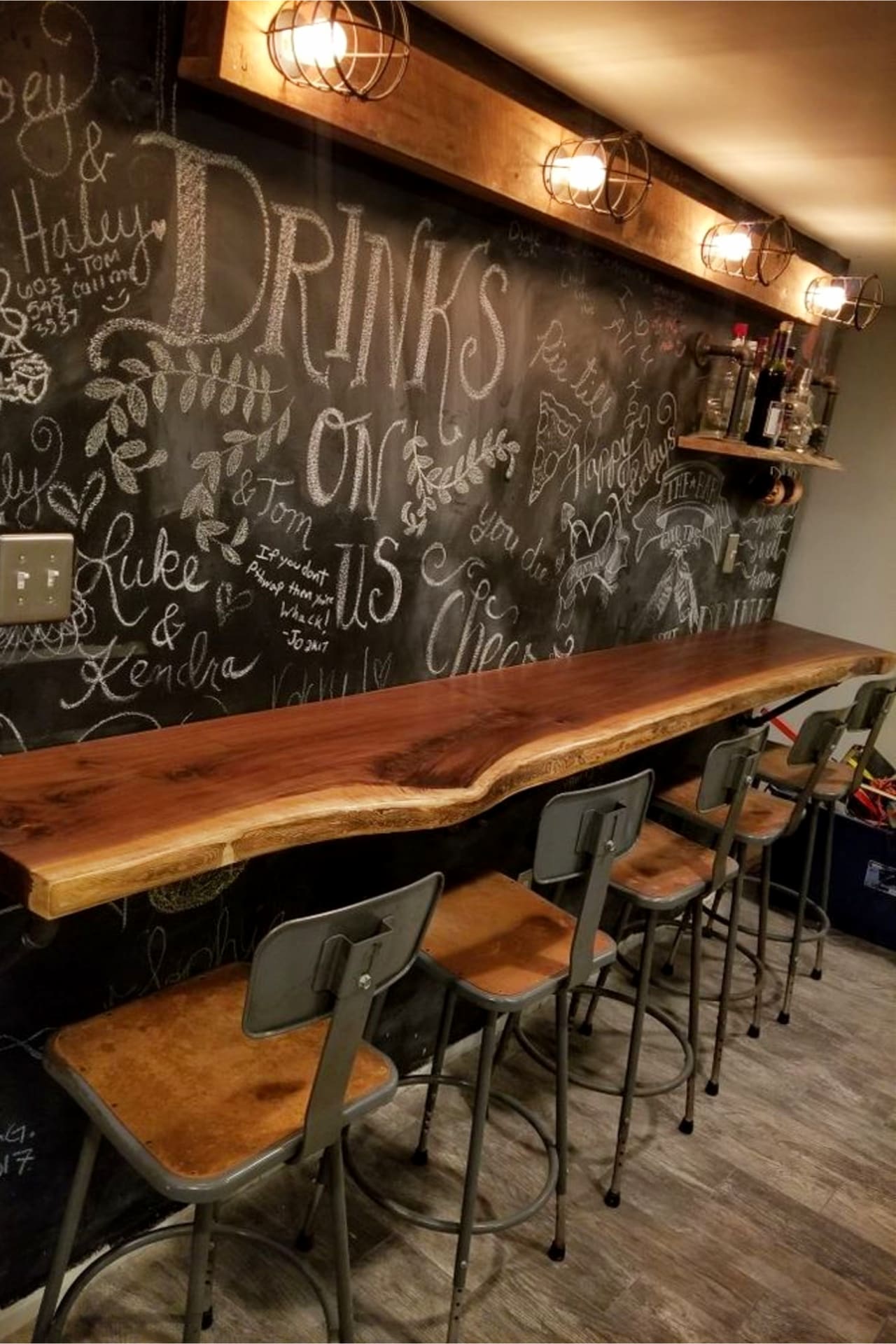 ---
---
Cheap Man Cave Stuff
If you're looking for man cave ideas on a budget, there are a lot of cool things to have in a man cave that are inexpensive. Below is some of our favorite affordable (or downright cheap) man cave stuff:
Last updated on July 31, 2021 4:26 pm
Let's take a look at some cheap and easy garage man cave ideas for YOUR man cave. Here's some quick links for ideas for creating a man cave in YOUR garage: Man Cave Garage Photos Cheap and Easy Garage Man Cave Ideas How To Create a Garage Man Cave Small …