---
Cheap, Easy and CREATIVE Makeup Storage Ideas and Solutions for ANY Small Space –
Inexpensive ways to store and organize ALL your makeup when you've got NO space to put it all.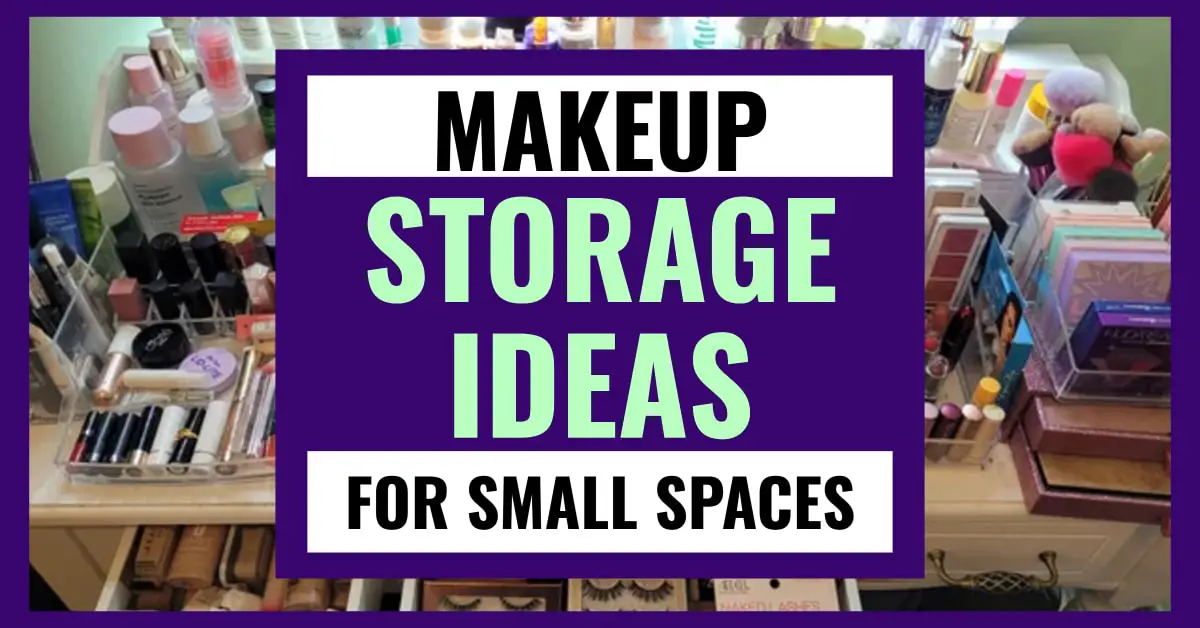 ---
Updated on September 12, 2022
posts may contain affiliate links -Enjoy and feel free to share with your friends!
---
When you have a small space to work with, figuring out storage ideas for your makeup can be SO frustrating – especially if you're on a budget and trying to get things organized for CHEAP (or FREE).
Below you'll find some really clever DIY storage ideas for small spaces (like a small room, small bathroom, small makeup table, etc).
Makeup Storage Ideas
Trying to organize your makeup, but have little space to work with?
Limited space does NOT mean limited storage – you just gotta get creative with some space-saving makeup storage ideas like in the pictures below.
10 Clever Makeup Storage Ideas For ANY Small Space:
Here are some really clever makeup storage solutions and ideas for your small space.
1. Use Cheap Drawer Organizers Like This: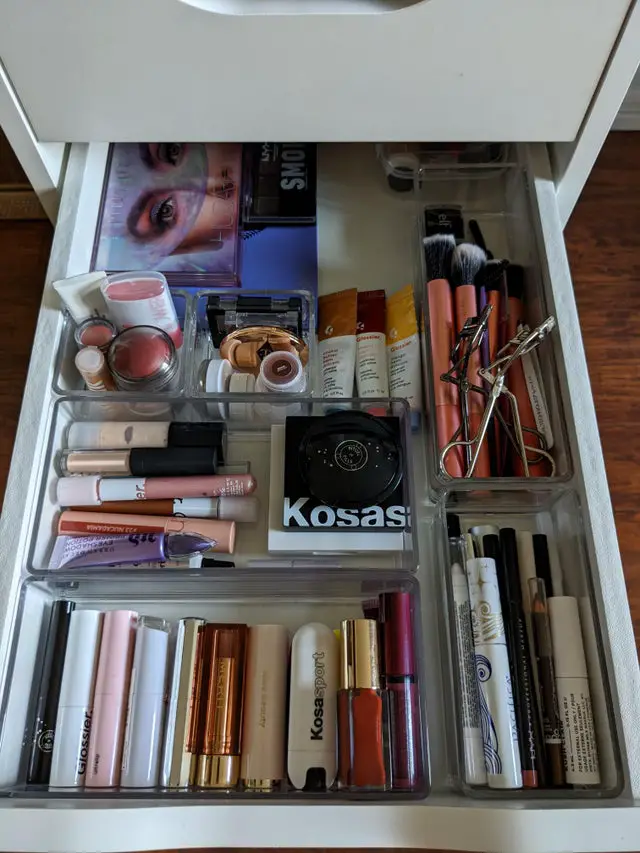 2. Try a Floating Shelf Like This:
3. Or Makeup Table Organizer Shelves Like These:
4. Create an Aesthetic Makeup Corner Like This: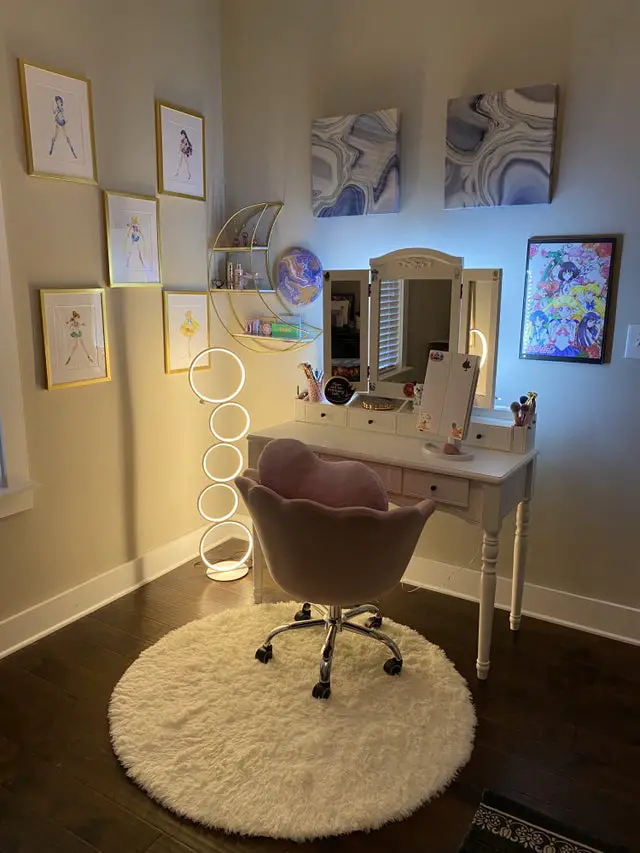 Get that cool stacking circles LED light here
5. Or A Small Makeup Table Like This: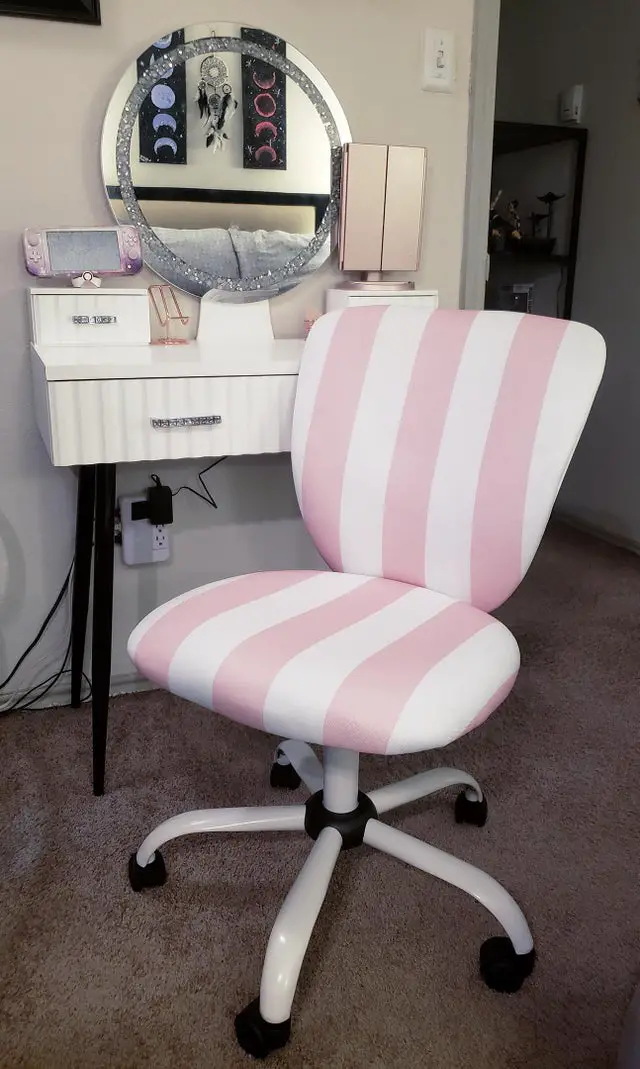 Pink Makeup Table Chair Found Here
6. Get a Cheap Space-Saving Makeup Organizer Like This:
Makeup Organizing Drawers Found Here
7. Or Use Cute Containers Like These: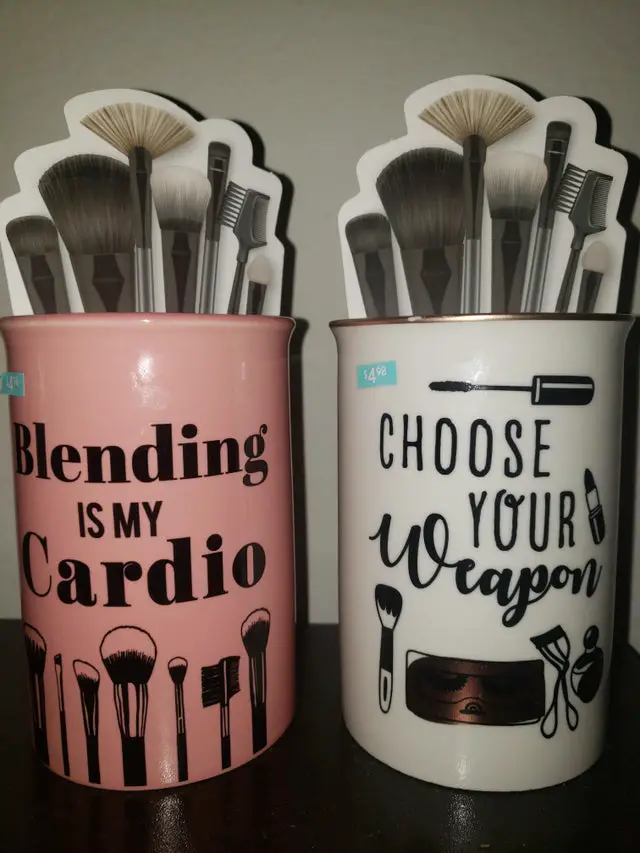 Cute Makeup Brush Holders Found Here
8. Save Space And Use Your Bathroom Wall Like This: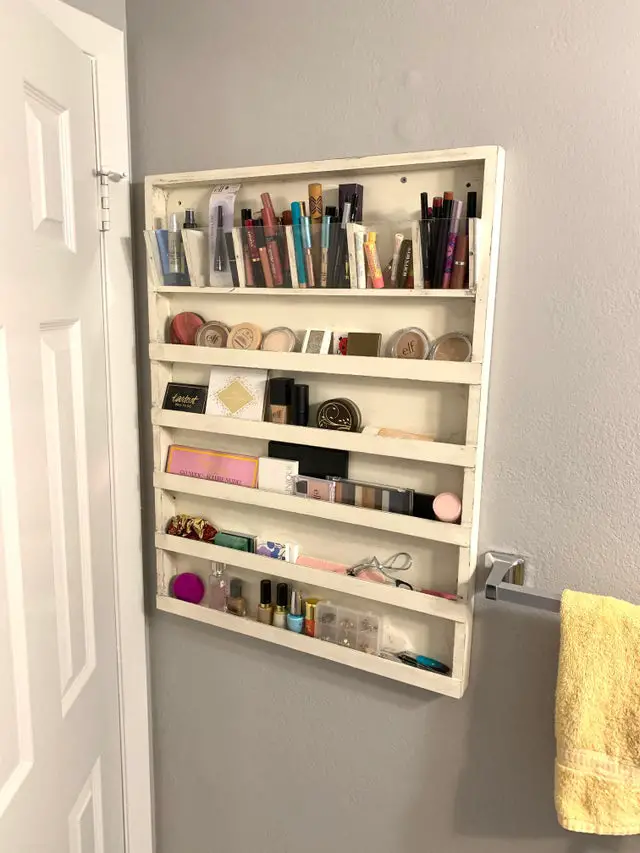 9. Or Use a Makeup Organizer Cart Like This:
10. Best Idea: Use IKEA Shelves Like This: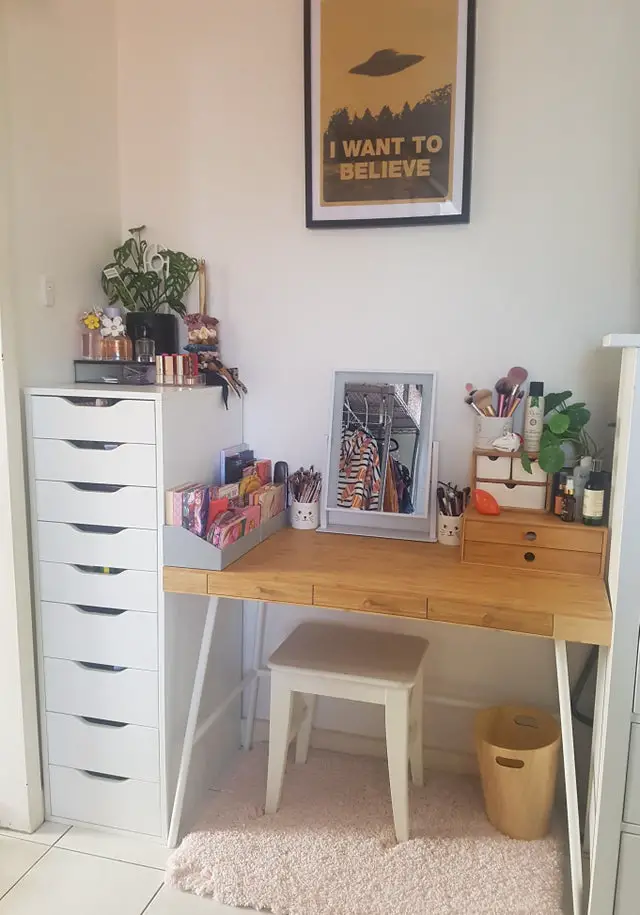 DIY Makeup Storage Organizer
This, to me, is a really clever DIY storage hack that uses something you most likely already have (and probably have many of them in multiple sizes).
Now, YOU may have seen this hack before, but I've never seen it. I guess it's kinda common sense, but it was simply genius to me.
Just watch:
I don't know about YOU, but I have a TON of old Amazon boxes… and get new ones ALL. THE. TIME.
With some paint or wrapping paper or something, these could be THE cheapest makeup storage boxes ever!
Dollar Store Makeup Storage Hacks
I just love all the clever little makeup storage hacks she shares below.
Best of all, they are ALL done using Dollar Store organizers and cheap things from the $1 aisle at Target.
Small Bathroom Makeup Storage Ideas
Small bathrooms are the WORST, right? There's never enough space to put your stuff let alone actually organize it.
If you're trying to find makeup storage solutions for your small bathroom, my best advice is…
– Get some type of makeup storage unit that can hang on the wall, or
– Get a narrow and tall makeup storage organizer to take up the least amount of counter space possible, or
– Hang some DIY floating shelves to put your makeup on, or
– Try to work with the space over your toilet to maximize the space you DO have without cluttering up your bathroom counter.
 Bathroom Wall OrganizersGet More Info Make Up OrganizersGet More Info Over Toilet StorageGet More Info
Space Saving Makeup Storage
If your small space is a:
small bathroom, or college apartment, or dorm room you probably have VERY limited storage space available to work with.
If that's the situation for you, this space-saving makeup storage solution just might work perfectly to store a lot of beauty products in a small space.
Take a look: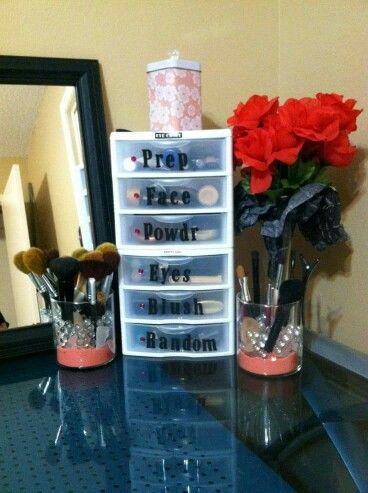 Makeup Storage Drawers
I just LOVE this makeup storage and organization hack in the quick video below… such a brilliant and CHEAP DIY idea for both storing and organizing your makeup hidden in a drawer:
Do you see what she used?
It's just a cheap-o baking rack thing from any Dollar Store near you!
Genius!
DIY Makeup Storage Box
This do it yourself makeup storage box organizer is a really brilliant way to store ALL your makeup in an organized way.
Super cheap to do as well!
Makeup Storage Cabinet
Just a simple baking sheet from your local Dollar Store can be transformed into a great way to store your everyday makeup – right inside any cabinet door (or on your wall).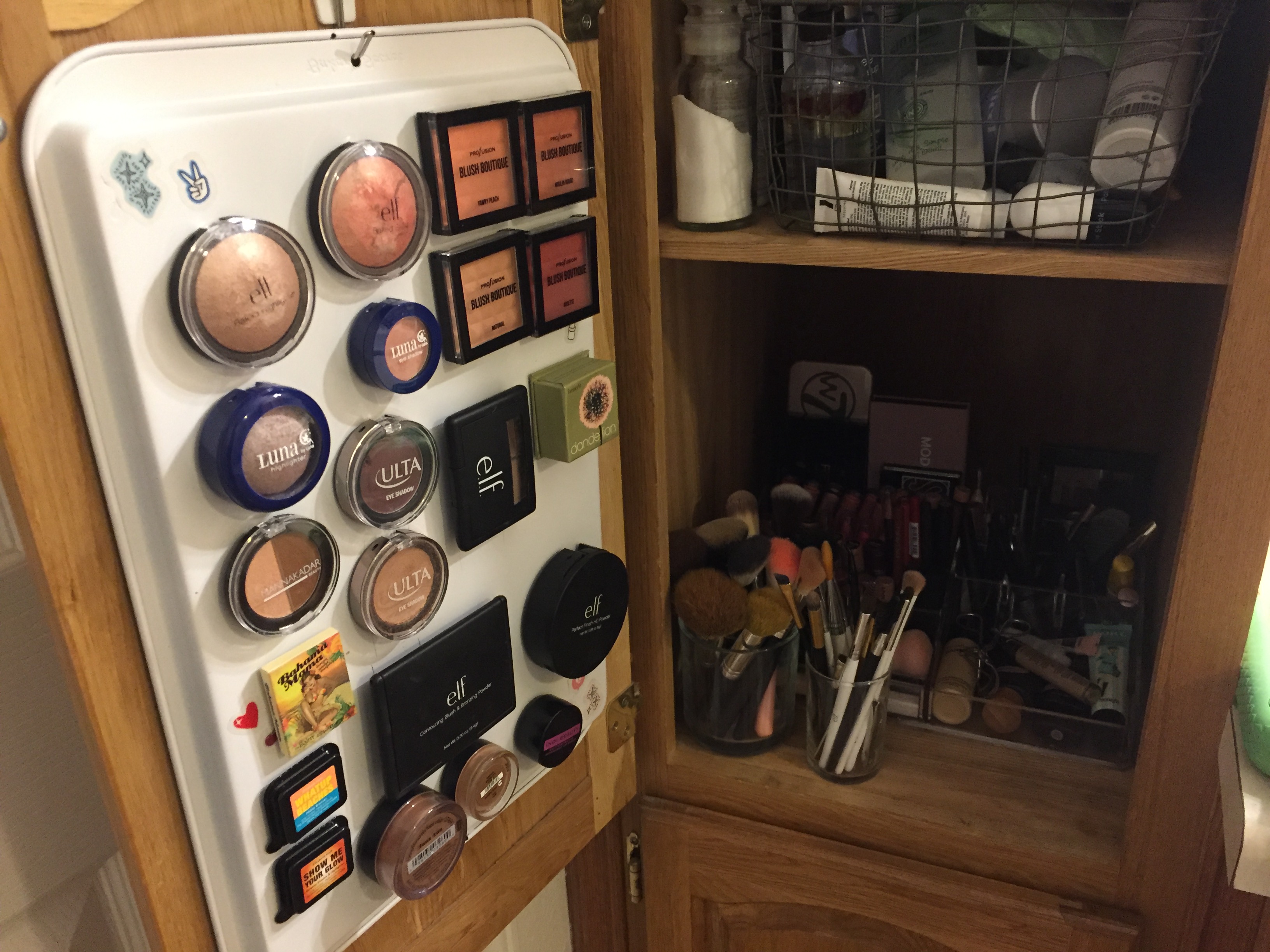 More Storage Ideas
---
– DIY Storage Ideas for Small Houses with NO Storage Space
---
Miss Anything?
Click to go BACK to a specific makeup storage idea: