---
Large Group Dessert Ideas – Need to make something sweet for the crowd at your party or potluck?
These 15 large batch dessert ideas are easy, quick and CHEAP to make and are the perfect recipes to make or take for any large group.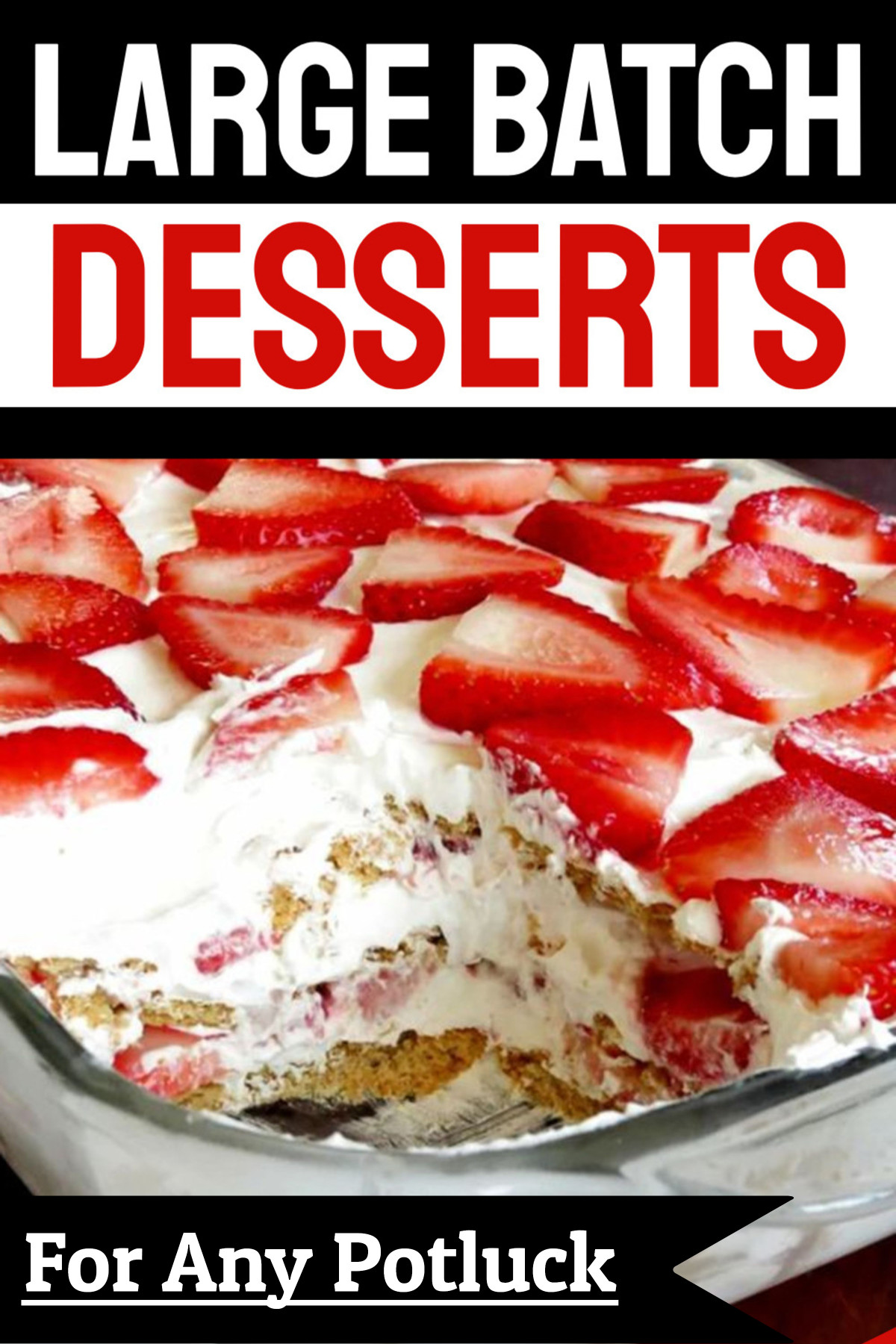 ---
Updated on May 15, 2023
posts may contain affiliate links -Enjoy and feel free to share with your friends!
---
If you're planning a party at your home or an event planner, there are lots of simple large batch dessert recipes below that will please virtually all your guests. These inexpensive desserts for large groups are also perfect for a corporate event, a wedding shower, baby shower, gender reveal, a birthday party, a potluck at work or church community event.
The best part of my dessert recipes here on this page is that they can be set out as individual servings or as a "serve yourself" option at your dessert table.
Regardless of whether you're in charge of catering and don't want to BUY desserts, or just love to cook easy desserts for your large family, you are sure to find at least one recipe that will be perfect for your specific need or event.
Lemon Angel Bars
In the picture above, you saw my Lemon Angel Bars – everyone loves them! They're super simple to make too.
Here's the full Lemon Angel Bars recipe:
Ingredients:
1 box of Angel food cake mix
1 can of lemon pie filling
Powdered sugar for dusting
Equipment:
9×13-inch baking dish
Nonstick cooking spray
Instructions:
Preheat your oven to 350°F.
Spray the baking dish with nonstick cooking spray.
Pour the lemon pie filling into the baking dish.
Sprinkle the cake mix evenly over the top of the pie filling.
Bake for 25-30 minutes, or until the cake mix is set and the edges are lightly browned.
Allow the Lemon Angel Bars to cool completely.
Dust the top with powdered sugar before serving.
Yep, that's all there is to it!
Last Minute Ideas
Nothing like waiting until the last stinkin' moment to make desserts I have to take to a potluck or a work party, but if there was ONE thing I was famous for… it would be procrastination haha!
Every time I'm in a hurry and need to make a large batch dessert last minute, I make something super simple, easy to prepare and with ingredients I most likely already have. For example, a big batch of cookies or brownies.
Both cookies and brownies can be mixed up quickly with pretty common ingredients, and they can be baked in large batches on a single sheet pan or casserole dish. As a bonus, almost EVERYONE loves cookies and brownies which makes them a super safe choice to make and take to a large group get-together.
My "Go To" recipe? This recipe below for a quick and easy BIG batch of chocolate chip cookies:
Big Batch Chocolate Chip Cookies: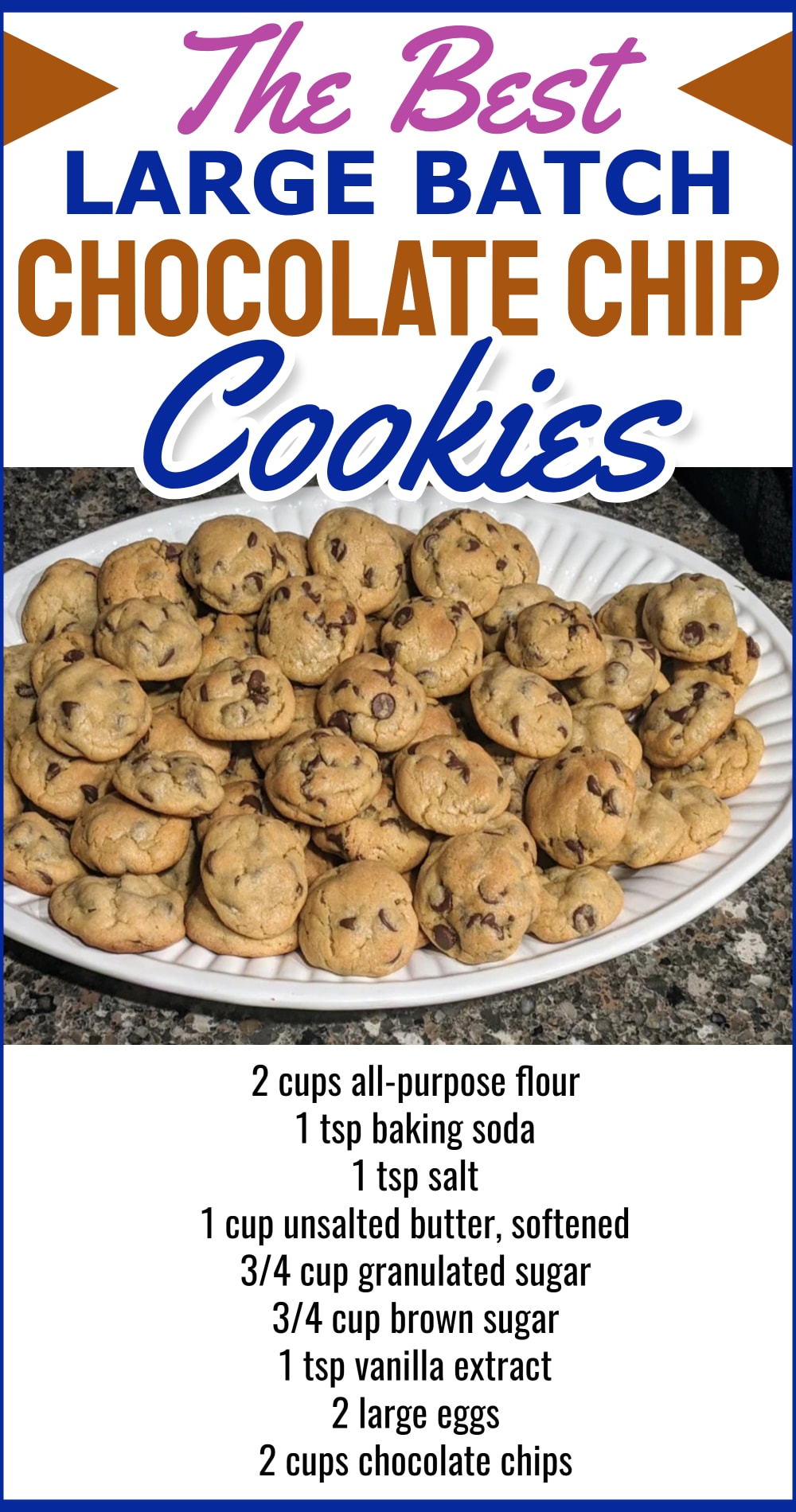 Ingredients:
2 cups all-purpose flour
1 tsp baking soda
1 tsp salt
1 cup unsalted butter, softened
3/4 cup granulated sugar
3/4 cup brown sugar
1 tsp vanilla extract
2 large eggs
2 cups chocolate chips
Instructions:
Preheat your oven to 350°F.
In a medium bowl, whisk together the flour, baking soda, and salt.
In a large mixing bowl, beat the butter, granulated sugar, brown sugar, and vanilla extract until well combined.
Beat in the eggs, one at a time, until fully incorporated.
Gradually add the flour mixture to the butter mixture, mixing until just combined.
Stir in the chocolate chips.
Drop the dough by rounded tablespoonfuls onto ungreased baking sheets, leaving about 2 inches of space between each cookie.
Bake for 8-10 minutes, or until the edges are lightly golden.
Remove the cookies from the oven and let them cool on the baking sheets for a few minutes before transferring them to a wire rack to cool completely.
This recipe should make about 36 cookies. If you need to make a larger batch, you can double or triple the recipe and bake the cookies in multiple batches.
Thing is – EVERYONE brings cookies and brownies (usually store-bought too), so how about some UNIQUE large batch dessert ideas?
If that's what you're looking for, just wait until you see the recipes I've found!
Large Batch Dessert Recipes
From yummy and moist pound cake, to large batch NO BAKE desserts, take a scroll through all these super simple large group dessert ideas and recipes below.
Blueberry Pound Cake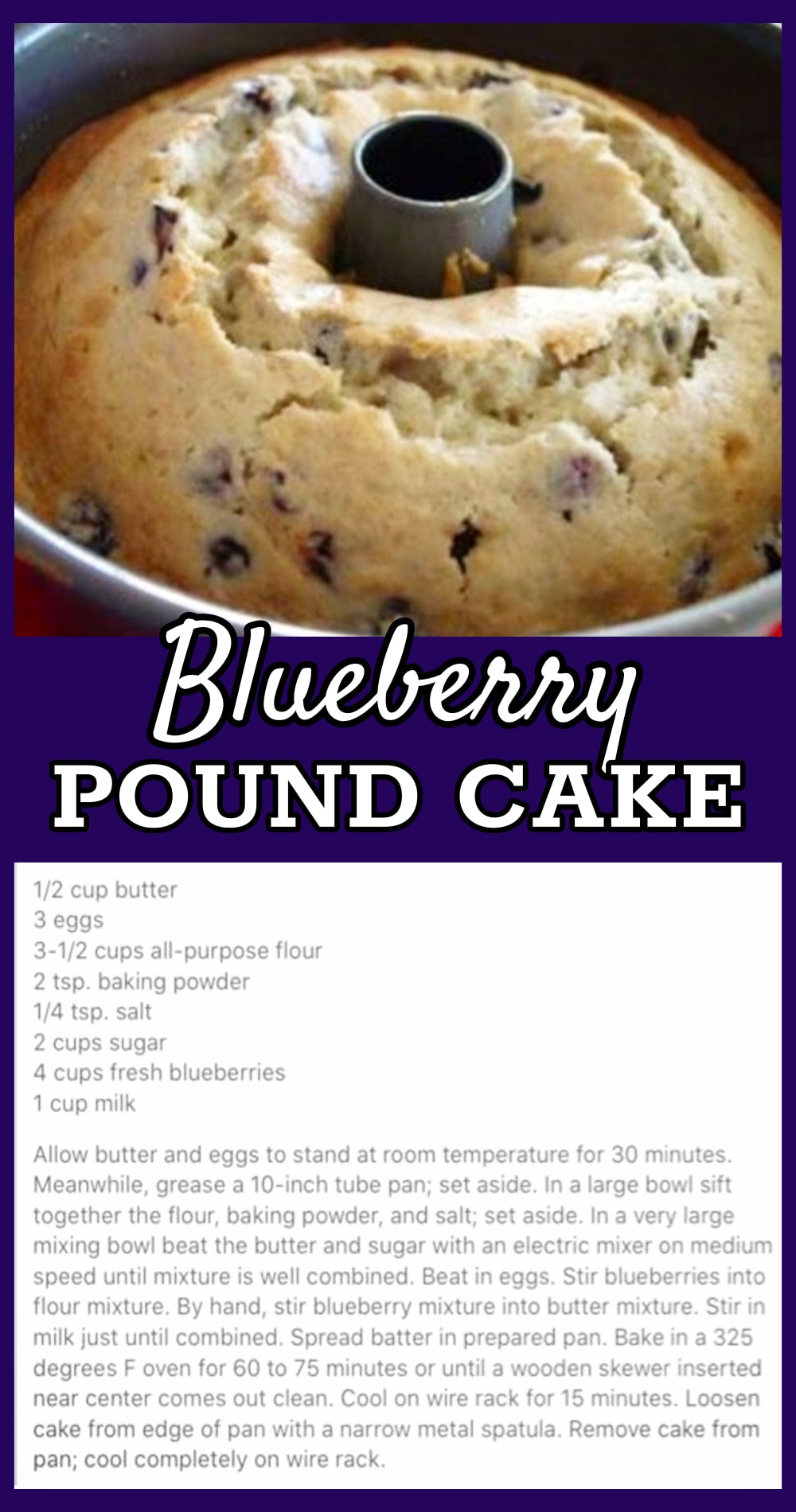 Blueberry Pound Cake – I LOVE blueberry desserts and this blueberry pound cake is perfect for an event where you need to make desserts in large batches to feed a bunch of people.
Devil's Food Candy Cake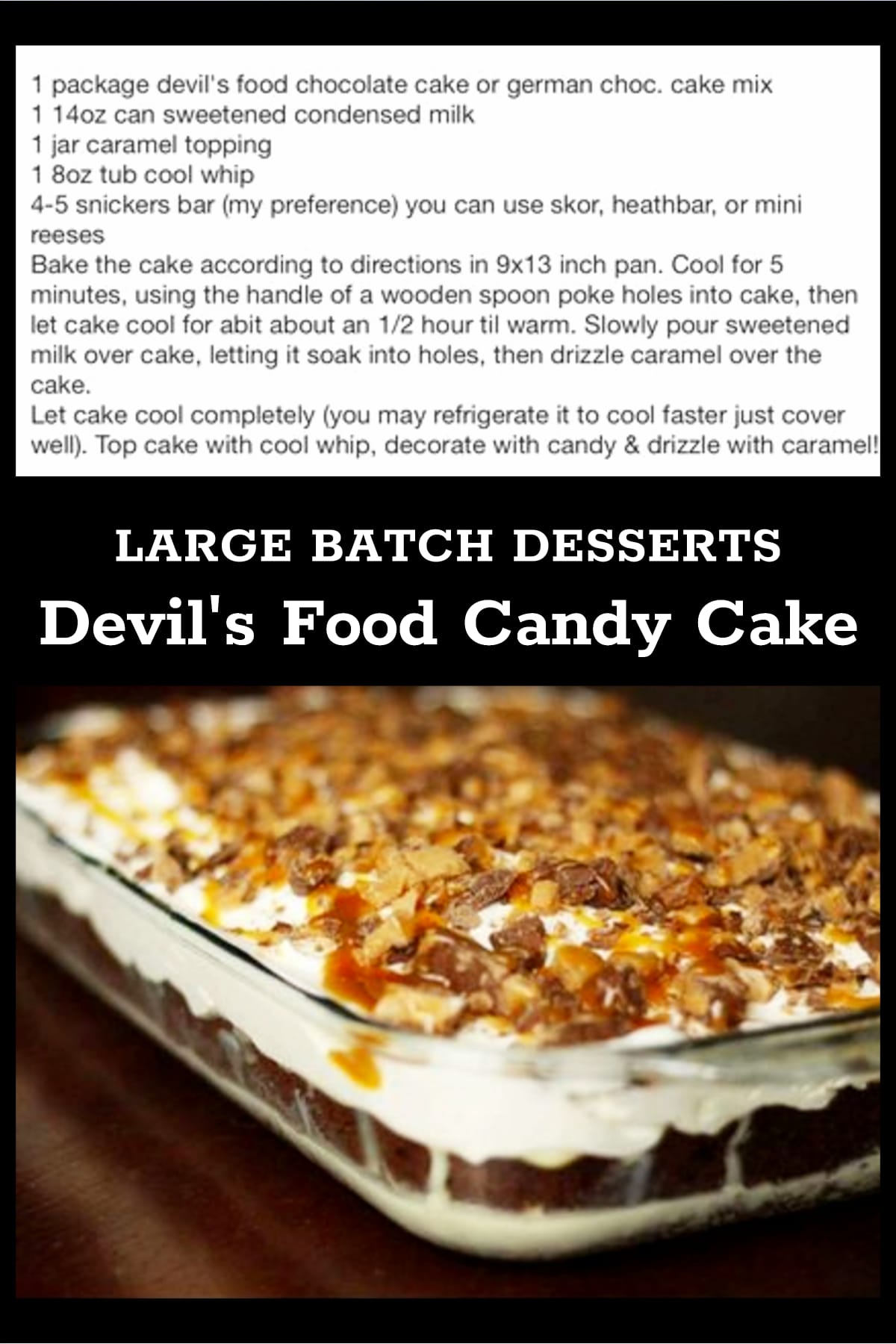 Devils Food Candy Cake – Layers of Cool Whip with chocolate cake sandwiched between with a topping of your favorite candy and caramel – SO GOOD!
Large Group Lemon Desserts
Large Batch Lemon Desserts – If you love easy "doctored" cake mix recipes, these large batch lemon dessert recipes are sure to end up in your Favorite Desserts recipe book.
From cookies, to lemon poke cake – all these refreshing lemon desserts have few ingredients and are real crowd-pleasers.
No Bake Chocolate Pie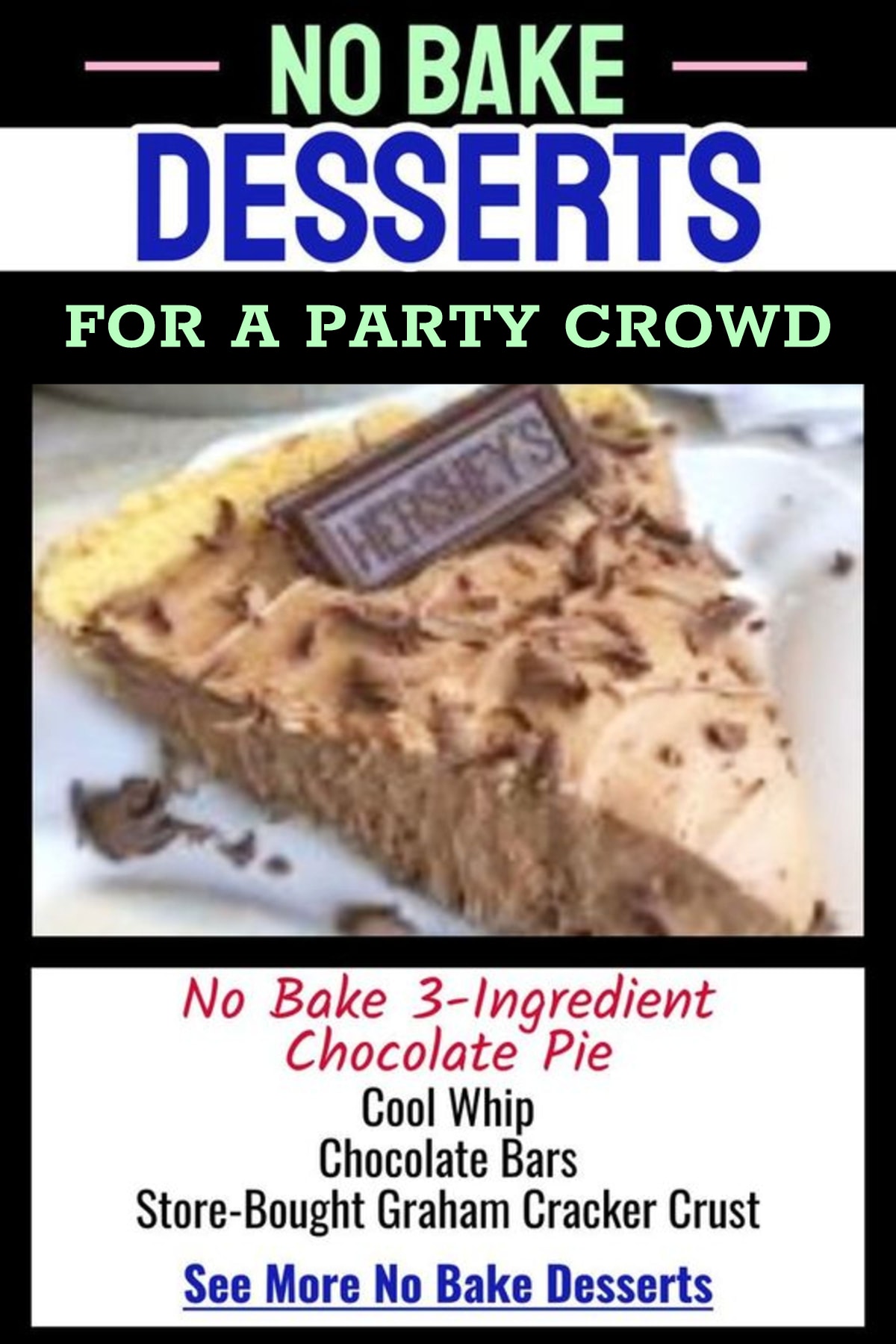 3-Ingredient No Bake Chocolate Pie – No bake pies are perfect when you're making a LOT of dessert options for a large group. This recipe has only 3 ingredients which makes it EXTRA easy to make ahead for your dessert table.
Sheet Pan Dessert Bars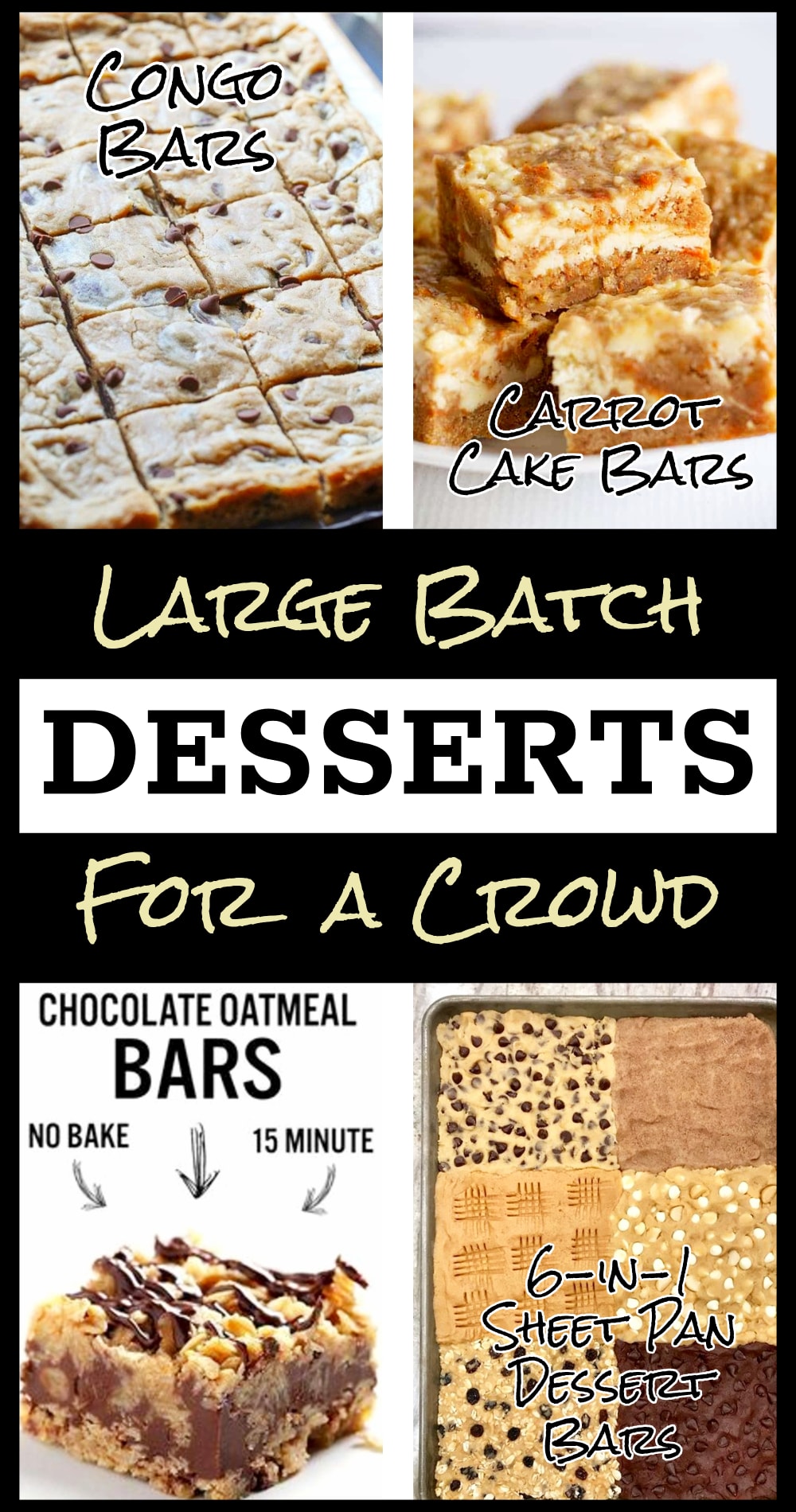 Congo Bars from CookiesAndCups.com – Congo Bars are an amped up chocolate chip cookie bar with 2 types of chocolate to make them extra gooey! Print the recipe
Carrot Cake Bars from CookieDoughAndOvenMitt.com – These carrot cake bars are so moist and delicious! They have a sprinkle of cinnamon and a cheesecake swirl in them. Triple the recipe for a large batch. Print the Recipe
No Bake Chocolate Oatmeal Bars from SugarApron.com – These large batch dessert bars are so good – I almost licked the pan! Print the Recipe
6-in-1 Sheet Pan Dessert Bars from The BakerMama.com – 6 desserts in one sheet pan – it doesn't get any easier than that! Print the Recipe
Or – just WATCH how easy it is to make these large batch 6-in-1 sheet pan dessert bars:
One Pan Cool Whip Chocolate Layered Dessert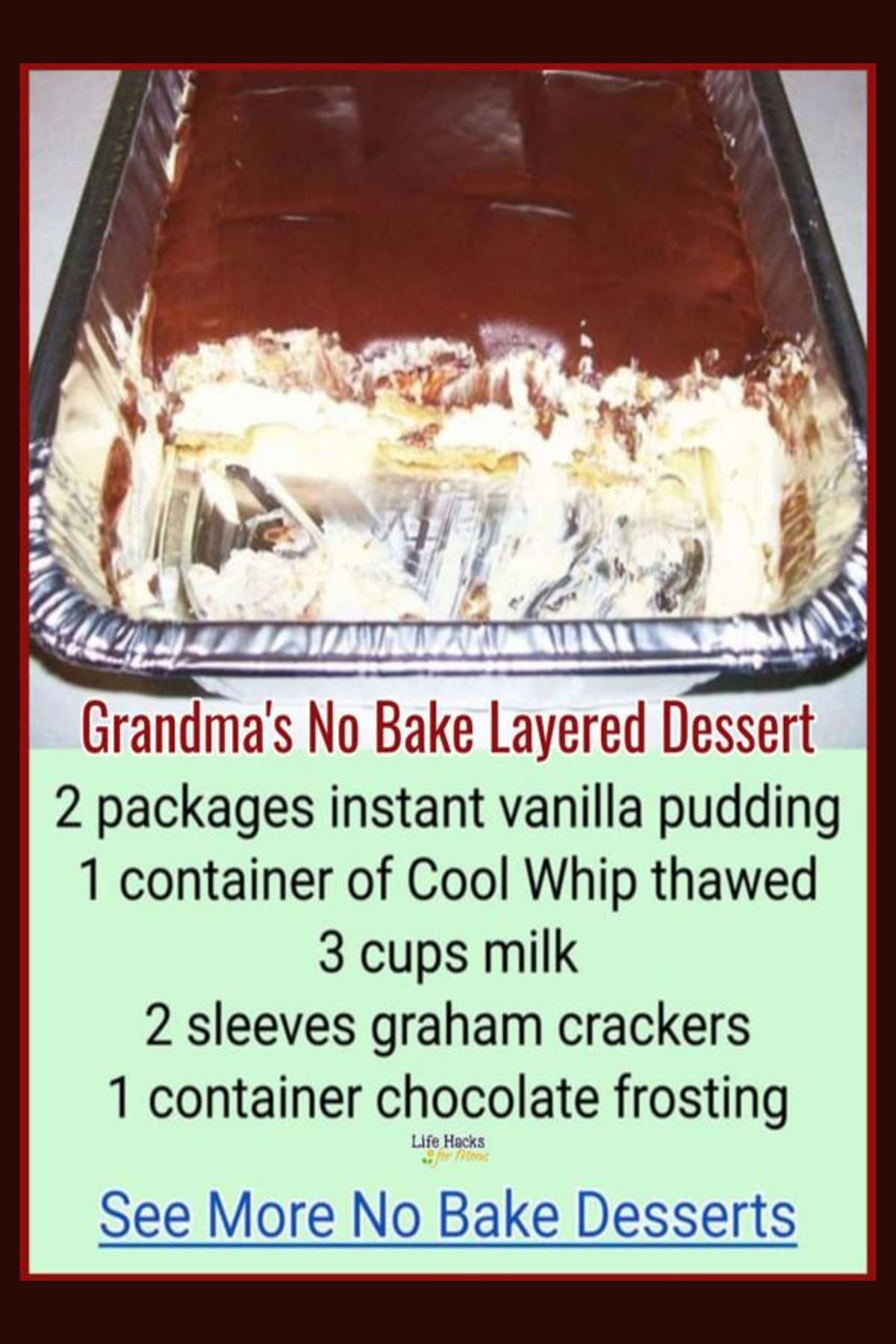 Grandma's Chocolate Cool Whip Layered Dessert – Grab your 9×13 and combine instant pudding, milk, Cool Whip, graham crackers and a tub of chocolate frosting to make this SUPER SIMPLE no bake large batch dessert.
Recipe: My Grandmother's Potluck Dessert Recipes
Large Batch Cherry Cheesecake
Large Batch Cherry Cheesecake – This super simple cheese cake recipe in the picture above is perfect for a small group, BUT if you double the recipe, it easily becomes a larger batch for a 9×13 pan and can serve a large group.
Need More Ideas?
Here are a few more dessert ideas you can make for a large group to help your brainstorm what to make if my recipes above are not what you're looking for.
3-Ingredient Dump Cakes: NOTHING is easier that a ONE PAN dessert that only has THREE ingredients – just dump it all in the pan and bake. So Simple!
Ice cream sundae bar: Set out a variety of toppings and let guests create their own ice cream sundaes. This is a fun dessert idea that can feed a large group – but it might not travel well, so keep that in mind.
Cupcakes: Cupcakes are easy to make in a large batch and can be decorated in a variety of ways to suit the occasion. If you like UNIQUE cupcake recipes, try these Peach Cobbler Cupcakes – YUM!
Banana bread: Banana bread is a delicious and easy dessert that can be made in a large batch and sliced to serve a crowd.
Layer cake: A layer cake is a classic dessert that can be made in a large batch and sliced to serve a group. The varieties of store-bought cake mix and frosting are endless and it's always a safe choice when you're not sure what to make.
Trifle: A trifle is a layered dessert made with layers of cake, fruit, and pudding or Cool Whip. You make it in one of those large trifle bowls that kinda look like and upside down cake tray.
Pudding: Pudding is a simple and easy dessert that can be made in a large batch and served to a crowd. You can choose from a variety of flavors and serve it in cups or bowls. Just be cautious of guests who may be lactose-intolerant (like me!)
More Potluck and Party Recipes:
Miss A Recipe?
Click to go BACK to a specific large batch dessert recipe:
What To Read Next: