---
Fast, easy and DELICIOUS pumpkin spice Chex Mix, Snack Mix and 'Puppy Chow' recipes. These simple Chex Mix recipes are sure to be a BIG crowd-pleaser at your house this Fall/Thanksgiving! Also mix up a batch of these yummy Chex Mix recipes to give as gifts (they sure make for thoughtful hostess gifts too!)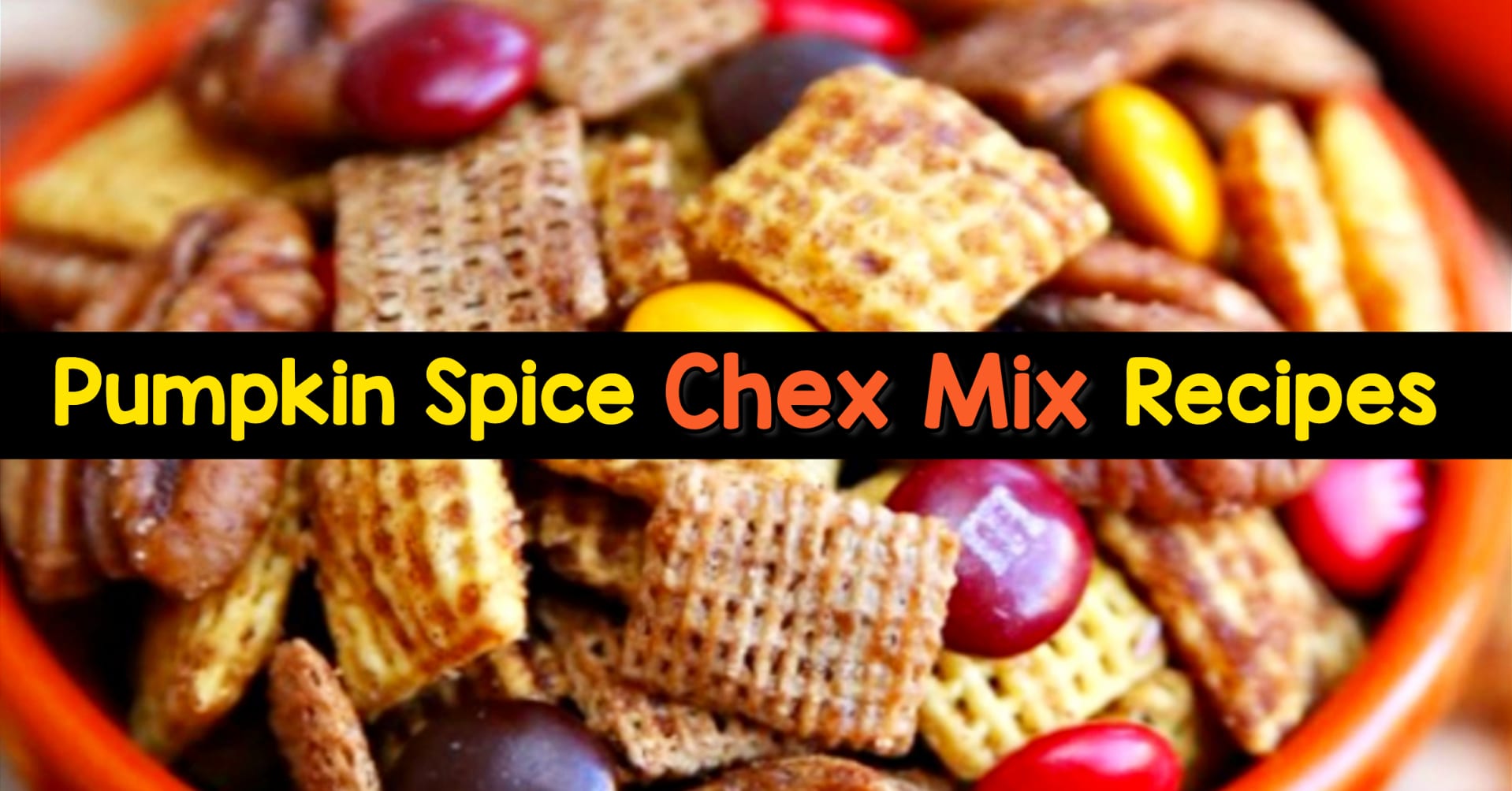 ---
Updated on August 5, 2019
posts may contain affiliate links -Enjoy and feel free to share with your friends!
---
Spicy and Sweet Chex Mix Recipes
Ok, friends and family – you asked for my "secret" Pumpkin Spice Chex Mix recipes – so here they are.
BUT, they aren't secret recipes (anymore ha!)
Pumpkin Spice Chex Snack Mix
This Chex snack mix with pumpkin spice is one of my family's favorites (it must be the M&M's in the Chex Mix because I can't make it fast enough haha!) The combination of sweet and salty mixed with the pumpkin spice flavoring is just plain addicting – you can't stop eating it!
and yes, Susan, this is the Chex Mix your Bob LOVES so much!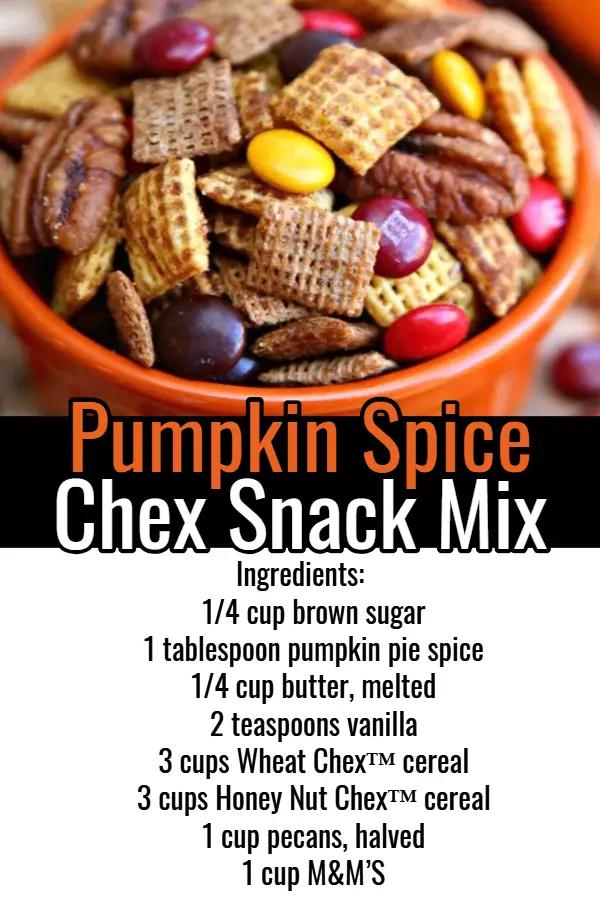 INGREDIENTS
1/4 cup brown sugar
1 tablespoon pumpkin pie spice
1/4 cup butter, melted
2 teaspoons vanilla
3 cups Wheat Chex™ cereal
3 cups Honey Nut Chex™ cereal
1 cup pecans, halved
1 cup M&M'S
Get the full recipe from Kara here.
It's really good!
---
---
Pumpkin Spice Chex Mix with Candy Corn
This is another family favorite Pumpkin Spice Chex Mix we make all the time – the candy corn in this snack mix is SUCH a sweet boost of flavor, too.
I think the real "secret" to this Pumpkin Spice snack mix is the cinnamon she adds in her recipe.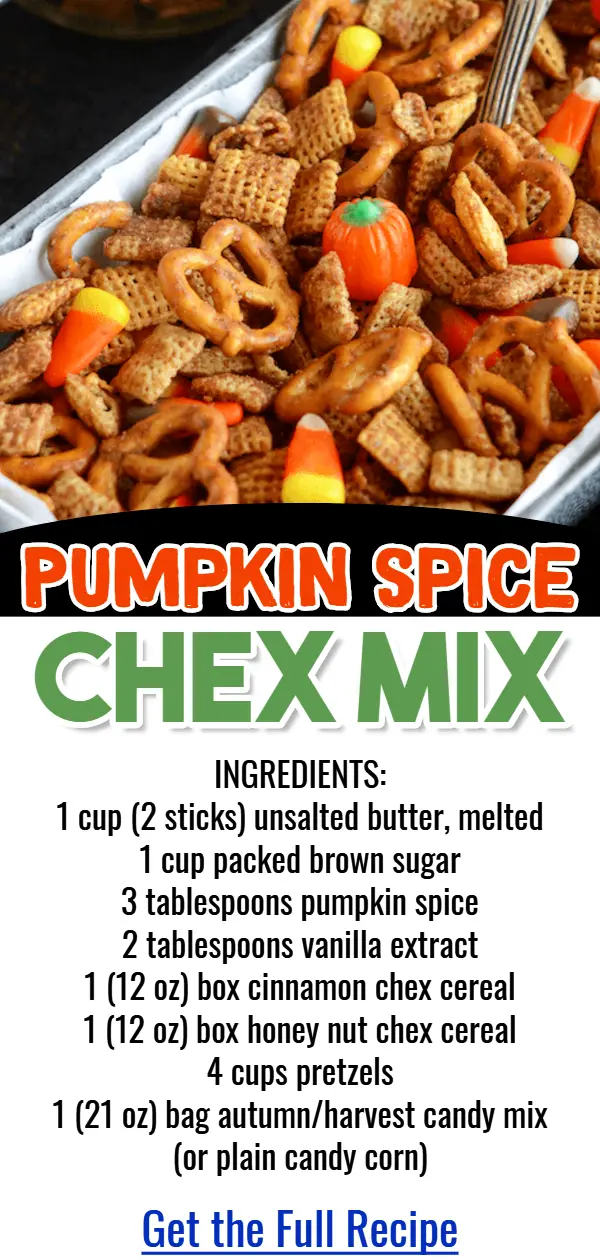 INGREDIENTS:
1 cup (2 sticks) unsalted butter, melted
1 cup packed brown sugar
3 tablespoons pumpkin spice
2 tablespoons vanilla extract
1 (12 oz) box cinnamon Chex cereal
1 (12 oz) box honey nut Chex cereal
4 cups pretzels
1 (21 oz) bag autumn/harvest candy mix (or plain candy corn)
Get the full recipe from Jessica here.
Microwave Pumpkin Spice Chex Mix
Here is another one of my "secrets" when it comes to making Chex Mix. It's common for me to not have TIME to bake the chex mix in the oven so I've found this Pumpkin Spice Chex Snack Mix recipe that cooks in the microwave in only 3 MINUTES.
Yes, MINUTES!
This Chex Mix with pumpkin spice is not only fast and easy – it is SOOOOOO good, too!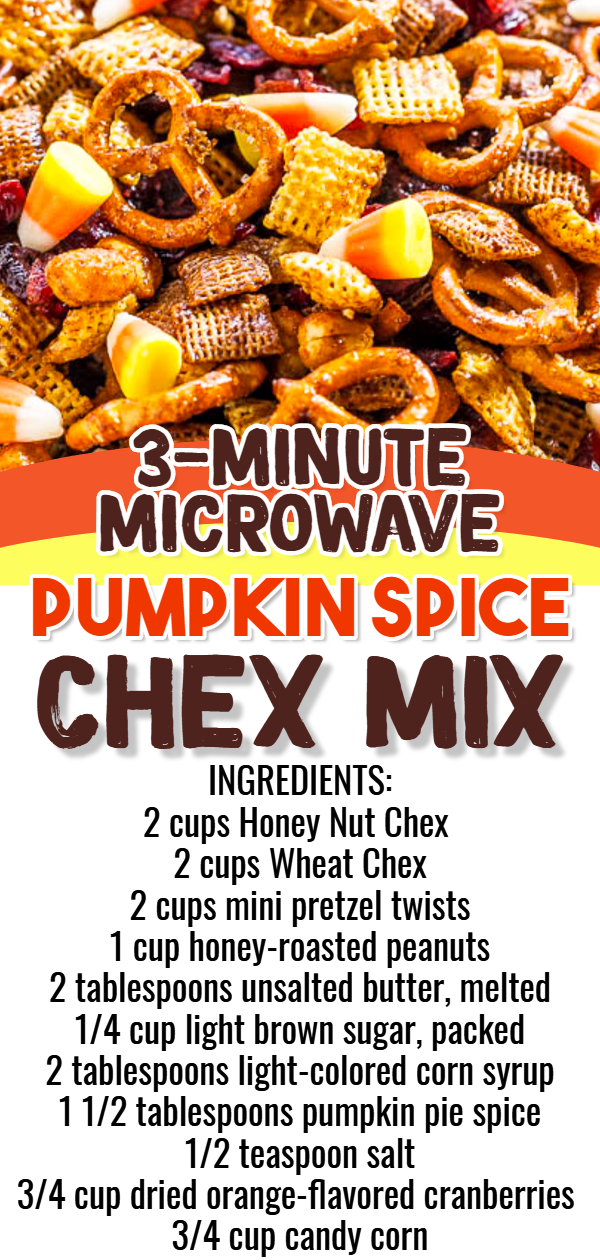 INGREDIENTS:
2 cups Honey Nut Chex (other varieties of Chex may be substituted)
2 cups Wheat Chex
2 cups mini pretzel twists
1 cup honey-roasted peanuts (peanuts or another nut may be substituted)
2 tablespoons unsalted butter, melted
1/4 cup light brown sugar, packed
2 tablespoons light-colored corn syrup
1 1/2 tablespoons pumpkin pie spice, or to taste
1/2 teaspoon salt, or to taste
3/4 cup dried orange-flavored cranberries (dried cranberries or another dried fruit may be substituted)
3/4 cup candy corn (or try M&Ms, chocolate chips, etc.)
Get the full recipe from Averie here.
Pumpkin Spice Puppy Chow Recipe
This Pumpkin Spice "Puppy Chow" Recipe is also super fast and easy to make. It's also a fun and easy recipe for kids to make, too.
Hint: it cooks in the microwave too!
https://www.youtube.com/watch?v=CBFRvGPqW6o
Hope you enjoy these easy Chex snack mix recipes with pumpkin spice flavoring this Fall!
Miss Anything?
&