---
– Creative DIY Furniture Made With Old Crates –
If you love DIY projects as much as I do, you're gonna love these super creative ideas for old milk crates! Let's take a look at 115 unique ways to turn milk crates, wooden boxes, plastic or and wire crates into furniture and other useful home decor and organizing items.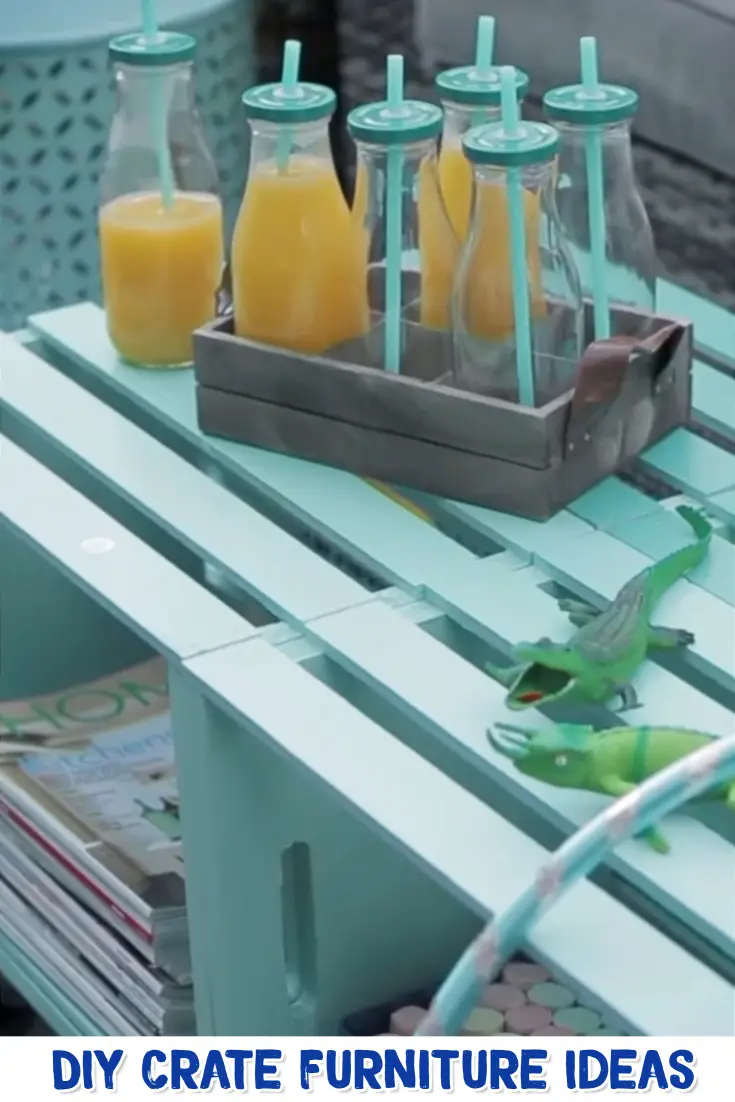 DIY Milk Crate Foyer Table
Here's a clever idea for repurposing plastic milk crates into upcycled furniture – turn old milk crates into a pretty foyer table to decorate your entryway.
See more foyer decor ideas here.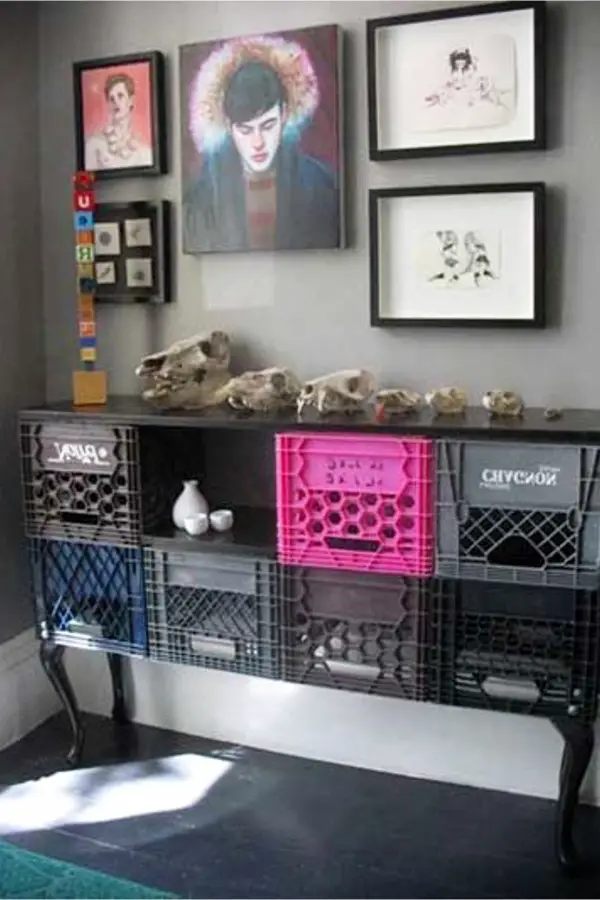 Crate Nightstand Idea
I love this DIY crate nightstand idea – by simply stacking old wooden crates you can make a beautiful end table of nightstand.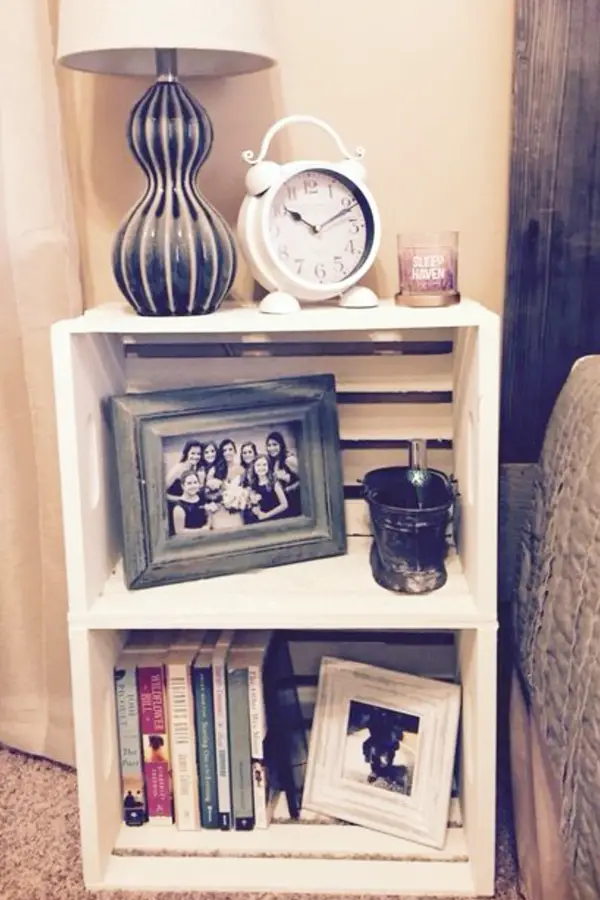 DIY Painted Crates Book Shelf Idea
Here's a pretty DIY crate bookshelf idea – love the paint colors inside the stacked wooden crates!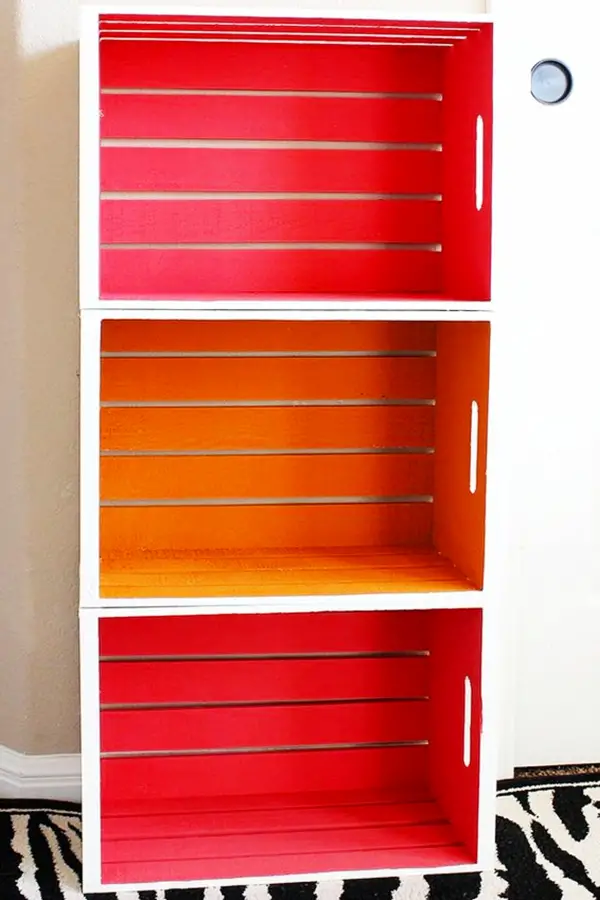 DIY Milk Crate Gardening Chair
This is super creative idea for an old milk crate – Turn an old milk crate into a DIY chair for gardening, the beach, kid's ball games etc.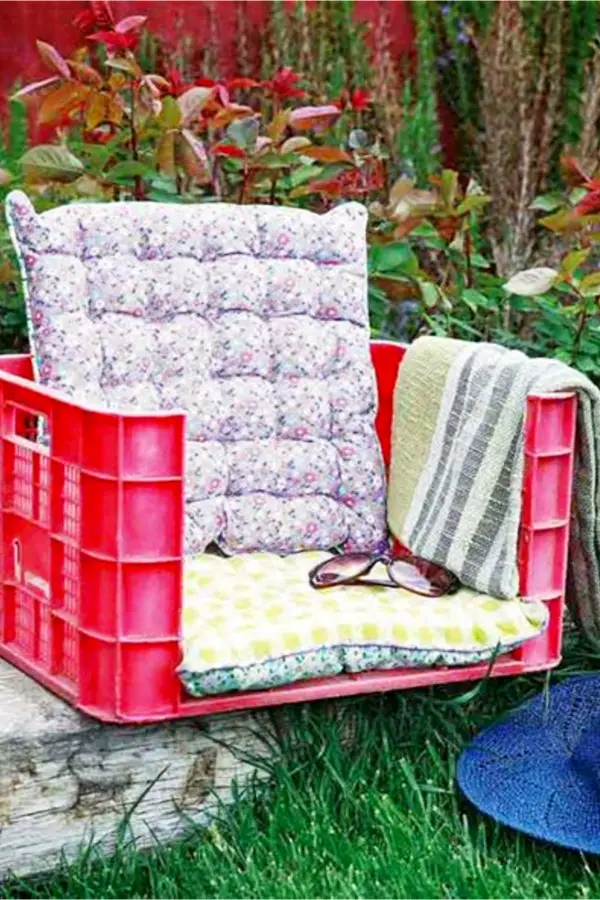 Stacked Crates BookShelf DIY Idea
If you stain and stack old wooden crates, you can make a beautiful bookshelf for your home. Love the rustic/farmhouse look!
I also LOVE that gallery wall! See more DIY Gallery wall ideas here.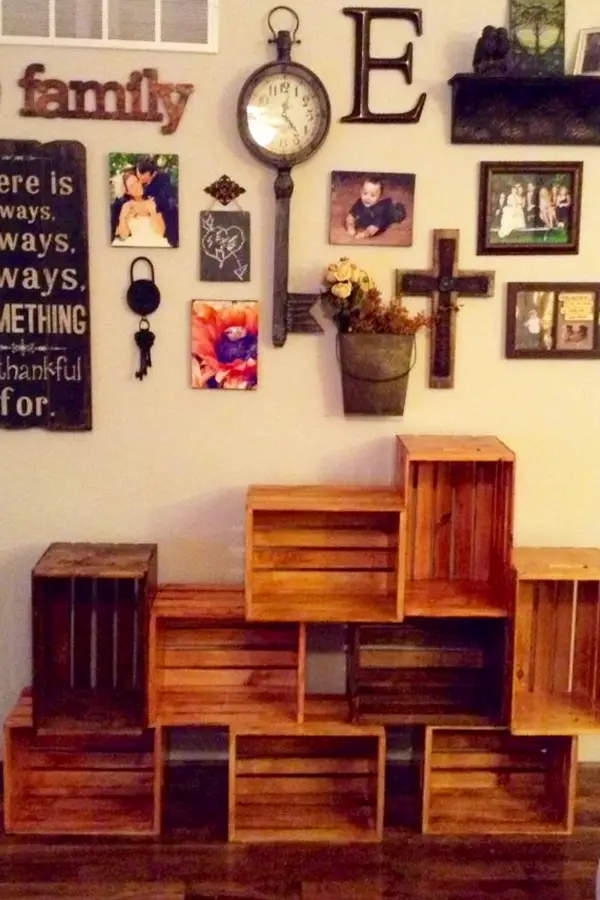 Wooden Milk Crate Coffee Table
This is a GORGEOUS furniture piece made with wood milk crates – just look at this coffee table!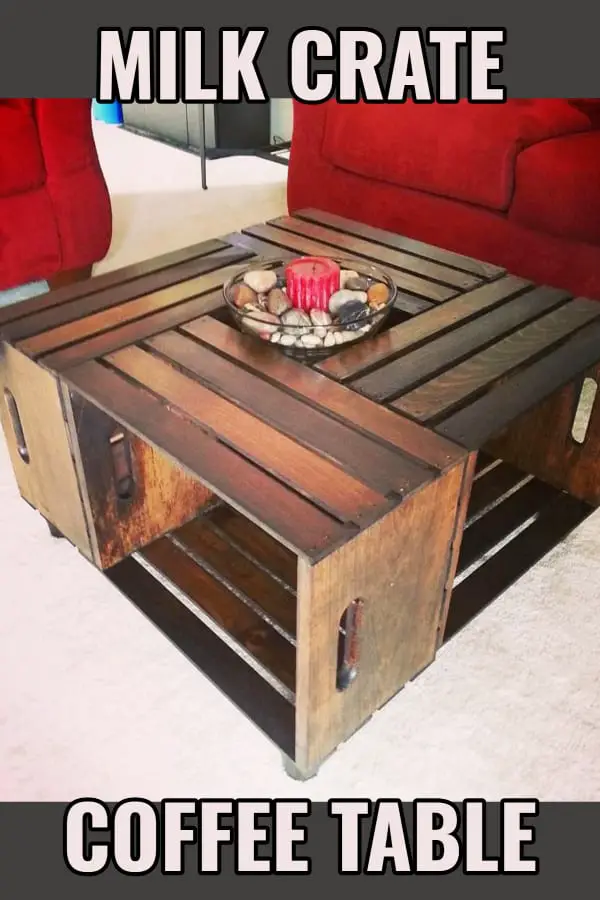 He used 4 of these wooden crates from Home Depot and then used Dark Walnut wood stain on them for that gorgeous deep color.
Note: the stain directions said to wipe it off after about 5-15 minutes, but since those milk crate were made of pine, they soaked up the stain color quickly, so he wiped it off after only 3 minutes.
DIY Wooden Crate Corner Shelves
Here's another DIY crate shelving idea – Stacked wooden crates used as a corner bookshelf or shelving unit.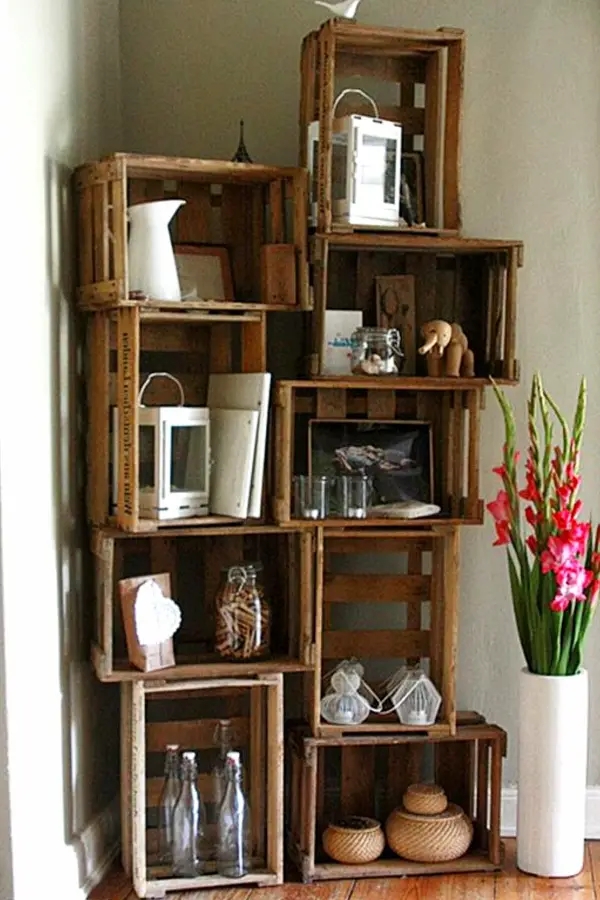 DIY Crate Coffee Table Idea
Watch this quick video and see these guys make a quick and beautiful painted coffee table for their patio out of old crates.
DIY Wooden Crate Shelves
Love these DIY shelves made out of old crates – would be great in a living room etc.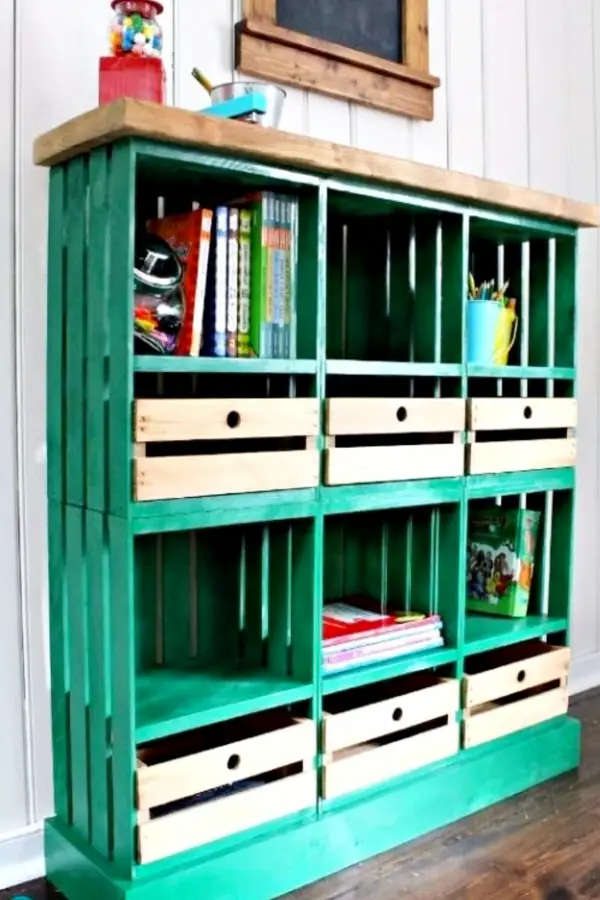 Simple DIY Crate End Table
Here's another idea for a DIY end table made out of an old wooden crate…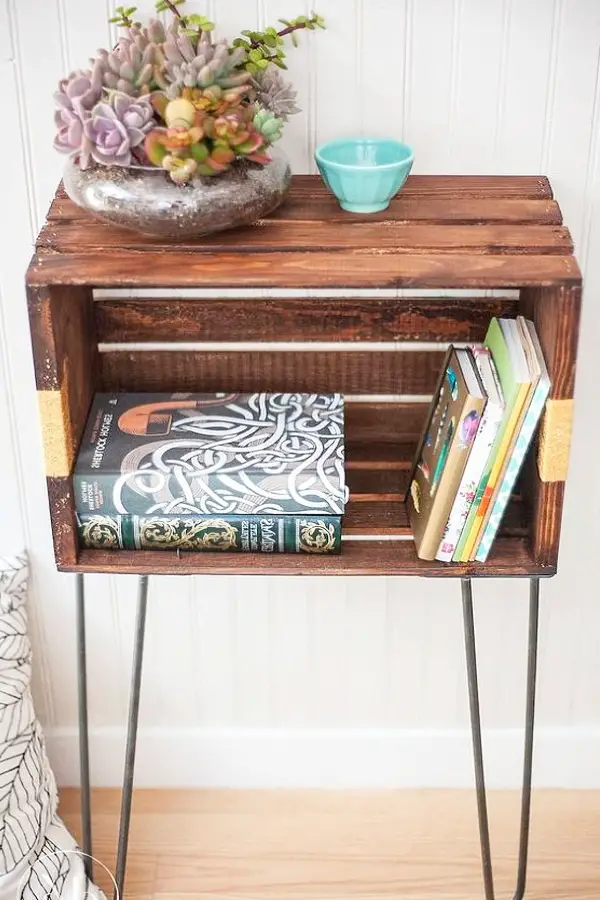 DIY Milk Crate Closet Organizer
Another clever DIY idea for old milk crates – get your closet organized with DIY milk crate shelves in your closet.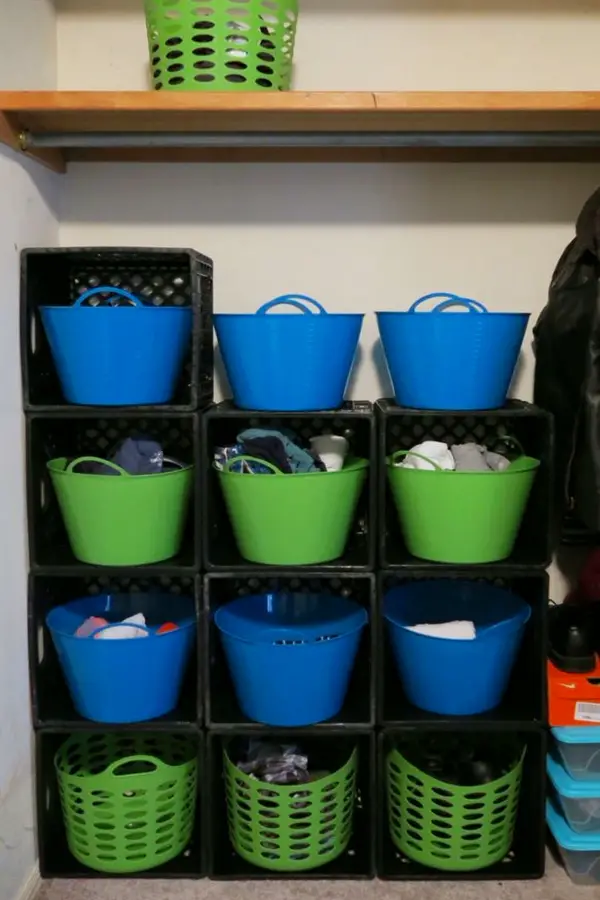 Wine Crate Nightstand
While this next piece of furniture isn't technically made out of MILK crates, it IS made with old wood WINE crates – so kinda the same, right?
I just thought it was a really unique idea that cost exactly $0 to make.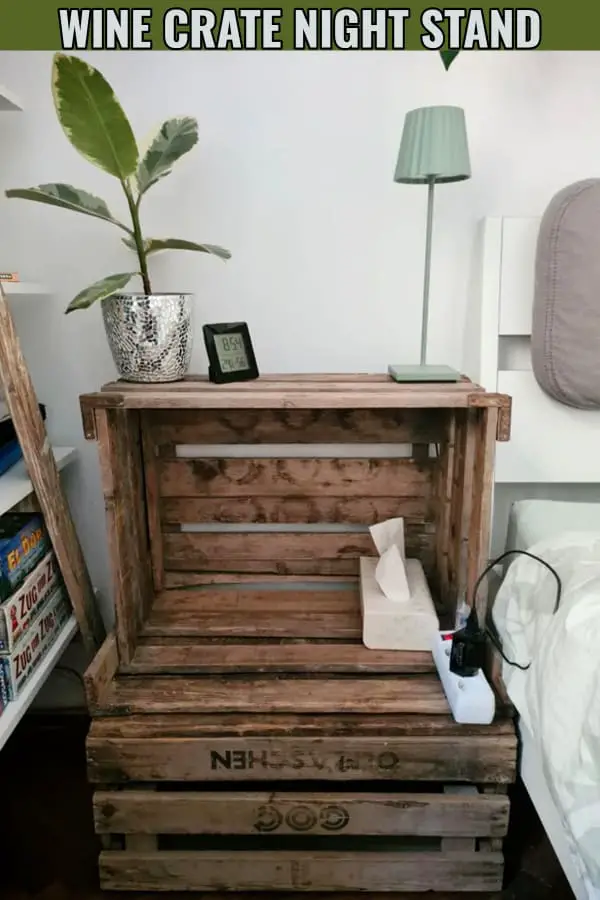 As you can see in the picture above, the wine crate nightstand isn't that tall, but since their bed is on the floor (ie, no frame), it totally works and is the perfect height.
DIY Milk Crate Stools
These DIY milk crate seats and stools are so cute – perfect for the classroom or for home.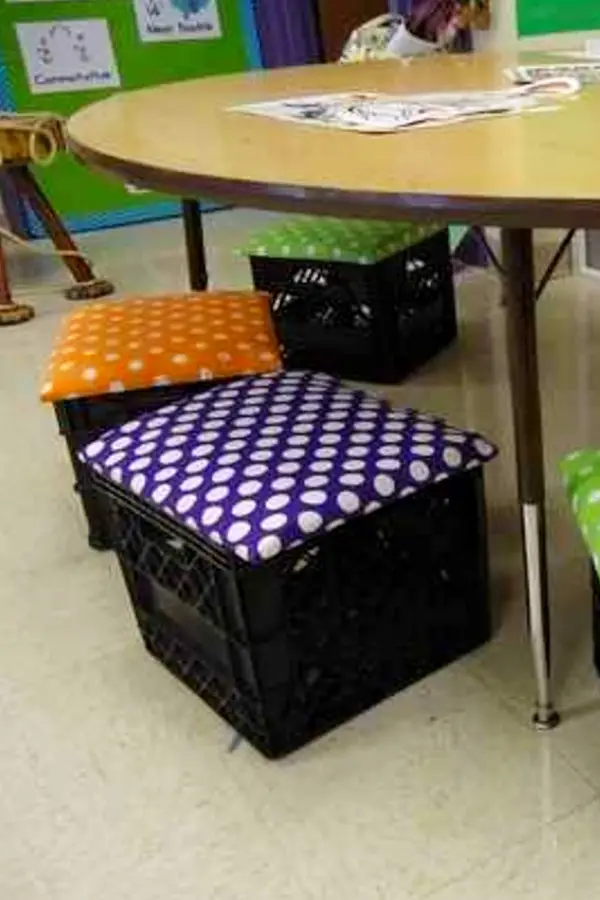 More Clever DIY Ideas To Try:
Miss Anything?
Go BACK to a Specific Crate Project: