---
Sliding Barn Door Ideas – Love the look of rustic farmhouse-style kitchens and homes with those GORGEOUS sliding barn doors? Let's talk about the Pros and CONS of INTERIOR Sliding Barn Doors you should know BEFORE You Have Barn Doors Installed In YOUR Home – with LOTS of PICTURES too.
Oh how I LOVE sliding barn doors installed in a house! Converting regular doors into wall-mounted sliding barn-style doors creates such a warm and beautiful look in my favorite rustic farmhouse style! BUT, there are a few things you need to know about these sliding barn doors BEFORE you decide to install one – or many – barn doors in YOUR home.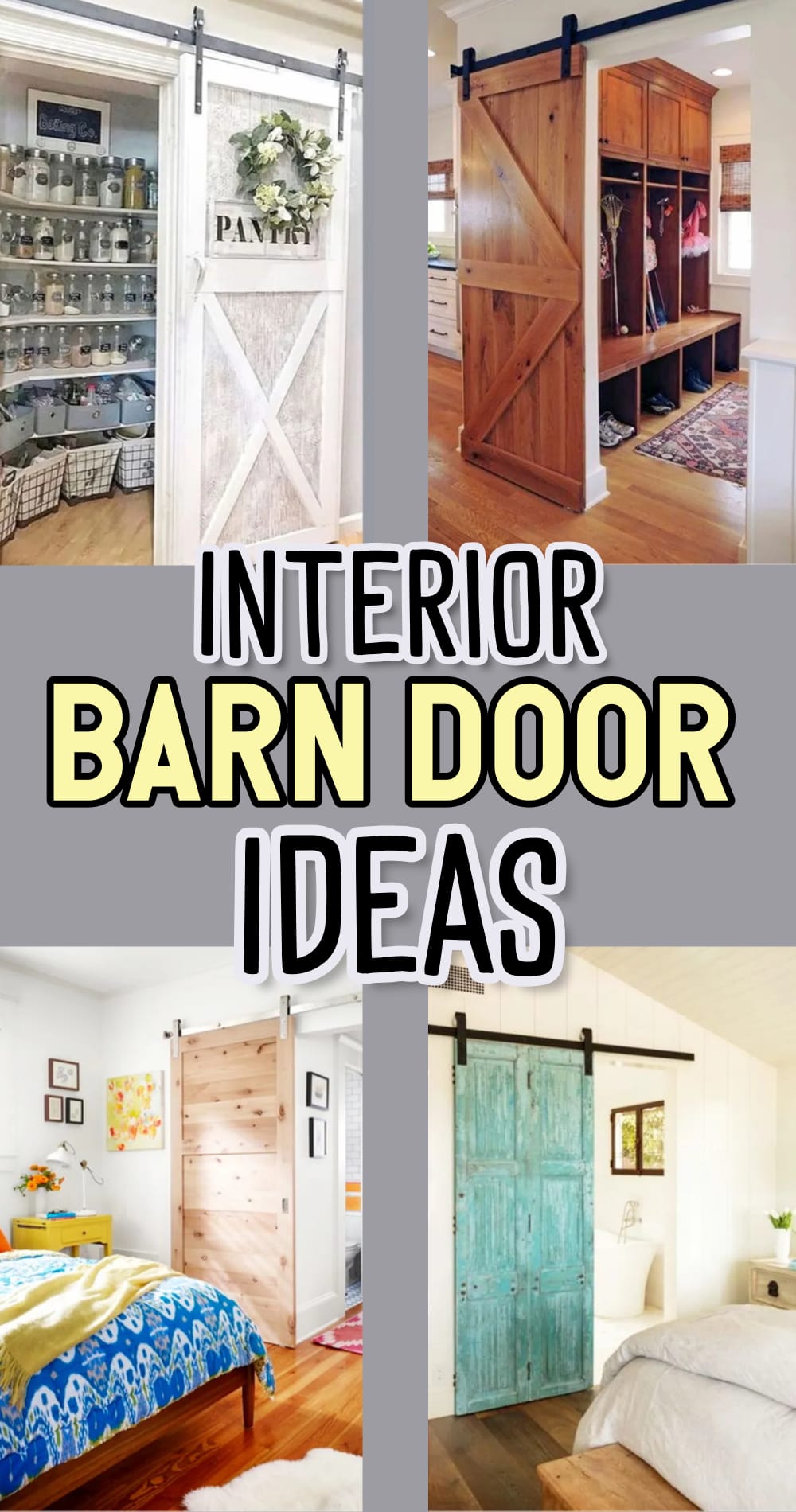 ---
Updated on April 11, 2023
posts may contain affiliate links -Enjoy and feel free to share with your friends!
---
Barn Door Ideas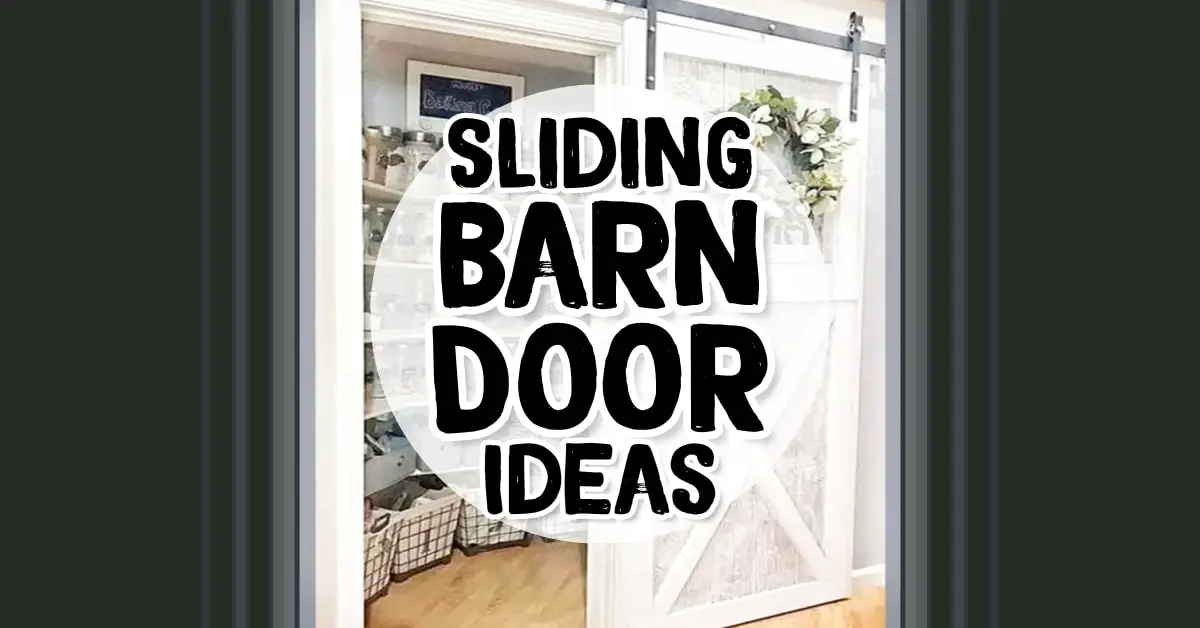 Sliding Barn Door vs Regular Door
Trying to decide on a hanging barn door or a regular swing door (or a pocket door)?
Worried about the cost of having barn doors installed?
Think your french doors would looks SO much better if they were wall-mounted barn doors?
Barn doors ARE so popular these days – worried that they are going out of style?
Above all – are sliding barn doors WORTH it?
Let's talk about ALL that…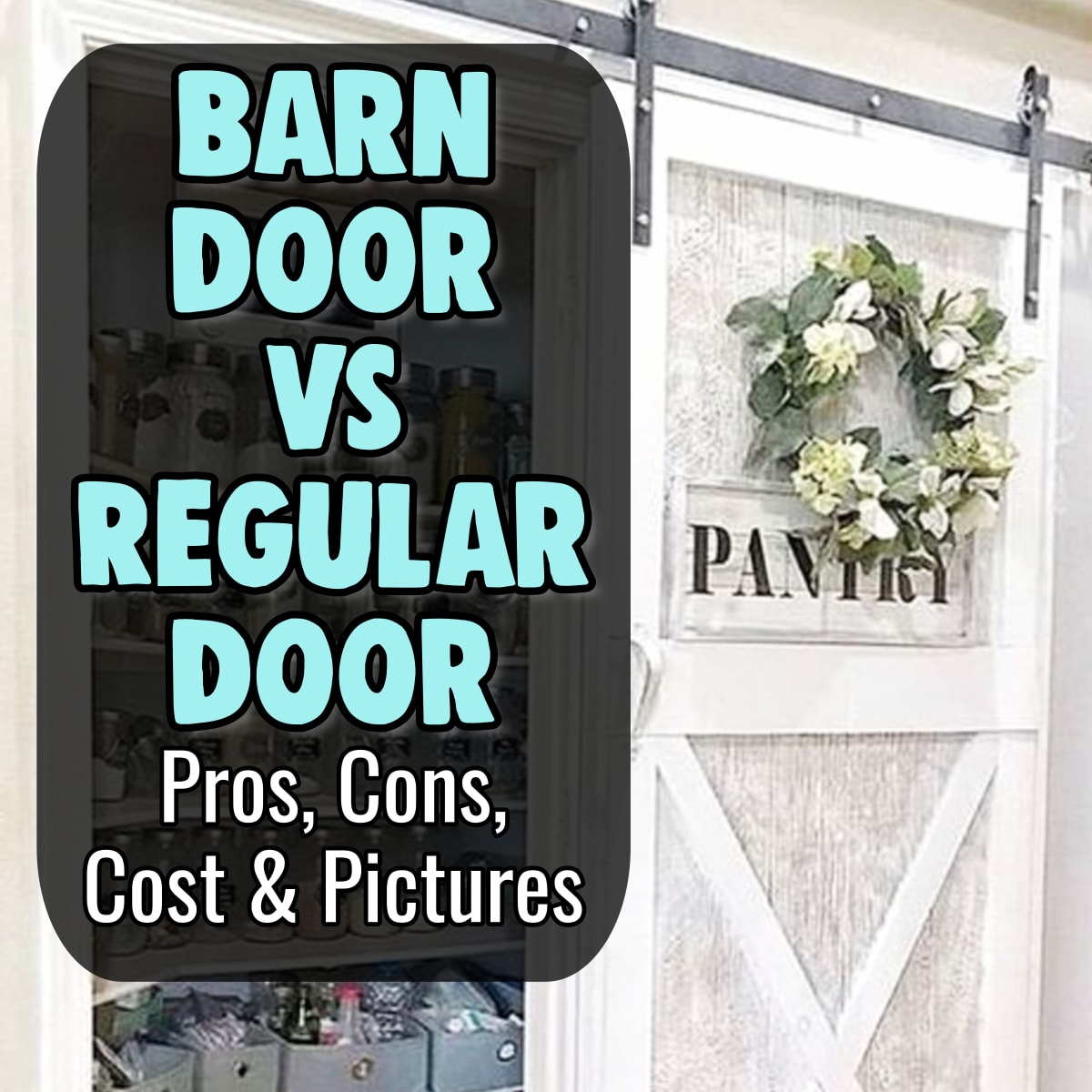 Barn doors—once just for the farm—are now one of the most sought-after remodel upgrades for homeowners these days.
The rustic style provides a unique and distinctive look that's perfect for a wide variety of homes.
Whether your home is rustic country style or more modern farmhouse, interior sliding barn doors look great in ANY room in your home
They also add personality to any room – giving that space the "WOW" factor.
Sliding barn doors (also called sliding farm doors) are also pretty easy to install (see video below) and are perfect for those redecorating on a budget.
Best of all, barn doors are one of the most popular decorating trends this year.
If you're trying to sell your home, adding one or two of these doors can make a big difference in the perceived value of your home.
But, if you're just wanting to update your home you'll find that wall-mounted barn doors are the perfect accent for farmhouse-style homes, country rustic, modern farmhouse or even a cabin lake house.
You can find interior barn doors for sale at virtually all local home improvement stores or you can buy a sliding barn door kit online.
 Single Wood Sliding Barn Door Kit For PantryShow Me This Double Door Wood Sliding Barn Door KitShow Me This
Are Barn Doors Easy To Install?
I bet you're wondering…
Are barn doors EASY to install?
That's the RIGHT question to ask FIRST if you are considering installing some DIY sliding barn doors in YOUR home.
Here's a quick video showing how to install these wall-mounted sliding doors to see if YOU are up for doing it yourself – or hiring it out to a local contractor.
Interior Sliding Barn Doors Ideas
Sliding barn doors aren't just for closet doors anymore – you can use sliding barn doors as your bathroom door, in the living room or den, to close off your dining room, as a man cave door, as your kitchen pantry door, as an accent for your farmhouse mud room, as your laundry room door etc…
The options are only limited by your imagination and creativity.
 Sliding Barn Door Entertainment Center KitShow Me This Rustic Industrial Style barn Door KitShow Me This
Pictures
Take a look at the pictures below of ways to decorate with wall-mounted sliding barn doors in YOUR home.
You'll find ideas for ways to convert your regular doors into sliding barn doors in just about ANY area in your home
My favorite is the farmhouse-style pantry barn door idea down below!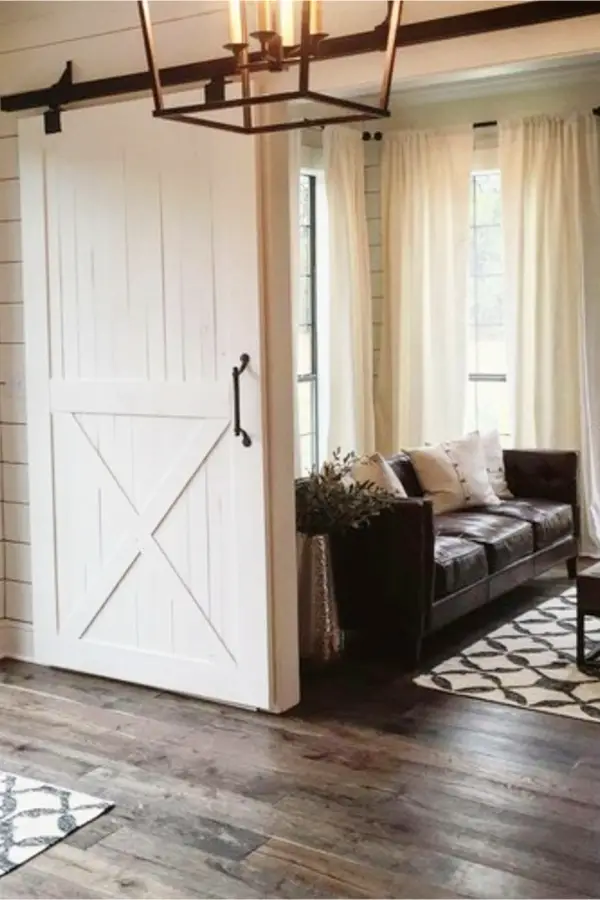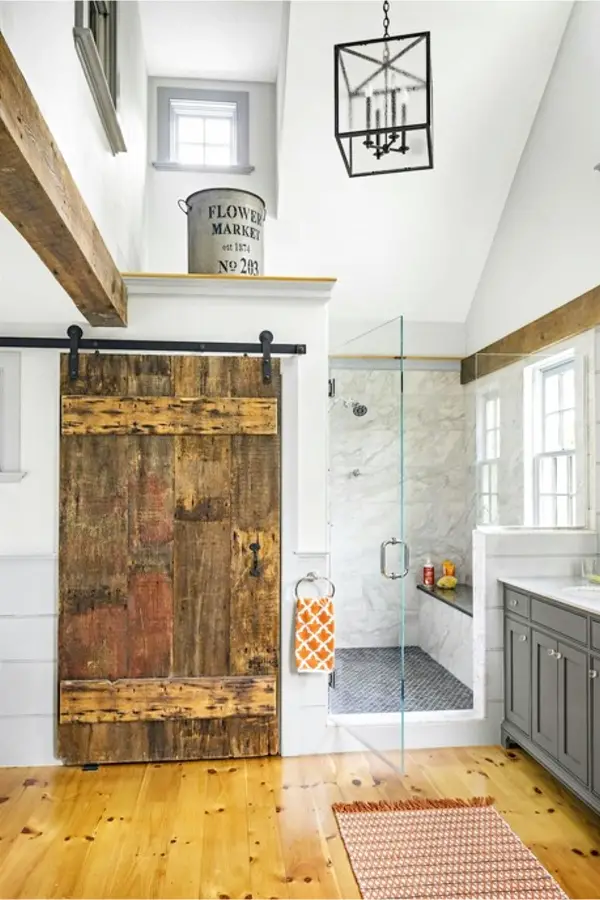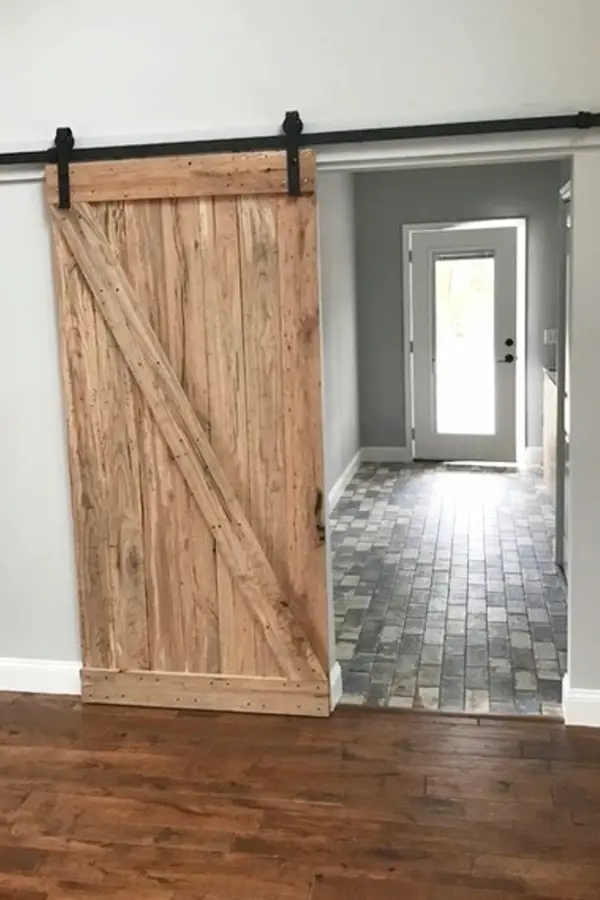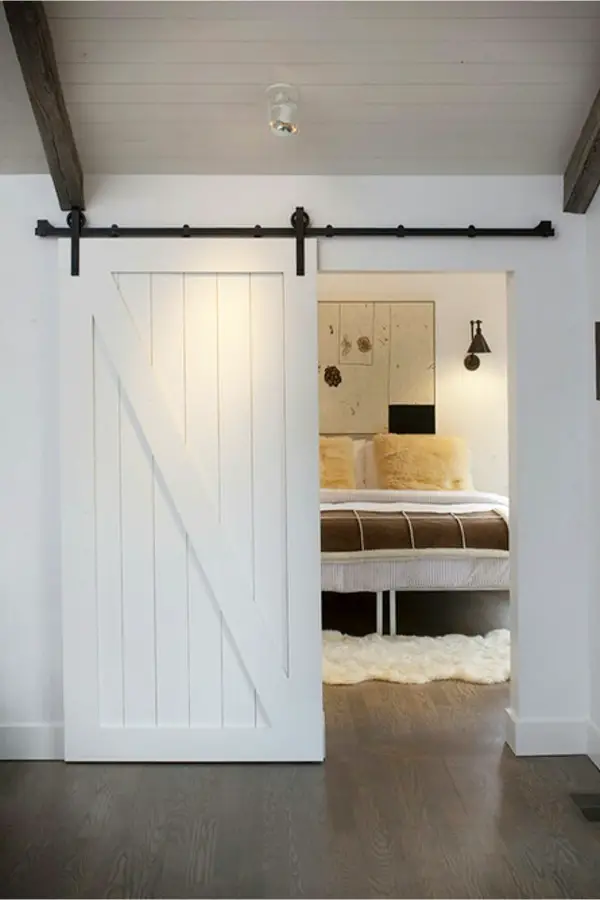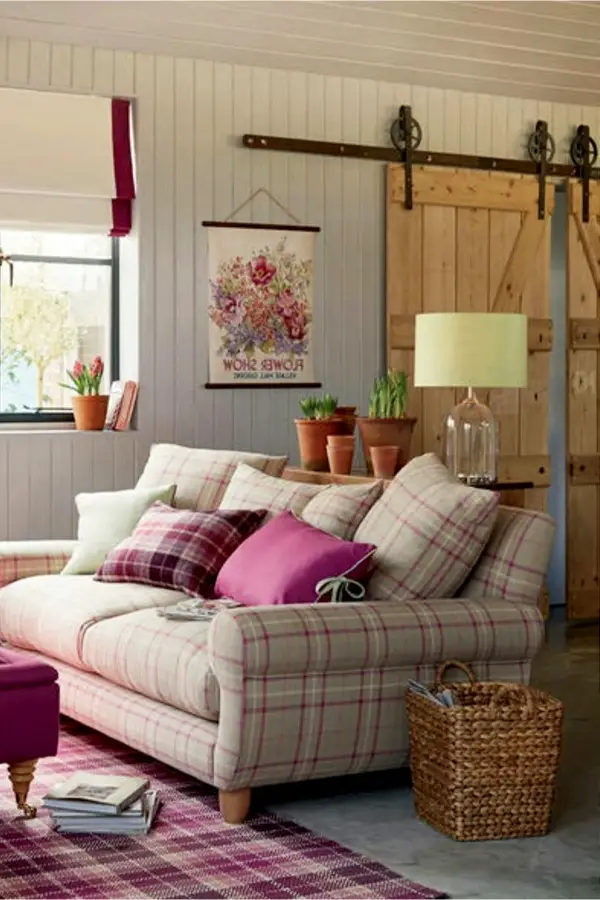 Pros and Cons of Barn Doors
Barn door vs regular door – how to decide?
There are a few pros and cons of having interior sliding barn doors installed in your home that you should be aware of BEFORE you convert any door into a barn door.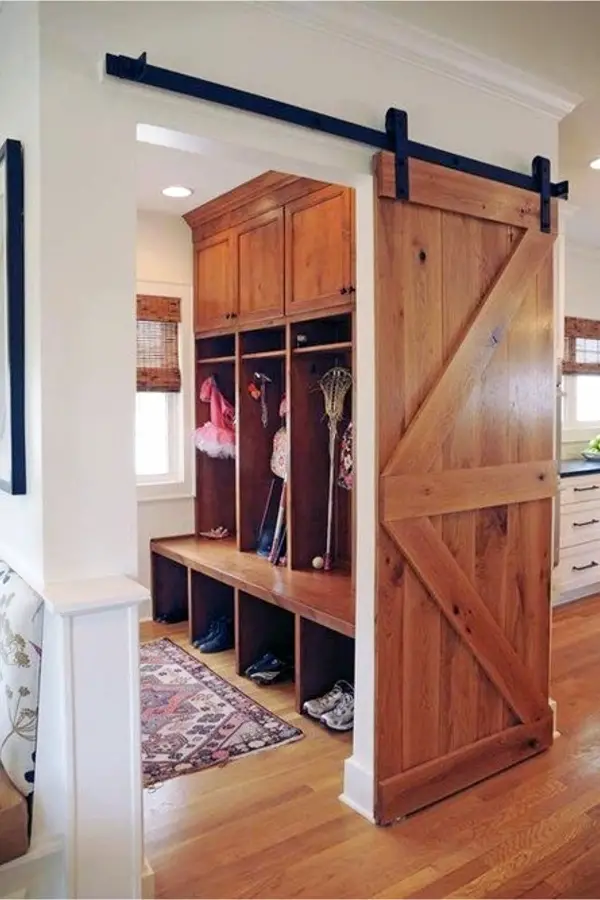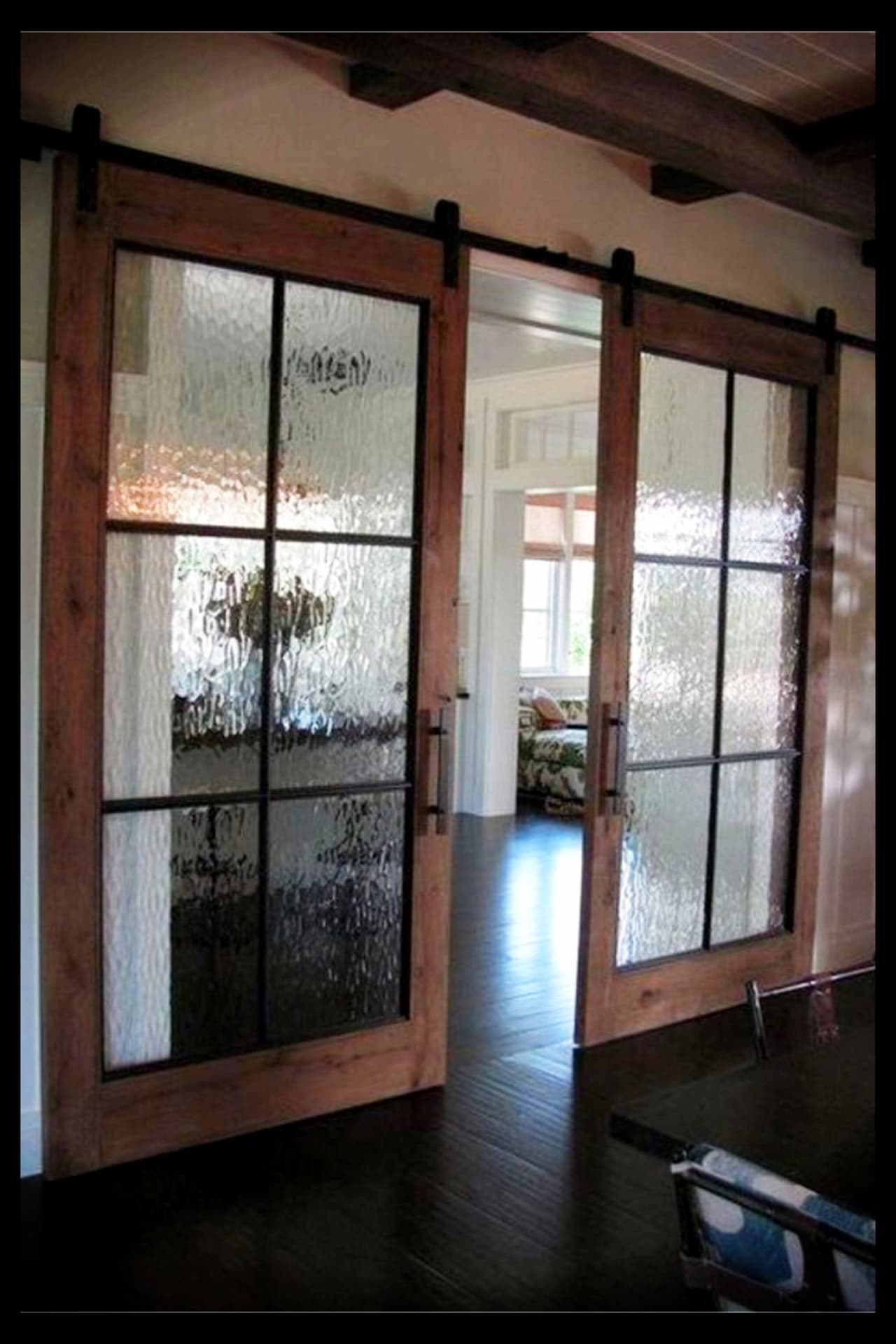 Pros
– Space Saving

Wall-mounted sliding barn doors DO save space since they slide along the wall as opposed to the swing open concept of a traditional interior door.

If your area is small, a sliding door might be more practical than a normal door – especially in tiny houses.

– Budget-Friendly

Interior barn doors will create a stunning focal point for any room they're installed in – I imagine you've seen them in other homes and thought, WOW, I totally want one in MY home.

Installing a sliding barn door is an easy way to add a stunning touch to the overall look in your home – AND, they are also fairly inexpensive to install.

If you're redecorating your home or remodeling your basement on a budget, converting a regular door into a barn door can be quite cost-effective AND create a big change when decorating on a small budget.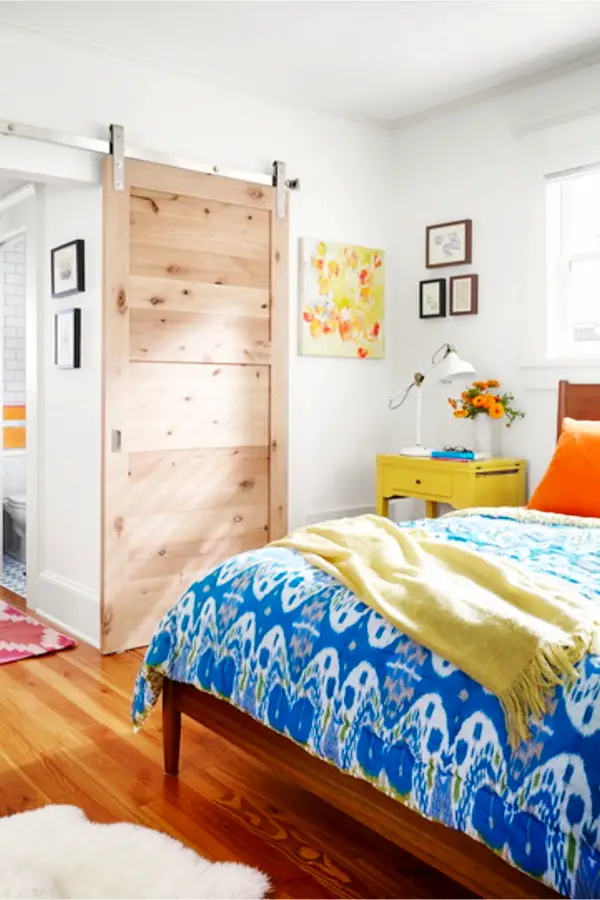 Cons
– Not So Private

You know how it feels in a room when the door isn't completely closed? That's kind of how sliding barn doors are when they ARE completely closed.

If it's a room that you DO want total privacy (for example, your master bedroom or bathroom), really think before using a sliding barn door as your interior door for that room.

A sliding barn door is NOT the best for bathroom privacy – at all.

And NO, barn doors do NOT keep out noise since they don't seal like a regular door.

– Kinda Loud

Sliding barn doors DO make noise when they open and close – they're sliding along a metal track, right?

If it were me, I'd NEVER install a wall-mounted barn door on a room where things MUST be quiet – for example, as a nursery door – or anywhere NEAR a baby's room – not even as the nursery closet door.

Who would want that noise waking up the baby all the time? Ugh!

And by the way, sliding barn doors are NOT baby proof!

– Wall Space

While sliding interior doors DO save space and can maximize the space IN the room, they also can take up a lot of precious wall space.

You can't have any furniture, hanging pictures, light switches, etc on the wall area where the barn door slides to open.

That, alone, can limit where you can put furniture, etc IN your room if you convert that regular door into a sliding barn-style door.

Also keep in mind that you NEED wall space available to install a barn door – be sure to measure BEFORE you convert your current door.

– Interior Decor Trends

Are you old enough to remember shag carpet or yellow appliances?

If you walk into a home now and see either of those things, doesn't it "date" the house decor for you?
Be sure YOU love the look of your sliding doors – it's possible that interior barn doors could turn out to be the next charming decor trend and make your home look dated down the road.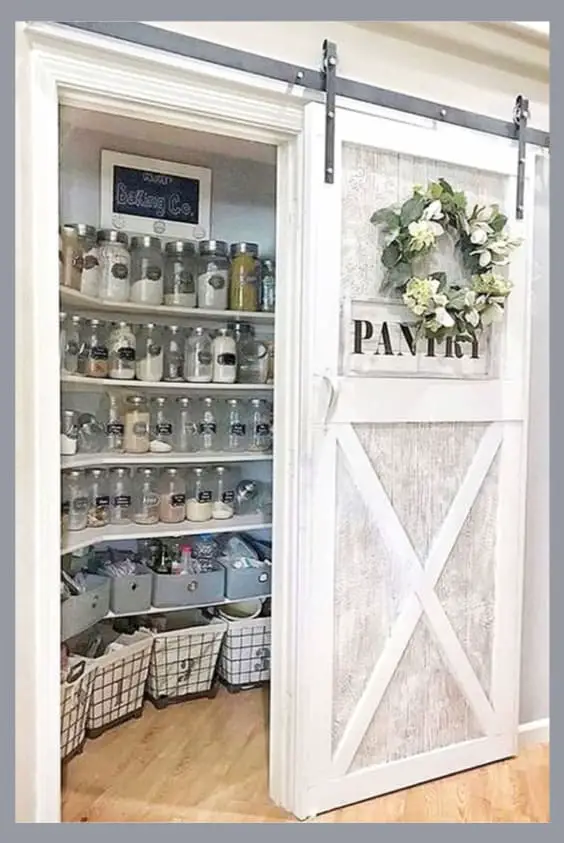 Single Wood Sliding Barn Door Kit For PantryShow Me This Double Door Wood Sliding Barn Door KitShow Me This
 Sliding Barn Door Entertainment Center KitShow Me This Rustic Industrial Style barn Door KitShow Me This
Summing Up…
Things To Know BEFORE Installing a Sliding Barn Door…
Barn doors are a great way to update the look of your home without breaking the bank
There are potential benefits and disadvantages of having sliding doors in your home
Interior barn doors are budget-friendly, space saving and easy to install
Interior barn doors are ideal for rooms that already have a farmhouse decor
Adding a pair of sliding barn doors to your home is one of the easiest ways to update your home
Barn doors offer a unique look and style not found with normal doors
Go Back To A Specific Section: