---
Need cheap and easy party food ideas? Check out these 57 make ahead party food platters for a crowd.
From bite size party sandwiches to pinwheeel roll up appetizers, charcuterie boards and fruit, veggies, cheese and cracker trays with dips, these budget-friendly finger food platters are perfect for small groups or a large crowd at any event, special occasion or Holiday party.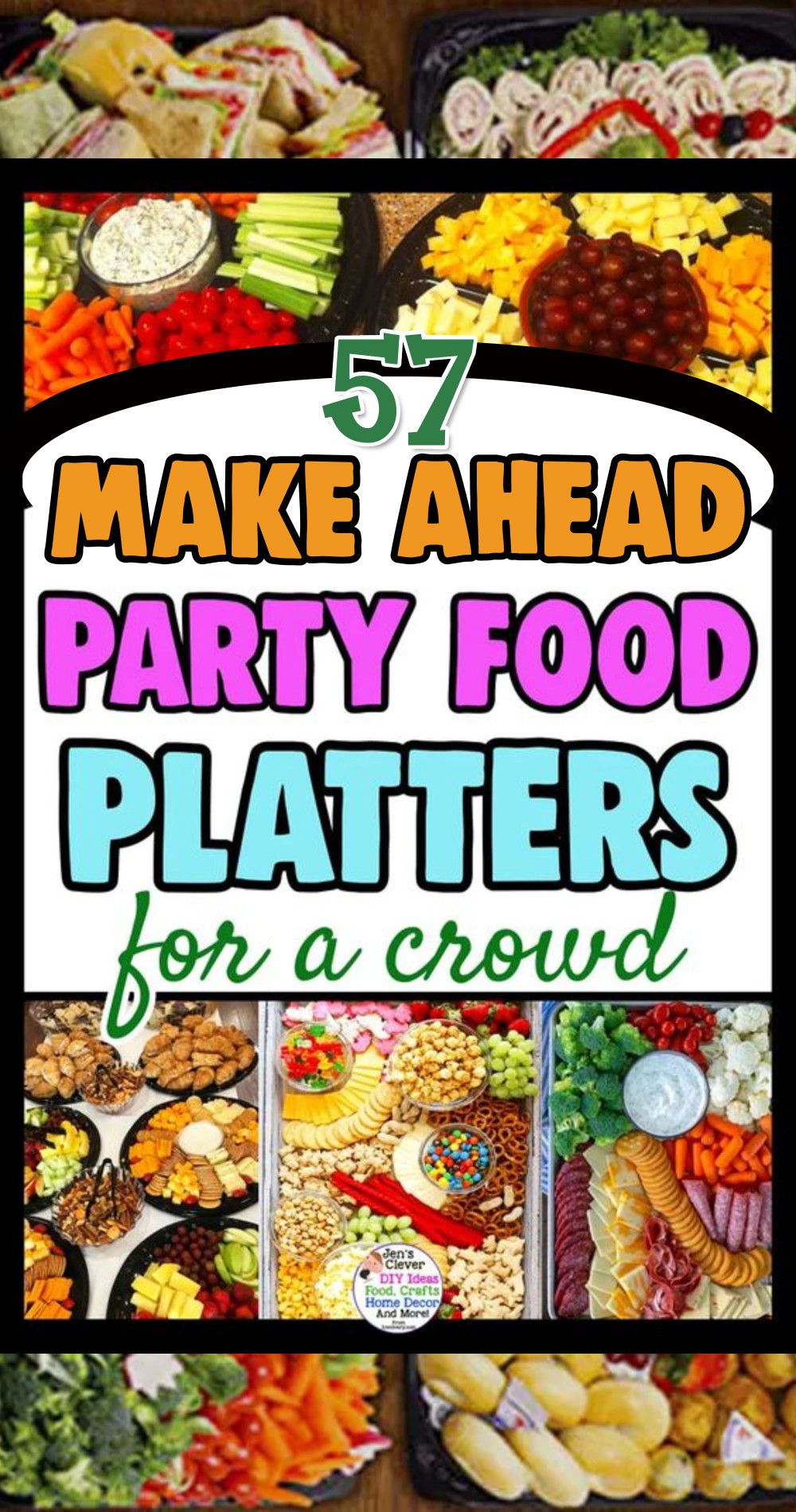 ---
Updated on September 26, 2023
posts may contain affiliate links -Enjoy and feel free to share with your friends!
---
Make Ahead Party Food Platters and Trays
If you think every homemade party food platter is the same, prepare to have your mind blown!
Below are some really unique and pretty ways to serve platters of finger foods at any event – some are easy last minute ideas, too. From large batch food trays to small group platters, you are sure to find the perfect make ahead party platter for your special occasion or event.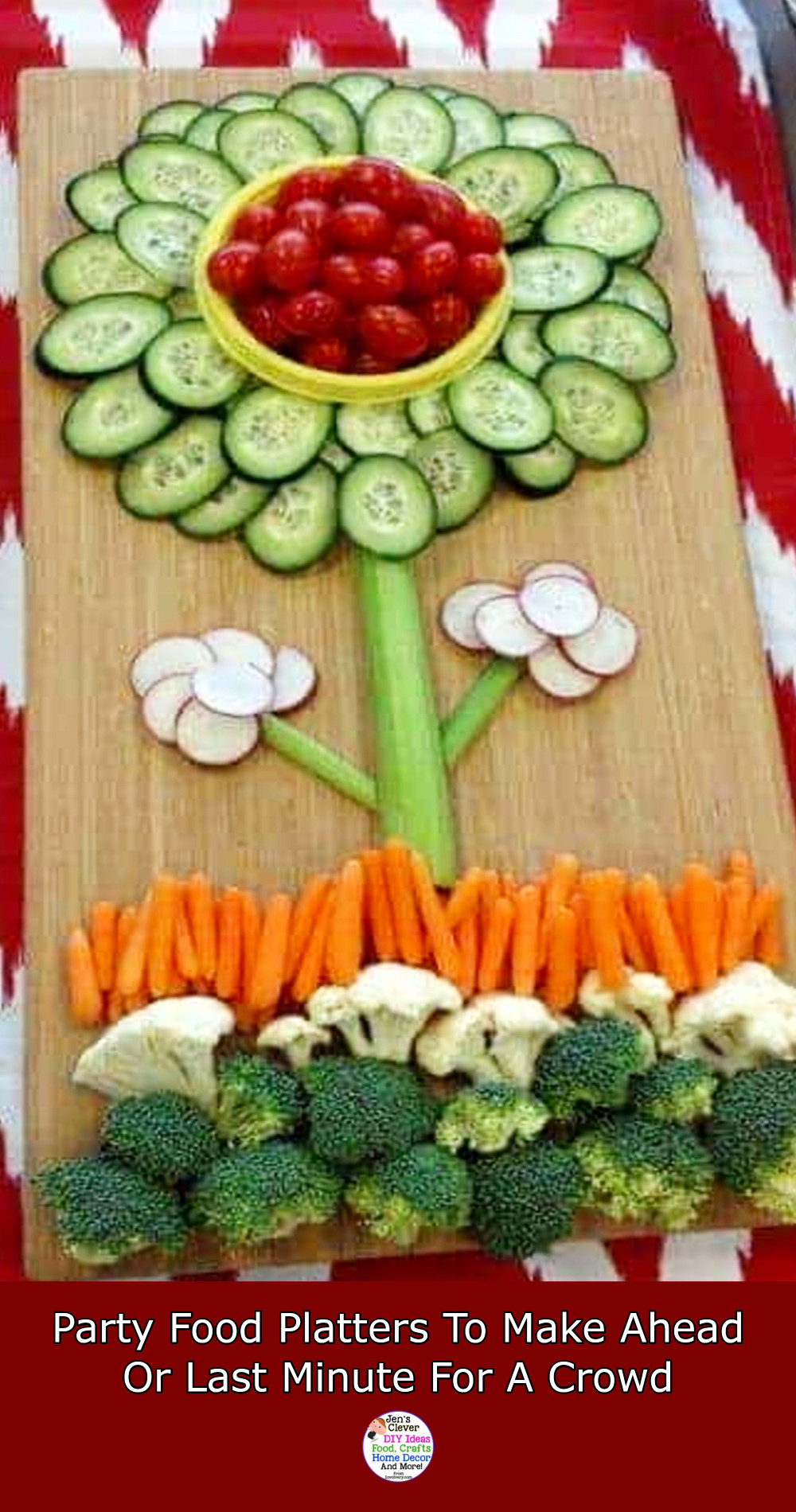 From creative vegetable platters (like the flower shaped veggie board in the picture above), to sandwich trays, taco snack boards, football game day platters and more.
Let's jump in and look at party platters you can make ahead of time OR last minute for all parties, showers, open house events and special events.
Snack Platters For Entertaining
Whether you're entertaining a large crowd or a small family gathering, snack platters are the perfect party food to set out.
Just look how gorgeous these snack trays look below!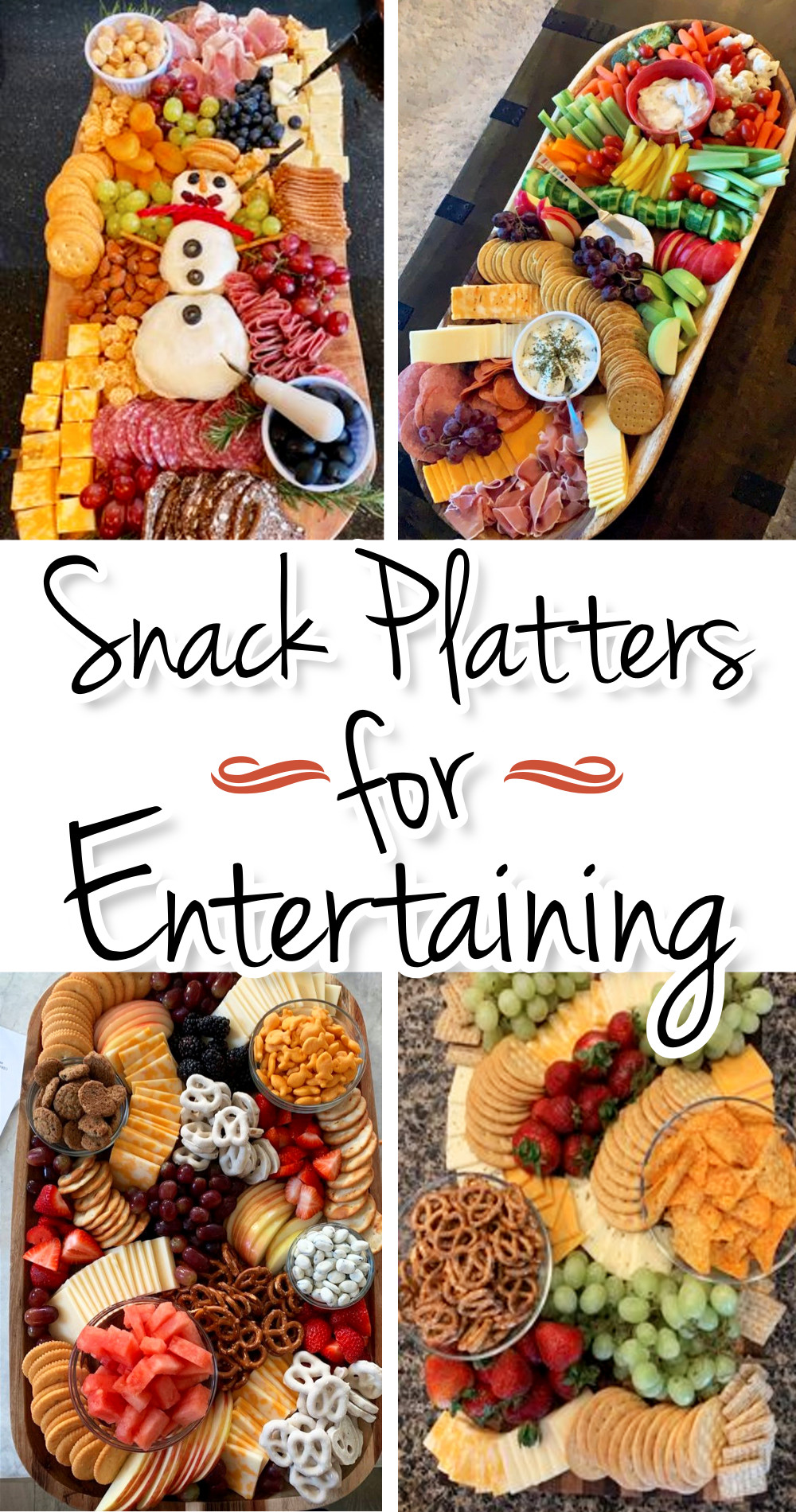 While those platters and grazing boards are full of generic snacks and finger foods like crackers and cheese and grapes, pretzels, strawberries, vegetables and dips – it all looks SO much nicer when it's arranged on a board or tray like those pictures above.
So – instead of just opening a bag of pretzels and pouring them in a bowl, why not plan out a snack platter and make it ahead of time?
Let's look at some more homemade party platter pictures and ideas – and I'll show you where to find instructions to make each one.
Cheap Party Platters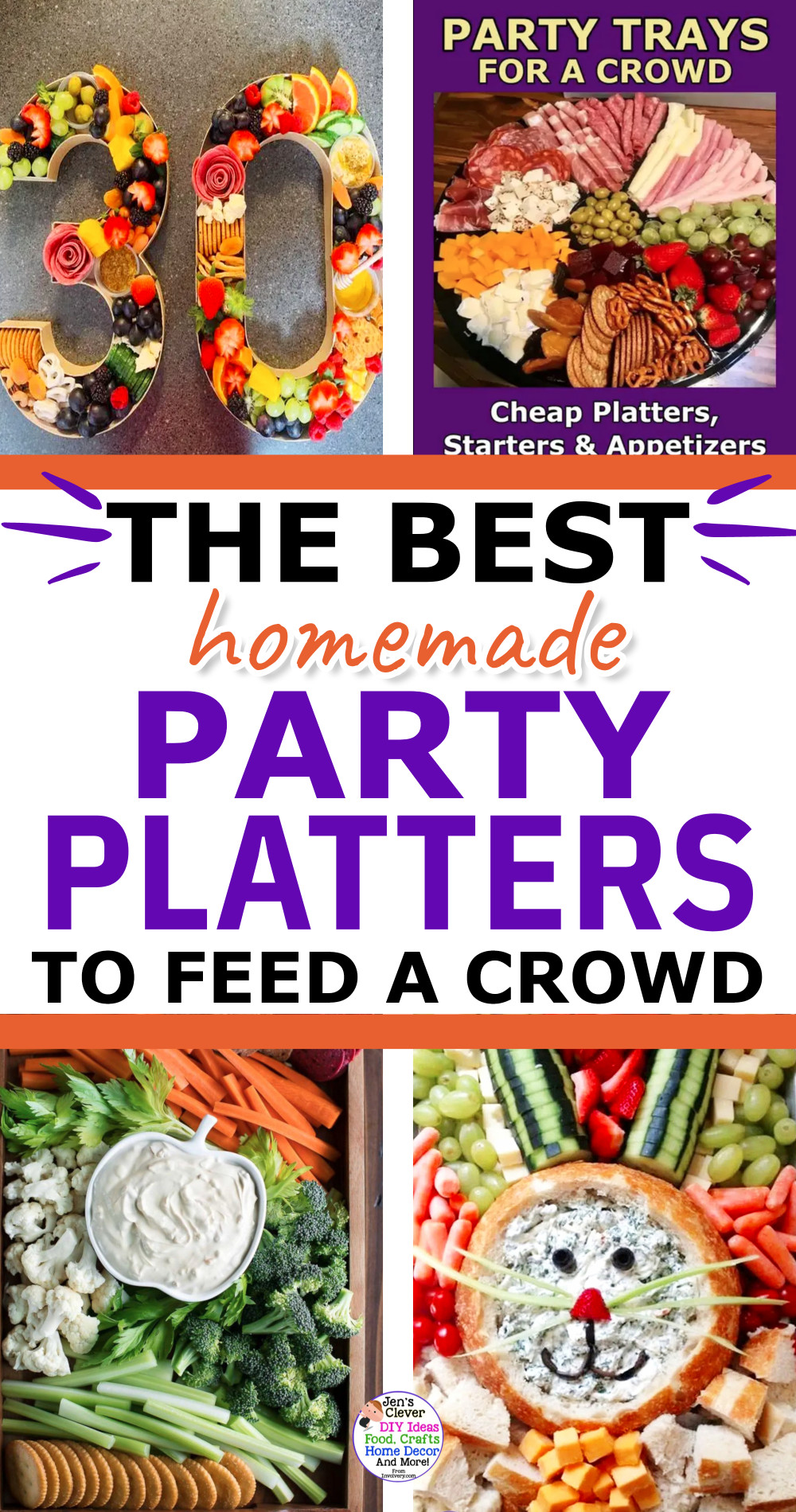 In The Picture Above – (left to right, top to bottom:)
30-Shaped Homemade Birthday Party Platter – From grazing platters to elegant charcuterie boards, below are LOTS of pictures of homemade party platter ideas you can make on a budget with a simple sheet pan or an elegant party tray…see all homemade party platter ideas
---
Party Trays For A Crowd – I'm SO glad I found these inexpensive cold appetizers for a crowd and cheap party food platters I can make – they're all affordable homemade finger food recipes that are not only CHEAP to MAKE, but EASY to make too. …see all cheap party food ideas
---
Easy Veggie Tray With Dip – When it comes to parties and game night around here, I love whipping up an easy veggie tray with dip! They're colorful, healthy, and simple to make….see the recipe
---
Bunny-Shaped Party Platter – When it comes to coming up with large batch party food for big crowds, snack platters (like in the Easter Bunny party platter picture) are THE way to go…. see all inexpensive party snack platters
Grazing Trays and Snack Boards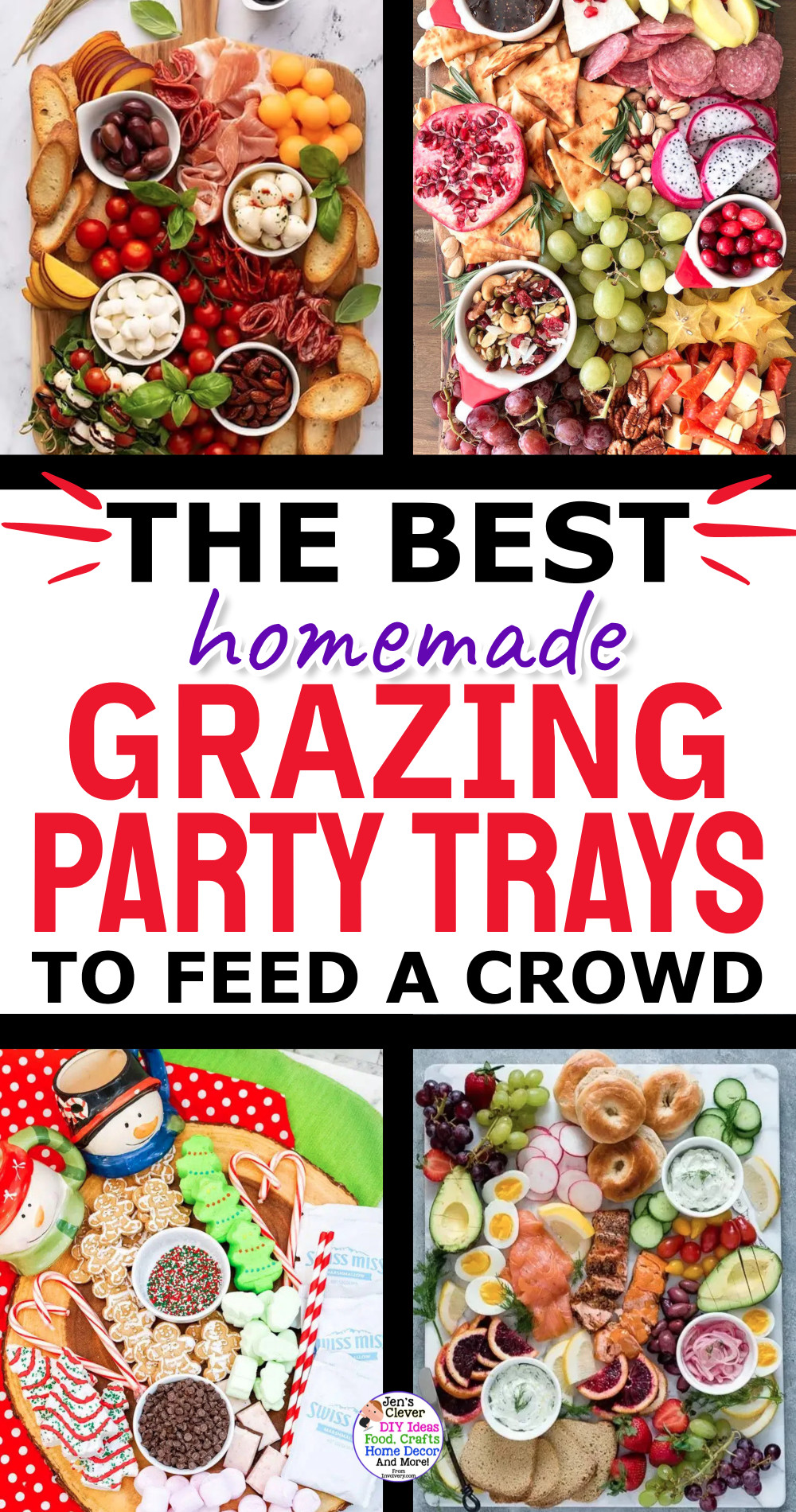 In The Picture:
Italian Antipasto Platter – Enjoy a simple and beautiful Italian antipasto platter this summer! With fresh garden fruit, cured meat, cheeses, and bread, this Charcuterie Board is so delicious, easy to put together, and fun to eat.
---
Family-Size Snack Board – This family-size Holiday Charcuterie Board is perfect to snack on while Christmas dinner is being prepared or take it on the go for holiday parties and potlucks.
---
Hot Chocolate Charcuterie Board – This Hot Chocolate Charcuterie Board will be your new favorite Holiday treat. Enjoy a Christmas Hot Chocolate Charcuterie Board for parties, movie night or just for fun.
---
Smoked Salmon Breakfast Platter – Smoked Salmon Breakfast Platter is the ultimate spread for a special breakfast or brunch! Recipe is complete with tips on how to build the perfect salmon platter.
Large Group Party Trays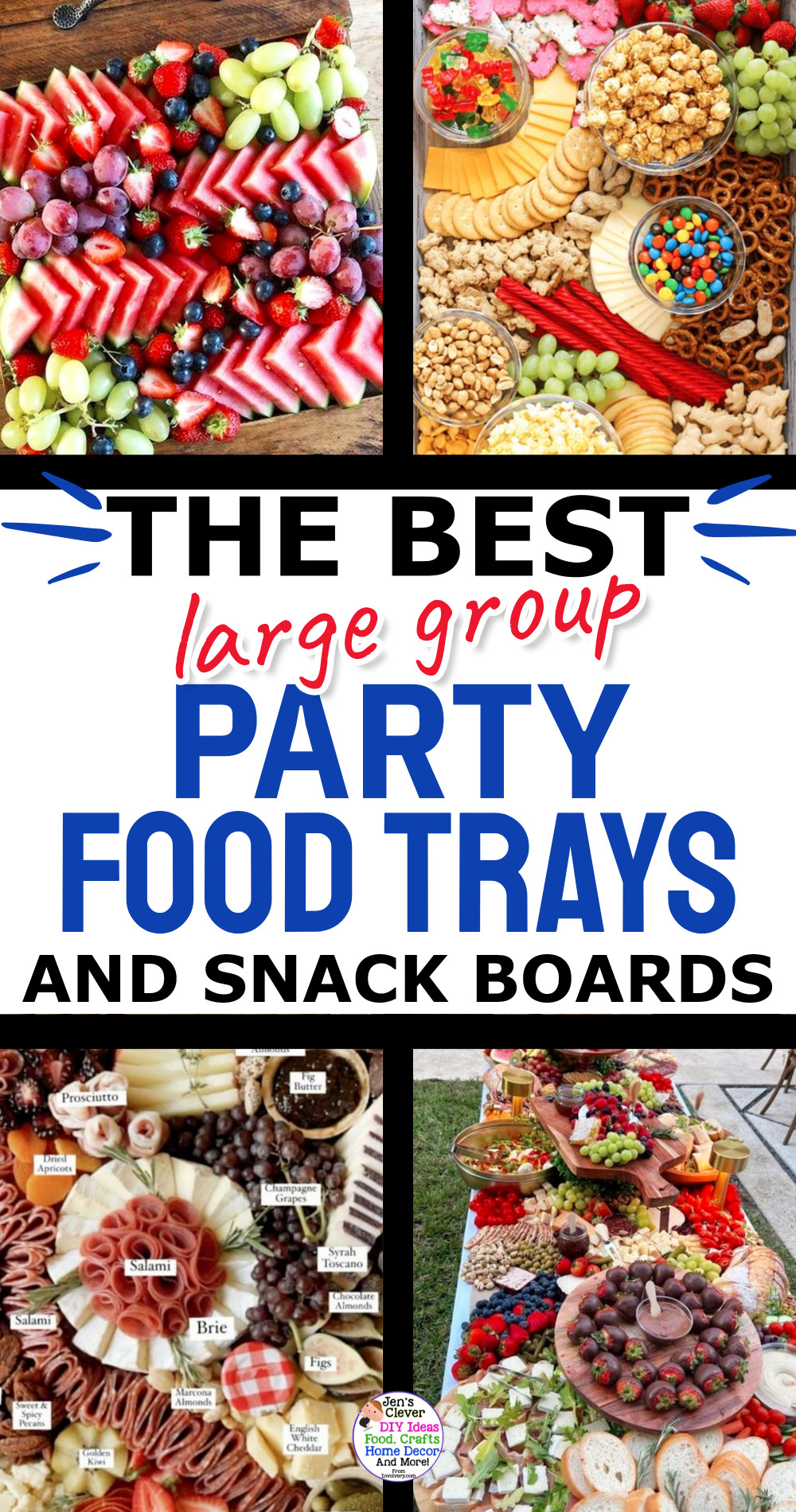 In The Picture:
Fruit Party Food Tray found on Pinterest here.
---
Movie Night Snack Board With Candy found here.
---
Housewarming Party Grazing Board found on Pinterest here.
---
Party Food Grazing Table found on Pinterest here.
Sandwich Platters For Parties
In The Picture:
✅ Cold chicken salad croissants – These chicken salad croissants are now one of my favorite NO COOK party food ideas – and there's a super FAST way to make them… read more
---
Mini Sandwich Bites – Mini sandwiches are a great snack not only for kids lunchboxes, but they are also perfect for brunch, party, baby shower or picnic. Ready in 10 minutes, these simple ham and cheese sandwiches are always a hit at any gathering… see more
---
Tea Sandwich Tray – I think a party food station of cute tea sandwiches would be so pretty for a shower. Love the variety… read more
---
Make Ahead Hot Ham and Cheese Sandwiches – Hot ham and cheese sandwich casserole is the perfect savory recipe to feed a crowd on game day, for a holiday, or just because… see the recipe.
Deli Style Platters
Naturally, you can order party food platters, veggie trays etc from the deli department of your local grocery store. While not the cheapest option, it is definitely the most convenient.
Or, you could look at how deli departments arrange their platters and copy that style when making your own food trays.
Here are some really pretty deli-style food platter arrangements: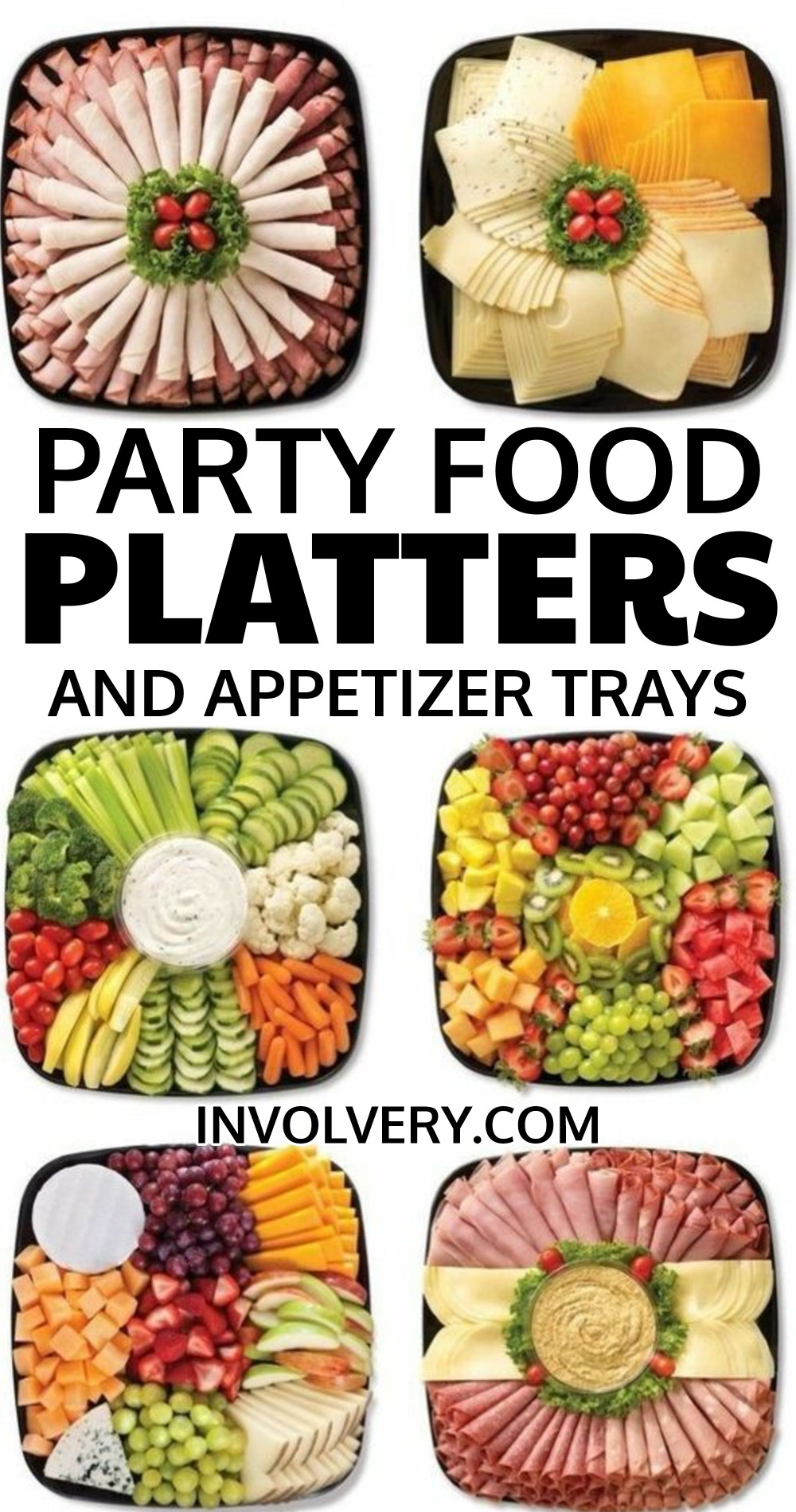 Mini Sandwiches For Parties
How about some easy make ahead mini sandwiches and sliders for your party trays? Sandwiches are both easy to make AND easy to serve – plus, they're more filling that small bite appetizers are.
Below are my favorite resources for mini sandwich and slider recipes: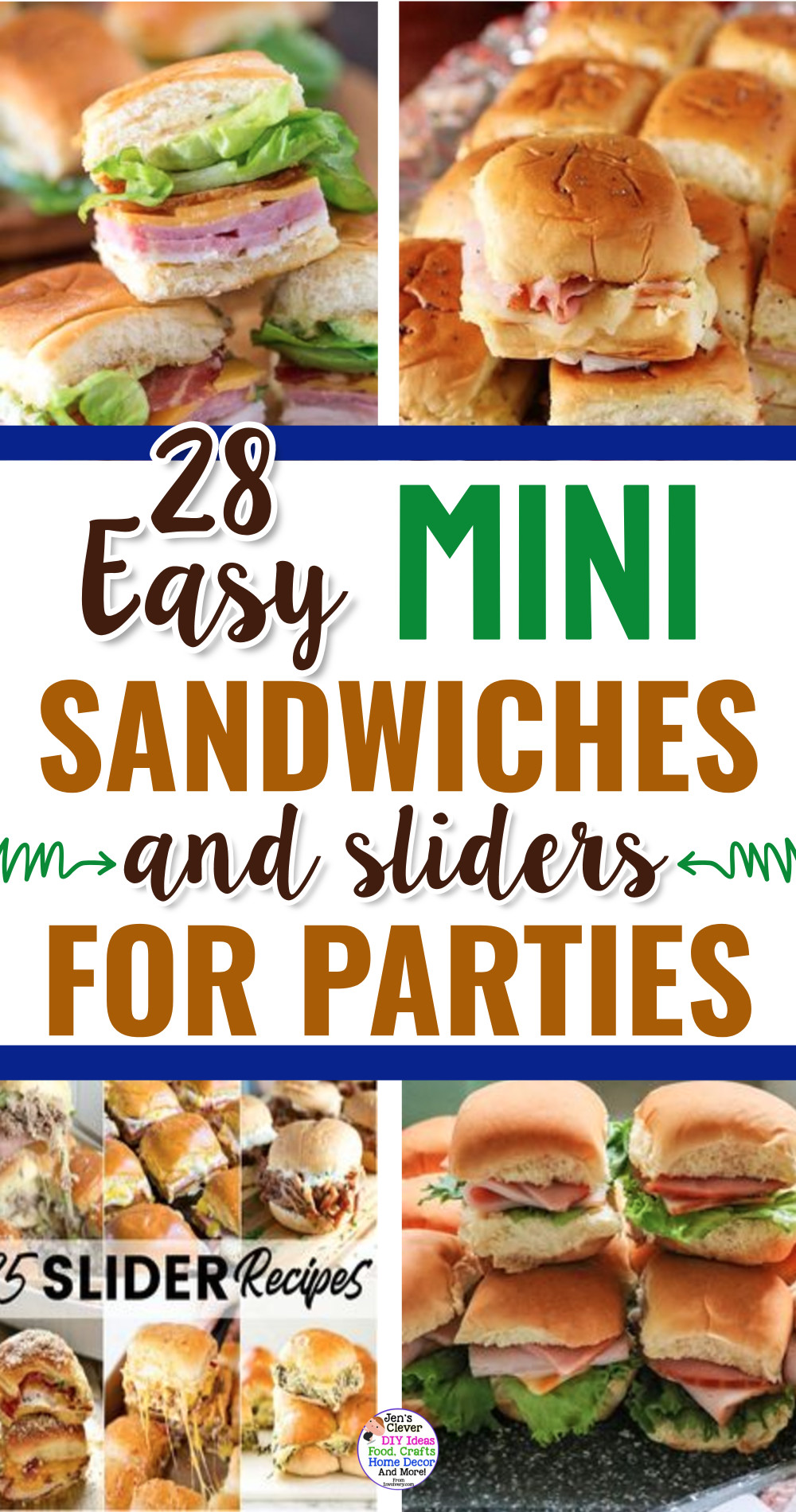 Recipes in the picture above:
Ultimate Club Sandwiches For a Crowd – turkey, ham, cheddar, bacon, lettuce, and avocado with garlic butter brushed sliced rolls to toast them until golden brown – recipe is here.
---
Hawaiian Ham & Cheese Party Sandwiches – Give your party sandwiches a decidedly Hawaiian twist with a hearty and flavorful dose of pineapple. They'll be gobbled up in no time at your next party or game day get-together – recipe is here.
---
25 Slider Recipes – I bet you can't choose just one of these 25 Slider Recipes to make! Loaded with flavor, these mini sandwiches are great for game day or your next party – see all recipes here.
---
Ham and Turkey Sliders – Step by step instructions plus tips to make ahead and last longer in the fridge – recipe is here.
Game Day Party Platters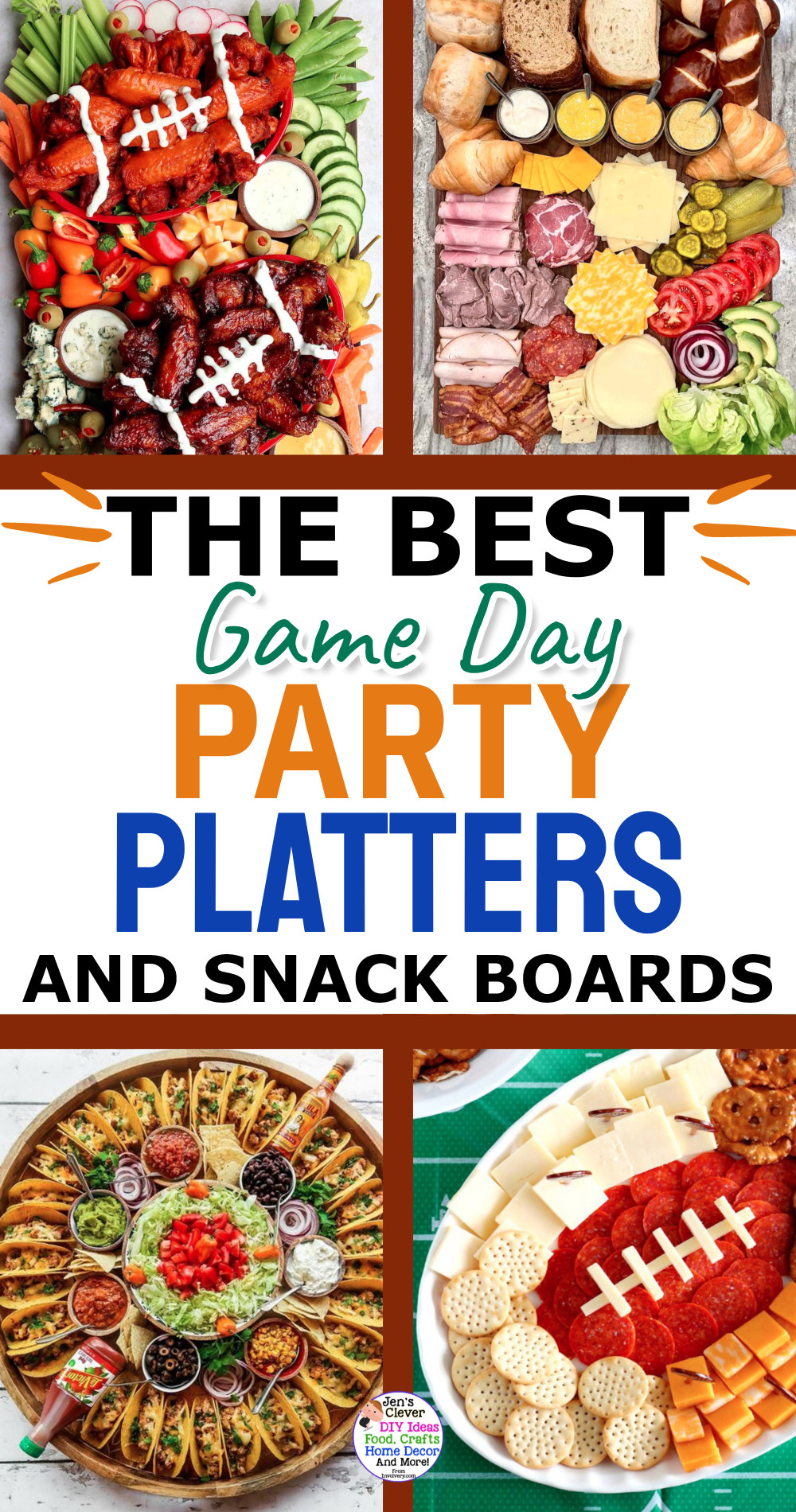 In The Picture:
Chicken Wings Football Snack Board – Serve up game day snacks your team can't wait to tackle with this Chicken Wings Snack Board. Fresh crispy veggies and saucy flavorful wings are a winning combination for game day or any day
---
Build-Your-Own Sandwich Board – How to put together The Ultimate Build-Your-Own Sandwich Board that will feed and please your hungry crowd
---
Easy Taco Game Day Platter – Serve an Easy Taco Snack Board for any party, with your favorite toppings! Make crunchy tacos with turkey, beef, chicken, or pork.
---
Football-Shaped Charcuterie Platter found here.
---
Football Themed Party Platters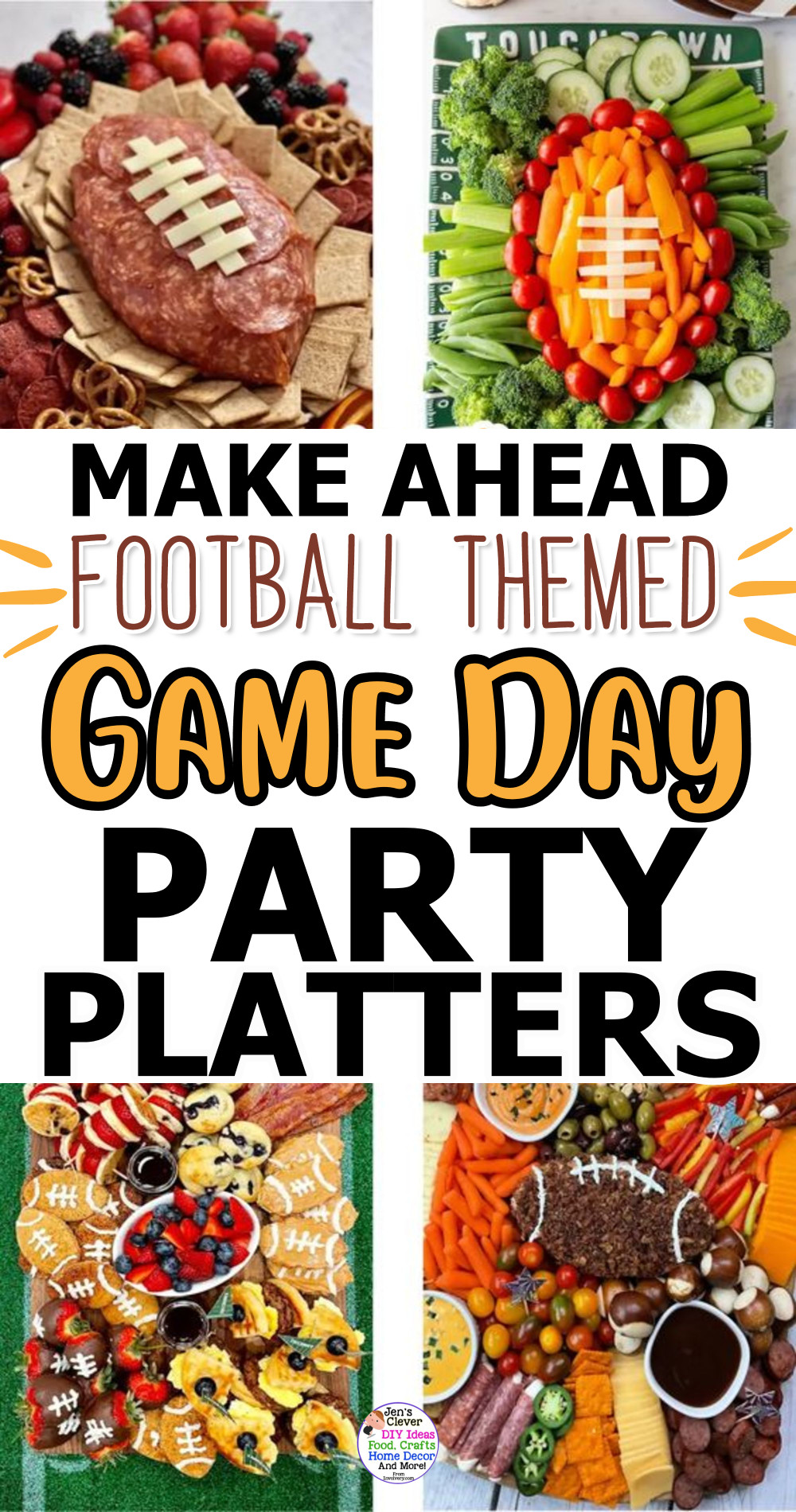 1 – Super Bowl Cheese Ball Board – This football shaped cheese ball is super easy to make and makes any cheese board a touchdown. See the recipe.
---
2 – Football Veggie Party Snack Tray – This Football Veggie Tray is the perfect game day snack for tailgates, super bowl parties or football watch parties. See the recipe.
---
3 – Tailgate Breakfast Food Board – Score points with your die-hard football family when you serve my Tailgate Breakfast Board. It makes that first meal of the day a fun and delicious team favorite. See the recipe.
---
4 – Game Day Football Charcuterie Board – Whether you're cheering on your favorite college football team or inviting friends and family over to watch the Big Game, this football charcuterie board will make you the MVP of the party. See the recipe.
---
Halloween Party Food Platters
And if you're having a Halloween party, you MUST make one of these Halloween-themed party food platters… so cute and so fun!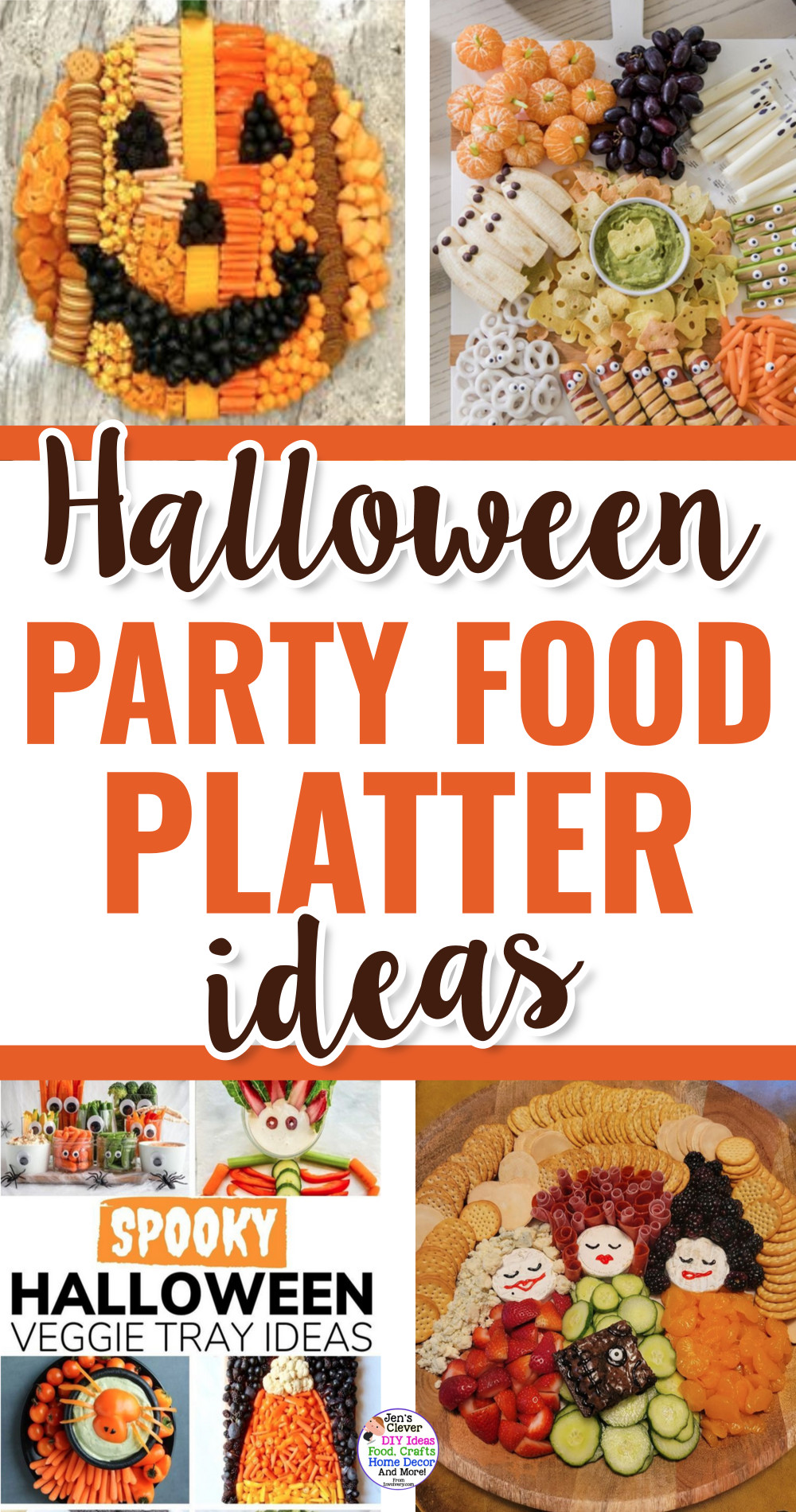 In the picture above:
Pumpkin Snack Board – How to build an adorable and delicious Pumpkin Snack Board for a Halloween or fall party that is sure to WOW your crowd – instructions here.
---
Healthy Halloween Snack Board – The perfect Board to whip up for a Halloween celebration at school, Halloween party or before you head out for trick-or-treating – recipe here.
---
Spooky Halloween Veggie Tray Ideas – easy and fun veggie tray ideas for a Halloween party or healthy Halloween snack or side dish – see all ideas here.
---
Hocus Pocus Charcuterie Board Ideas – tons of Sanderson Sisters snack tray ideas for a a Hocus Pocus watching party – see all ideas here.
Thanksgiving Snack Boards
I love setting out a snack board with cheese and crackers or veggies and dip at Thanksgiving, don't you? Just light things to snack on before the main meal or as an aesthetic addition to the buffet food table.
Below are some really cute ways to arrange your snack board for Thanksgiving guests: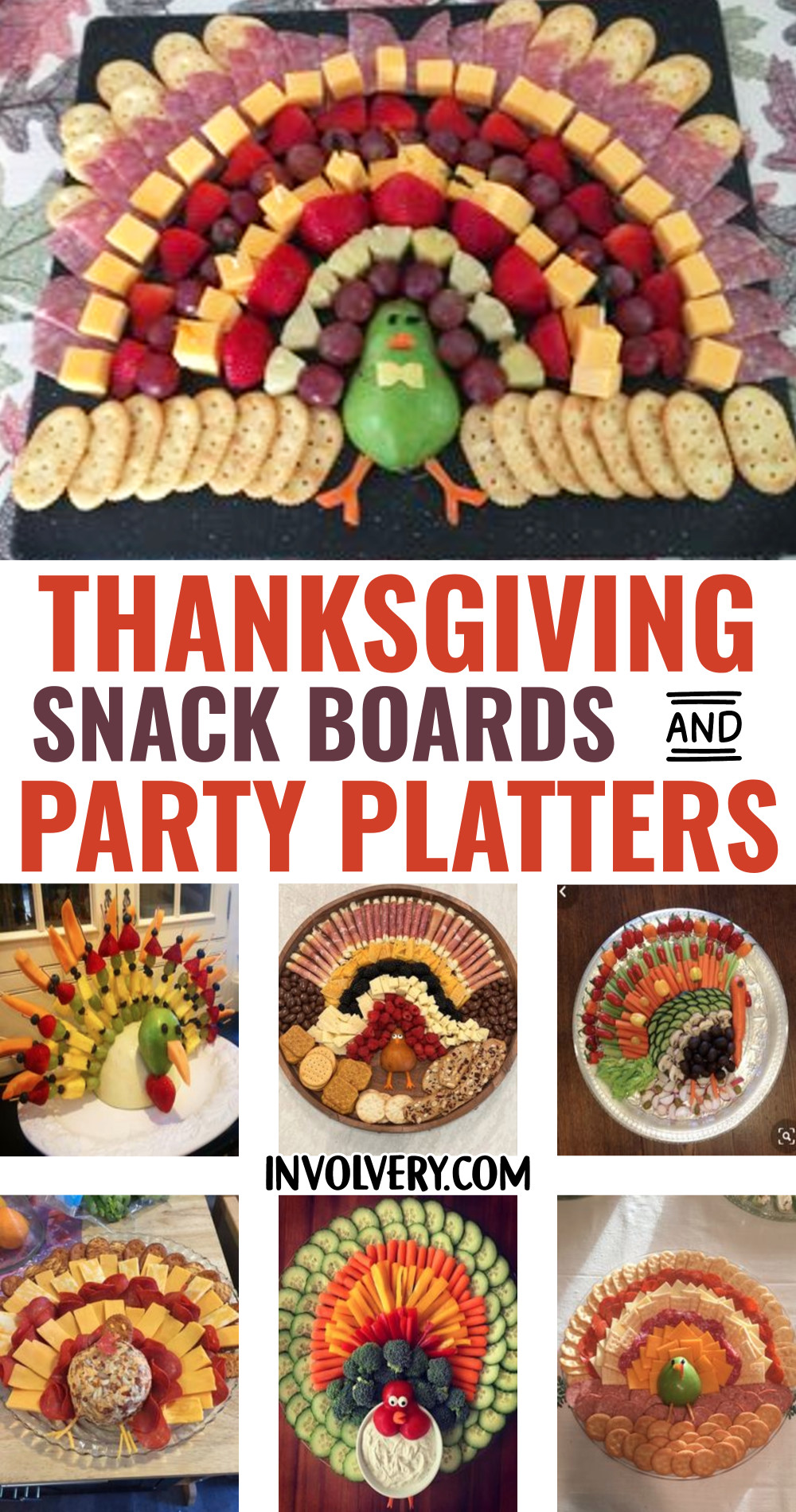 Christmas Party Food Platters
If you're hosting a Christmas party or a Holiday open house-style event, here are some Christmas-themed snack platters, food trays and charcuterie grazing board ideas.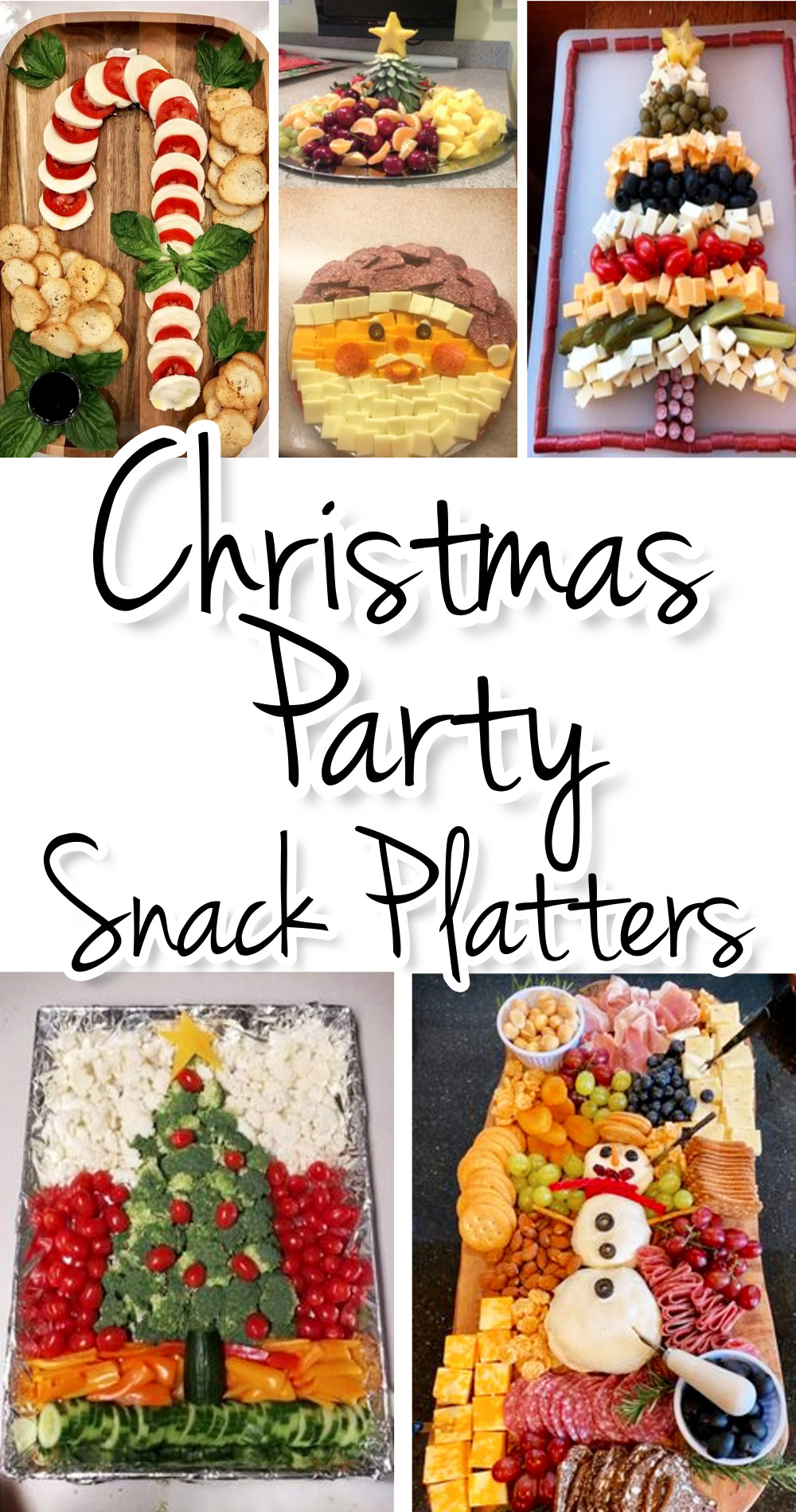 I've been collecting Christmas party snack tray ideas and will have an entirely NEW post that will be full of ONLY homemade Christmas party tray ideas.
Be sure to check back!
More Platters For Entertaining
Below are MORE wonderful resources to find party food platters you can make for parties, reunions, game day or even a potluck at work.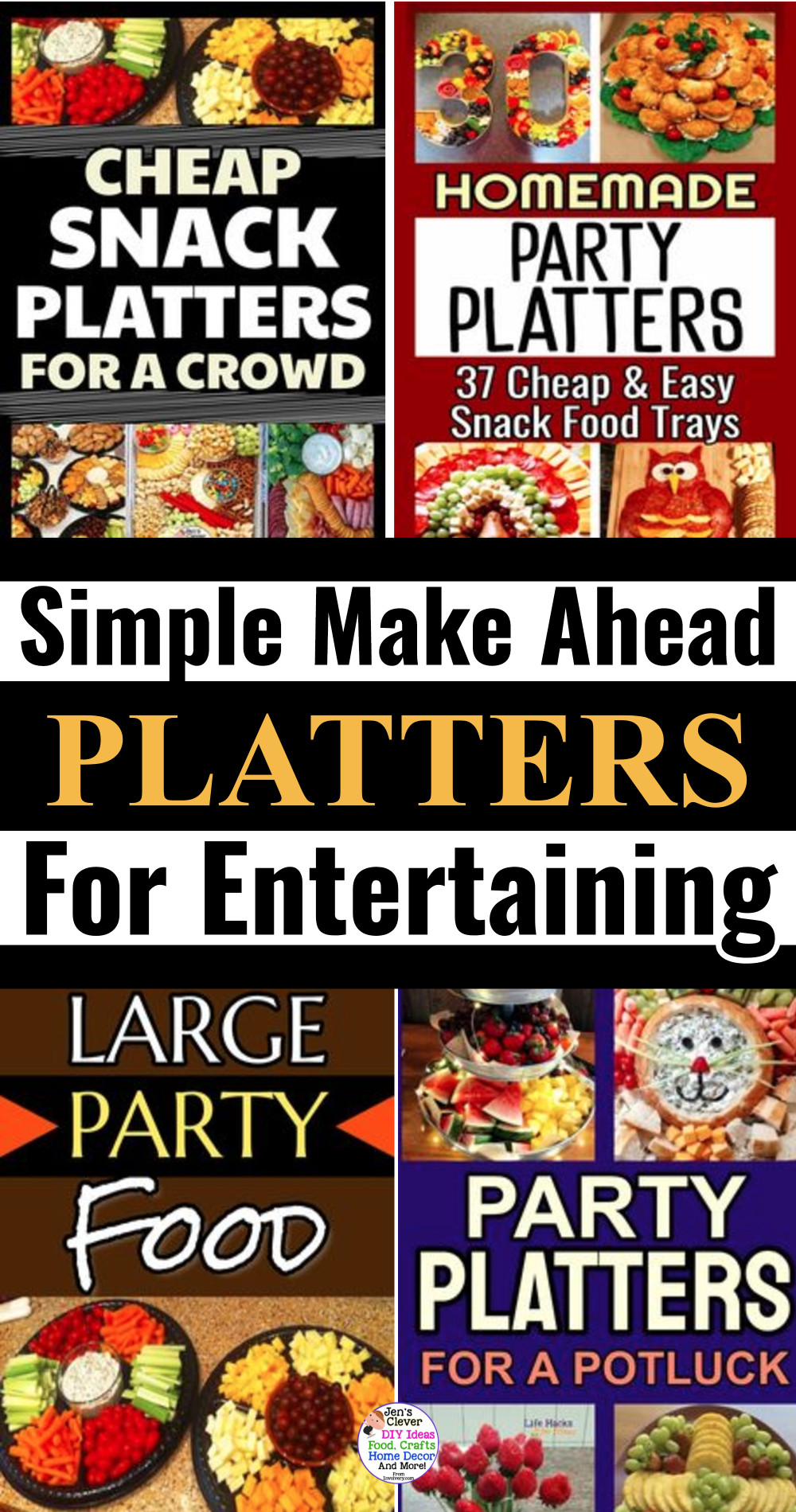 Resources from the image above:
(1) – Cheap Snack Platters For A Crowd
---
(2) – Homemade Party Platters – 37 Cheap & Easy Snack Food Trays
---
(3) – Large Party Food Platters You Can Make In Small Batches
---
(4) – Party Platters For A Potluck
---
Miss Anything?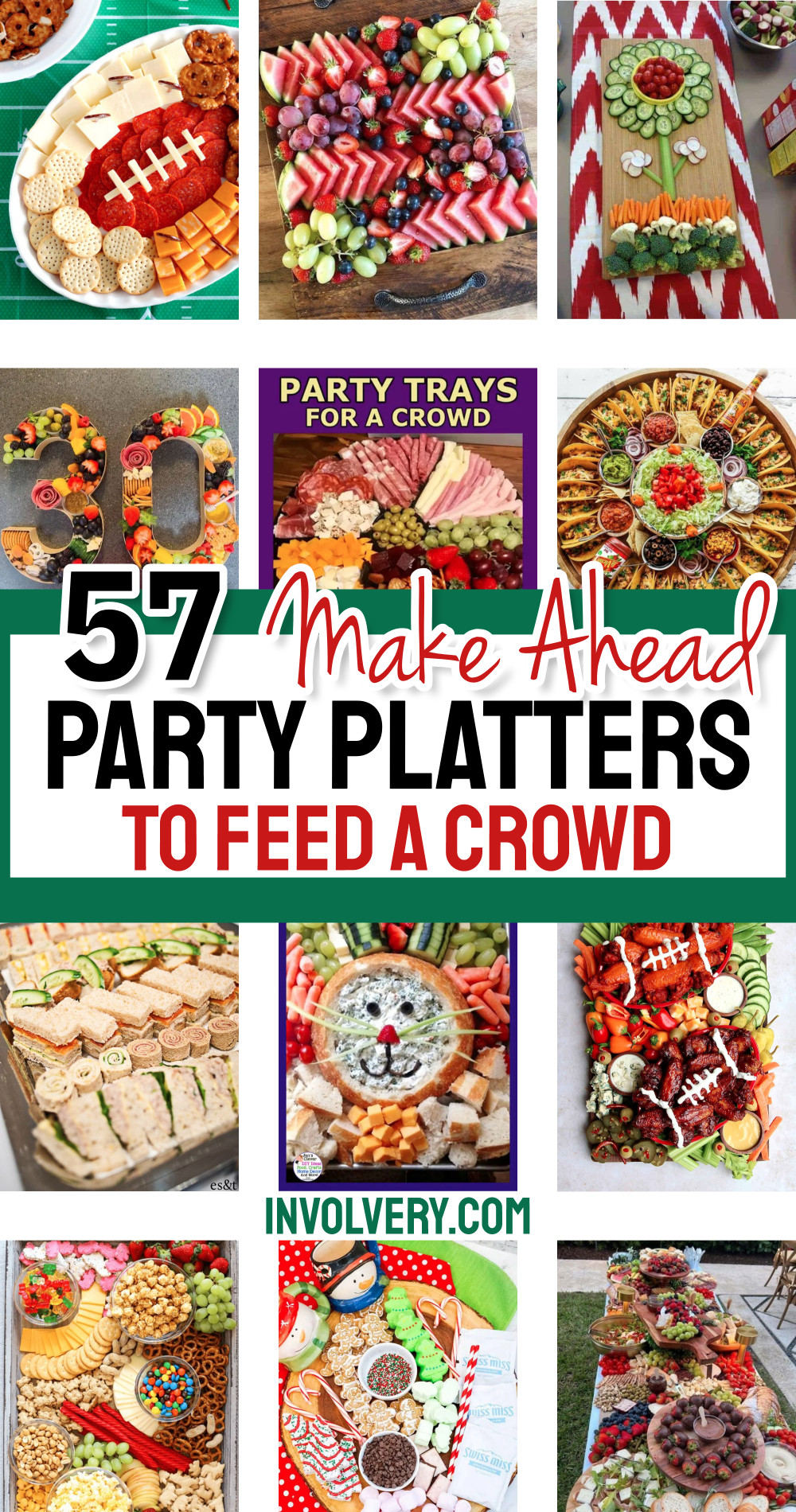 More Party Food Ideas