Small Laundry Room Decorating Ideas (on a BUDGET) – Laundry room organization and small laundry room ideas. These laundry room makeover pictures are amazing before and after laundry area makeovers. These laundry room designs use floating shelves and over laundry room shelving to make more space in a tiny laundry room closet, laundry area, utility closet or laundry nook. Lots of DIY laundry room storage ideas and small laundry room ideas for getting organized at home on a budget, too!
Alrighty, before we get started, I just want to let you know that all opinions are my own and that as an Amazon Associate I earn from qualifying purchases. Many links found on this page may take you to another website (and they should open in a new window so you don't lose your place).  Enjoy and feel free to share with your friends!
---
Small Laundry Room Makeover Ideas
Do you have a teeny-tiny laundry room or laundry closet? Trying to figure out how to not only make your laundry room look cute but to also make it more functional in that small space?
You're not alone!
But you ARE in the right place!
Take a look at all these small laundry room makeover ideas and images we have right here on this page.
---
---
Tiny Laundry Room Ideas
Tiny Laundry Room Ideas and Pictures: If you have a small laundry room in your home or apartment, you know the struggle is REAL trying to get the most out of your tiny laundry room area.
Especially if you're on a budget!
Thankfully, you can get more storage and get more organized in your tiny laundry room very cheaply.
For example, this laundry room storage space was maximized with Dollar Tree items – and it looks GORGEOUS!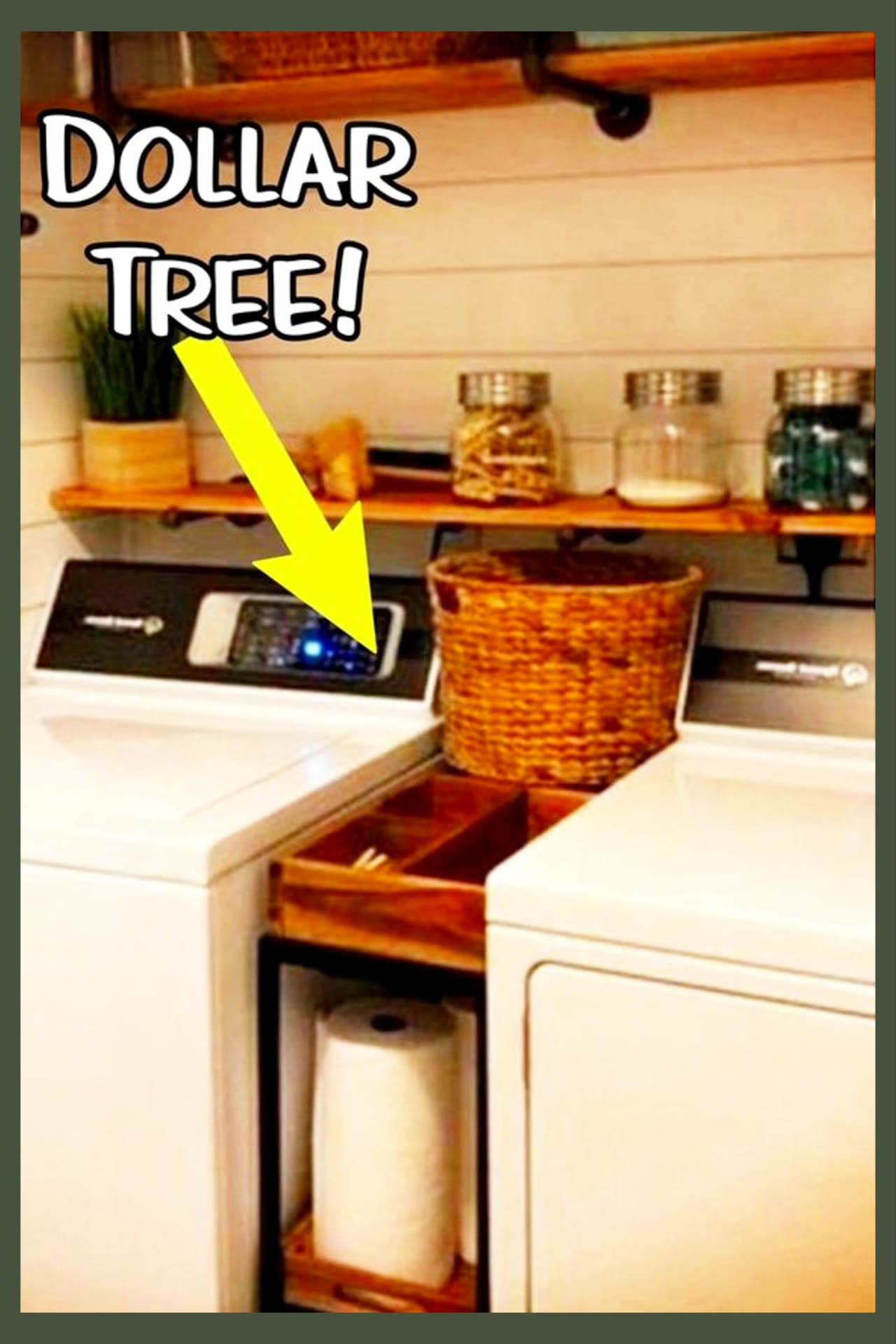 Simple Laundry Room Design
If you have a small laundry room and need a SIMPLE laundry room design for your small space, I just LOVE this small laundry room idea below: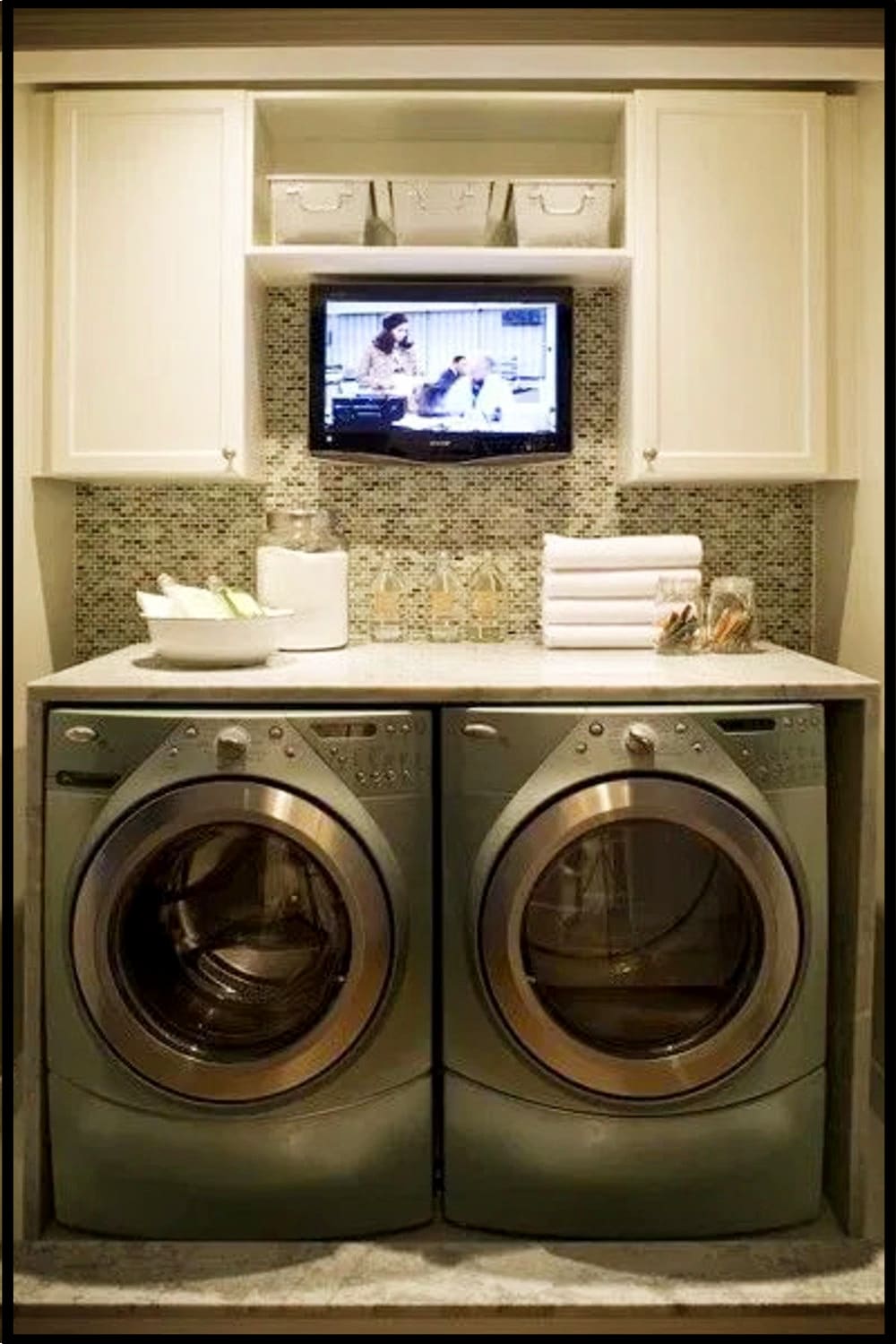 The laundry room is a BUSY room, I have no idea why laundry areas in some homes and apartments are so stinkin' small, but there are lots of creative ways to make the most out of the limited room you have.
 Laundry Room RugsGet More Info Laundry Room CartsGet More Info Laundry Room OrganizersGet More Info
Small Laundry Room PICTURES
The laundry room pictures below all show some clever small space laundry room design. Some of these laundry room makeovers are amazing and so beautiful – and do not look that hard to do in your own small laundry room.
If you're looking for some laundry room inspiration to re-do your tiny laundry space, you have got to look at the pictures below!
Ready to redecorate your small laundry room in rustic farmhouse style? Below are tips, tricks and PICTURES for your small farmhouse laundry room remodel that are budget-friendly AND renter-friendly. Before you start redecorating your laundry room, take a good look at the space you have available to work with. Maybe …
You'll see all kinds of ideas – from laundry room shelving ideas, where to PUT the litter box in a small laundry room, before and after pictures, laundry room paint color ideas, and SO much more!
Ready to put your DIY hat on and make your laundry room not only beautiful, but functional?
Great! Let's go!
Clever Ways To Organize a Tiny Laundry Room * Small laundry rooms sure can be a challenge to organize and KEEP organized, don't you agree? If you have a tiny laundry room, you will love all the clever ideas for organizing a small laundry room in the pictures below. …
---
---
Space-Saving Tiny Laundry Room Ideas
Love this small laundry room closet idea above! Love the shiplap wall and the industrial floating shelves!
Find more ideas like that here:
Clever, creative and unique ideas for a small laundry nook in any area of your home. From converting an area of your garage into a laundry nook, to having a laundry nook in your basement, kitchen, bedroom, or bathroom – there are lots of ways to fit a laundry nook into your home.
Laundry Room Shelving Ideas
The laundry room shelving ideas in the pictures below are perfect for even a VERY small laundry room.
What a great way to add more space in a tiny laundry area!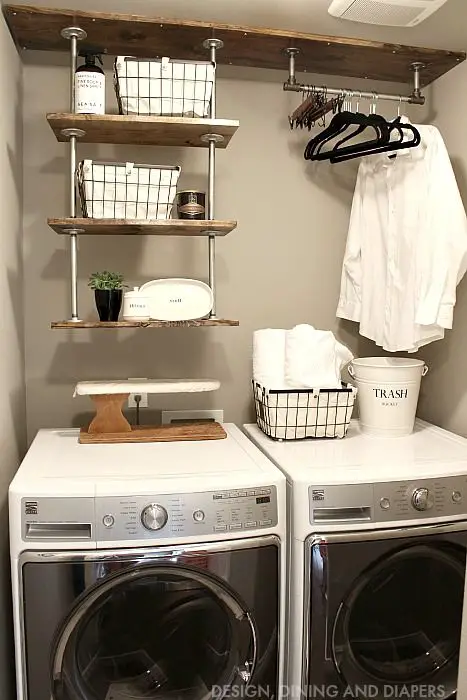 If there was one thing I could change about our house, it would be the addition of one large mudroom/laundry room. One big place to toss all the dirty shoes and clothes and have a sink and enough counter space.
Tiny laundry room space-saving idea – hanging pipe shelves to get lots more space in this small laundry room.
 Space Savers for Laundry RoomsGet More Info Laundry Room Shelving IdeasGet More Info Small Laundry Room HacksGet More Info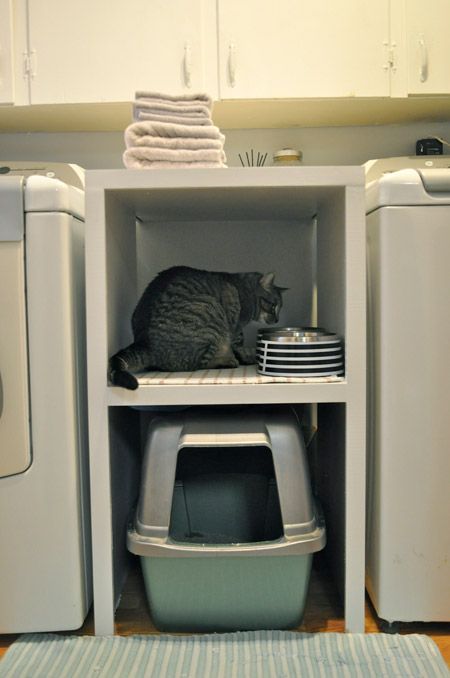 Laundry room space saving idea – cat litter box in between the washer and dryer. great use of a small space! We have 2 cats and know how challenging it can be to find a good place for their litter box (if you love cats, too, you should check out these cat gift ideas).
Space-Saving tiny laundry room layout idea. This layout gives this small laundry room LOTS of space and much more useable.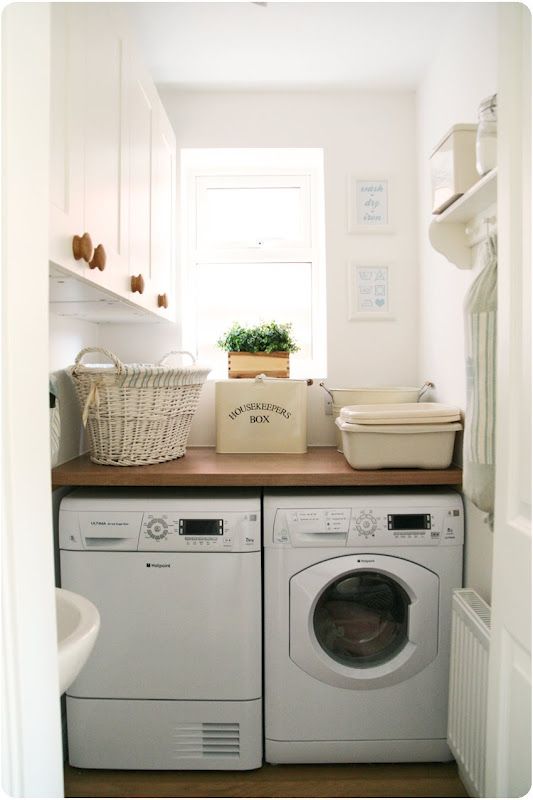 Tiny laundry room idea: Solid shelf over the washer/dryer and lots of cabinets on side wall make this a great small laundry room layout.
 Laundry HampersGet More Info Wicker Laundry BasketsGet More Info Laundry Storage CartsGet More Info
Absolutely LOVE the use of vintage tins like these in this laundry room!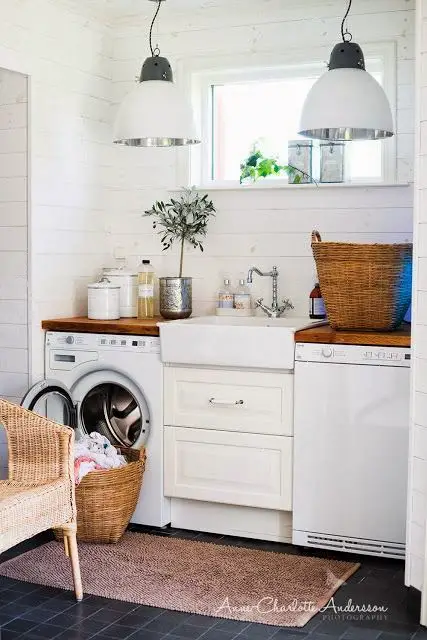 How to style a Laundry Room ? What do you need other than your basic washer-dryer & a someplace to house the supplies. Really not much else. But since we do end up spending some time in there, it sure would be nice if the space was well designed & styled.
Love the sink in this small laundry room! Very rustic and farmhouse feel to it.
 Vintage Laundry TinsGet More Info Laundry Room SignsGet More Info Laundry Wall BasketsGet More Info
Tiny Laundry Room DIY Ideas
If laundry isn't your favorite chore, make it more enjoyable with a lovely, organized laundry room. Get inspired by these spaces, outfitted with smart storage and stylish details.
---
---
Brilliant tiny laundry room DIY idea for a small laundry area off the kitchen!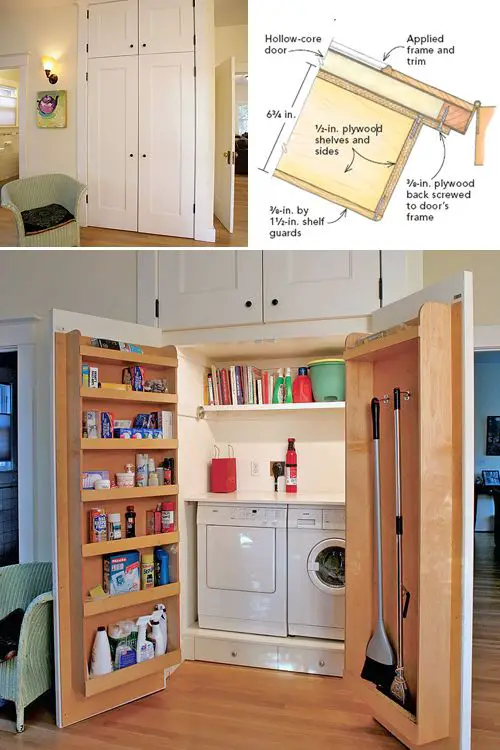 Laundry rooms are supposed to be the place where everything gets clean, crisp and looking sharp… But does your small laundry room itself live up to the task? If you can't find the pre-wash and you are navigating through open piles of unwashed laundry, you have a problem.
Laundry room closet DIY idea – LOTS of space in this tiny laundry room. Such a clever idea!
---
---
Stackable Washer Dryer Laundry Room Ideas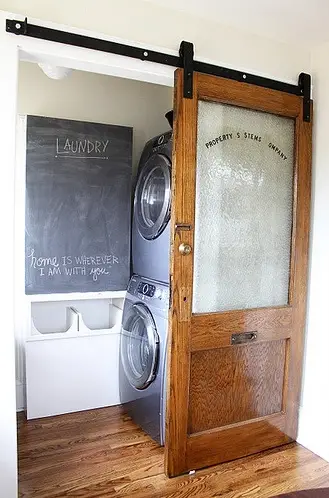 Tiny laundry room idea – this unused closet transformed into a laundry room. LOVE the sliding door!
 Laundry ChalkboardsGet More Info Laundry Room DecorGet More Info Laundry Room Wall IdeasGet More Info
A stackable washer and dryer is an excellent space-saving idea for a small laundry room in your home or apartment.
Tiny Laundry Room? A stackable washer and dryer mixed with lots of baskets and shelves makes for a great small laundry room DIY space saving layout.
Our laundry room makeover made some progress this weekend. I originally planned on just painting the walls white and reusing the existing metal shelves and brackets but once I started painting, I decided to change the shelving units. Why do I always do that?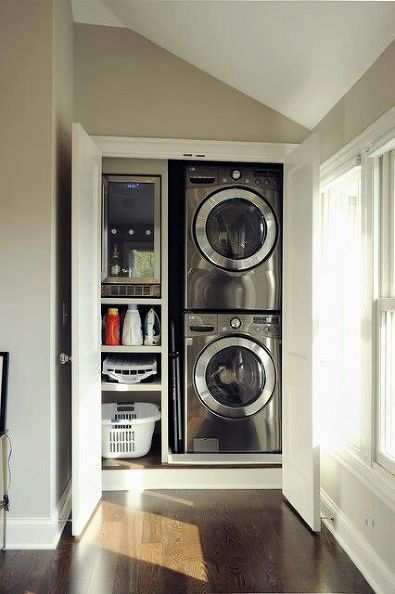 Gorgeous tiny laundry room layout idea. Small closet-sized laundry area now very useful and organized.
---
---
LOVE that they have their wine cooler in the same space! Do you see it, at the top left?
Brilliant space-saving idea!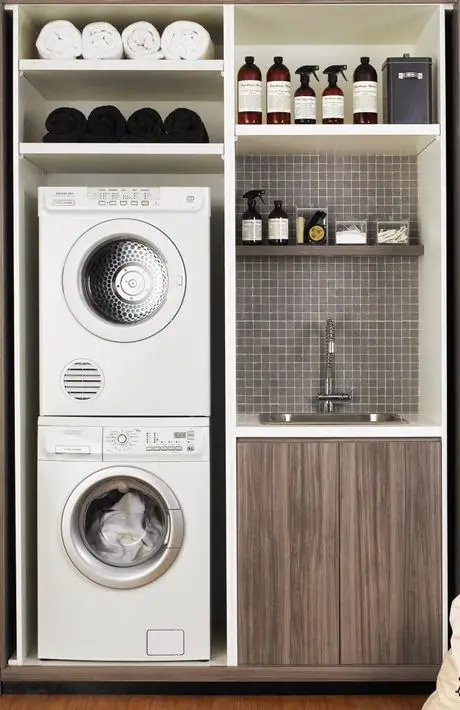 Small laundry room ideas: diy shelves and sink in tiny laundry area with stackable washer and dryer.
Small Laundry Room Before & After Pictures
Southern Colonial Transitional home tour fixer upper
Tiny Laundry Room Layout? Check out the Before and After make-over of this small laundry room picture above. That laundry room is now MUCH more useful and organized!
We think the rug makes a BIG difference in the over-all look of this laundry room make-over, don't you?

I'm excited to share the reveal of the smallest room in our house – the laundry room. It's also the only room in our house that is 100% done. Even our new white kitchen is still getting some tweaking with accessories. It's even kind of fun to open the laundry room doors now!
---
---
Tiny laundry room layout before and after pictures. Lots more space with the cabinets in this small laundry room!
The laundry room sign gives a nice touch and brings it all together.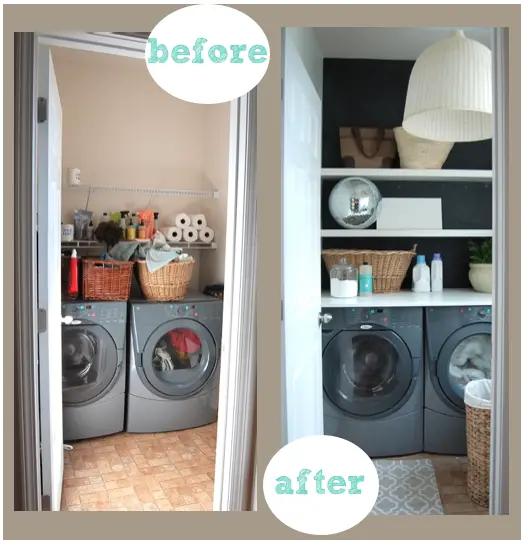 Cheap tiny laundry room make over. Some shelves, paint, and good organization really turned this small laundry area around into a useful (and beautiful) space.

Not very many of us have a huge laundry space…in fact many of us don't have much more than a glorified closet to accomplish all those chores… But with some creativity and some clever organization you can change your space into something that not only works better for you and your crew, but also is just a little more pleasant to be in.
DIY tiny laundry room make over idea. Before and AFTER this small laundry room make-over is quite dramatic – I'd even let my mother-in-law see my laundry room if it looked like this!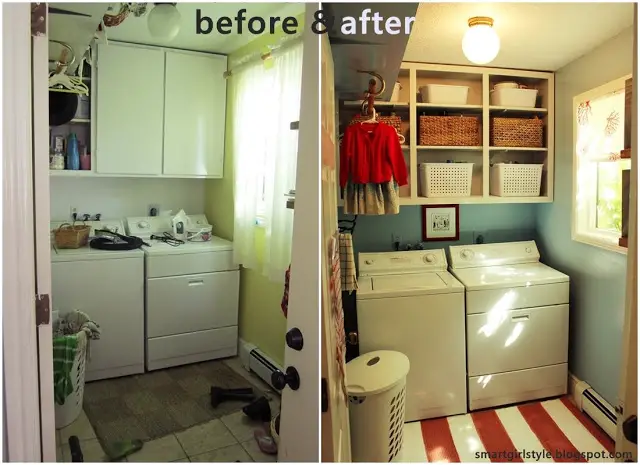 If you have a huge laundry room, good for you. I may or may not be extremely jealous of you. I, for one, have a teensy tiny laundry room that also doubles as a mud room, random home improvement products and housewares storage room, garden center, and school stuff dropoff.
Tiny laundry room budget make-over idea. Cost about $100 – mainly for the space-saving baskets.
You get can baskets like that on sale here.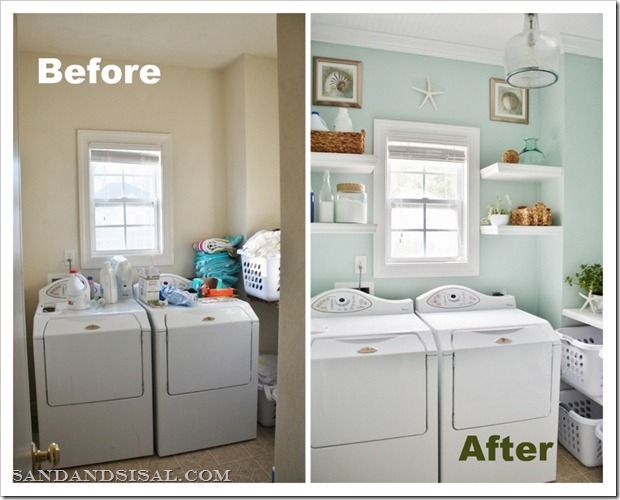 Before and after pictures of a small laundry room make-over. Great layout for a tiny laundry room!
I really like the small white floating shelves – gives the laundry a nice neat and clean look while offering a lot more space to work with.
Here's more before and after pictures of a laundry room makeover project – I think this small laundry room redo turned out great!
r/DIY: A place where people can come to learn and share their experiences of doing, building and fixing things on their own.
Small Laundry Room Organization Ideas
Last updated on April 28, 2021 11:33 pm
Laundry Room Basket Ideas
Last updated on April 28, 2021 11:33 pm
Small Kitchen Ideas: DIY Tiny Kitchen Remodel & Apartment Kitchen Redesigns Before and After Pictures. Great ideas for a tiny kitchen makeover on a budget! Let's take a look at lots of tiny apartments kitchen remodel ideas and space saving tiny kitchen ideas that are true kitchen inspiration for compact living and organizing small houses.
Creative DIY Storage and Organization Solutions for Small Bathrooms! Let's take a look at some creative and easy DIY bathroom storage ideas for small spaces and bathroom organization hacks for organizing your bathroom – even if you're on a budget.