---
Easy Summer Cookout Food Ideas for a Neighborhood Block Party, 4th of July BBQ, Labor Day Community Event or Memorial Day Party Too!
Let's take a look at some easy Summer cookout food ideas and unique BBQ party recipes that are SURE to be crowd-pleasers. These are also great food ideas for your neighborhood block party, back to school outdoor cookout in the fall, Labor Day weekend, or 4th of July party this year, too!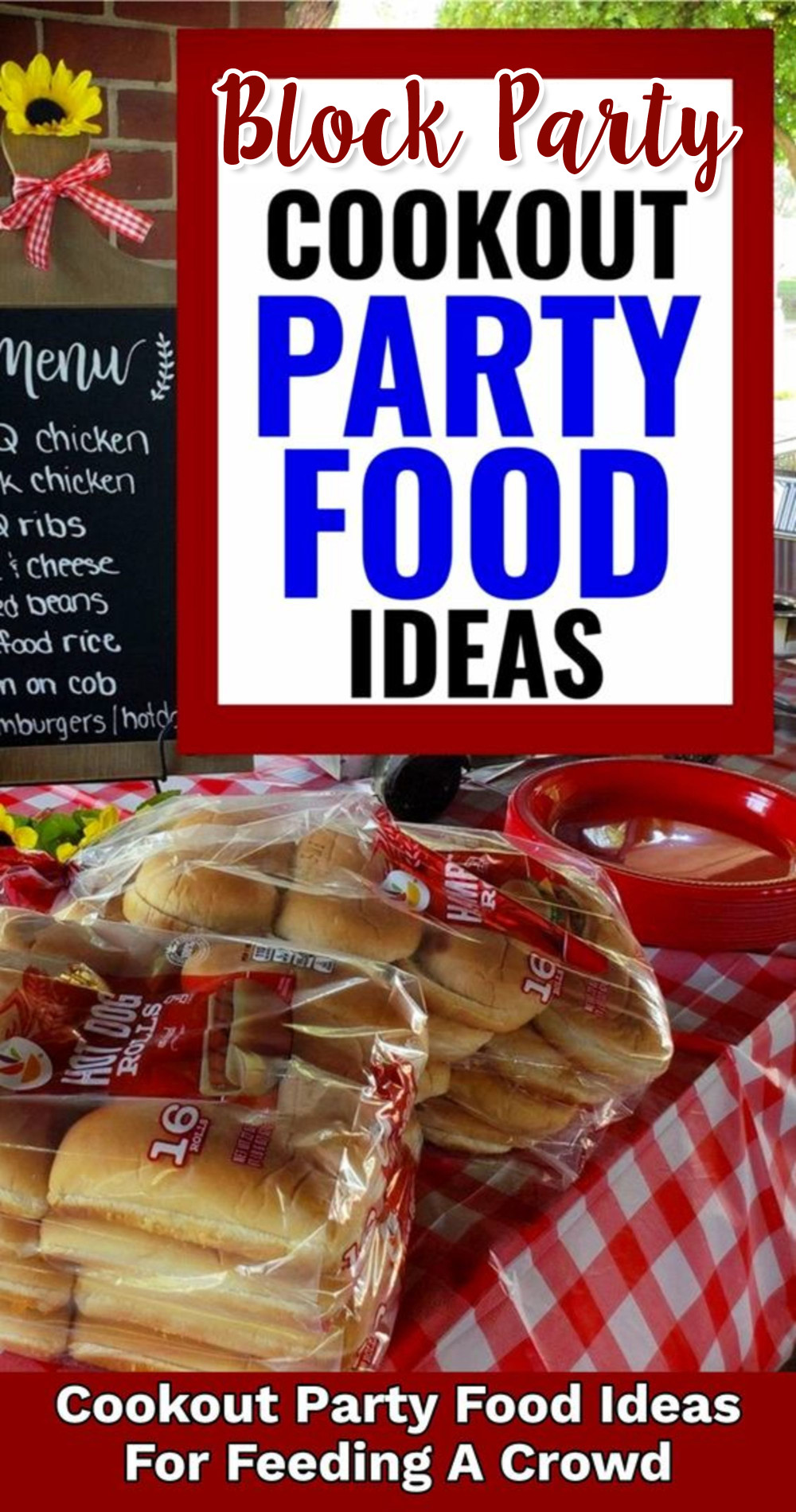 ---
Updated on September 11, 2023
posts may contain affiliate links -Enjoy and feel free to share with your friends!
---
There are a LOT of summer party food ideas and recipes on this page…so take your time and scroll thru – you're sure to find some great party food ideas for your neighborhood crowd!
Hot Dogs? Check. Hamburgers? Check. But what ELSE should you serve as side dishes and desserts and drinks at your summer cookout?
Not a hamburger and hot dog fan? Or want an alternative to traditional cookout food for your guests?
Make a walking taco bar like this: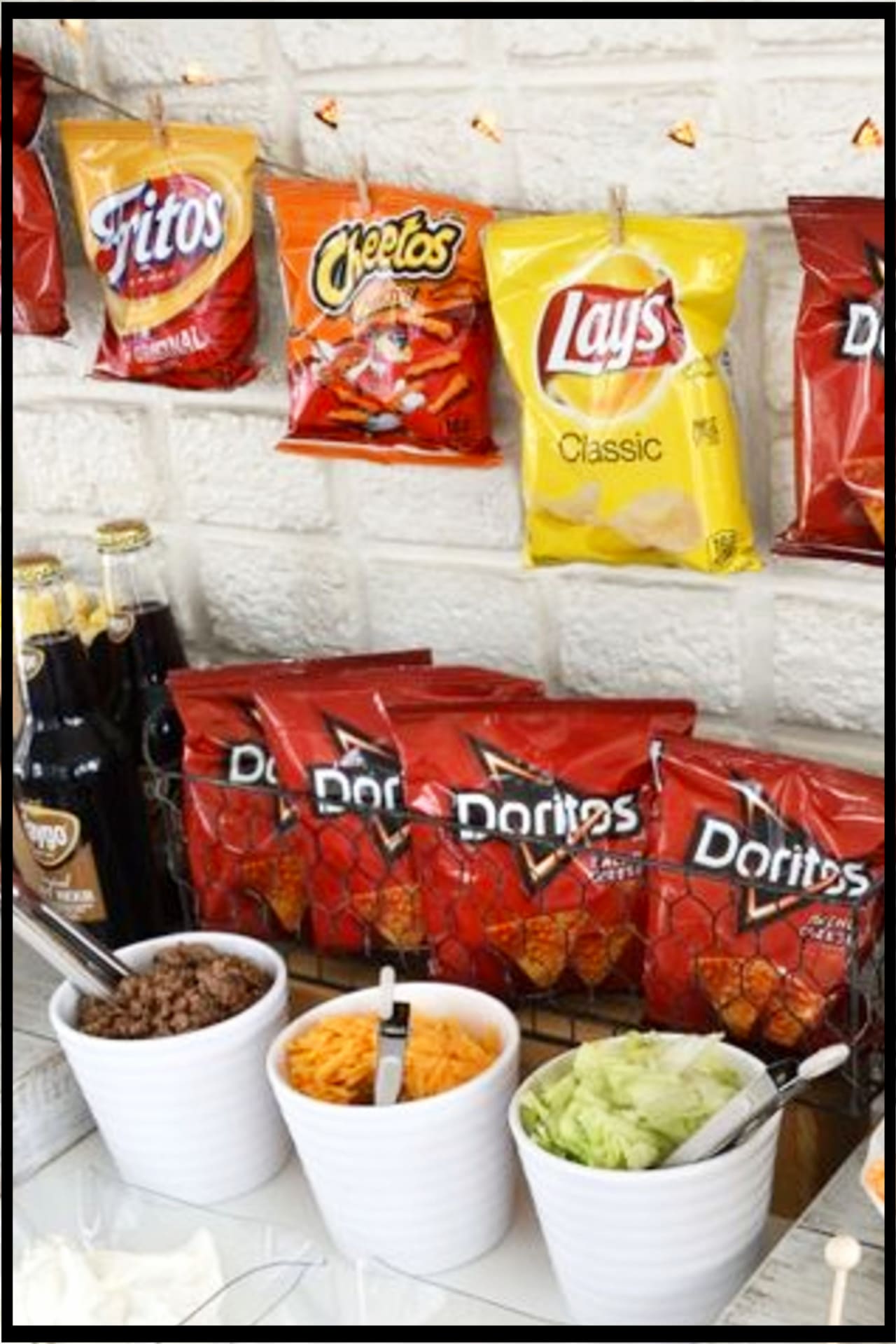 Or perhaps you're going TO a BBQ party this summer and want to bring an easy and YUMMY food, dessert, or drink to share with the rest of the group.
You gotta try these easy 3 ingredient COLD appetizer ideas – no muss, no fuss and best of all, NO COOKING!
This is a cute cookout dessert idea for the kids – you can use any color sprinkles, too!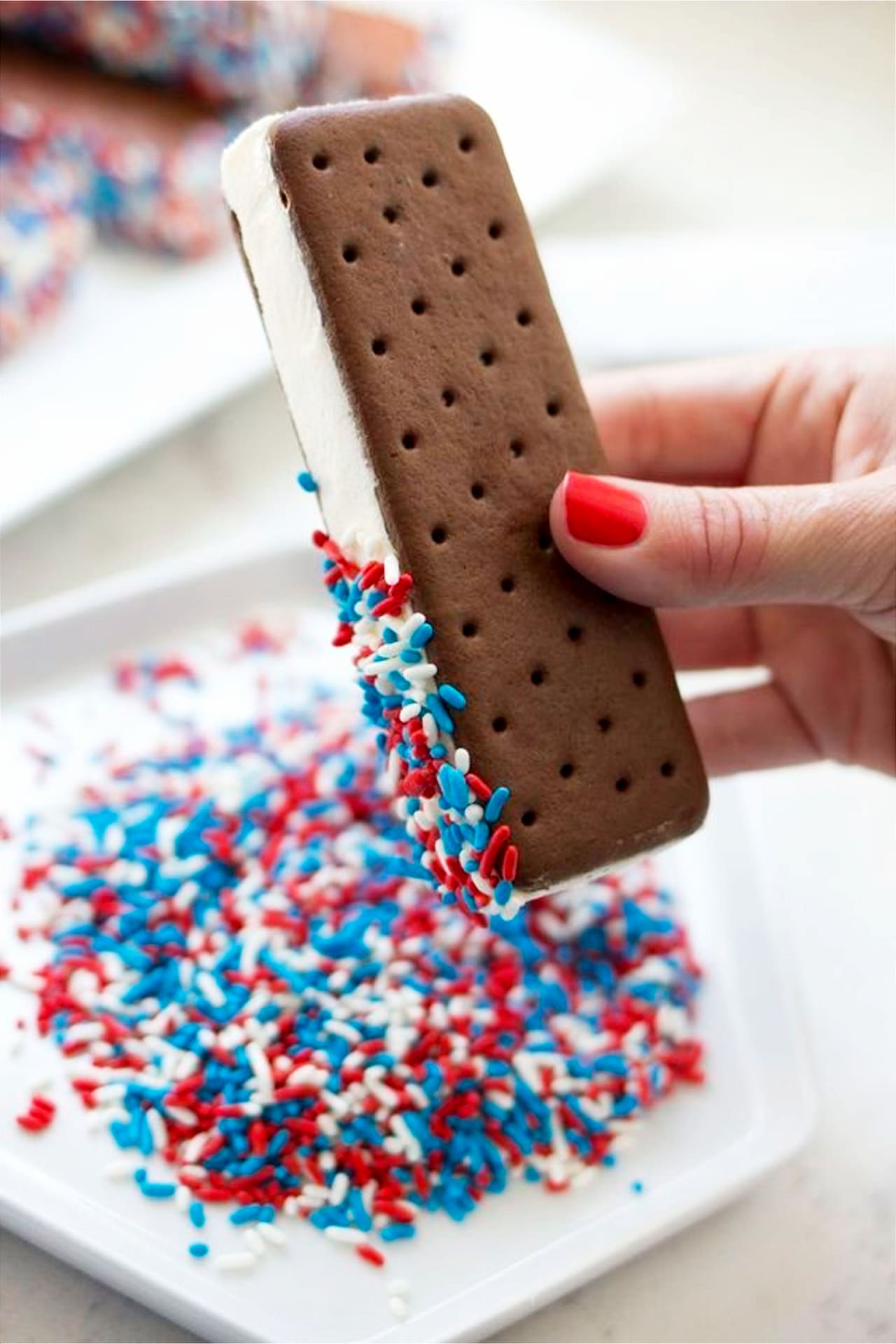 Below are some of my favorite easy and UNIQUE Summer party food ideas that you're sure to love, too.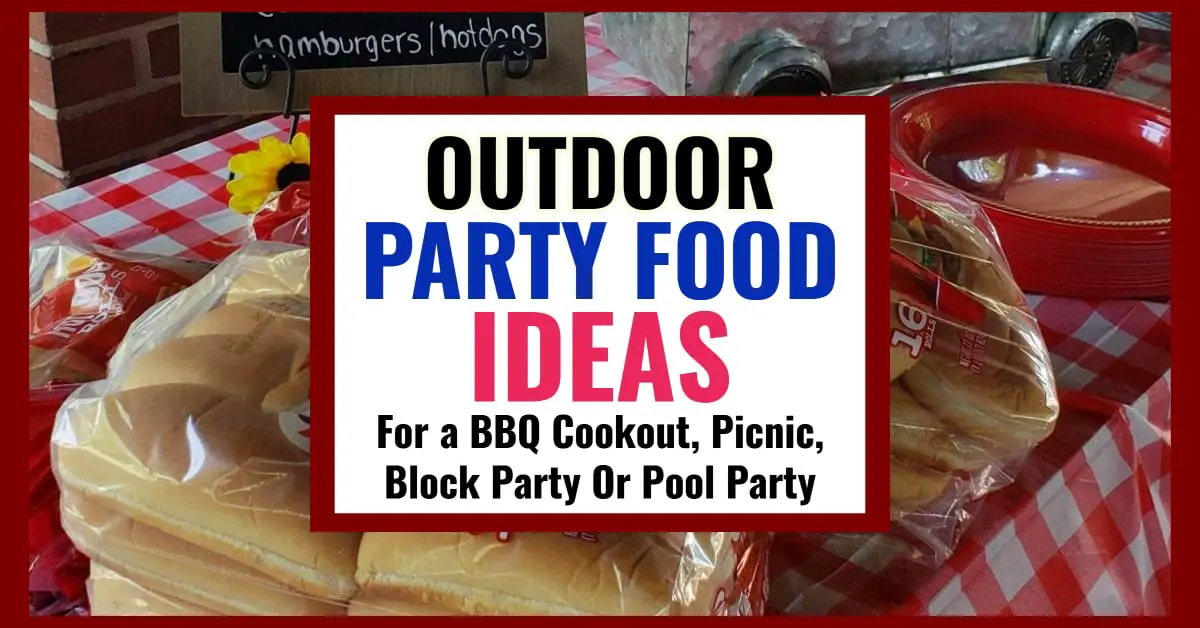 Fun & Easy Summer Party Food Ideas
First up, I have to share this pineapple lemonade recipe. It is so good, tastes "fancy" but is super easy to throw together quickly.
✅ Don't forget:
We have a LOT of easy party punch recipes are here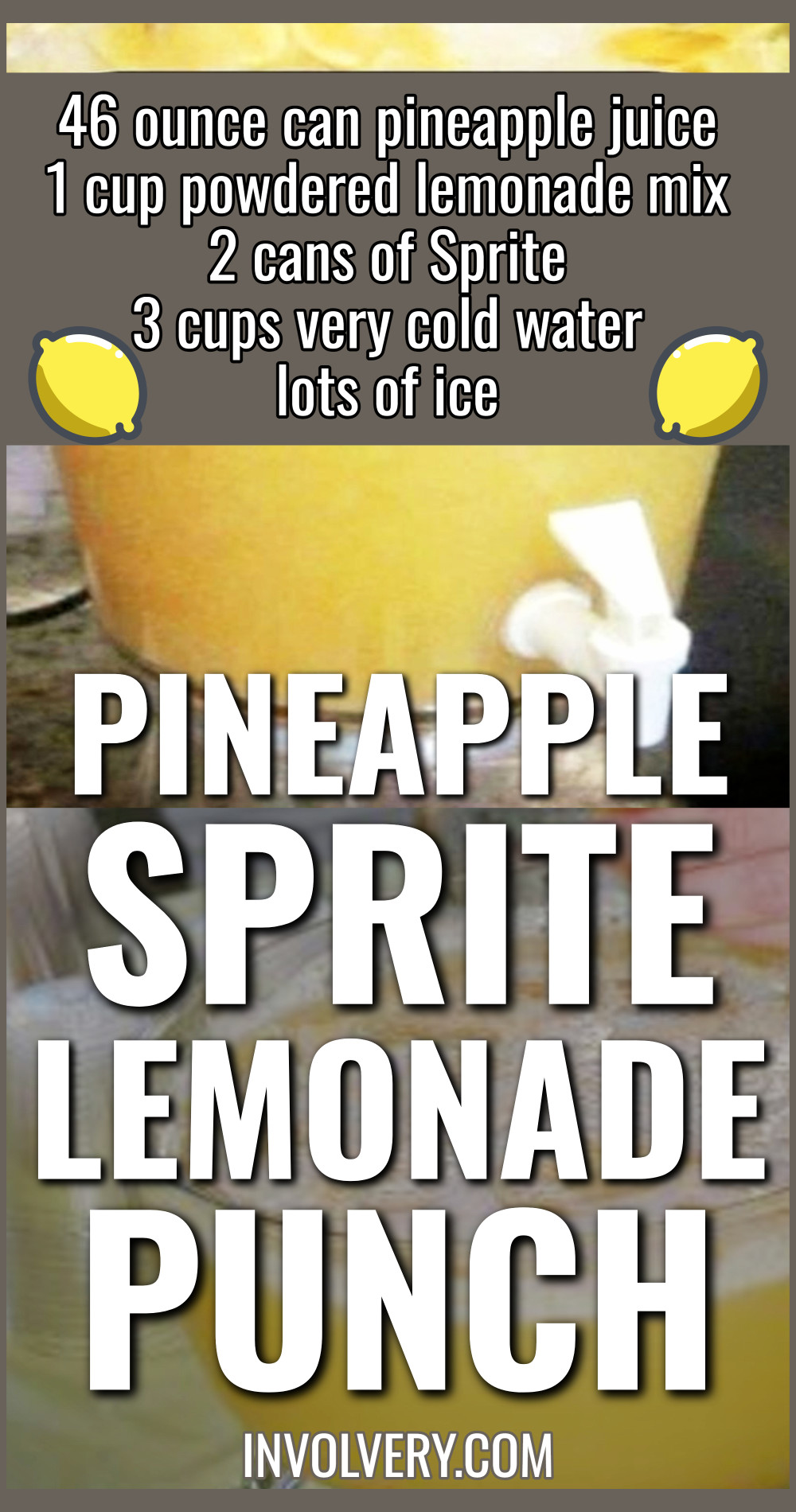 Want a fun cookout idea for the grownups?
How about a Jell-o shots cooler like this?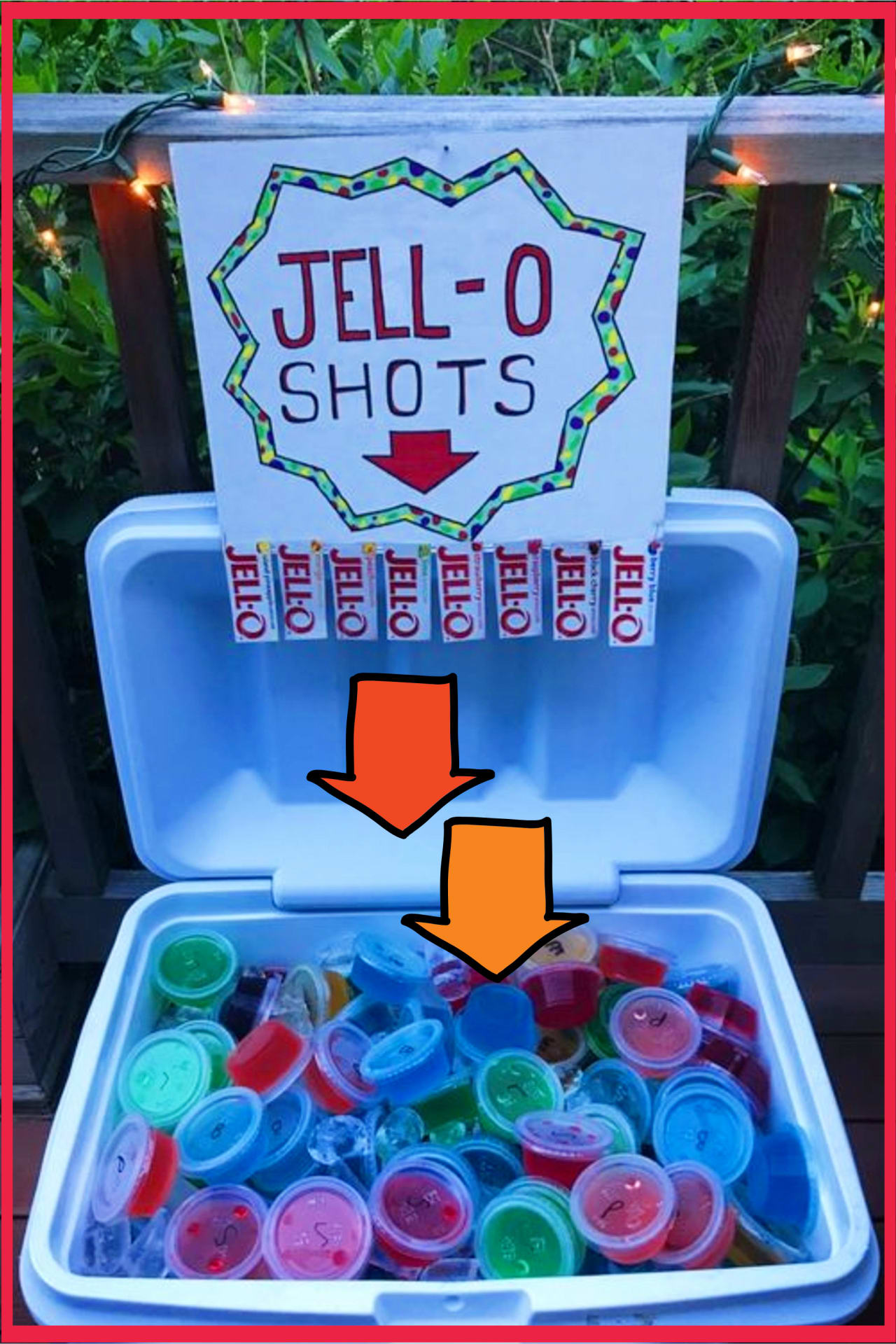 ---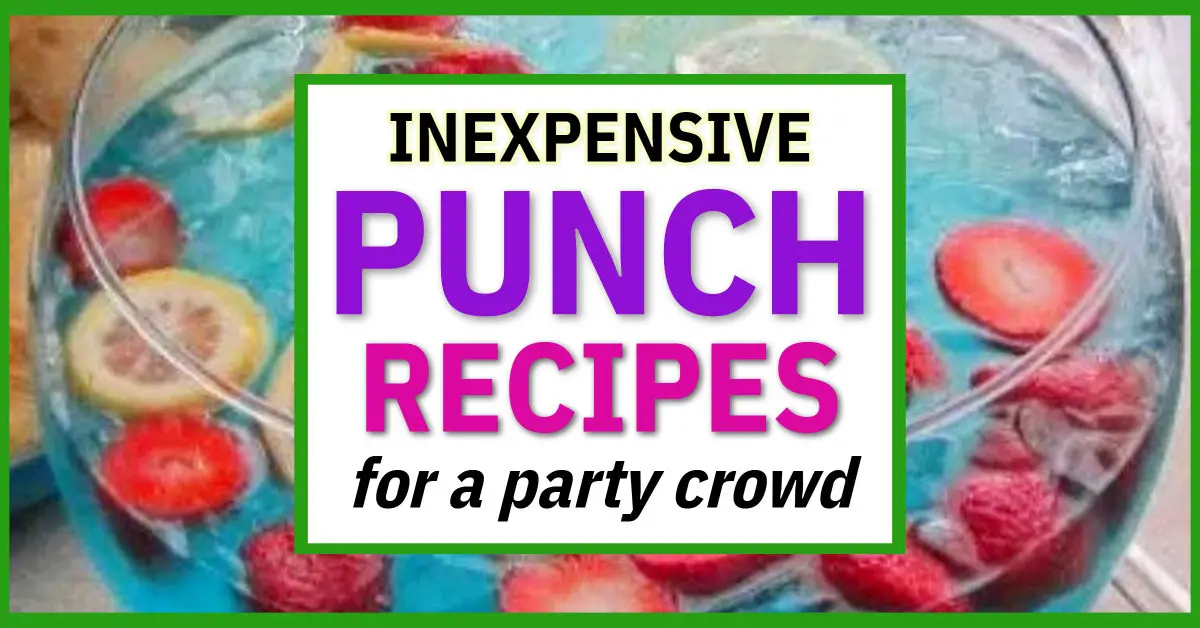 Simple & Easy Punch Recipes for a Crowd and Easy Party Drinks Ideas too! Lots of insanely good and inexpensive ...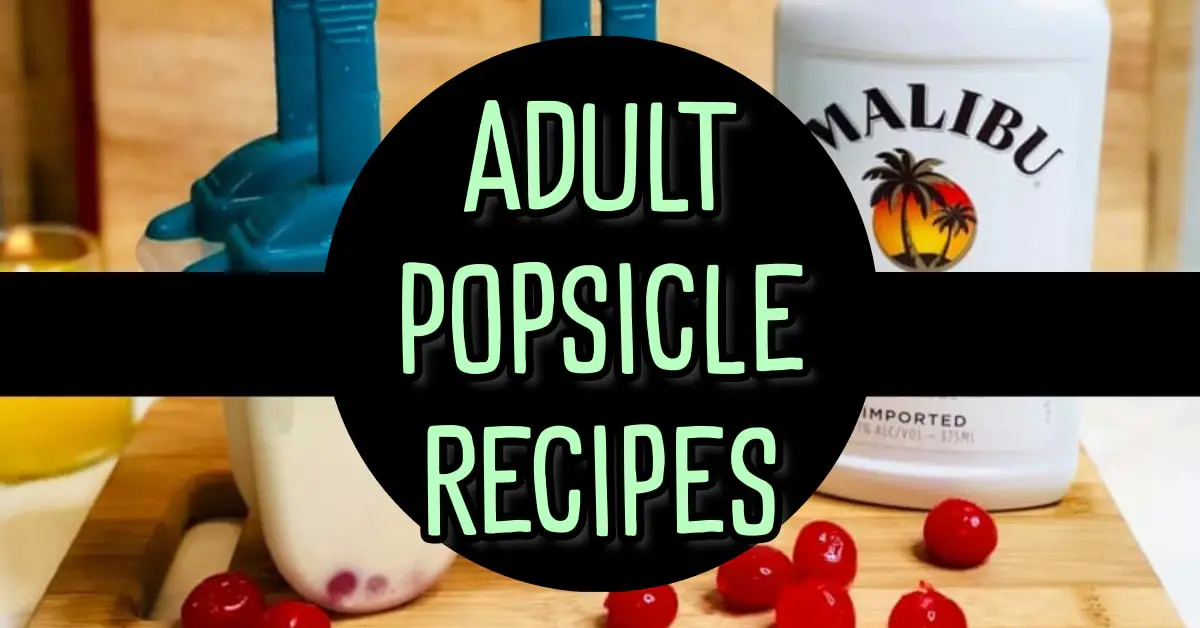 Adult Popsicle Recipes - These Boozy Popsicles are NOT For The Kids! Let's make boozy freeze pops and popsicles for ...

---
One of the favorites for the kids at our summer parties are these dipped fruits (mainly strawberries) with sprinkles. There can be SO much junk food at these BBQs, it's nice to see the kids CHOOSE to eat something healthy.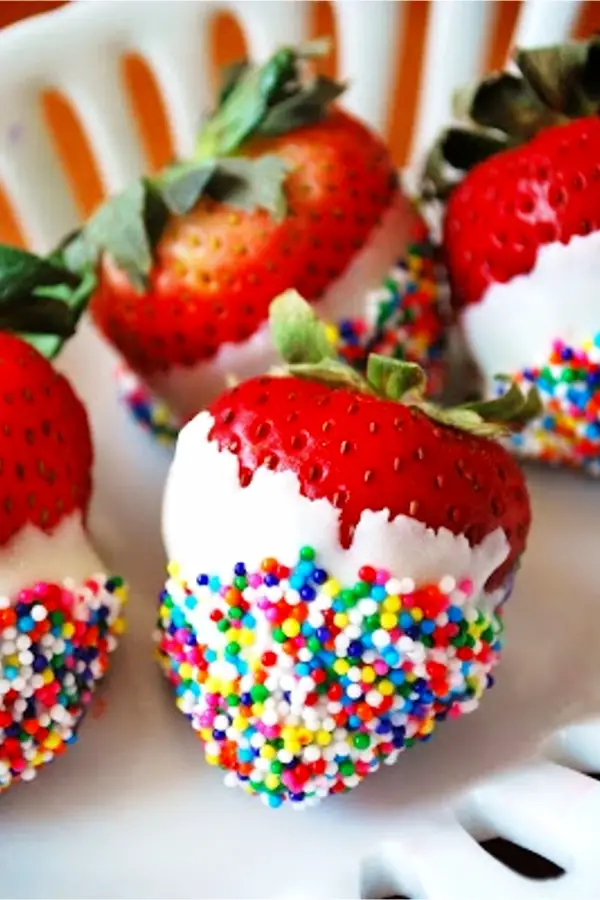 Speaking of healthy food options for a summer cookout – it's way too easy to just grab a chip and dip it in whatever is closest, but if you're trying to keep your weight in check this summer, take a moment to choose a more "weight friendly" dip for those chips.
Going Low Carb?
✅ See my favorite Low Carb Comfort Food Recipes here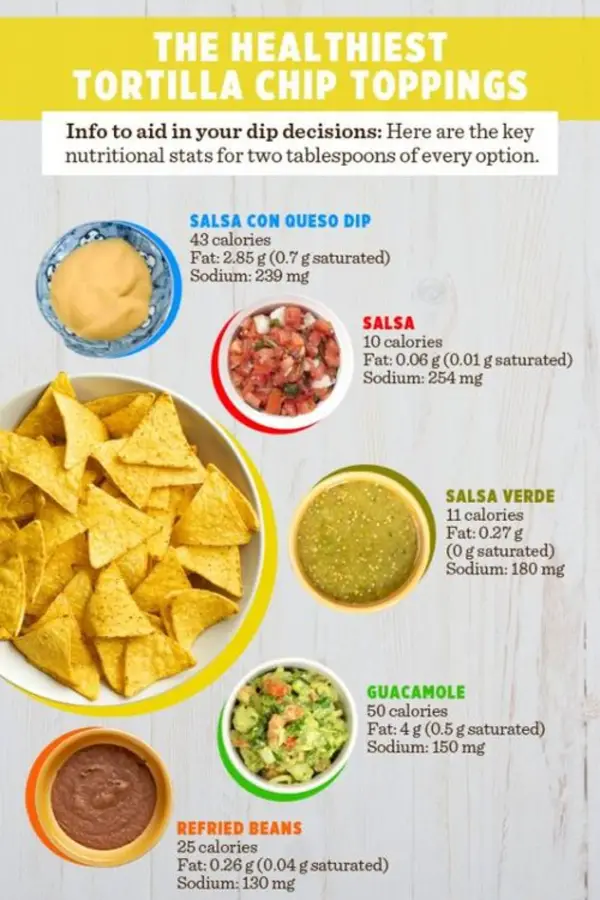 Now this next idea is such a cute and FAVORITE dessert ideas for our summer cookouts (I make these every 4th of July and they're always GONE quickly).
These are portable banana pudding packs (the kids call them banana splits in a bag). I found a good variation of my recipe here and we ALL just love them!
Need more EASY dessert ideas?
✅ These Dump Cake Recipes are PERFECT for a crowd!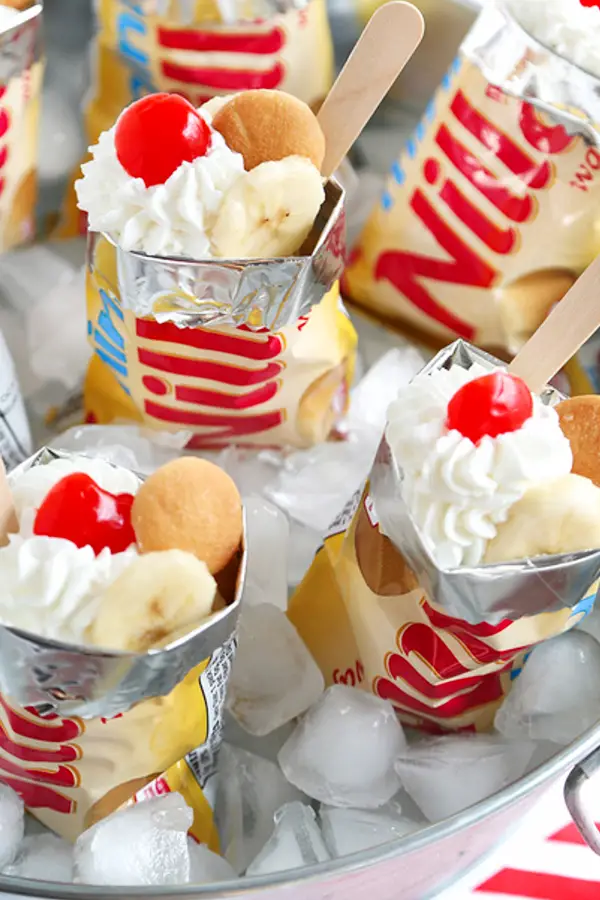 Day in and day out, macaroni and cheese is a winner as a side dish in this house. For cookouts and get-togethers, I make this variation: macaroni and cheese pie.
It's topped with BACON (and anything with bacon is always a good thing, right).
Just cook your own recipe of macaroni and cheese and put it in a glass oven-safe pie plate. Arrange bacon across the top "lattice-style" and pop it in the oven.
Easy… and EVERYONE loves it!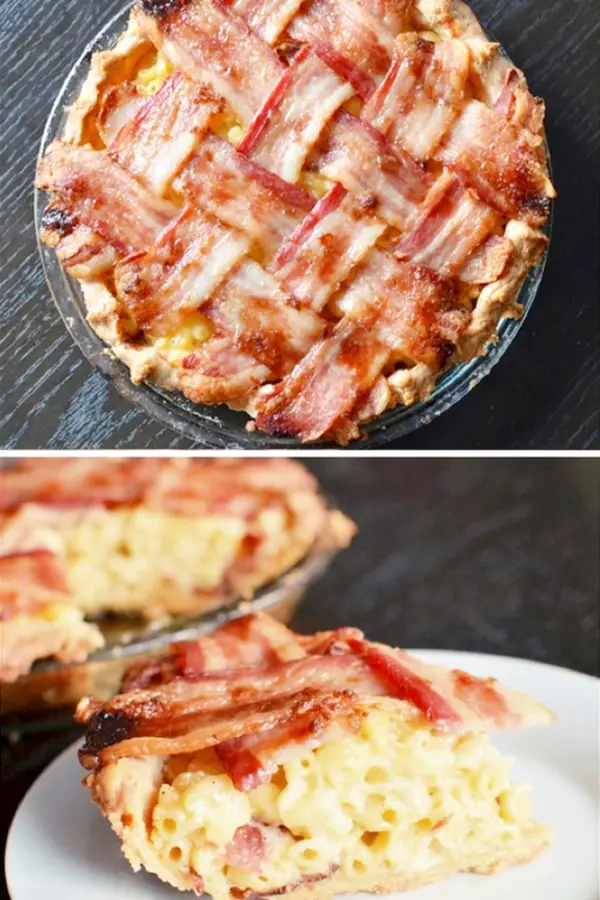 Last 4th of July, we decided to throw steaks on the grill. To me, a steak REQUIRES a baked potato with it, but I sure didn't want to mess with all that. So, I got the wild idea to set up a cute potato bar like in the picture below.
Now, I had my potato bar set up inside and had all the toppings on ice, but this is kinda how it looked (and yep, they all thought I was super "pinteresting" because of my chalkboard sign..haha!)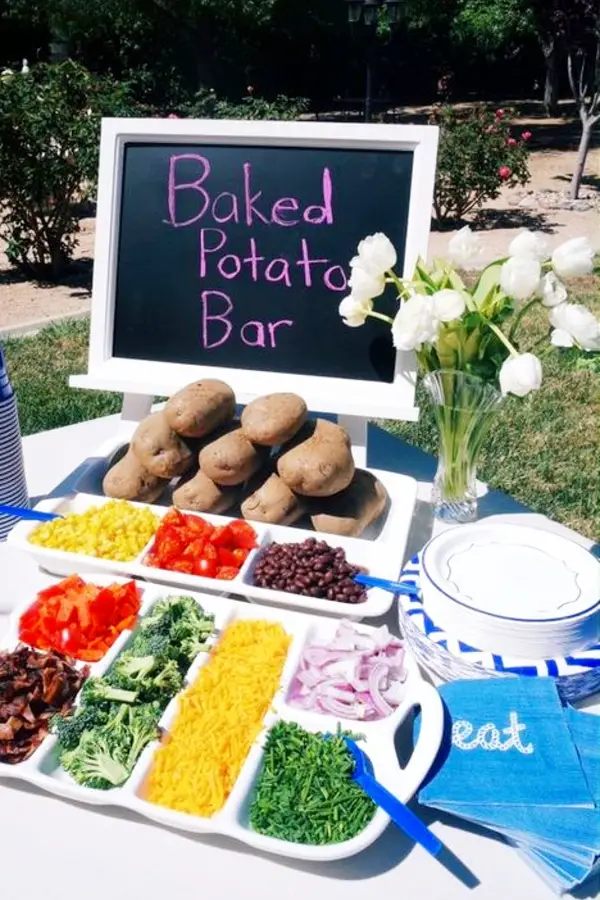 Here's another idea we all love for our summer cookouts – tacos in a cup (I make these for our football party appetizers too).
I also add a layer of taco meat and everyone loves them!
They also go GREAT with these easy cheese dip recipes!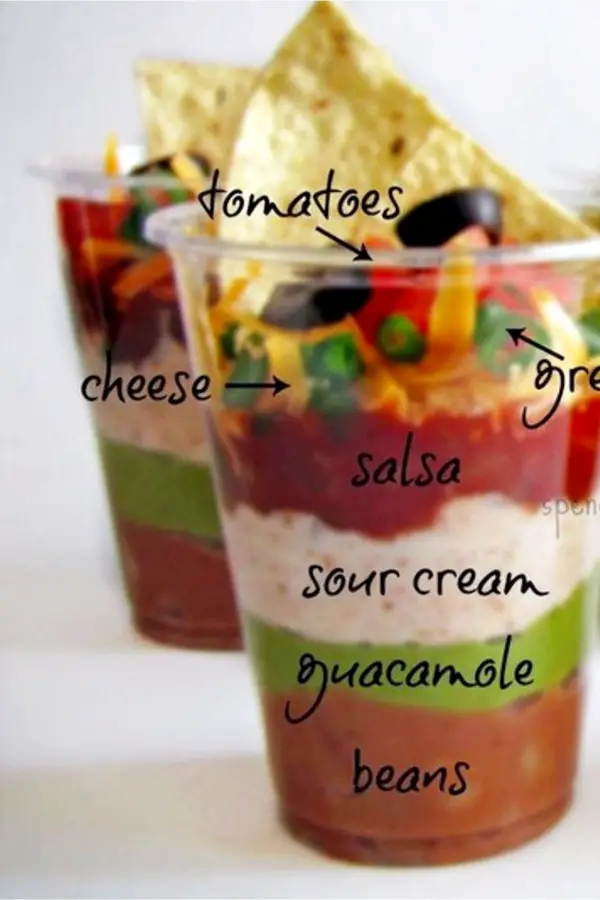 This is another variation I make called "walking tacos". Many make these with Fritos but my family loves them with little bags of Doritos like this.
Just whip up some taco meat, make some sides of toppings, and set it all out with individual bags of Doritos or Fritos and let your guests make their own. Use plastic forks and it all goes in the trash when they're done.
And I'll admit: on particular busy (or lazy) days, I make these for dinner too (yep, these goes my Mom of the Year award… again haha!)
✅ See ALL my Easy Dinner Recipes here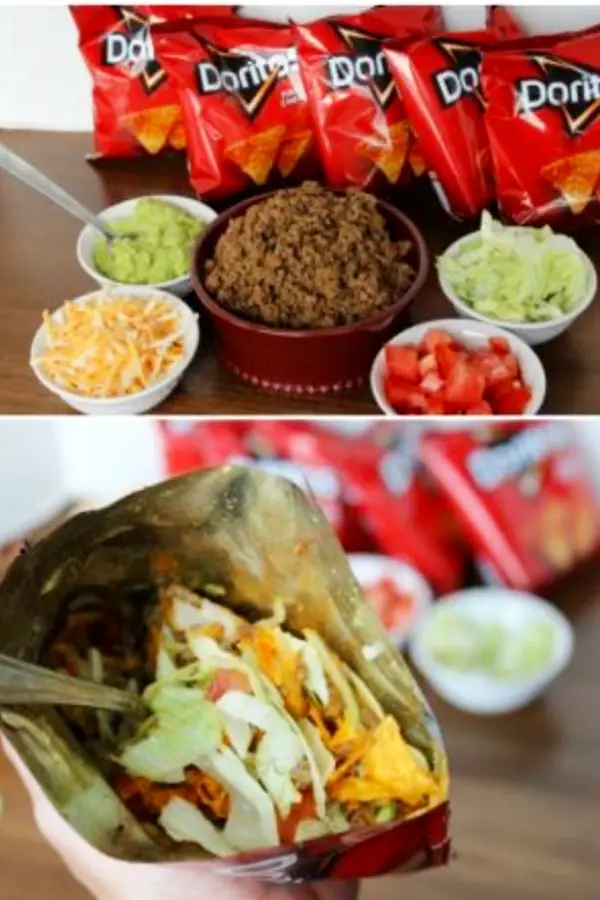 This next cookout food idea is especially perfect for your 4th of July party AND it requires NO cooking – yay!
The kids love to help me put this fruit flag together… and they love to eat it!
Cooking with the kids?
✅ See Easy Recipes Kids Can Make here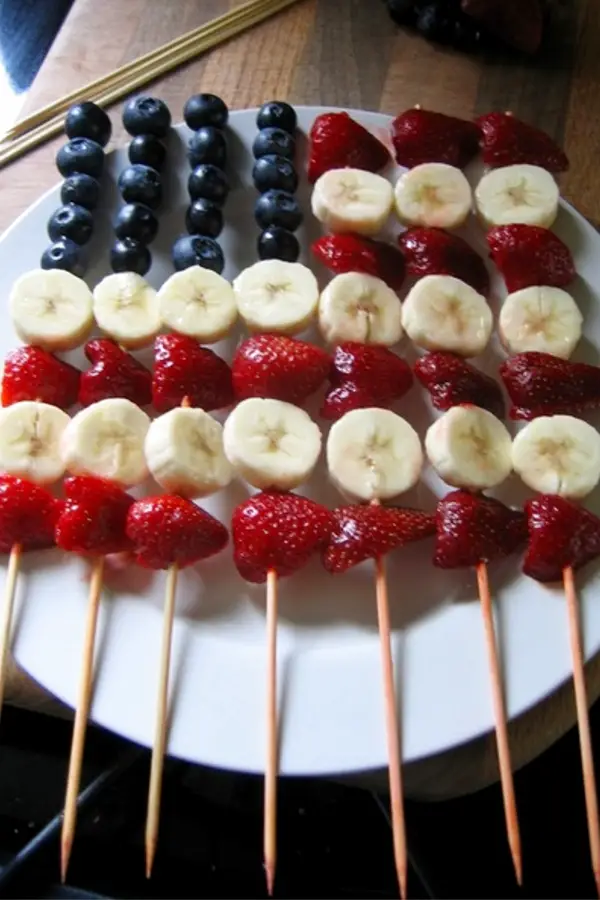 Whatever you decide to cook and make for your cookouts this summer, take a little extra time to tie it all together with cute accessories.
Like this easy no-bake Flag cake recipe:
Flag Cake Recipe
– 2 pints strawberries
– 1 package frozen pound cake
– 1 1/2 cups blueberries
– 1 tub Cool Whip
Line bottom of 12×8 baking dish with pound cake slices, top cake layer with 1 cup of the sliced strawberries, 1 cup of the blueberries and then cover all with Cool Whip. Use remaining strawberries and blueberries to create a flag design on top. Refrigerate (makes about 14-15 servings)
Summer Party Drink Ideas
These red white and blue drinks are so cute for a 4th of July party and really make an impression on your guests.
Just layer blue Gatorade, red Hawaiian Punch and sprite.
Prefer to also have a 4th of July or Memorial Day cocktail for the grown ups too?
Here's how to make an adult version of the red white and blue drinks: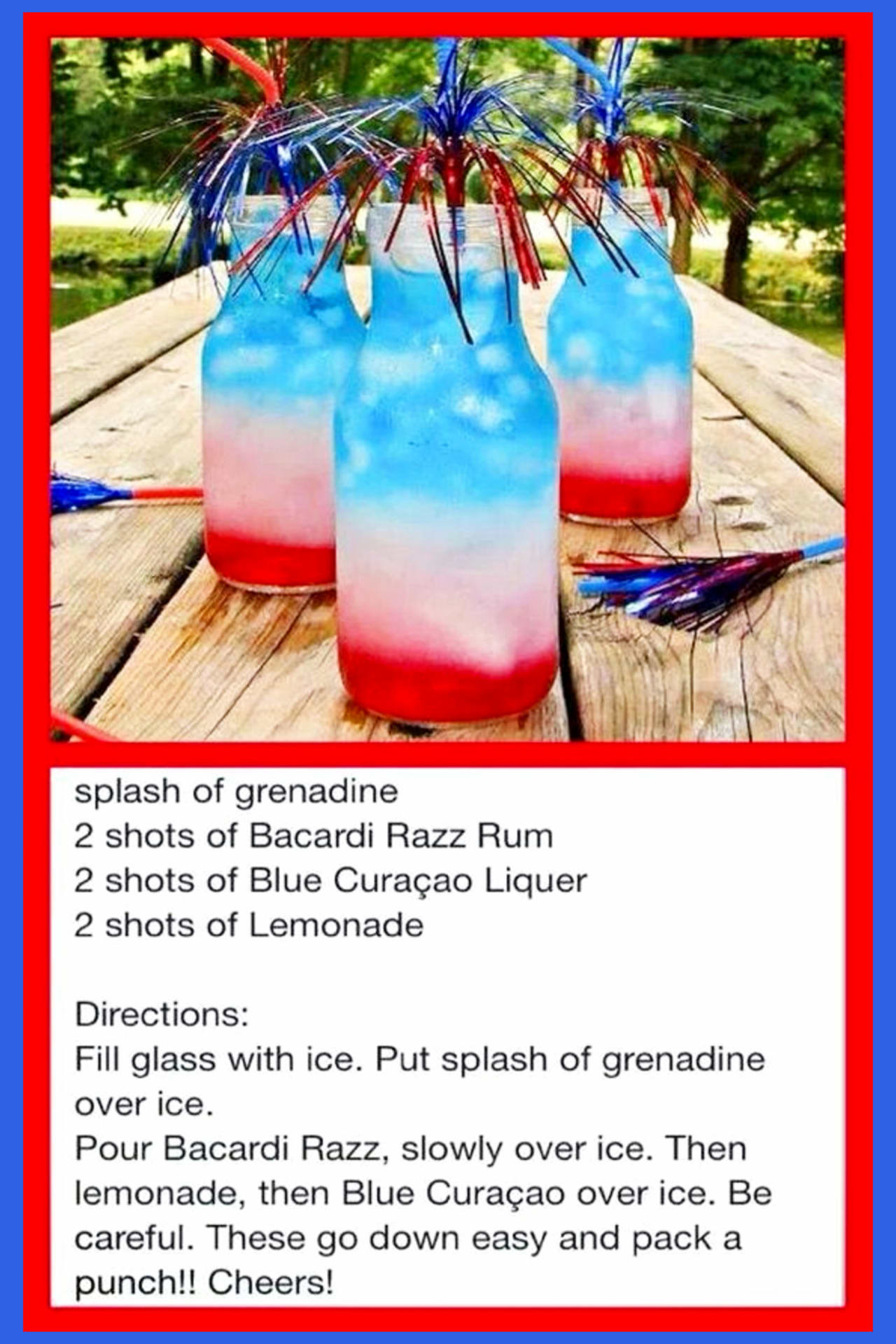 Know what's an even better ideas than alcoholic DRINKS at your summer party?
Adult POPSICLES with Alcohol Recipes!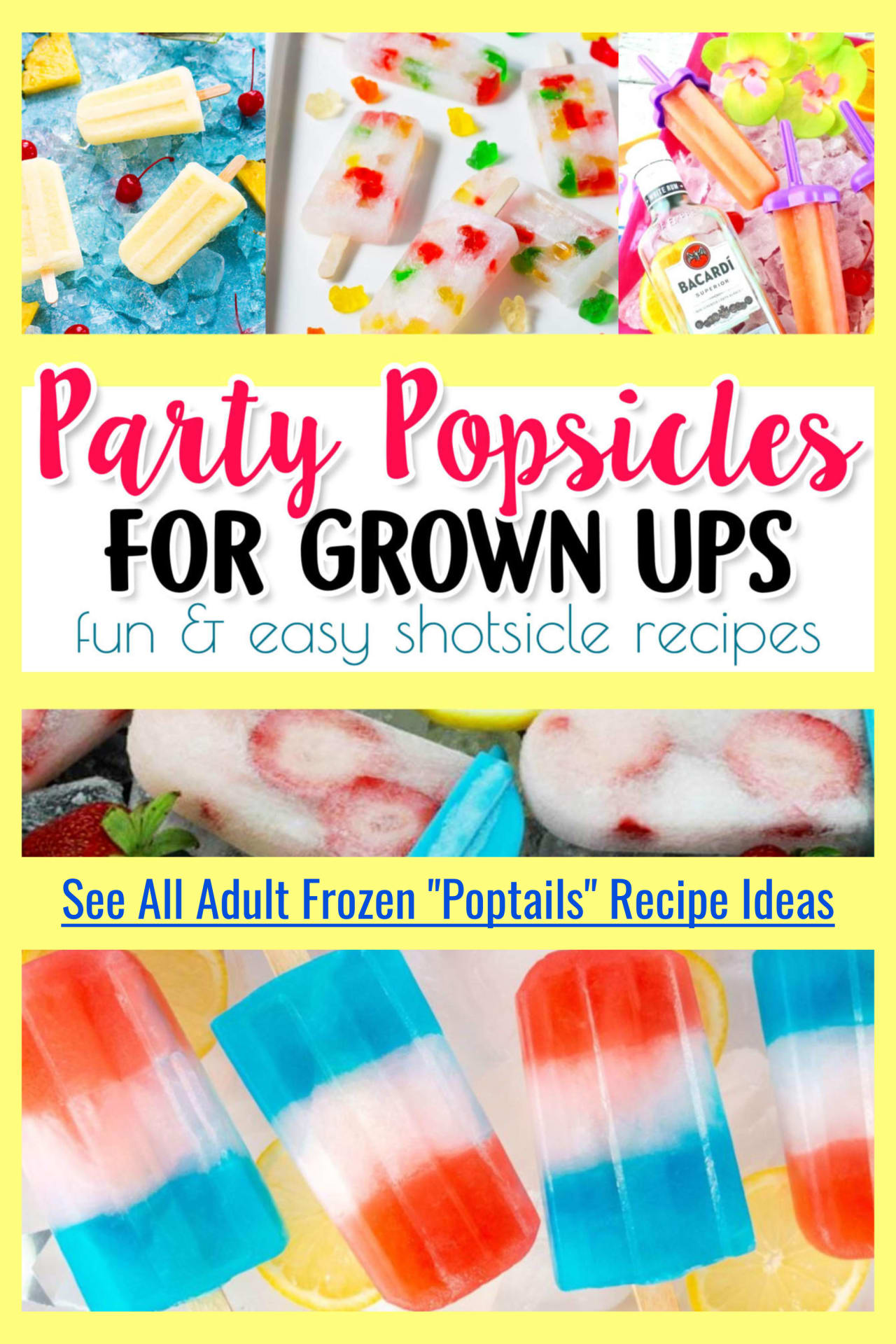 ✅ See all our fun frozen Poptails recipes here
As far as easy side dishes for our summer cookouts, this cucumber tomato salad is a definite favorite. Just toss everything in a bowl, mix it up and serve (I like to chill it a bit first, but it's delicious right away, too).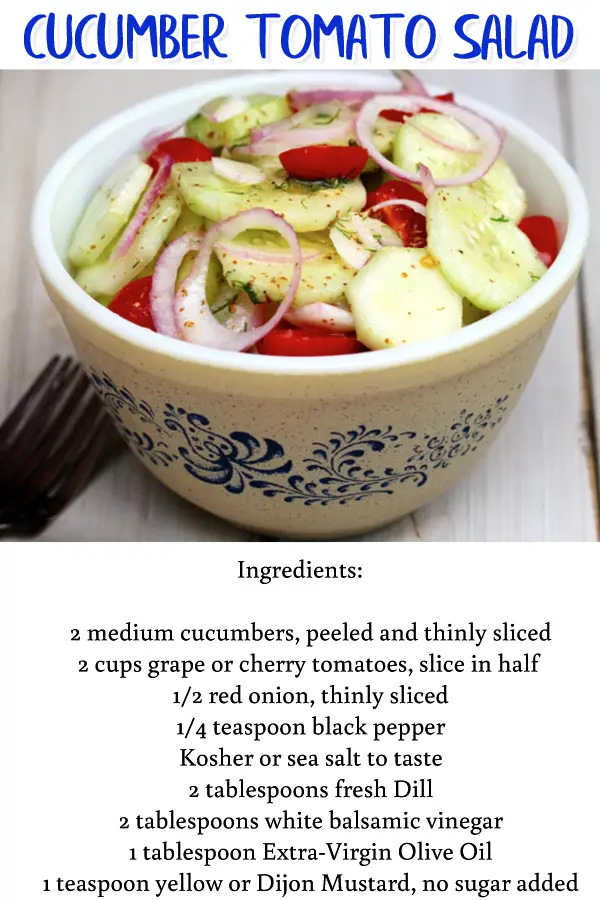 ---
Trying to plan your summer cookout party, but not sure what to buy or how much for each person? Afraid you'll forget something?
Below is a summer cookout party shopping list AND a cookout party checklist: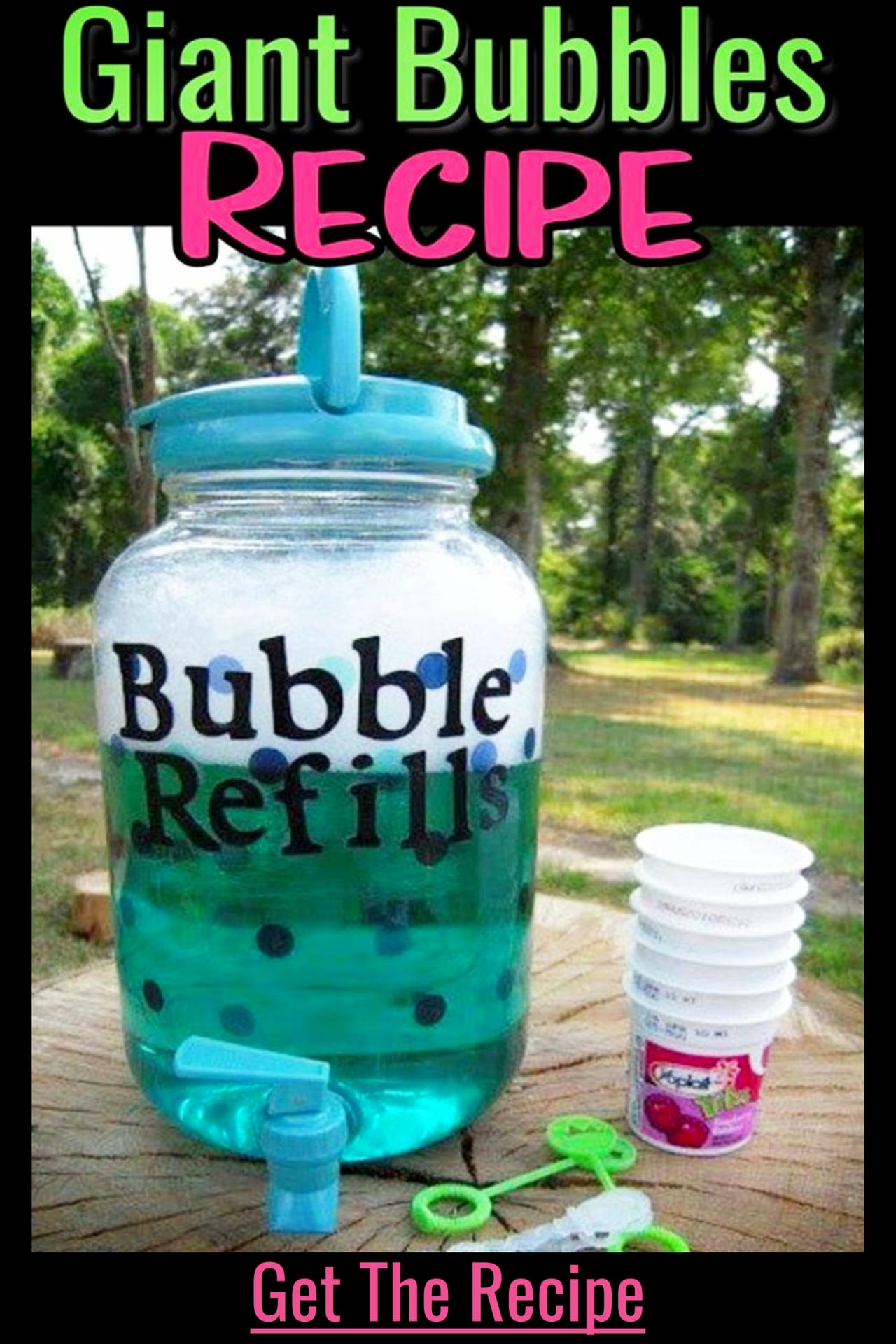 Summer Block Party Ideas
Here are more great ideas for food, activities and organizing your neighborhood block party this Summer.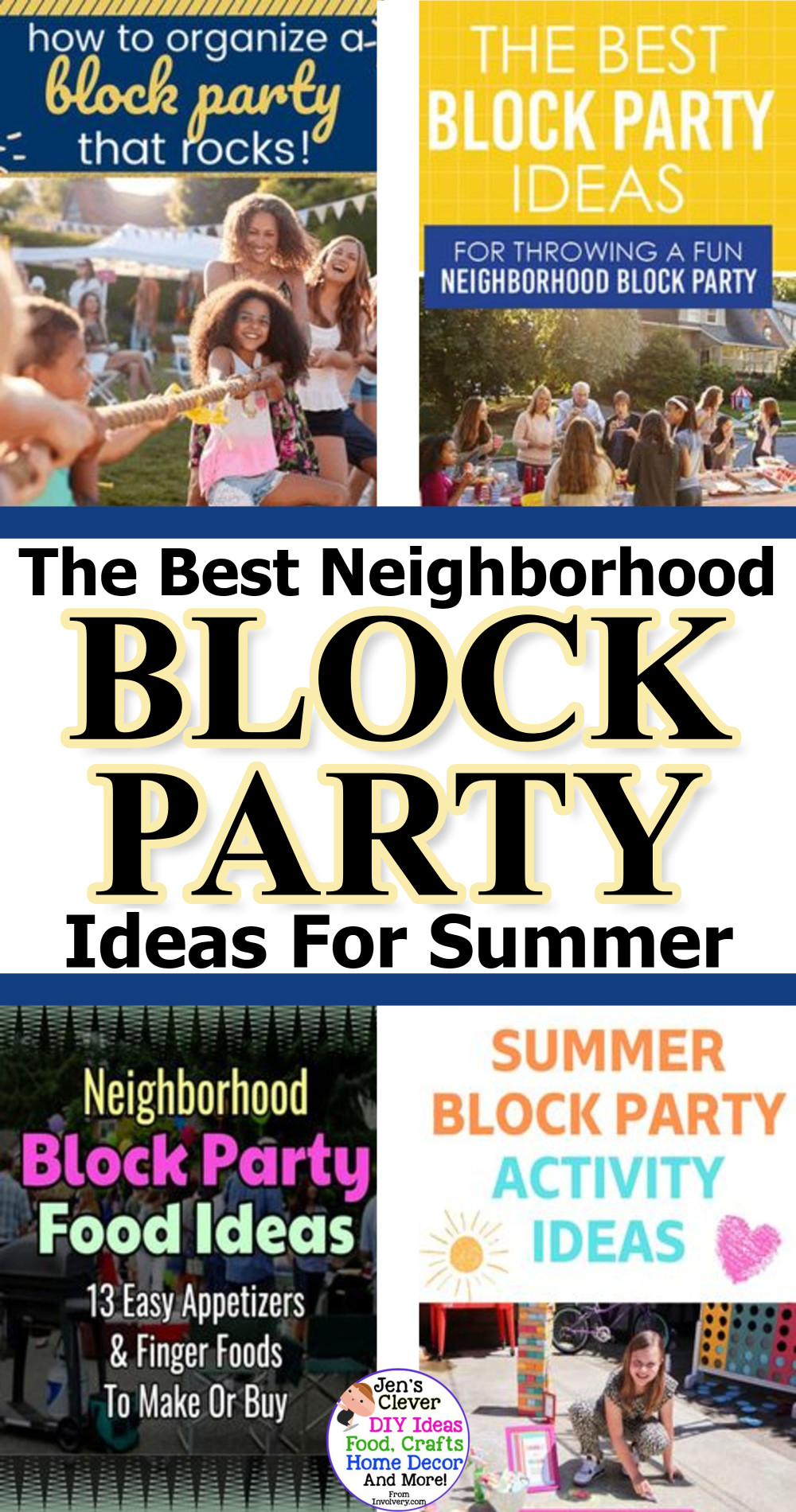 1 – How To Organize A Block Party That Rocks – Are you ready to rock your block party this year? Check out this post that will walk you though 6 easy steps to plan and organize a neighborhood block party. You'll get game ideas, food organization tips, and practical steps like filing a permit with your city… read more
2 – The Best Block Party Ideas For Throwing A Fun Neighborhood Block Party – Throwing a neighborhood block party? This list of block party ideas will allow you to throw an event your neighborhood has never seen… read more
3 – ✅ Neighborhood Block Party Food Ideas – Neighborhood Block Party Ideas-Cookout Food, Planning and More – having a summer BBQ block party or potluck in your neighborhood? These block party appetizers finger foods are the perfect budget party food for a crowd, a potluck at work, a church picnic etc… read more
4 – Activity & DIY Game Ideas for Summer Block Parties – How to host an entertaining Colorful Community Block Party this summer! Get tons of ideas for DIY games and activities now, plus food, drink, and decor inspiration… read more
Enjoy your summer!
---
What to do with the kids this summer?
$45.99
$49.99
in stock
7 new from $43.00
3 used from $40.21
$39.99
in stock
1 new from $39.99
2 used from $21.71
Last updated on November 9, 2023 12:32 pm