---
Inexpensive Snacks I Make For Large Groups To Nibble On – Trying to feed a party crowd for cheap? Below is my personal list of 47 easy snacks I've served at large crowd events and get-togethers.
They are all Quick and CHEAP party food to make (or buy) and considered the BEST budget-friendly nibbles and grab n' go snacks in my circle of friends and family.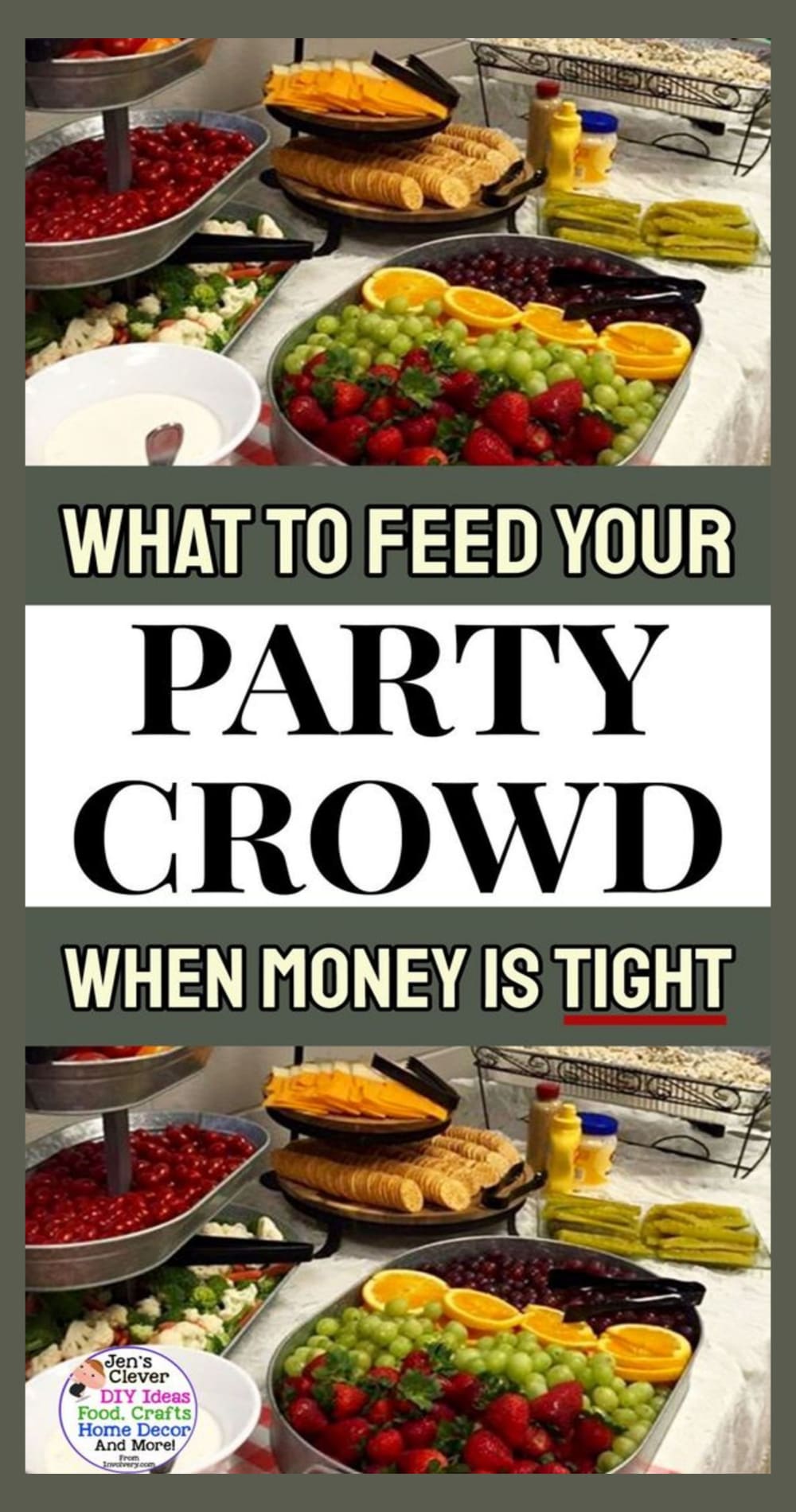 ---
Updated on October 3, 2023
posts may contain affiliate links -Enjoy and feel free to share with your friends!
---
If you're hosting a large group with lots of people, food can get expensive and very time-consuming. Keep scrolling for MY favorite quick and easy large batch nibbles on a budget for any size crowd to snack on.
Cheap Snacks for Large Groups
Need easy snacks or cheap finger food ideas to serve?
Sure, you COULD just put out the cheapest snack foods like some microwave Chex Mix, popcorn or hummus dip like everyone else does (yawn!)
OR, you could try these UNIQUE and inexpensive snack ideas below and knock it out of the park while still staying well-within your food budget.
If you need affordable large group snack ideas, you are in the right place (154,900 social shares don't lie haha!)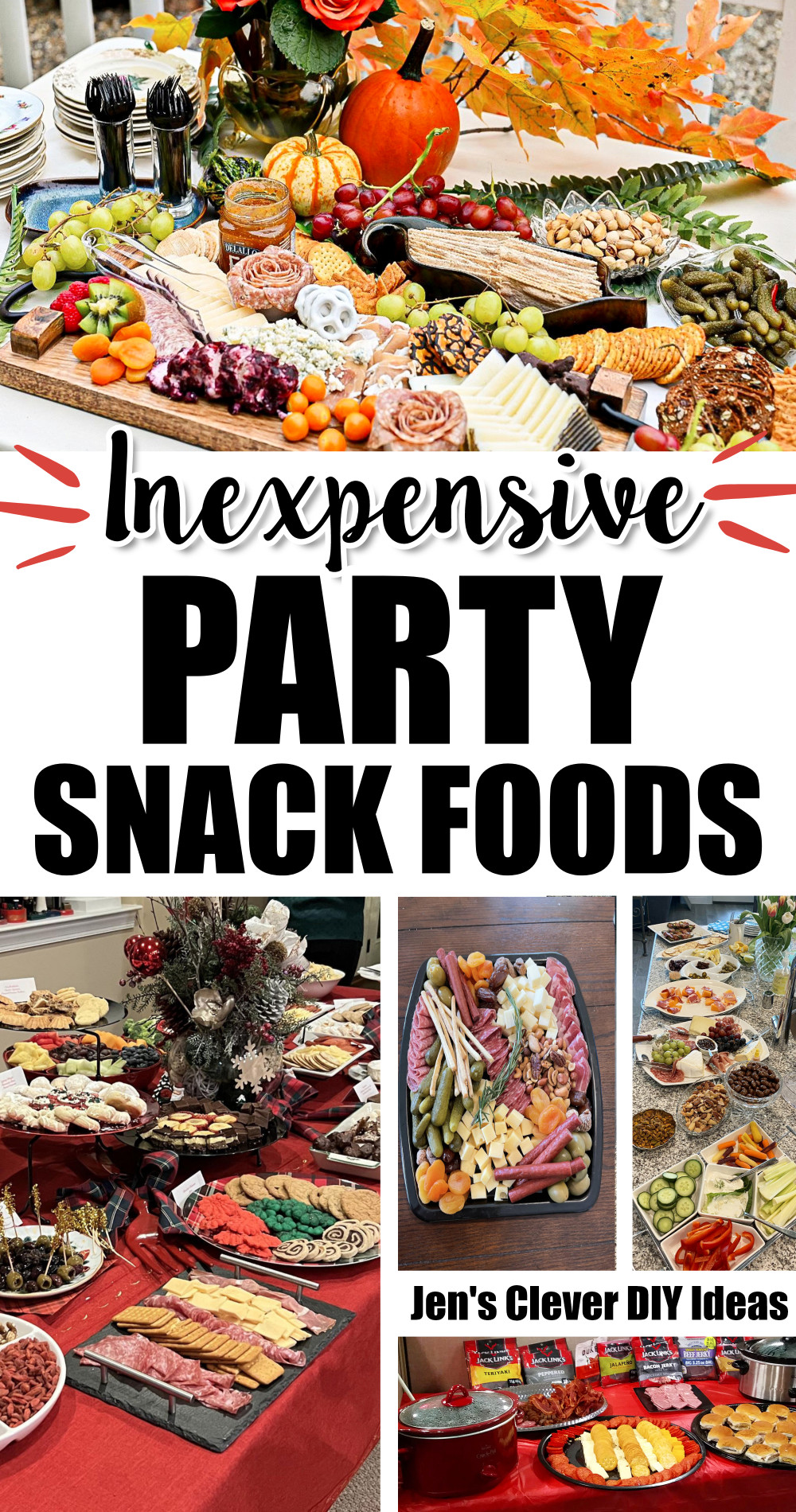 Here's just a small sample of the large group snacks you'll find on this page below:
Cheap homemade party "nibble" platters
Quick easy snacks for a large group
Last Minute NO COOK ideas
Inexpensive finger snacks for 50+ guests
Adult party food like meatballs, chicken bites, etc
Budget-friendly snack table food to prepare
and more!
For example, my famous lemony lemon bars recipe below.
They are my FAVORITE frugal SWEET snack my crowd LOVES (and they're SO easy make, too!)
Be sure to pin this recipe to Pinterest – you WILL use it over and over.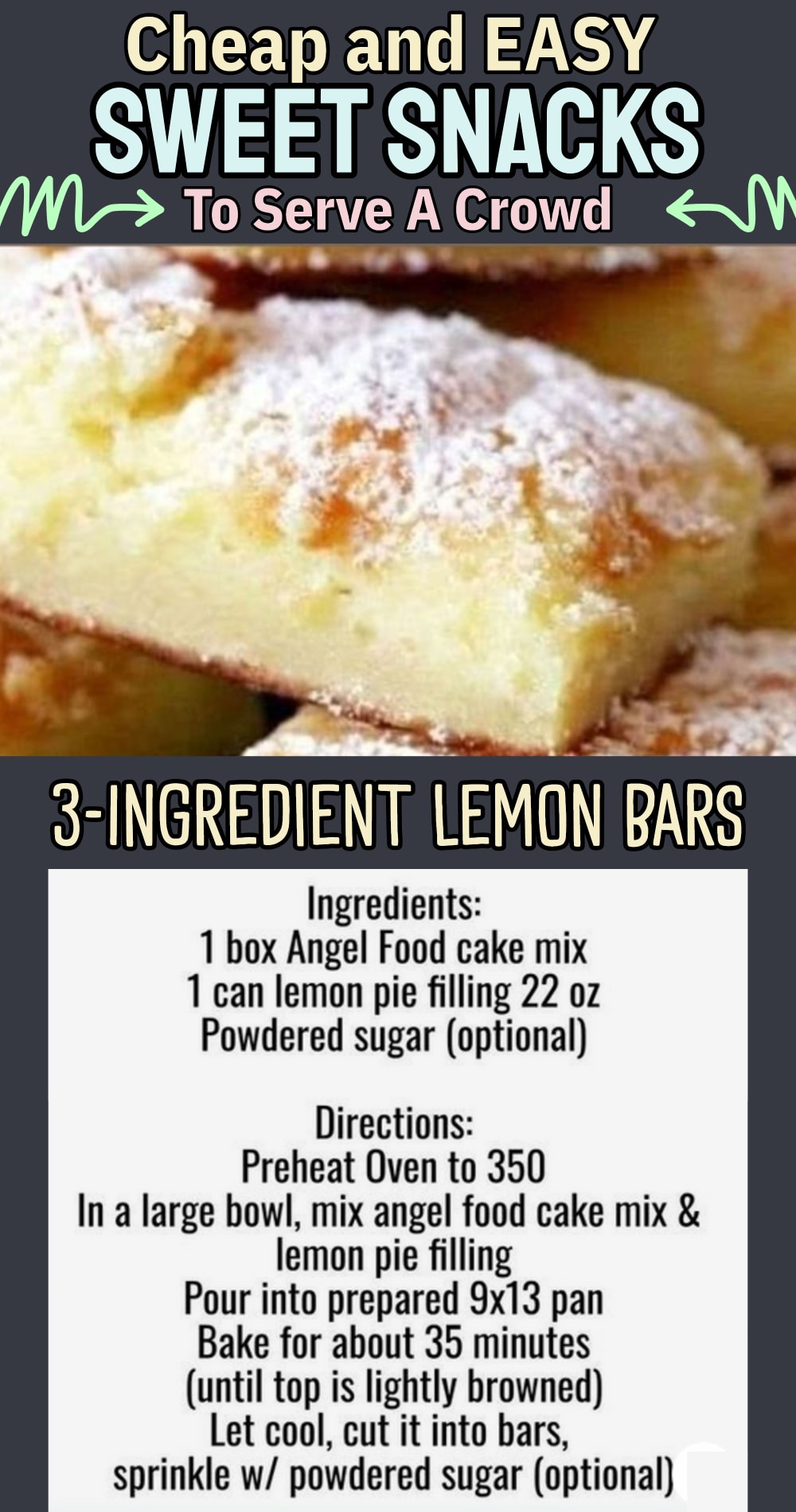 Ok, they're not MY Famous Lemony Lemon Bars – it's one of my grandmother's dessert recipes, but now it's ME that's famous for them haha!
So I make some of those Lemony Lemon Bars and then whip up a batch of this pineapple-lemonade punch:
(and yes, save this recipe to Pinterest as well – you WILL use it a LOT):
Between the Lemony Lemon Bars and the Pineapple-Lemonade Punch, I've got the start to a gorgeous Yellow Color Party, don't I?
If you need to feed 20 guests or more on a tight budget, below are the snacks you really should try.
My crowd LOVES them – and so does my bank account haha!
I'm not a cheapskate, but I AM frugal. I've spent a lot of time narrowing down get-together food that I can make cheaply AND everyone loves (and requests over and over).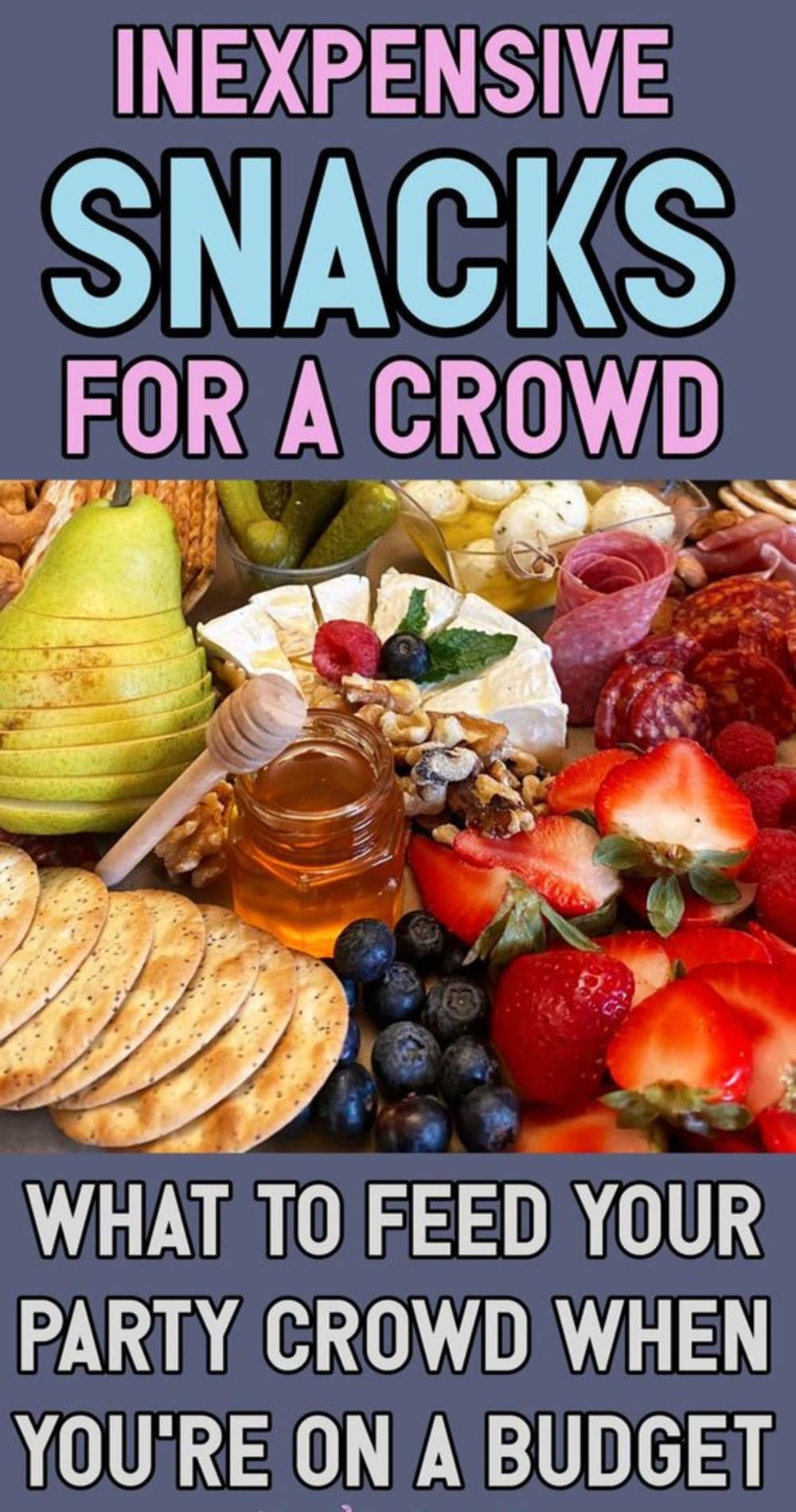 Coming up with cheap party snacks for a BUNCH of adults is pretty tough these days – everything is SO expensive. If you need apps and finger foods, try the page below.
The hot dips (especially the 7 layer dip and Texas Trash dip) are SOOOOO insanely good!
Want cold NO COOK snack ideas?
Try these cold appetizers for a large crowd
Those no cook recipes above only have THREE ingredients each – so simple to make, too!
Here are two of my favorite no cook pinwheel appetizers – they're perfect for setting out when you'll have guests eating for a long period of time (like a New Year's Eve party).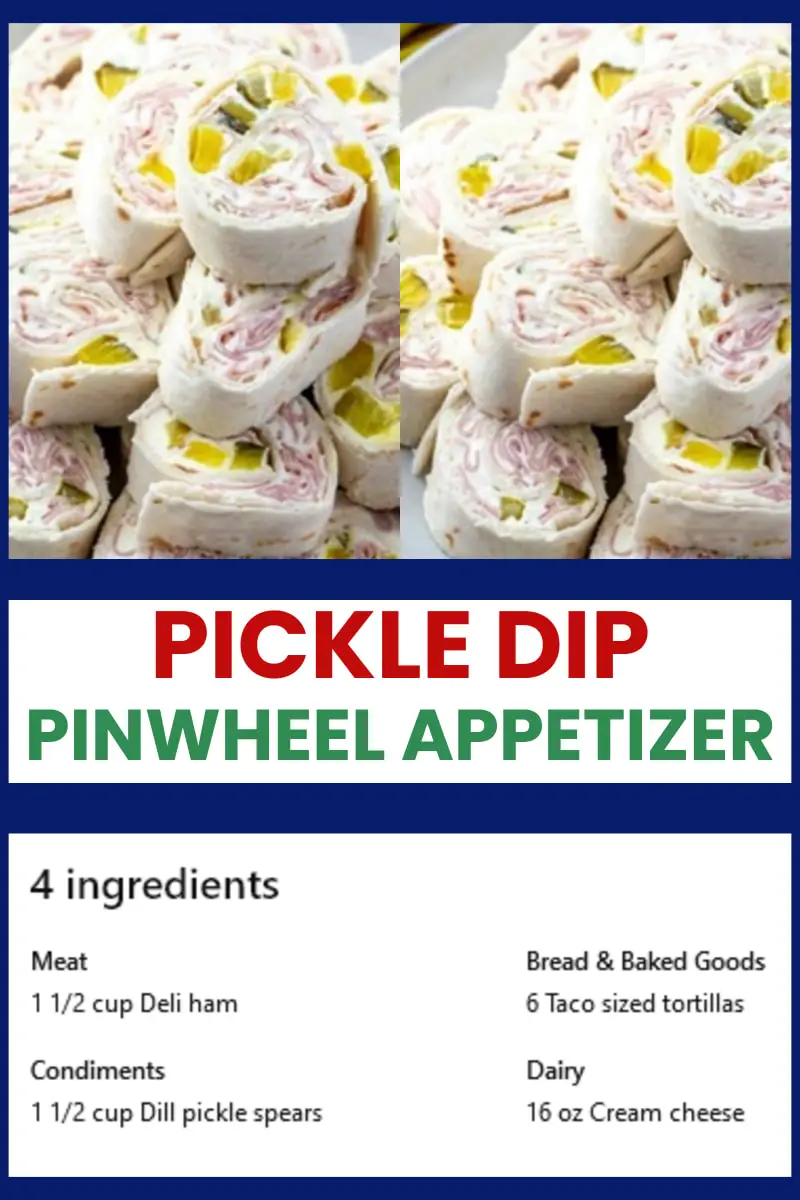 Just 4 simple ingredients: deli ham, dill pickle spears and cream cheese all rolled up into tortilla wraps.
Print the recipe
.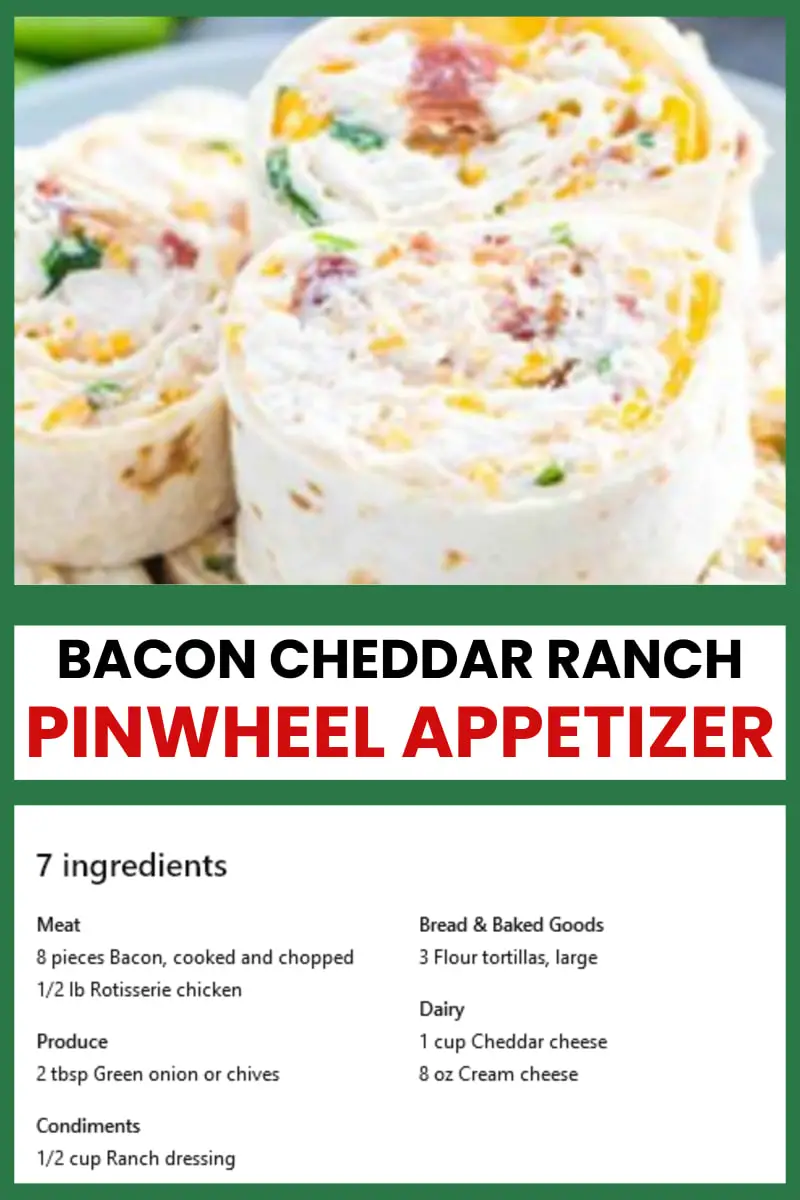 These cheddar cheese bacon ranch pinwheel roll up appetizers use Rotisserie chicken.
Print the recipe
.
Snacks and finger foods you do NOT have to cook are my absolute FAVORITE things to set out for my guests to nibble on!
Hosting a party when you're on a tight budget can feel very overwhelming leaving you stressing over HOW you will provide CHEAP party snacks that don't LOOK cheap with your limited budget.
If affordability is a key concern, why not have a potluck type party and have everyone bring something for your group to share?
That way, everyone in your group contributes a little something and no one is out a lot of money for all the snack food.
If that's not an option, here are more simple and CHEAP snacks and food ideas for a large party group that are sure to fit any budget.
Large Party Snack Platter Ideas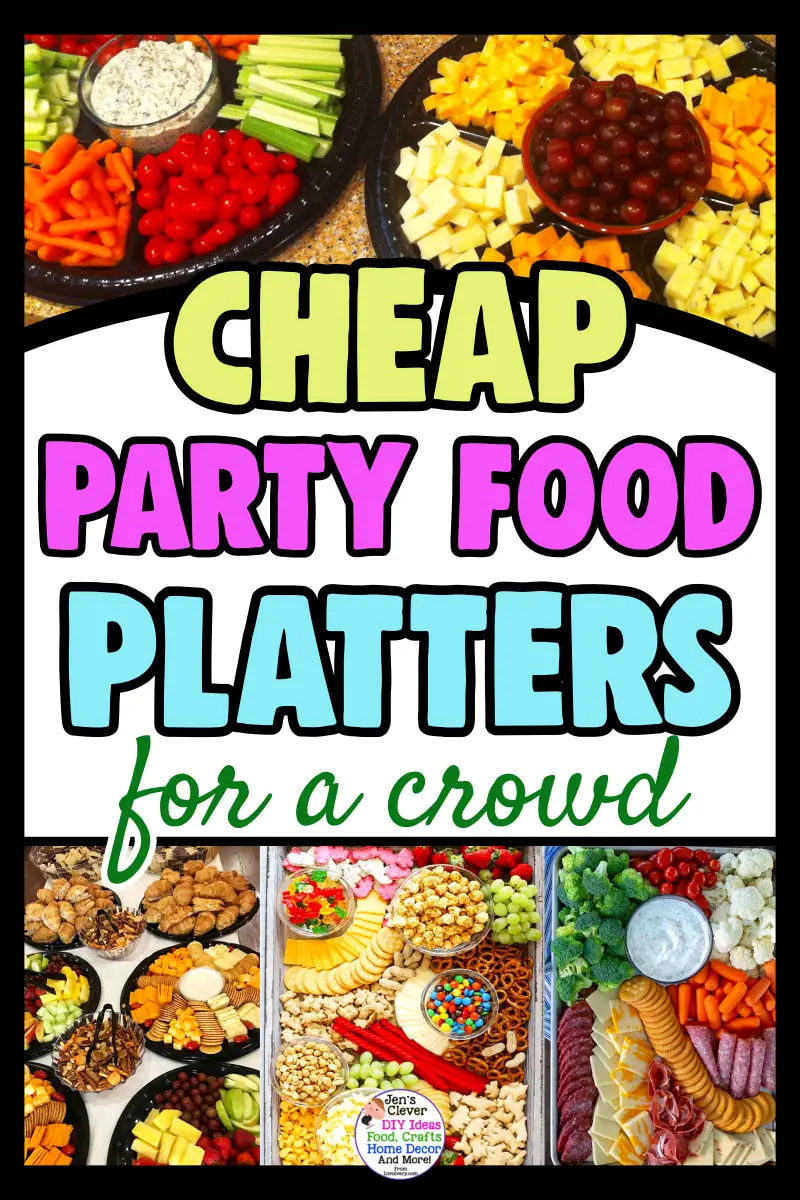 When it comes to coming up with large batch party food for big crowds, snack platters (like in the pictures below) are THE way to go.
It's really not about how much your SPEND on food for your large group, but it IS about how that food is presented:
 My Favorite Snack Board SetFound Here Perfect LARGE GROUP Snack BoardFound Here
Presentation is everything.
Even if you're just setting out cheese and crackers, you can make it look fancy!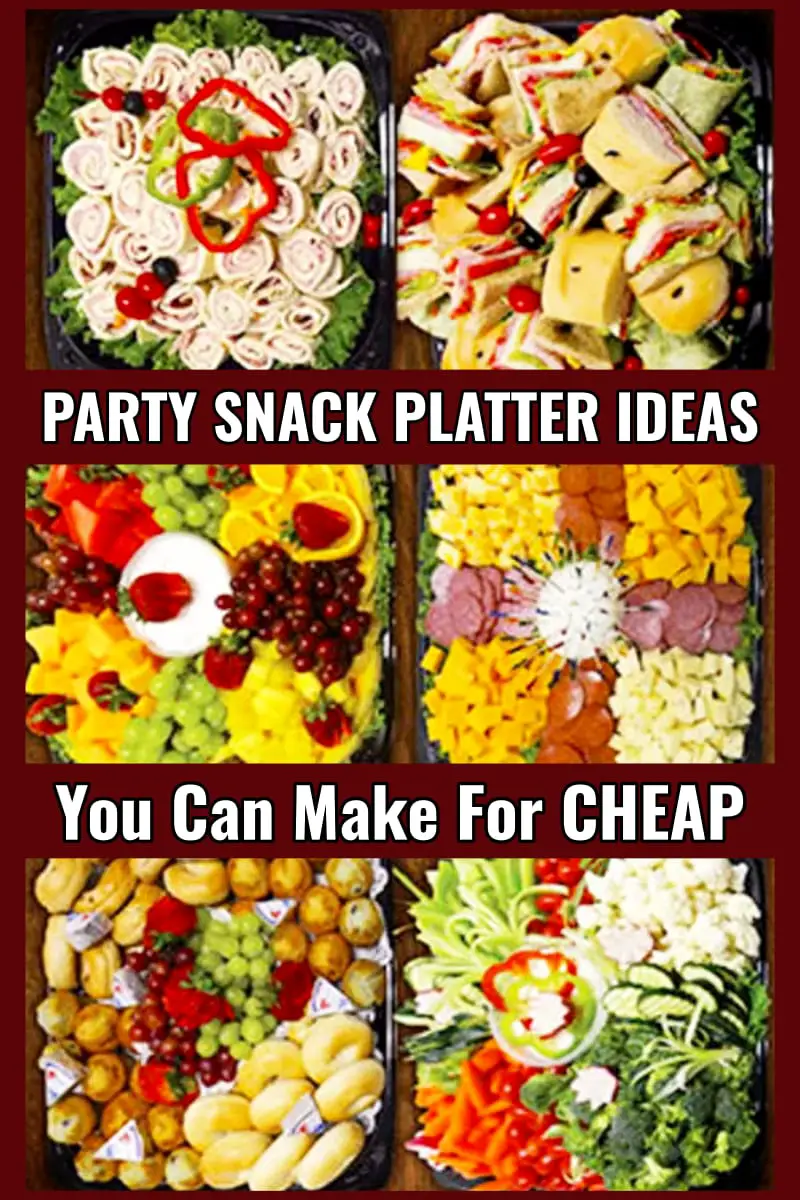 You can get fancy with your party snack platters and food trays – and still keep it cheap to make.
I LOVE this birthday party snack platter below…
Where To Find Them:
 Fillable NUMBER Snack TraysFound Here Fillable LETTER Snack TraysFound Here
Or bring a Holiday theme into your party platter design..
I made these for our Easter potluck and everyone LOVED them – no left overs at all.
Snack platters and food trays are my FAVORITE – and they're real crowd-pleasers too!
Best off all, they travel well so they're simple to take to a party or potluck.
I have a HUGE list of party platters you can make:
In fact, I make themed snack platters for ALL our special get-togethers and Holiday potlucks at work: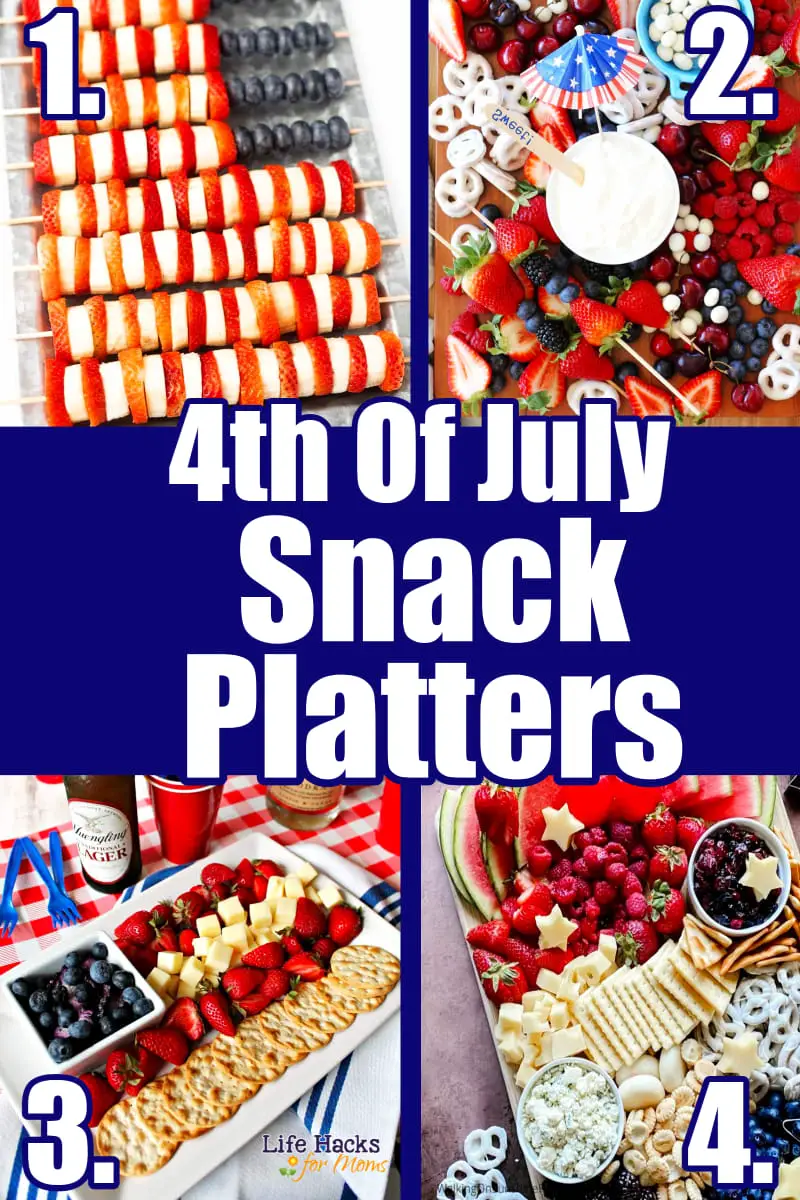 ---
✅ 57 Make Ahead Party Food Platters For A Crowd
---
Valentines Day Potluck Snack Trays
---
St Patrick's Day Potluck Snack Trays
---
Remember, party snack platters and finger food platters are NOT about how much you spent or how hard they were to make – they ARE all about presentation.
As you can see in the party platters in the pictures above, all of those party snacks are very inexpensive, but they LOOK (and taste) super good and as if you spent HOURS making them.
Party platters also offer a cheap way to make HEALTHY snacks for large groups or a potluck party crowd. Below are some healthy options you can try…
Store-Bought Options
Rather BUY party food?
If you don't want to cook, or you're getting food last minute, below are the cheapest snacks to BUY for a large group.
While not super exciting food options, they get the job done without spending a ton of money at the grocery store. If you set them out in a creative way, no one CARES how much you spent!
Like this football theme snack platter made for a Super Bowl party… all filled with cheap store-bought snacks.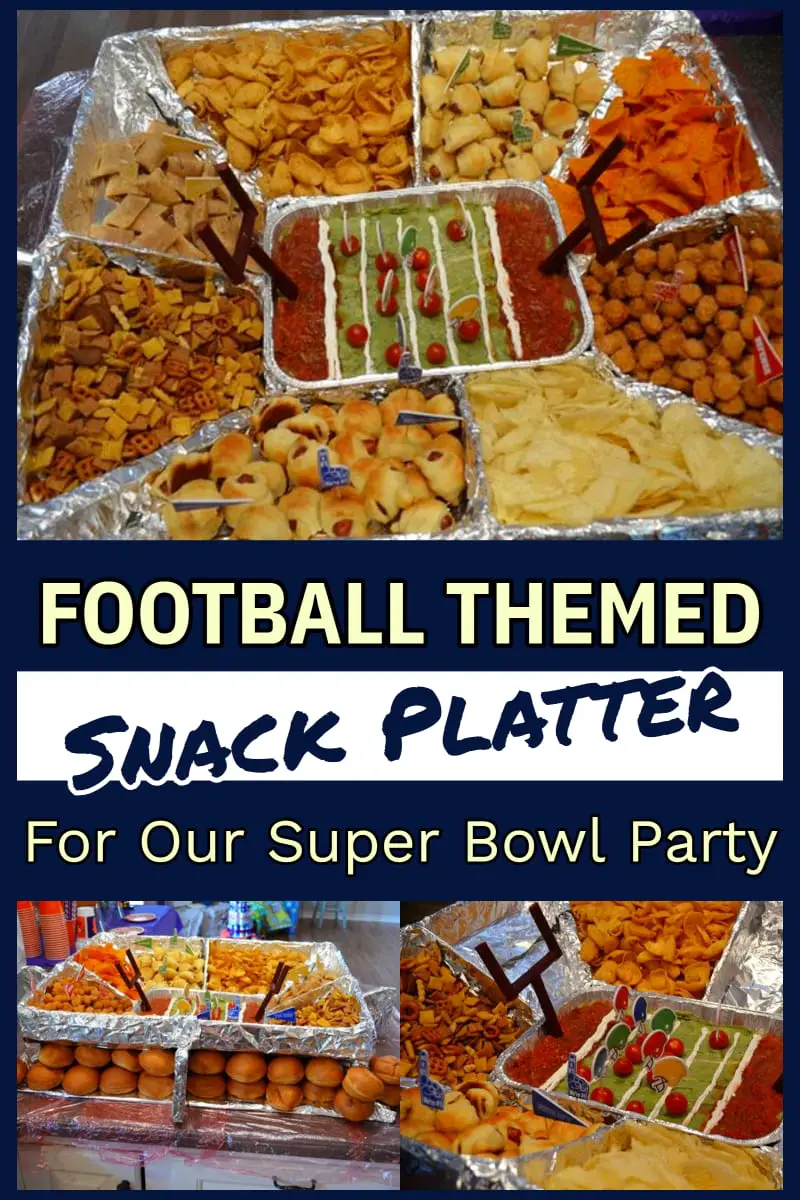 10 Cheap Snacks To Buy:
Popcorn: Popcorn is a classic snack that's both cheap and perfect to nibble on while watching the game. You can make it at home in a pot on the stove, in the microwave, or in an air popper.
Chips and dip: Chips and dip are another easy and affordable option. You can choose from a variety of chips, such as tortilla chips, potato chips, or pita chips, and serve them with your favorite dip, such as salsa, guacamole, or hummus.
Pretzels: Pretzels are a tasty and budget-friendly snack that can feed a large group. You can serve them plain, or with a variety of dips, such as mustard, cheese, or chocolate.
Trail mix: Trail mix is a delicious and healthy option that's perfect for snacking on the go. You can save money by making your own by mixing together a variety of nuts, seeds, dried fruit, and other ingredients, or you can buy pre-made trail mix at most grocery stores.
Veggie platters: Veggie platters are a great option for those who are looking for a healthier snack. Simple cut up a variety of fresh vegetables, such as carrots, celery, bell peppers, and cherry tomatoes, and serve them with a dip, such as ranch dressing or hummus.
Popcorn chicken: Popcorn chicken is a tasty and inexpensive option for a large group that you can buy pre-made at most grocery stores.
Pizza rolls: Pizza rolls are a fun and delicious snack that can feed a crowd. Just grab some boxes or bags of frozen pizza rolls at the store and heat them up in the oven or microwave.
Baked goods: Baked goods, such as cookies, muffins, or brownies, are always a hit with a crowd. To save money, buy the mix and make them at home, or buy them pre-made in the bakery department.
Assorted fruits: Assorted fruits are a tasty and healthy option for a large group. You can create a fruit platter by cutting up a variety of fresh fruits, such as apples, bananas, strawberries, and grapes, and arranging them on a platter.
Cheese and crackers: Cheese and crackers are a classic snack that's perfect for a large group. You can buy a variety of cheeses, such as cheddar, brie, or goat cheese, and serve them with crackers or sliced bread. I also add slices of pepperoni (the cheap kind that comes pre-sliced in the bags)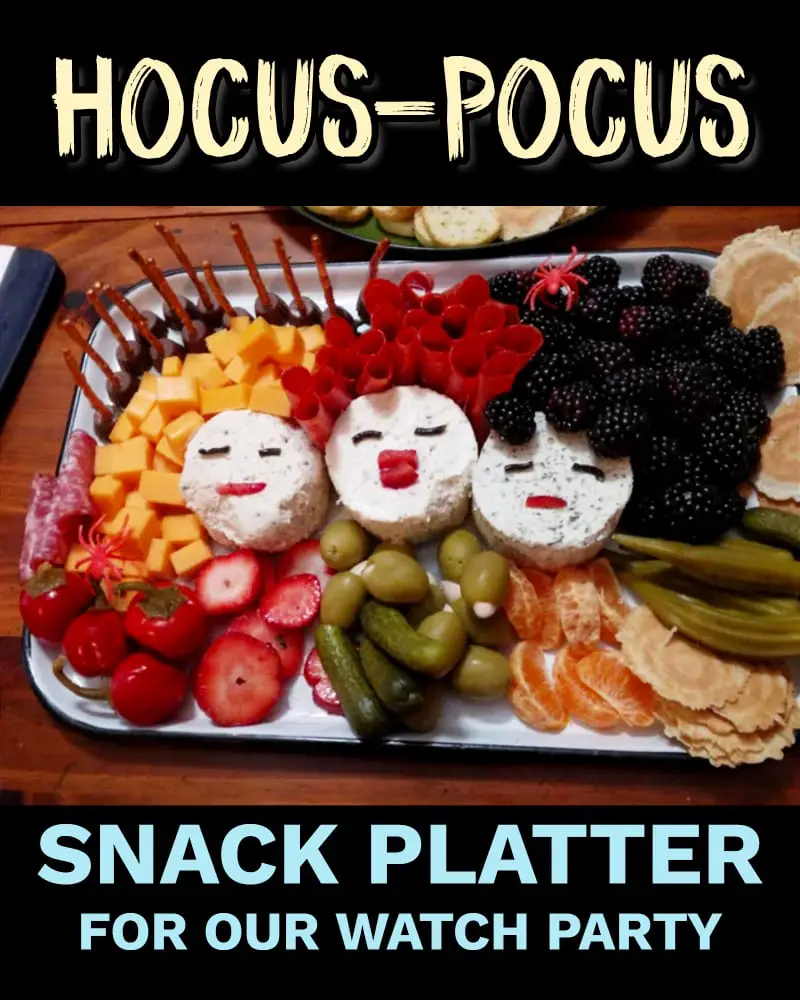 Large Group Side Dish Idea
When we have our VERY large family reunion potluck each year, I always make my super easy crockpot mac n cheese.
Just dump the few ingredients in your crock pot and you're done – you don't even have to boil the noodles!
Punch Recipes for a Crowd
Whether you're hosting a large group for the game or a graduation party, a baby shower or ANY type of party, having a BIG batch of punch ready for your guests to drink is a MUST HAVE.
Here are my favorite large party punch recipes that are all cheap and super easy to make in big batches (even if you are feeding 50 people or more).
Large Batch Party Dip Recipes
When it comes to inexpensive snacks for a large group, nothing is cheaper, easier and more crowd pleasing than these easy ranch dip recipes.
But maybe you want an easy hot dip?
Crockpot dips can be very affordable to make and serve at large gatherings.
For example, my 1-2-3 party dip recipe in the picture below. It is SO easy and cheap to make.
1-2-3 Crockpot Party Dip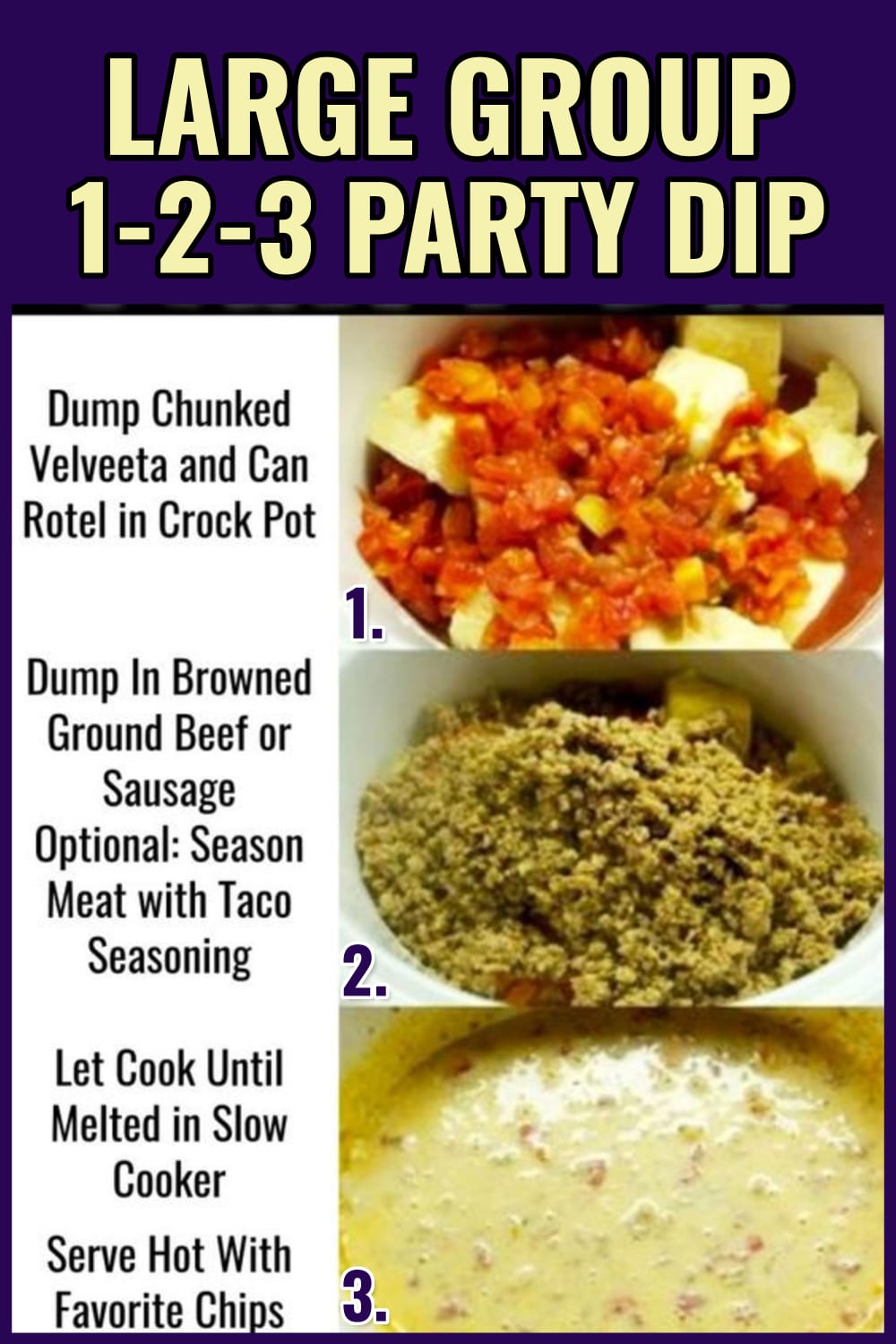 Just put cheap canned Rotel, Velveeta and browned ground beef in your crockpot like in the picture above then let it slow cook.
That's it… 1-2-3 done!
It's cheap and it is VERY GOOD. That cheese dip has a bit more substance and "stick to your ribs" to it than traditional snack table food which is perfect for fall and winter events (like our Super Bowl Party).
✅ TIP: mix a pack of taco seasoning into your ground beef for an extra kick.
Would you rather a unique chips and dip idea that you can make ahead of time?
Here is my secret combo for an irresistible snack combo for MY large groups.
It looks fancy – but so simple to make… and CHEAP too!
Spicy Party Crackers
These party snack crackers have a little kick to them, but they are addicting!
Only 4 ingredients too!
Ingredients:
2 boxes Ritz crackers
3/4 cup Olive oil
2 tbsp Italian seasoning
3 tbsp Chili flakes
✅ Money-Saving Tip: To stretch your food budget, buy inexpensive store-brand snack crackers like these to save a TON of money!
Now, here's the secret to cooling off that spice….
Best Party Dip EVER
If you love cold dip recipes, you will love this ranch party dip recipe below – just double the recipe for a cheap snack for a large group.
Ingredients:
8 oz Cream Cheese
1 Cup Sour Cream
1 Package Ranch Seasoning
2 Cups Grated Cheese
1/2 Cup Bacon Bits
Tip: Double the batch for a large group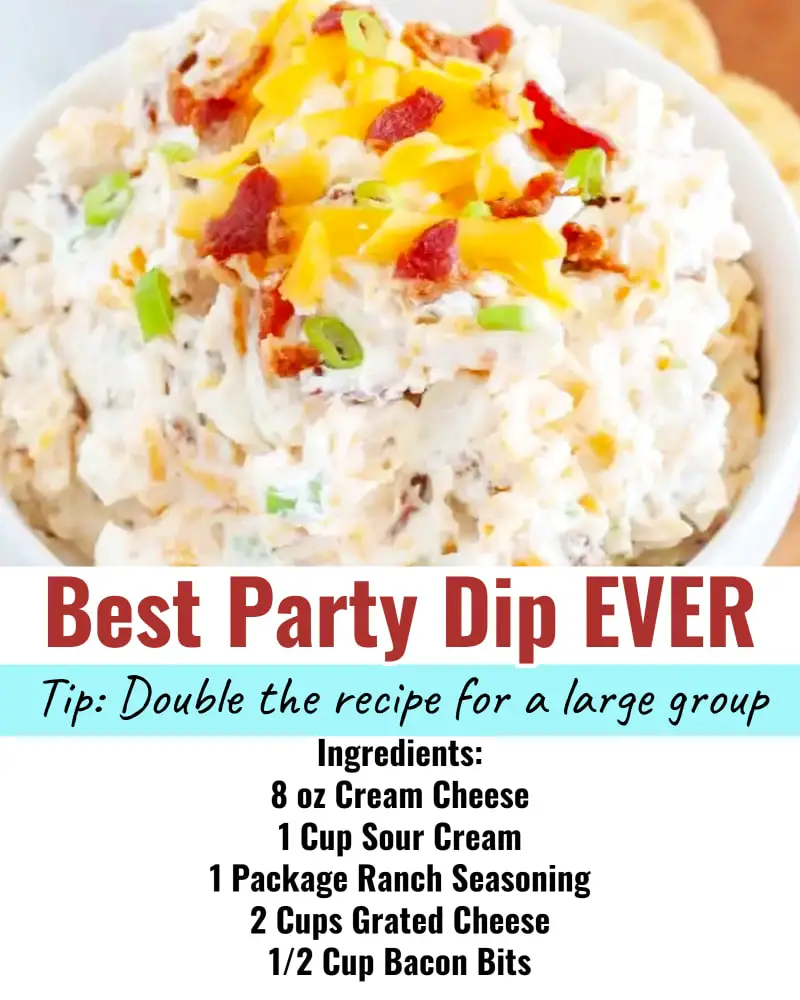 I'm tellin' ya – you set out those 2 things above, and they will GOBBLE it up!
Big Party Sweet Snacks
Desserts are ALWAYS the thing most requested at all the big parties and family gathering I make food for – you should SEE our Mother's Day dessert table!
And, as much as it drives me nuts, there are NEVER any leftovers for ME to enjoy haha!
These dump cake recipes are SO easy to throw together and make in big batches for any size group – and they're VERY cheap to make.
Now, if you're making dessert in large batches for a family gathering, you might want to try these easy old-fashioned dessert ideas (they're just like my grandmother used to make and everyone loves them).
My family and friends traditionally have a sweet tooth that only really sweet treats can satisfy.
When I'm going for cheap snacks and party food for large groups, I make these simple 3 ingredient fudge recipes and they gobble them up!
Best part, those sweet snacks are made in the MICROWAVE!
5-Minute Party Snack Ideas
Here are some more affordable and simple party snacks for your crowd:
Easy Sweet Snacks To Make in 5 Minutes Or Less – Simple 5 minute sweet snacks, desserts and sweet treats with just a few little ingredients.
More Inexpensive Party Food Ideas
Need more cheap and easy food ideas for large groups or special events?
Here are 4 more resources to help you find what you need: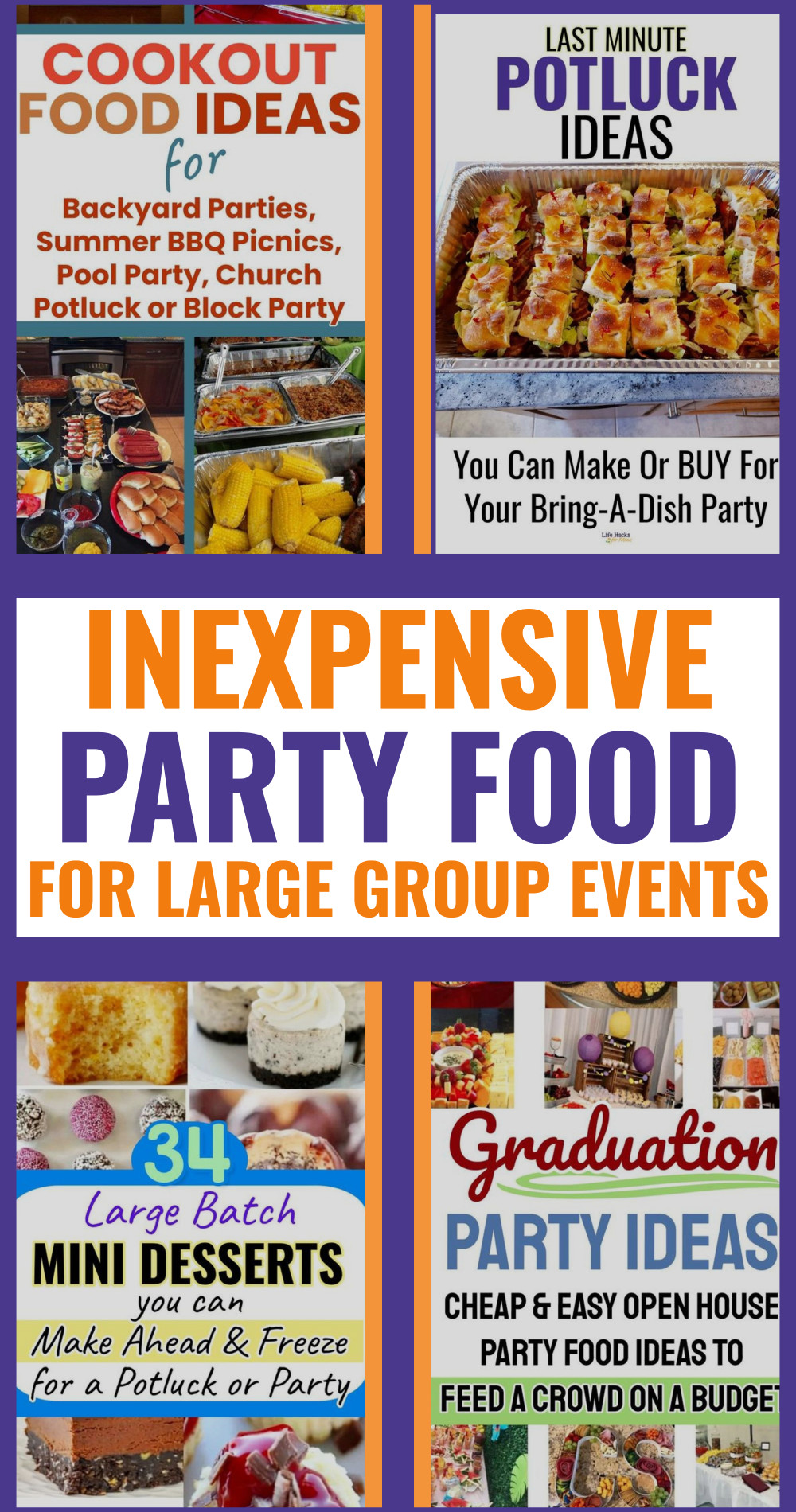 Best Cookout Food Ideas For BBQ Parties
---
Last Minute Potluck Ideas For Work
---
34 Freezable Mini Desserts For a Potluck Or Party
---
Graduation Party Food Ideas To Feed A Crowd
---
Miss Anything?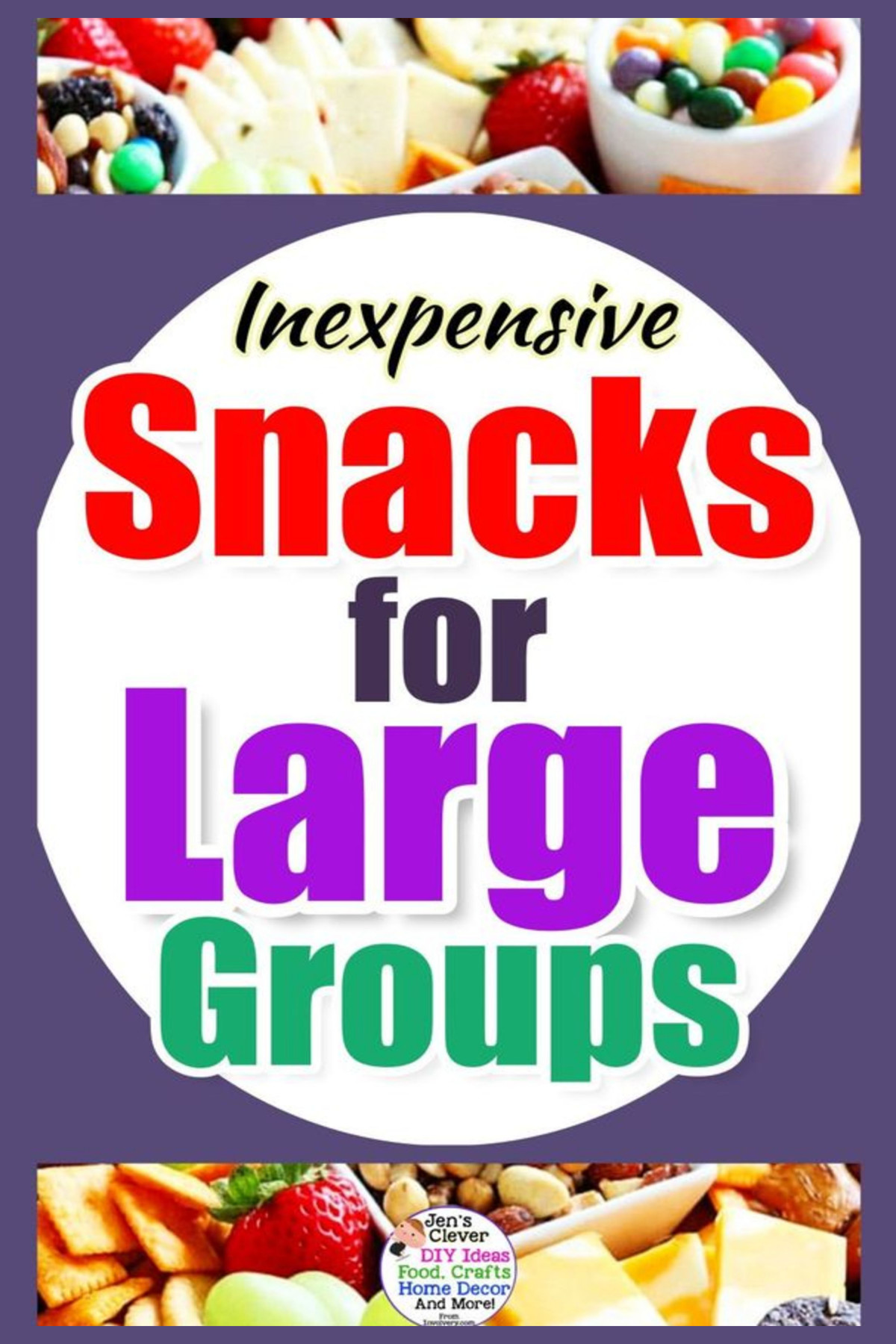 Back To Top Of:
=> Inexpensive Snacks for Large Groups
Go back to a specific snack idea:
What To Read Next: